Brrr… baby it's cold outside or at least it is in Iceland. Why in the world would you think about bringing your baby or toddler to Iceland in the winter? Here are a few reasons- Northern Lights, geothermal hot springs, waterfalls, geysers and Vikings.
The winter months can see frigid temperatures, but maybe not as cold as you think as their average high is about 36 degrees. Yes, that is cold, but it is not -20 degrees, which even the U.S. can see in some states. And really, it only gets to about 60 degrees on average in the summer, so you aren't missing out on any beach bathing time on this island. Your baby might have to be bundled up to explore, but you won't regret making this trip.
Iceland has one of the most surreal landscapes you will ever see and it is easy to navigate with a baby if you hop on a few tours, pack your baby carrier, skip a nap or just let your baby nap on the go.
Booking an Iceland Tour
Iceland is hot, hot, hot when it comes to travel right now. Thanks to some strategic marketing and a nice deal from IcelandAir that allows you to stop over for free on your way to or from Europe, travelers are discovering this tiny nation of about 300,000 people. This is the one country that a package deal may make the most sense, especially if you are only looking to go to Iceland. Packages can include airfare, hotels and tours for a steal if you time it right.
Chances are you will want to be based in Reykjavik, so hunt around to see what you will find. You may be surprised how cheaply you can get there and explore if you keep your dates flexible.
Packing
Winter is cold. It can snow, it can rain, it can be sunny, it can be windy. All four may hit in the same hour too. Pack up all of your winter snow gear. You will use it. Leave room in your suitcase for extra blankets for the stroller and a snowsuit for the baby too. Don't worry; most hotels are nice and toasty warm inside. It's just the outdoors you need to bundle up for and you will definitely want to explore outside.
Pack It
Warm layers: thermals, waterproof parka, snow pants, gloves, hat, and scarf
Umbrella, in case of rain
Warm snow boots (your rain boots will not keep your toes warm. Snow or waterproof hiking boots are your best bet)
Tours
I'm not always into day tours, but when it comes to Iceland I am all for it, especially in the winter months. Winter storms can make driving conditions dangerous. You will see signs all over the roads and in the airport warning that if a storm is coming you need to pull over and wait it out. Day tours can even get cancelled if the weather is bad, but they are still your best bet.
Golden Circle
The Iceland Golden Circle Tour is by far my favorite with kids, especially babies and toddlers. The full-day tour can be long for little ones, but there is plenty of time on the bus to nap as you hop from one incredible natural landscape to another. Companies like Guide to Iceland also have condensed options of this popular tour, so you can see the Golden Circle without spending a full day on the bus.
The Golden Circle is made up of Geysir, Thingvellir (Þingvellir) and Gullfoss. Each is unique and incomparable to the next. Geysir is, well, a geyser. Watch as it erupts every 5-8 minutes. Our favorite part was seeing the blister that forms just before it erupts. Don't let your little ones anywhere near this water though. It is hotter than hot.
Gullfoss is one of the most incredible waterfalls I have ever seen. Iceland has a lot of waterfalls you can explore, but Gullfoss is easy to get to in the winter, and personally prettier in winter than in summer with the white snow drifting along the blue water. If you have a Frozen fan in your house, they will love this spot.

Thingvellir is one of the oddest attractions I've ever been to. When we were told we would be seeing the original seat of parliament for Iceland I figured it was a stogy old building. How could I get my toddler excited about visiting a place like that, besides the fact that it might be warm inside? I was happily surprised when we pulled up to a gorgeous vista we would be walking through to get to the literal seat of parliament back in 900 A.D. Chieftains used to sit around making marriage contracts, doling out punishments and basically say "Hi" to each other since the winters would keep clans separated for long periods of time.
Northern Lights
You can't go to Iceland in the winter without trying to catch a glimpse of the Northern Lights. You can opt for a boat tour to take you out on the water or bus tour to take you to a glacier to try to catch a glimpse. It will be a long and late night if you go the tour route. You can also book a hotel outside of the city (where light pollution isn't as much of an issue) that has a Northern Lights wake up call. If the lights appear, you will get a call or knock on your door to come out. This may be a bit easier if you have babies and toddlers who desperately need to sleep. Mom and dad can take turns popping outside to catch a glimpse.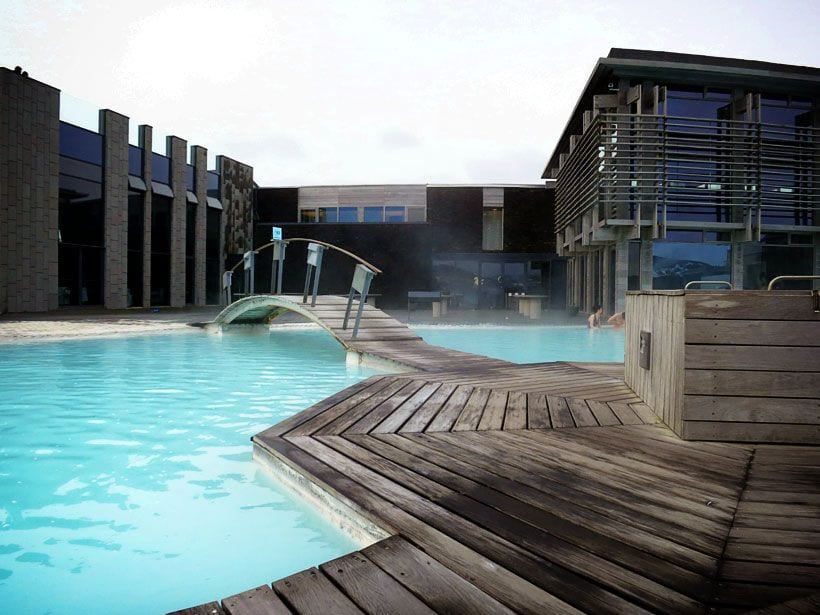 Hot Springs
The Blue Lagoon is one of the most well-known geothermal hot springs in the world. It is also very expensive, commercialized and can be crowded. It is worth a visit at least once in your life though, if only for the novelty of the place. The healing waters can help with parent and baby jet lag and skin conditions like eczema. Your kids will love it too. Basically this is a giant hot tub that you get to swim around in. There are flotation devices to borrow for the kids, plus a swim up bar to grab beer for mom and dad, and Skyr yogurt smoothies for the kids (so good!).
Public pools (nominal fee) are also open to the public in many towns across Iceland so the locals can take part in the geothermal waters without going bankrupt. You will find businessmen chatting after a long day, moms with their kids, and teens crammed together for a little gossip session. A few even have steam rooms and saunas. Be aware that everyone in the family, no matter which pool or hot spring you visit, will have to shower before they enter the waters. Hygiene is taken very seriously on this island.

Food
Food is not cheap in Iceland. The cheapest meal you can get is a hot dog at the local stand, which are actually amazing, so don't miss out. Reykjavik, where most travelers will stay in the winter, has a bizarre collection of restaurants that believe in combining multiple cuisines on the same menu, if not in the same dish. Sushi, Italian, French… you name it they have it. Here are a few that we found during our stay that fed everyone in the family.
10-11: This small grocery store is open 24 hours a day and is great for loading up on milk and yogurt for the kids, plus bread and anything else you need at any hour of the day. There are several in downtown Reykjavik. Just keep your eyes open for them and pop in.
Eldur & Is: This little crepe shop just off the main road through town, serves up hot crepes and cold ice cream that will satisfy the whole family at a decent price. Watch out for lines though as service can be slow.
Bæjarins Beztu Pylsur: This is the place to grab a hot tog no matter the time of day or night. Taxi drivers pull up and so do the club kids, which means you know it is good. It is also the cheapest meal in town.
Svarta Kaffi: Located on the main drag, this pub style restaurant serves hot soup, decent sandwiches and a pint of cider or beer. The staff is fast and efficient. They also don't bat an eye when you walk in with a baby and need a high chair.
Taking your baby or toddler to Iceland can seem daunting, and even like a waste of time, but trust me, it isn't. Even if your toddler only remembers the snowball fight you had in front of a waterfall, you are making memories. In fact, if you are traveling with a baby who isn't on a solid sleep schedule yet, you may have even more fun. You are already jet lagged all the time from lack of sleep, you might as well get multiple opportunities to see the Northern Lights and check out one of the coolest (literally and figuratively) landscapes on the planet. Don't let the cold stop you. It's not that bad.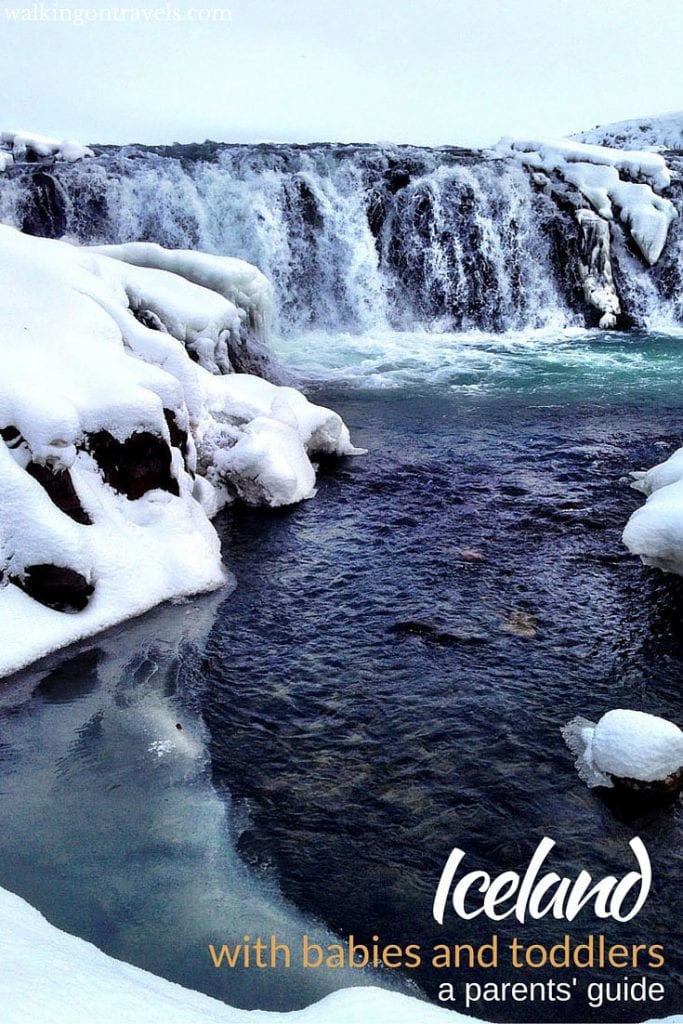 I was asked to share my Iceland experience by Guide to Iceland, but all opinions and views are my own. When they aren't you will be the first to know.