Grindelwald is a ski and snowboard haven. Nestled in the Swiss Alps in the shadow of the peaks reaching above 13,000 feet, this playground for downhill and mountaineering enthusiasts is a vision in white. But it's also stunning in the green of spring and summer.
One thing that Switzerland, a country smaller than New York, can boast, besides some 1,000-plus ski lifts, is its extraordinary network of hiking trails – about 60,000 kilometers (more than 37,000 miles). That's more than one trip around the Earth's equator (less than 25,000 miles) and plenty to satisfy walkers and hikers of all levels.
For a nice family daytrip from Bern, Grindelwald provides a jaw-dropping setting for a stroll in the Alps, a nice lunch and some steam-letting time for the little ones at a massive playground.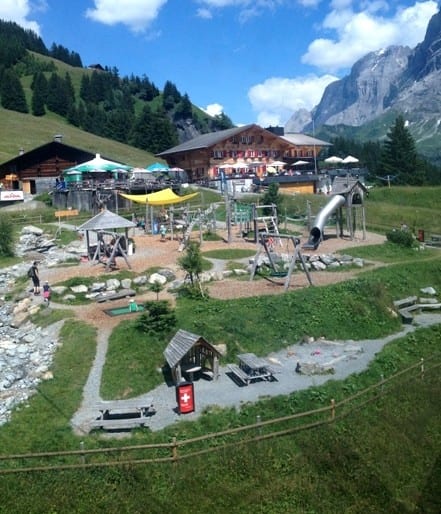 Take the Grindelwald-First gondola from the city center to the Bort stop. This is a treat in itself (if you don't mind heights) as you get a bird's eye view of the region. Burghaus Bort chalet restaurant and grill is just outside the gondola station.
Swiss trail markers are standardized across the country and are well-marked indicating level of difficulty, direction and some have estimated times and distances. But it's wise to have an idea of your family's stamina and plan out a little walk that will match or stick close to the restaurant. Wanderland.ch has just about everything you need to know about Swiss walking trails.
When lunchtime rolls around, make your way to the restaurant. Patio seating fills up fast, but don't expect the service to be so. Plan accordingly and bring your patience. This place isn't about shoveling food down the pipe and pushing off again. It's about taking in this stunning Alpine landscape, sipping a cool beverage and snacking on some local treats. If you're in a rush, try the grill next door. It offers up picnic food fast with a price tag that doesn't make your eyes bulge out of your head. But remember, you don't visit Switzerland to save money on travel. This place is one of the pricier European destinations.
Sample one of the many types of Rösti, shredded potatoes topped in all manner of ways, including ham cubes, onion, fried egg or salmon with sides of pickled vegetables. A cold beer washes everything down nicely. If you avoid alcohol, try Rivella, a Swiss soft drink.
After lunch, take the kids down to the playground. This isn't your average swing and slide park. Your kids can romp through splash streams, tunnels, bounce floors, ropes challenges and so much more.
Ski country truly is a spectacular way to spend a summer's day with the littles.
The gondola up to Bort is steep both on the eyes and the budget (more than $30 per adult) but if you happen to have a half-price fare card, it counts here too. But it's worth it. The walk up, though not quite two miles, will take quite a while (more than an hour) as you climb some 500 yards in elevation. In spring there may still be snow, slush and ice on the trails and it's a heart-pumping pace. If you and your kids are in no rush and hearty hikers anyway, go ahead and walk up. Just start early and pack your water. It may be a few minutes before a table is available or a server reaches you.
You could also take the gondola up and walk down.
Grindelwald is a good hour's drive from Bern, an easy day trip. Or, pick from any number of accommodations and make a weekend out of it.
Grindelwald is also near Interlaken, another famous Swiss ski spot. When the mountains aren't calling for people to slide down on sticks, they may be calling for some to jump from its sides – paraglide style, or any number of other extreme sport made safe for the masses.