Since it is Ireland's capital city, Dublin is the natural starting point for an epic Irish road trip or as a stop on a European city-hopping vacation. Not only is it an easy-to-reach travel hub, but there are also plenty of things to do in Dublin that should entice you to stick around for a few days, whether you are looking for a little Irish history, historic buildings, Gaelic football or just fun places for the whole family to enjoy.
Straddling the River Liffey on the east coast of Ireland, Dublin is known for its friendly locals, lively pubs, and turbulent history. What Dublin lacks in good weather, the city makes up for in beautiful city parks, 18th-century Georgian buildings, breweries, distilleries, and a proud literary and musical heritage.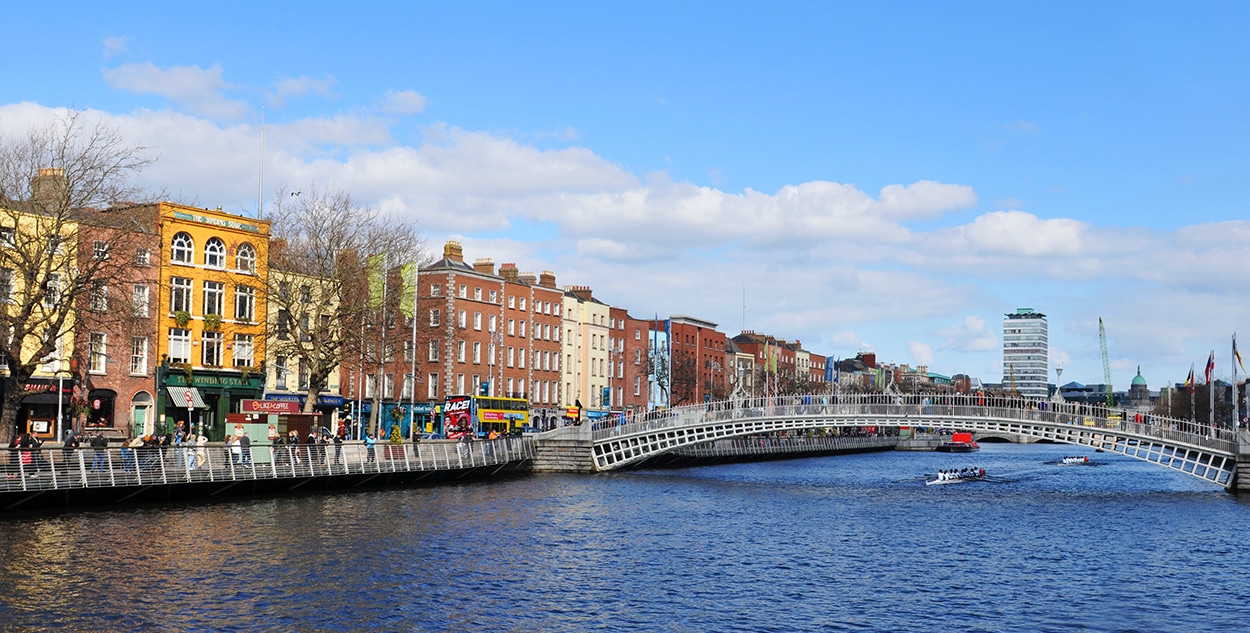 Whether you have one day or one week to spend in Dublin Ireland, there are plenty of attractions in the city center to fill any Ireland itinerary. Book a walking tour to see the highlights before diving into a bar, church, or museum to find out the real Dublin city for yourself.
Dublin Trip Planning Guide
Flying to Ireland?
Looking for the best flights to Ireland? We love to track flights via Expedia.com. Not only do we find great rates, but we earn points to use on future travel too.
You can also keep an eye on GOING deals, which is how we got to Ireland roundtrip from LAX for under $500 each. The free version is good, but the paid subscription will save you way more than the cost per year.
DON'T FORGET YOUR ESIM CARD!
We all love our smartphones, but we don't love those international roaming charges. Even if you have a travel pass, you could max out your service, which is why we always grab an eSIM card to pop into our phones. It's especially great for the kids, as it limits what they can do and how much data they can use, but still allows them to text friends back home.
Check out Airalo, our preferred eSIM card store for the best prices on eSIM cards and international data plans.
NEED A RENTAL CAR?
We use DiscoverCars.com to get the best rates and availability on rental cars. Find your car HERE, along with all of the extras you may need (insurance, car seats, ski racks, etc.)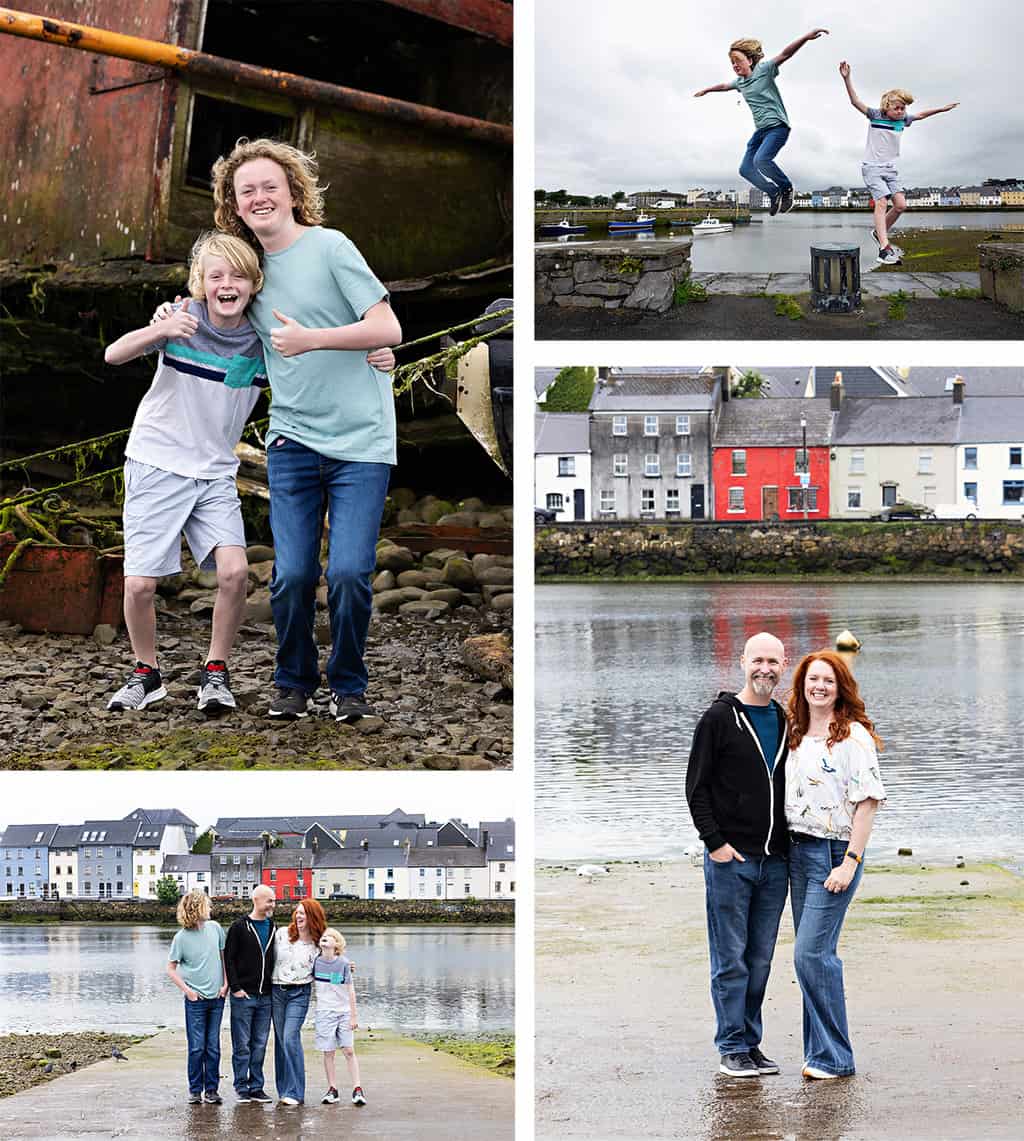 VACATION PHOTOS
Don't forget to book your Flytographer session to capture awesome memories from your trip. We do it as often as we can, even though I'm a photographer. Sometimes, this mom just wants to be in a few photos with her kiddos.
TRAVEL INSURANCE
Do NOT forget to buy travel insurance for your cruise, even if you booked through a travel agent. Things do and will happen and it's cheaper to buy travel insurance ahead of time instead of paying out of pocket later.
Check out Travelex for rates on a single trip or an annual plan that could be right for you if you take more than one or two trips a year. 
Hotels in Dublin
But first- let's book book your Dublin hotel, and make sure you get the hotel you really want, as they do fill up, especially in the summer months and around St. Patrick's Day. We recommend staying near Temple Bar (off the main drag) or near Trinity College, St. Patrick's Cathedral, Christ Church Cathedral or Dublin Castle, which will put you in walking distance of most of the main attractions in Dublin.
See all Dublin hotel options HERE.
How to get to Dublin Ireland
There are tons of ways to get to Dublin Ireland, but it all depends on where you start your trip to Ireland.
How to get to Dublin by Air
Dublin Airport is the main international gateway to Ireland, and one of the only airports to offer direct flights to cities across the United States, including Los Angeles, Washington, DC, Philadelphia and NYC. If you are flying internationally, booking a flight to Dublin is usually the most convenient option.
How to get to Dublin by Train
If you are traveling from within Ireland or from certain cities in the United Kingdom (mainly in Northern Ireland), you might be able to take the train to Dublin. Irish Rail operates services connecting Dublin with various towns and cities across the country.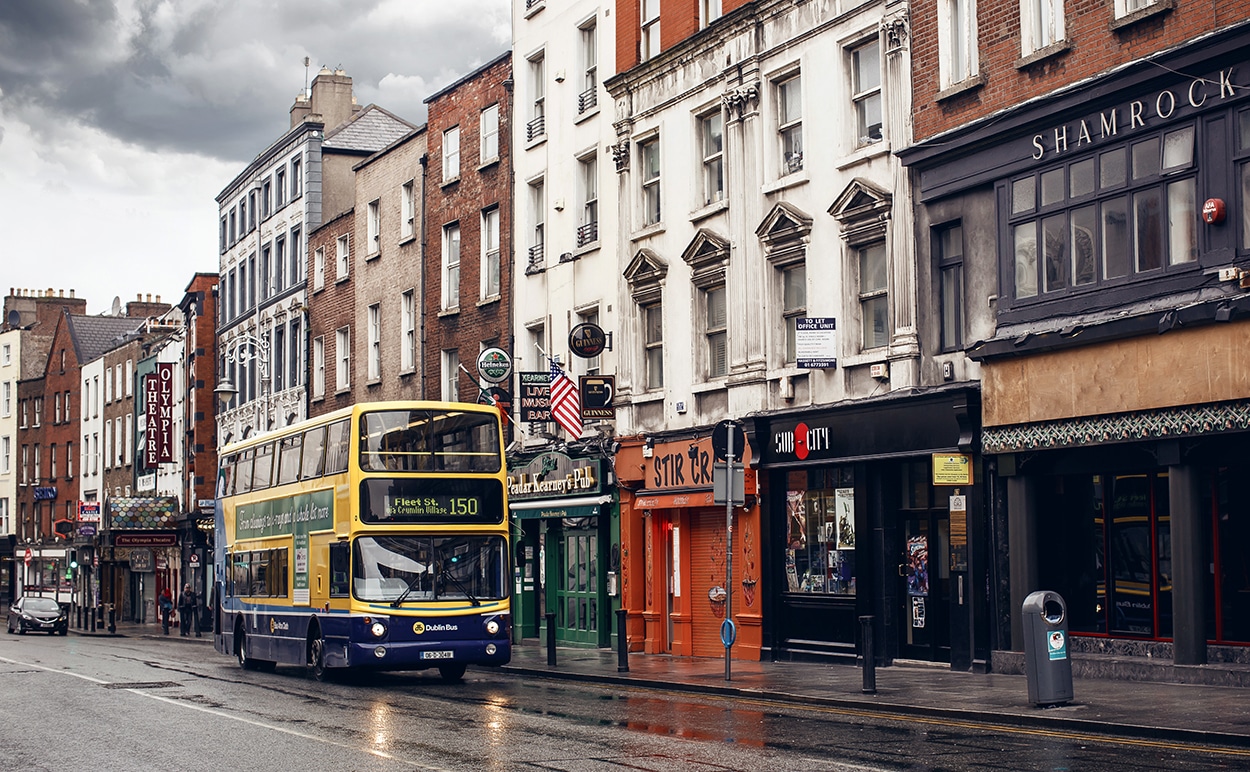 How to get to Dublin by Bus
Dublin is well-connected to other towns and cities in Ireland through Bus Eireann, the national bus service provider. They offer routes to Dublin from different parts of the country. If you are coming from the UK, there are also bus services, such as National Express, that offer routes to Dublin from major UK cities, most of them in Northern Ireland, as you will need a boat or plane to get your from England to Ireland.
How to get to Dublin by Ferry
If you are traveling from the UK, taking a ferry to Dublin is a fun option. There are several ferry companies operating services between Dublin and ports in the UK, like Holyhead, Liverpool, and Douglas (Isle of Man). If the seas are rough, it could be a bumpy ride that will cause motion sickness, but on a calm day it is quite an enjoyable adventure.
How to get to Dublin by Car
If you prefer a road trip or have the flexibility to explore the surrounding areas of Dublin, driving to the city is an option. Ireland has a well-developed road network, and Dublin is connected to other cities and towns through its major highways.
Remember that you will be driving on the left side of the road and parking can be tricky in the city center. There are also toll roads coming in and out of Dublin, so remember to bring your credit card or Euros to pay the fee.
Once you arrive in Dublin, the city has loads of public transportation options, including buses, trams (LUAS), and trains (DART), which can help you get around the city and its surrounding areas easily.
A Brief History of Dublin Ireland
The history of Dublin, Ireland covers more than a thousand years, with some specific events that have made it into the city it is today.
Early History
Dublin's earliest known settlement dates back to prehistoric times, with evidence of human activity in the area around 6,000 BC. The Vikings arrived in the 9th century and established a trading settlement called "Dubh Linn," meaning "black pool" in Irish. The Vikings helped to shape Dublin's urban layout and trade connections.
Medieval Period
In the 12th century, the Anglo-Normans invaded Ireland, and Dublin became the center of English control. The city flourished during this period, with the construction of Dublin Castle and the expansion of trade. The establishment of the University of Dublin (Trinity College) in 1592 further enhanced the city's cultural and educational importance.
English Rule and Conflict
Dublin faced several challenges during the Tudor and Stuart periods. The city experienced religious conflicts between Catholics and Protestants, and witnessed rebellion against English rule. The most significant rebellion was the Easter Rising of 1916 when Irish nationalists sought independence from British rule.
Here's a great book to read if you want to know more about the Easter Rising.
Independence and Modern Era
The early 20th century was a turning point in Dublin's history. Ireland gained independence from Britain in 1922, with Dublin becoming the capital of the newly formed Irish Free State (later the Republic of Ireland). The city would undergo significant redevelopment and modernization in the following decades.
Dublin Today
In recent years, Dublin has experienced a period of rapid growth and urban development. The city is a center for business, technology, education, and tourism. Dublin's cultural scene has flourished, with the city hosting numerous festivals, arts events, and international sporting competitions.
Historical Landmarks
Dublin is home to many historical landmarks that were are an important part of Dublin's story, both politically and socially.
Dublin Castle, built in the 13th century, served as the seat of English power for centuries.
Christ Church Cathedral and St. Patrick's Cathedral are two iconic religious sites that date back to medieval times.
The General Post Office (GPO) on O'Connell Street played a significant role in the Easter Rising and remains an important symbol of Irish independence.
Literary Heritage
Dublin has a proud literary heritage, and they like to celebrate it as much as possible. James Joyce, Oscar Wilde, and Jonathan Swift are among the notable literary figures who called Dublin home.
The city's streets, landmarks, and neighborhoods often highlight their works, and almost every bookshop will have at least one of their books in their windows, especially in the more touristed parts of town. .
TOP THINGS TO DO IN DUBLIN
CHRIST CHURCH CATHEDRAL
Sitting almost in the very centre of Dublin, Ireland is Christ Church Cathedral. You're almost guaranteed to walk by Christ Church during your trip so you won't need to go out of your way to check it out.
Christ Church Cathedral is a medieval place of worship and is incredibly well-preserved in the Gothic and Romanesque styles of architecture. But if you think there are no surprises to be found in Christ Church, you'd be wrong.
Ireland's answer to Tom and Jerry can be found here in the form of a mummified cat and rat. Legend says one was chasing the other when they both got stuck inside the pipe organ and now they're both on display at Christ Church Cathedral. The things you never thought you'd see!
NATIONAL BOTANIC GARDENS
If you're visiting the city on a rare warm and sunny day, one of the best things to do in Dublin is to visit the National Botanic Gardens.
You'll find the beautiful gardens in the north Dublin neighborhood of Glasnevin. There are lots of exotic plants, walking paths, manicured formal gardens, and a Victorian greenhouse too.
TRINITY COLLEGE LIBRARY
Trinity College Dublin is the city's most prestigious university with a stunning campus you will want to explore. But the pièce de résistance of the institution is Trinity College Library for two reasons.
Trinity College Library Long Room
First, the college library's Long Room looks like something you'd see in a Harry Potter movie. It boasts two floors of dark wooden bookcases with a high vaulted ceiling with statues and Irish harps displayed in the center.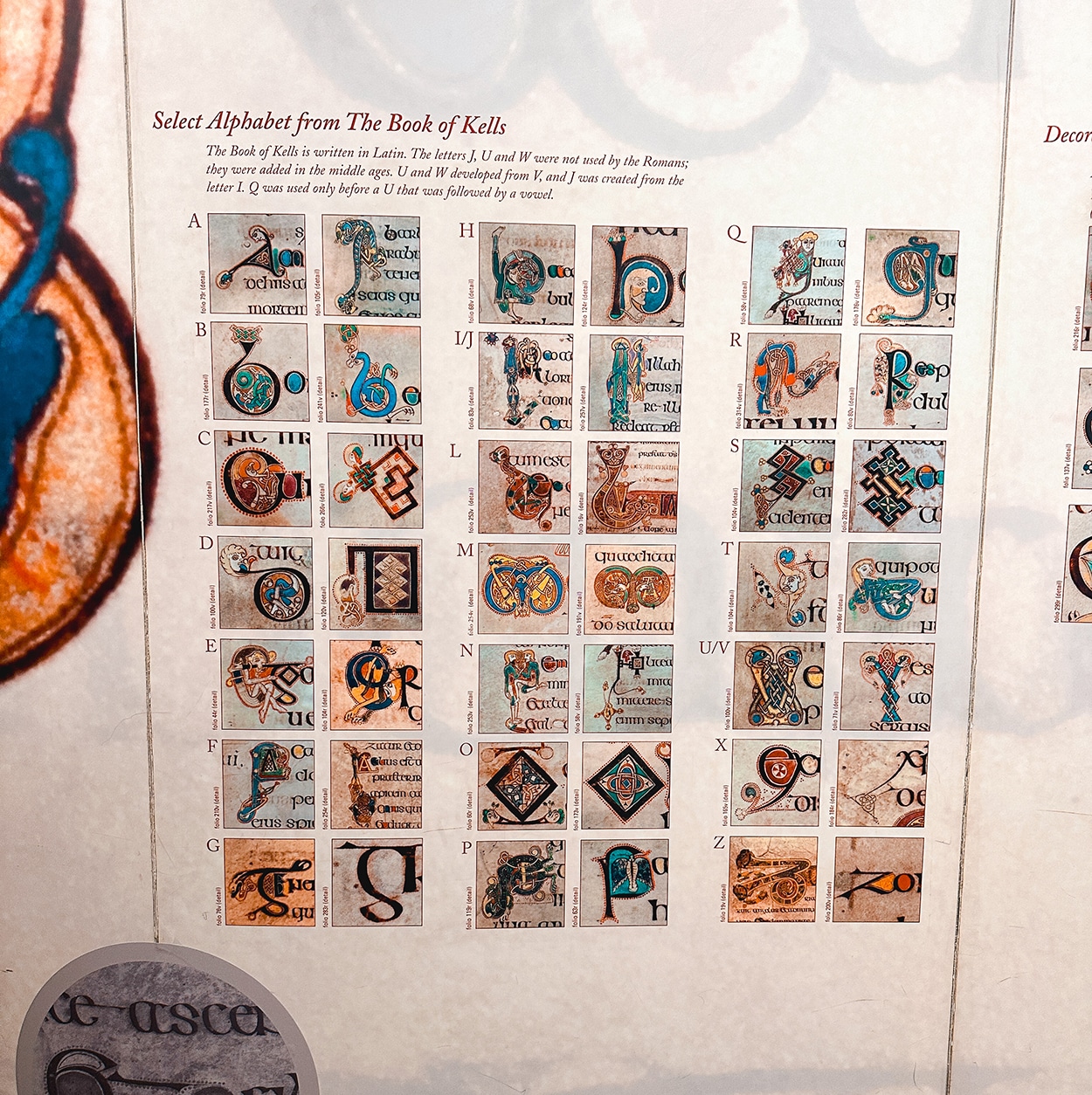 The Book of Kells
Trinity College Library is also home to the original Book of Kells, one of the oldest and most important books in the world. This book dates back to around 800 AD and includes Christian gospels handwritten and drawn by monks. If you love to read cool books and enjoy visiting libraries then this is a must-visit.
NOTE: Trinity College Library is undergoing a massive renovation from October 2023 until at least 2026. After the fire at Notre Dame, the structural and safety issues became even more urgent at the library to make sure the books and building were protected from disaster.
Triple check times and tickets to make sure you can see what you want before you show up. There is nothing worse than paying to see the Book of Kells and then the library is bare of books or closed.
GUINNESS STOREHOUSE
There's no denying that one of the most popular tourist attractions, if not the most popular attraction in Dublin city centre, is the Guinness Storehouse. This interactive bar and brewery experience is located at St James's Gate where Arthur Guinness started brewing the famous Irish stout back in 1759.
The Guinness Storehouse includes a tour of the malting and brewing process, the history of Guinness, a look into Guinness's advertising history, as well as other fun activities. When you reach the Gravity Bar at the end of the tour, you can learn how to pour your own pint with 360-degree views of the city centre.
Even if you don't drink or are visiting with your kids, it's a fun experience for everyone (yes, children under 21 are allowed on the tour and to visit. They just can't drink unless they are of legal drinking age in Ireland, which is 18 years old).
It gets very busy so book online to avoid having to waste time waiting outside in line for tickets.
TEMPLE BAR NEIGHBORHOOD
Named after The Temple Bar Pub, this neighborhood is just south of the River Liffey and is one of the coolest in Dublin. Every night, its cobblestone lanes are filled with late-night revelers hopping from pub to pub enjoying DJs, dancing, and the odd pint of Guinness or two.
Temple Bar is also where you'll find vintage boutiques and quirky second-hand stores, street art, and cultural centers. It's busy most of the day, but if you are with kids, daytime is the best time to take a stroll through the neighborhood before it turns into a party like Bourbon Street in New Orleans.
KILMAINHAM GAOL
Fans of dark tourism will find visiting Kilmainham Gaol one of the top things to do in Dublin for sure.
Many political prisoners in Dublin, Ireland were housed here up until the first half of the 20th century where they were often tortured and even executed. Much of the prison was preserved exactly as it was, but there are guided tours and an onsite museum to explore too.
If you book a ticket for any Dublin attraction, make it this one. Tickets regularly sell out and you cannot line up to buy them last minute.
DUBLIN CASTLE
Dating back to the middle ages, Dublin Castle has lived many lives as a royal residence and a military fortress. Both the interiors and exteriors of this castle are worth checking out as the gardens are beautiful plus there are well-appointed state rooms and museums.
PHOENIX PARK
This whopping 708-hectare park in the west of Dublin is the perfect place to hang out on a summer's day or to visit with energetic kids. Phoenix Park is where you'll find, amongst other things, the Dublin Zoo, wild deer, outdoor music festivals, and sports fields.
Surprisingly, Phoenix Park boasts the President of Ireland's residence as well as the US Embassy.
MERRION SQUARE
As well as Phoenix Park, Dublin has lots of smaller city parks like St. Stephen's Green and Merrion Square. This is a charming little park surrounded by the most gorgeous 18th-century Georgian townhouse.
It also has lots of fun monuments to Dublin's literary greats like Oscar Wilde and George Bernard Shaw. On the street opposite the park is where you'll find Oscar Wilde's former house-turned-museum if you're a fan of his works.
JAMESON DISTILLERY BOW ST
Aside from partaking in a pint of the black stuff (i.e. Guinness), drinking Irish whisky is one of the most popular reasons to visit Dublin. Jameson is one of the most famous Irish whiskey brands and their historic distillery on Bow Street is now a tasting room.
You'll learn all about the history of the distillery and how Jameson pioneered whiskey in Ireland, plus learn how to identify tasting notes in different whiskey blends. Sláinte! (that's 'cheers' in Irish).
GRAFTON STREET
Ireland's love of music isn't restricted to its pubs. Take a walk down Grafton Street, one of the main shopping streets in Dublin. You'll pass several talented buskers attempting to attract the attention of someone in the music industry and hit the big time.
14 HENRIETTA STREET
In the 18th century, Dublin underwent a huge revival and many of its most important buildings date back to the 1700s. Experience what life was like for the working class during that time by visiting 14 Henrietta Street.
This is a 1740s house that was painstakingly restored to tell the story of the family that lived here during that era.
DUBLIN BAY BEACH
Yes, Dublin has a beach! Hail a taxi or catch a local bus beyond the Grand Canal and into Dublin Bay where there is a little sliver of soft yellow sand.
It's rarely warm enough to sunbathe here but, as an important biosphere for wildlife, you might spot large flocks of finches and even rarer birds.
ST PATRICK'S CATHEDRAL
Christ Church Cathedral is much more central, but head just south of Temple Bar and you'll stumble across the largest church in Ireland- St Patrick's Cathedral. Ireland's national church dates all the way back to the 13th century and is an important place of pilgrimage for many Irish Catholics.
DAY TRIP TO THE WICKLOW MOUNTAINS
Many of Ireland's top sights on the Wild Atlantic Way and the Ring of Kerry are just a little too far out of Dublin for a day trip. Fortunately, the Wicklow Mountains National Park in County Wicklow is just an hour's drive south of the city.
In this beautiful area, you can enjoy hikes, kayak on the lakes, and escape the crowds of the city for a while.
BEST MUSEUMS AND GALLERIES IN DUBLIN
IRISH WHISKEY MUSEUM
Learn about the history of whiskey in Ireland at the fun and interactive Irish Whiskey Museum. You'll learn about how whiskey in Ireland is produced and get to sample a few at the end of the tour.
EPIC: THE IRISH EMIGRATION MUSEUM
Ireland has a long history of emigration and finally, in 2016, EPIC: The Irish Emigration Museum opened. This museum covers which areas have such a huge Irish diaspora and why. If you have Irish ancestry, you can try and trace them using the archives here.
GLASNEVIN CEMETERY MUSEUM
Glasnevin Cemetery is the final resting place of many famous Irish figures including Daniel O'Connell, Charles Stewart Parnell, and Michael Collins. You can learn more about them and the history of the Victorian graveyard at the onsite Glasnevin Cemetery Museum.
THE LITTLE MUSEUM OF DUBLIN
Don't know much about the 1916 Easter Rising? Want to learn more about Dublin's history with all the boring bits left out of the edit? The Little Museum Dublin looks more like a well-organized Irish historian's house and is the perfect place to learn about Dublin city.
There are comic book strips on the walls of the Little Museum detailing huge events in Ireland's recent past (like the Easter Rising). Plus, it has exhibits on Dublin music, movies, art, and more. Honestly, this is the perfect thing to do in Dublin with kids, especially if they are into history.
CHESTER BEATTY LIBRARY MUSEUM
The Chester Beatty Library is part of the Dublin Castle complex so you can gain entrance to this quirky collection on the same ticket. The man in question was a wealthy American mining businessman who acquired a range of costumes, texts, and artwork on his travels at the turn of the 20th century.
Now, his private hobby is available for the public to enjoy. Lonely Planet describes this museum as not only one of the best in Ireland but one of the best in Europe.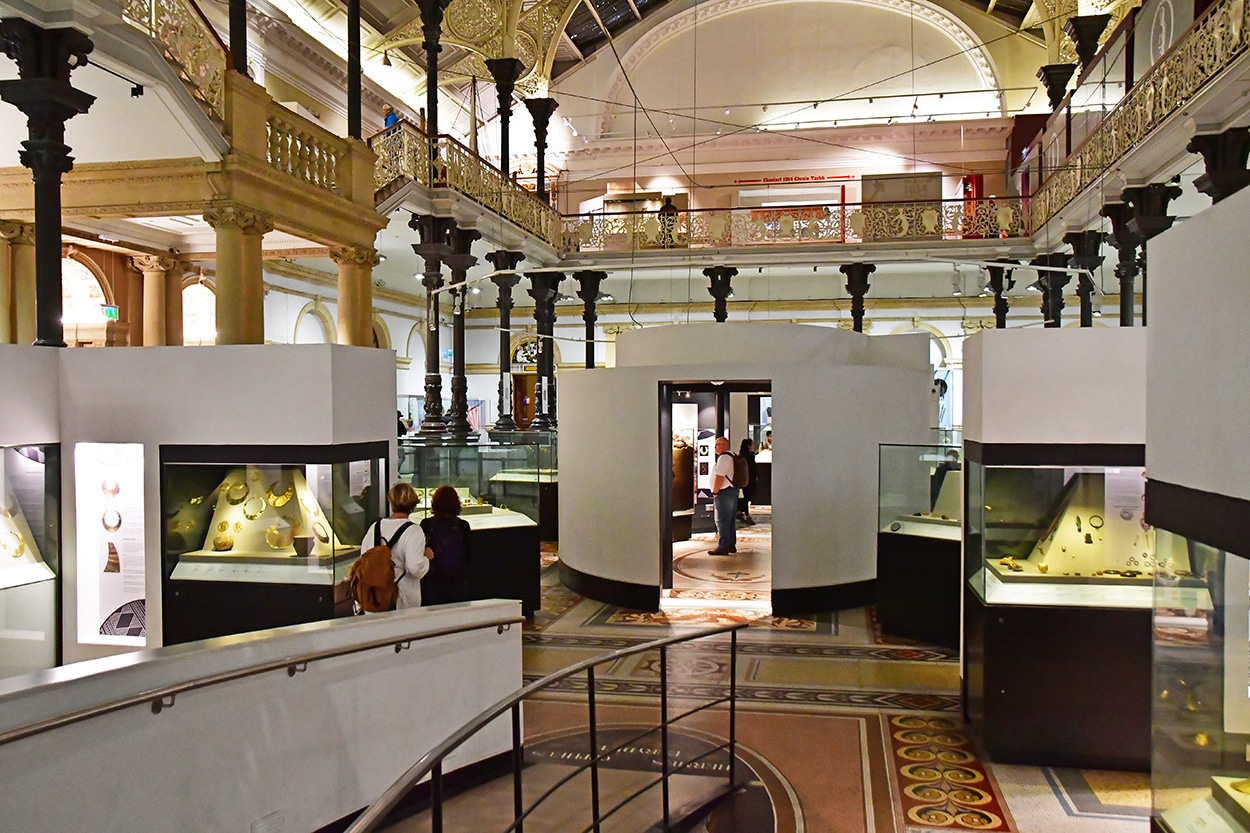 NATIONAL MUSEUMS OF IRELAND
There are three National Museums of Ireland in Dublin:
National Museums of Ireland- Archaeology
National Museums of Ireland- National History
National Museums of Ireland- Decorative Arts & History
You'll also find the National Gallery of Ireland in the capital.
They are all housed in extremely beautiful, old buildings with valuable and interesting artifacts. If you have an interest in any one of these areas, you won't regret paying a visit to any of these museums.
And did we mention? They're all free to visit!
TRADITIONAL IRISH MUSIC PUBS IN DUBLIN
You absolutely have to dedicate a significant portion of your itinerary to enjoying traditional Irish music. In pubs across the city, you'll find some of the best places where many musicians join together in improvised and informal live music 'sessions' or perform old Irish folk favorites.
Some of the best traditional Irish music pubs can be found around O'Connell Street and Temple Bar, but here are a few recommendations to get you started .
THE GRAVEDIGGERS
Lonely Planet has dubbed this pub the best in Dublin for live music, and they might be right. Dating back to 1833, The Gravediggers in the north of the city by the National Botanic Gardens is worn and old school, but it doesn't get much more local than this pub.
THE BRAZEN HEAD
The former haunt of many Irish rebels from history, The Brazen Head hosts traditional Irish music performers every night. It has exposed brick walls, low ceilings, and dark wood furniture that will make you feel like you've stepped back in time once you step through the door.
THE OLD STOREHOUSE
Temple Bar is full of great pubs with many booking live performers every night, but some can feel quite commercial and touristy, having lost that traditional pub culture vibe. Not The Old Storehouse! It's the best pub in Temple Bar with live music every night and beloved by locals and tourists alike.
ANNUAL EVENTS IN DUBLIN
Let's face it, Dublin's most popular annual event by miles is St Patrick's Day, a huge celebration of Ireland's patron saint. Everyone sings and dances to traditional music, wears green, and most partake in either whisky or Guinness (or both!).
But Dublin does have some other annual events that might pique your interest.
TradFest Temple Bar (January)
Dublin Film Festival (February)
St Patrick's Day (March 17th)
Easter Weekend (March/April)
Dublin Pride Festival (June)
Longitude Outdoor Music Festival (July)
Dublin Fringe Festival (September)
Christmas at Airfield Estate (November/Decemer)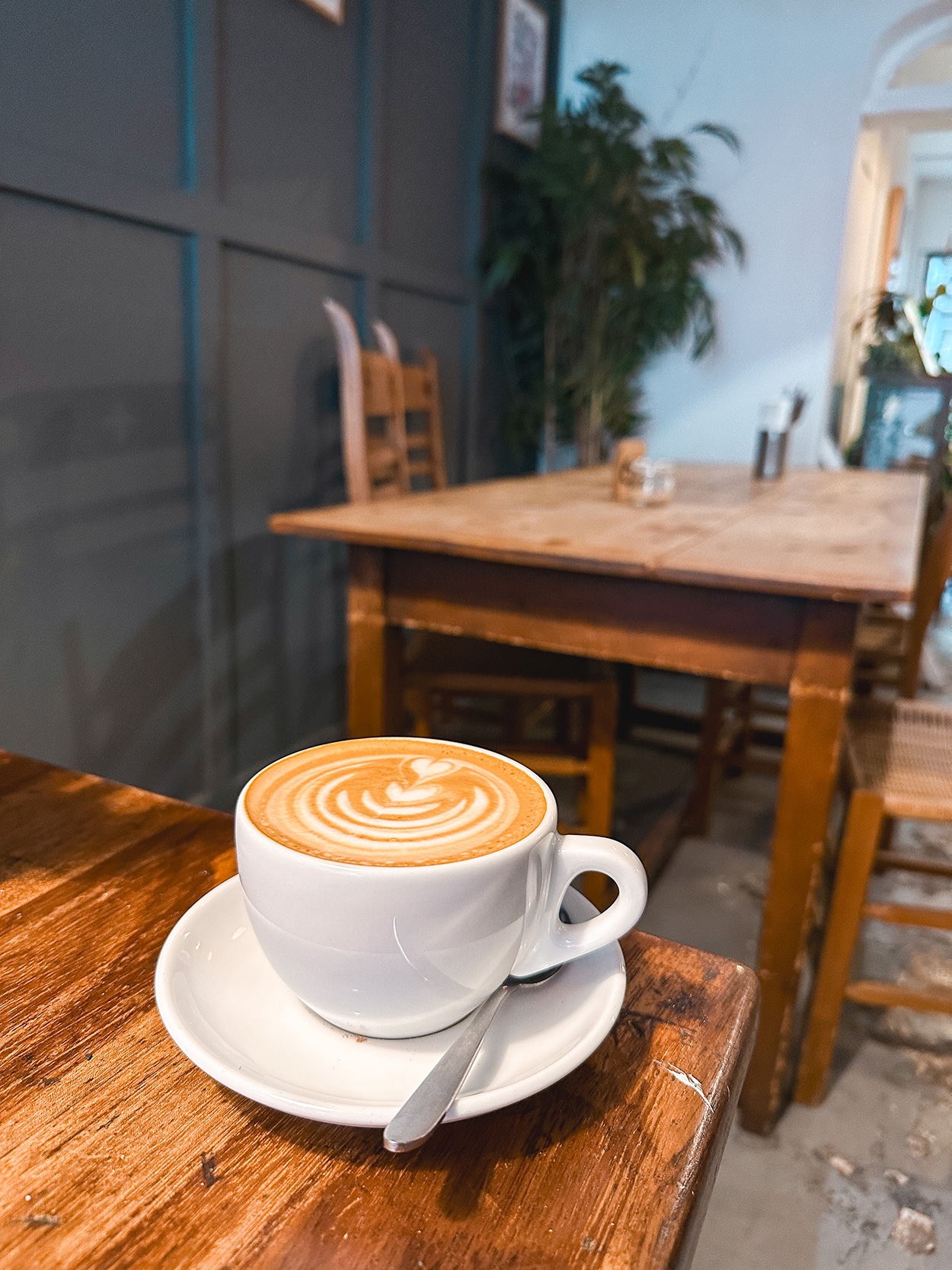 RESTAURANTS IN DUBLIN
Not only will you find hearty Irish meals in Dublin, but you'll also find lots of world-class international cuisine too. Still, it's nice to try traditional dishes that are local to the places you visit. In Dublin, that means huge fried breakfasts and unpretentious plates packed with potatoes.
IRISH BREAKFASTS IN DUBLIN
Flanagan's Restaurant
O'Neill's Pub and Kitchen
Grainger's Cafe Bar
Keoghs Cafe
Two Pups Coffee Shop
LUNCH SPOTS
Platform 61
Bleecker Street Bar
One Society
Urbanity
DINNER RESTAURANTS
Clanbrassil House
Dublin Pizza Company
Etto
Fade Street Social
SWEET TREATS IN DUBLIN
Murphy's Ice Cream
Butler's Chocolate Café
Hansel & Gretel Bakery and Patisserie
The Rolling Donut
FAQ Dublin Ireland
What is Dublin?
Dublin is the capital and largest city of Ireland. It is located on the east coast of the country, at the mouth of the River Liffey. Dublin is known for its rich history, vibrant culture, and friendly atmosphere.
How do I get to Dublin?
Dublin is well-connected by air, with Dublin Airport serving as the main international gateway. It has flights from major cities around the world. Additionally, you can reach Dublin by train, bus, or ferry from other parts of Ireland or the United Kingdom.
What is the weather like in Dublin?
Dublin has a temperate maritime climate, with mild winters and cool summers. The average temperature ranges from 4°C (39°F) in winter to 20°C (68°F) in summer. Rainfall is common throughout the year, so it's a good idea to pack an umbrella or raincoat.
What are the must-see attractions in Dublin?
Some of the top attractions in Dublin include the Guinness Storehouse, Trinity College and the Book of Kells, St. Patrick's Cathedral, Dublin Castle, Temple Bar, and the National Museum of Ireland. Don't miss exploring the lively streets of Grafton Street and O'Connell Street either.
Is it easy to get around Dublin?
Yes, Dublin has a good public transportation system, including buses, trams (LUAS), and trains (DART). The city center is compact and can be easily explored on foot. Taxis are also readily available, and there are bike rental options for those who prefer cycling.
What is the currency in Dublin?
The currency used in Dublin (and throughout Ireland) is the Euro (€). Most establishments accept credit cards, but it's always a good idea to have some cash on hand for smaller shops or places that might not accept cards.
What is the best time to visit Dublin?
The summer months (June to August) are popular for visiting Dublin, as the weather is usually pleasant and there are various festivals and events taking place. However, it can get crowded during this time. Spring (April to May) and autumn (September to October) are also good times to visit, with milder weather and fewer tourists.
Is Dublin safe for tourists?
Dublin is generally a safe city for tourists. Like in any other major city, it's important to take common-sense precautions, such as keeping an eye on your belongings and avoiding isolated or poorly lit areas at night. It's also a good idea to have travel insurance to cover any unforeseen circumstances.
What is the nightlife like in Dublin?
Dublin has a vibrant nightlife scene with numerous pubs, bars, and clubs catering to various tastes. Temple Bar is famous for its lively pubs and traditional Irish music. However, Dublin offers a range of nightlife options beyond Temple Bar, with areas like Camden Street, Harcourt Street, and George's Street also known for their nightlife offerings.
Are there any day trips I can take from Dublin?
Yes, there are several day trip options from Dublin. You can visit the historic town of Howth, explore the stunning landscapes of Wicklow Mountains National Park, or take a tour to the ancient passage tomb of Newgrange. The nearby coastal towns of Malahide and Dun Laoghaire are also worth a visit.
What is the local cuisine like in Dublin?
Dublin offers a wide range of culinary experiences. Traditional Irish dishes like Irish stew, fish and chips, and boxty (a type of potato pancake) can be found in many pubs and restaurants. Dublin also has a thriving food scene with international cuisines and trendy eateries.
Can I visit attractions related to famous Irish writers in Dublin?
Yes, Dublin has a rich literary heritage, and you can visit various attractions associated with famous Irish writers such as James Joyce, Oscar Wilde, and W.B. Yeats. The Dublin Writers Museum and the James Joyce Centre are popular spots for literature enthusiasts.
Are there any museums in Dublin?
Yes, Dublin has several museums that cater to different interests. In addition to the National Museum of Ireland, you can visit the Irish Museum of Modern Art, the Chester Beatty Library, the Kilmainham Gaol Museum, and the Little Museum of Dublin, among others.
What are the shopping options in Dublin?
Dublin offers a diverse shopping experience. Grafton Street and Henry Street are the city's main shopping areas, with a mix of high-street brands and department stores. If you're looking for unique boutiques and designer shops, explore the Creative Quarter in the South Georgian area.
Can I take a tour to see filming locations of "Game of Thrones" in Dublin?
While the majority of "Game of Thrones" filming locations are in Northern Ireland, there are a few sites near Dublin that were featured in the series. You can take a guided tour to visit locations such as the Dark Hedges (Kingsroad) and Castle Ward (Winterfell) for a taste of the show's magic. You can also day trip from Dublin to check out the Game of Thrones Studio Tour.
Love it? Pin it for Later!