Death Valley is hot, but that's not why it is called Death Valley. Nope. This California national park, which is closer to Las Vegas than Los Angeles, is actually bursting with life, and water. Springs run under this valley in the lowest point in North America. Millions of gallons of water push past The Oasis at Death Valley every day, providing enough water for showers and a swimming pool, without having to tap into another H20 supply.
So then, why is it called Death Valley? Well, it's really just happenstance. Pioneers were lost in the area, but later rescued and as they headed out, one looked back and said "Goodbye, Death Valley." You see, these pioneers all thought they would die in the wilderness before help would come. News spread of these parting words, and the name stuck.
Tips for Visiting Death Valley
Get up early: The sun is not your friend in Death Valley National Park. The closer you get to summer, the more dangerous the heat becomes. It's next to impossible to explore during midday. The National Park Service advices you stay away from the basin, which is the lowest elevation in the park, after 10am. Get up for sunrise and explore as early as possible. Save the midday hours for lunch and relaxing by the pool. Go back out late in the afternoon for sunset. This is when the light is better for photos anyway. You will enjoy yourself much more when you aren't falling over from heat exhaustion at one of the hottest places on earth.
Bring more water than you think: In fact, bring more water than you thought possible and then triple that number. Death Valley's heat, especially anywhere close to the summer months, can literally kill you before you know it. Dehydration is real and very dangerous. Drink water in your car and carry a water bottle every time you get out of it. It is also so dry that you do not sweat, making water even more important.
Wear sunscreen, even if you tan: The sun is fierce and you will burn quickly. Reapply every few hours to protect yourself, especially if you can't wear long, light layers due to the heat.
Must-See Stops in Death Valley
Furnace Creek is your main focus when you only have one day to visit Death Valley. This is where all of those photo spots are that you have seen your friends talking about for the past few years.
You will see Zabriskie Point as you drive to the Inn at the Oasis. It's an easy drive to Badwater Basin, Artist's Drive to see Artist's Palette, 20 Mule Team Canyon and the Harmony Borax Works Interpretive Trail. Dante's View is back the way you entered the park, but only a half hour drive up the hill to get one of the best views of the basin. You probably won't have time to get to Scotty Castle though. It's under renovations after flash floods swept through the area anyway, so you won't miss much.
Furnace Creek Visitor Center & Death Valley Museum
Every trip to a national park should start with a stop at the Visitor's Center. We love to grab our trail map, chat with the park rangers, buy a souvenir or two that supports the park, use the toilets and find out about any closures in the park we should be aware of that day.
Furnace Creek Visitor Center has a nice little museum and plays a short video that can give you a good history of Death Valley before you head out into the park for the day.
Zabriskie Point
Definitely one of the first spots you will want to stop at as you head into Death Valley. It is also one of the easiest with small children, as it is wheelchair and stroller accessible. Toilets are at this stop as well for those who are potty training and just can't hold it.
Park your car and stroll up the small hill to the viewpoint. While you can do a small bit of hiking below the look out, it is not advisable to go very far as it will further erode the landscape, and falls do happen. Don't be a cliche and die at Death Valley.
But what exactly will you see at the look out? The leftover landscape that was under Furnace Creek Lake, which dried up more than 5 million years ago. Thanks to erosion, these no-longer-underwater hills have created a swath of color across your viewpoint that looks over the Death Valley Basin.
20 Mule Team Canyon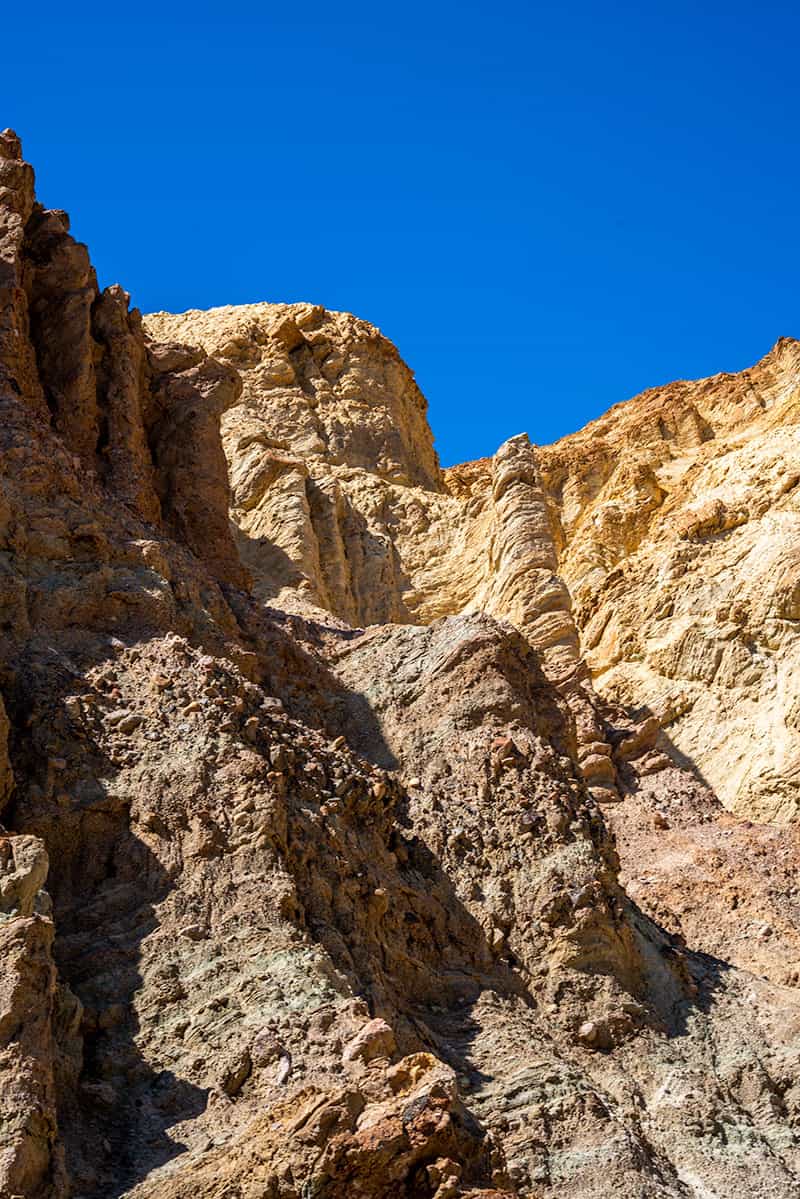 A 2.5 mile unpaved, yet accessible for most cars, road greets Star Wars fans who are in the know. If you love Star Wars Episode VI: Return of the Jedi, you will recognize the entrance to Jabba the Hutt's fortress. Try not to geek out too much, but yes, pose for photos with your droids and lightsaber.
Golden Canyon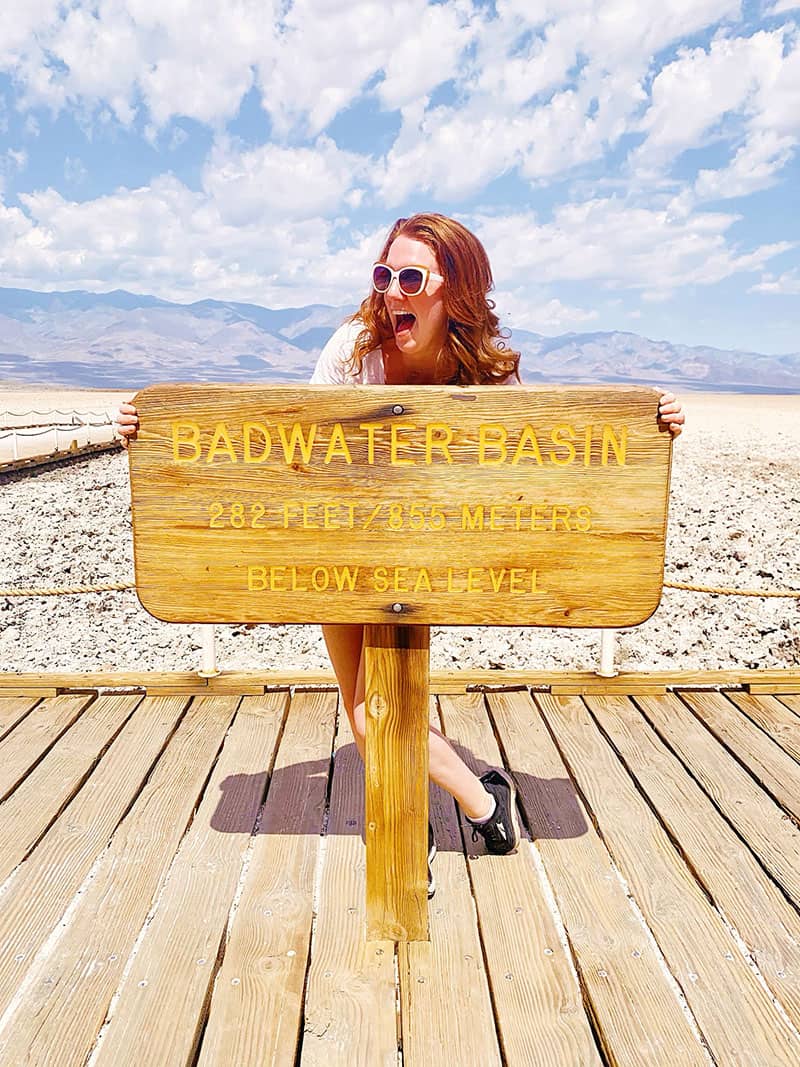 Similar to a slot canyon, but much wider than The Narrows of Zion, and much more dry. If you are craving some shade, this hike will provide a bit of it for a time. Crevices in the rock make from some interesting climbing, especially for younger children who need to be entertained and work off some energy.
Badwater Basin
This is why you came to Death Valley. Those geometric salt flats can be found at the Badwater Basin stop if you walk out far enough. After 10am on a hot day, it will be too warm to hike too far, but if you get there early enough, you can make it all the way out to the spots where the salt forms those almost hexagonal patterns across the basin. If you can't make it that far, a walk across the salt is still worth a mini trek.
You will notice several holes in the path as you walk out. This is because people have been digging down into the salt to find water. Don't dig a new hole. We promise water is down there. No need to keep looking when you are already 282 feet below sea level. Let's keep the salt on the surface where it belongs, shall we?
Artist's Drive to Artist's Palette
Perfection at sunset is the only way to describe this drive, but make sure you get to the Artist's Palette before the sun goes over the mountains or you will miss it.
These mountains regularly look brown and blue, but when that late afternoon sunlight hits it just right the brown turns to fire and that blue glows like a creature from Avatar. Keep in mind that this is a one-way road. Once you enter, you have to stay on the path until you pop out of the other side. There is no backing up. However, there are plenty of pullovers, parking lots at key spots and shoulders in certain spots for slow-pokes and photo junkies to stop.
Dante's View
Get ready for one of the best views of the Death Valley Basin you could ask for when you want to get high above it all. Just 30-minute drive from the Inn at Death Valley, you will wind your way up a mountain to look out over this wide expanse of white and brown you've driven quite far to experience.
Take time to hike out to the point on the left. The views just get better on both sides the farther you go.
What's out there? The entire Death Valley basin and the mountains behind it for your eyes to feast on. See white circles of salt below, flowers across the path at your feet and teeny tiny cars driving along the Badwater Road.
One Day Itinerary in Death Valley
Arrive the night before at the Inn at Death Valley or the Ranch at Death Valley
Wake up for sunrise at your hotel, Dantes View, Zabriskie Point, and the sand dunes
Skipped sunrise? Drive to Badwater Basin first thing in the morning, well before 9am to make the hike out to the salt flats.
Backtrack to Artists Palette, Zabriskie Point and Dante's View before noon
Take a break for lunch and a swim during midday while the sun is hot
Pop into Furnace Creek Visitor's Center to get an overview of the area
Visit Harmony Borax Works, 20 Mules and/or Golden Canyon for a late afternoon hike
Sunset at Dante's View, Zabriskie Point, the sand dunes, Artists Palette and Aguereberry Point
Stargazing at the Ranch at Death Valley or Harmony Borax Works
Stargazing in Death Valley
Thanks to its proximity to Las Vegas (120 miles) and Los Angeles (295 miles), Death Valley National Park is the largest Dark Sky National Park in the country, according to the International Dark Sky Association. Complimentary Star Parties are hosted by The Ranch at Death Valley with parking available at the golf course.
Stargazers can also join the Las Vegas Astronomical Society to gaze up at the heavens year-round (check website for party dates though). In winter and spring months, park rangers host stargazing with various organizations as well.
Stargazing Tips:
Plan your trip around a new moon
Stay out at least 30 minutes to allow your eyes to adjust to the dark sky conditions. Ubehebe Crater is one of the darkest spots for viewing if you really want to get away from any light pollution.
Do not put on a flashlight if you can help it, or you will ruin your night vision. A red light is your best alternative when you need to see in the dark.
*More tips found on NPS.gov
Best Stargazing Locations in Death Valley
Harmony Borax Works
Badwater Basin
Mesquite Flat Sand Dunes
Drones in Death Valley
It must be noted that flying a drone in Death Valley is prohibited. You cannot fly drones in any U.S. National Park. Period. You will be fined if you are caught.
However, you can fly a drone in Death Valley if you are staying at one of the private properties within Death Valley. The Inn at the Oasis and the Ranch at the Oasis are both private properties in the park. As long as you launch and land your drone on these properties (and with no people nearby to hit!), you can fly your drone for a few overhead shots.
Sunrise and sunset are your best bet for gorgeous photos of the properties and the basin.
Low Season in Death Valley
May through October is low season in Death Valley, simply because of the heat. The Inn at the Oasis may see only 150 rounds of golf played in that entire time frame, while most courses can see that played in a week (if not more depending on the course).
High Season in Death Valley
October through April is high season in Death Valley, with a bit of a shoulder on the fringes depending on the heat that year. This is when more people flood the park, but the park is very large. Lodging inside the park may be an issue, as it is limited. The nearest large city is Las Vegas, which is two hours away. Los Angeles is almost five hours drive depending on traffic. Book your rooms as far in advance as possible.
Rent a Car
The best way to see Death Valley is by car. Unlike Zion National Park, there is no tram system to bring you around the basin. You will also want to drive up to view points and through the winding roads into the hills to see the Artist's Palette and other natural marvels carved into the landscape by millions of years of wind and water.
Pick up a car in Los Angeles, Las Vegas or whichever airport you fly into from your hometown. If you've been exploring things to do in San Diego with kids, you can still make it out to Death Valley.
Major rental car suppliers, like Enterprise, Alamo, Sitx and Hertz all offer cars and decent rates. You won't need an SUV unless you plan on going off road, which really isn't recommended. It also isn't allowed in most parts of the park.
Death Valley Hotels
For anyone looking to sleep on the basin floor, you can't get much closer than the Oasis at Death Valley. This property actually has two parts- one luxury and the other a bit more affordable. Both properties offer dining options on site, golf courses, a pool, and access to all of the major sites within the park.
Best Airports to get to Death Valley
While you can drive into Death Valley from multiple points in California and Nevada, there are two major airports that offer nonstop flights from across the country. You will still have to drive in, but it beats a 3-5 day drive across the U.S.
Las Vegas is 2 hours away
Los Angeles is 5 hours away
Check for the best rates on flights HERE.
Many thanks to Visit California and the Inn at the Oasis for hosting my two night stay in Death Valley National Park. As always, my opinions are my own.