<<< Guest post by Eileen Gunn of FamiliesGo! >>>
We planned a trip to Edinburgh simply because we'd never been there and have long been curious about it. The bonus, given that we were traveling with a 4th grader, is that J.K. Rowling spent a lot of time in Edinburgh when she was writing the Harry Potter books.
Rowling clearly took a lot of inspiration from this city's medieval architecture, grim history and numerous dark corners. How much inspiration and from which corners is the subject of vigorous debate among fans and tour guides (yes of course, you can take Potter-inspired walking tours with The Potter Trail). If you'd like to walk in the author's footsteps and join the debate, here are a few stops to consider on your next visit.
Where it All Began
Most observers agree that while writing The Sorcerer's Stone a broke Rowling escaped her cold Edinburgh flat to spend the day writing in two cafes were the coffee was cheap and the staff tolerant. One was Nicolson's, which has since morphed into the Spoon Café. The other is the Elephant House, on George IV Bridge Street, a block or two off the Royal Mile.
The Elephant House—which is fun for kids aside from the Potter connection because it's full of hundreds of elephants—has a worn-in university café feel, elephant-shaped shortbread and good prices. It's a good bet for a breakfast or lunch and one of those places where everyone in your family will find something they like (I had a fine leek and cheese quiche for breakfast). Naturally it can pack out during tourist season so try to avoid peak mealtime hours.
Where it All Ended
Take a look at the surprisingly understated Balmoral Hotel in Princes Street, where a more prosperous Rowling locked herself into a room to finish The Deathly Hallows. If you're feeling flush yourself you can enjoy afternoon tea at the Palm Court for £35 per person.
The Real Diagon Alley is…?
Several observers say that Rowling took her inspiration for her wizard shopping row from Victoria Street, a few blocks from the Elephant House in the Grass Market area. But I think it's too wide and colorful. However, this old city is full of "closes," narrow alleyways that branch off the Royal Mile into hidden courtyards stuffed with homes, shops and cafes. At certain times in the city's history these closes were fairly notorious. For me it's easy to imagine these as the inspiration for Rowling's hidden-in-plain-sight Diagon Alley, and especially its darker counterpart, Nocturne Alley.
Hogwarts Inspiration
If you grab a table in the back room of the Elephant House you have an excellent view of Edinburgh Castle, a turreted medieval fort that hovers over the city on a rocky cliff, not unlike a certain wizard boarding school.
Meanwhile, a few blocks behind the café you'll find George Heriot's School, an imposing 350-year-old Renaissance-style building with four towers and four student houses—just like Hogwarts.
The house system is common in U.K. schools— stony castles perched on cliffs are pretty common, too. Still, sitting in Elephant House over your tea and shortbread it's fun to imagine the castle and school mingling to inspire Rowling's prose.
A Riddle Solved in Edinburgh
Head around the corner from Elephant House to the Greyfriar's Kirkyard (any bus tour of the city will point it out) and look for people who look like fellow Potter fans. Follow them and you'll likely find your way to the grave of one Thomas Riddell. Rowling has said she used to stroll through this courtyard regularly. So it's likely this Edinburgh lawyer is the namesake for Voldemort, nee Tom Riddle.
Edinburgh Book Stores
Even if you have all the books (and if you're reading this you probably do) it's worth stopping by a local bookstore as you pass by. All the books have very different (and I think much cooler) covers than the U.S. editions. Blackwell's Bookstore on South Bridge Street (off the lower end of the Royal Mile) had a fun window display with a life-size firebolt, a set of Quidditch balls and a collection of famous wizard's wands.
Eileen Gunn is the founder and editor of FamiliesGo!. You can read more about Edinburgh or follow her on Pinterest, Facebook, Twitter or Instagram.
PIN IT FOR LATER!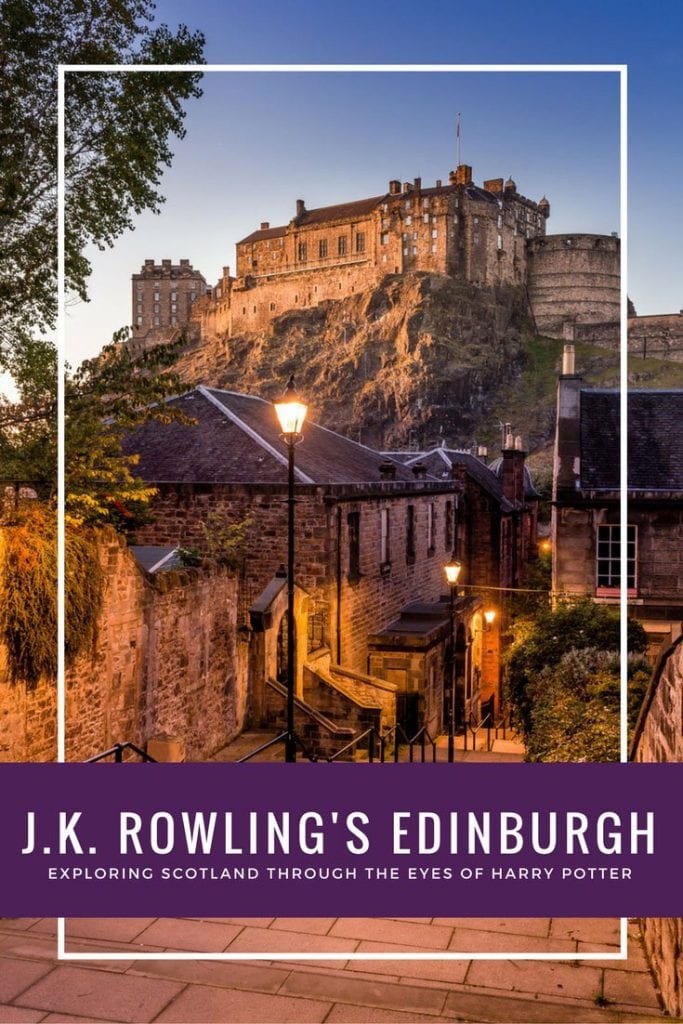 Photo Credits: Elephant House, Victoria Street, George Heriot's School, Dugald Stewart monument, Ross Fountain, and Edinburgh Castle via ShutterStock.com