"I never travel without my diary. One should always have something sensational to read in the train." — Oscar Wilde
I was 19 years old when I first read that line, already two years into my own travel journaling – and I can't help but agree. I started journaling on my first grand adventure: backpacking Europe alone, no one to talk to, my journal became a place to record ideas, reflections, stupid scraps of profound lyrics and overheard conversations. An accumulation of words, sketches and travel scraps, the journals created the most personal artifact of my adventures – and, quite frankly, hilarious reading years down the line.
Recently I upped the ante with watercolor sketching: an image based capture of the moment. A petite travel watercolor kit accompanies me on every adventure, and I have started to carve out time almost every day to capture some element of the journey. Whether it's 15 minutes or an hour, I have discovered I can always find a moment to capture some element of my adventures on paper.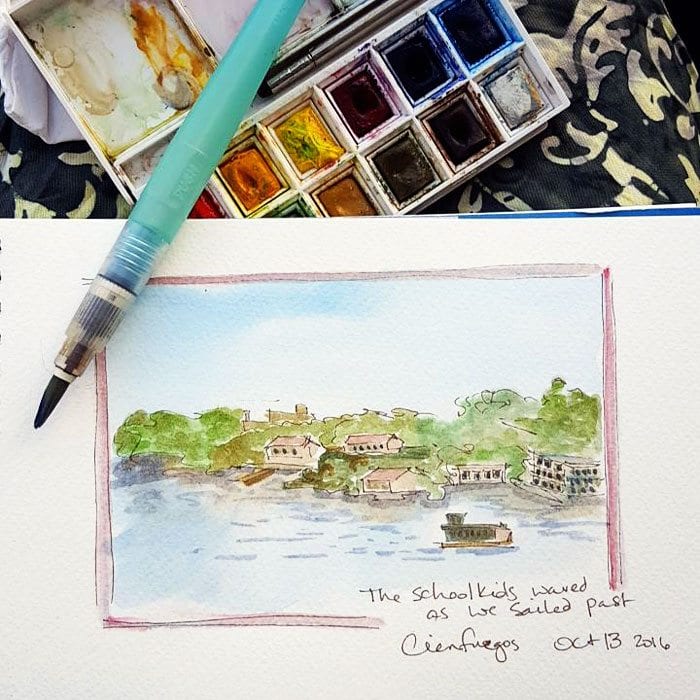 My kit is compact: a small makeup bag that holds a mechanical pencil, a white eraser, a kneaded rubber eraser, a travel watercolor brush, a small spray bottle, a small bottle for extra water, a waterproof fine line pen, absorbent paper towels, and the watercolor palette. I prefer small spiral bound notebooks (about 5×7″ but it depends on the paper manufacturer) with at least a dozen pages, but have used anything at hand: standard sketch paper, paper shopping bags, empty pages a the travel book.
Pre-parenthood, I used to sit wherever the inspiration was and sketch and draw. The dual development of phone camera and child has changed my habits – now I will usually take a series of photos during the day, and then paint from photos in the evening after putting my baby to sleep or in the morning before she wakes up. I love watercolor for it's rapid deployment abilities: it doesn't require the immediate focus of acrylic, or the long-term commitment of oil – I can sketch something out, do some painting right away, or go back to it minutes, hours, months later without compromise.
Watercolor travel journal technique
I usually start with an image, paper and pencil. I sketch in the concept on the page, ink it in, erase the pencil – and then get to work with the colors. Dry or wet wash, detail or flow – these all determine the basic methods of color application. For the most part, my sketches are quick studies, capturing the emotion of the moment; they lack detail and depth, but evoke the place and space. But that's exactly the beauty of watercolor, for me. It's infinitely portable and can continue to be worked in layers, but creates such a wonderful record of what caught my eye, how I felt, and what I really wanted to see.
As I continue to develop my knowledge of the medium, learning to blend colors, lay in paint, use lift and apply methods, I am sure the quality of my sketches will grow. In the meantime, I enjoy the process, so I hope you enjoy the results! I've discovered that a watercolor travel journal offers a lifetime of delight – I hope you are inspired to explore it.
Supplies you will want to get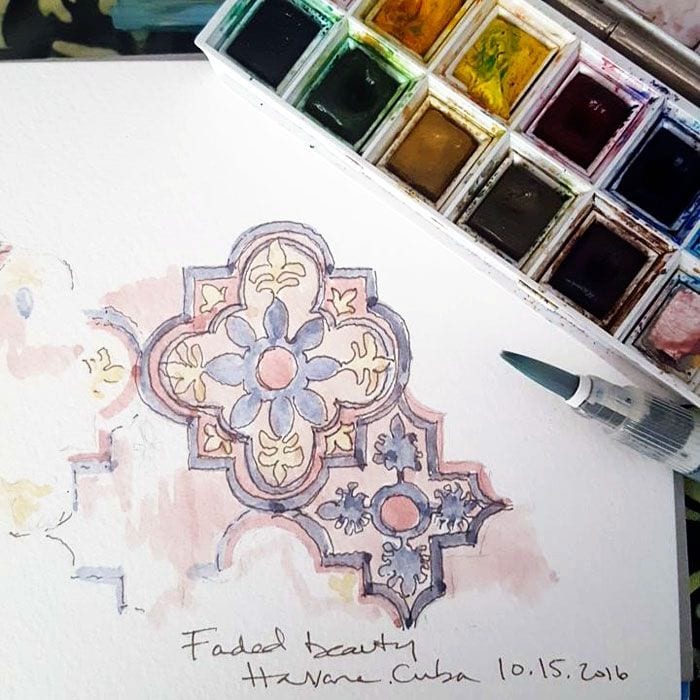 Watercolor travel journal inspiration
Need a little inspiration? I love Candace Rose Rardon and find her paintings and sketches are an inspiration as I dream of the next trip I will take and journal with watercolors. Print magazine also has great travel sketchbook examples that will inspire you to take up a brush
Looking for a teacher? Check out Marilyn Branden Burger.
Curious about materials? Liz Steel has you covered, as well as Citizen Sketcher.
And my very favorite notebook? A Fabriano Water Colour book. If you find one of these please send one to me!
PIN IT FOR LATER!