No one was here. Literally, I couldn't see anyone for miles as we hiked across the plains of Theodore Roosevelt National Park's Petrified Forest Trail. We'd come to Medora, ND to escape the crowds of other national parks and cities in the U.S.A. and we had found it.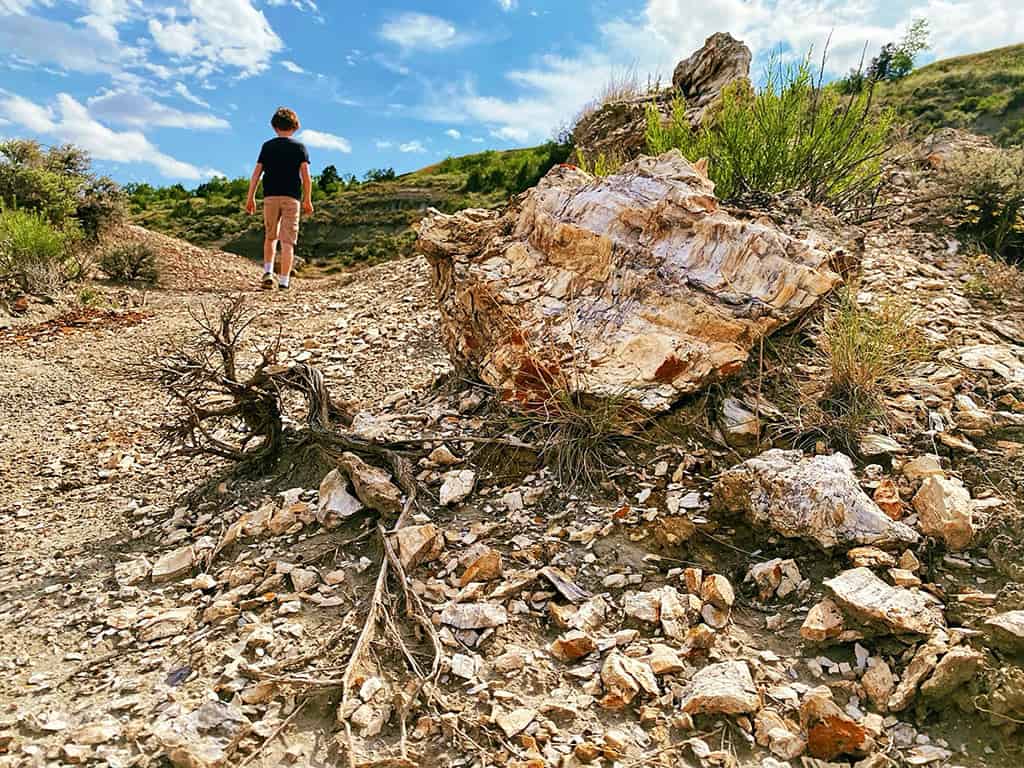 We booked rooms at the Elkhorn Quarters just outside of downtown Medora, creating a quiet and comfortable spot to rest our heads after long days of hiking, mini-golf, watching the Medora Musical, horseback riding and more.
Our family had desperately needed this break from the chaos of home.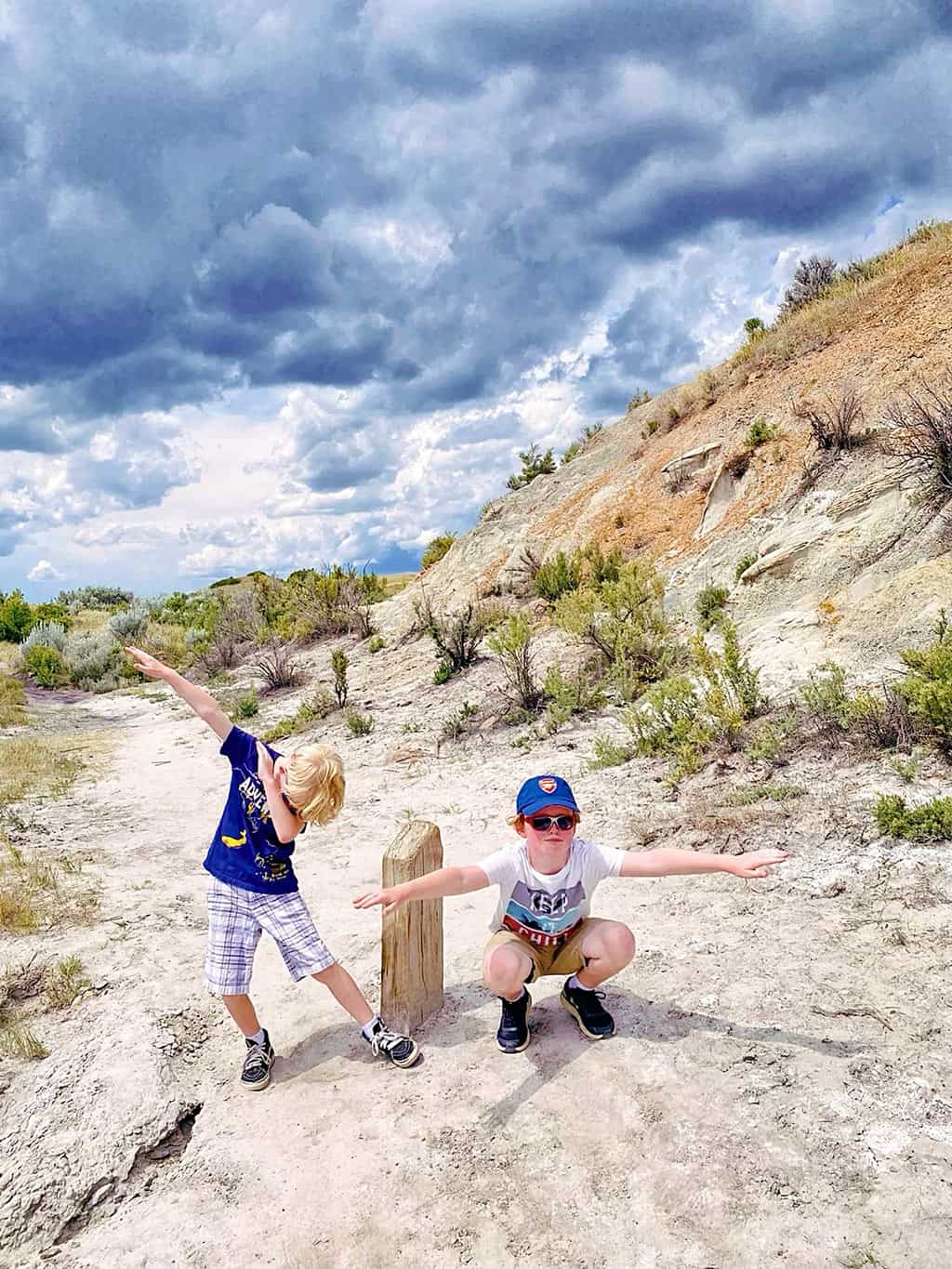 A Return to North Dakota
Once again, North Dakota delivered that mix of nature, great food, and the comforts of home. My youngest had been telling his dad and big brother how North Dakota was his favorite place (we'd traveled to Bismarck, ND and Devils Lake the previous summer on a mother/son trip). Now they could figure out why he loved it all for themselves in the western side of North Dakota.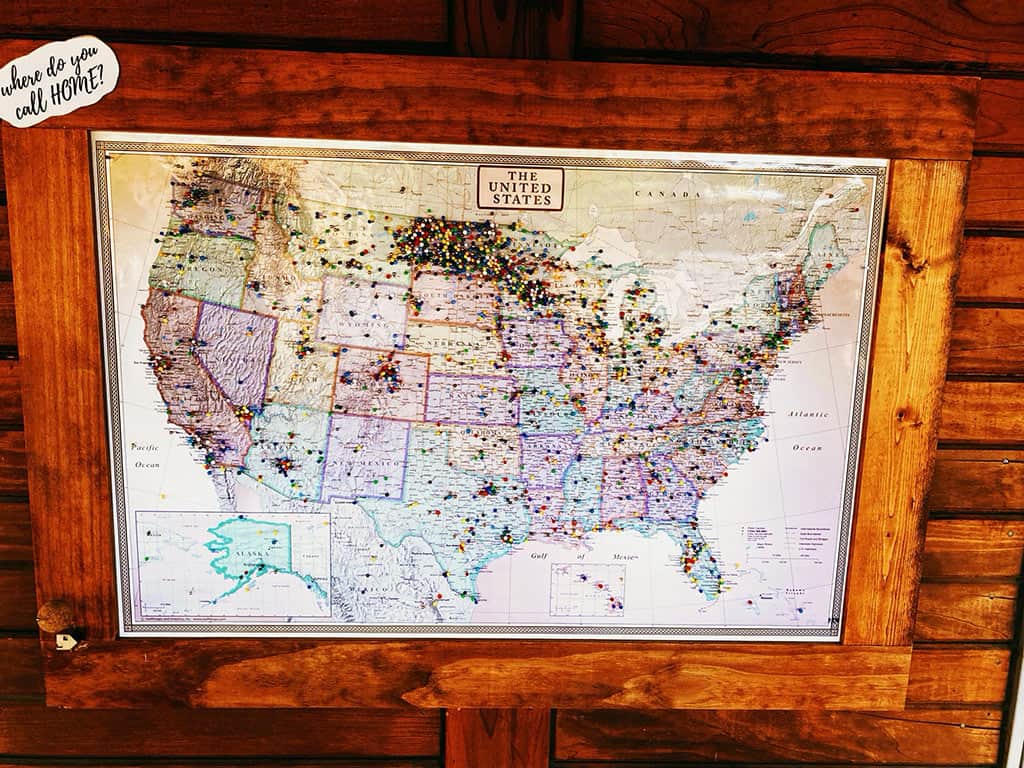 North Dakota Road Trip
As you can already tell, North Dakota has a sweet spot in the lives of my family. My son and I went fishing in Devils Lake, were introduced to the prairie dogs of Sullys Hill National Game Preserve near Devils Lake, and fell in love with the food, people and murals of Bismarck.
However, we were missing those extra wide-open spaces that a U.S. National Park with kids can provide. We packed up the car and made the drive from DC to North Dakota, stopping in Fargo, Jamestown and Bismarck along the way.
Rest and relaxation happened when we stopped in Medora, ND for a few days of quality time together in and around Theodore Roosevelt National Park.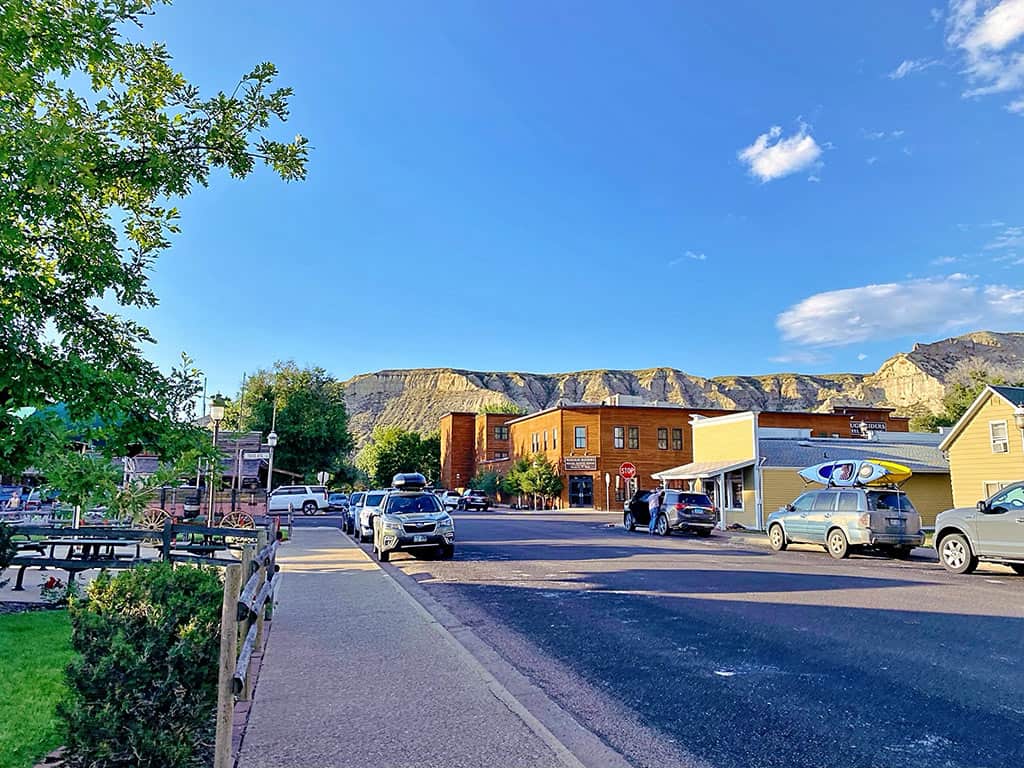 Why visit Medora, ND?
Medora is the closest town to Theodore Roosevelt National Park. My husband loves rock formations and petrified forests, so this North Dakota national park had been on our list for a while.
We were looking for a remote area of the country to hide out in for a few days, but I still needed good food, a few shops and comfortable accommodations. While my kids are close to convincing me to camp again, I'm still not quite there yet.
Medora was like a tiny beach down on the edge of a national park, without the ocean.
We played mini-golf, went tackled multiple hiking trails, explored prairie dog villages, spotted one of the park's wild horses and saw the famous Medora Musical.
Oh, and I ate a ton and my husband was able to have bison and elk, which he loves. The boys tried it too. Bison was by far the favorite, especially the jerky we grabbed for the drive home.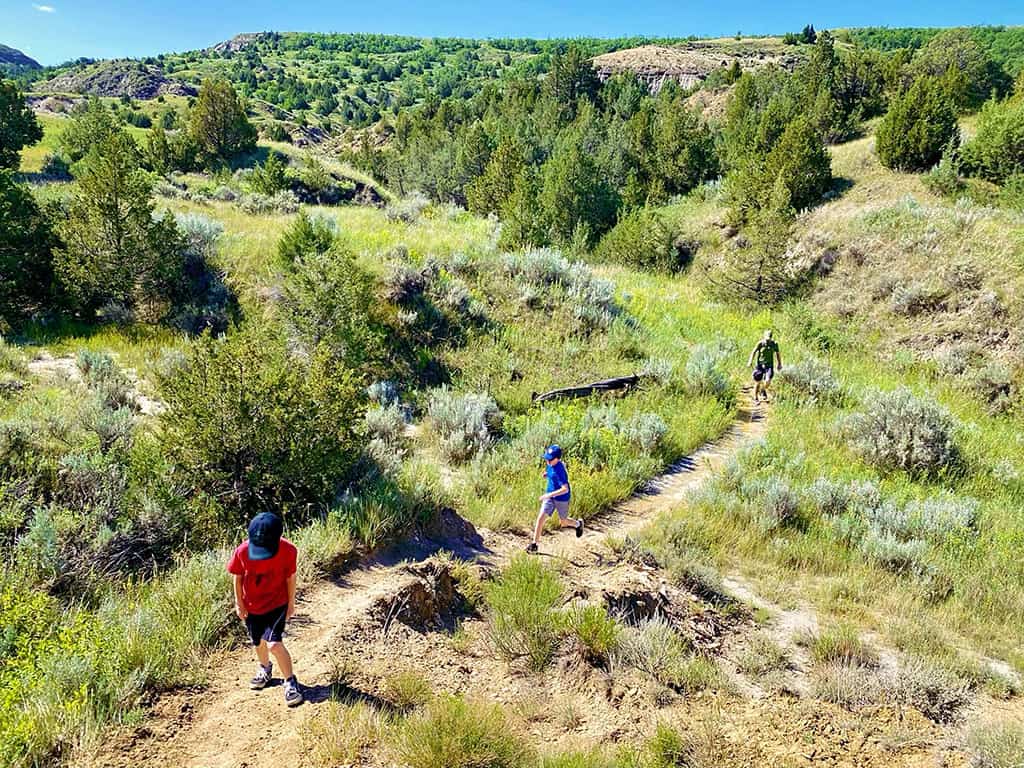 When to go to Medora, ND
The season in Medora generally runs from late April through September. You'll find more shops and restaurants opening up by May, as travelers begin to come out of winter hibernation.
This isn't to say you can't visit in the winter months. Theodore Roosevelt National Park is gorgeous covered in snow. You just won't have as many amenities or restaurants available to you. Also, there will be a lot of snow and ice, so plan your trip with caution in mind.
Medora ND weather
Summers can be hot (80s and 90s during the day). Pack your sunscreen as there is little shade in town and inside the national park.
Strong storms can blow over the plains and Little Missouri National Grasslands, bringing thunder, lightning and sometimes even hail. Keep an eye on your weather app, as well as the horizon, as storms pass through quickly.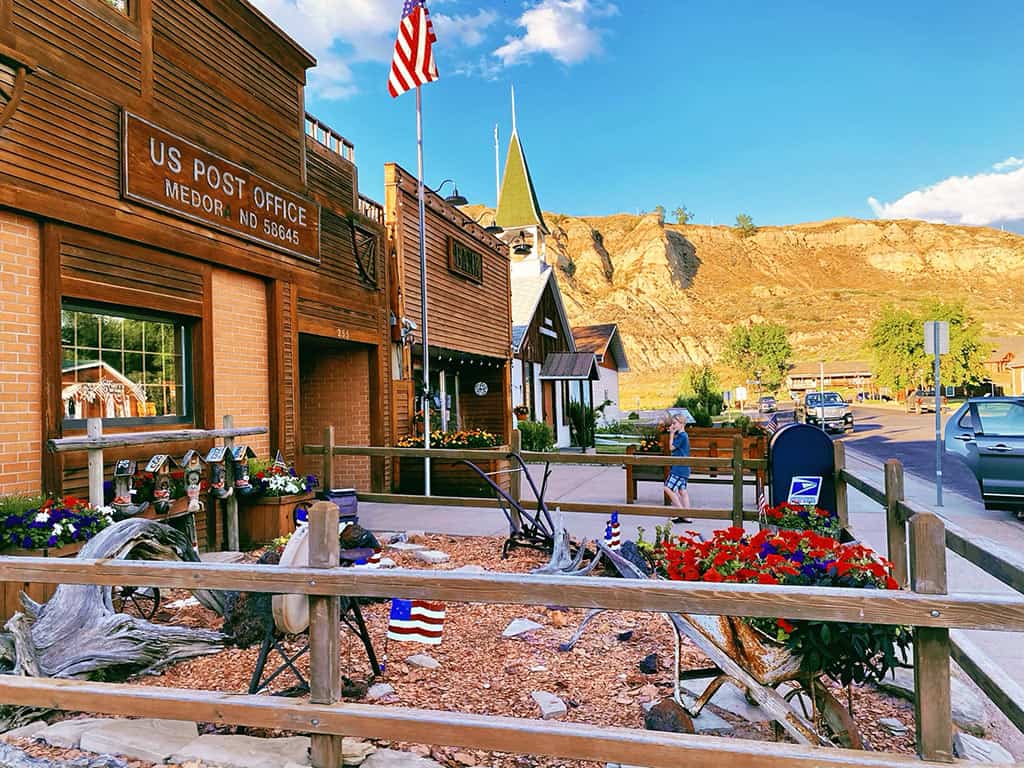 3-Day Itinerary in Medora, North Dakota
Whether you are planning a day trip or to spend 3-4 days in the area, you have plenty of options to pick from when planning out your Medora, ND itinerary.
Day 1
Arrive in Medora
Jump in the pool if it is open to cool off after a nice drive
Grab lunch at Little Missouri Saloon and Dining
Ice Cream at the Fudge & Ice Cream Depot
Relax with mini golf and ziplining in town
Visit the Theodore Roosevelt National Park Visitor's Center to get your park pass and maps
Wander the shops
Pitchfork Steak Fondue for dinner
Enjoy a night out at the Medora Musical
Day 2
Get up early to avoid the summer heat and pack up for a day in the park
Grab breakfast to go at Hidden Springs Java
Hike in Petrified Forest Loop Trail
Lunch at Boots Bar and Grill (or Cowboy Café)
Wander through Theodore Roosevelt National Park, doing small hikes along the way
Dinner at Theodore's or Badlands Pizza
Sunset in Theodore Roosevelt National Park (head up by 8pm at the latest in summer)
Day 3
Breakfast at Farmhouse (don't skip the caramel bun!)
Hike the Painted Canyon Trail (trailhead is east of the city)
Grab coffee to go at Hidden Springs Java and/or ice cream at Hatlee and Brae
Depart Medora: Head east to Bismarck and Fargo OR south into the South Dakota Badlands
Things to do in Medora, ND
Honestly, when we were booking our trip to Medora, I didn't think there would be much to do. I'd mentally planned for us to be in Theodore Roosevelt National Park most of the time.
Boy was I wrong. After four days we still hadn't hit everything, and we definitely weren't lounging by the pool for hours on end.
From history to mini golf, live shows and horseback riding, we crammed as much in as possible. If you have a week to spend in Medora, do it. This town has so much to offer, both inside and outside of downtown, Sully Creek State Park and the national park.
Live shows at Old Town Hall Theater
When it comes to live theater in Medora during the day, you can't go wrong with one of the three shows offered at the Old Town Hall Theater.
Get to know Teddy Roosevelt and his wife Edith, when you pop in to see Conversations with the Roosevelts. Hear the stories of this former U.S. president before, during and after his time at the White House and why he loved North Dakota so much.
For anyone in need of a chuckle, you can grab tickets to Live, Laugh, Love. This show is appropriate for all ages and is sure to make your sides hurt. Magic and comedy come together as snarky remarks are made just for the parents, and jokes and tricks entertain your kids.
And if that isn't enough for you, drop into the Teddy Roosevelt Show with the premiere Theodore Roosevelt repriser, Joe Wiegand. You may see him wandering through town saying hello to everyone. Make sure you wave back. After sharing the tales of Roosevelt's trip down the Amazon, leading the Rough Riders in Cuba during the Spanish-American war and wandering around the North Dakota Badlands, all in a three-piece suit in the heat of summer, this man deserves a standing ovation.
Little Bully Pulpit Mini Golf Course
My youngest son loves mini golf to the point of obsession. I had to tell him exactly what day and when we would try out the Little Bully Pulpit Mini Golf Course in Medora, and he still nagged me every few minutes all morning long.
We played all 18-holes, and I never cheated (yeah right!) so I could beat my kids. Each golf hole had its own difficulty rating and NOrth Dakota theme, but we found the first hole the most difficult, which is the opposite of most mini golf courses. No matter, my kids still had a blast with me and their dad.
Naturally, we had to reward ourselves for an excellent round of golf with huckleberry ice cream at the Fudge & Ice Cream depot.
Oh, and in case you are wondering, there is the Bully Pulpit Golf Course (grown up golf) in Medora, ND as well. Book your tee time and go have fun!
Manitou the Point to Point Zipline
I'm terrified of uncontrolled speeds, so I didn't try Manitou: The Point-to-Point Zipline. There were plenty of people in line enjoying this thrill ride in Medora though.
The Manitou zipline brings you backwards up the line first, and then drops you down. You are in seats, so it does feel a little less intense than if you were just in a harness. I might have been able to handle it, but after my last panic attack on a zipline in Costa Rica, I figured it would be better to just watch while we tried out the mini golf.
NOTE: The cost covers one ride and you must sign a waiver for you and your children. Height restrictions do apply.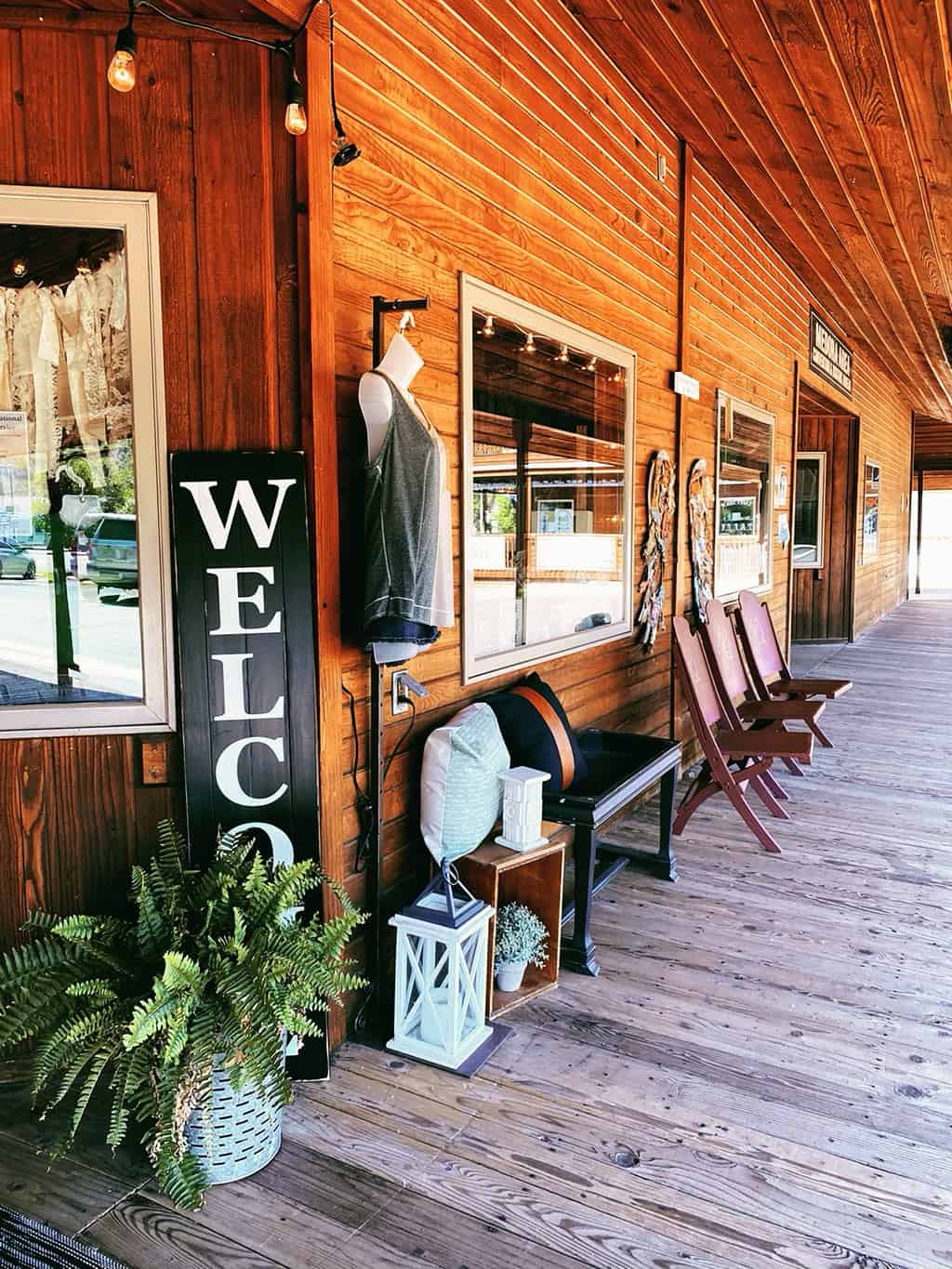 Shops in Medora
If. you need western wear or any Theodore Roosevelt memorabilia, books or souvenirs, Medora has you covered. There are a few shops and galleries featuring local artists and Native American crafts too. Prices are what you would expect in a tourism-driven town, but there are still good deals to be found.
Explore Harold Schafer Heritage Center
Anyone who grew up with "Mr. Bubble" bubble bath needs to visit the Harold Schafer Heritage Center. Schafer was a successful businessman who helped to save the town of Medora, loved Teddy Roosevelt and want to help his vision live on.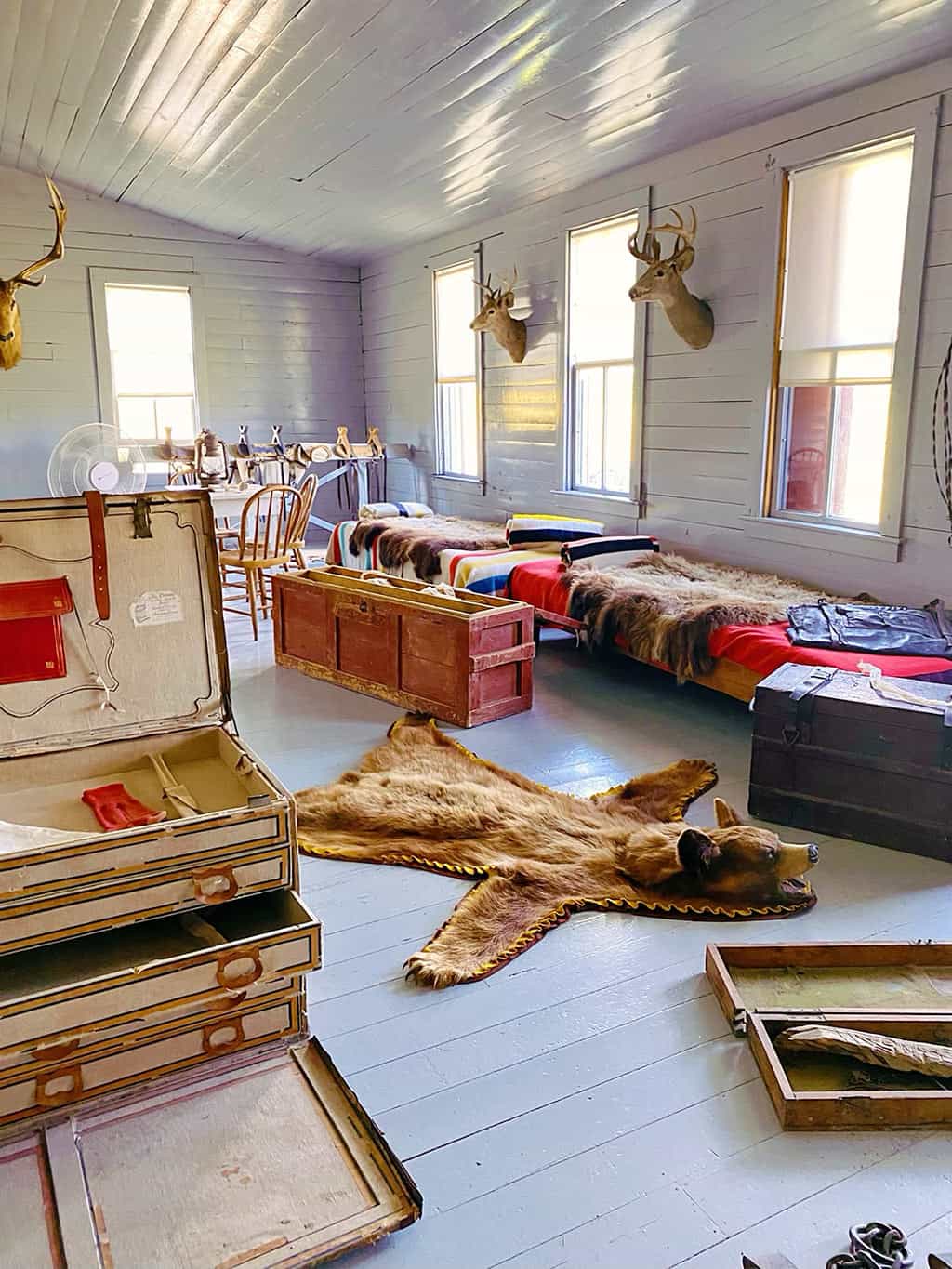 Jump into history at Chateau De Mores
Did you know that Medora was named after the Marquis de Mores wife? I sure didn't until we visited the Chateau de Mores located on a hill above Medora.
The Chateau de Mores Interpretive Center has two galleries filled with artifacts from de Mores. Read through placards that tell the story of why de Mores and his wife came out to North Dakota, built themselves a fancy hunting lodge and created a boom town within the cattle industry.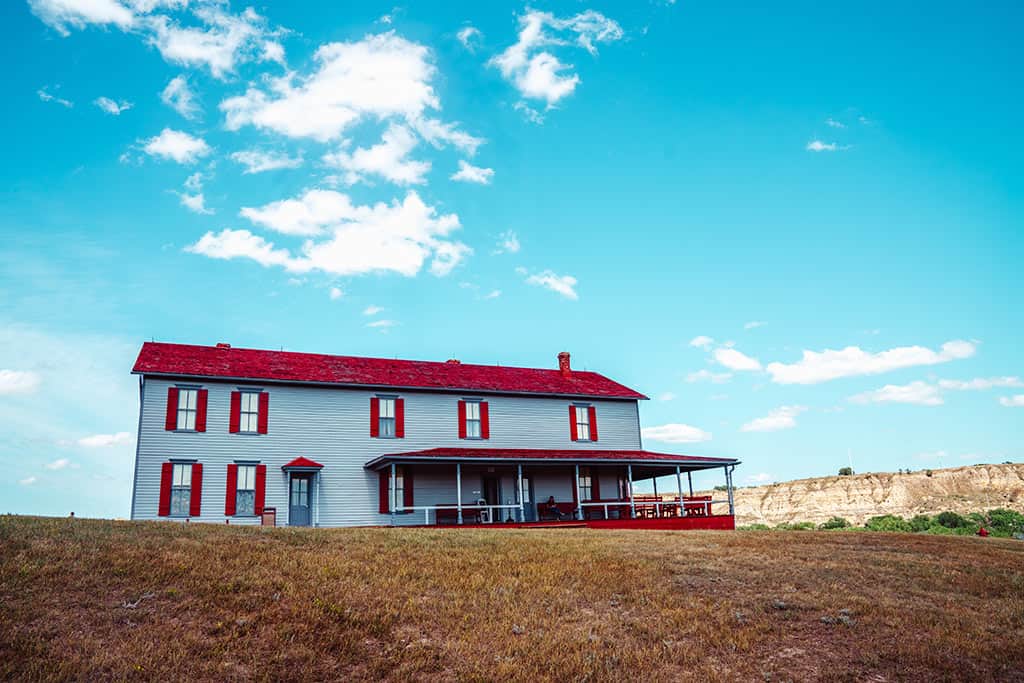 Once you finish at the Interpretive Center, you can drive (or walk) up to the Chateau de Mores to tour the home. When the de Mores left for the season they thought they would be back, so they left everything in the lodge. They shipped back a few things, but most was left and later turned into the 128-acre Chateau de Mores State Historic Site, which includes Chimney Park and de Mores Memorial Park.
The home tour is self-guided, with docents scattered throughout to tell you a little about the home and answer any questions you may have about the "chateau."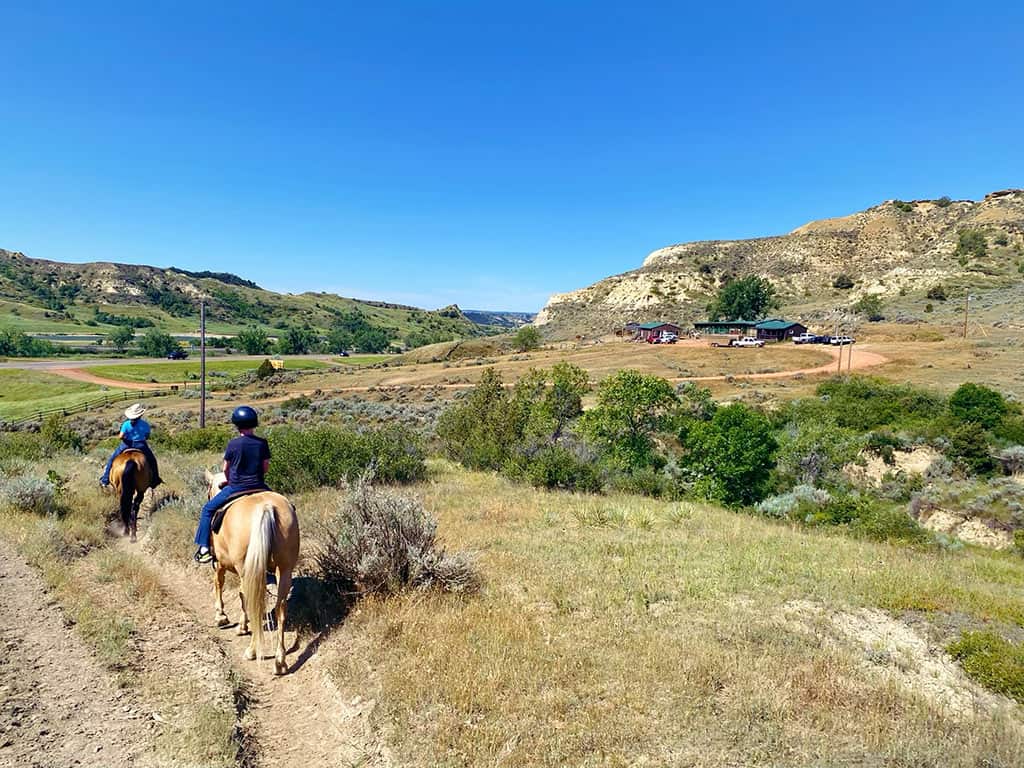 Go Horseback Riding at Medora Riding Stables
The moment my boys heard we were going to North Dakota they asked if they could go horseback riding. My oldest is obsessed with horses, which means my youngest, who has never actually ridden a horse, is obsessed too.
The Medora Riding Stables, located just outside of downtown Medora, offer trail rides most mornings and afternoons in summer. The staff leading the trail rides are all accomplished horsemen and women. In fact, out trail guide told me she has 13 horses, four of which she had brought out with her for the season.
Trails are led at the past of the most inexperienced rider and comfort level. We took things at a nice walk, going through the Badlands for about 45 minutes. There is a ridge trail we could have gone up, but with several inexperienced kids in the mix, we stuck to the flatter trails.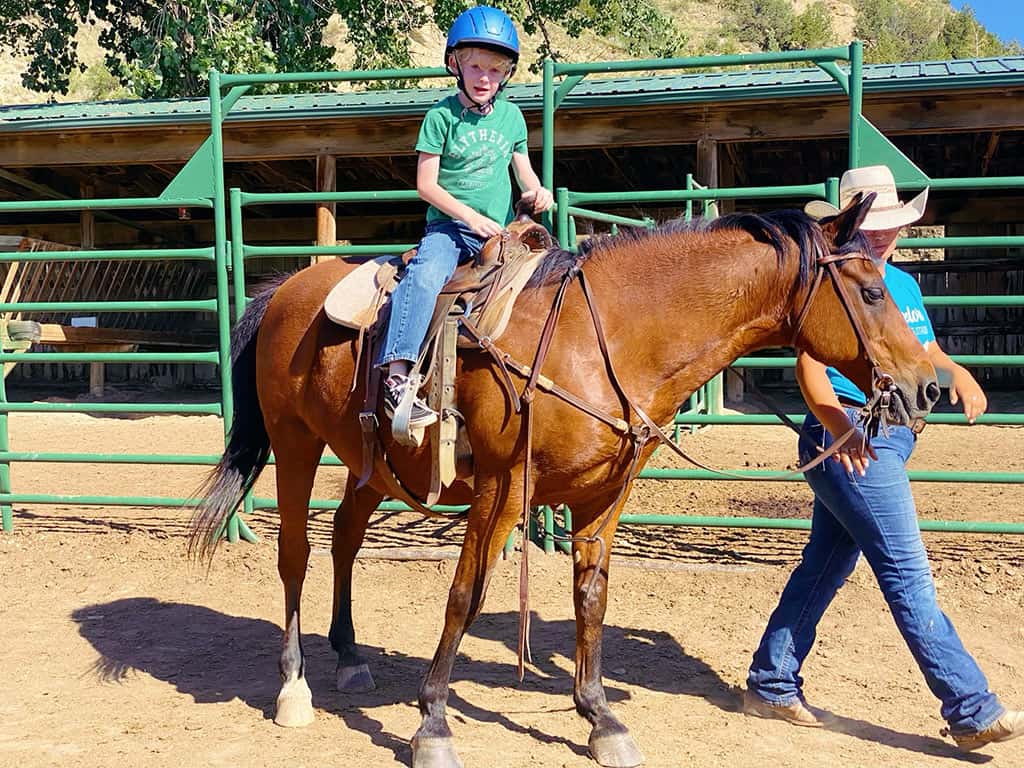 Nervous horseback riders
My youngest was the first to get on a horse and although he was excited, he became increasingly nervous as we waited for everyone else to saddle up. Unfortunately, he was just too scared to go on our ride, despite the gal who ran over to help him out and lead his horse down the incline we had to go on before we hit the trail.
Nope, he was done, so my husband stayed back with him.
I later found out the same gal continued to talk to my little guy about his fears. We all agreed, maybe a few lessons in a ring would be a good idea before our next trail ride so he could get comfortable with how a horse moves… and that he wasn't going to fall off at any moment.
Medora Musical
If you come to Medora and you don't see the Medora Musical at the Burning Hills Amphitheatre, I'm not sure you can say you have been to Medora, ND. This show is a huge draw for visitors to the North Dakota Badlands.
Located on the western edge of town, the Medora Musical a variety-show style performance, includes song, dance, banjo playing, clogging, comedy and even a little Rough Riders reenactment. It's a big show in a small town that locals and guests look forward to every year.
How to get Medora Musical Tickets
You can easily get tickets to the Medora Musical right in town at the Ticket Junction or the Medora Musical Welcome Center. You can also buy tickets online.
Tickets are around $30 with several kid-free nights. Try to get tickets before the show, as some showtimes do sell out, especially on the weekend.
You can also add on dinner at the Pitchfork Steak Fondue and a a backstage tour of the musical to your ticket.
Theodore Roosevelt National Park
One of the biggest reasons people travel to Medora is to visit Theodore Roosevelt National Park. Tucked away from many other parks, these Badlands aren't as busy as the South Dakota Badlands, but personally, I think they are even better.
The Petrified Forest Trail Loop was by far our favorite hike. The trail head is outside of town, but brings you through grasslands, hills, some rock climbing and down into a canyon of trees that are millions of years old. So old in fact, that they are now fossilized into rocks.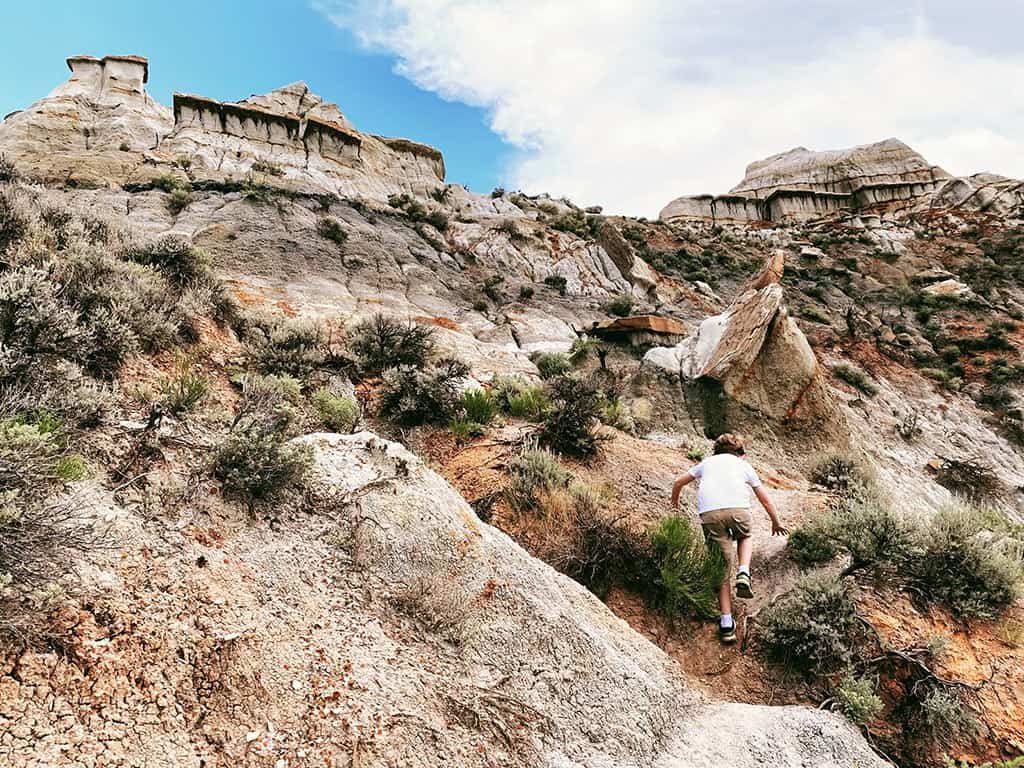 TR National Park's South Unit has a loop drive that is perfect for families, especially those with little kids who can't hike very far. You can jump out of your car at various viewpoints and take short hikes throughout the park.
Just keep an eye out for bison. Stay at least 100 feet away from wildlife at all time, although I do recommend a lot farther when it comes to bison. They are big and faster than you think.
Medora Hotels
No matter your style, Medora lodgings will keep you comfortable and cool throughout your visit (or warm if you are here in fall, winter and spring). Most accommodations are budget friendly, with regular cleaning service and a bit of western decor.
For luxury, head to the Rough Riders Hotel. If you want family-friendly rooms with bunk beds, Elkhorn Quarters is the place for you.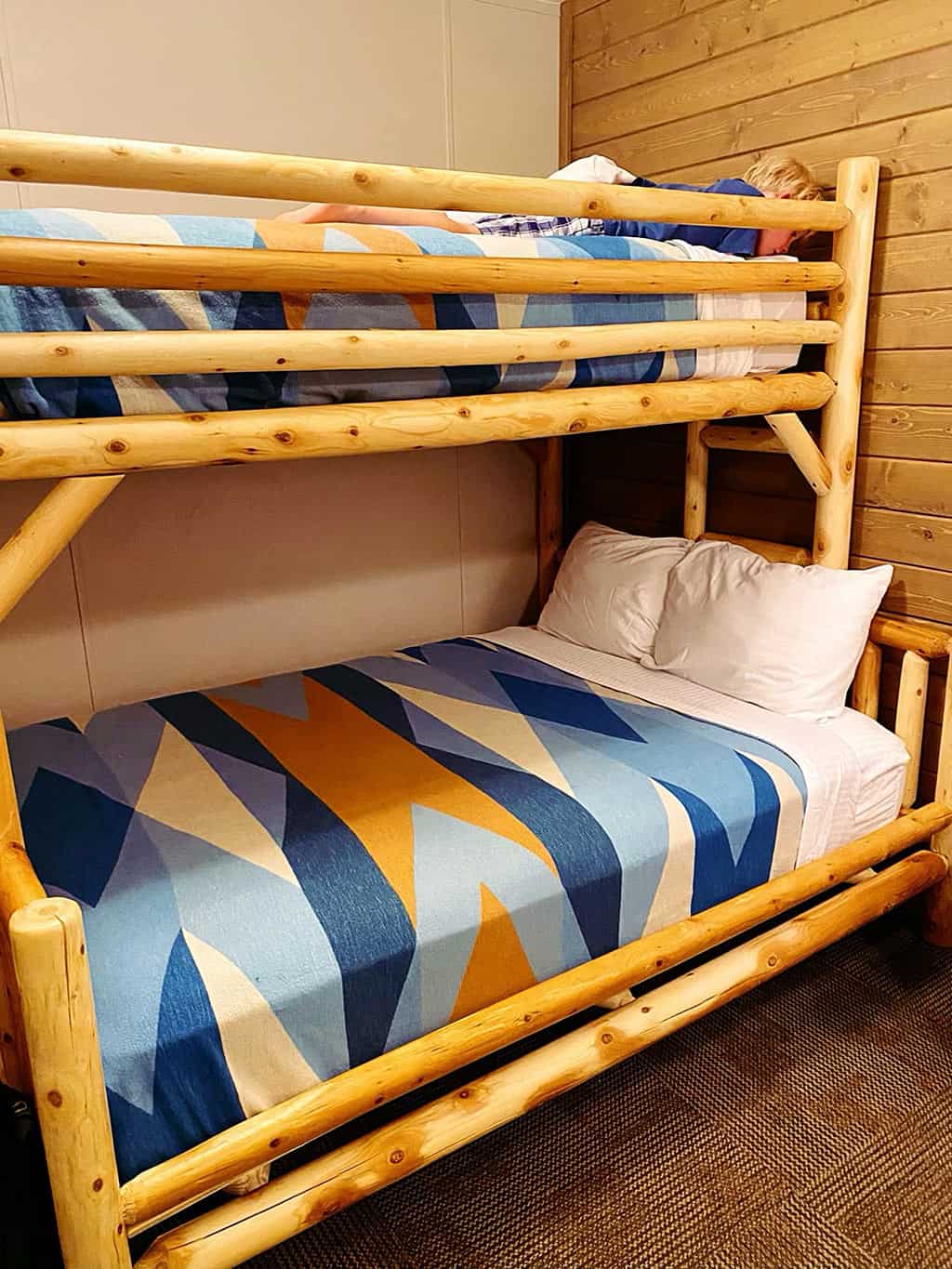 Elkhorn Quarters
The Elkhorn Quarters hotel is located just south of downtown Medora, with a pool, and family rooms with bunkbeds for the kids. We loved our stay here, with interior access to the room when it was raining, a minifridge and microwave.
It's far enough from the action of town, but so close you can walk to almost everything you want to see. The price is right for families, being one of the cheapest hotels with the most room you can book in Medora.
Best of all, you can see the Medora Musical fireworks from the check-in lobby porch!
Room types
Family Unit (features a queen bed plus bunk beds)
Single Queen
Single Full
Single Queen
Elkhorn Quarters Amenities
Free WIFI
Hairdryer
Coffee pot
HD TVs with Cable
Outdoor pool
All non-smoking
Handicap accessible rooms available
NOTE: No pets are allowed on the premises.
Badlands Motel
If you want to stay in town on a budget, you can't get much closer than the Badlands Motel in Medora, ND. You will pull right up to your front door, and can walk to the restaurants, shops and activities of Medora in mere minutes.
If you love mini golf and ziplining, it is right in your backyard, as well as the motel pool.
Room types
Double Queen Rooms
Single King Rooms
Single Queen
Suite with King Bed and Living Space
Adjoining rooms are available upon request.
BADLANDS MOTEL Amenities
Western-themed furnishings
Outdoor pool
Free Wi-Fi
Flat-screen TVs
Hairdryer
Iron and ironing board
Mini-fridge
All rooms are non-smoking
Walking distance to Medora restaurants and shops
Located in front of the Medora mini-golf course and Manitou-the Point-to-Point Park Zipline and the Medora children's park
NOTE: Pets are not allowed.
Rough Riders Hotel
History and luxury come together at the Rough Riders Hotel right in the middle of downtown Medora. Named for Theodore Roosevelt's volunteer calvary dubbed the "rough riders" who fought in Cuba, this hotel is home to one of the largest private collections written by or about America's 26th President.
Room Types
Historic Section (Queen, King or suite)
Tower Section (Double Queen, King or Rough Riders Suite)
Rough Riders Hotel Amenities
All non-smoking rooms
No pets allowed
Free WIFI
Fitness Center
Hairdryer
Iron and ironing boards
Mini-fridges (except in Historic Rooms)
HD TVs with Cable
Access to outdoor pools at the Badlands Motel
Handicap accessible rooms
No elevator is available to reach the Historic Rooms.
Roll-away cots are available for an additional fee (not available in historic rooms)
Do not miss enjoy a meal at Theodore's, the onsite restaurant. It's pricey, but worth every penny.
Medora Campgrounds
You can't be near a national park without a campground, and Medora campgrounds have all of the amenities you are looking for. Whether you travel with an RV or like to tent camp, you can find exactly what you need at these Medora campgrounds.
Red Trail Camp Grounds
Red Trail Camp Grounds, just next to Elkhorn Quarters, is just south of downtown Medora. It is an easy walk or drive to all of the Medora restaurants and activities, as well as Theodore Roosevelt National Park.
Amenities include:
Restrooms with showers
Laundry room with four washers, four dryers.
Limited groceries available onsite
Free Wi-Fi that can be reached from every site and even in your camper.
100 sites with at least 30 amp electricity.

Sections of electric only, electric & water only or electric, water, & sewer are available.

Escort parking
Cable available in all sites except tent sites
Playground
Tables in every site
Charcoal grills available upon request
NOTE: Pets are allowed, but they must always be on a leash.
Medora Campground
The Medora Campground is located along the Little Missouri River on the western side of town. It butts up next to Theodore Roosevelt National Park, and is an easy walk into town if you don't feel like driving. It is also just down the hill from the Medora Musical.
Amenities include:
Bathroom and shower facilities
RV waste station
Free wi-fi
Laundry facilities
Playground for kids
General store.
NOTE: Dogs are welcome, but always need to be on a leash. You can also rent cabins at the Medora Campground.
Sully Creek State Park Camping
If you prefer to camp in a state park to take get farther from downtown Medora, you can book a site at Whitetail Flats Campground. It is also the perfect spot if you are traveling with your horse. Keep in mind that sites are rustic with few amenities.
Whitetail Flats Campground
35 campsites plus 6 group campsites
Canoe access
Corrals (hay is available for purchase)
Dump station
Pay shower house
Round pen
Vault toilets
Water hydrants
Other Medora Camping outside of town
Bar X Ranch
Boots Campground
Custer Campground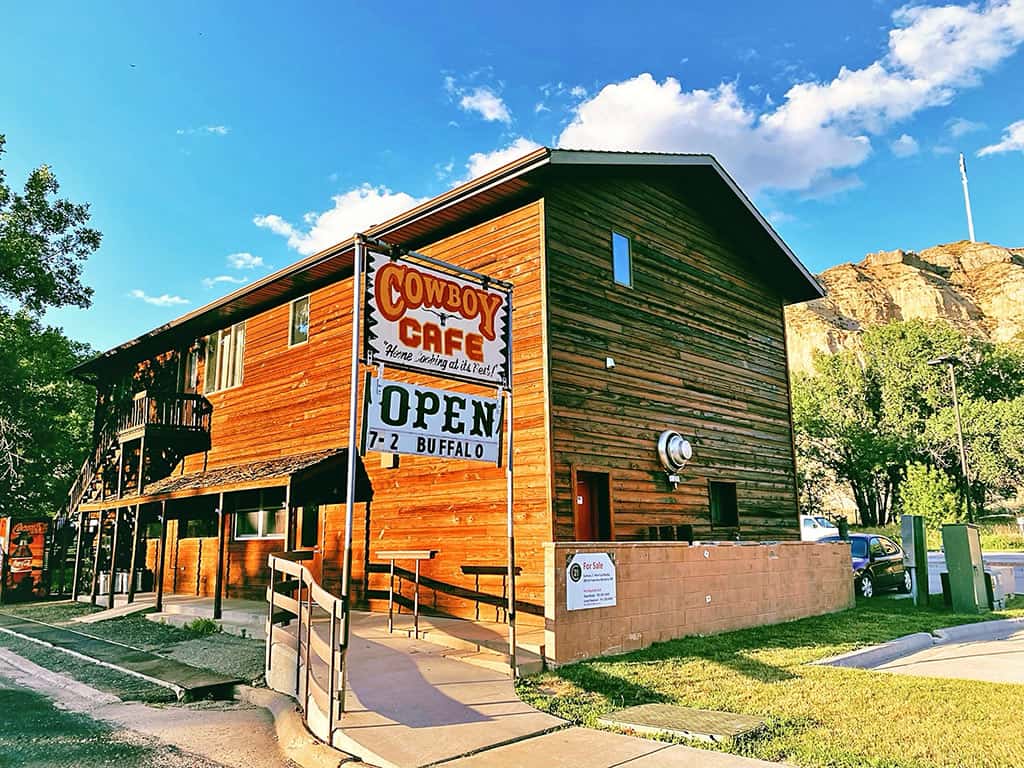 Restaurants in Medora, ND
We didn't expect much when we rolled into Medora, but there is a surprising little food scene emerging outside of Theodore Roosevelt National Park. Grab breakfast, amazing coffee and options for both carnivores and vegetarians from these restaurants in Medora.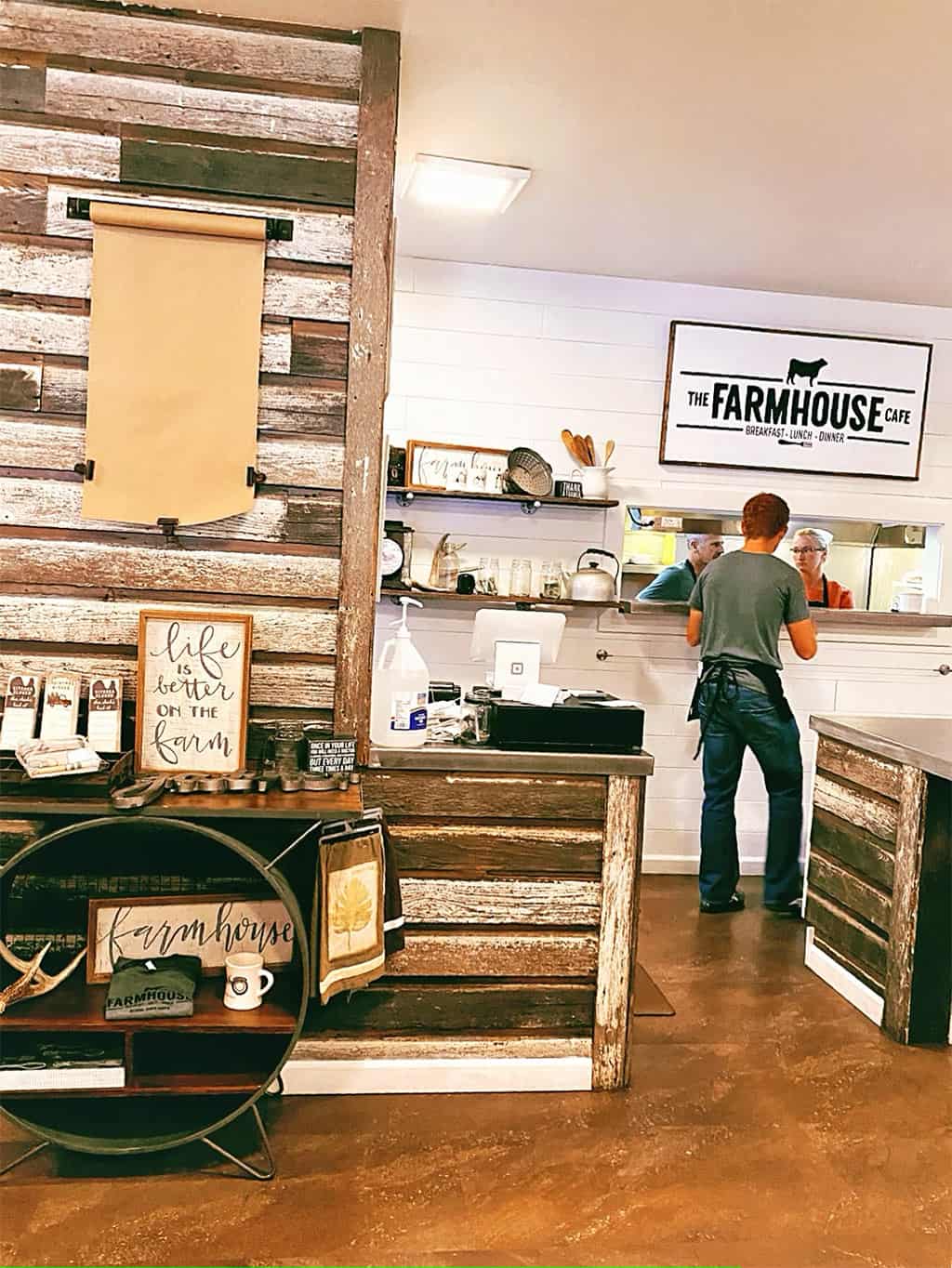 Farmhouse Café
Our favorite breakfast place in Medora has to be the Farmhouse Café. It is closed on Wednesday mornings, but you should plan on filling your bellies every other day of the week.
Omelets, Badlands nachos (sweet potato waffle fries topped with awesome), croissant French toast, giant pancakes and amazing bacon (according to my youngest who would live off only bacon if he could) all grace the menu.
One thing you do not want to miss is the caramel roll. They are made fresh daily and can go quickly. The cinnamon rolls are also good, but nothing tops that caramel roll with a cup of coffee in the morning.
Locals know to ask for the chocolate syrup for their coffee and pancakes. The Farmhouse also makes its own jam, so be sure to ask for some even if you normally have syrup on your pancakes.
Walk up to the window or pop inside to say hello to Lisa, the owner of Hidden Springs Java. She makes a fantastic latte, but her homemade scones are definitely something you need to order… if any are left. Even by 8:30am her scones get snatched up by the locals.
The shop is perfect for loading up on pastries before a hike, and also picking up some souvenirs. She has an extensive loose leaf tea collection, as well as a few local products, books and trinkets to decorate your house.
But seriously, get the scones and a coffee to go. You won't be sorry!
Cowboy Café
A staple of Medora, the Cowboy Café serves up some of the largest milkshakes I've every seen. While my youngest enjoyed a chocolate shake, I went in for the root beer float made with Sioux City sarsaparilla. My boys quickly realized what a treat I'd ordered and I found myself sharing before our entrees even arrived.
The menu is filled with sandwiches, burgers and for dessert, handmade pie (plus those shakes and floats we ordered as appetizers). It's also a big breakfast spot, so duck in for some crispy bacon and eggs early in the morning.
Overall, you won't be wowed by the food, but if you are looking for basic diner fare, this is the spot for you.
NOTE: Only cash and checks are accepted. No credit cards.
Little Missouri Saloon and Dining
If you love BLTs and fried pickles, you need to grab a table at the Little Missouri Saloon and Dining for lunch or dinner. Seating on the balcony outside gives you views of the town, but can be hot midday as it is right in the sun.
Ask for your BLT on the cranberry bread that the turkey avocado sandwich comes on. They were out of wheat bread when we visited and suggested the cranberry as an alternative. I am so glad they were out of wheat bread!
The kids menu includes pizza, mini corn dogs and your other usual starches. You can always order a small salad if you need to cram some veggies in.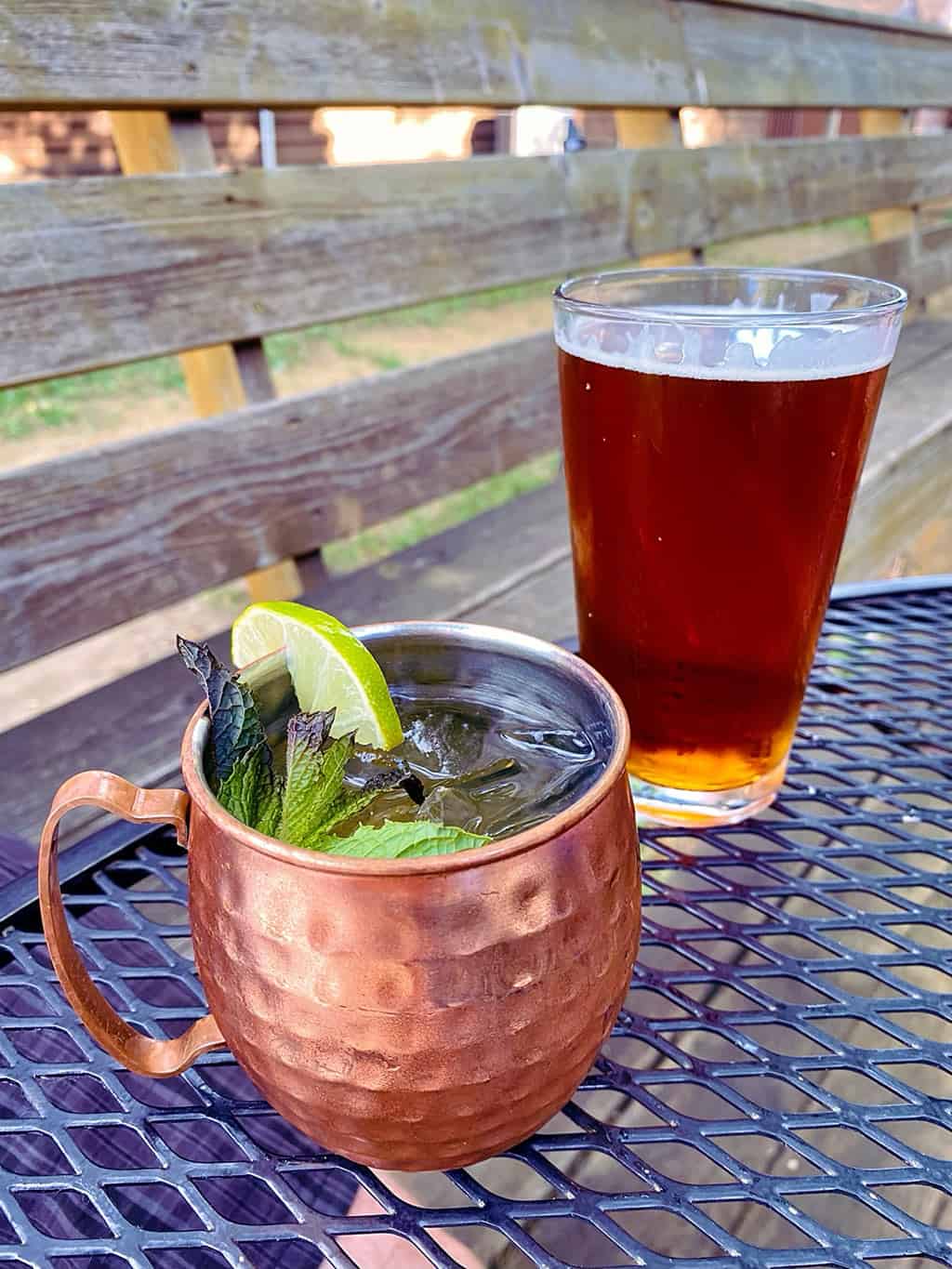 Boots Bar and Grill
Bourbon burgers, pulled pork sandwiches, elk burgers, a massive Badlands salad topped with steak plus black and blue brussel sprouts had our entire family eating their veggies and experiencing some of the local protein.
For tired parents, there is a nice cocktail menu (try the Montana Mule or Pomegranate Gin Fizz for a refreshing sip) plus decent beer and wine selection. Sometimes, you just need a little something extra to wind down after a long day of driving to Medora or exploring the park.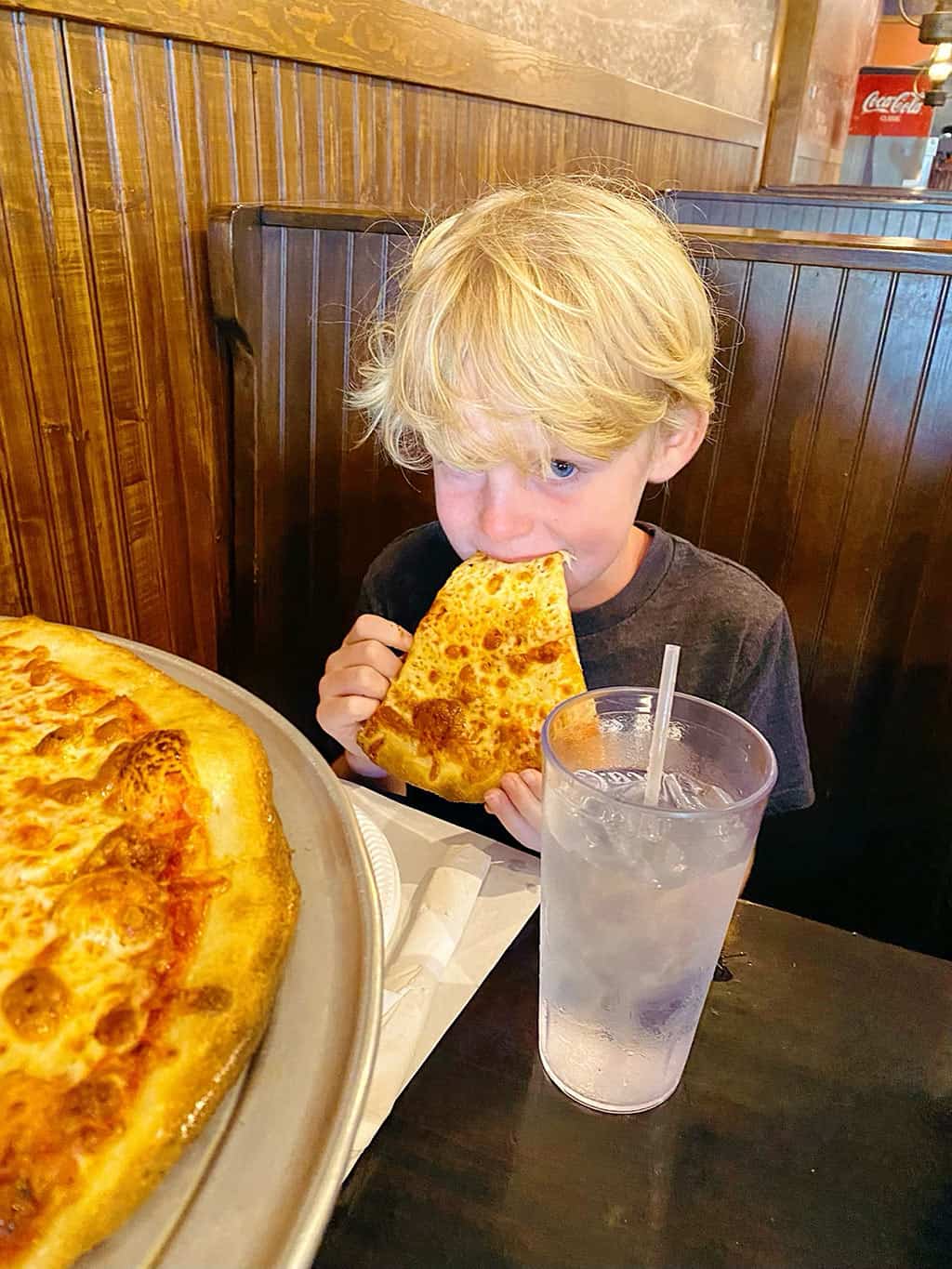 Badlands Pizza Parlor
When you are tired and the kids are whining, you go to Badlands Pizza Parlor. Everyone can be happy with a few fresh pies, fountain drinks, beer and wine to end the day.
Grab a booth inside, larger tables are located in the center of the restaurant for groups, or a hightop table outside. Evenings are gorgeous in Medora, so if you find a spot, grab that table outside.
Theodore's
Fine dining in Medora comes in the form of Theodore's inside of the Rough Riders Hotel. Keep in mind that this restaurant is closed on Mondays. It is also pricey, but well worth the splurge.
If the Bison Osso Booco is on the menu, order it! The kid's mac n' cheese is also worth the calories, as is the charcuterrie board as an appetizer. The cocktail menu is pretty standard, while the wine and beer menu was surprisingly extensive.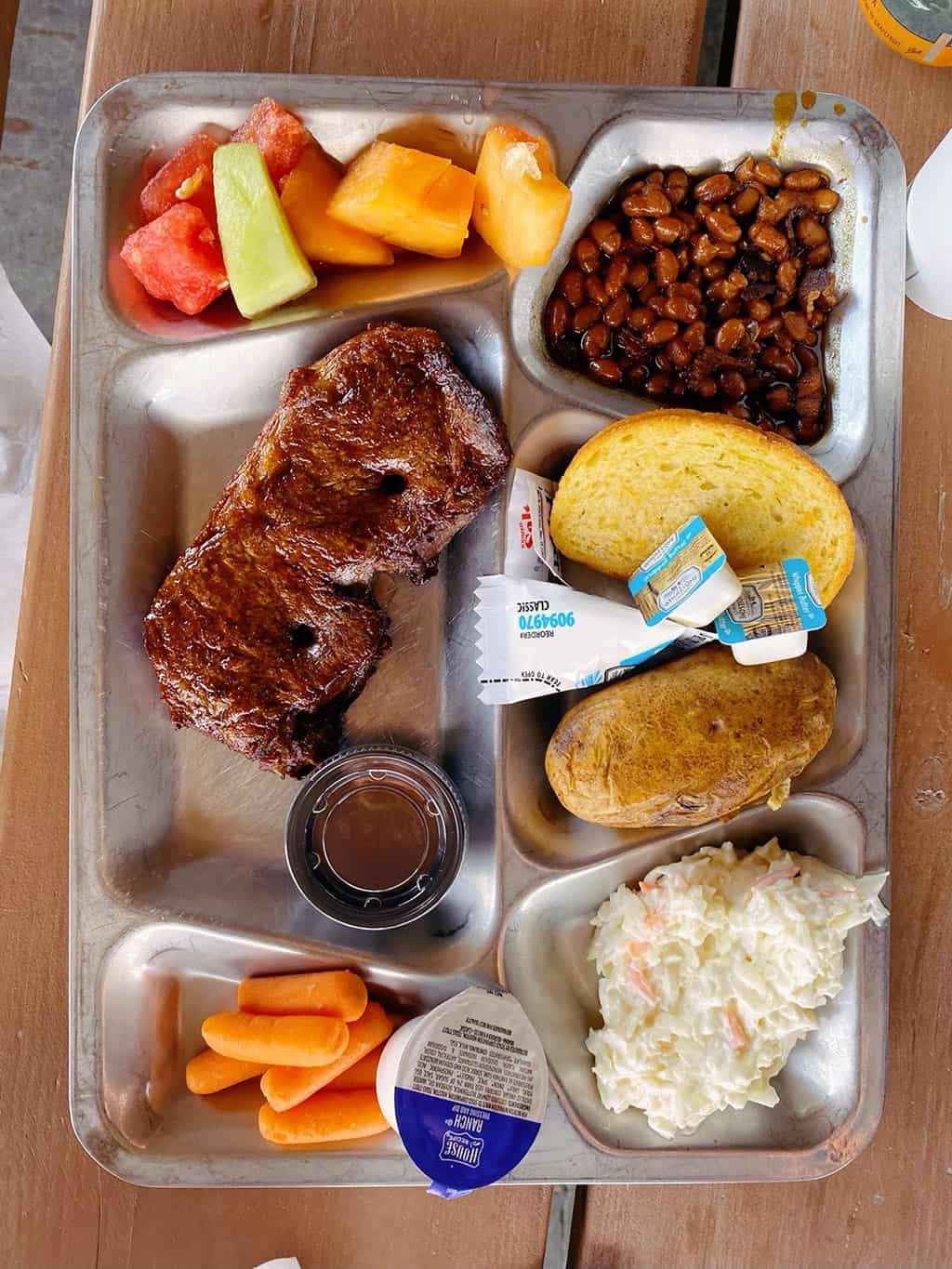 Pitchfork Steak Fondue
If you are going to the Medora Musical, you go to Pitchfork Steak Fondue. Overlooking the town of Medora, you will fill up on a 12oz steak (hot dogs for the kids), baked potatoes, fresh veggies, coleslaw, fresh fruit, baked beans and garlic bread.
Beer, wine and soda is available for purchase, but water, coffee and lemonade are free.
Dessert features mini donuts and brownies (at least the night we were there), so save a little room.
Huge picnic tables are set up, half shaded from the sun, so cozy up to your neighbors. Clean bathrooms are available as well.
Once you are done your meal, and while you wait for the show to start, stroll the grounds that overlook the town. You will see the show staff start to arrive and the horses getting warmed up. Keep an eye on the hills above the musical stage, as you will see two elk who will make a cameo in the show too.
Fudge and Ice Cream Depot
When you want the local flavor of Medora, you pop into the Fudge and Ice Cream Depot. Here you will find Huckleberry and Juneberry ice cream. I suggest a scoop of each, as they are very different (especially the Juneberry), but complement each other.
I prefer the huckleberry, so if you only want a small scoop, go with this deep purple favorite. Every other person coming out of the shop seems to order huckleberry too.
The Fudge and Ice Cream Depot also have a variety of fudge flavors. Ask for a few squares to go for a snack in the car or while you are touring the park.
Hatlee and Brae
Pop into Hatlee and Brae early in the morning for coffee or later in the day for ice cream (although you could order ice cream for breakfast- they won't judge). Lines at night, especially after the Fudge and Ice Cream Depot have closed, can be long, but the flavors are worth the wait if you need a sweet treat.
Wander through the little shop while one person waits in line for you. There are some home décor, toys and trinkets worth bringing home.
This post is part of a paid partnership with Travel North Dakota. As always, my opinions are my own. When they aren't, you will be the first to know.
Want to go to ND? Pin this for later!