I recently took this amazing fall trip to Illinois. If this post inspires you to travel to Illinois, make sure to check ahead for up-to-date events, exhibits and opening hours at any attractions. 
The Prairie State of Illinois is a veritable road trippers paradise. With 300 miles of iconic Route 66 snaking through the state, you're sure to find history, nostalgic Americana, kitsch, and so much more when you hit the open road.
Wanting to experience our own family-friendly road trip through Illinois, we decided to make pit stops our young children would enjoy. From chasing our reflections in Chicago's mirrored Cloud Gate to rubbing Lincoln's nose in Springfield, there was something fun for every member of the family.
Day 1: Chicago
Having never been to Chicago, we wanted to spend at least one full day in the Windy City. With limited time in the city, we had to be choosy about which activities to fit in. Millennium Park was an obvious choice as a trip to Chicago isn't complete without visiting Cloud Gate (affectionately known as "The Bean").
Millennium Park
The Bean is a public art installation nestled in the heart of Chicago. It's a ginormous oblong-shaped structure that allows visitors to interact with its reflective surface. London-based artist Anish Kapoor finished the piece in 2005 and it has been an integral part of Chicago's cityscape ever since.
Our children enjoyed making faces at their reflections and touching Every. Surface. Possible. My husband and I were mesmerized by the moving kaleidoscope-like underside of the structure. We wanted more time to explore the other art installations and playgrounds within Millennium Park, but had to leave in time to make it to our ticketed time slot at the Museum of Science and Industry.
Museum of Science and Industry
My family and I have been to dozens of museums around the world, but Chicago's Museum of Science and Industry might be the most unique museum we've come across yet. The name might sound too advanced for the younger family members, but that couldn't be further from the truth. Our kids could have literally spent the entire week in this one museum alone.
The museum features an array of rotating exhibits and we were fortunate to visit during The Art of the Brick exhibition. Our LEGO obsessed kiddos were both enthralled and excited by the hundreds of LEGO displays from artist Nathan Sawaya. Family favorites were the 20-foot Tyrannosaurus rex and the reimagined versions of famous works of art.
Other MSI highlights were the tornado (a 40-foot tall vortex of swirling air), Colleen Moore's intricate fairy castle, and the U-505 German submarine housed in its own 35,000 square foot interactive exhibit. It is no exaggeration when I say that visiting the Museum of Science and Industry is one of the best things you can do on your visit to Chicago. The kids have been asking daily when we'll take them back.
After our visit to the museum (and needing a sugary pick-me-up) we headed to Navy Pier to ride the Centennial Wheel and snack on sweets.
Navy Pier
Navy Pier stretches out over Lake Michigan and is a whopping 3,300 square feet long. The pier is a great place to take in the Chicago skyline and grab a delicious bite to eat. Knowing that we had Chicago-style deep dish pizza on the menu for dinner, we decided to get a few treats to hold us over.
Granted, loading up on sugar was a strong choice, but we couldn't pass up grabbing a bag of CaramelCrisp popcorn from Garrett Popcorn Shop (a Chicago locally owned staple), passion fruit boba tea and dragon ice cream from Snow Dragon Shavery, and a scrumptious cupcake from Brown Sugar Bakery (one of our favorite IL Makers specializing in cakes and cupcakes).
Once we were good and sugared up, we rode the Centennial Wheel for incredible views of downtown Chicago and Lake Michigan. It's easy to see why Navy Pier is one of the most popular stops in Chicago. There are plenty of attractions and food to satisfy even the pickiest of eaters.
Chicago-Style Deep Dish Pizza
Our full day in Chicago was capped by our very first bite of authentic deep dish pizza. We headed to Giordano's where we feasted on the Chicago Classic: pepperoni, mushrooms, green peppers, and onions served inside a doughy vessel of cheese and sauce. It was the perfect way to end our day of exploration. We decided that there's so much to do and that when we come back, we want to visit the Chicago Botanic Garden, and Willis Tower.
Where we stayed in Chicago:
This hotel is located right in the heart of the city, within walking distance to Navy Pier and Millennium Park. Not only is there a Starbucks in the lobby (these Seattlites rejoiced!) but there was a Stan's Donuts one block away! The Intercontinental Chicago is an ideal place to stay for families and those who want to be close to the action. We give them bonus points for their Byredo Bal d'Afrique toiletries. I don't think I've ever smelled so good!
Day 2: The Road to Holiday Delights
On day two of our Illinois adventures, we hit the road in search of some holiday-themed surprises.
Rantoul, IL
Two hours from Chicago is the village of Rantoul. While the town is small, it's home to big, furry personalities. Hardy's Reindeer Ranch is an Alaska reindeer ranch situated on a Midwest farm. There are 21 reindeer and a guided tour that introduces guests to the resident animals.
The kids loved meeting Sven, Prince, and Comet. We were able to feed the reindeer while learning about their unique history on the farm. The original two reindeer were flown in from Alaska (on Delta Airlines, no less), proving that reindeer really do fly!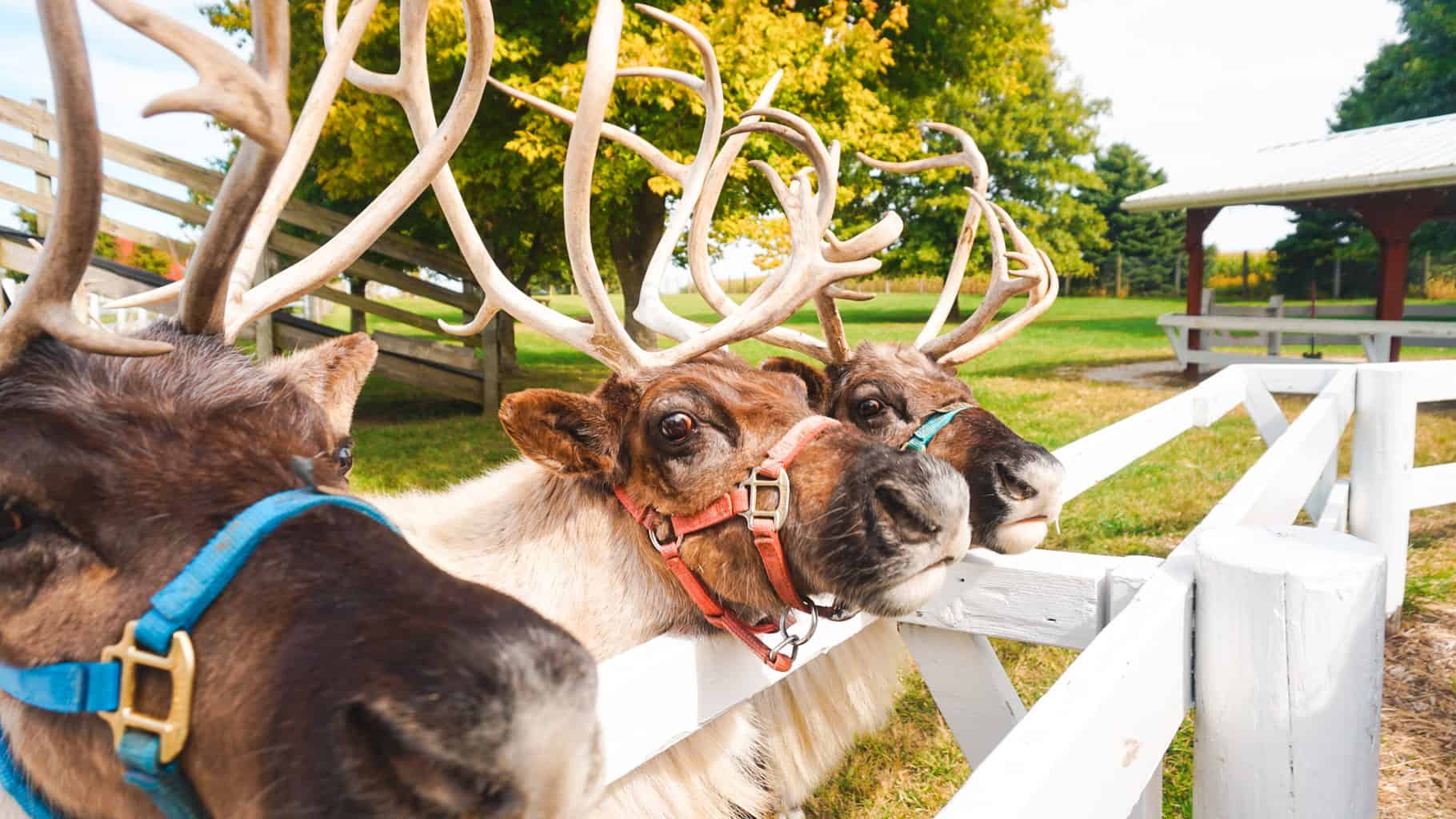 While the reindeer are the main event, Hardy's Reindeer Ranch also offers guests a chance to wander through their 10-acre corn maze as well as a child's play area, paintball gallery, hay rides and more! If you're fortunate enough to visit in the winter, be sure to swing by to grab your Christmas tree and wish the reindeer a farewell before their Christmas flight with Santa.
Once we felt that the reindeer were adequately fattened up, we hit the road to Arthur, Illinois where fall fun awaited us.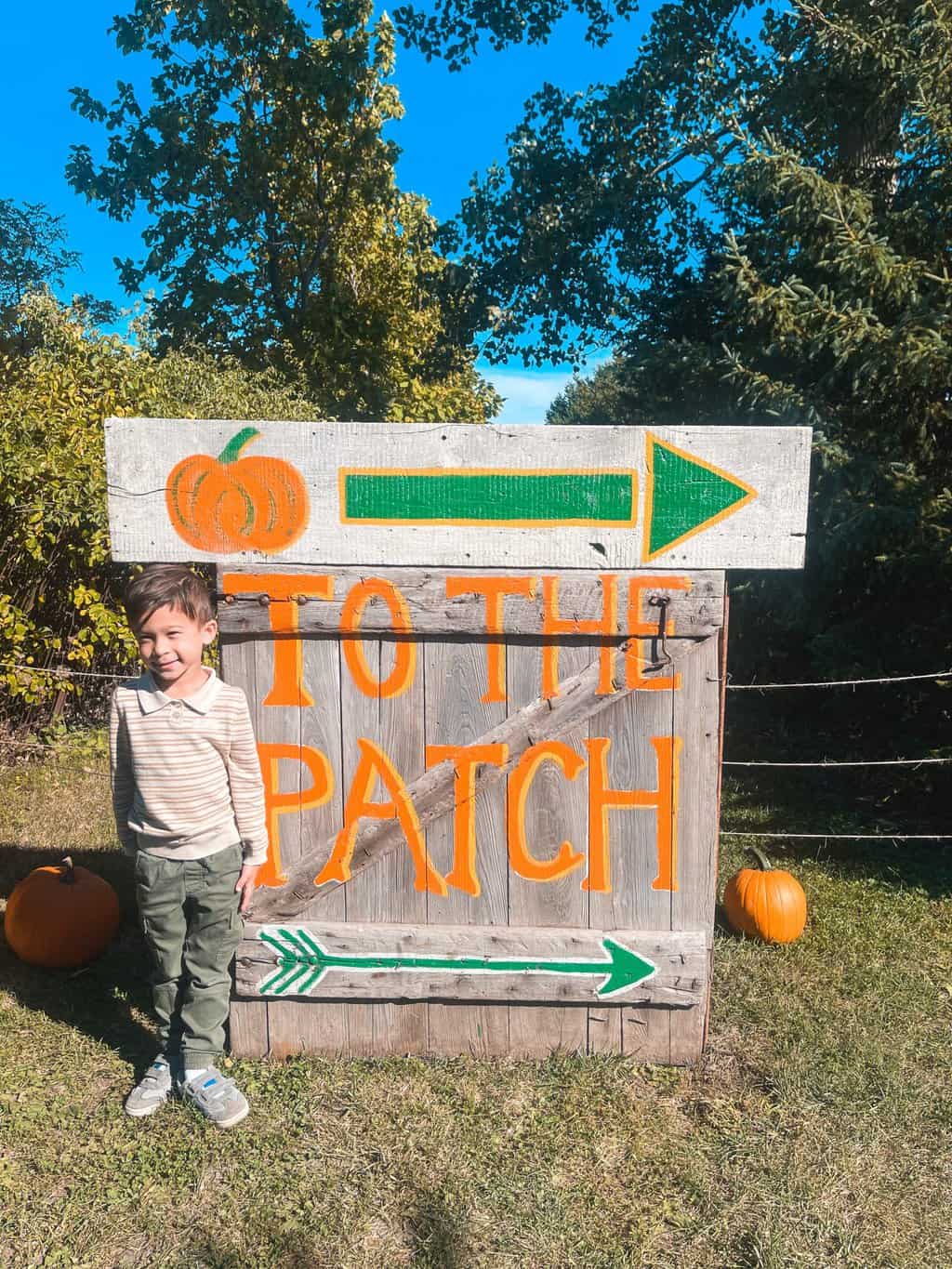 Arthur, IL
The Great Pumpkin Patch, located just south of the town of Arthur, is renowned for its 300 varieties of pumpkins and acres of family-friendly fall fun. Upon arriving, it was easy to see why it's one of the most popular attractions in the area. Not only is there a pumpkin patch and corn maze, but there are multiple photo spots, learning activities, interactive games, and more.
Our kids particularly enjoyed the sunflower maze and the child-size broom corn maze. My husband and I couldn't get enough of the made-from-scratch baked goods from The Homestead Bakery (pumpkin spice whoopie pie, anyone?).
Visiting The Great Pumpkin Patch should be on everyone's autumnal bucket list. It's the perfect place to grab your pumpkins for the season and enjoy the wonders of fall. Plus, the numerous great photo ops make for memorable family photos.
Where we stayed near Arthur
Best Western Plus Green Mill Village Hotel and Suites
Arthur is a small farming town with accommodation options to match. We spent the night at the Best Western Plus Green Mill Village Hotel and Suites. Not only is the hotel in a great location but it has a pool that the kids will enjoy. A continental breakfast was included with our stay and the whole family loved making our own mini pancakes before hitting the road.
Day 3: Small Towns, Big Things, and Historic Presidents
Our third day in Illinois was perhaps our busiest. After filling up on silver dollar pancakes, we hit the road to the town of Casey.
Casey, IL
Small-town charm and big-time attractions are found in Casey, Illinois. The town is the perfect place to take in quirky roadside attractions. Casey is home to twelve of the world's certified largest things. These include the world's largest:
Rocking Chair
Wind Chime
Mailbox
Wooden Shoe
Golf Tee
Pitchfork
Key
Gavel
Twizzle Spoon
Golf Driver
Barber Shop Pole
Teeter Totter
That's not all! The town has other large attractions like a ginormous taco, rocking horse, giant pencil, deer antlers and so much more. Our family spent the morning frolicking around Casey and seeing how many of the largest things we could find. The kids even located a giant minion (it's "Kevin," my children informed me) and a huge bird cage.
In our opinion, the best way to explore Casey is by simply walking around and taking in the larger-than-life sights. A majority of the sites can be found just off Main Street. It doesn't hurt if you grab yourself a coffee from Casey Coffee Company as well. As you know, these Pacific Northwesterners believe a great way to tour local towns is with coffee in hand.
Historic Route 66
After our stop in Casey, we made the two and a half hour push to Springfield. Our kids are amazing road trippers. Henley gets very motion sick, so we can't do any electronic tablets or books in the car. Instead, the kids keep themselves occupied by making up games and rocking out to their favorite albums. We were all thrilled to discover that we even drove a few miles on historic Route 66.
Route 66 Motorheads Bar and Grill.
As we rolled into Springfield, we decided to enjoy lunch at Route 66 Motorheads Bar and Grill. This is a great spot to fuel up on food, take in vintage cars, and enjoy Route 66 memorabilia. Motorheads is a great option when you want a quick bite but aren't in the mood for your typical fast food. We dined on pistons (bacon-wrapped chicken skewers), ball bearings (fried cordon bleu bites), and high octane (battered cheddar jalapeño corn nuggets).
The onsite museum is a tour of quirky attractions with an ode to the Mother Road. It was the perfect spot to grab a bite and stretch our legs before hitting the road to our next stop.
Springfield, IL
Our first stop after lunch was at Abraham Lincoln's tomb. This is the final resting place for the United States' 16th president, his wife, and three of the couple's four sons.
We were told to rub the nose on the giant bust of Lincoln for good luck. This prompted many questions from our kids. Who is he? What did he do? Why do we rub his nose? Thankfully, we were able to answer most of their questions.
Entering the mausoleum itself, I was blown away by its magnitude. The halls were as regal and fortified as Lincoln himself. We rounded each corner in anticipation of seeing the monument where Lincoln's body is held.
Flags to the left of the monument honor the states where Lincoln's ancestors once lived. The flags on the right represent the states where the president lived — Kentucky, Indiana, and Illinois. We learned that Lincoln's remains actually rest in a vault located ten feet below the marble monument.
Our trip to the historic site of Lincoln's tomb only prompted more questions from our children so we headed to the Abraham Lincoln Presidential Museum to learn more about this beloved president. I wasn't sure if the museum would be too mature for our young kids but there were so many interactive and stimulating exhibits that my only regret is that we didn't have more time to explore.
The museum literally walks you through ornate exhibits recalling Lincoln's childhood, upbringing, and his start into politics. We learn about the tragedies of his youth and how he met his wife, Mary Todd. We encountered heavy topics like slavery, civil war, and at the end, the assassination of Lincoln in Ford's Theatre.
Ultimately, all four of us left with an even greater appreciation for Lincoln and more history than we had learned in our youth. I'm proud to say that our kids have a wealth of information on Lincoln and will proudly tell you he was the 16th president, and if you want to see a picture of him, you can look at a penny.
If you're ever in Springfield, be sure to give yourself a few hours to visit the Abraham Lincoln Presidential Museum and Library. It's suitable for all members of the family.
Where we stayed in Springfield
President Abraham Lincoln Springfield DoubleTree Hotel
After learning all there is to know about President Lincoln, it was only fitting that we stay at the President Abraham Lincoln Springfield DoubleTree Hotel. The hotel is located within walking distance of the Abraham Lincoln Presidential Library and Museum and close to many family-friendly restaurants.
Day 4: Quirky Monuments and Urban Attractions
This marked our last day in Illinois and we had to make the three-hour drive back to Chicago in time for our flight. Before saying goodbye to Springfield, we made sure to say hello to the Lauterbach Giant and Lauterbach Tire and Auto Service.
As we drove 45 minutes outside of Springfield, and on Route 66, we came upon the World's Largest Covered Wagon. And would you look at who's seated up front — our very own Abraham Lincoln. The kids were thrilled that they were able to identify him.
From there we drove an hour and a half to Wilmington where we encountered our last quirky pit stop. Just outside of nostalgia-inducing Launching Pad Drive-In is the iconic Gemini Giant. While the restaurant was closed for remodel when we stopped by, we were still able to grab an ice cold root beer before posing with the famous Gemini Giant.
Overall, our road trip through Illinois proved that it's a state of rich history, quirky attractions, and one of the best places to explore by car. We felt that we got a little of everything by starting in the big city of Chicago, exploring small towns, and even getting a taste of iconic Route 66. This was one of our best road trips by far and I can't wait to explore more of what Illinois has to offer.
This post is part of a paid partnership with Enjoy Illinois. As always, my opinions are my own. When they aren't you will be the first to know. This post may contain affiliate links.