Any road trip in Montana will bring you through the small towns that make the state, especially Western Montana, so amazing. Filled with character, annual events, hiking, lakes, and even llamas, Bigfork MT is a town you will not want to miss as you wander around the north end of Flathead Lake.
Now, before you think this is just a summer playground, let's dig into all of the things you can do in Bigfork throughout the year.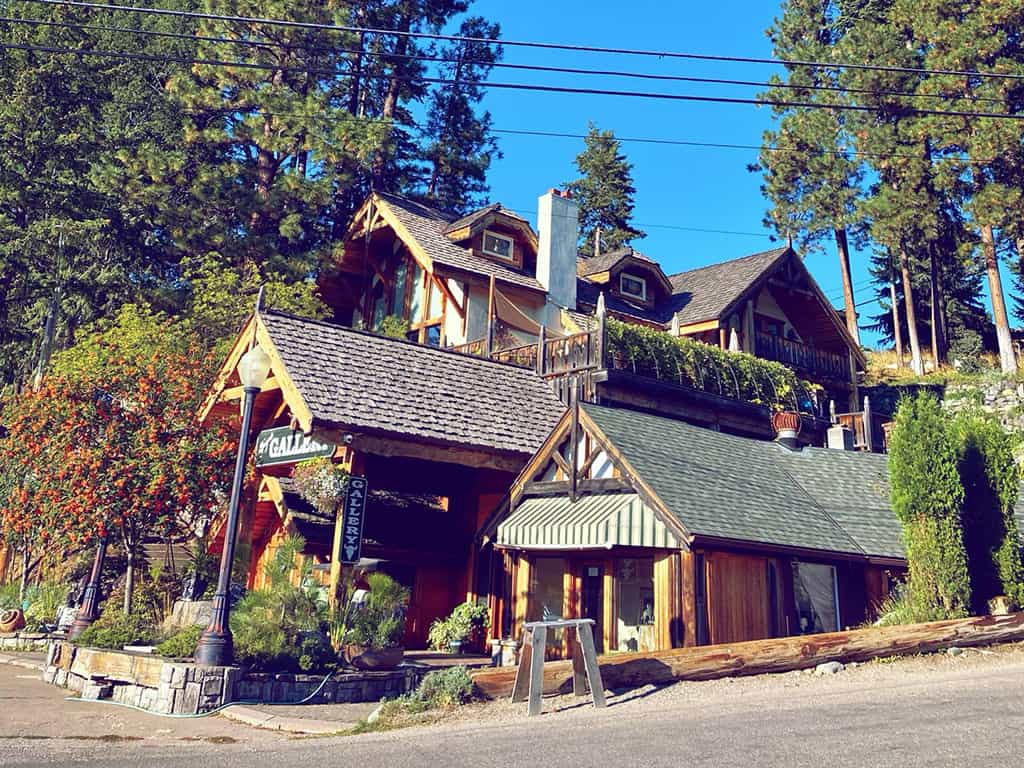 This is part of a paid partnership with Glacier Country, MT. As always, my opinions are my own.
Where is Bigfork Montana?
Bigfork (NOT Big Fork- it's just one word!) is one of the best small art towns, located in Flathead County, in Northwest Montana, south of Glacier National Park and north of Yellowstone National Park.
Situated right on Flathead lake, the largest freshwater lake in Montana, downtown Bigfork consists of a few blocks of shops, cafes and art galleries, as well as several lodging options and vacation homes that will make your time more comfortable while exploring the mountain vistas and outdoor activities in this corner of the United States. It's the perfect spot to set up camp for day trips in the region too.
Best Things to do in Bigfork by Season
Summer
In the summer months you will see visitors popping in and out of the small town shops featuring local artists, enjoying live theater at the performing arts center, grabbing a coffee at the bakery or a local beer at the pub.
Most of the top things to do and places you will find people is centered around the lake though. Activities like fishing, sunbathing, and kayaking and paddle boarding makes the summer the best time of year to splash around.
Off the lake, more favorite summer activities include whitewater rafting, a trek with llamas, hiking and horseback riding. There is also golf if that's your thing, but we prefer to get a tad more rugged while in town.
Autumn
Autumn is when you will start to see the deciduous larch pines change from green to gold, especially on the western side of the state. Leaf peepers are known to pop into town as soon as reports of the leaves changing color reaches them.
The summer crowds have cleared out by then, so businesses reduce their hours. If you want to get any shopping in, be prepared to arrive in town before 5pm. Restaurants are still serving, but double check opening times.
You can also enjoy a round of golf at Eagle Bend Golf Club, or going down the mountain on a mountain bike, enjoying numerous picnic areas, find some wildlife viewing, and explore the hiking trails, which are now less busy as the summer season ends.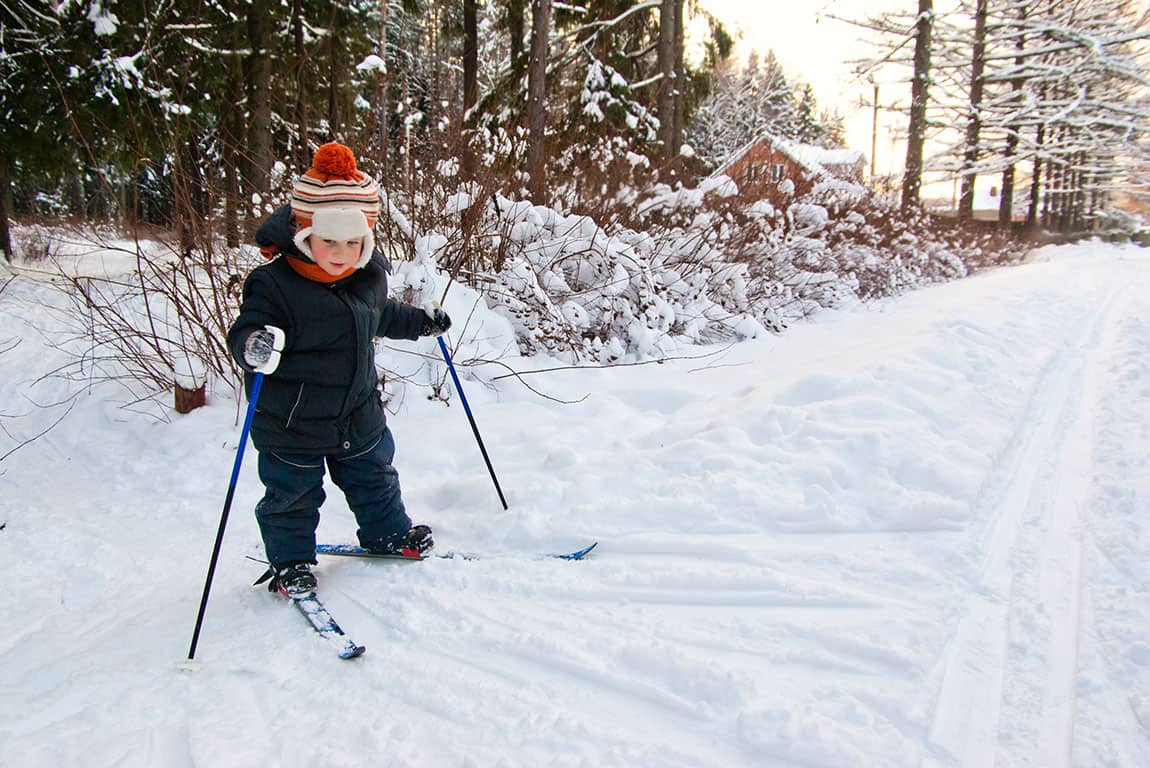 Winter
Winter months brings the cold and snow, creating a winter wonderland that doesn't dampen the fun.
Ice fishing, cross-country skiing on the Blacktail Mountain Nordic Trails, dog sledding and downhill skiing and snowboarding bring the locals and visitors out. You still won't get the crowds you will see in summer, but that's the best part; you get the beauty of town and the lake, without all of the people.
Spring
Springtime brings the Bigfork farmer's market back to town, supplying locals and guests with fresh produce from local farmers as fruits and veggie season returns across Western Montana.
Golf, hiking and mountain biking bring the outdoor enthusiasts back to town, but the thing that really sets Bigfork apart from other towns in Montana is that you can walk along the northern shore of Flathead Lake in spring.
For a limited time, and only in certain parts of the lake, the water level on the shores of Flathead Lake has dropped and you can walk along the sandy bottom of the lake. Don't worry– ALL of the water isn't gone. It just pulled back a bit.
The Flathead Waterfowl Production Area does limit access to many parts of these low water levels while the birds are in town, especially from early March through early July, so be extra careful about where you walk and keep an eye out for signs along the way that designate protected lands and private property.
Annual Events in Bigfork MT
Festival of the Arts (summer)
Fourth of July Parade (summer)
Brewfest (winter)
Riverbend Concerts (fall)
Rumble in the Bay (fall)
Farmer's Markets (fall)
Trick or Treating (fall)
Hunting Film Tour (fall)
Tamarack Time! (fall- amateur food competition)
Film Festivals (spring)
Paddle Fest (spring)
Whitewater Festival (spring)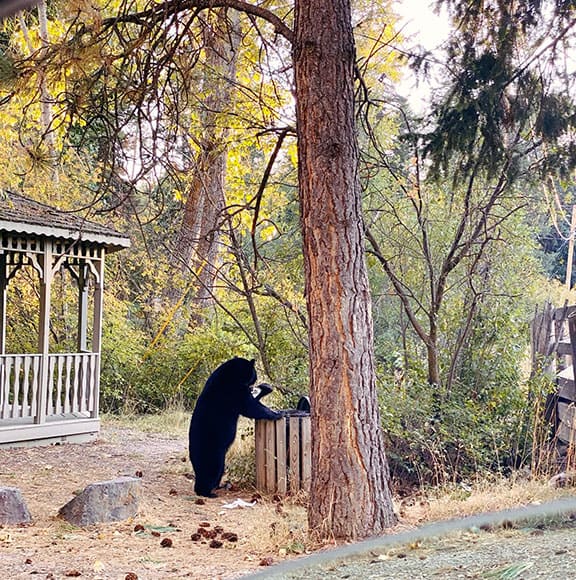 Our 3 Favorite Things to do in Bigfork MT
While there is a LOT to see in Bigfork, we did have a few favorites. Seeing a bear in town was actually one of them (from the safety of our car), but that wasn't exactly planned. Plus, I recently saw a news article that he was humanly captured and is being transported away from town where he will be safe from traffic and junk food.
However, if you know me, you know that I tend to be bear repellant, never seeing a bear in Jasper National Park, Banff, Lake Louise or the Icefields Parkway— places in Canada where EVERYONE has seen a bear. So, Bigfork, Montana will always have a special place in my heart as the first spot I ever saw a bear… who didn't live in a zoo.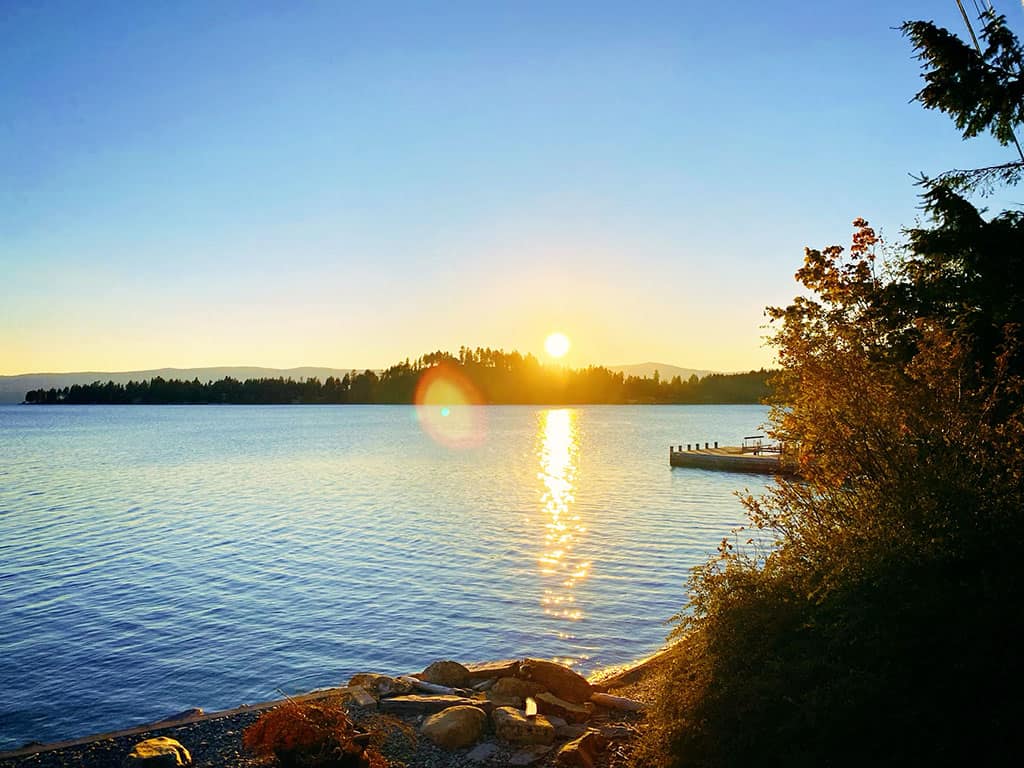 Seeing a bear is cool, but not something you can plan for… and you should probably hope you do not see a bear just in case you aren't in the safety of a car or your hotel room. I'm sure I don't even have to mention that you should never EVER approach a bear for a photo or selfie. You won't like the answer he or she gives you, especially if cubs are around.
Aside from bears, you might see Bighorn sheep, deer, elk, moose and chipmunks, and you will love getting out on the water, into the mountains and even doing a little shopping.
Explore Flathead Lake by Boat
Whether you like to kayak, stand up paddle board or simply want to go out on a private pontoon boat ride with cheese and crackers and a bottle of wine, it's super easy to get out on the water in Bigfork.
Flathead Lake is HUGE, so don't expect to see it all, unless you have a fast boat and a lot of time on your hands, so sit back and enjoy the slice you do have time to see. I highly recommend a sunset sailing (or paddle) if you are visiting during the warmer months (late spring-early fall). You can cozy up in your sweater and watch as the sky turns from blue to gold to peachy pink hues.
Winter gives you sunsets too, but you are better off walking out on the lake (if it is safe!) than trying to get a boat through the ice.
Shopping in Bigfork
Anyone who knows me knows that I love to shop. While in Colombia, I bought myself a (tiny) Colombian emerald, which are supposed to be some of the most stunning in the world. Naturally, when I stopped in Bigfork and saw that there were jewelry stores boasting Montana sapphires, I had to check it out.
Needless to say, these gems were exquisite. They were also pricey. However, towns like Bigfork have much better prices than the larger cities like Missoula and Billings, so if you do want to grab a gem, shop for one here. Silver settings are cheaper than gold, but you can also buy a loose gem to take home and have set by your own jeweler.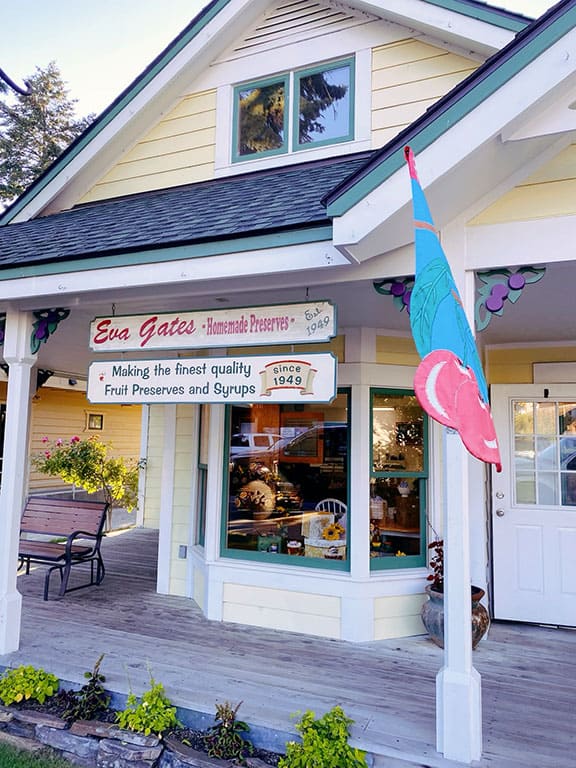 For those not looking for a new piece of jewelry, you can find beautiful clothing, handmade goods, plant accessories, handbags, huckleberry everything, and even home goods to take home. And you should definitely pop into the world-class art galleries for a piece of art created by a Montana artist.
Any reminder of your time in Montana is worth packing up in your bag to enjoy at home.
Take a Hike with Swan Mountain Llama Trekking
While not technically in Bigfork, you can easily get down to Swan Lake where you will find Swan Mountain Llama Trekking. The ranch offers a unique way to see a beautiful waterfall, all with the help of your llama friends.
While you lead your very own llama (everyone gets one on the hike), your fuzzy friend will carry your lunch in coolers and chairs for your group, making it even easier to relax down by the cool, snow-fed pools below the waterfall.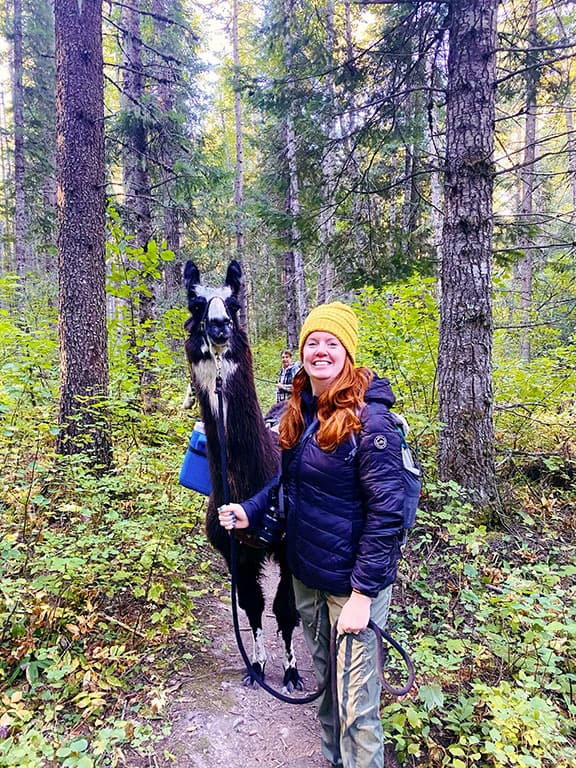 Now, before you call llama trekking a cheesy experience, it's really not. First, these llamas actually like to hike. It gives them exercise and stimulation. More importantly, they get to munch their way along the trail, eating as many leaves as they can grab on the go.
Just when you think you are too tired to go up another little hill (seriously though, the hike is pretty easy), your llama friend will make a face or noise that makes your whole hiking group giggle. My boys would love it.
More Must-Do Activities in Bigfork
Bigfork Summer Playhouse
Wayfarers State Park
Hike in Flathead National Forest
Bird Watching along the shores of Flathead Lake
Bigfork Restaurants Not to Miss
There aren't a ton of restaurants in Bigfork, but what they do have will keep your hunger at bay and tickle your tastebuds. Bon Fire was a favorite, as we could have inhaled a few more plates of the panko breaded artichoke hearts. They also have plenty of local beers on tap and a delightful cocktail menu.
If you are looking for more bites, check out the Flathead Lake Brewing Company and Pub House, or The Raven for Caribbean-inspired dishes.
If you are llama trekking in the afternoon, you can check out the Laughing Horse Lodge in Swan Lake for dinner. This seemingly simple building hides a fine dining restaurant you would never expect.
However, be warned– the owner was in the process of selling the property when we visited, so it may not be an option when you arrive. Call ahead to make sure the property is still serving food.
Bigfork Hotels
Bridge Street Cottages
Address: 309 Bridge Street, Bigfork, MT, 59911 | Details
Bridge Street Cottages offers efficiency cottages with at least one bedroom, living room, bathroom and a kitchen. It's just on the edge of the main part of town, so you can easily walk to food and shops, or even the lake. The beds are comfy, even the sofa bed, and it's perfect for friends or a small family.
More Hotels in Bigfork, MT and beyond
This post may contain affiliate links, which means we can a commission from our affiliate partners whenever a sale is made through out site.