Bringing history to life for kids can be a daunting task as a parent. I don't know about you, but I try to plan day trips and local wanderings when the boys are out of school, but it can be hard (and exhausting) to figure out the best way to spend our weekends and precious vacation time.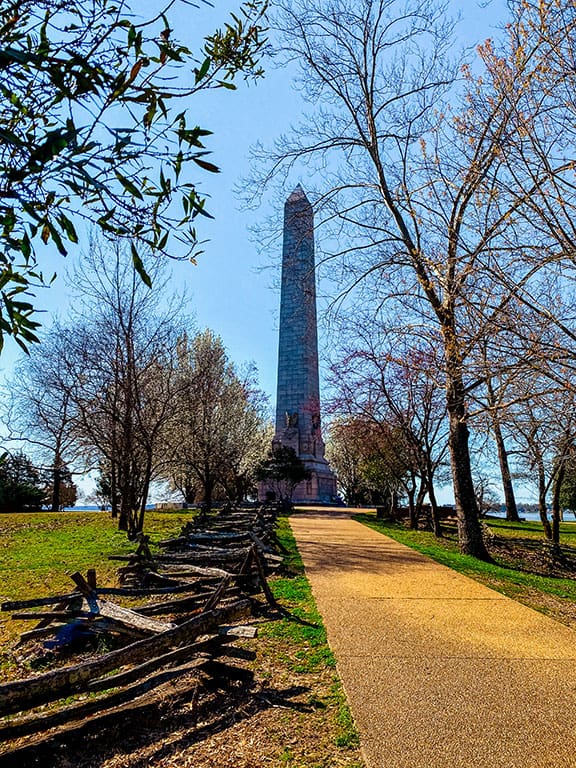 When I was researching Jamestown, Virginia for kids for spring break this past year, most of my work was already done for me. With eight historic and/or nature-based sites, I knew I could get the boys outside running around, while sneaking in a little education without them realizing it.
Ok, my kids are smart so they did know, but they still had a blast even while learning.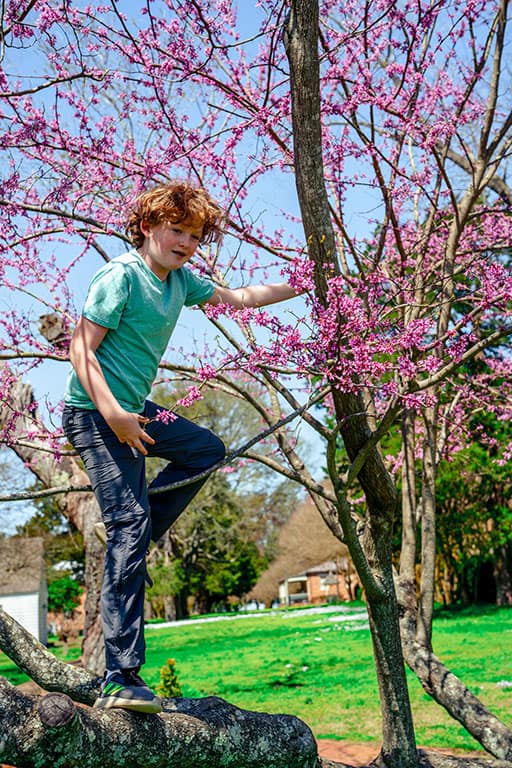 Educational Fun in Jamestown, VA
Each spot we visited was unique, adding to the story of colonial America from the first permanent English settlement to the Revolutionary War and Civil War, and even how people are using the region today.
Let's dive in so you can start planning your own day trip to Jamestown, Virginia. Heck, you may even want to book a weekend getaway there is so much to do.
Captain John Smith Chesapeake National Historic Trail
As every school kid knows, John Smith was one of the original colonists who arrived in America to explore the Chesapeake region of the Mid-Atlantic.
Today, the Chesapeake National Historic trail is a series of waterways through Delaware, Maryland, Virginia and even Washington, D.C., that highlight the areas Smith explored as he learned about the new land he lived in.
The National Park Service created a map for visitors to print out that tells you where to find the public water access sites, trails through Jamestown, and where to find the National Oceanic and Atmospheric Administration (NOAA) interpretive buoys marking the route.
Colonial Parkway
The Colonial Parkway connects Jamestown, Williamsburg and Yorktown together. There are multiple stops along the way to Jamestown with plaques describing the historical events that happened on that portion of the James River.
This is a great drive to begin your historical journey through Jamestown, as you can see where the English first stepped foot on Virginia soil. There are also numerous hiking trails where you can let the kids run through the forest or along the shoreline looking for birds and even shells.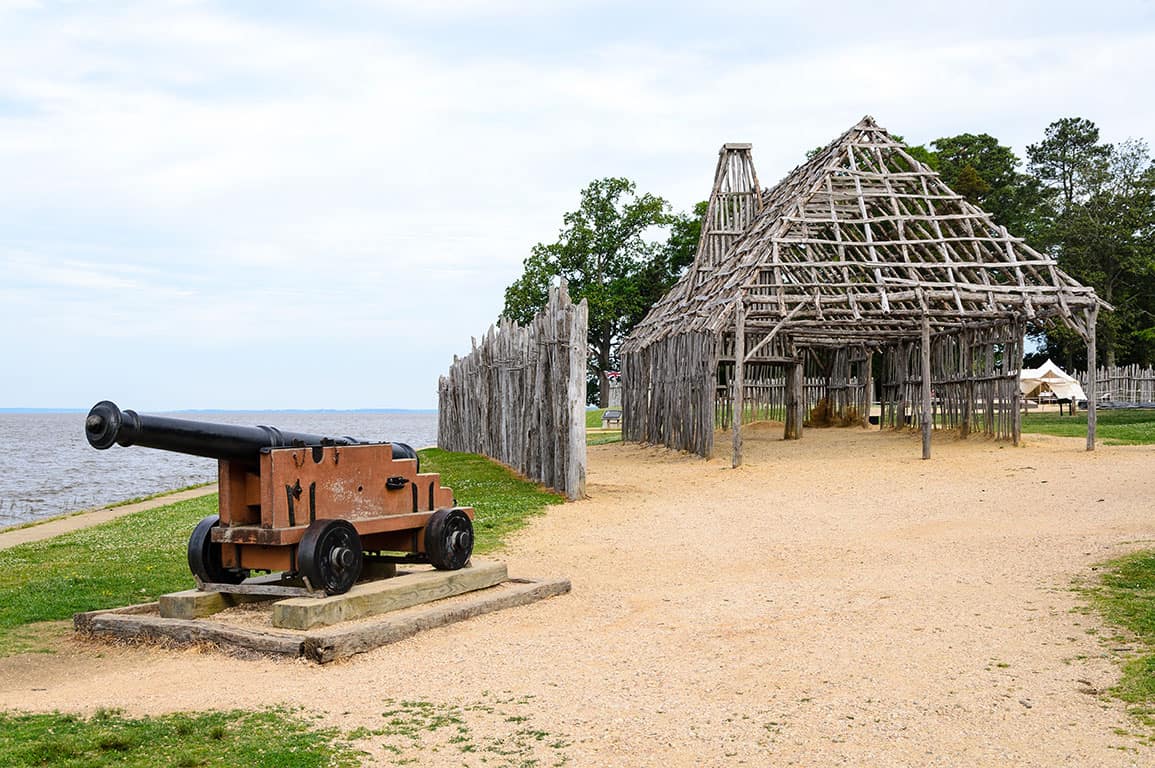 Jamestown Island & Historic Jamestowne
Historic Jamestowne, located on Jamestown Island, is the original home of the first permanent English colony in America. In 1607, the fort was built, which you can still see remnants of today.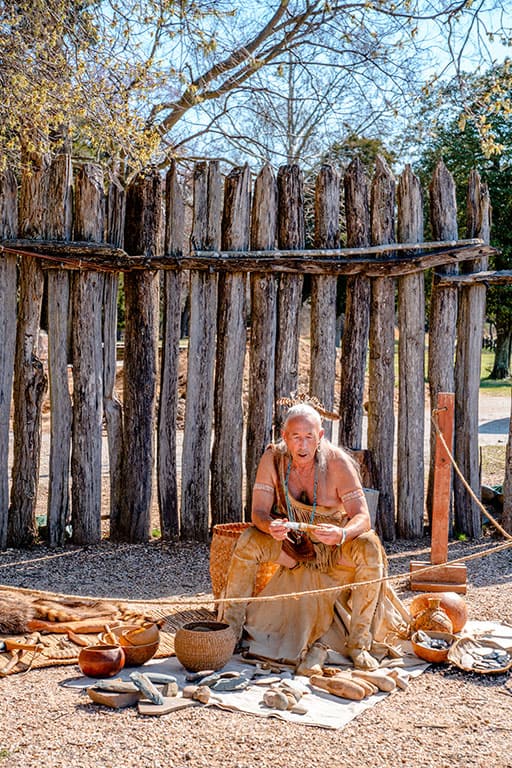 Kids will love exploring the old fort, remains of the church that archaeologists are still researching, artifacts in the museum from colonial times (and even pre-colonial), and of course, seeing cannons and blacksmiths hard at work.
Go early to avoid the rush, and wear sunscreen, as there isn't a lot of shade in the living history museum parts of Jamestowne.
Jamestown Settlement
If your kids liked Historic Jamestowne, follow it up with a visit to the Jamestown Settlement. This living history museum really brings colonial and Native American life to your family in a way that your kids will always remember.
Inside, you will walk through displays set up chronologically, from the early life of Native Americans to the arrival of Europeans. It also tracks the journey of Africans to the colonies as enslaved people. Seeing the timeline of all three groups side by side, brings history to life in a way I haven't seen anywhere else, telling a more rounded story of the early "American Experience."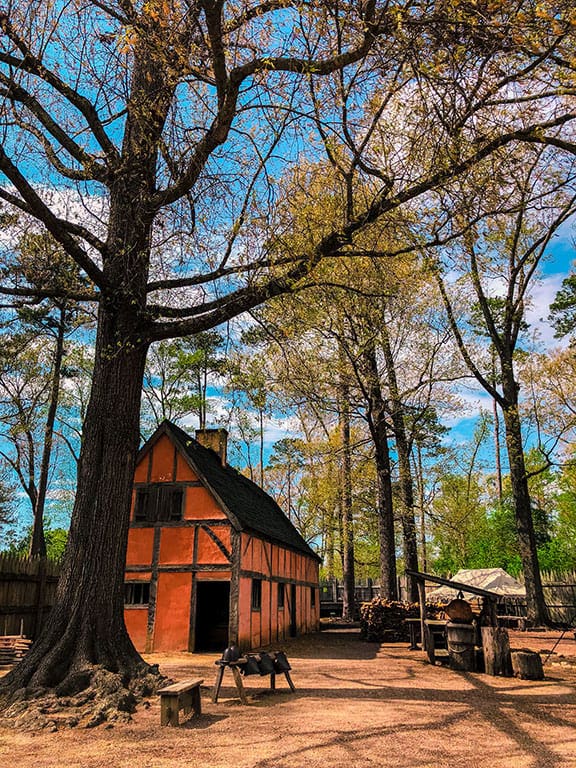 Outside you will find three sections- the Powhatan Village of Paspahegh, Fort Jamestown where colonists first lived, and the docks with replicas of the three English ships- the Susan Constant, Godspeed and Discovery- that brought over the first Jamestown settlers.
Interact with the historical interpreters, ask loads of questions about how animal skin was cured, food was cooked, and farming took root in the area.
My boys loved climbing aboard the Susan Constant, pretending they were sailors tackling the harsh Atlantic Ocean for months on end. Get in line to climb on board and have all of your questions ready to ask the museum staff; they were eager to answer any and every question my boys threw at them.
James City County Marina
Get out on the James River to explore Colonial America through its waterways. Families can rent kayaks or book a kayak tour that will transport you back in time to the days when Native Americans and English colonists went up and down the Powhatan Creek to the James River to fish and hunt throughout the region.
Jamestown-Scotland Ferry
One adventure many parents headed to Jamestown don't think to take is a ferry ride across the James River to explore Surry, VA.
The Jamestown-Scotland Ferry is free, and will have you across the water in approximately 15 minutes. No reservations are required; simply get in the line up and roll onboard with your car.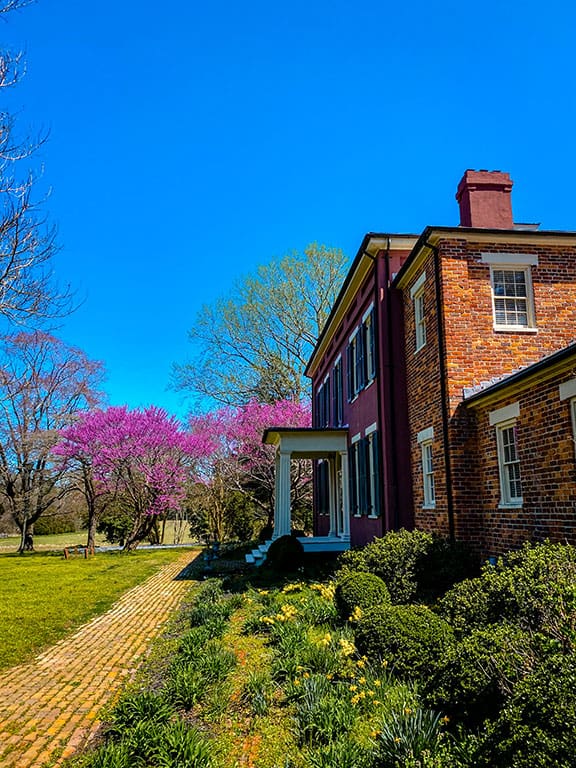 Chippokes Plantation State Park
Probably the biggest reason to go to Surry, VA is Chippokes Plantation State Park. This giant Virginia state park is home to a working farm (one of the oldest continuously operating farms in the country) a mansion surrounded by lush gardens, interpretive exhibits about enslaved life on the plantation, cottages you can rent to extend your stay, and educational events throughout the year.
At the visitor's center, guests can rent kayaks or hit one of the hiking trails to explore. There is a path just behind the visitor's center that will take you to the beach, which is a fun little excursion, especially if you are traveling with babies and toddlers. Don't worry, big kids love it too.
Pack a picnic so you can spend the day before heading over to Hog Island to do some bird watching.
Hog Island Wildlife Management Area
About 10 minutes east of Chippokes Plantation, you will come to the Dominion Energy facility. At first, you might be confused because you thought you were going to a wildlife area. You are, but you have to pass through the Dominion Energy gates to get there.
Don't worry though– you just have to sign in and have your car inspected for hazardous materials, and you are on your way.
Hog Island Wildlife Management Area is home to bald eagles, hawks, herons and shorebirds that are easy to spot even from the road. There are several pull offs to park and wander if you feel like a stretch.
The Tidal marshes are the best places to see birds fishing, but always look to the trees and skies, especially during the height of the day when many birds are in the shade to escape the heat of the sun.
This post is part of a paid partnership with Travel Mindset and the Founder's District. As always, my opinions are my own. When they aren't you will be the first to know.
Pin it and Start planning!