Seattle's newest attraction is one of the most terrifying I have every seen. Glass is on the floor, on the ceiling and on pedestals; ready to be knocked over at any moment.
What better place to bring a toddler.
I hesitated for about 3.5 seconds before walking through the doors of the new Chihuly Garden and Glass at Seattle Center. I'd been to tricky spots before with Dek. He had done pretty well. More importantly, I really wanted to check out this new museum dedicated to one of Seattle's more eccentric artists in residence.
Dale Chihuly and I have crossed paths before. Oh I've never properly met him, but I've seen him walking down the streets of Seattle and we have attended a few of the same events. With a patch on one eye and quite the head of hair he is hard to miss. He is a genius glass maker, trained in Venice and educated at RISD. His work can be found throughout Seattle and around the world. I'm kind of surprised it took the city this long to build a space to honor his work.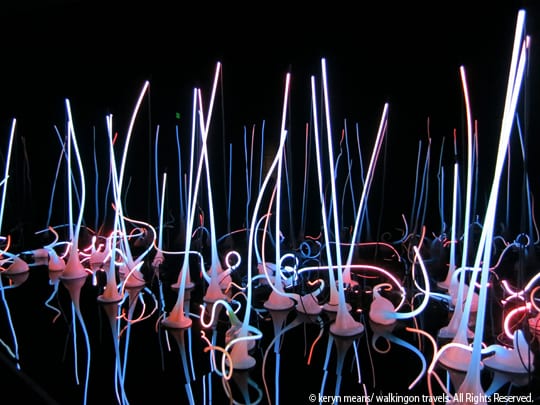 Chihuly Garden and Glass was "intended to function as a community gathering place." Unfortunately the $19 per ticket price kind of prohibits that idea, but it is still an inspiring spot to check out even for us locals. Spend a few hours wandering the galleries, maybe grab a meal, and soak up a little of the master glassmaker's handy work.
The interior galleries should not be missed, but the exterior garden is an impressive example of the harmony that can be achieved between natural and man-made art.
Head outside
As you leave the inside space you are transition outside through a giant green house, a favorite of Dek's.
Kids can run, skip, hop or just dance around this enclosure. Parents can take a quick breather from saying, "Stop! Don't touch that!" There is nothing that can be easily broken; the main piece is suspended from the ceiling.
Make your way outside and you are instantly slammed with a wall of color. The Space Needle looms in the sky above while your eye adjusts to mother nature mixing with a few of Chihuly's enhancements.
Finding a natural balance
According to the gallery website, "Chihuly has often said, I want my work to appear as though it came from nature so if someone found it… they might think it belonged there."
This philosophy is highlighted throughout the garden. Blue spikes pop out of the ground around a fallen log. Black and white spheres sit in harmony with shadowy blades of grass and evergreen shrubs. Everywhere you look you see nature morphing into art. I can't wait to see how it all fills in over the years.
The centerpiece of the garden is the Sun. Yellow and orange bursting from the center will create a welcome relief come winter for all of us suffering from sunshine withdrawal.
Relax…the glass is safe
Outside I was able to relax a little more than I could in the interior galleries. Dek knows how to stay on a path pretty well. I tell him, ever so gently, to get his feet off my flowers at home often enough. It was easy to apply the same principle to Chihuly's new digs.
The garden was the perfect end to our visit to Seattle Center's latest novelty. We had made it through safely. Nothing was broken on our account (I can't vouch for the other visitors.) It will be interesting to see how locals and visitors take to this new city attraction. So far it looks like Seattle has a hot new ticket item on its hands. I'm glad we got to see it when it first made its debut. Now we can tell friends "we knew it when…" years from now.
Tips for getting your toddler through the exhibit
Before you even enter the exhibit have a little chat about what your child can expect. Explain that he or she can look and be excited, but cannot touch.
Hold hands whenever possible
Talk to your kids about what they are seeing. What is their favorite part? What colors do they see? What shapes?
Grab a Kid's Guide for fun activities to explore the garden together. The guide is for slightly older kids but can be inspiring for parents who need to keep little hands away from very expensive glass.
As a last resort: pray, pray and pray some more
Parent's favorite gallery
The entire exhibit was a lesson in just how far the imagination can stretch molten sand. Colors exploded at every turn, reflecting light that mimicked rippling water, rainbows and a fine glass of Merlot.
I was most intrigued by the sketches next to each piece in one gallery. Chihuly showed where he started out with an idea and how it translated in 3-dimensional form. More often than not the piece had changed quite a bit since it was first drawn. The glass, and artist, had taken off in a slightly different direction then originally planned.
Toddler's favorite gallery
The Mille Fiori gallery captivated Dek. This large exhibit took over an entire room. At every angle you could see new elements popping into existence as your eye traveled around. Dek counted glass balls, both big and small, as we walked down the side of this over saturated forest. Somehow Dek understood to look, not touch, these exciting new "toys" he had found.
My threats that he would never go to college if he broke one must have sunk in.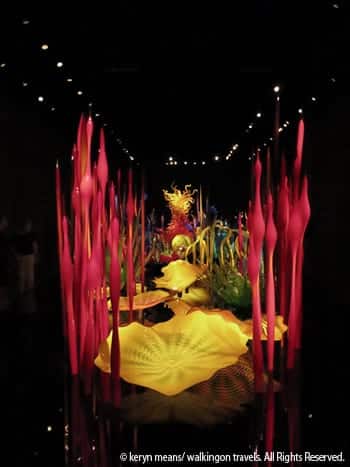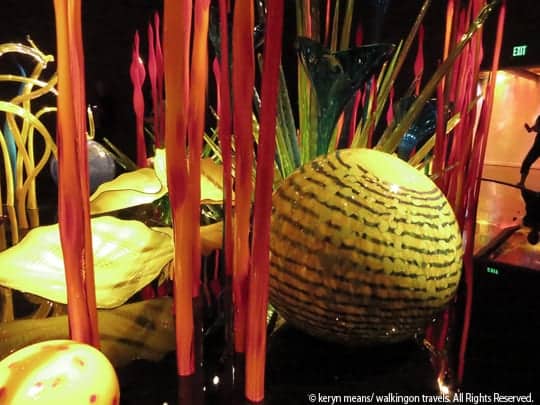 Dek and I both agree that the Ikebana and Float Boat gallery was by far our favorite though. Dek obviously loved it because there was a boat. The reflections of glass on the polished black surface created a midnight river of artwork floating by. My camera wouldn't let me stop taking pictures.
All of this and we hadn't even been outside yet. How could Chihuly and his band of worker elves possibly top what we were already falling in love with and scheming to sneak home?
Know Before You Go
Chihuly Garden and Glass located in Seattle Center next to the Space Needle
Hours: Open daily 10:30am- 10:30pm
General admission: $19 adult | $12 ages 4-12 | 3 and under are free (as of July 2012)

$15 adult for King County residents with ID
Order tickets online or buy at ticket counter in museum
There is a combined Space Needle + Chihuly Garden and Glass ticket available

Photographers are on sight to take a photo of you in the exhibit. These images are free. You simply type in the code on the card they give you and you can email the image to yourself.
Strollers are easy to maneuver in the space.
Food: The Collections Café is available on sight but may be a bit pricey for those on a budget. There are several alternative options in and around Seattle Center.
Seattle Planning Guide
Hotels in Seattle
Inn at the Market: Top rated hotel right by iconic Pike Place Market. Free Wi-Fi, breakfast available.
The Maxwell Hotel: Free Wi-Fi, bicycle rentals available, pool, pet-friendly
The State Hotel: Family friendly (children activities on site), pet-friendly, free Wi-Fi
Looking for more? Search for a great deal on Expedia.com!