Exploring the Canadian Rockies by rail is pretty much a dream come true. It's also super easy when you book a Rocky Mountaineer train trip with your girlfriends.
I've done the journey to Jasper, Lake Louise and Banff, all with friends in tow. We drink, we laugh, we eat great food; it's one of my favorite vacations to take without the kids each year.
And with the new USA Rocky Mountaineer route between Denver and Moab, you better believe we will be climbing aboard for some outdoor adventures in the desert and Rocky Mountain National Park.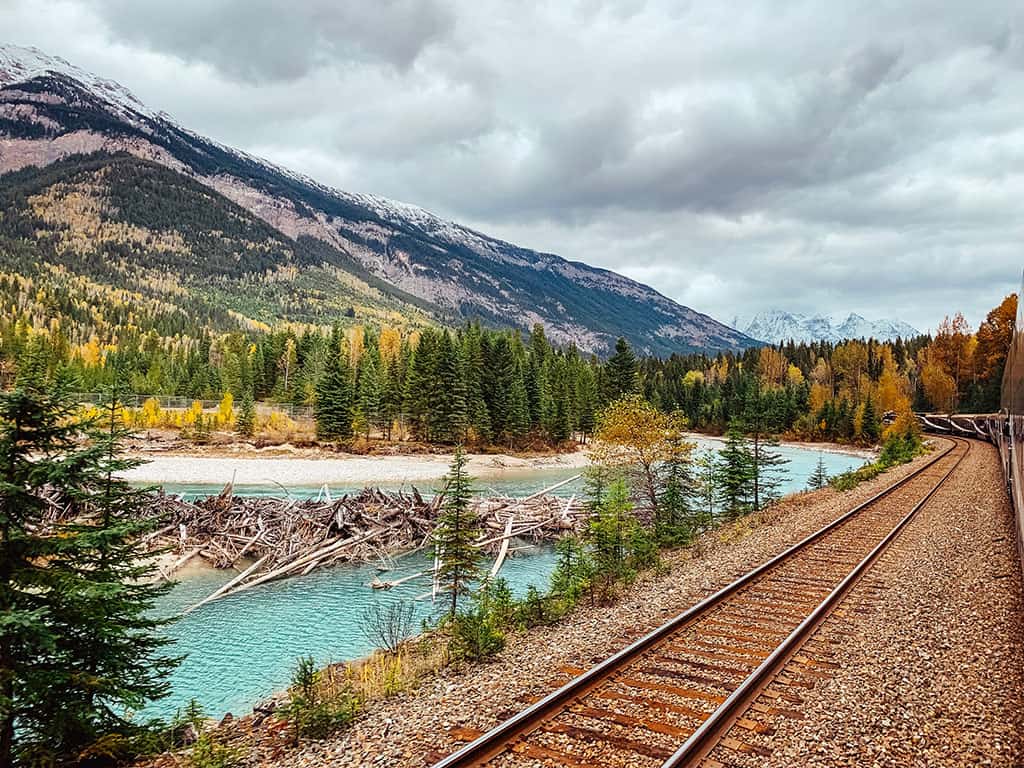 But how do you even decide which Rocky Mountaineer train to book?
We are breaking down your Canadian Rockies mountain train options by destination and things to do in Alberta each season. You may be surprised by which Rocky Mountaineer trip you want to book first.
Round trip Rocky Mountaineer trip or one way?
You can take the journey from Vancouver to Jasper, Banff and Lake Louise as a round trip train ride, but we recommend you book one way so you have more time to explore. I love heading out of Vancouver, going from the hustle and bustle of the city to alpine serenity.
I give myself a day or two to explore the neighborhoods and things to do in Vancouver, before hopping aboard the train. This also gives all of my friends time to meet up in Vancouver so we can all climb aboard the Rocky Mountaineer train together.
Which Canadian Rockies Train Trip Itinerary is right for you?
The Rocky Mountaineer features five distinctive rail routes, four of which follow the historic rail route through the Canadian Rockies.
Journey through the Clouds (Vancouver to Jasper)
You can book your Rocky Mountaineer trip from Vancouver to Jasper OR Jasper to Vancouver. Plan on spending more time in Jasper, no matter which route you take. There are more things to do in Jasper than you may think, despite its remote location.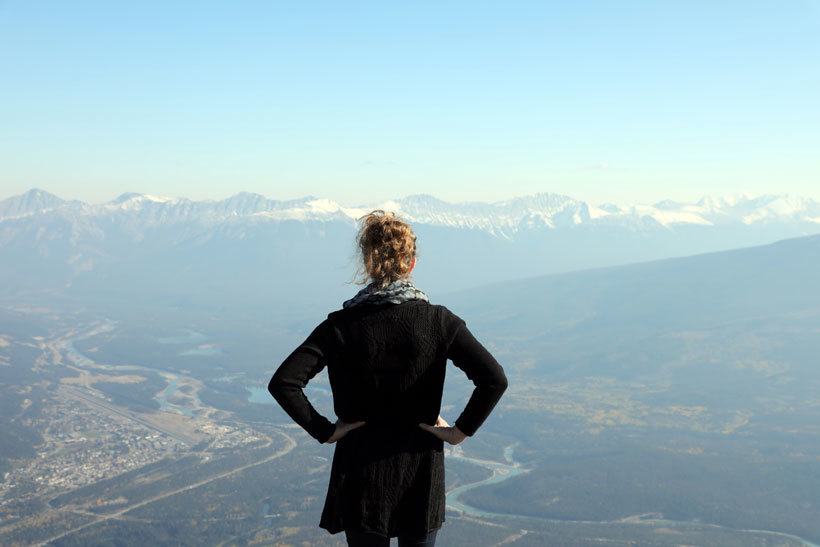 Mini Jasper Itinerary
Airports
There are three airports you can fly through when traveling to and from Jasper National Park. Keep in mind where you will be arriving and departing by train, so you fly into the right airport on the correct dates.
If you are starting your journey in Vancouver, you will want to fly into Vancouver International Airport in Richmond, British Columbia, just outside of the Vancouver city limits.
For those beginning or ending their journey in Jasper, you have two options– you can transfer to Calgary International Airport or Edmonton International Airport. Calgary has plenty to do if you want to extend your trip and is a bit closer, but Edmonton has loads to explore too if you want to stay an extra day.
Check airline ticket prices to see which airport fits your budget and gives you the best flight options.
Jasper Hotels
While there aren't a ton of hotels in Jasper, which is why they sell out so quickly, what Jasper does offer is everything from rustic cabins and tiny inns to luxury lodges and fantastic hotel amenities. Here are just a few of our favorite spots to book when in Jasper National Park.
Things to do in Jasper
If you can't find something to do when you step off the train in Jasper, you should probably get back on the train.
The scenery and mountain views around the town of Jasper in Jasper National Park alone will keep you entertained for days.
When you are looking for adventure, wildlife, mountain top views and beautiful moments in nature, here are a few things we always try to do when in town.
Ride horses at the Fairmont Jasper Park Lodge
Shopping in town at the local boutiques filled with clothing, art and more.
Ride the Jasper SkyTram
Whitewater Rafting on the Athabasca River
Peruse the Jasper Farmers Market
Canoe along Lake Beauvert
Skiing on Marmot Basin (seasonal)
Golf at the Fairmont Jasper Park Lodge
Spa treatments at the Fairmont Jasper Park Lodge
Hike Maligne Canyon (or ice climb in late fall/ early spring)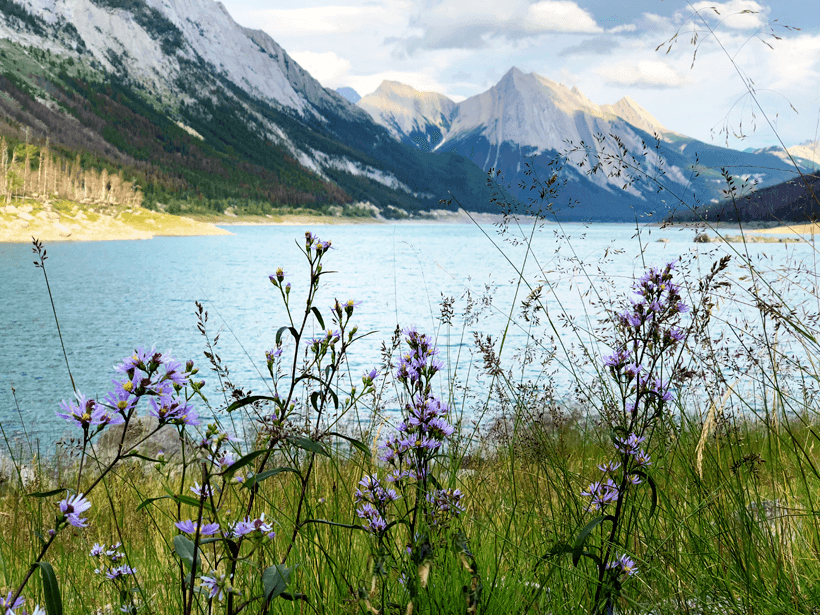 Jasper Day Trips
Day trip to Maligne Lake and Spirit island
Hike around Medicine Lake
Athabasca Glacier Tour
Explore Athabasca Falls to hike
Drive down the Icefields Parkway between Jasper and Banff
Miette Hot Springs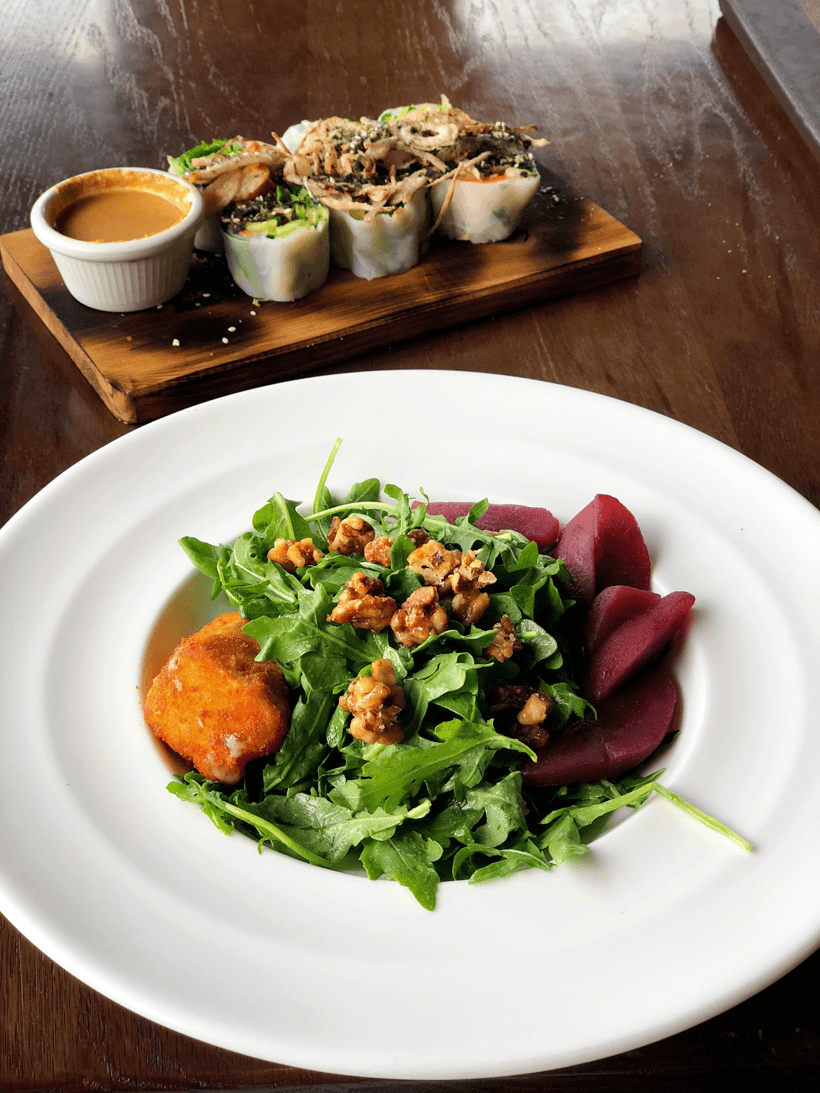 Jasper Restaurants
Jasper National Park has a lot of restaurants that I crave throughout the year. The town has come a long way from the few options it used to have, and has become a small but powerful spot for regional cuisine.
From delicious coffee and pastries to start the morning to pub food and fine dining at night, I always know I'll eat well after surrounded by magnificent scenery.
Here is just a sampling of the best restaurants in Jasper:
Bear Paw Bakery
Sunhouse Cafe
SnowDome Coffee Bar
Jasper Brewing Company
Harvest Food & Drink
ALBA Restaurant
The Raven Bistro
First Passage to the West (Vancouver to Lake Louise train)
Lake Louise is all about slowing down and taking it easy. Just like Jasper, the train can take you from Vancouver to Lake Louise or Lake Louise to Vancouver. It's really up to you.
Lake Louise is just a short drive from Banff, so it's easy to set up in this quieter town and explore everything that Banff, and even Jasper, has to offer.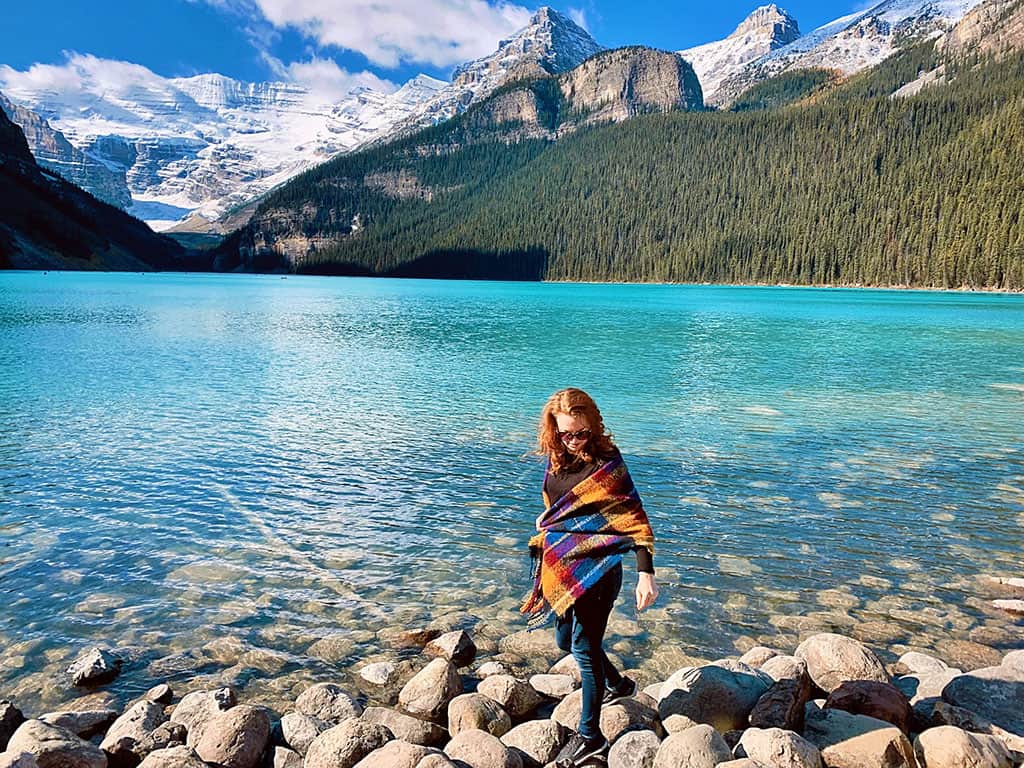 Mini Lake Louise Vacation Guide
Most people recognize Lake Louise thanks to brilliant marketing by the Alberta tourism office and the Fairmont Chateau Lake Louise. Who wouldn't want to see that stunning lake with a historic hotel along the shores?
Even if you don't stay at the Fairmont, you can still access the grounds, enjoy hikes and kayaking along the waters, and their incredible winter festival.
Nearest Airports
Lake Louise Hotels
Fairmont Chateau Lake Louise: Historic and luxurious, we love having afternoon tea while looking over the lake. Rooms are small, but the views are worth it.
Deer Lodge: Just down the road from the Fairmont, this historic lodge is at a more budget friendly price point with basic rooms.
Mountaineer Lodge: Rooms and suites with a mini fridge and microwave just a short walk from the shops and restaurants in Lake Louise.
Things to do in Lake Louise
Kayak, canoe or hike around Moraine lake
Hike up to the Lake Louise Tea House
Tour the Icefields Parkway from Lake Louise to Jasper National Park
Helicopter tour over glaciers
Guided tour of Athabasca Glacier
Explore the shops of Lake Louise
Skiing (seasonal)
Hike to Fairmont Lookout
First Passage to the West (Vancouver to Banff train)
Mini Lake Louise Vacation Guide
I'm not going to lie- Banff is one of my favorite places in the world. You get the hustle of a city in about 6 blocks worth of shops, restaurants, attractions and people watching. It's easy to pop over to Kananaskis, down to Canmore, up to Lake Louise and even Jasper.
Take your time in Banff. Give yourself a few days to hike, but also tour the town. You will be grateful to slow down a bit, even after you just get off the train.
Closest Airports
Banff Hotels
While I normally tell people to book a Fairmont whenever in Canada, when it comes to Banff National Park, I'd rather stay in downtown Banff so I can walk to restaurants and shops. The Fairmont Banff Springs is just a bit too far of a walk when the weather gets chilly and the bus isn't running.
Things to do in Banff National Park
Gondola up Sulphur mountain
Hike through Johnson's Canyon
Drive to Marble Canyon to hike
Wander the Icefields parkway from Banff to Jasper
Find the Mist Mountain natural hot springs
Hike around Kananaskis National Park
Soak at the Nordic spa at Kananaskis Mountain Lodge
Skiing at Sunshine Village or Mount Norquay (seasonal)
Rockies to the Red Rocks (Denver to Moab)
It's not often that new destinations pop up on the North American Rocky Mountaineer itinerary, but the Rockies to the Red Rocks journey is a Rocky Mountaineer experience I can't wait to tackle.
As the newest train experience, you can depart from Denver or Moab, spending one night in Glenwood Springs along the new route. As national parks are the big attraction on most Rocky Mountaineer train routes, the USA could not be ignored.
Instead of traveling through the Canadian Rockies, the Red Rocks route brings you past Rocky Mountain National Park and the incredible scenery of the American southwest for a new world-class train travel experience.
Visit RockyMountaineer.com to learn more and book your next train journey.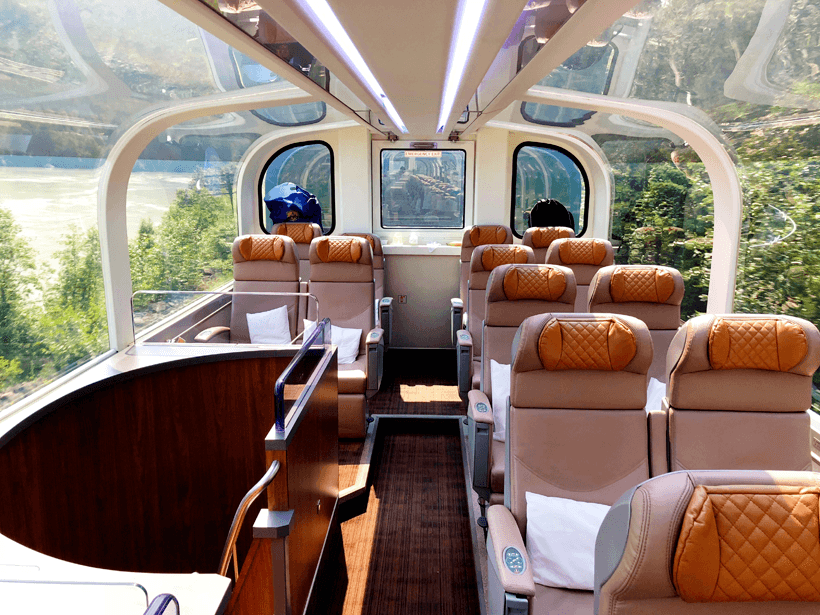 Things to know about the Rocky Mountaineer Train
When you take a train through the Canadian Rockies with Rocky Mountaineer, you will do at least one overnight stay, usually in the small town of Kamloops. This will break up your trip and give you more time to wind through the natural beauty of British Columbia and Alberta on one of their two-day rail journeys.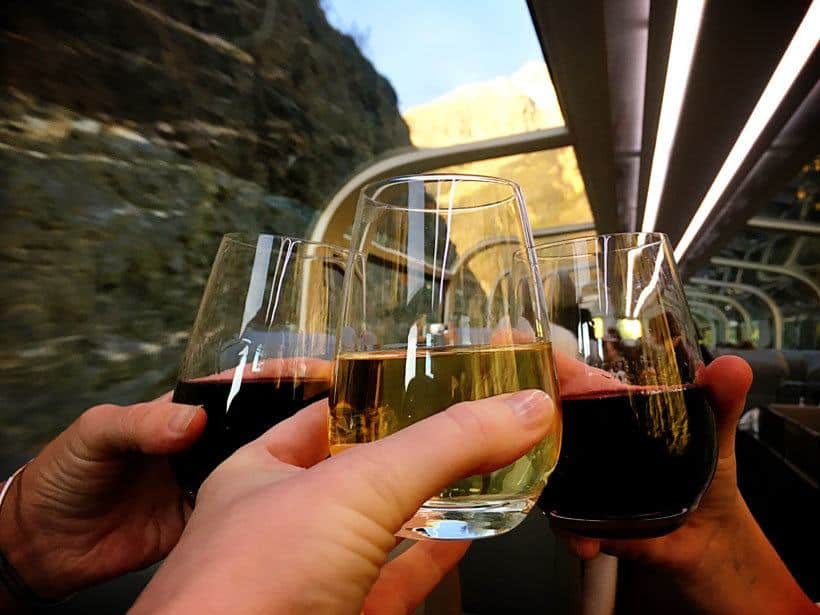 Rocky Mountaineer Prices
Friends always ask how much a Rocky Mountaineer vacation will cost. Well, it all depends which of the unique rail routes you want to take and what you want included in your Rocky Mountaineer tour.
The luxury train service offers custom vacation packages, which I always find gives me vast opportunities to explore more and see things at my own pace.
Tour operators and travel agents can also help you book a package to any of the iconic destinations on one of the luxury train journeys.
No matter which journey you book, you are assured impeccable service, one night hotel room included in your package (with upgrade options available), a la carte meals either served at your seat or in the dining level of your car (depending on service level booked) and unparalleled journeys like no other on a luxury tourist train.
Rocky Mountaineer Goldleaf Service
GoldLeaf Service is the top level of service onboard the Rocky Mountaineer. While you will get a world-class train travel experience in either class of service, the panoramic views from the second level GoldLeaf train coaches with windows going almost all the way around, even overhead, is worth the added expense.
For meals, you will walk down a spiral staircase to the dining level, where the spectacular scenery of the Pacific Northwest continues to pass you on this unforgettable journey through the Rocky Mountains.
Each GoldLeaf car also has a viewing platform just off the dining level, so you are sure to get amazing photos along the way. Keep an ear out as your train hosts point out specific landscape features coming up.
Stunning scenery is what the Rocky Mountaineer guests expect, and the staff will make sure you see every one throughout your luxury train experience.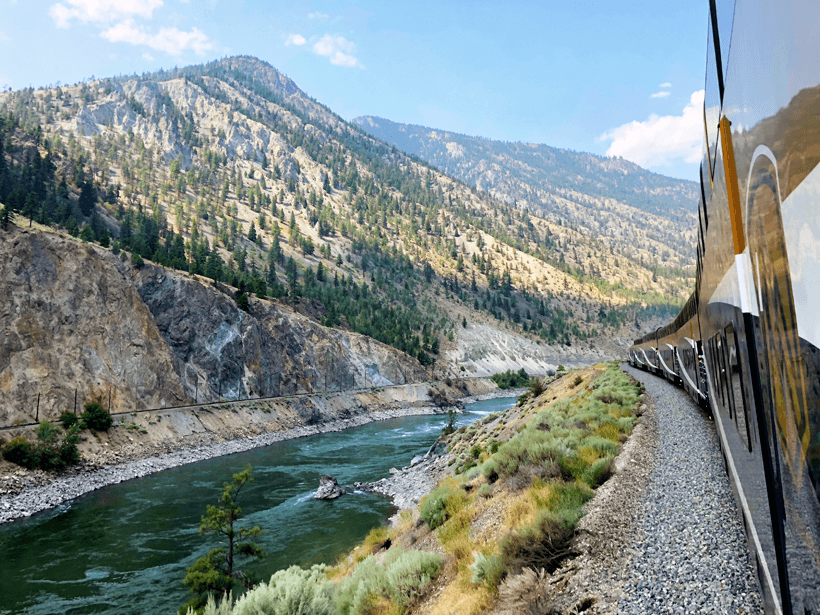 Rocky Mountaineer SilverLeaf Service
SilverLeaf Service is the next tier down from GoldLeaf, but don't think it is any less luxurious. Your ticket includes the one-night hotel accommodation during your two-day rail travel and spacious glass windows that give you plenty of time to see the wilds of North America roll by at a leisurely pace as you pass through the best scenery in Western Canada.
Meals are served at your seat, utilizing a fold out table that will pop up in front of you. While your a la carte dining options are a bit more limited, you still have a choice of incredible breakfast and lunch entrees, as well as snacks throughout the day.
Rocky Mountaineer Safety Standards
After the events of 2020, Rocky Mountaineer has added additional safety measures for all trains moving forward. Train operations continue to follow United States CDC guidelines as well as Canadian safety guidelines.
For the most up-to-date information, check out the Rocky Mountaineer Health & Safety page.
Meals
While table service will still be offered, communal pastry baskets and condiments will be served individually.
Enhanced Air filtration
Each rail car is equipped with high-end air filtration systems that ensure nonstop air circulation. Intake and disinfection cycles run every 3.5 minutes, removing 99.9% of airborne particles, such as bacteria and viruses.
Even More Sanitization
Train interiors are thoroughly sanitized using an electrostatic disinfectant sprayer. Every train seat and tray table is sanitized daily before passengers board.
Railings, restrooms and other high-touch areas are sanitized throughout the day, in an effort to prevent the spread of germs.
As always, soap and fresh water are available in the train car restrooms, and sanitizer is placed throughout the coach. Hosts will also offer hand sanitizer anytime you move between floors in GoldLeaf service coaches.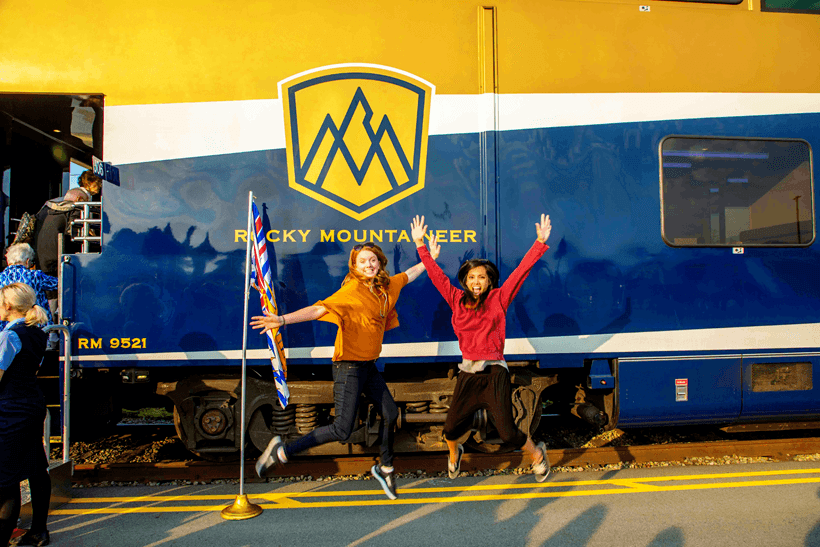 Are you ready for your next Luxury Girls Getaway?
While train travel may not be top of mind when you want to get away with friends, it really is the best way to reconnect, disconnect from the outside world, and be pampered all at the same time.
Figure out where you want to explore and start planning. Just remember to bring your cozy shoes and cute stretchy pants– Rocky Mountaineer is all about relaxation and pampering, so you might as well dress the part.
This post is part of a paid partnership with Rocky Mountaineer. As always, my opinions are my own. When they aren't you will be the first to know.
Pin it and Start Planning!