Small town charm doesn't get much better than Leiper's Fork when you are visiting Nashville and Franklin, TN. Although some know Leiper's Fork as the historic village that Justin Timberlake bought a house for his family, and another for his mama, a member of Motley Crew just picked up a private club on the main drag, and names like Carrie Underwood and Wynonna Judd have popped up unannounced on stage at Fox & Locke (formerly known as Puckett's Grocery), this town has way more than celebrity sightings to draw you in.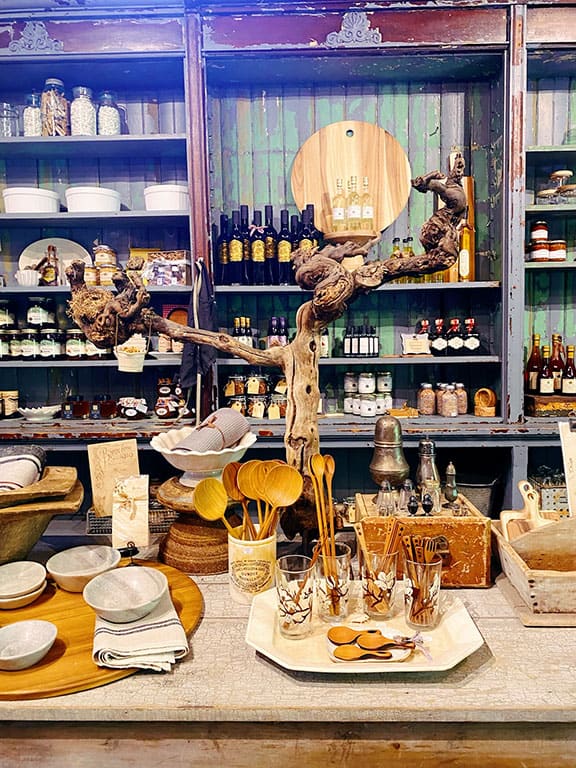 In fact, don't expect to see anyone famous on your trip. The locals are mum's the word on where everyone lives and it's a given rule that if you DO see someone of note, you leave them alone. This is their home and escape from the crazy- just let them have a little "normal" in their lives, especially if their kids are with them.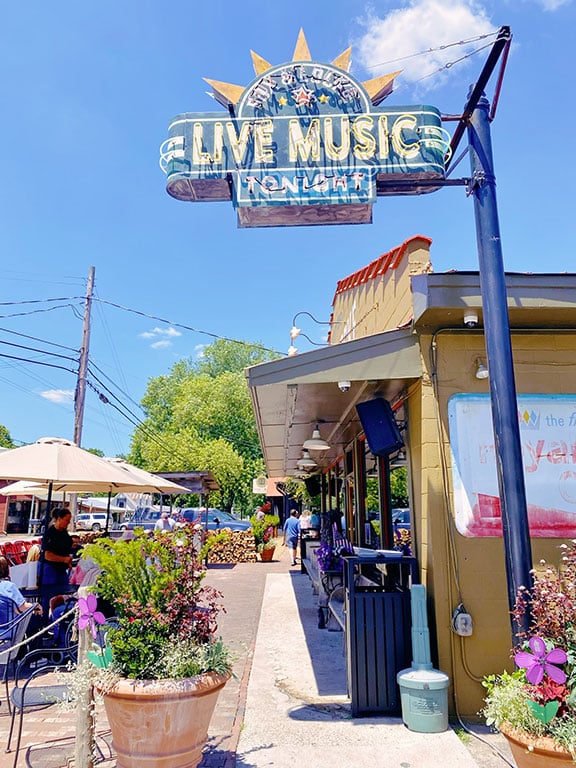 Country living is at its finest when you visit the charming village of Leiper's Fork. This tiny town offers affordable options at the local hotels and rentals, as well as an eclectic range of art to take home as a reminder of your trip.
There are kid-friendly things to do, but it's more of a grown-ups town for those who love wine, distilleries, great food, live music, art and shopping.
How to get to Leiper's Fork
Historic Natchez Trace Parkway
Take the scenic drive to Leiper's Fork along the Natchez Trace Parkway from the historic district in Franklin.
You can get out to hike trails along the parkway, but please make sure you park in a designated pull off area… not just on the side of the bridge that the parkway is known for. There are plenty of spots to park and see the bridge from below and above.
Downtown Nashville to Leiper's Fork
It's easy to take a day trip from Downtown Nashville to Leiper's Fork, TN when you want to get away to this charming village. It's only about an hour drive on I-65 South.
You can pop down for the day, enjoy the shops, galleries, restaurants and other great things to do before you home or back to your hotel in Nashville after dinner.
The unincorporated village might be just the break you need to escape the hustle and bustle of city life as you go in search of true southern charm.
Best things to do in Leiper's Fork TN
Pickin' corners, an outdoor movie theater, a 75+ year old diner and world-class art are just a few of the things you will find when you visit Leiper's Fork in Williamson County, Tennessee.
It's time to dive in and figure out what's in store on your visit.
Art Galleries in Leiper's Fork
Whenever I travel, I seek out local artists and art galleries to see what has inspired the people in the area. For such a small town, Leiper's Fork has enough galleries to keep even the most avid art collector busy for a few days.
As a graduate of the Savannah College of Art and Design (SCAD), I was thrilled to see many alumni being featured in the galleries around town.
Make sure to check out these galleries:
Leiper's Creek Gallery: 4144 Old Hillsboro Rd, Franklin, TN 37064
Copper Fox gallery: 4136 Old Hillsboro Rd, Franklin, TN 370
David Arms Gallery: 4136 Old Hillsboro Rd, Franklin, TN 37064
Leiper's Fork Antique Shops
One of my favorite things to do in a new town is to check out their antique shops. While I can't bring the big items home (good-bye gorgeous farm table!) I can pack up smaller ceramics, home goods, jewelry and t-shirts.
Just a few antique stores in Leiper's Fork you will want to make sure you pop into:
The Pick-it Fence: 4157 Old Hillsboro Rd, Franklin, TN 37064
Antiques Studio: 4311 Old Hillsboro Rd, Franklin, TN 37064
Props: 4208 Old Hillsboro Rd, Franklin, TN 37064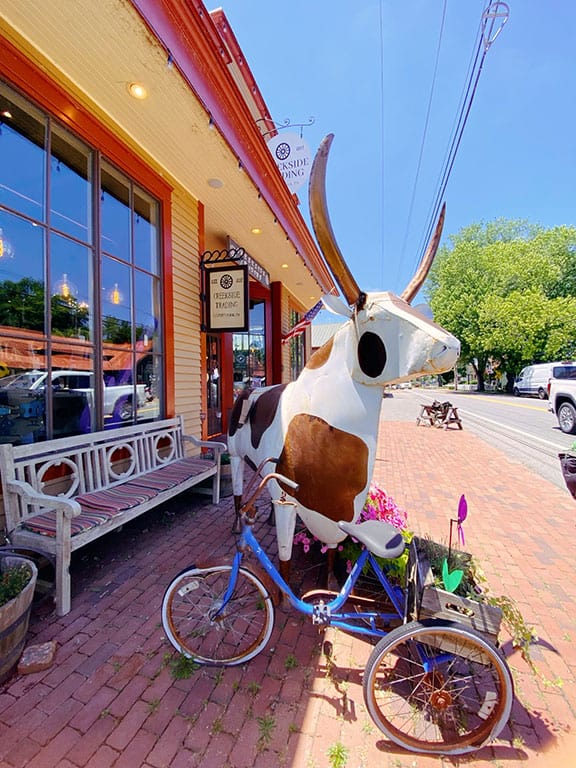 Shops in Leiper's Fork
If antiques aren't your thing, there are plenty of contemporary stores ready to entice you through the door. Home decor, turquoise jewelry, clothing, books, kitchen gadgets, and more await you when you step into the beautifully curated shops in Leiper's Fork, TN.
Patina Home & Garden: 4149 Old Hillsboro Rd, Franklin, TN 37064
Moo Country: 4208 Old Hillsboro Rd, Franklin, TN 37064
Tennessee Turquoise Company: 4152 Old Hillsboro Rd, Franklin, TN 37064
when A touch of elegance matters: 4216 Old Hillsboro Rd, Franklin, TN 37064
Serenite Maison: permanently closed
Wines in the Fork
Enjoy sipping local Tennessee wines creekside when you visit Wines in the Fork, which sits right in front of Leiper's Creek. Guests of all ages can experience live, local music, pop their feet in the creek on a hot summer's day or even host an event on the back lawn for all of your friends and family.
The wine tasting room features white wines, dry reds and dessert wines. Picnics are encouraged, but outside beer, wine and spirits are not allowed.
All alcohol being drunk must be purchased onsite.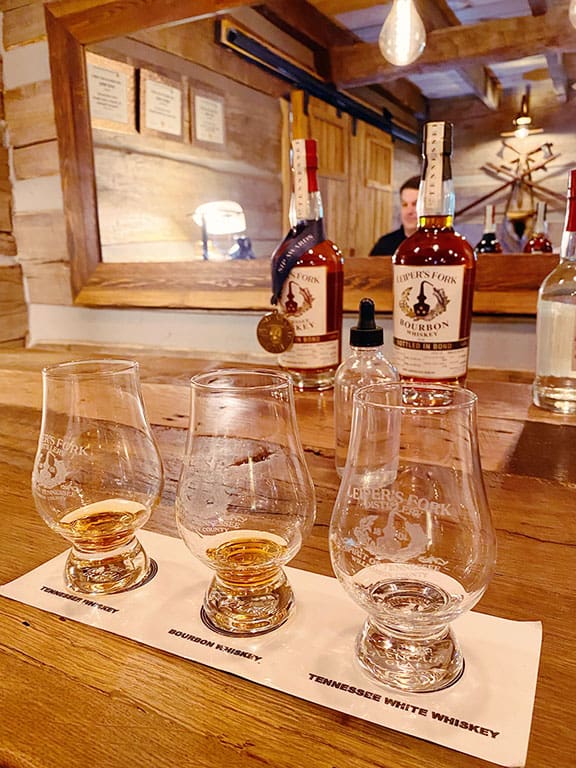 Leiper's Fork Distillery
Book a tour at the Leiper's Fork Distillery to learn the history of this particular spirits maker, how prohibition and the teetotallers played into Tennessee residents abstaining from alcohol long after prohibition was lifted in the United States. You'll be treated to some pretty engaging and funny stories (hard to find on most distillery tours) and get to sample three different whiskeys as they roll through the distilling process.
Pickin' Corner at Patina Home & Garden
While visitors might have visited the pickin' corner at Serenite Maison, that space is now home to Steve and Brooke Gianetti's shop Patina Home & Garden. Have no fear though, the pickin' corner lives on.
Even if you aren't looking to buy anything, you are still welcome to pop in, grab a guitar, banjo or whatever else is available and strum a happy tune.
Leiper's Fork Market
What looks like a gas station when you first pull up, is actually more of a local institution, eatery, rest stop, and there is even a separate coffee shop on site (see below).
Park your car and stretch a bit as you wander the aisles of goodies at this convenience store/museum.
Enjoy historic memorabilia from Hank Williams, including a Gibson Southern Jumbo (1946) and a Martin D-41. There are also plenty of newspaper clippings. framed magazine covers and other historic items that continue to tell the story of Leiper's Fork from the time of moonshiners and the Middle Tennessee Railroad to present day.
It's also a great place to stock up on local products like cocktail mixers, novelty snacks and delectable sauces.
Lawn Chair Theatre
Just behind Leiper's Creek Gallery, and next to Fox & Locke, you will find the Leiper's Fork Lawnchair Theatre. Most showings are appropriate for young kids and start up around June, running through July.
Concessions are available onsite and open about 90 minutes before the film starts, giving you plenty of time to find your spot and grab some snacks for your group too.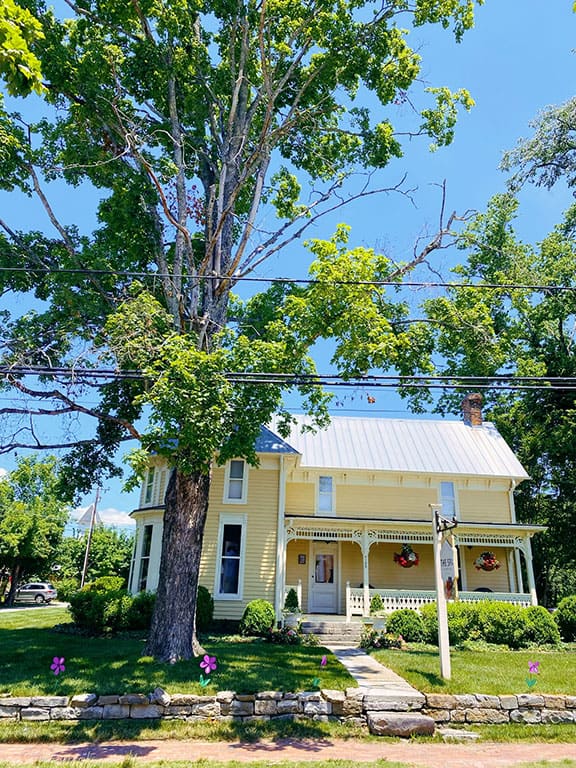 The Spa at Leiper's Fork
While I didn't get to check out The Spa at Leiper's Fork on my visit, you better believe it's on my list for the perfect girls' getaway when I return. Even with the kids, I'll probably need some "me time" to enjoy a massage, facial, wrap or mani/pedi.
This is a true day spa, meant to be enjoyed whenever you need a refresh. Make sure you book in advance, as this luxurious activity does book up.
Hillsboro Leiper's Fork Recreation Center
Rec centers are generally thought to be for just locals, but if you are staying in Leiper's Fork for a few days, there are plenty of activities that you can enjoy.
Sunday Swing days are a fun way to rub elbows with the community, as you receive a crash course in swing dancing and then dance the afternoon away.
Keep an eye on their website and Facebook page for updates on events, and theater productions throughout the year.
Timberland Park
Timberland Park has several trails and even hiking classes you can join, as long as you pre-register before meeting up with the group. There is also an interpretive Center.
Leiper's Fork Flea Market
Market is permanently closed.
Events in Leiper's Fork
Harpeth Bike Club Pancake Ride
Annual Pratt Memorial Spaghetti Dinner
High Meadow Alpacas open House
Now & Then Antiques and Craft Show
Leiper's Fork Chili Cookoff
Metal, Sticks & Stones Sculpture Show
Halloween in the Fork
Turkey Shoot & Golf Shoot
Shop Til' You Drop in the Village
Leiper's Fork Christmas Parade
Santa in the Lawnchair Theatre
Pickin' Leiper's Fork Antique & Vintage Show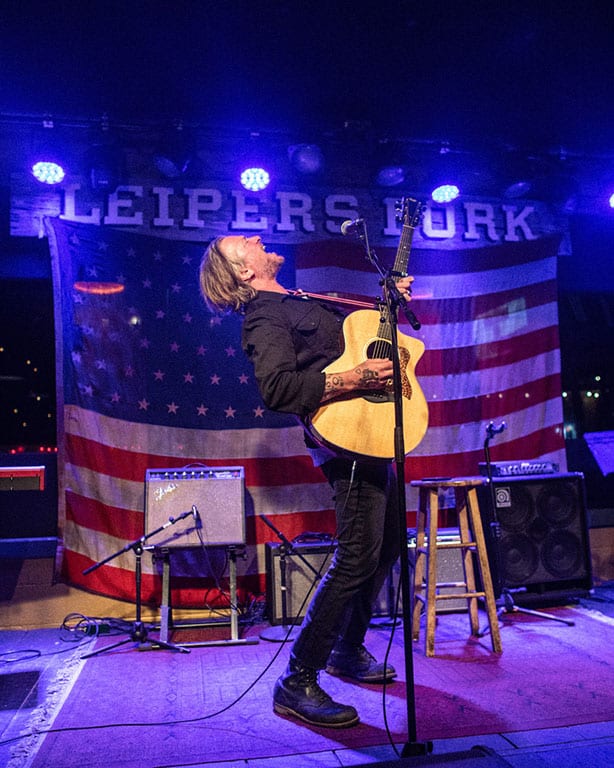 Live music in Leiper's Fork
Fox & Locke
Formerly known as Puckett's Grocery, but now back to its original name, Fox & Locke is not only a restaurant, but it is also a music venue most famous for its open mic night.
You just never know who will show up, especially with so many big names owning houses in the area.
Some folks you might recognize that have played this historic venue:
Thomas Rhett (his song Star of the Show is about him playing on that stage but watching his wife walk through the crowd)
Carrie Underwood
Wynonna Judd
Lennon & Stella (that's where they got discovered to then play the sisters on the show Nashville)
Jason Isbell
Amanda Shires
JT Hodges
Gary Nichols
Butch Walker
Leiper's Fork Restaurants and Markets
1892
Address: 4150 Old Hillsboro Road, Franklin TN 37064
Tucked inside of a 130-year-old home in Leiper's Fork, 1892 serves enticing entrees and delicious desserts Thursday-Sunday. Enjoy seasonal dishes like salmon and grains, short ribs, Lobster Stuffed Flounder with a Lobster Bisque and micros, and many more fine dining dishes you wouldn't expect in this small town, but the clientele sure enjoys.
Reservations are necessary, so please plan ahead.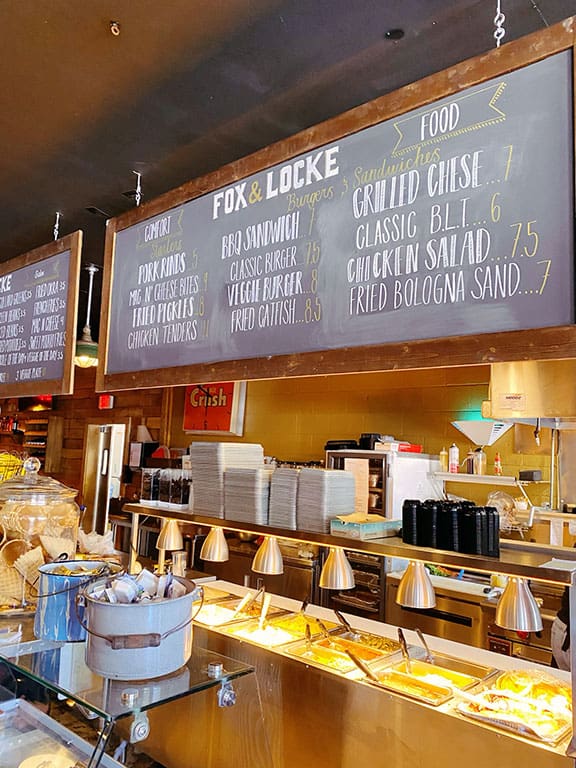 Fox & Locke
Address: 4142 Old Hillsboro Rd, Franklin, TN 37064
Fox & Locke is finally back to its original name from 1953. Open mic nights and live shows bring in the crowds, who also love to chow down on southern favorites like pulled BBQ, mac n' cheese bites, roasted garlic quinoa burgers, grilled cheese, and of course desserts, including Mississippi mud pie, cobblers, maple pecan pie and ice cream.
The old grocery store decor brings some added kitsch, and whether you pop in for breakfast, lunch or dinner, you are sure to go home stuffed.
Make sure to take advantage of the fire pits outside as well to keep you warm on those crisp autumn nights while you catch up with friends.
Leiper's Fork Market
Address: 4348 Old Hillsboro Rd, Franklin, TN 37064
Known as "a good ole country market" in Leiper's Fork, you can pretty much grab anything at this stop as you head into "downtown" Leiper's Fork. From Icees and Moon pies to a plate lunch that you can eat at the wooden community dining table in the front of the shop, you can eat for cheap, and make a few friends as you chat with the friendly staff and others popping in for a bite.
RedByrd Coffee Shop
Address: 4348 Old Hillsboro Rd, Franklin, TN 37064
Kyle and Sandy are brewing up specialty coffee drinks and teas from their tiny house (not to be confused with a coffee truck). Tucked beside Leiper's Fork Market, it's easy to fill up on gas while waiting for your latte or drip coffee.
We highly recommend one of their signature drinks like the "Mama Bird" (Vanilla Lavender Latte) or specialty drinks like the "Sweet Chestnut Latte" (offered during the holidays- chestnut & maple syrups sprinkled with nutmeg).
If you have kids in your group, grab a hot cocoa or their signature "Baby Bird" (steamed milk with honey and drizzled chocolate sauce. Add espresso and make it a "Big Baby").
Health nuts will love the Turmeric Latte or Matcha Latte. And don't forget that on Saturdays they sell Ellie's Doughnuts.
Country Boy Restaurant:
Temporarily Closed
Address: 4141 Old Hillsboro Rd, Franklin, TN 37064
Leiper's Fork Farmers Market: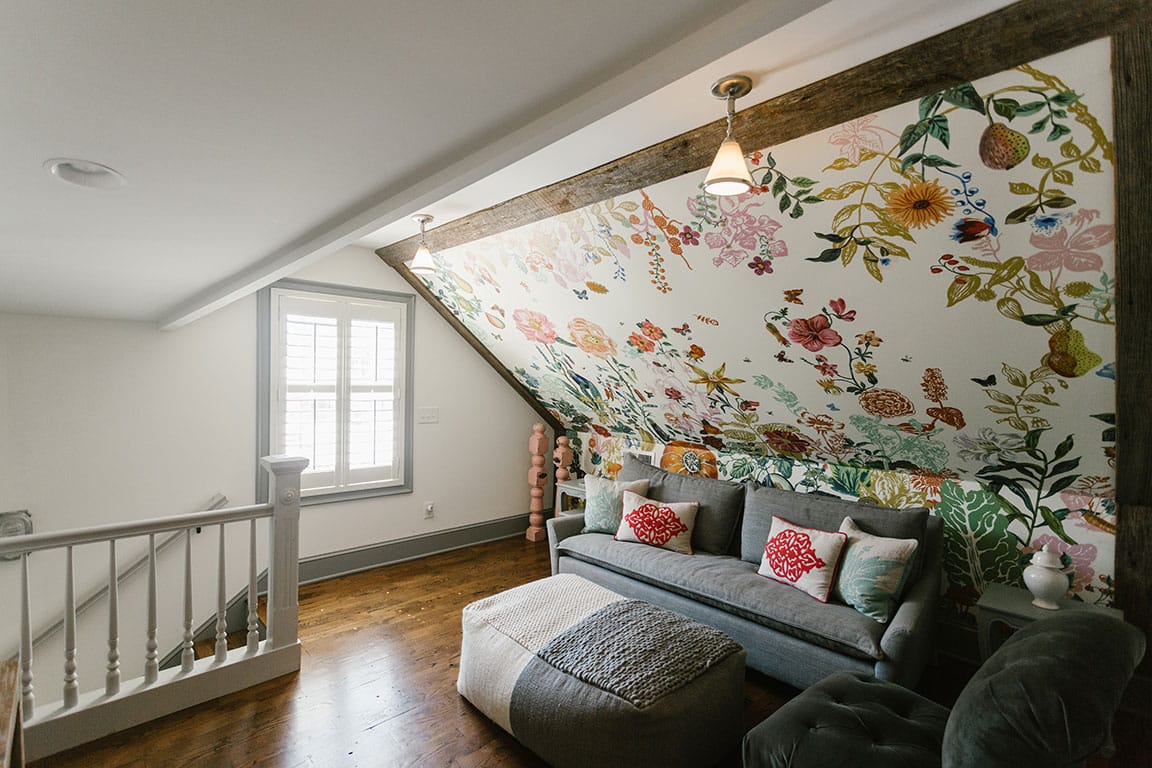 Hotels in Leiper's Fork
Southern hospitality abounds in Leiper's Fork, and lodging is no different. Pot n' Kettle Cottages is the perfect place to book when you want to stay close and have a unique space to rest your head.
Pot N' Kettle Cottages
There are a few other options if you want to stay in town, but if you are looking for the more traditional hotel experience, you will have to stay in nearby Franklin, TN at The Harpeth Franklin Downtown.
More vacation rentals in Leiper's Fork
Hotels in Franklin
The Harpeth Franklin Downtown | Details
Vacation Rentals in Downtown Franklin