Sandy beaches, balmy tropical air, endless cocktails– these were the visions I conjured whenever someone mentioned a Club Med vacation. I'm not sure why I assumed that Club Med catered to those searching for a tropical getaway. It never crossed my mind that Club Med also offered numerous mountain getaways across the globe.
When we learned about the newly opened Club Med Québec Charlevoix, Club Med's first all-inclusive ski resort in Canada, we knew it was time to pack up the snow gear and head to Québec.
Through comically long airport lines and even longer delays, we made our way across the continent from Seattle for what would be a well-worth-the-hassle vacation.
I can't stress enough just how little stress we experienced once we stepped foot out of the airport doors. It was truly a seamless holiday experience.
Why choose Club Med Charlevoix
The Club Med Québec Charlevoix resort opened its doors on December 3, 2021, making it one of the newest additions to the Club Med all-inclusive resort roster. This is Canada's first Club Med location and a welcome one for North Americans who yearn for an all-inclusive winter getaway without having to jump across the pond.
Located only 90 minutes from Québec City, the resort is easily accessible and boasts something for everyone.
Lovers of the outdoors will rejoice at the assortment of seasonal activities including mountain biking, hiking, kayaking, sledding, and more. Those that yearn for cultural experiences can take day trips to Québec City to learn more about this unique province.
While the resort is chock full of enticing activities year round, it truly shines in the winter.
Nestled at the base of Le Massif de Charlevoix mountain and with a breathtaking view of the St. Lawrence river, the resort's location is the epitome of idyllic. The surrounding area is a unique microclimate that births an abundance of snow that blesses the slopes. Canadians and foreigners alike flock to the mountain for some of the best skiing and snowboarding the province has to offer. Club Med Québec Charlevoix may be a winter wonderland but there's so much to do off the slopes.
The Club Med Experience
Club Med resorts are renowned worldwide as being incredibly family friendly. You know how some places claim to be "family friendly," but what they really mean is they simply give your kids a free cookie at check-in? Not Club Med. Yes, there were cookies (and meringues we shamelessly devoured by the handful), but Club Med went far beyond the baked goods.
Room layouts, dining options, and activities are thoughtfully catered to younger guests. I noticed that every G.O. (Club Med's name for their staff–"Gracious Organizers") addressed the children as well as the adults and made them feel comfortable and included in every conversation. It's the little things that make Club Med stand out, and if you ask our children, the Kinder chocolates on their pillows after turndown service was a major highlight.
I'll address Club Med's Kids Club later, but let's just say that it was one hundred percent a selling point for our family.
Dining at Club Med
Two restaurants are available at Club Med Québec Charlevoix, but for our visit we dined exclusively at Le Marché, a gourmet buffet that included many child-friendly options. Even our picky eater feasted on pizza, cheeseburgers, and the pasta bar.
Guests with more, shall we say, refined palates will drool at the rotating menu that includes succulent roast pork, perfectly cooked beef tenderloin, and made-to-order poutine. The offerings changed with every meal and I noticed an assortment of options for those with dietary restrictions.
Oh, and those meringues I mentioned? Try one. Or twenty. Trust me. There's a bowl of them right by the door so you can grab a handful on the way out.
To quench your thirst, guests have the option of soda fountains, coffee machines, and juice bars. Adults are offered tableside wine pairings and can help themselves to the beer on tap. I took advantage of the latter. Why does a cold beer taste so much better after a day of skiing? If you're looking for something a little stronger, head to the theater where you'll find Bar Le Météore.
club med Québec charlevoix rooms and suites
Club Med Québec Charlevoix boasts 302 rooms and 25 suites. We had the treat of staying in one of the Exclusive Collection Suites and my first thought upon walking in was that a parent designed the space.
Upon entry is a mud room that is the perfect place to discard and store your snow gear. There was a spacious central living room with a mini fridge that was restocked daily. It felt like such an indulgence to raid it at will.
Our suite consisted of two separate bedrooms and bathrooms. The hubs and I enjoyed a giant kid-free bed (a miracle, I know) while our children slept soundly in the two twin beds. There were two full bathrooms with a total of two showers and one giant soaking tub.
Guests staying in the Exclusive Collection Suites are also treated to the following:
A personal and seamless check-in and check-out experience. Our flight into Quebec was delayed and we arrived well after the restaurants were closed. I was so relieved to see meals waiting for us in our room.
An option for in-room continental breakfast (this was perfect on the days we wanted to hit the slopes early).
Small bites and libations available in the lounge throughout the day as well as daily champagne at 6pm.
Private outdoor hot tubs on the lounge terrace that are available for Exclusive Collection guests. These are first come, first serve until 3pm. Slots after that time must be reserved in advance.
A dedicated concierge to answer any questions, help with reservations, and arrange tours and experiences throughout your stay.
Access to a private ski locker room.
Priority reservations at the resort's restaurants and spa.
Premium wi-fi throughout your stay.
What does all-inclusive really mean?
This was our first all-inclusive resort and the bar has been set high. We've done "all-inclusive cruises," but that never included the cost of alcohol, ski and snowboard lessons for all levels, and oftentimes, wi-fi. By the time we disembarked, we had spent hundreds of dollars.
Club Med Québec Charlevoix is different. From meals and drinks (open bar, anyone?) to ski lessons and fitness classes, nearly everything is included in your stay, even gratuities. Of course, if someone goes above and beyond, it's always nice to show your appreciation with a little extra tip at the end of your stay. We made sure to also tip our drivers as they expertly and safely delivered us to our destinations.
While you might have to rent ski and snowboard equipment if you don't bring your own, group lessons, lift tickets, storage lockers, and après-ski beverages are included.
A child's club med experience
The winter jewel, the shining star, the apple of our eye: Club Med's Kid's Club. What a wonderful invention. I've heard about the wonders of Club Med's famous Kid's Club and our experience lived up to the hype.
Most Club Med resorts offer a Kid's Club where you can leave your kiddos in the hands of kind and capable adults. The children often have planned activities and excursions. Many times you can pop your children in and out of Kid's Club at will.
At Club Med Québec Charlevoix, children are encouraged to get outdoors and hit the slopes. It's more ski school than childcare. There are morning and afternoon slots for ski lessons starting at age four. Children are registered by age and skill level. As our kids are four and six and new to skiing, they were in the same class. We dropped off the ski gear with the kiddos and watched as they pranced away without even a glance in our direction.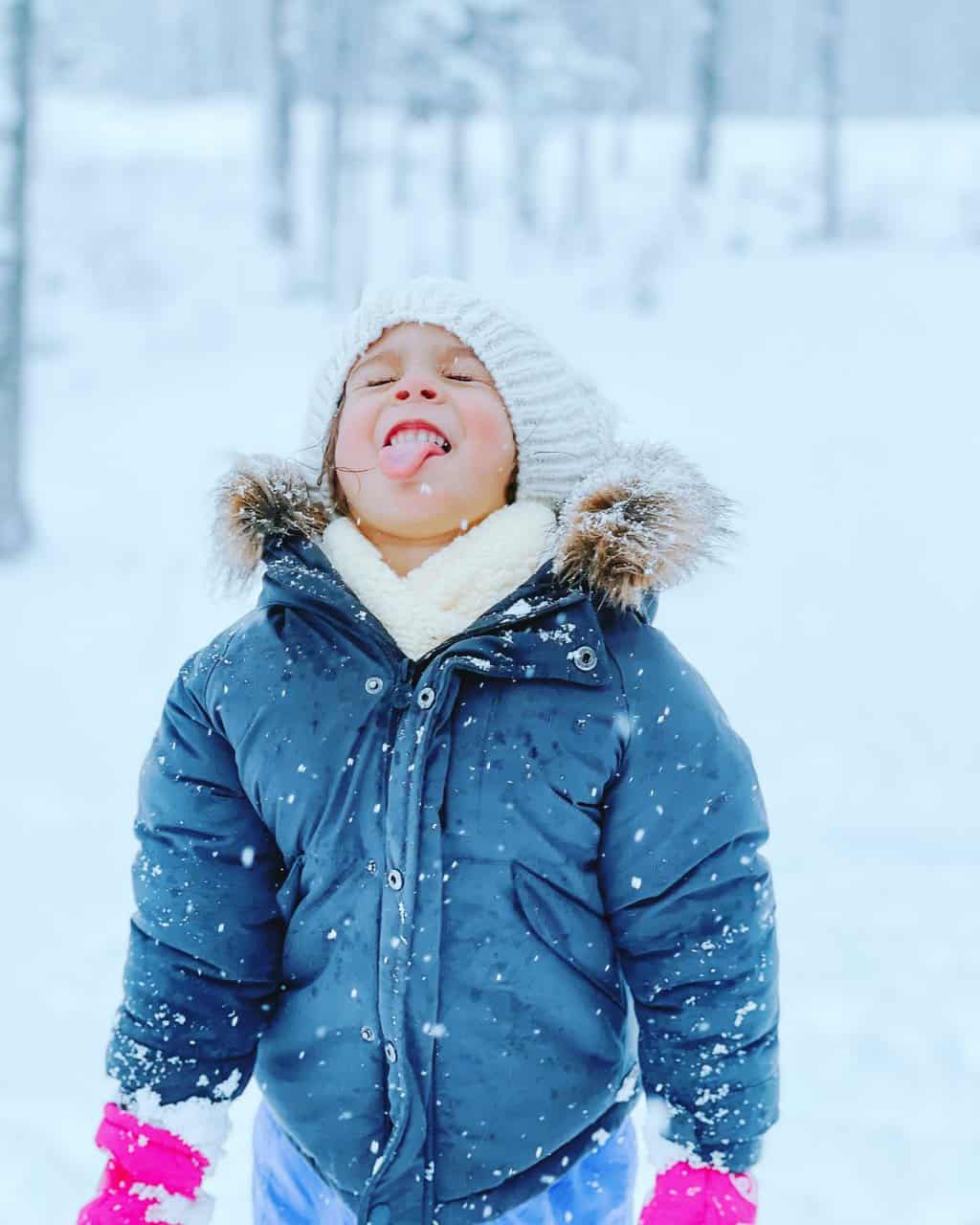 Bless the G.O.s that work in the Kid's Club. I would estimate that there were about two dozen young children that were in the same ski class as our kids. Each child had been outfitted in their snow gear and skis and were on the small sectioned-off bunny slope. I break a sweat simply trying to dress my two children on a good day; the G.O.s didn't even bat an eye getting all of those kids ready.
I don't think my kids have ever looked more adorable than when they were bundled up in layers of clothes skiing down the slope for the first time. It's a testament to the patient instructors that both of my children had the confidence to embrace this new experience. I might have wiped away a few proud mama tears.
We pulled our children out after the morning session so that we could enjoy lunch together. We gave them the option to go back for the afternoon session and I was pleasantly surprised when they both wanted to return. Unfortunately, they both ended up passing out in the suite before we could return but I'm thrilled that they enjoyed themselves.
Pro Tip: Register your children for Kid's Club as soon as you arrive at the resort. You'll need to have them signed up one day prior to drop off at the Kids Club. You'll also need to drop off their ski gear beforehand so that they'll have everything for their lessons.
If you're taking your children to Club Med Québec Charlevoix, I highly recommend the Kid's Club ski lessons. Upon our return home, I wanted to continue the momentum and searched for local ski lessons. My eyes nearly popped out of my head when one of the more affordable options was $800 for four lessons per child. These were not private lessons, mind you.
My appreciation for the Club Med Kid's Club ski lessons grew tenfold. Honestly, for the lessons alone, a Club Med Québec Charlevoix vacation nearly pays for itself.
Takeaways from our first club med experience
As cliche as it sounds, the only regret I have is not spending longer at the resort. We opted to spend the majority of our time on the slopes, but I wish we would have also explored the numerous fitness classes, sports facilities, and pool. Now that I know how magical a winter escape to Club Med is, I'm scheming to experience their other ski destinations around the globe.
This post is part of a paid collaboration with Club Med resorts. As always, my opinions are my own.