Manatees. Those great big blubbering sea cows that we can't get enough of on TV, but can be elusive in the wild and often swim in murky waters. Tallahassee, Florida is one of the few places in the United States that you can get up close with manatees and actually see them in the water. Where do you need to go? Wakulla Springs State Park.
Having been to several state parks in my life, I have to say this if one of my favorites. The park lodge is massive with rooms available if you want to stay the night, and a killer restaurant with some of the best fried chicken and fried green tomatoes in the south. There is a small beach for swimming near the lodge, as well as a boat dock. Be careful though—there are gators in those waters and they don't really care if there is a swimming line up or not. They will pop right under that rope to come say hello.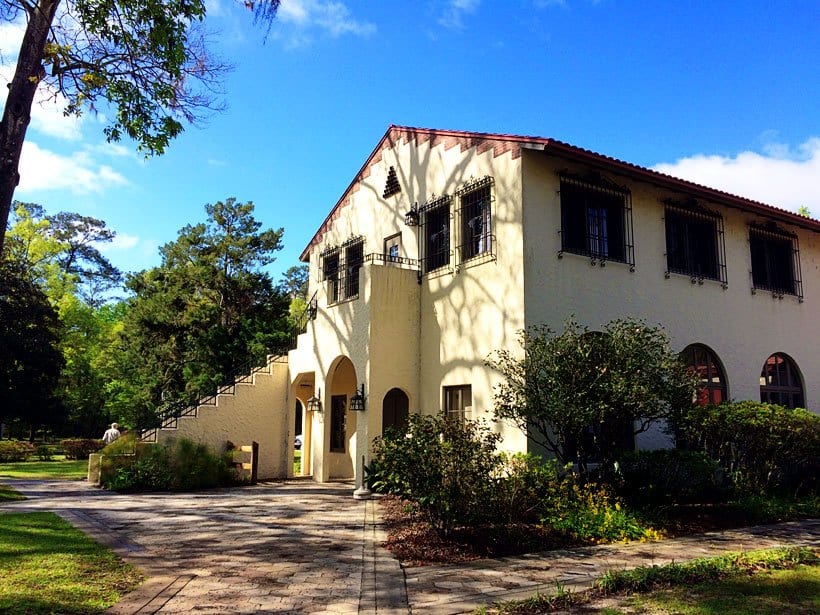 In order to see the manatees of Tallahassee, Florida, you need to book a river tour. This three-mile boat ride will take about 45 minutes, just enough time to see alligators, native birds, turtles, and if you are very lucky, manatees. Glass bottom boats are available when water conditions permit so you can drift over Wakulla Spring, one of the world's largest and deepest freshwater springs, and what makes this river so pristine.
On a spectacular, sunny Florida morning, I headed to Wakulla Springs State Park with a few friends to see if I could catch a glimpse of these wild animals in their native habitat. One man laughed when a member of my group said we were on the hunt for manatees. He claimed there were no manatees left this time of year. They had all gone down river as the weather warmed up. We would not be discouraged. We had hope, and one gal with us who had a good eye for spotting the creatures in the most unlikely conditions.
Cruising down the river, with my head hanging out of the side of the boat, I let my shutter finger take over. Spanish moss draped over trees growing in the water. Birds sunned themselves after diving for a meal of fresh fish. Gators snoozed on shore as the sun continued to climb and warm up the earth. The cool breeze and shade of the boat protected us, making it a comfortable ride, but still no manatees.
As the boat turned around to head back to the dock, I was beginning to lose hope. Would we see any, or was it really too late in the season? We were headed to the exact spot where "The Creature from the Black Lagoon" was filmed, when my friend spotted something. I thought she was pointing at the massive alligator that was swimming towards us. We all lurched to the side of the boat. There they were, two gorgeous manatees swimming together, probably looking for a little lunch. My shutter finger went crazy. I tried to capture a little video. The water was just murky enough not to get the best photos, but after a while I put down my cameras. This was a moment to sit back and enjoy, not stay behind the lens.
I gazed down at those grey brown beasts and smiled. I couldn't wait to tell my kids what I had found while in Florida. They would be jealous. I would bring them back for their own manatee hunt, but for now this was my moment to be a kid again and marvel at the creatures of Tallahassee.
Know Before You Go
Edward Ball Wakulla Springs State Park, 465 Wakulla Park Drive, Wakulla Springs, FL 32327 (about a 30 minute drive from Tallahassee, FL)
Hours: 8am until sunset, 365 days a year
Fees: entrance fee into the park is required + river boat ride fee
River boat ride: there is a fee to ride the river boat. Tours leave from the boat house where you can also buy tickets. Check the website for times.
Hiking trails. A nature trail is clearly marked for avid hikers. Bikers and horses do have access to portions of this trail, so stay alert, especially if you have young children hiking with you.
Wakulla Springs Lodge. Built in 1937, this elegant lodge features a gift shop, snack bar and full-service restaurant on the ground floor. Twenty-seven guests rooms are available and include private baths.
Photo Opp. Don't miss taking a photo with "Old Joe," an 11-foot 2-inch stuffed alligator.
Gift shop. Take some time to browse the gift shop for movie paraphernalia featuring films shot in Wakulla Springs State Park, including "The Creature from the Black Lagoon."