Dining out in a city can be difficult if you don't have the first clue where to look. Finding the best restaurants in Tallahassee with kids felt like an insurmountable goal. I quickly found out that this Florida city has a secret.
It is a food-lovers paradise.
This Florida city has more locally-owned places to eat in Tallahassee than chains. Many of the best Tallahassee restaurants choose to source their ingredients from within a 50-mile radius. They are also incorporating the local flavors into their menus. Instead of thinking "where to eat in Tallahassee tonight," you can quickly switch your mindset to "which is the best restaurant in Tallahassee?"
There are worse problems in life.
The Best Restaurants in Tallahassee
I did a little caloric research (OK, a lot of calories were consumed) and asked the locals where the best food in Tallahassee could be found. I was able to narrow your options down a bit. Now you can arrive in Tallahassee with kids and enjoy every meal without wasting a single calorie.
Oh, but don't forget to head out to Wakulla Springs State Park to see the manatee… and eat the best fried green tomatoes around!
Tallahassee local restaurants have an eclectic cuisine. Chefs are serving up raw oyster bars, locally brewed beer, fried chicken and fried green tomatoes, and a curious little cake lovingly named Humming Bird Cake (think carrot cake with more citrus fruits and pineapple).
You can eat healthy meals, dive into cereal-crusted pancakes or simply go for the gold with a S'mores burger. Yes. A burger with a s'mores in it. And that is not the oddest combo you can find at one of the best restaurants in Tallahassee.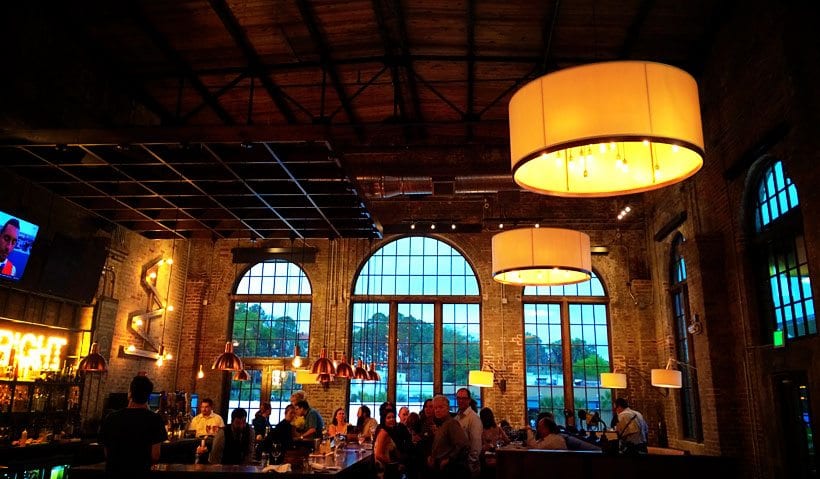 Dive into the best places to eat in Tallahassee. I'm sure it will surprise you in the same ways it surprised me. All too soon you will be looking forward to your return trip, just like I am.
Tallahassee Coffee
Lucky Goat, 668 Capital Cir NE, Tallahassee, FL 32301. The best coffee in town according to locals can be found at Lucky Goat, but if you aren't on that side of town or just need a quick fix, we have a few more suggestions for you.
Other options:
Black Dog Café, 229 Lake Ella Dr, Tallahassee, FL 32303
Catalina Café, 1208 Capital Cir SE, Tallahassee, FL 32301 AND 603 W Gaines St #6, Tallahassee, FL 32301
The Power Plant, 470 Suwannee St, Tallahassee, FL 32301. Great little coffee shop that local FSU students like to hang out at. Beautiful outdoor views of Cascades Park and it serves locally roasted Catalina coffee.
Starbucks (multiple locations and drive thrus)
Best Breakfast in Tallahassee
Uptown Café, 1325 Miccosukee Rd, Tallahassee, FL 32308. This Tallahassee restaurant smokes their own salmon and make a killer banana bread French toast.
Canopy Road Café, 1913 N Monroe St, Tallahassee, FL 32303. A crazy menu of pancakes that go from sweet to sweeter to sweetest. Try the local's favorite breakfast sandwich—the Little Abner (Golden fried chicken and scrambled eggs stuffed in two fresh buttermilk biscuits and topped with homemade honey butter.)
Madison Social, 705 S Woodward Ave #101, Tallahassee, FL 32304.
Donut Kingdom, 685 W Tennessee St, Tallahassee, FL 32304. Grab a few donuts on the go when you are headed for a long bike or kayak ride.

Best Lunch Lunch and Dinner
Midtown Caboose, 1406 N Meridian Rd, Tallahassee, FL 32303. Well known for their burgers (menu examples: S'mores Burger, PB&J Burger, macaroni n' cheese burger), but their salads and appetizers can bring a lighter side to dining if you need it.
The Edison, 470 Suwannee St, Tallahassee, FL 32301. Slightly fancy, the Edison restaurant is bringing high cuisine to the masses. If the strawberry shortcake is on the menu, order it. It is the best I've ever had. Alos, not to be missed would be the salmon, pork chops and chicken are equally as delicious. Don't skip on the southern board appetizer, which can give you a delicious taste of the south.
Dog et Al, 1456 S Monroe St, Tallahassee, FL 32301. Hot dogs 10,230 ways. Yup. Whether you like them with mustard, as a corn dog or Chicago style, you can find your perfect hot dog combo here. Add cheese fries for the perfect combo meal.
Bella Bella, 123 E 5th Ave, Tallahassee, FL 32303. Italian food that everyone in the family will love.
Kool Beanz Cafe, 921 Thomasville Rd, Tallahassee, FL 32303. A slow food Tallahassee restaurant that sources as much as possible from within 50 miles of the city. Lots of fresh vegetables and seafood can be found on the menu.
Shell Oyster Bar, 114 Oakland Ave, Tallahassee, FL 32301. Located in an old Texaco gas station, this spot only serves food raw or fried. The cocktail sauce is drinkable and the fried shrimp should not be missed.
Food Glorious Food, 1950 Thomasville Rd, Tallahassee, FL 32303. This Midtown restaurant has a great outdoor patio and brunch. It also has the best dessert menu in Tallahassee. It is bigger than the dinner menu!
Gordo's Cuban Cuisine, 1907 W Pensacola St, Tallahassee, FL 32304. Love Cuban food, especially Cuban sandwiches? This is the place for you.
MoMo's, 1416 W Tennessee St, Tallahassee, FL 32304. An easy spot to fill up your picky eater with pizza, salad, breadsticks, and more.
Paisley Café, 1123 Thomasville Rd, Tallahassee, FL 32303. A little pricey, but this sandwich shop is created beautiful combinations using fresh ingredients.
Red Elephant, 1872 Thomasville Rd, Tallahassee, FL 32303. The family-friendly menu includes pizza, sandwiches, salads and a little arcade for kids to play while they wait for their food.
Cabo's Island Grill, 1221 Apalachee Pkwy, Tallahassee, FL 32301. This spot serves up Mexican, seafood and burgers, and they are great with kids.
Azu Lucy Ho's, 3220 Apalachee Pkwy #13, Tallahassee, FL 32311. Run by local chef Lucy Ho, look out for deals like "free kid entree with adult meal" some nights.
Lindy's Fried Chicken, 2785 S Monroe St, Tallahassee, FL 32301. Fried chicken. Need we say more?
The Lodge at Wakulla Springs, 550 Wakulla Park Dr, Wakulla Springs, FL 32327. You will have to enter the state park to dine here, but the nominal entrance fee is worth it to dive into some of the best fried green tomatoes in the South and superb fried chicken.

Dessert Tallahassee Style
Food Glorious Food, 1950 Thomasville Rd, Tallahassee, FL 32303. The dessert menu is longer than the dinner menu and is the best excuse to enjoy something sweet as a substitute for a savory meal. Do NOT miss out on the Hummingbird Cake.
Lofty Pursuits, 1415 Timberlane Rd #410, Tallahassee, FL 32312. Homemade ice cream, old-fashion Victorian candy and a toyshop come together in this haven for sugar addicts. Try the root beer float or the Sandy sundae for the perfect ingredient pairing.
The Cake Shop, 1908 Capital Cir NE, Tallahassee, FL 32308. Some say The Cake Shop is the best cupcake spot in Tallahassee, while others love…
Lucy and Leo's, 1000 Thomasville Rd, Tallahassee, FL 32303. The Cake Shop and Lucy and Leo's are the big cupcake debate in town. We will let you decide for yourself.
Tallahassee Food Trucks
Tallahassee restaurants have gone mobile through an explosive food truck scene. This is largely thanks to the FSU student population. However, politicians needing a quick bit when they are in the state's capital doesn't hurt either.
You can find one-off trucks around the city. The easiest way to sample the food truck scene is to check out a food truck court or a food truck night.
Food Truck Thursday by Lake Ella in Midtown
Food trucks at lunch in Tallahassee Food Truck Court on Bruno.
Trucks not to miss:
Kubano food truck (best Cuban sandwiches in town)
Street Chefs
El Criollo Grill
Local Farms in Tallahassee
U-Pick farms are easy to come by, especially if you are looking for blueberries, strawberries, blackberries and grapes. The local favorite is Orchard Pond Organics, but there are a few others to pick from if you like options.
Orchard Pond Organics, 400 Cedar Hill Rd, Tallahassee, FL 32312
Beare's Berries UPick, 7858 Havana Highway, Havana, Florida, 32333
Blueberry Springs Farm, 383 Wacissa Springs, Monticello, Florida, 32344
Green Meadows Farm, 177 East Bluebird Road, Monticello, Florida, 32344
PIN IT FOR LATER!