I'm not going to lie. Museums with kids are hard, especially when you are trying to catch even a glimpse of the epic collections housed in the many (many!) museums of Paris with kids. The Musee d'Orsay with kids is no exception. Although the Musee d'Orsay has a much smaller art collection than the Louvre, it is still a tough sell for kids when in Paris.
While visiting in the spring, we booked a Fat Tire Paris tour, hoping it would have a fabulous guide just like our Louvre tour, but we were not in luck. Our museum guide that day (subcontracted by the tour company), spoke to the older members of our group and was not going to speed it up for two kids at the Musee d'Orsay who didn't find brush strokes as interesting as the rest of us.
After a few paintings we decided to break away from the group and see the Musee d'Orsay with kids at our own speed. My husband and I found a few spots to park the kids while we darted into the different rooms exhibiting the impressionist masters, one of our favorite periods of art history that we both studied in art school.
Book your own Fat Tire Tour HERE

Walk over Paris
In the back of the museum, you will find a model of the Paris Opera House. This model alone is worth a look, but what will keep your kids there is the model of Paris streets under clear tiles in the floor that your children can walk over. My boys pretended they were cars and scooted across the floor. Thankfully, most other visitors thought it was fun to trace the streets that wrapped around the buildings of Paris just as much as my boys, so they never tripped anyone. We were also there in the spring, which is a lot less crowded than the summer when so many school children are on summer holiday.
Degas Dancers
Degas and Toulouse Lautrec are two of my favorite artists and it is all because of their love affair with the dancers of Paris. It is easy to go on a scavenger hunt through the halls of the Musee d'Orsay with kids, asking them to find their favorite dancer painting or sculpture, or perhaps a waterlily or two. Creating your own themed scavenger hunt can bring you through the first and second levels of the museum if you play the game right, or at least bring your kids to different rooms with the promise of dancers that may or may not be there. This works better if your children can't read yet, but as long as you don't give your children an English map, this could work for older kids too.

It's a Train Station!
The Musee d'Orsay with kids is brilliant for one major reason, and one alone. It was a train station. That's right, the building that houses the Musee D'Orsay was inaugurated for the World Fair on July 14th, 1900. Tell your toddler that you are going to a train station and I guarantee they will be hooked. Now you have to play this card very carefully. You cannot promise actual trains. You need to walk in and emphasis the giant clock on one end, where the trains might have pulled up and how the passengers would have come in and out of the building to get all over Paris and across France.
Grab a spot on our favorite Fat Tire Tours HERE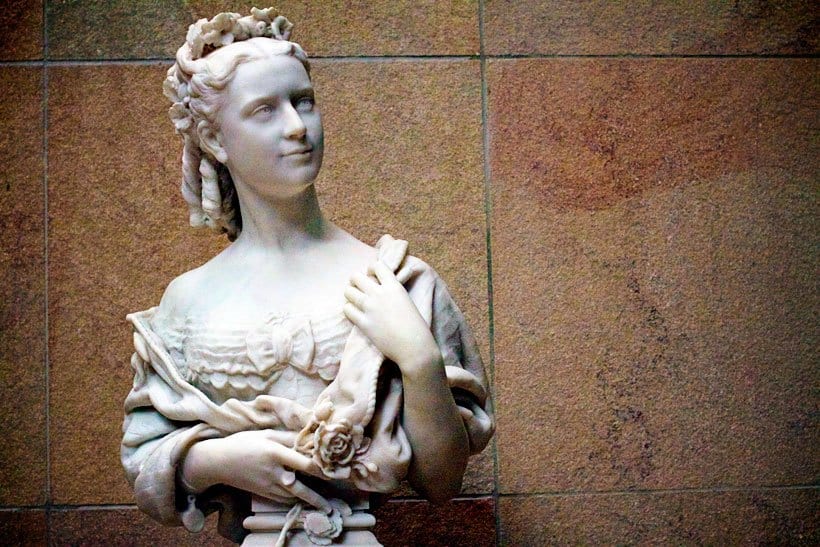 Know Before You Go
Musee D'Orsay, 1 Rue de la Légion d'Honneur, 75007 Paris, France
Stroller? No. All strollers, even small umbrella strollers, have to be checked.
Baby Carrier? Yes, bring your ErgoBaby carrier or other carrier of choice to hold your baby.
Food? Yes, there are three restaurants and cafes available in the building.
Cameras? Yes. But please, no flash, tripods or selfie sticks
Paris Destination Guide
Paris Hotels
Hotel Du Printemps: Gorgeous boutique hotel with free Wi-Fi, paid private parking, and a bar/lounge.
B Montmartre Hotel: Close to the famous Moulin Rouge, this hotel features laundry service, airport transportation and free Wi-Fi.
Novotel Paris Les Halles: Four star hotel in the center of Paris. This hotel features a children's playground, nightclub (with DJ!), walking tours, and free Wi-Fi.
Paris Airbnbs
Cozy Studio: Sleeps 2 guests in 1 bedroom + 1 bath.
Luxury Apartment in Heart of Paris: 2 guests in 1 bedroom + 1 bath.
Center of Paris Apartment: Sleeps 4 in 1 bedroom + 1 bath.
Paris Metro images via Flickr Dustin Gaffke and zoetnet
Eiffel Tower image by Keryn Means
Interior of Musee d'Orsay via wjarek / Shutterstock.com. All other images property of author.