Driving south on 81 through Virginia to Tennessee wasn't on my list of things to do in December with my three-year-old son. We had gotten back into our routine since my October travels and were puttering along as usual.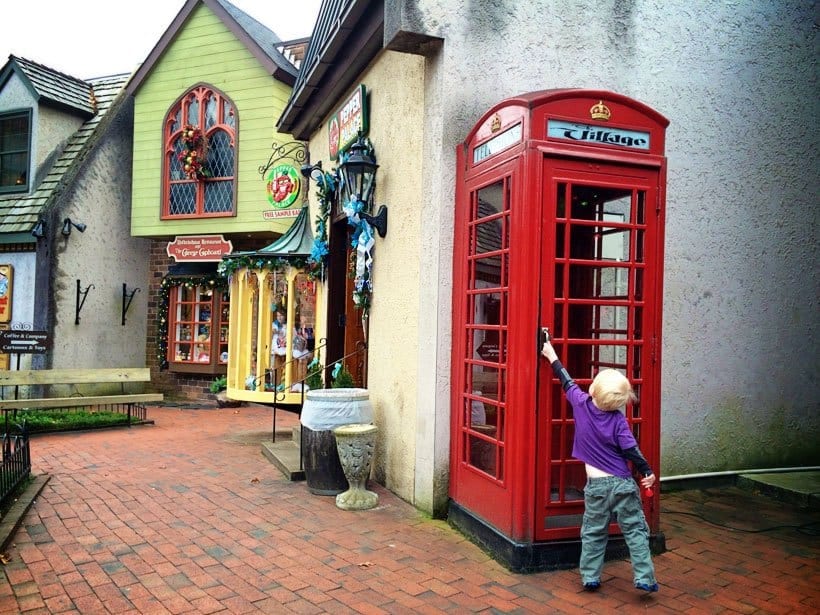 Ok, so we were in a travel rut.
When Tennessee called my name and a Tennessee Christmas with plenty of things to do in Gatlinburg with kids was waved in front of me, I just couldn't resist.
It was time to hit the road again, and I couldn't wait.
The weather was gorgeous during our drive down and throughout our stay. Although many of the things to do in Gatlinburg didn't open until 10am due to this being the slow season and all, we still found plenty to do in the morning hours… like eat. And oh boy did we eat.
Best breakfasts of Gatlinburg
No morning is complete until you head over to the Village, a little courtyard-type space just off of the main road in Gatlinburg.
The cappuccino and hot chocolate from Coffee & Co. hit the spot, but it was the peppermint mocha that really got me in the festive mood our first morning.
Just around the corner, The Donut Friar was baking up some of the best donuts I've ever had, and I'm not just saying that. I'm actually not a huge donut fan, but the Friar's Favorite (a chocolate frosted cream-filled beauty) and the éclair brought me back to my childhood when donuts were under a dollar, and meant to get all over your face.
My toddler annihilated his rainbow sprinkle donut, licking off all of the cream and leaving the bottom half of the donut just for me.
How sweet. I'm still not sure how he manages to eat food this way.
If you are looking for more hearty fare, as we did on alternate mornings, breakfast, and even lunch, at the Pancake Pantry is a local institution, but the cinnamon rolls and omelets at Davy Crockett's Breakfast Camp should not be missed either.

Easy winter morning hikes
Fueled up for a day of exploration, my son and I headed into Great Smoky Mountains National Park to see a few waterfalls and maybe a deer or two.
The weather was a sunny 63 degrees, quite warm for early December, but the best kind of weather for hiking.
No snow meant we had sure footing on the paved path. With lots of donut sugar running through his veins, my toddler son was able to complete the 2.6 mile hike up to Laurel Falls and back.
I had to carry him a little bit on the way back, but for the most part, he did the whole thing himself.
The waterfall was worth the climb, and all of the grandparents who had seen us slowly making our way up the winding path clapped as we crossed a little bridge to join the rest of the hikers gazing up at Laurel Falls.

Tears and tantrums ensued as I dragged my son away and back down to the car.
I was hoping the drive to Cades Cove would force him into a nap, but the scenery was just too gorgeous for him to miss.
Like evergreen trees in the Pacific Northwest, the Smoky Mountains are covered in mountain laurels and rhododendrons.
We saw plenty of greenery on the hills in winter, but I could only image how gorgeous the drive would be in the spring when the mountains were in full bloom.
OBER GATLINBURG WITH KIDS
Although hiking is always my idea of a good time, it's not the only thing to do in Gatlinburg with kids.
Taking the tram from downtown up to Ober Gatlinburg was the highlight of the trip for my son. We road up during the day and then again at night since our tickets worked for a 24-hour period.
Ober Gatlinburg, a local fun and shopping center in the mountains, had shut down their water slides for the season, but we arrived just in time for the start of snow tubing season. Ober Gatlinburg had been making snow for a few weeks, and it seemed to be sticking around despite the unseasonably warm temperatures hitting the East Coast. The ski slopes weren't open yet, but visitors were lining up for their chance to zoom down the slopes on their tubes.
If you head up, keep in mind that you need to have a timed ticket to snow tube, and weekends can sell out quickly.

My toddler was a tad nervous about those snow tube runs, so we opted to watch for a bit, before heading inside to ice skate and ride the carousel. O
n a weekday morning in early December we had our run of the place.
We strapped on ice skates and I got my footing back after a few years off the ice, so I could hold my son's hands and help him tip toe across ice, and watch as he did a few splits and twists along the way.
Neither of us wanted to get off the ice, but my feet were hurting and the carousel was calling his name.
Where to stay in Gatlinburg
After busy days exploring all of the things to do in Gatlinburg, I knew we would need a comfy place to spread out and relax.
The Greystone Lodge on the River recently underwent a renovation of their hotel rooms and suites, but we were headed just out of downtown for a quiet stay at one of their cottages.
Our two- bedroom, two-story cabin gave us more space that we could have asked for and would have been perfect for our whole family to stay in, and gave me ample space to work after my toddler son went to bed.
Although the cabin wasn't quite walking distance to downtown, we were able to use our parking tag to park in the main hotel lot and walk to all of the attractions of Gatlinburg—a true blessing when free parking is scarce, even on slow days.
Winter in Tennessee might not be on everyone's bucket list, but with plenty of attractions in Gatlinburg, and weather that can get cold, but not often below freezing, more families may be heading south this winter.
After all, Gatlinburg isn't just moonshine and mochas.
There are nooks and crannies plus rivers and mountains to be explored in town and on every road leading you off the main drag and into the mountains and valleys of Tennessee.
Many thanks to Visit Gatlinburg for hosting my son and I for 5 days in December to explore all of the things to do in Gatlinburg. This post is part of a paid campaign through Travel Mindset. As always, my opinions are my own. When they aren't you will be the first to know.