Imagine a stunning vista filled with greenery, water and brilliant yellowish orange flowers as far as the eye can see. Oh and a city below you that has seen more history than you could pack into just one textbook.
Now imagine hiking up to that view with your three year old. Sounds fun doesn't it?
Well, maybe not. This is the dilemma we faced in Edinburgh. I was determined to hike Arthur's Seat in Holyrood Park. I was traveling with my parents and my two boys ages 3 and 5 at the time.
I didn't have a baby carrier or hiking pack to put my toddler in, nor did I have the strength to actually carry my 30-pound toddler on my back. We needed to figure out how to do this hike without wiping everyone out.
Enter the taxi cab.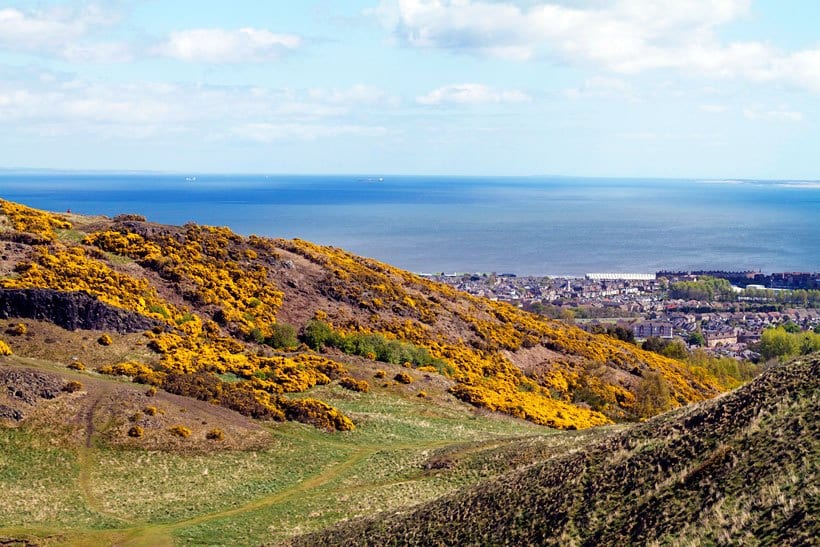 Edinburgh has amazing cab drivers. Even better, they have fantastic taxi services that I had on speed dial after only 24-hours in town. You simply call the service, tell them where you want to go and magically within five minutes a taxi is waiting for you.
We took our taxi as far up Arthur's Seat as possible, which is actually pretty close. The only trouble is that the rest of the climb is pretty steep just to get to the base of the rocky climb that takes you to the final peak.
After a lot of huffing and puffing, plus carrying my toddler on my back for most of the way, we made it to the beginning of the rocky summit that would take us to Arthur's Seat. The top of the mountain, which is the actual spot that some believe Camelot stood, was very windy. More than one parent was being pushed over.
We decided that my tired toddler would stay at the base with my tired mother to enjoy the view and the grassy expanse. My dad and my oldest son hiked up the rocks with me to snag a picture at the top.
The view was impressive. The hike up Arthur's Seat with kids, in my opinion, was worth it. We didn't stay too long thanks to the wind and my 5-year-old son almost getting knocked off the mountain, but we did enjoy our time with the rest of the travelers who had made the climb.
We might not have climbed up from the bottom, but we did climb back down the hill all the way to Holyrood Palace. In fact, thanks to a potty emergency for my oldest, he and I sprinted for a bit of it to make it to the public toilets at Holyrood Palace in time. There was also a nice little garden café just outside of the palace that we sat at for lunch and a few treats to reward ourselves for our "epic" climb to the top.
If you love hiking and spectacular views, Arthur's Seat with kids is a must. Just remember to wear layers as it is chilly at the top, but you will sweat through a heavy coat to get there.

Know before you go
Bring a baby carrier
Wear good walking shoes or hiking boots
Dress in layers
Pack water
Bring a walking stick if you have one.
Carry younger kids in a hiking backpack if possible.
Order a taxi (we loved City Cabs- Black Taxis Edinburgh) and tell the driver to get you as close to Arthur's Seat as possible. This will cost you under £20 and is worth every penny if you are traveling with small children.
Leave toddlers at the summit just before the final hike up to the seat. This part of the hike is windy and treacherous for little legs to tackle on their own. It is doable with a lot of help though.
Hike back down towards Holyrood Palace to grab a snack at the cafe, use the toilet, get an ice cream cone and then tour the palace.
Pin it and Start planning!