I couldn't have been more ready. The kids were back in school. I'd just come off a hectic conference on a cruise shop where I swear I gained six pounds in "sitting around" weight. Yes, that is a thing. I just wanted to catch up with a few friends, get my body moving again, and OK, let's be honest, eat some amazing southwest food and throw back a cocktail or two.
My friend Toni, who also happens to work for the Tempe Tourism office, invited me down for a visit. She had been telling me for at least five years that there were loads of things to do in Tempe, especially on a mom's weekend away.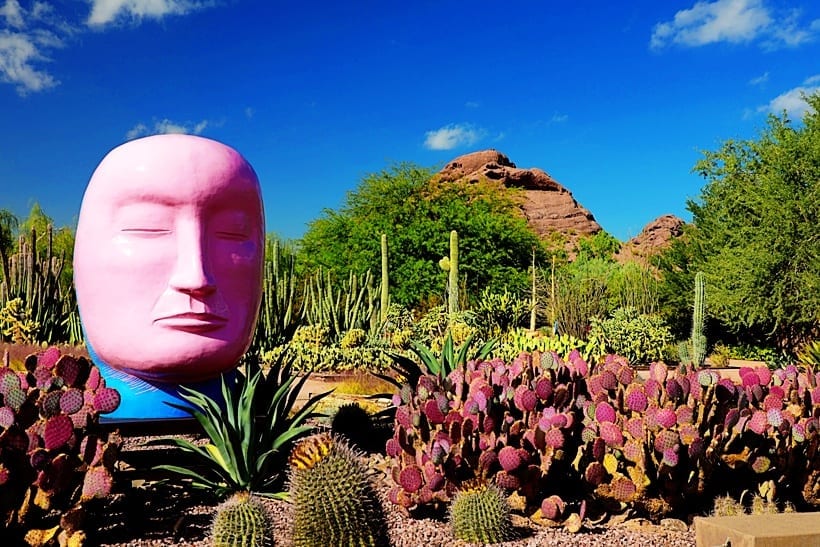 Now, plenty of people heard that I was going out to Tempe and asked, "why?" There is nothing to do there. You should just go to Phoenix instead. Even my own mother was skeptical.
Always up for a challenge, I flew out with a mission. It was time to find all of the amazing things to do in Tempe, Arizona and put this desert city on the map.

THINGS TO DO IN TEMPE
Toni picked me up in her adorable mini copper, and we hit the mountain. Literally. I barely got a taco down and she had me climbing "A" mountain right in the middle of town. In the middle of the day. In the desert. I told her I didn't want to gain any extra weight. Toni and I both love to eat, so she kept her promise. She kept me eating and active for four days straight.
So, what are all of these wonderful things to do in Tempe that got me flying across the country? A lot more than I could have ever imagined. One heck of a culinary scene I did not expect, a hilarious Broadway show I could never take my kids to, and as Toni promised, a horseback ride through the desert.
Want to plan your own mom's getaway? Here's what you need to do to get started.

SAMPLE THE BEST OF TEMPE RESTAURANTS
Lavender Dog cocktail? A city who loves the Moscow mules? Chefs who know how to deal with gluten issues and allergies, make a mean steak but serve up a killer ahi tuna poke? And the town is constantly battling it out over which shop has the best ice cream sandwich? I mean come on.
If I haven't convinced you to go to Tempe just to eat then I don't know what will. Local chefs are mixing up fresh ingredients on a daily basis. Authentic Mexican food can actually be found (not Tex-Mex, but real Mexican).
Looking for a great happy hour activity? Check out the EDGE at the TCA, where you will find great drink prices, appetizers and outdoor live music everyone will enjoy.
Not sure where to go? Read our Tempe Restaurant guide now!

RELAX AT TEMPE HOTELS
A great girls getaway starts with the place you can unpack, rinse off, take a dip in a rooftop pool and really unwind. If you have a kid (or kids), this becomes all the more important. You NEED a good night's sleep. You don't need to worry about kid amenities, kitchens or anything crazy. Design becomes more important… and access to great coffee.
AC Tempe is close to Tempe Town Lake, an easy walk to downtown shops and restaurants, has a rooftop pool, lobby restaurant and bar, and very comfy beds. The minimalist design lets your mind relax as soon as you walk in. Rooms are designed with clean lines and virtually no art that can scream at you in the morning. Romancing the Bean is also half a block away. It serves great coffee, pastries and breakfast to get your morning started off right.
Graduate Tempe brings in a funky, high-concept design that will instantly have you pulling out your camera phone. No two Graduate Hotels are the same, but all are near college campus, this one being walking distance to the ASU Gammage theater where you can catch a Broadway show.
Tempe Mission Palms Hotel is the only full-service hotel in the downtown area. The rooftop pool is surrounded by gorgeous palm trees, creating a spa-like atmosphere. Relax, read a book and let the desert sun warm you after a long, cold winter.

GET ACTIVE OUTDOORS
If you are doing Tempe right, you are eating a lot. In order to break even on that weight gain, you need to enjoy the outdoors with the many trails and activities Tempe has to offer.
Yes, you may want to sit by the pool and work on your Arizona tan, but that isn't burning any calories. Here's how you can continue to chat with your friends, while still staying active:
Ride bikes through Papago Park (grab rentals at The Bicycle Cellar)
Hike "A" Mountain (don't forget sunscreen and water!)
Kayak or Paddle Board on Tempe Town Lake (rent by the hour at Tempe Boat Rentals)

SEE WILD HORSES AT KOLI EQUESTRIAN CENTER
Nothing friends bonds together like getting on a horse and riding through the desert. KOLI Equestrian Center is one of the best trail rides just outside of Tempe. The guides are knowledgeable about the reservation, the animals you may see on the trail, and are happy to tell you all about being raised around horses. Many of the guides are part of the family who owns the center.
Oh, and the horses are very sweet. The staff is great at pairing you with a horse that can fit your comfort level (ask for Buddy if you are nervous. He is super mellow and just sticks to the line.) IF you are very lucky, you may see the wild horses that live in the area. Book a ride later in the day for a better chance to see them.

GET TO KNOW ARIZONA THROUGH THE DESERT BOTANICAL GARDEN
One mistake many visitors make is thinking they know the desert when they see palm trees. Palm trees actually aren't native to the desert.
To get a better idea of the native plants in the desert, head to the Desert Botanical Garden. Installation art exhibits, like ones on display by Jun Kaneko, incorporate modern art with natural elements, creating a seamless outdoor art museum. The butterfly pavilion is a large space to reconnect with the gentler creatures in our ecostyem, and can bring out the little girl in all of us, especially if one lands on you.
This post is part of a paid partnership with Tempe Tourism. As always, my opinions are my own. When they aren't, you will be the first to know. This post may contains affiliate links. If you make a purchase after clicking one of those links I will receive a small commission.