I am in my mid-thirties, and up until recently, I had been on skis exactly one time about twenty-five years ago. I was on a Girl Scout trip, fell many times, and never skied again. My husband likes to go skiing once a year and has never been able to convince me to go. Now my kids are old enough and excited to learn to ski. It was time for me to put on my big girl pants and try again.
We planned to go to Winter Park, Colorado for spring break this year. Our kids had an opportunity to take lessons , leaving me with two options for my first day on the slopes….ski with my husband or take lessons. I opted to take lessons. Don't get me wrong, my husband and I really enjoy spending time together, but I was starting at ground zero here. I didn't even know how to put on skis. This also gave my husband an opportunity to ski what ever runs he wanted by himself, without me slowing him down.

What to Expect
Tip: If you are renting equipment, get your rentals squared away the evening before. You can store your skis for free overnight. You don't want to mess with getting fitted for equipment before lessons start.
All of the adult ski lessons at Winter Park Resort meet at the base of the mountain, near the ski rental shop. You will see signs as to where to stand. For example, I went to the "Learn to Ski" sign. Try to be there by 9:15am, which is when they start dividing people up with the instructors. I was put in a group with 10 college students there for spring break. I was immediately concerned that I would not be able to keep up with them.
Our instructor was very friendly and encouraging from the beginning. A few people in our group started asking a lot of questions because they knew nothing about skiing. She assured them that she was going to start with the very basics, such as "Are everyone's boot's tight enough?". She did a great job of easing us into skiing. She taught us how to put our skis on, how to walk around on skis, and how to put the skis into a triangle.
Once everyone was up and walking, we slid down the bottom of the beginner hill. From there we went to the top of the beginner hill via a surface lift. We slowly made our way down, learning the basics of how to turn to control our speed. After everyone was comfortable on the beginner hill, we took the Gemini lift up to the Discovery Park area. Our instructor gave us a lot of patient instructions about how to get on and off the lift.
The Discovery Park area is great for beginner skiers. The whole area is short green runs, with a few lifts. There is also a dining facility called Snoasis. This is where we stopped for lunch. Lunch is included in your lesson fee. Snoasis is a cafeteria style eatery, so there was something for everyone.
There were a few people in our group that were really nervous about skiing. I think our instructor did a great job of easing us onto hills of increased difficulty. At Discovery Park, we went down a small green a couple of times. Then she had us go down without our poles. She set our poles up for us to weave through. This gave us a chance to practice our turns a little faster. I was a little worried at first, but skiing without poles really forces you to stop and steer with your skis. After a few more runs, we skied back to the base of the mountain and rode Gemini back up to Discovery Park. Our last couple of short green runs included a slope that was as steep as a blue at the bottom. I was nervous about going so fast, but our instructor was at the bottom encouraging us and guiding us as we went.
I feel the need to mention that towards the end of the afternoon, one of the young women in the group fell and had a minor injury. The lift operator quickly called the ski patrol. They came, wrapped her up on a sled, and skied her to the base of the mountain. From my perspective, they handled everything professionally.
Results After One Day of Lessons
I went into ski lessons with a lot of worries: Will I be able to ski? Will I be able to keep up with these college kids? Will I fall as I get off the lift? But in the end, I loved skiing!
The Learn to Ski program is set up in a way that breaks everything about skiing down into little pieces. As I was slowly eased into the next steps of learning how to ski, I was focused on what I was learning, and not everything I was worried about. I was able to keep up with the college kids. Many of them had just as many worries, if not more, than me. Everyone in the group was learning something new. I never did fall getting on or off the lifts, but I did come close a few times. The truth is, people fall getting on and off the lifts all the time. It happens, and its no big deal.

SKIING AFTER LESSONS
Two days after my lessons, I went skiing with my husband. I am happy to report that we had a great day of skiing together. There was 10+ inches of fresh power, making the slopes slower than normal. Skiing in all that powder is an intense workout for the legs. I was a bit over zealous, suggesting we take really long green runs that I hadn't done during ski lessons. I fell a couple of times. Once my husband had to help me get my skis on because so much snow was packed on my boots. We had a good laugh. By 2pm, I was done. My legs were jello and feet were sore. But we had a great time together.
Are Ski Lessons Worth It?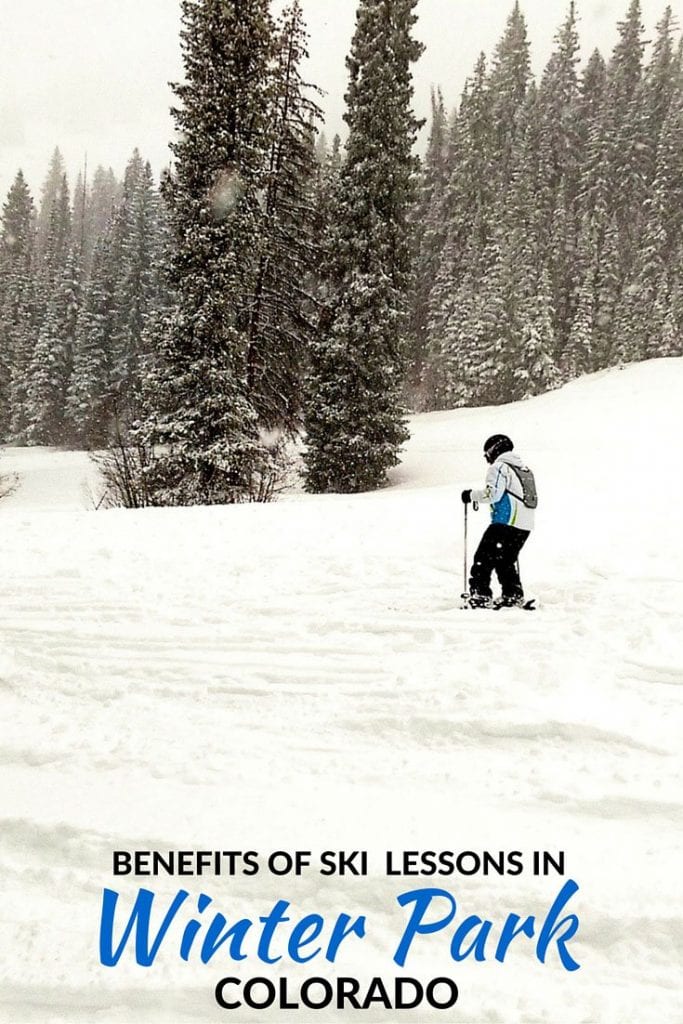 For me, yes! I know that I could have gone skiing with my husband and probably done alright. He could have tried to teach me the best he could, but I know that I would have gotten frustrated. I am also a chicken, and would have gotten intimidated on some of the greens. I really needed to start with the very basics. Having lessons allowed me to gain skills at my own speed. Because of the ski lessons, I had the ability and confidence to enjoy a day of skiing with my husband. I see many spring break ski vacations in our future.
Many thanks to Winter Park Resort for hosting my day of ski lessons for the purpose of review. As always my opinions are my own; when they aren't you will be the first to know.