Rum is synonymous with summertime cocktail recipes, and for good reason: rum is made from a fermentation of sugar byproducts pressed from sugarcane, which in turn is produced in warmer regions including the Caribbean and the Philippines. In fact, Rum originated in the West Indies in the 1650s.
Much like the terroir driven varietals of wine, rum cocktails can take you on a cross-global journey, weaving together place and history while serving up a multitude of refreshing beverages. Rum has a personal expression wherever it's made – from the wide range of varieties of Cuban rum, rich dark Jamaican rum redolent of molasses, new clean rums of New Orleans distilleries – from distillation, barreling, aging and preference create an array of possibilities.
Add in the historical ties to sailors, explorers, pirates and buccaneers, and the rum almost tells its own tales!
The rums in these recipes were all sourced directly from distilleries and producers, and may not be available in your local shops. Talk to your liquor vendor for alternatives to these specific varieties – and next time you're in rum country, bring something unique home!
As you dive in, remember these rum cocktails aren't your typical piña colada, hot buttered rum or rum punch. We are skipping the ginger beer and pineapple juice for more sophisticated flavors that will definitely wow your friends and neighbors.
Not that there is anything wrong with a simple rum drink. After all, we love a good mojito recipe on a hot summer day.
Each recipe is for 1 cocktail; double etc as necessary
GET INGREDIENTS DELIVERED STRAIGHT TO YOUR HOME VIA

DRIZLY
Hibiscus Daiquiri
The daiquiri is a classic New Orleans cocktail – but far from the saccharine, electro-colored smoothie variety, this is a true daiquiri, combining the basics: white rum, fresh lime juice, and a simple syrup. Hibiscus syrup provides a wonderful floral yet tart undertone and gorgeous coloring. Let the syrup mellow a day or 2 for a boozy Hawaiian Punch like flavor in this summer cocktail! You'll never have a strawberry daiquiri again.
2 oz white rum – I used Calio Rum from New Orleans
2oz hibiscus syrup (recipe below)
Juice of 1 lime
Fill a shaker with fresh ice. Add the rum, hibiscus syrup and lime juice; shake until frothy. Pour it all into a glass and enjoy with the sun on your face!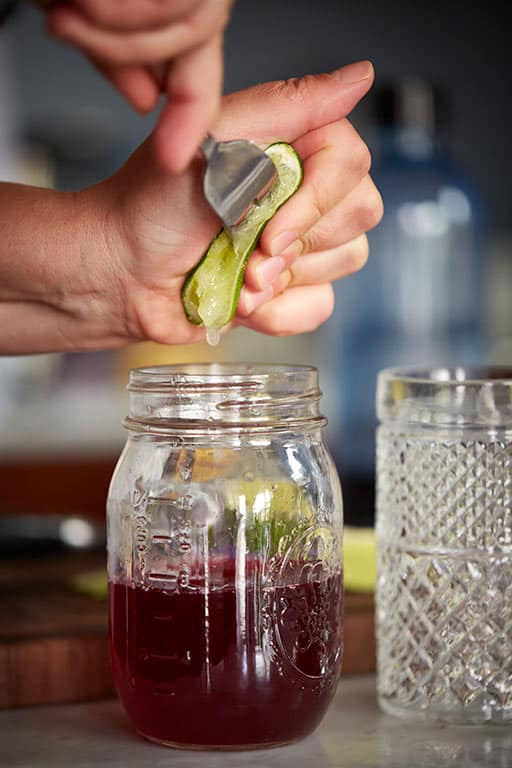 Hibiscus syrup
Hibiscus Flower – or Flor de Jamaica in Spanish – is a dried edible flower that is often used for juice and tea. I love the color, and the floral yet tangy flavor. You can buy hibiscus quite affordably in many ethnic groceries, as it is used throughout Latino, Mediterranean and Middle Eastern foods.
In a small saucepan, combine water and sugar over high heat.
Bring to a boil, stirring to dissolve sugar.
When sugar is dissolved, add the hibiscus flowers.
Stir, remove from heat, and let steep anywhere from 1 hour to overnight.
Strain out the petals (you can use them elsewhere or eat them directly!)
Syrup can be stored in the fridge for up to 1 month
Sombretta
Walking through a North American spring forest, the ground carpeted with violets, it occurred to me that violets are edible – and thus the foundation of this gorgeous beverage featuring foraged wildflower syrup and a heady Cuban rum (you can also use dark rum).
The floral freshness of the violets marries the molasses tones of the rum and becomes a delicious, elegant cocktail that is a far cry from your usual rum drink.
1oz violet syrup (recipe below)
½oz lemon juice
1oz Havana Anejo Especial
Violet garnish
Fill a flute or other tall glass with ice.
Pour in the violet syrup, then the lemon juice. The acid of the lemon juice will change the violet syrup into a lovely lavender color, so you'll want to stir it well.
Carefully layer the rum on top, and float a violet blossom as a garnish.
Violet Syrup Recipe
1/2 cup violet flowers, de-stemmed/no green bits
1/2 cup boiling water
1/2 cup sugar
Place the violet flowers in a heatproof container (mason jar or stainless steel bowl).
Boil water and sugar together in a pot until sugar is dissolved. Pour sugar water (or simple syrup) over petals.
Allow to cool and place in the refrigerator for 24 hours, until a nice blue color.
Strain the mixture through a small-mesh sieve, into mason jar.
Use immediately, or store in a mason jar in the refrigerator.
The Jay Walker
This is a front porch slammer for hot summer days and a few too many might have you running in the streets! The peppery kick of fresh ginger, the acidity of lime, and richness of the rum create a fantastically refreshing rum-based drink.
I used Manikou Rum, from Marseille, France – the rum that started my obsession with regional rums, as I had never made the connection to French rums before! The Manikou family has been producing rum for generations, and their rum cellar has varieties dating back to the early 1800s!
If you can't access Manikou, try any medium weight golden rum. Light rum won't give you enough flavor.
I serve this rum cocktail in a small jelly jar – you may want to double the recipe if you're using a Mason Ball jar – which would be perfectly appropriate!
2oz rum
½ fresh lime
Fresh ginger
Soda water
Lime for garnish
In a cocktail shaker, mix ice, 2oz rum, lime juice from fresh lime, 2 or 3 grates of fresh ginger.
Shake vigorously.
Pour into a jam jar, top with soda water (or club soda)
Garnish with a lime wedge. Cheers!
Love Rum? Pin the recipe!
Photographs by TylerMallory.com