Traveling to remote spots with a travel charger is a no brainer. You want to make sure your phone, camera, tablet and laptop stay powered up for continued use. However, when you are wandering through the back alleys in search of a mural you spotted on Instagram, you need to have your portable charger for travel ready and waiting.
I've bought a lot of travel chargers in my life, and some are definitely better than others. While I used to love my Ventev, I'm all in on my MyCharger these days for everyday use. But there are a few others I pack up to make sure I'm never without power, whether I'm hiking through Petra in Jordan, or road tripping with the kids to Medora, North Dakota.
Why Pack a Portable Charger for Travel?
Anyone who has left their house for any length of time knows that their phone battery will drain, their kids will rip through the power on their tablet and camera batteries will run out of juice. You can't always depend on running back to your hotel room or your car to give your phone a quick charge, especially if you have kids in tow.
No, you need a high-capacity, portable charging bank to keep in your purse, carry-on bag or backpack. Whether you want long cords or a built-in cord, you need to know that you can give your kids (and yourself) power in a pinch all day long.
Travel Chargers are essential because…
Sometimes, your life can even depend on it, especially if you run out of gas or get stranded during winter travels.
If you are on a long road trip, but still need to work, a portable charger can keep your laptop powered up. I can't even count the number of times I've opened my laptop on a lap desk in the front passenger seat of our car to write while my husband drives.
Questions to ask before you buy a Travel Charger
What do you need to charge? Phone, tablet, laptop or multiple gadgets at once?
How much extra tech weight do you want to carry around?
How compact do you need it to be?
How do you want to charge the battery?
How many connected devices will you need?
What kind of power delivery do you require?
What output port do you require?
Do you want a charger with built in cords or to use your own?
How fast do you need your portable charger to charge up your device?
Do you want a wired or wireless charger?
Do you need a micro USB cable?
Will you need a USB charging outlet adapter for the wall or a built-in wall charger?
SnapShot of Our Favorite PowerBanks
Best Portable Charger for Adventurers
NOVOO Waterproof Portable Charger
Let's just admit it right now, we all have mishaps around water with our electronics. I've dropped my phone in toilets, ponds, water fountains and even had it swept out into the ocean (and retrieved!).
A waterproof charger is worth its weight if you love to rappel down waterfalls with your gear, go hiking in streams, or just have kids that spill around you all of the time.
This Novoo waterproof portable charger is a 10,000 mAh Power Bank with an IP67 rating. It can be submerged under water as deep as one meter for 30 minutes without being damaged. The built-in LED flashlight comes in handy at night and during emergencies, but its the fast charge that makes us really love this travel charger. You can go from 0% to 50% on an IPhone in just 30 minutes.
myCharge Adventure Camping Portable Charger
The myCharge Adventure Camping Portable Charger was not only made for those who love to go off the beaten track and into the wilderness, but let's be honest, it's for kids too. Oh, and adults who are too rough on their electronics (guilty as charged over here!).
It can charge up to two USB powered devices, giving you 6x extra battery on your tablet, smartphone, Bluetooth speaker, e-reader and other USB devices. The carabiner clip allows you to clip it to your backpack or travel bag for easy access.
It's also splash-proof, drop-resistant and dirt-proof, meaning you can go out and get muddy (or just drop it several times).
Best Daily Portable Charger
myCharge Portable Charger
This is my favorite compact, all-in-one portable charger for keeping my family's phones charged up throughout the day. Whether we are traveling or I'm at a conference with no time to plug in my phone, the myCharge Portable Charger keeps us going.
I love that the power cord AND foldable wall plug are built right into this pocket-size charger. You can recharge the battery pack and your phone, all at the same time too.
I don't need to pack up extra wires, or fumble through a big backpack or purse to find all of the components. Nope, everything is right there in one easy device.
So, no more excuses not to reply back to that email, this charger gives you up to four charges in one device that can fit in the palm of your hand.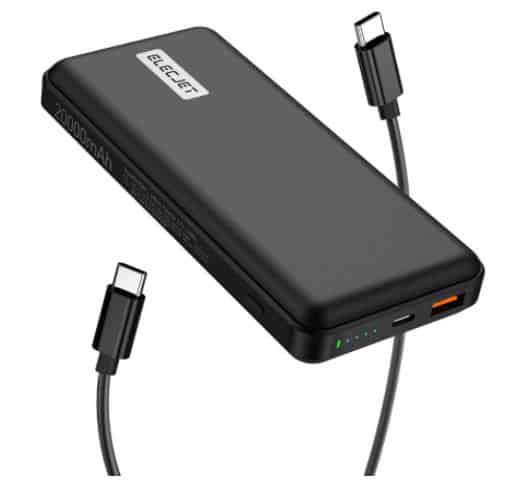 ELECJET Apollo Traveller
If you use a lot of battery power on the go, you need a battery that can quick charge so you can get back out again without slowing down. The ELECJET Apollo Travelers recharges in 18 minutes thanks to its Graphene Battery plugged into a 60W charger without overheating issues.
Pass-through charging isn't an issue either (simultaneously power your travel charger and device at the same time while connected). The light and slim design make this an easy portable power bank to throw into your bag before you head out the door for adventure or just a hot date night on the town.
Mophie Powerstation plus XL
Mophie is another portable charger that has the charging cable built in, which we always love. When you grab the Mophie Powerstation you can get 34 hours on an iPhone, 14 hours on an iPad Mini and nine hours extra life on an iPad Pro in this one little device.
Keep in mind that this travel power bank is for Apple devices and USB devices. You get a 10000mAh power bank with Lightning cable, wireless and Lightning input.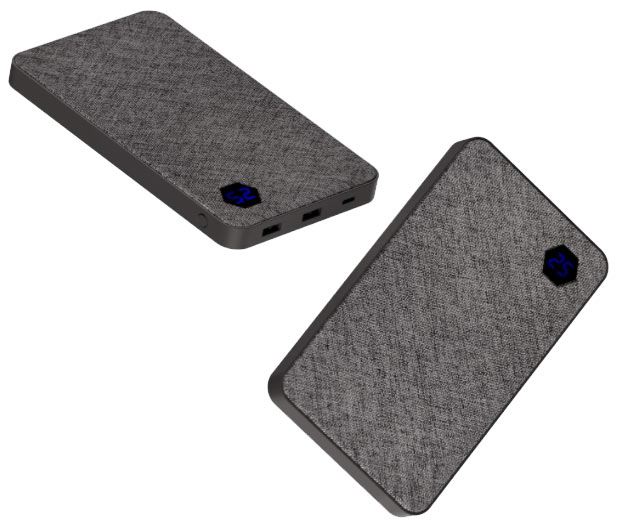 Best Powerbank for Laptops and Max POwer
Eggtronic Laptop Powerbank
If you are only going to bring one travel charger with you, Eggtronic's Laptop Powerbank is the one. It allows you to charge anything with a USB-C cable, but also includes ports for regular USB too. You can even charge two smaller devices via the USB 2.4A and USB Quick Charge ports.
This battery pack has a water repellent soft canvas cover, along with an LED display that tells you how much charge you have left to use. It can recharge your MacBook Air or MacBook Pro up to 1.5 times, your phone 4-8 times and gets your tablet 3-5 charges.
Since it works on your laptop, you can easily stay charged while in the back of a bus or in the passenger seat of a car. Or on those lazy nights that you don't want to grab your charging cable, you can use it to keep your laptop at full power while you stream movies from the couch.
I throw this laptop charger in my purse or camera bag, knowing the 45W USB-C will deliver just the right amount of power to my laptop and the 18W USB-A won't overload my phone or tablet.
MAXOAK 50,000mAh
For anyone who loves to camp or go off the grid, the MAZOAK may be your best investment to date. This travel power bank is big, but for good reason; it has six ports to charge all of your devices. So, when you are writing the great American novel in Zion National Park you know you can keep typing away, while your phone charges and camera batteries too.
Best POrtable Chargers for Video Gamers
Belkin Boost Up Charge™ Power Bank 5K + Stand Play Series
For anyone who loves to stream videos or play video games on their phone, the 5,000mAh Belkin Boost Up Charge Powerbank is for you. Not only can you get up to 17 hours of additional charge on your phone, but it has a built-in smartphone stand that can hold your phone in landscape mode, propping your phone up for easier game play.
Dual USB-A and USB-C ports means you can not only charge your phone, but also a game controller you have connected via bluetooth to your phone. With all of that power, you may never unplug yourself!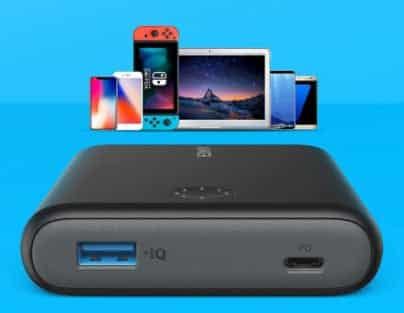 Anker PowerCore 13400 Nintendo Switch Edition
If you have a family member addicted to their Nintendo Switch, then you need to grab the official high-speed portable charger for Nintendo Switch, the Anker PowerCore 13400.
Your gamer will get up to 1.7 full charges on their device, which means as much as 10 hours of extra game time on the road. If your device goes dead, this compact charger can get you up to full strength in as little as 3 hours.
Anker PowerCore 20000 PD
An oldie but goodie on the market, Ankor has one of the most powerful smaller chargers that we love. You can keep your phone charged all day, even if you are filming the next great travel documentary on your device. The Anker PowerCore is about the same size as your smartphone with two USB ports to connect your iPhone or tablet.
Other Ankor powerbanks can give you more power (or less), but we love how compact this one is.
Best Wireless Portable Charger
Moshi Porto Q 5K Portable Battery with Built-In Wireless Charger
If you love to go wireless, check out the Moshi Porto. It features a lovely fabric surface that won't scratch your phone using Qi wireless charging along with a rubberized ring to keep your phone from slipping around.
This 5,000 mAh with built-in Qi wireless charger works on all Qi devices, including Airpods, iPhones, the Samsung Galaxy and Samsung Note. You can use it in hotel rooms or your desk at home, or simply connect it to your car's USB port for easy on and off access on the road.