This is a glorious era for gin aficionados: there are so many varieties that explore a wide range of botanicals and profiles perfect for your favorite gin cocktails.
From Navy Strength gin to small batch seasonals, gin has moved far from the intense juniper/citrus driven London Dry style and has made its way into every type of cocktail, including floral fruit forward summer slammers and savory delights.
For a little history on gin, and primer on styles, check out this article
I am blessed to have a number of gin adventuring friends, and on a recent chilly day, we were dreaming of warmer weather and came up with these concoctions……
About Gin Used in Gin Cocktails
We had access to 4 different gins for our cocktail development:
Hendricks
Leatherbees
St George
Prairie Gin
Get gins delivered right to your door via Drizly.com
Each gin has a unique flavor profile which will impact how it interacts with different mixers.
We are including the specific brand of gin in each recipe because our experimentations led us to create a balance based on the ingredients and varieties at hand. Depending on the gin you prefer, you may want to experiment with proportions some.
GET INGREDIENTS DELIVERED STRAIGHT TO YOUR HOME VIA

DRIZLY
ORANGETTE
Candied orange covered in chocolate? How is that a cocktail? This one's an unusual blend of rich flavors that takes advantage of the citrus undertones in most gins. By playing up the citrus and adding a mellow touch of chocolate bitters, we created a cocktail that reflects all the flavors of the classic french treat, in an infinitely sippable form.
Orangette Cocktail Recipe
3oz St George Gin
6 drops chocolate bitters
½ clementine ('cutie oranges"), squeezed
¼ tsp Epic Spices Cookie Sprinkle http://epicspices.com/
Ice
Trader Joe's candied orange for garnish
Served up
In a shaker, add ice, gin, bitters, clementine juice and spice. Shake vigorously; strain into chilled glass.Garnish and enjoy.
APRIL ON THE LAKEFRONT
There's a special day for all Chicagoans that happens sometime in early April when a "heat wave" arrives. The temps are rising, the UV is stronger, and the moment the mercury pokes up over 60 degrees, the lakefront park is packed with sun seekers.
Our pale white skin soaks up that heat, the summer dresses get their first run, running shorts and tank tops seem acceptable in the brief heat of the magical day.
The crisp air, the fresh sun, the promise of the end of winter….. That's the magical moment of April on the lakefront…..
This gin cocktail explores the crisp green flavor of celery mellowed with sweet meyer lemon. Leatherbees was a surprising gin – the powerful forward flavor is mellowed through the finish by the celery. Overall a wonderful savory cocktail.
April On The Lakefront Cocktail Recipe
2oz celery juice
2oz Leatherbee gin
1 wedge meyer lemon (if you only have regular leons, try 1 wedge lemon and a drop of fresh squeezed orange juice – the sweetness of the meyer lemon is key here)
2 dashes celery bitters
Splash soda water
Ice
Celery and thyme for garnish
Served on the rocks in an old fashioned glass
Put the ice, celery juice, gin into a shaker. Squeeze in the lemon juice. Cover the shaker and shake vigorously for 30 seconds. Pour into a 10 – 14 oz glass; garnish with celery stalk and a sprig of fresh, pinched thyme. Top with soda water.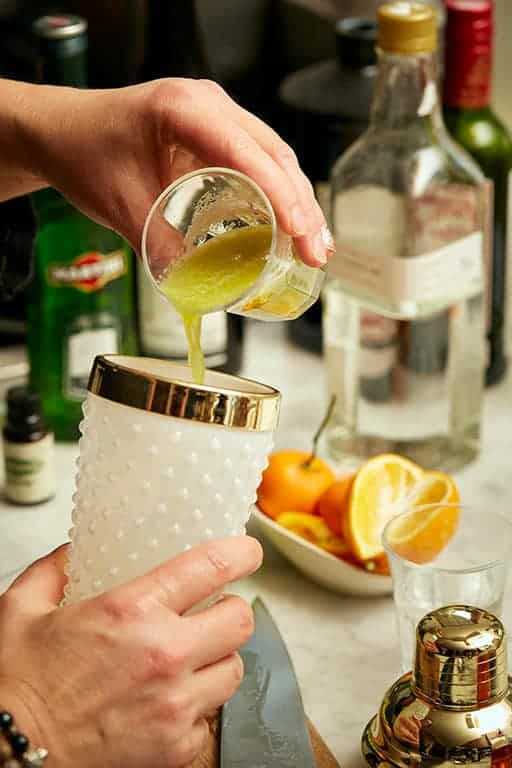 Celery Juice recipe
Notes on celery juice: It's super easy to make your own celery juice. Farm fresh organic celery is deep green, almost like kale or spinach, and gives you the best flavor; organic is a good 2nd; conventional will do if you can't find the others, but trust me: one day you have to try farm fresh organic celery. The powerful complexity of flavor will knock you over and you'll never look back to conventional.
Makes 6 oz juice, in a blender:
2 stalks celery, washed, chopped into 2-3 inch chunks
2 oz water
Blender on "liquefy" then strain through a sieve
HOT PINK
One of my favorite traits of gin is the floral qualities, and Hendrick's is well known for that. This cocktail is an easy sipper, stunning for its color, easy to make and reallly easy to pound down on a beautiful sunny day.
Hot Pink Cocktail Recipe
2oz hibiscus syrup
2oz Hendricks gin
1oz elderflower liqueur or syrup
Soda
Ice
Cucumber slice for garnish
Served in a highball
Fill the glass with ice. Add the syrup, gin and liqueur; stir to combine. Top with soda water. Garnish and enjoy.
Hibiscus syrup Recipe
It's super easy to make your own (1 cup water; 1 cup sugar; boil to dissolve; add 1/4c dried hibiscus petals; stir and take off heat. Let steep 1 hour, stir before straining. Discard the petals or use in another recipe, like hibiscus ice cream or lemon hibiscus muffins). You can find dried hibiscus at most bulk spice and herb counters, though my go to is the hispanic grocery stores, where it's sold by the pound – look for jamaica. If you're asking for it, remember the "j" makes an "h" sound (hamaica)
Or you can get Wild Hibiscus Flowers in Syrup (buy on Amazon.com)
Elderflower liqueur
Everyone knows about St Germain, which has taken the bar scene by storm in the last 10 years. There are other, rarer brands. Ikea also has a line of elderflower syrup that's pretty fantastic (try it as an elderflower soda: 1tsp elderflower syrup, squeeze of meyer lemon, with soda water).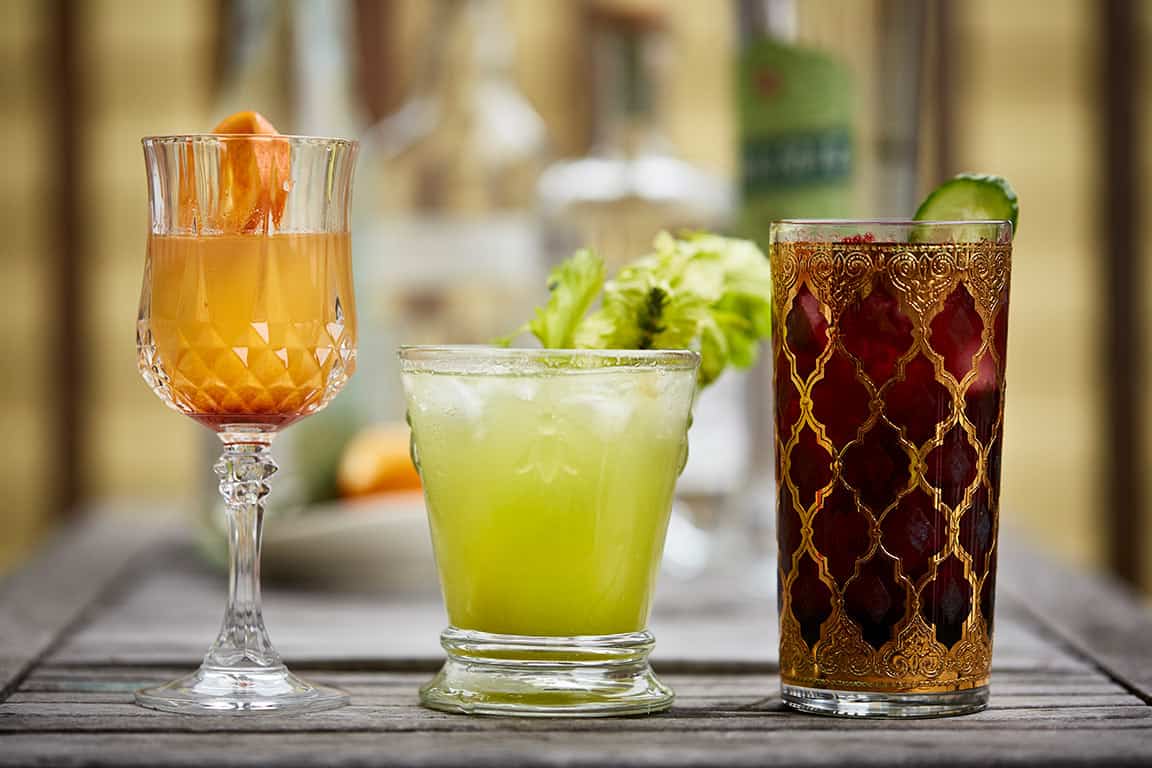 Cocktail Glassware
All glassware is our own, gifted (cut crystal goblets) or collected over the years at estate sales. Various reproductions are available:
Photographer Tyler Mallory [email protected] + cheerful assistants Susanna Craib-Cox [email protected] and Leslie Engel
Love it? Pin it for later!