Add a little festive sparkle to your days, even if it's just a solo cocktail hour! These fizzy cocktail sare full of flavor, celebrating the end of summer or bringing a little effervescent buzz to a holiday soiree.
Sparkling Wine Options
There are many differences between Champagne, Cava and Prosecco – namely, each is tied to specific production locations and processes in France, Spain and Italy, respectively.
Champagne
Champagne has a few varietals – we used brut, a relatively dry wine that balances crisp fruit, buttery notes, and minerality.
Prosecco
Prosecco tends to be a bit softer and rounder in flavor, with fragrant, floral aromas, as well as larger bubbles.
Cava
Cava sits between the two, presenting fresh, zest notes, not as floral as prosecco but not as dry as brut champagne.
Ingredients for sparkling wine cocktails
We had fun experimenting with ingredients we had on hand, including some grilled late summer fruits, and making our own syrups. You can use these recipes as a guideline, or have fun exploring on your own.
The only real rule for sparkly cocktails is – don't splurge on the good stuff. Grocery store bubbles should do it for just about any mixed cocktail!
Do NOT use ice
We skipped ice as that can cause the sparkling wines to fizz too much; each of these recipes calls for chilled bubbles.
Each of these recipes is for 1 drink. Adjust as needed.
GET INGREDIENTS DELIVERED STRAIGHT TO YOUR HOME VIA

DRIZLY
SMOKY PERIL
A twist on the classic Bellini, grilled peaches and poblano syrup makes this a rich and full bodied cocktail. When we strained it, we had a little char left from the smoked fruit syrup – a lovely kick of flavor!
Brut Champagne, chilled
1.5oz vodka
1oz smoked peach poblano syrup
In a 5 – 8oz glass, mix the vodka and syrup. Slowly add the champagne. Cin Cin!
Peach Poblano syrup:
1 peach, halved
1 poblano pepper
1 cup sugar
½ cup water
Grill the peach and poblano pepper over an open flame until skin is partially scorched – either on a grill or on a gas stovetop. Set aside to cool.
When cool, slip the skin off the fruits. Cut peach into 1" pieces and place in mortar, or a soup bowl.
Halve the pepper, de-seed, and cut into strips. Add to the bowl with the peach.
Sprinkle 1 cup sugar over the fruit, and using your fingers or a pestle or other blunt press, smoosh it all together til it gets nice and juicy. Add the water. Let it sit in the fridge overnight, thinking about itself, and give it another stir in the morning.
Strain the syrup into a jar, and discard the fruit mash (or use it in something like home made ice cream!) Syrup can remain in the fridge for about 1 week.
THE LITTLE EMERALD
This herbaceous cocktail is a wonderful surprise, full of fresh garden flavors but woven through with the sparkle of the bubbles. We tried it with both cava and prosecco. Cava accents the crispness, while prosecco brings out the sweetness. Take your pick!
Cava or Prosecco – chilled
1.5 oz Emerald Syrup
Mint flowers, for garnish
In a flute, pour the syrup. Top with your bubbles of choice garnish with mint flowers. Enjoy!
Emerald Syrup
1 cup water
½ cup sugar
1 sprig rosemary
1 stalk basil
1 stalk mint
In a small saucepan, bring water to boil. Add sugar, stir to dissolve. Turn off heat. Add herbs. Let steep, minimum 1 hour, preferred overnight. Strain and enjoy. Syrup can remain in the fridge for about a month.
BERRY MERRY
Muddled raspberries, zingy ginger syrup and a surprising kick of cinnamon makes this a sparkle-season staple.
Cava, chilled
Fresh raspberries (4 or 5 per serving)
1 oz ginger syrup
1 oz vodka
cinnamon
In the bottom of a 5-8 oz juice glass, or other equally hard working vessel, muddle the berries. Stir in the ginger syrup, then add vodka. Dust in some cinnamon – just a pinch. Slowly top with cava. I let the raspberries rise to the top as the garnish. Salud!
Ginger Syrup
1 cup water
½ cup sugar
2" knob of ginger, sliced
In a small saucepan, bring water to boil. Add sugar, stir to dissolve. Turn off heat. Add ginger. Let steep, minimum 1 hour, preferred overnight. Strain and enjoy. Syrup can remain in the fridge for about a month.
THE SIMPLE LIFE
This is a riff on the classic Italian Spritz. Heck, it's not even a riff – it's just a spritz. Classic, simple, refreshing – this is a simple and delightful cocktail.
Cocchi Rosa was the dry aperitivo on hand when we tried this, which has a lovely, floral and not too bitter finish; Aperol is a good alternative.
Prosecco, chilled
1.5 oz Cocchi Rosa Americano
Seltzer water
Slice of citrus – grapefruit, orange or lemon – for juice
Citrus zest – for garnish
In a lovely cut crystal coupe, or any other beautiful glass that makes you daydream of late afternoons along the mediterranean coast, run the citrus along the inside rim of the glass.
Pour in the Cocchi Americano, and top with prosecco and a splash of seltzer water. Y
ou can manage the density of this one by adding ice or more seltzer as needed. Garnish with zest.
Cin Cin!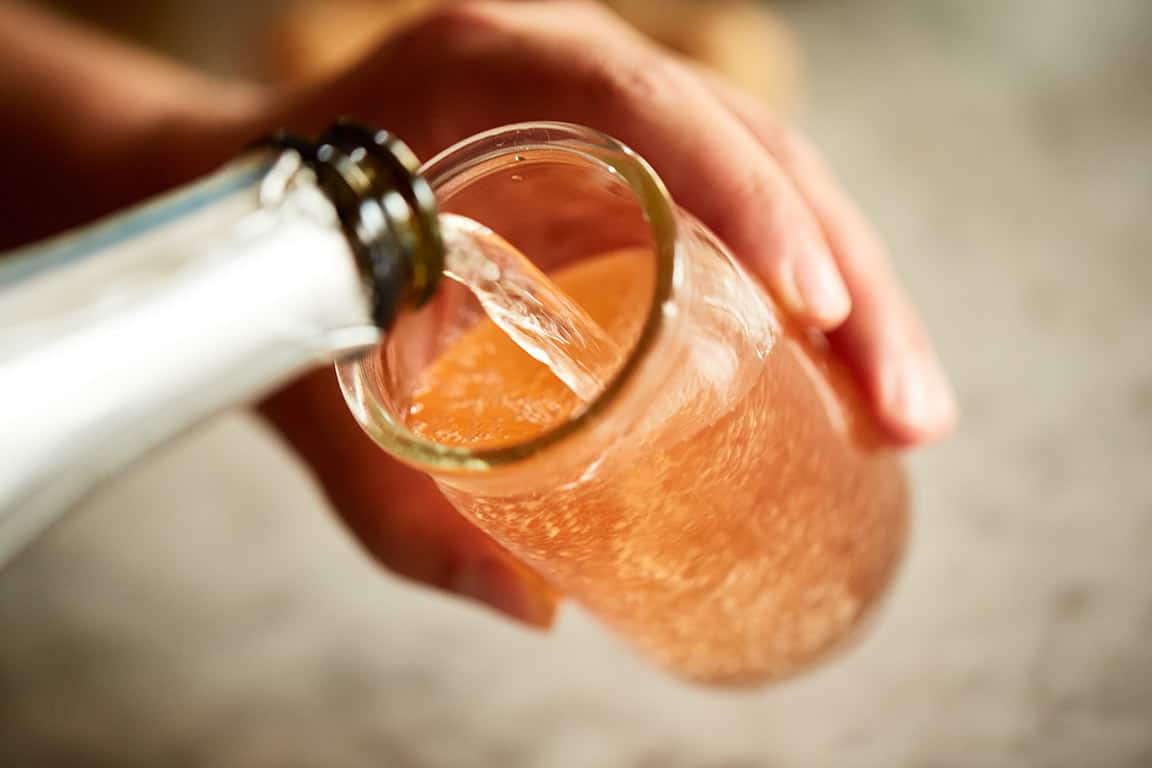 Jam Jar
Sometimes you want a summer fruit cocktail but you don't really want it to be too sweet or fruity – just a hint of all that robust ripeness. Check out the Jam Jar – a blend of rhubarb, citrus and floral prosecco, this is a porch slammer.
Prosecco, chilled
1.5oz Rhubarb Gin (We tried Whitley and Neill Rhubarb Ginger gin)
Sliver of lemon for garnish
In an 8 oz jam jar, pour in the rhubarb gin. Top with prosecco. Squeeze in the lemon juice from the sliver, then drop it in the glass. It's that easy. (You can add some ginger syrup if you want to kick up the spice a bit!)
All photos by TylerMallory.com