Driving through Shenandoah National Park in autumn, you can't help but crave warm fall flavors. Those red, orange and yellow leaves that float by you as you walk through an old forest hold a history to cooking few expect.
While a quinoa salad may not be traditional in the U.S., roasted butternut squash has been around for ages.
Creating an oven-roasted butternut squash quinoa salad recipe seemed only natural, as we all try to eat a little healthier, bring global ingredients into our homes and enjoy the harvest of the season.
Autumn flavors come together when you combine a seasonal favorite like butternut squash, grapes and cranberries with protein packed quinoa for the perfect main dish salad that also makes for a great appetizer.
This autumn recipe came about in a number of ways. I love butternut squash and quinoa. I have a summer quinoa salad that I make all season long, but I was looking for a warm salad that would fill me up, but not be too high in fat.
I went for straight gluten-free, vegetarian with this quinoa salad, although it would taste amazing as a side dish next to a grilled flank steak or pork chops.
Oven ROASTED BUTTERNUT SQUASH QUINOA Ingredients
2 cups of Butternut Squash (peeled and diced)
1 tablespoon olive oil
1 tsp salt
fresh ground pepper, to taste
1 cup of red grapes
1 cup of cherry tomatoes
1/2 cup dried cranberries
1 cup of Quinoa (washed)
2 cups of chicken broth (low sodium)
1/4 cup Feta cheese
NOTE: For even more flavor, add 1 tbsp of balsamic vinegar + 1/2 sautéed onion. Feel free to add in some nuts or roasted pumpkin seeds too.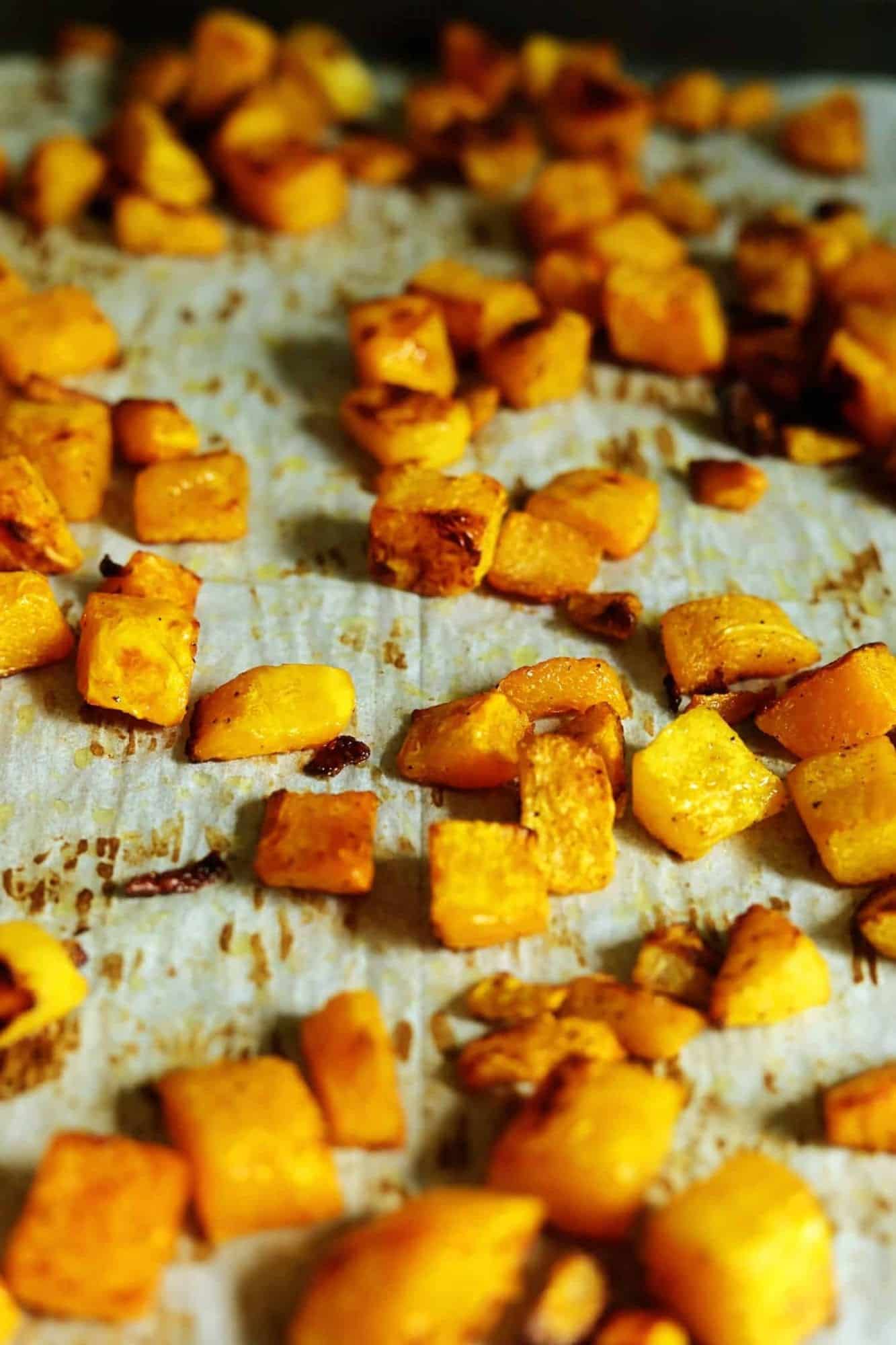 Oven ROASTED BUTTERNUT SQUASH QUINOA SALAD Instructions
Preheat oven to 415 degrees.
Combine butternut squash, 1/2 tsp of salt + olive oil in a small bowl
Line a rimmed baking sheet with parchment paper. Pour butternut squash onto sheet pan, making sure you space out squash into one single layer. Bake for 40 minutes, tossing every 15-20 minutes until cooked and golden brown.
Cook quinoa according to directions, using chicken broth instead of water. Set aside in a small bowl.
Meanwhile, place tomatoes and grapes on a small sheet pan.
15 minutes before squash is finished, place tomatoes and grapes into the oven. Cook until tomatoes begin to wrinkle and grapes are bursting.
Add the quinoa to the grapes, tomatoes and oven roasted butternut squash in a large bowl.
Give it a nice toss to combine
Top with dried cranberries and feta cheese. Season with salt as needed.
Serve warm.
Want to try it? Pin it for later!