One of the most magical parts of Greece is its food. Mixing together the best of Mediterranean cuisines and even Middle Eastern flavors, you are sure to want to grab a few Greek recipes before you head home.
Trust me, even if you did nothing else while in the country, you will want to make sure you eat a few of our favorite Greek foods.
Why we love Greek Foods
The health benefits of a Mediterranean diet and traditional Greek cuisine have been proven over and over again, with loads of fresh produce, lean meats, fresh fish, cheese, grape leaves, fresh herbs, lemon juice, extra virgin olive oil, fava beans, Kalamata olives, and my favorite, tzatziki sauce.
While there are plenty of restaurants serving international cuisines in the larger cities like Athens, as you wander the country and islands, you will find more typical fare.
Olive Oil
Greece is one of the major producers of olive oil in the world, and in my experience, it is some of the best. Oh, and it's CHEAP.
Save room in your suitcase to bring home olive oil and extra virgin olive oil (yes, there is a difference), as you will want to load up. Just make sure it is contained in a glass or tin vessel, as plastic bottles will taint the flavor.
Keep your olive oil in a cool, dark space, like a cupboard, when you are not using it. Olive oil has about a year shelf life, so don't squirrel it away… enjoy it as soon as as much as possible in whatever delicious dish you can make at home.
Feta
One of the most traditional Greek foods you will find in restaurants is the humble feta cheese. Feta comes in all shapes and sizes in Greece. You can have fresh, baked, fried, spicy, creamy, and stuffed into all sorts of pastry dough.
While on the island of Milos, we even enjoyed a fresh feta made from the goats living behind the restaurant on the family farm.
If you think you don't like feta based on your experiences with the cheese at home, try it while you are in Greece. I promise it is better, it is one of the best Greek foods, and you will not be able to get enough of this hard(er) cheese that is a staple in the Greek diet.
Baked feta
While in Mykonos, one of the Greek islands, I was introduced to the joys of baked feta at Katarina's, a restaurant and cocktail bar over looking the water. Served in a cast-iron pan, the main ingredient (feta) was covered in tomatoes, red and green peppers. It had a little kick of spice, but wasn't too much for my delicate palette.
I was told that you chop up the feta, mixing in all of the veggie goodness, so you can scoop it up with a spoon and into your bread. You may want to order two; it's that good. And if you are gluten-free, just skip the bread and use a spoon.
Goat cheese rolls
Whether it is a plain cheese roll or a roll covered with honey and sesame on top, goat cheese rolls are a beautiful addition to your meal when looking for a classic Greek dish. We loved including these in a light lunch to accompany your greek salad.
The crunchy outer layer gives way to a salty cheese inner core. Don't worry if they go cold, your cheese rolls will still be delicious.
Skordalia
Skordalia is a dip that will look like a massive pile of garlic, but there is also potato mixed in. You can eat it plain or on bread. It is VERY garlic heavy, so beware of "dragon breath" and indigestion if you are sensative to garlic.You may also see this served on a thick layer of day-old bread instead of potatoes. Either way, it is garlic forward and you will LOVE this.
Greek Salad
What is one of the most traditional Greek dishes in all of greece? I'll give you a hint– cucumbers, tomatoes and olives, a drizzle of olive oil, which can be topped with a slice of feta. This is a true greek salad. No lettuce, no vinaigrette. Just fresh vegetables and feta with incredible greek olive oil allowing all of the fresh ingredients to sing. Seriously, it's one of the best things you can eat in Greece, and I make it at least once a week with fresh tomatoes from my garden in summer (cucumbers and I are not friends in my garden at the moment; they just won't grow!)
Tzatziki Sauce
If I was skilled at writing poetry, I would certainly write one about my love affair with the popular dip– tzatziki. I eat it with a spoon, on pita bread, with meat, and basically anything else I can put it on. At home I eat it with a pile of vegetables, almost like a salad or dip.
The perfect tzatziki and why it is better in Greece, is made with thick, fresh greek yogurt, dill, garlic and cucumber. It just doesn't taste the same at home. The Greek yogurt we get in the grocery store doesn't live up to the fresh goat milk yogurt in Greece.
Souvlaki
You will find souvlaki in many forms, particularly chicken, pork, beef and lamb. While lamb was the norm, the increasing price of lamb has caused it to be seen less frequently on menus. Have no fear though, you will still find lamb here and there.
You can grab solvaki as your usual meat on a stick, or get it in a souvlaki wrap to go.
Gyros
One thing that surprised me in Greece is that not all Gyros are wraps, and not all wraps are gyros. More than once we had a gyro that was piles of pieces of meat thinly sliced onto a fresh pita with a few toppings, including lots of red onion, and even tzatziki smeared beneath the meat.
There was so much meat that there is no way you could curl it into a wrap or even a taco-style sandwich.
Never fear though, the gyros we had were incredible, beyond anything we have ever had in the states, and instead of sticking to solvaki at restaurants, we switched to gyros, as the juices had more time to cover the entire pita, making it a dish unto itself, especially when there was a plate of tzatziki to drag the pita across.
Our favorite gyro? We found an incredible, yet simple, gyro on Santorini at the Crater restaurants (Thalassia: Καραβοκύρηδων, Οια Σαντορίνη 847 02, Greece)
Fried Tomato balls
If you find fried tomato balls, especially on the island of Santorini, you must order them. We had the most amazing tomato balls at CRATER restaurant, paired perfectly with a Santorini white wine (which is also a thing we later found out, so pick up a few bottles).
Fried Zucchini
You can get fried zucchini balls, but if you want something simple, order the fried zucchini. It is sliced just like french fries, and in my humble opinion, tzatziki is the perfect dip. Put a dollop of tzatziki sauce on your plate and start scooping up the tzatziki with your zucchini fries.
You can even pretend it is healthy. I'm sure not ALL of the vitamins are fried out.
Cheese pie
The best cheese pies are just that- a hand pie made with flaky pastry dough filled with a smear of goat cheese. You may find it at the breakfast table, as a quick street food you can pick up in bakeries and shops around town, or a late night snack when you are headed home from the bars.
Spinach pie
Similar to a cheese pie, spinach pie can simply be flaky pastry with spinach or a pastry with cheese and spinach. I personally prefer the spinach and cheese pie, but that's a personal taste, not one you should adhere too without your own taste testing.
Mustard Potatoes or Greek Lemon Potatoes
Surprisingly, the Greeks like mustard, particularly on their potatoes. These golden brown potatoes could come as a side on your meat dish, or you can order it separately. Most people know them as Greek lemon potatoes, but I think they taste like mustard.
And it's not some fancy mustard- nope. They like the yellow mustard Americans are used to putting on hot dogs at home.
Moussaka
Moussaka is probably one of the best known Greek foods, maybe because of the movie "My Big Fat Greek Wedding," but it is also the national dish of Greece and one of the most popular Greek foods you will find on the mainland and on the islands.
You will find moussaka in many Greek restaurants in the United States and Canada, despite it being eaten in the Balkans and Middle East (most commonly in Turkey). This Greek version is more like a Greek lasagna, incorporating layers of eggplant (also known as aubergine) instead of layers of pasta with ground meat stirred into tomato sauce. It may also incorporate a creamy béchamel sauce, giving it an added layer of decadence.
Seafood
When you are traveling along the coast, just assume that seafood will be the main protein offered. It is much more accessible than red meat and pork, although you will still see both along side chicken on the menu. You will just have many more columns of fish to choose from, while meat may get a smaller section.
The catch of the day, locally found, and regional fish are the name of the game here. Try the octopus, squid, sardines, anchovies, snapper, and anything else that looks delicious as you pass by diners eating al fresco when the weather is warm. It's the best way to check out the menu and figure out if you see something you like.
Greek Breads
Greece is no stranger to bread, although most of the world associates pita bread with Greek cuisine. Interestingly enough, I found that not all parts of Greece serve pita. Many just serve you slices of fresh, sometimes crusty, bread.
For example, in the Pelopennese region, we were hard pressed to find pita anywhere, but bread could always be supplied.
More Greek breads to keep an eye out for while you wander:
Horiatiko Psomi
Horiatiko Psomi, or village bread, is a rustic round loaf that you can find in pretty much any bakery in Greece. They exact shape and recipe may vary slightly, but it's pretty much the same bread that has been eaten since ancient times.
Lagana
Similar to the Italian focaccia, Lagana is a Greek flatbread that is easy to devour all on its own or with a meal. However, it is often only made for "Clean Monday," (Greek word: Kathari Deftera or Shrove Monday) the first day of Lent before Easter.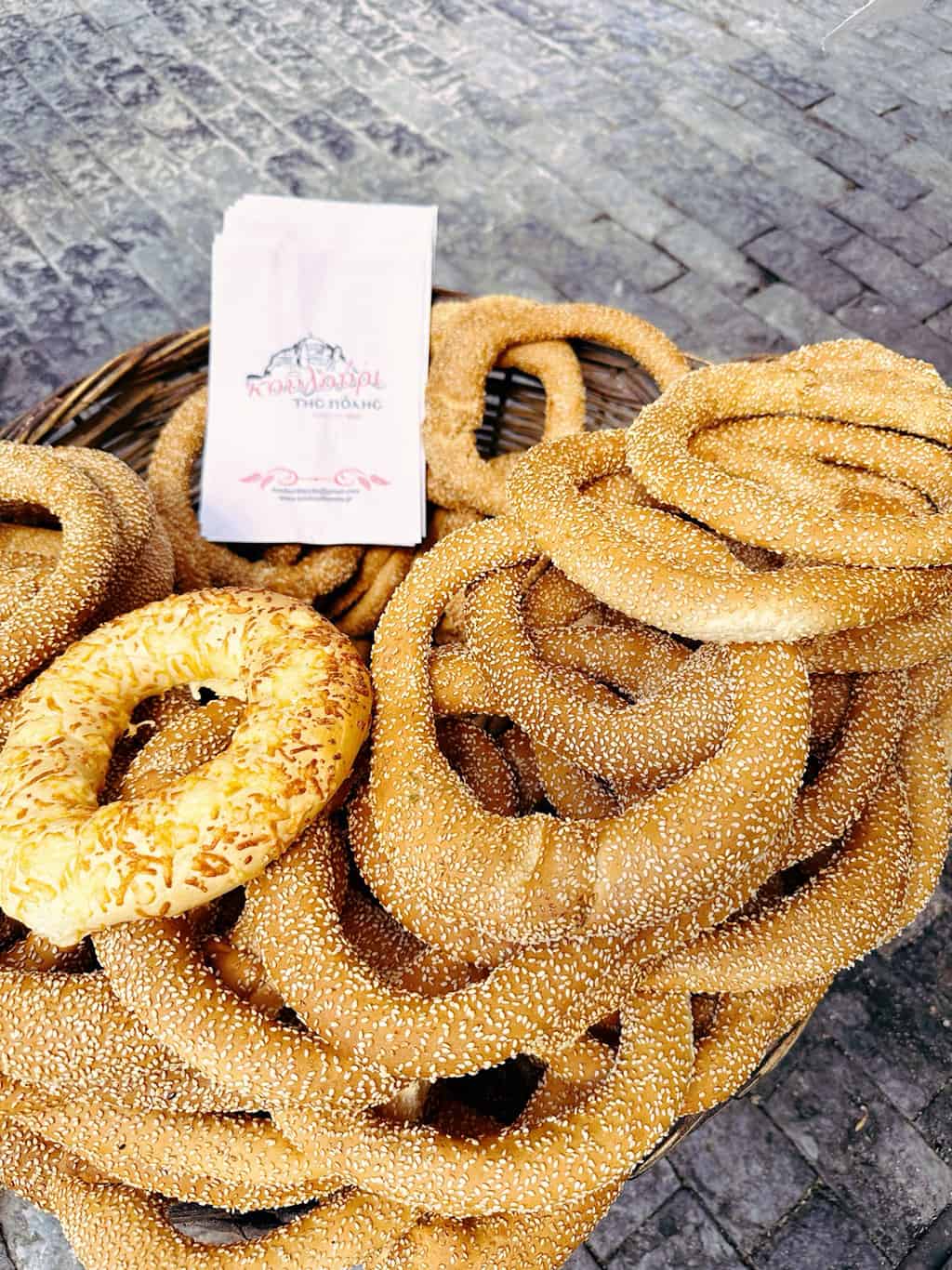 Koulouri
Walk around Athens and you will find vendors and coffee shops selling large Greek sesame bread rings– essentially rings of dough with sesame seeds sprinkled all around. You may think this is a very large bagel, but it's not.
Some will be crunchy on the outside and softer in the middle, while others are crunchy all the way through. Keep an eye our for your preferred texture.
Alongside these sesame rings, you may see large sugared "donuts" of a similar shape and size. These are the sweeter version, Loukoumades, and usually much softer.Either way, it is one of the most popular greek street food and a staple in many Greek breakfasts.
Wedding bread or Bridal Bread
Wedding breads are made specifically for weddings. Shocking, I know. These massive braided breads are intricately decorated with bits of dough in the shape of flowers, vines and other adornments to represent the sweetness of marriage and the love between the couple. They can also be flavored with all spice, anise cinnamon, cloves, coriander, ginger, and nutmeg, as well as also orange and lemon peels.
Although the very ornate wedding breads are more famous for being from Crete, we saw them even at a wedding in Kalamata that we happened upon at a cafe our last day. You can also find them in bakeries if you just have to try one but don't have any special occasions bringing them out.
According to a bit of research, favors are hidden inside the bread for guests to find as it is eaten (sort of like a Three Kings Cakes I guess?)
Other items you might find at a Greek wedding include Kourabiedes (Greek Wedding Cookies), kataifi, baklava, karidopita (cake with nuts) served with ice cream, and mastixa Chio.
Pita Bread
Pita bread is a staple in many parts of Greece, but not all. Unlike the Americanized version, these are not flat pieces of dough with pockets that you can stuff with tuna salad. Pita is a flat bread, which if you are lucky, will come out hot from the oven for you to pull apart and use to scoop up various dips or mezze.
Stafidopsomo Raisin Bread
These little raisin rolls are a popular choice at breakfast or as a snack. They aren't super sweet, but can still fill you up and give you a little fiber in your day.
Greek Breakfast
A traditional Greek breakfast usually consists of fresh juice, hard-boiled eggs, sliced cheeses and feta, sliced meats, cucumbers, tomatoes, fruit, assorted breads and pastries, greek yogurt with honey (or you can enjoy it plain).
If you are staying at a hotel, you will have a larger selection to choose from, usually including cereals, eggs, pancakes, sausage or bacon, cheese pies and spinach pies, and anything else the kitchen comes up with for your buffet.
At Greek B&Bs and smaller inns, you will have more of a continental breakfast with the usual Greek items listed above. If you are very lucky, as we were in Nafplion, you will be treated to fresh jams and baked goods right out of your host's oven.
Greek Coffee
Traditional Greek coffee, like Turkish coffee, is served in small glasses and NOT filtered. Once you reach the "mud" towards the bottom (about half or ⅔ down) you need to stop drinking.
Most Greeks do not take sugar in their coffee either, so if you do want sugar, let the server know ahead of time as it is brewed directly with the coffee. Apparently the flavors go all wonky if you add sugar in after the cup has been poured.
Honestly, I've always had mine straight, so I have no idea what it would taste like with sugar added before or after the coffee is brewed.
Greek Desserts
Greeks to not skimp out on dessert or sweets. You will find bakeries brimming with pastries and cakes, tempting your eyes with all of the goodies your stomach could enjoy. While I tried a lot, and many I don't even remember the name of, here are just a few of the treats you should save room for and devour between meals.
Baklava
Pistacio, walnut, mixed nut– you name it, you can find it. Layers of phyllo pastry with a nutty center smothered in honey syrup will also hit the spot after a savory meal that demands a bit of sweet to balance out your tastebuds.
Some restaurants will give you a small square at the end of the meal as part of your dining experience (not an extra charge), but if you love it, order a slice when you see it on the menu.
Traditional baklava can be found on many menus throughout the mainland and the islands, but be on the lookout for pastries that look like baklava, but ….aren't. You will find other delicacies created with phyllo dough or even a "birds nest" pastry, like Kataifi, that will always give your dessert an extra crunch of goodness.
Want to dry baklava in ice cream form? Check out our Baklava Ice Cream Recipe and make this sweet, delicious treat to savor on a hot summer's day (or at home at night on the couch while you watch a movie- we won't judge!)
Portokalopita
A cake new to me, but certainly not the Greek people, is Portokalopita (which literally translates to Orange pie, or what we would think of as an orange cake). Think of a spongy white sheet cake coated in orange syrup and topped with a slice of candied orange.
The surprise is that this cake is actually made of phyllo dough, NOT your traditional eggs, sugar, flour, baking soda or baking powder, etc. Using VERY dry phyllo pastry sheets, you crunch them up into small pieces. The pastry sheets act as the flour, which you will mix with oil, yogurt, eggs and other cake ingredients you know and love.
Personally, it makes a great breakfast as well as dessert, which gives me a good reason to make one at home.
Tsoureki with chestnut cream
Here's a pastry that had us confounded for quite a while until we actually bought one and tried it.
Tsoureki generally comes in large loafs that look like two circles squished together (envision that as you will), and a swirl of chestnut cream inside. It is then coated in white chocolate, and drizzled with a little milk or dark chocolate on top.
We also saw chocolate-coated Tsoureki, as well as different cream fillings available at many of the bakeries in Greece.
Thankfully we also found smaller, bun-sized Tsoureki to try, since it was just two people and I had loaded up on a variety of baklava already.
How was it? Pretty darn good. A bit dry, but the cream helped with that. It was also VERY rich in flavor and sweet… and sticky, which I found odd, but I guess that's just they way they make the chestnut cream.
True Tsoureki doesn't have cream in it though. It is a brioche style bread that is made on Holy Thursday and then eaten on Easter Sunday. While you are allowed to eat it anytime, you will always find it around Easter.
Bougatsa
There are two things you need to know about bougatsa:
1. There is a stiff competition over who makes the better Bougatsa, Crete or Thessaloniki.
2. There is a salt and a sweet version
3. Thessaloniki wins hands down (mama loves her sweets)
4. Ok, Ok, you can try both for yourself and decide.
But what is bougatsa? This phyllo-wrapped parcel is traditionally filled with semolina custard and topped with sugar and cinnamon (sweet version) or a soft cheese (savory version). Sounds odd, but if you want something delicious on the go at breakfast or for a snack, a bougatsa is the way to go. After all, custard is made with eggs, so you at least get a little protein, right?
Galaktoboureko can often be mistaken for bougatsa, but the former is soaked in citrus-flavored syrup instead of sprinkled with powdered sugar. Still good, so if you find it, grab one!
Cocktails in Greece
The Greeks like their cocktails SWEET and complicated. While I enjoy a simple cocktail with few ingredients, the greeks like to combine multiple flavors, syrups and liquors. So, if you love sweet, go all in. The only balanced cocktail we found was at Ellyz Cafe in Athens. The rest of the time? We drank the wine.
Greek Wines
Assyrtiko, which originated on Santorini, is probably one of the most popular wines in Greece and can be found all over the country. This dry white wine is great with seafood, feta, and even gyros.
The other popular wine in Greece would be Moschofilero, which is made in the Peloponnese region of Greece. It's a bold white wine known for its aromatics and a smidge of spice at the finish.
Other grape varietals to look out for when you are traveling include,
Agiorgitiko: red
Xinomavro: red
Athiri: white
Malagousia: white
Roditis: white and rose
Greek Liquors
​No Greek food guide would be complete without at least mentioning Greek liquors. The ancient Greeks enjoyed these alcoholic beverages, so why shouldn't you.
Orzo: anise-flavored liquor
Tsikoudia: also known as Raki on Crete
Tsipouro: Greek brandy
Maskita: made from the resin of the mastic tree
Rakomelo: Rich honey tasting liquor
Psimeni: honey, cloves and cinnamon
Metaxa: type of brandy with Muscat wines aromatics
Zivania: brandy made from grape marc and dry Greek wines
Mournoraki: distilled black mulberries
Souma: slowly fermented figs
Love it? Pin it for Later!