Landing at the Phoenix airport, most travelers head north into Phoenix or rush off to Scottsdale, forgetting that there are so many other great cities to explore in the area. If you just head east, you could be in one of the best places in Arizona, the city of Tempe, Arizona, in under 10 minutes, enjoying creative cocktails, paddling on the lake, climbing "A" mountain, experiencing the best of Broadway and getting to know the real Arizona desert.
Just in case you haven't heard of Tempe, AZ, it is home of Arizona State University (ASU), one of Arizona's largest universities, making this one heck of a college town filled with fun things to do. And yes, this means there are a lot of babysitters available for parents wanting a night out when they come to visit.
Sports teams are coming in and out for games. There are loads of activities and festivals, on and off campus, throughout the year that visitors can participate in. Just check the calendar and something is happening around here. Plus the beautiful views on the Arizona State University campus, Tempe Town Lake and from the biking trails of Papago Park.
But let's dive into the best things you can enjoy while in town, whether it's for a baseball game, special events or you are simply looking for the perfect place to vacation with great views, local artists and hiking trails the entire family can enjoy together.
What if this is your first time in Tempe Arizona?
Now, when people first heard I was going to Tempe (I've been many times since), the first thing they asked was "Why? There is nothing to do there. You should just go to Phoenix instead."
Even my own mother was skeptical.
Always up for a challenge, I flew out with a mission. It was time to find all of the amazing things to do in Tempe, Arizona and put this desert city on the map for anyone looking for a unique and misunderstood spot filled with my favorite things in the United States.
How to get to Tempe, AZ
Tempe is very easy to get to from Phoenix Sky Harbor International Airport (PHX) if you are flying into town (check flights here) and from the surrounding Phoenix area. It's just a 9 minute drive from the terminal to downtown Tempe. You can grab an Uber, Lyft or rental car, but there are also car services and shuttle services that can get you there as well.
Weather in Tempe Arizona
Tempe, AZ sees 300+ days of sun every year, with less than an inch of rain per month and the least amount of precipitation April through June. Temperatures average in the 60-80 degrees Fahrenheit range November through March, while April through October you will get temperatures averaging 80-110 degrees, the latter being in the summer months.
Do keep in mind that at night the weather does get chilly in the desert, so if you are traveling in the cooler months, pack a light jacket to combat those lows in the 40s. Summers don't get below 75 at night, so you should be fine without a jacket outside of winter.
Things to do in Tempe Arizona
So, what are all of these wonderful things to do in Tempe and popular attractions that got me flying across the country?
A lot more than I could have ever imagined, including one heck of a culinary scene I did not expect, a hilarious Broadway show I could never take my kids to (don't worry, there are plenty of family-friendly Broadway shows that come to town too), a wander through the Mill Avenue District, and a horseback ride through the desert.
Get Active with these Tempe Outdoor Activities
Tempe is an outdoor-lovers paradise. Once the weather drops below 100 in residents head out and start climbing the mountains, tuning up their bikes and tying up their running shoes. You don't even have to get into your car to get active.
And, if you are doing Tempe right, you are eating a lot. In order to break even on that weight gain, you need to enjoy the outdoors with the many trails and activities Tempe has to offer. Yes, you may want to sit by the pool and work on your Arizona tan, but that isn't burning any calories.
Here's how you can continue to chat with your friends, while still staying active:
Ride bikes through Papago Park
Did you know that Tempe is rated a gold-level bicycle friendly community? It's true!
From bike lockers to rental companies, bike tours and tune-up shops, you can easily hop on your bicycle to enjoy the streets, trails and pathways in and around Tempe.
Grab a rental bike from The Bicycle Cellar to explore Papago Park's massive trail system and miles of bike paths. It's pretty flat in Tempe and Phoenix, so even those not in the best of shape can enjoy the trails, park their bikes to climb around a few rocks, and see more of the park then you can by car.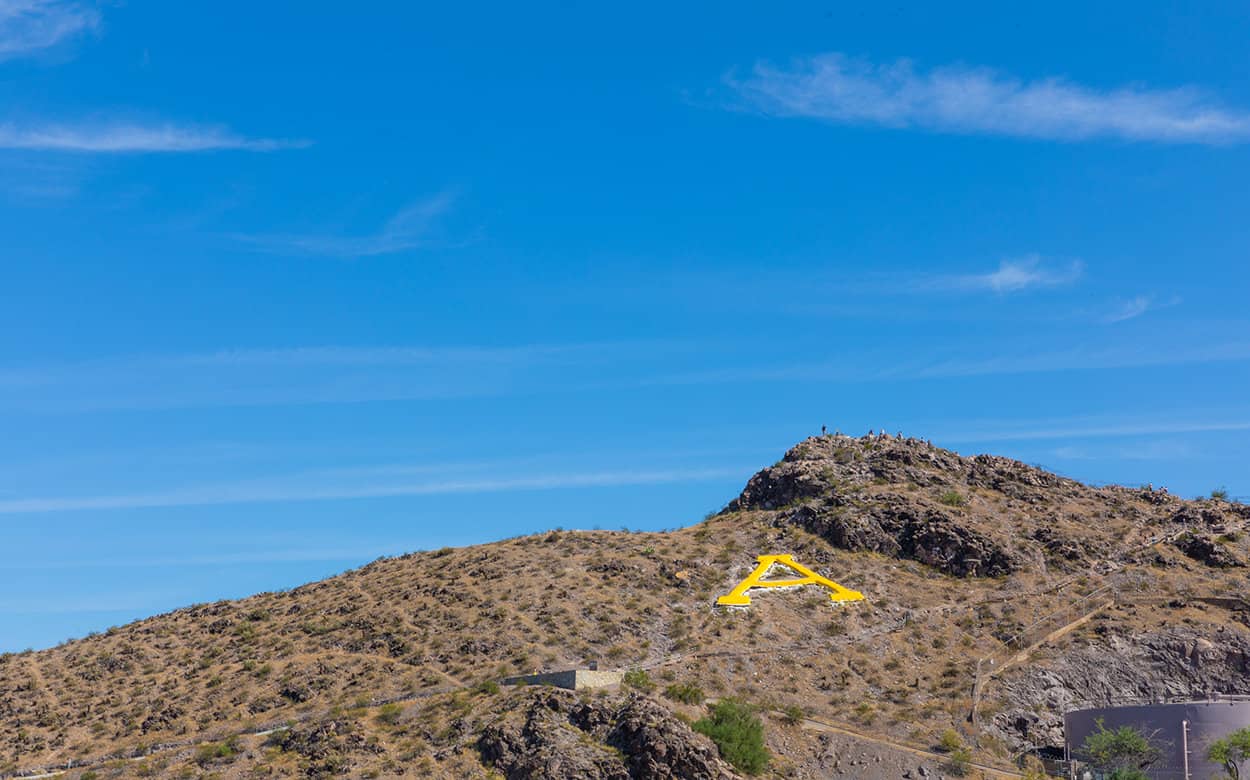 Hike "A" Mountain
"A" mountain (officially named Hayden Butte Preserve Park, but called "A" mountain because of the giant "A" on the side as a nod to ASU) is right in the center of Tempe. The winding trail up the mountain is easy for beginners and even great for kids to tackle.
Just make sure you wear sunscreen and bring water, as there is no shade anywhere on this hike. Trust me though- the hike is worth it and there is a great view from the top.
Hike to Hole in the Rock in Papago Park
Probably the most popular hike in Tempe, AZ, Hole-in-the-Rock in Papago Park is exactly what its name says it is— a hole in a massive rock/mountain.
There are several ways to get to this hole, whether from the back or the front, but if you come in from the back and take in those views, you may never leave.
There is a nice rock "bowl" you can climb around and enjoy without having to cart around any rock climbing gear too. Best of all, it's also a great place for sunrise and sunset on any given day.
Hike Camelback Mountain
Just north of Tempe near Scottsdale, AZ you will find Camelback Mountain. It's known for its rocky trails (at least two marked trails to choose from) and gorgeous views.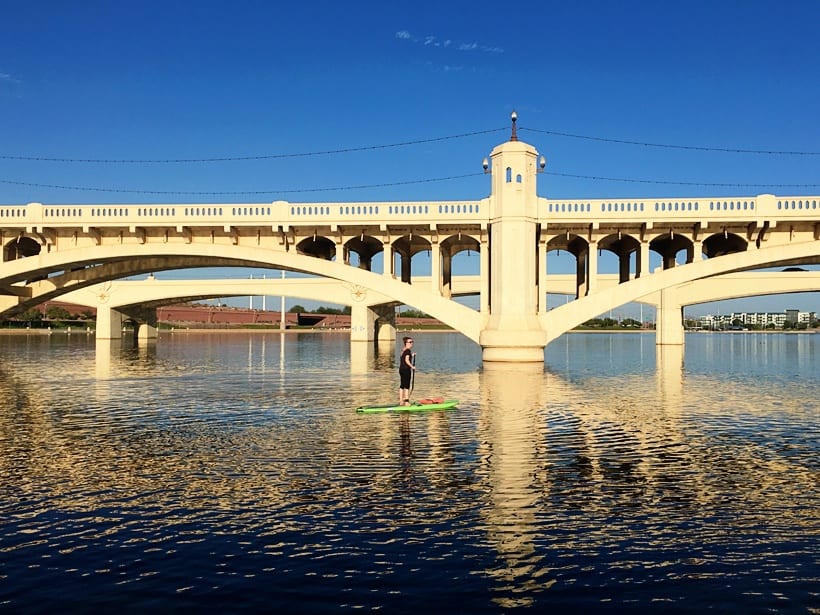 Kayak or Paddle Board on Tempe Town Lake
Boat rentals are available by the hour on Tempe Town Lake through Tempe Boat Rentals of America.
The company also offers paddle boards for those who love to SUP when they travel, but don't want to pack up their boards and paddles. There are also pedal boats, swan boats, duck boats, dragon boats and donut boats available to rent for those who are in the mood.
Note: Swimming at Tempe Town Lake is strictly prohibited.
Explore Tempe Town Lake by Land
Outside of the water, you can also run, skate, bike and skateboard the trails around the lake if you don't feel like being on the water. There's really no excuse to not get outside and enjoy those Arizona bluebird days.
You can even go fishing in Tempe Town Lake
If you love to fish, grab your pole and head to the lake for a bit of lazy day fishing on the water or from the shore.
Cycle around Tempe Beach Park
Grab a Surrey Bike (Single, Double or Triple Surrey) to pedal around and explore Tempe Beach Park on four (or more) wheels. Since it's on Tempe Town Lake, you can also rent boats to enjoy the water, which is perfect during the hotter summer months.
Kiwanis Park
Tempe sure likes to get on the water, and Kiwanis park is no exception. You can rent kayaks and pedal boats to get on the water, but also enjoy fishing from the shore or on the water too.
My kids LOVE The Cloud at Kiwanis Park, a 5,000-square-foot water play zone and splash playground, with spraying hoops, jelly sticks and more. Lighting and sounds bring an extra sensory experience to this splash pad in Tempe too. On a sunny day, when the heat is really cranked up, this water park is a popular spot to be for the whole family.
The park is also home to the Kiwanis Park Tennis Center, Kiwanis Recreation Center (with an indoor pool, wave pool, waterslide, tennis courts, sports fields, gymnasium, batting range, a ramada area and classrooms) and picnic areas to enjoy a meal with friends and family.
Look out for seasonal movies in the park- a great way to rub elbows with the locals and have some free fun.
E-bike Tour around Tempe
Rent an eBike from The Bicycle Cellar, or join a group tour with Tempe E-Bike Tours. This tour will bring you around Tempe Town Lake and Papago Park, with stories weaved throughout the journey, including the history of Tempe Town Lake, Papago Park, the Valley of the Sun, and the Rio-Salado Salt River development project.
You'll have the opportunity to hop off of your bike in Papago Park to hike "Hole in the Rock," but don't worry, this tour only lasts about two hours and covers 10-miles… on a bike you don't even have to pedal.
E-Powered Rides also offers a tour covering the same areas.
What if it rains in Tempe?
If you happen to be in Tempe during monsoon season, or the random day that it rains, you can still get your outdoor fix at Phoenix Rock Gym.
See Wild Horses at Koli Equestrian Center
Address: 6940 W BROKEN EAR RD, Chandler, AZ 85226
Just outside of Tempe is KOLI Equestrian Center at the Gila River Indian Community, one of Arizona's Native American tribes. Visitors can saddle up to take a ride through the desert with a guide.
The guides are knowledgeable about the reservation, the animals you may see on the trail, and are happy to tell you all about being raised around horses, since many of the guides are part of the family who owns the riding center.
Oh, and the horses are very sweet. The staff is great at pairing you with a horse that can fit your comfort level (ask for Buddy if you are nervous. He is super mellow and just sticks to the line).
If you are lucky, you will see jackrabbits and coyotes. If you are VERY lucky, you will see the wild horses on the reservation.
Tip: Book a ride later in the day for a better chance to see the wild horses and other critters on your ride.
What you won't see on this trail ride are palm trees. One thing that many visitors to Tempe and outside of Phoenix don't realize is that palm trees aren't actually native to the desert. They are brought in.
One of the guides at KOLI told me that when people come out they wonder what they are looking at on the trail. He turns to them and says, "this is the real desert. What you see in the city isn't the desert at all."
Well, there you go.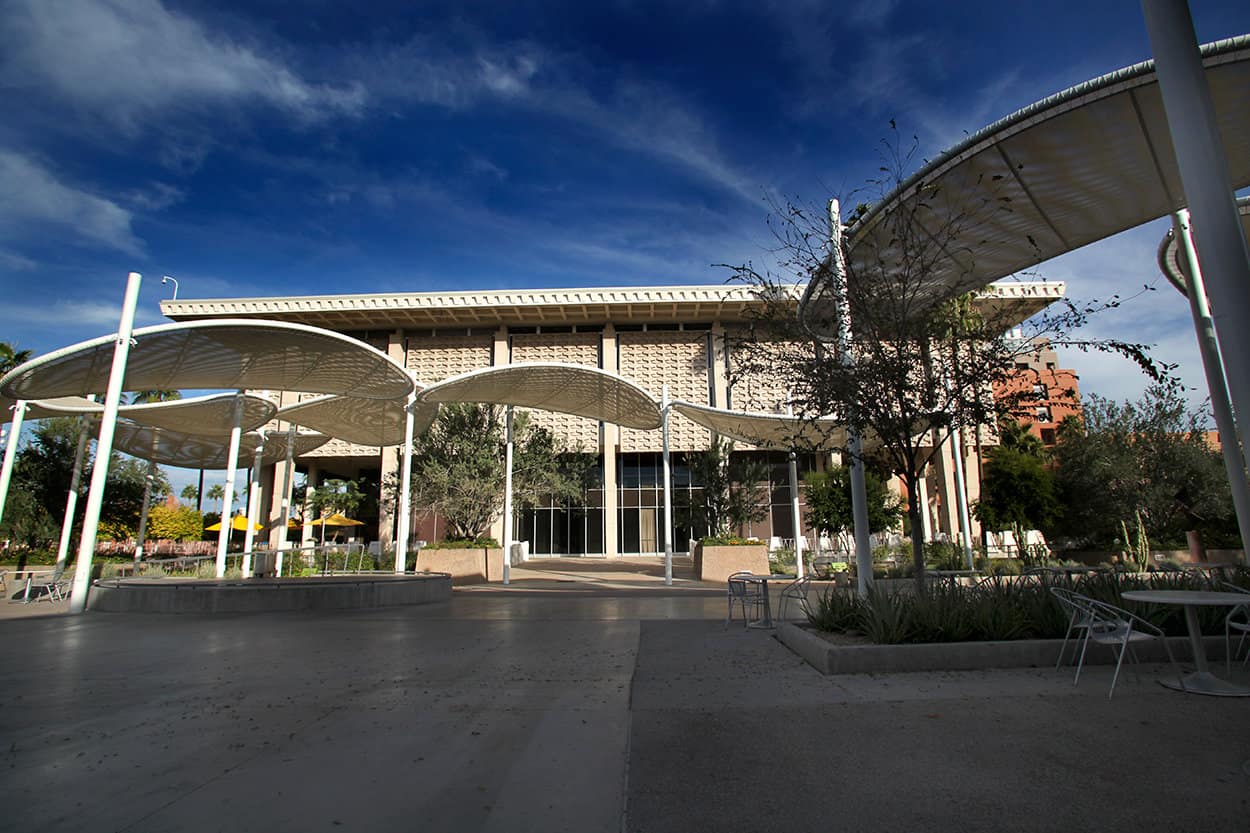 Visit the ASU Libraries in Tempe
Did you know that visitors can enter and explore the ASU libraries in Tempe, AZ? There are four libraries and all are open to the public. You can even access the internet via the ASU guest Wi-Fi.
Design and the Arts Library
Address: 810 S Forest Mall CDN 153, Tempe, AZ 85281
Hayden Library
Address: 300 E Orange Mall, Tempe, AZ 85281
ASU Music Library
Address: 50 E Gammage PK. Music Bldg, Room W302, Tempe, AZ 85281
Noble Library
Address: 601 E Tyler Mall, Tempe, AZ 85281
Check out the Museums in Tempe Arizona
While there are several museums in Tempe, AZ, keep in mind that the ASU museums are free. This is a great way to save money and stick to your travel budget. It's also perfect for parents who have young kids; you can leave if the kids get antsy and need a break from looking at art, etc.
ASU Art Museum
Address: 51 E 10th St, Tempe, AZ 85281
The ASU Art Museum was cited in "Art in America" as the "single most impressive venue for contemporary art in Arizona," which is no small potatoes. Even more impressive is that this museum has the largest collection of Cuban art in the nation.
Curators work closely with the professors at the university from all different disciplines to put together shows that show art in a variety of ways. They also aren't afraid to tackle controversial political issues like modern immigration through historic immigration acts.
Saturdays are big at the ASU Art Museum, and when most of their programming occurs. Children's programming, workshops and events are regularly held. Keep a close eye on the calendar for exhibition openings and events during your visit.
ASU Gallery of Scientific Exploration
Address: 781 E Terrace Rd, Tempe, AZ 85281
The best part about visiting a university town (besides the food) is that you can access a lot of the programs the university offers. At ASU, you can explore the first two floors of the Gallery of Scientific Explorations filled with interactive exhibits, displays and working labs.
ASU Art Museum Ceramics Research Center
Address: Brickyard Engineering, 699 S Mill Ave #108, Tempe, AZ 85281
ASU Buseck Center for Meteorite Studies
Address: 781 E Terrace Rd, Tempe, AZ 85281
Arizona Heritage Center at Papago Park
Address: 1300 N College Ave, Tempe, AZ 85288
Tempe History Museum
Address: 809 E Southern Ave, Tempe, AZ 85282
Hall of Flame Fire Museum
Address: 6101 E Van Buren St, Phoenix, AZ 85008
Vintage Laser and Holograms
Address: 5020 S Ash Ave #102, Tempe, AZ 85282
Huhugam Ki Museum
Address: 10005 E Osborn Rd, Scottsdale, AZ 85256
Petersen House Museum
Address: 1414 W Southern Ave, Tempe, AZ 85282
Pueblo Grande Museum Archaeological Park
Address: 4619 E Washington St, Phoenix, AZ 85034
LEGOLAND Discovery Center Arizona
Address: 5000 S Arizona Mills Cir STE 135, Tempe, AZ 85282
SEA LIFE Arizona Aquarium
Address: 5000 S Arizona Mills Cir Suite 145, Tempe, AZ 85282
Sandra Day O'Connor House
Address: 1230 North College Avenue, Tempe, Arizona
Museums that have closed in Tempe, AZ
Innovation Gallery (currently closed)
Address: 900 Cady Mall, Tempe, AZ 85281
Halle Heart Children's Museum (permanently closed)
Address: 2929 S 48th St, Tempe, AZ 85282
Shop at these Tempe Outdoor Markets
Second Sundays on Mill
Dates: October-March, 10am-3pm
Address: Mill Avenue between 3rd and University
Experience the city's outdoor market where you can pick up all kinds of goodies, listen to live music and entertainment, and munch on a few snacks from vendors.
6th Street Market: CLOSED as of 2021
Dates: Every Sunday, November 3 – April 5
Address: Downtown Tempe
Casey Moore's Back Alley Market
Dates: varies (check Facebook Page for dates)
Address: 850 S Ash Ave, Tempe, AZ 85281
Homemade goods from artists, local products and vintage items are sold at this back alley market on select dates throughout the year at Casey Moore's Oyster House.
SINGH MEADOWS
Dates: open year round
Address: 1490 E Weber Dr, Tempe, AZ 85281
On my first visit to Tempe, I visited Singh Meadows. Part farmers market, part cafe, part outdoor venue for live music and casual gatherings with friends and family, it encapsulated the great things we look for when hunting out small town vibes so many of us from big cities crave.
The cafe had some of the most beautiful food I've ever eaten on the menu, including a beet avocado toast that was just the right size with a salad's worth of fresh veggies on top.
ASU Farmers Market
Dates: September to November Mon: 9:00 AM-2:00 PM; January to April Mon: 9:00 AM-2:00 PM
Address: 300 E Orange Mall, Tempe, AZ 85281
Weekly marketing offering up the usual produce and baked goods you will find at farmers markets around the country that making eating well at an affordable price easy to do.
Little Cholla Market
Dates: February through May
Address: 1330 S. River Dr., Tempe, AZ 85281
Every Thursday from 6-9 p.m., visit the Little Cholla Market for a farmers market, food trucks, shopping and music at the first car-free neighborhood, Culdesac Tempe.
Cesar Chavez Day: Produce Market at the Desert Botanical Garden
Dates: last weekend in March (10am-1pm)
Address: Steele Herb Garden, 1201 N. Galvin Pkwy., Phoenix, AZ 85008
Enjoy this once a year farmers market during DESERT SOL at the Desert Botanical Garden during the first half of April. Shop for produce grown by local vendors, enjoy cooking demos and food tastings with live music.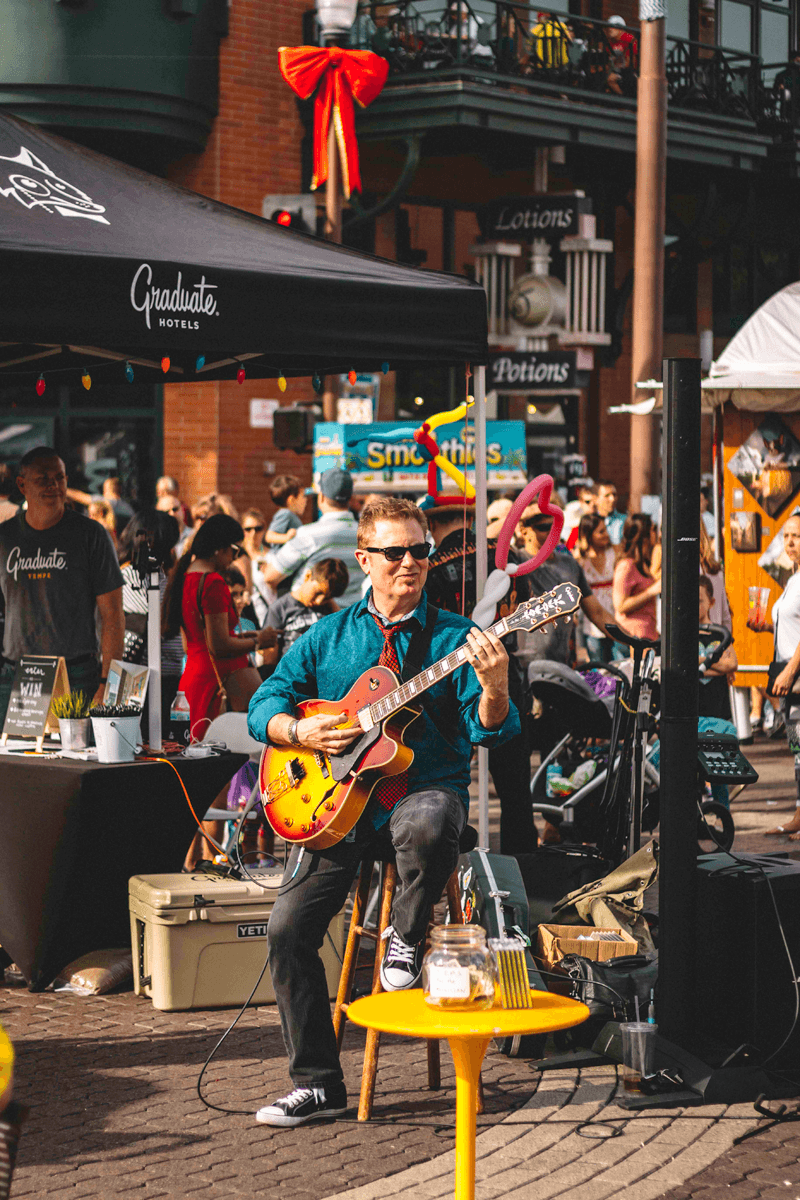 Tempe Festival of the Arts
Address: Hayden Station, 1 W Rio Salado Pkwy, Tempe, AZ 85281
As one of the Top 100 Classic & Contemporary Craft Shows in the country, and winner of the Pinnacle Award from the International Festival and Events Association, the Tempe Festival of the Arts is eagerly anticipated each spring and late fall. Locals and visitors can browse 350 artist booths along Mill Avenue and the surrounding streets showing off locally-made and handmade items perfect for your home and gifts for friends and family.
The fall Festival of the Arts is the perfect spot to find unique gifts for the holidays too as it always happens in early December, just after Thanksgiving.
Tempe Spring Festival of the Arts
Dates: last weekend in March
Tempe Fall Festival of the Arts in Downtown Tempe
Dates: First weekend in December
Tempe Marketplace
Dates: open year round
Address: 2000 E Rio Salado Pkwy, Tempe, AZ 85281
Ok, so Tempe Marketplace is more of a mall than a street market, but you can still wander around outdoors between shops. Find your favorite chains like, Sephora, H&M, Tilly's, plus loads more shops and restaurants.
Arizona Mills
Dates: open year round
Address: 5000 S Arizona Mills Cir, Tempe, AZ 85282
Arizona Mills is more of a traditional mall for anyone from the east coast. You'll find all of the big name stores all under one roof, as well as LEGOland Discover Center and Sea Life Aquarium. Plus, it has the largest IMAX theater in the state of Arizona.
Search out the Street Art and Murals in Tempe
Tempe Street Art Murals
Get Together Tempe: Northeast corner of McClintock and University Drives
The Greats Wall: At Tempe Town Center near H&M, across from Bath & Body Works.
Punos de Tierra: 220 W University Dr
Valley Rockstar Memorial: 1992 E. Richards Dr., Tempe, AZ 85283
Dreams on Pause: Danelle Plaza, 3400 S. Mill Ave., Tempe, AZ 85282
Amazed Baby: Danelle Plaza, 3400 S. Mill Ave., Tempe, AZ 85282
Woman in a Dream III: 1700 S. College Ave., Tempe, AZ 85281
Rangoli Sunrise: The Dhaba, 1827 E. Apache Blvd., Tempe, AZ 85281
El Valle del Sol: Tempe Marketplace, 2000 E. Rio Salado Pkwy., Tempe, AZ 85281
The Tempest Mural: The Tempest Hotel on University Drive between Dorsey Lane and McClintock Drive.
Meet Me at Daley Park: On College Avenue between Broadway Road and Apache Boulevard
"AMERICA. AMERICAN. AMERICANS: Mill Avenue between 13th Street and Broadway across from Tempe St. Luke's Hospital
Woman in a Dream: Mill Avenue and 9th Street on the backside of University Inn & Suites 
Don't Wake the Dreamer: Hardy Drive and 5th Street next to Jaycee Park
You Are Amazing: Beck Avenue south of University Drive at the corner of Beck Avenue and Laird Street
Bike Rack Murals in Tempe
Bicycle Rack: 700 S Mill Ave
Bicycle Rack 2: 700 S Mill Ave
Bicycle Storage Locker: 21 E 6th St
Bird Bike Locker: 31 E 5th St
Utility Box Murals in Tempe
Be the Good; 600 S Mill Ave
Color Perspective: W Rio Salado Pkwy
Day Dreaming at Tempe Town Lake: 700 S Mill Ave
Greetings from Tempe: 521 S Mill Ave
Imagine: 300 S Ash Ave
Mill District: 300 S Mill Ave
Project: Spread the Love: 730 S Mill Ave
She Tempe: Mill Ave
Sonoran Afternoon: 400 S Mill Ave
Tempe Roots: 500 S Mill Ave
Tempe Shrine: S Mill Ave
Tempe Transitioning: 500 Ash Ave
Sculptures and Outdoor Art Installations in Tempe
A Progression of Transport: 222 S Mill Ave
Above the Crowd: 521 S Mill Ave
Charles Trumbull Hayden Memorial: 140 E 5th St
Earth Quilt: 521 S Mill Ave
Kinetic Sky: 700 S Mill Ave
Metal Gateway: 700 W Rio Salado Pkwy
Duet: 111 W Rio Salado Pkwy
Organic Reunion: 31 W 5th St
Origami Garden: 200 E 5th St
Plaza Reflector Lights: 521 S Mill Ave
The Resolana Project: 714 S College Ave
Roadrunner: 699 S Mill Ave
Solar Time: 521 S Mill Ave
Three Blacktail Jackrabbits: 700 S Mill Ave
Tributary and Crossing: 60 E Rio Salado Pkwy
Twelve Purple Benches: 132 E 6th St
Unknown: 500 College Ave
Untitled: 31 E 5th St
Untitled: 655 S Ash Ave
Ventana: 700 S Mill Ave
Voices of Tempe: 200 E 5th St
Waiting for a Date: 230 E University Dr
Ye Olde Bandersnatch: 125 E 5th St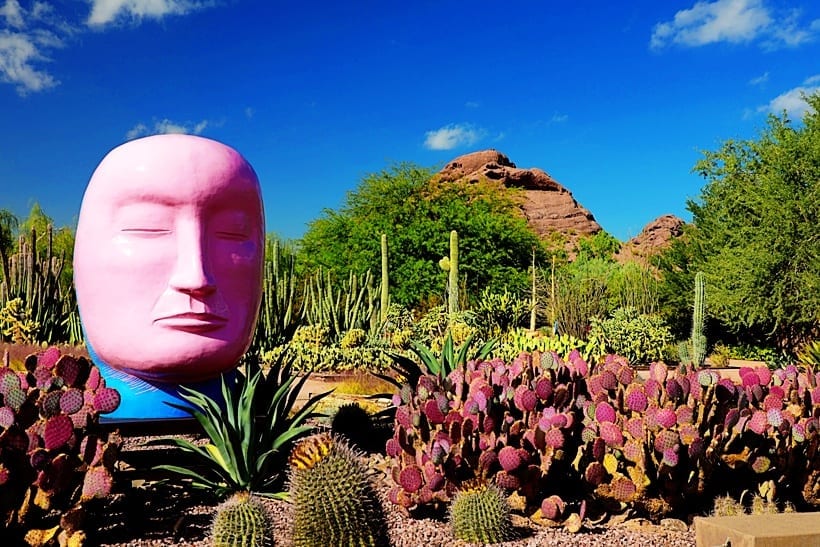 Learn about Arizona's nature at the Desert Botanical Garden
Address: 1201 N Galvin Pkwy, Phoenix, AZ 85008
One mistake many visitors make is thinking they know the desert when they see palm trees. Palm trees actually aren't native to the desert.
To get a better idea of the native plants in the desert, head to the Desert Botanical Garden for a wealth of desert plants and local flowers native to the area. The butterfly pavilion is a large space to reconnect with the gentler creatures in our ecosystem, and can bring out the little girl in all of us, especially if one lands on you.
Best of all, the botanical garden is right next to the Phoenix Zoo, so you can do both top things to do in Tempe while there.
Desert Botanical Gardens Art Exhibitions
Installation art exhibits, like the past exhibit by Jun Kaneko, incorporate modern art with natural elements, creating a seamless outdoor art museum. Whenever I'm in town, I love to see which artists are being featured and how they have used the natural landscape as a frame for their work.
Desert Botanical Garden Annual Events
Devour Culinary Classic (February)
Dog Days at the Garden (select Saturdays February-May)
Music in the Garden (February- May)
Fund the Farm (March)
Desert Botanical Garden Spring Plant Sale (mid-March)
Desert Sol (end of March + mid-April and other select dates)
Majestic Mariposas (March-mid-May)
Dinner on the Desert (April)
Loteria Night (monthly)
Go on a Self-Guided Walking Tour of the ASU Tempe Campus
You can't go to Tempe, AZ without taking a walk through the campus. While guided tours are offered through the college, these are generally geared towards students looking to attend Arizona State.
For the general public, there are a few spots and venues on campus you can walk by to get a look at why this historic campus (established in 1885) is so popular on Instagram, and beautiful to visit.
Palm Walk: a century-old walk through a line of palm trees located right in the middle of campus
"Air Apparent": Skyspace designed by James Turrell: can be found across the Terrace Road from the Gallery of Scientific Exploration
Old Main: the oldest original campus building
Secret Garden: 1001 S. Forest Mall, Tempe, AZ 85281
Sun Devil Stadium: walk around the exterior of the most iconic sports venue in Tempe.
Gammage Auditorium: Designed by Frank Lloyd Wright
Sports in Tempe Arizona
ASU Sports
ASU dominates the sports scene in Tempe and for good reason. The Sun Devils not only represent the Men's hockey team, but also the men's football team, baseball, basketball, cross country, golf, ice hockey, swimming & diving, tennis, track & field, and wrestling.
And let's not forget about the women's sports teams, which actually outnumber the men's teams. Check out the women's basketball, beach volleyball, cross country, golf, gymnastics, lacrosse, soccer, softball, swimming & diving, tennis, track & field, triathlon, volleyball and water polo teams next time you are in town.
ASU Sun Devils Football
Address: Sun Devil Stadium, 500 E Veterans Way, Tempe, AZ 85287
Naturally, the ASU Sun Devils Football team draws in the biggest crowds, and money from alumni. As a Pac-12 team, they play from August to December, ending with the Pac-12 Championship Game.
Crowds are boisterous and the rivalry is fierce between ASU and the University of Arizona Wildcats, so much so that ASU students camp out to protect the "A" on "A" mountain so that the UA Wildcats don't repaint the "A" that is normally yellow to their own school colors.
NHL Arizona Coyotes
Address: ASU's Mullett Arena (through 2024 season)
NHL hockey fans rejoice– you can see a match when you come to Tempe, AZ. The Arizona Coyotes play in ASU's hockey arena, making it easy to squeeze in a match while you are in town. Whether you like the Coyotes or they are playing your home team, it's worth looking at the schedule.
Phoenix Rising FC
Address: Phoenix Rising FC Soccer Complex at Wild Horse Pass, 3801 E Washington St, Phoenix, AZ 85034 (new pop-up stadium in Phoenix next to Sky Harbor International Airport)
Season: March-October
You may be thinking this United Soccer League team (second tear to the MLS) plays in Phoenix, but it's actually close to the airport and halfway between downtown Phoenix and Tempe. So… I'd say you can claim it as a thing to do in Tempe, AZ. We are a soccer family, so we make excuses to see more matches whenever possible.
Discover the Tempe Theater scene
ASU Gammage Broadway in Tempe AZ
Address: 1200 S Forest Ave, Tempe, AZ 85281
Tempe has the only Tony-voting member in Arizona, which means she has a bit of pull to get the best Broadway shows to the ASU Gammage, a 3,000-seat theater designed by Frank Lloyd Wright. Shows like Something Rotten, Les Miserables, Frozen, and yes, Hamilton, travel through and are performed at this architecturally significant venue.
You won't see these shows in Phoenix, which means everyone is coming into Tempe to catch a show. Make sure you buy your tickets before you get to town
Harkins Valley Art Theatre
Address: 509 S Mill Ave, Tempe, AZ 85281
If you love movies, you will want to check out one of the last single-screen movie theaters in Arizona.
The Marquee Theatre
Address: 730 N Mill Ave, Tempe, AZ 85281
Ballet Arizona
Dates: season runs February-June
Address: 2835 E Washington St, Phoenix, AZ 85034
Tempe Improv Comedy Theatre
Dates: season runs February-June
Address: 2835 E Washington St, Phoenix, AZ 85034
Who doesn't love a solid comedy show? I know we always jump at a chance to see live comedy, especially when it's improv. Big names like Damon Wayans Jr. and Mike Epps take the stage, as well as group shows like the "Coming to the Stage," featuring local talent from the Phoenix comedy circuit.
Tempe Center for the Arts
Address: 700 W Rio Salado Pkwy, Tempe, AZ 85281
Tempe Center for the Arts offers up several events throughout the year, but the building itself is worth visiting if you are in town when nothing is happening inside. There is also a ton of art around Tempe Center for the Arts, which you can find and learn more about via this map the city created.
Regular performance series include the TCA Presents series (acts like The Suffer, Pokey LaFarge, and Grammy winner Samara Joy), Walk-In Wednesdays Open Mic Nights, 48 Live (featuring local Arizona artists), and of course, the resident artists and performing groups– Arizona Wind Symphony, CONDER/dance, Desert Dance, Hayden's Ferry Chamber Music Series, Stray Cat Theatre, Tempe Comedy Series, and the Tempe Symphony Orchestra.
For those visiting on a budget, you can catch "Performance with a View," a free mid-morning (10am) concert featuring ASU guests artists playing in the Lakeside Room, which looks over Tempe Town Lake.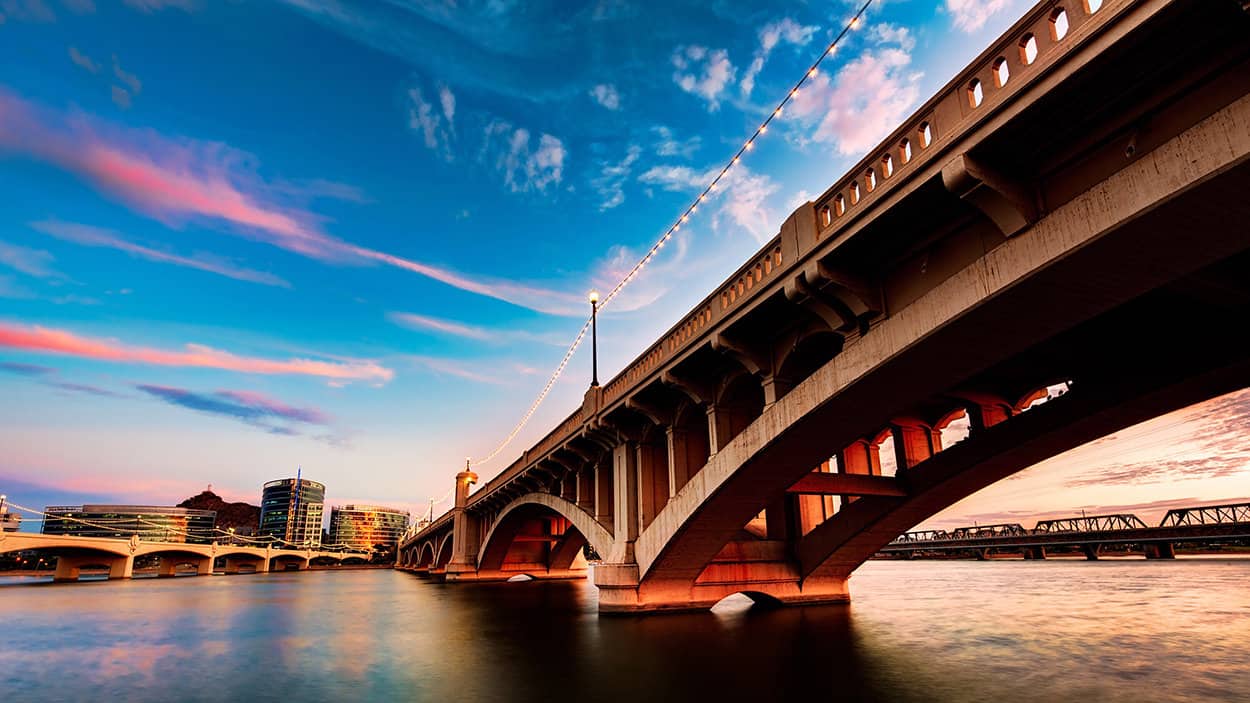 Tempe Tours to Book
Where to Watch the Sunrise in Tempe
A-Mountain
South Mountain Park
Hole in the Rock at Papago Park
Rooftop of AC Hotel Tempe (only accessible to guests)
Tempe Town Lake
Where to Watch the Sunset in Tempe
Tempe Beach Park
Hole in the Rock at Papago Park
Top of the Rock at the Marriott Resort
Sunset Horseback ride at KOLI Equestrian Center
Elmore Pedestrian Bridge
Annual Events in Tempe Arizona
"A" Mountain Challenge
Dates: mid-March through April
The "A" Mountain Challenge is a 7-week hiking, walking or running challenge
AIDS Walk Arizona Festival & 5K Run
Dates: Last Saturday in April
Address: Tempe Town Lake and Tempe Beach Park
Los Angeles Angels Spring Training Games
Dates: end of February-end of March
Address: Tempe Diablo Stadium
Arizona Aloha Festival
Dates: Second weekend in March
Address: Tempe Town Lake and Tempe Beach Park
Arizona Dragon Boat Festival
Dates: Last weekend in March
Address: Tempe Town Lake and Tempe Beach Park
Arizona Gay Rodeo
Dates: February
Address: Corona Ranch, 7611 S. 29th Avenue, Lavene, AZ 85339
Arizona Renaissance Festival
Dates: February through early April
Address: 12601 US-60, Gold Canyon, AZ 85118 (east of Tempe)
ASU Pow Wow
Dates: Late February
Address: ASU 365 Community Union, 500 E Veterans Way, Tempe, AZ 85287
ASU Football Season
Dates: August-Thanksgiving
Address: ASU Sun Devil Stadium, 500 E Veterans Way, Tempe, AZ 85287
Fantasy of Lights Street Parade + Tree Lighting
Dates: late November
Address: Downtown Tempe at 3rd St. and Mill Ave.
Fantasy of Lights Boat Parade
Dates: late November
Address: Tempe Town Lake
Foodie FriYAYs
Dates: Fridays in April/May
Address: Tempe Beach Park (80 W Rio Salado Pkwy)
Hayden's Ferry Days
Dates: First weekend in Mach
Address: Tempe History Museum. 809 E. Southern Ave. Tempe, Arizona 85282
Halloween Stroll
Dates: October
Address: 6th Street Park in Downtown Tempe
Innings Festival at Tempe Beach Park
Dates: late February
Address: Tempe Town Lake and Tempe Beach Park
Juneteenth Celebration
Dates: June
Address: watch website for more details each year
Live Music at Tempe Marketplace
Dates: varies (see website)
Address: 2000 E Rio Salado Pkwy, Tempe, AZ 85281
Menorah Lighting
Dates: December
Address: 6th Street Park
Miss & Mister Phoenix Pride Pageant 2023
Dates: Second weekend in March
Address: Tempe Center for the Arts
Movies on the Field at ASU Sun Devil Stadium
Dates: various dates throughout the year
Address: ASU Community Union
Park After Dark – A Summer Event Series
Dates: 2nd and 4th Saturdays in Summer
Address: 6th Street Park
Pat's Run
Dates: Mid-April
Address: ASU Sun Devil Stadium/Frank Kush Field
Check out our Favorite Tempe Restaurants
Lavender Dog cocktail? A city who loves the Moscow mules? Chefs who know how to deal with gluten issues and allergies, make a mean steak, but serve up a killer ahi tuna poke? And the town is constantly battling it out over which shop has the best ice cream sandwich? I mean come on.
If I haven't convinced you to go to Tempe just to eat then I don't know what will. Local chefs are mixing up fresh ingredients on a daily basis. Authentic Mexican food can actually be found (not Tex-Mex, but real Mexican).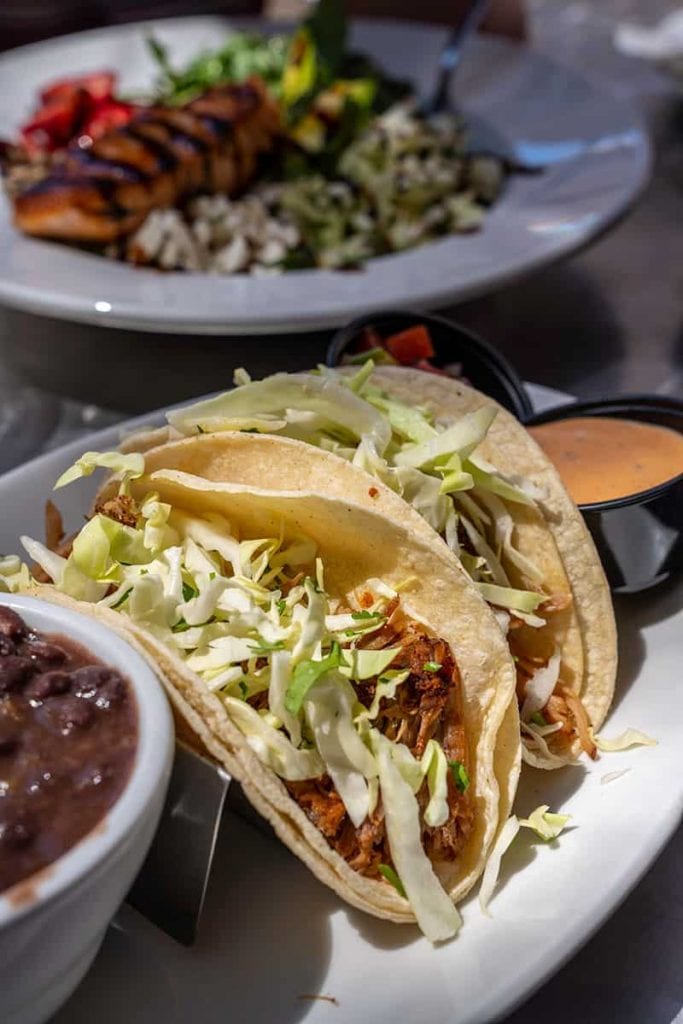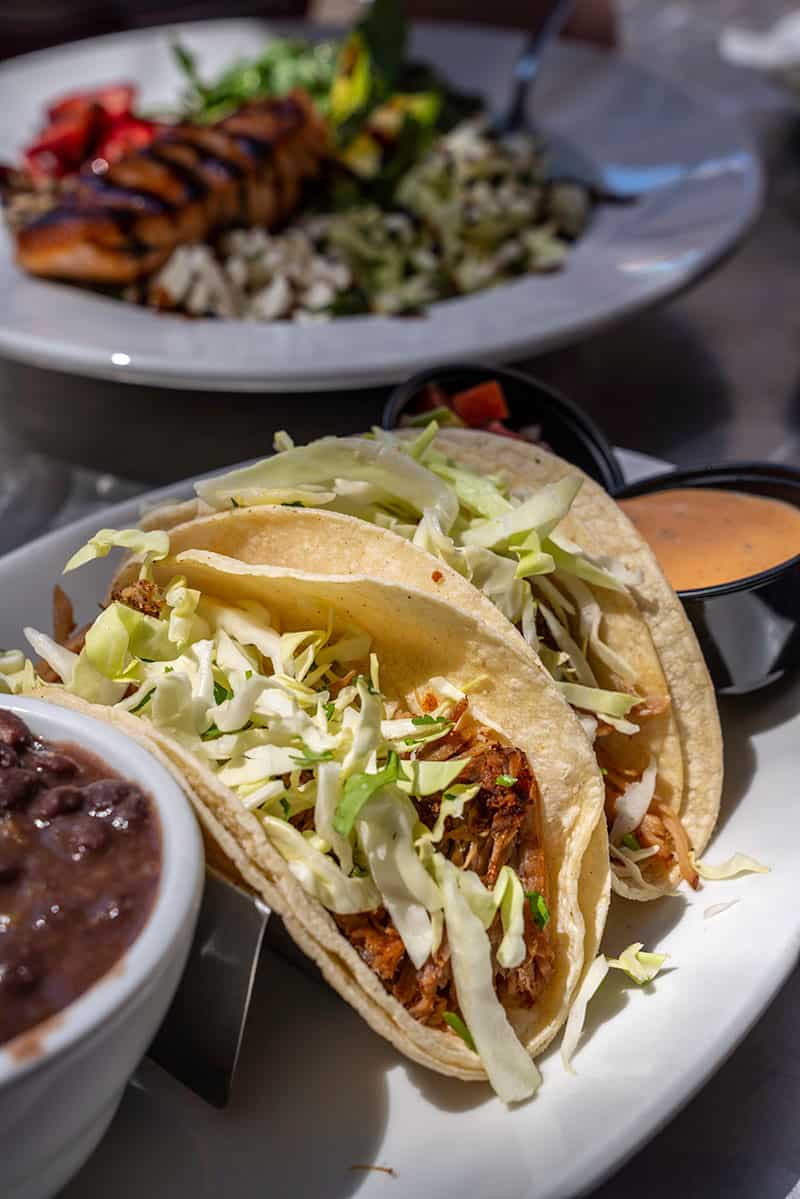 I don't know about you, but I find that college towns have some of the best up and coming food scenes in the nation. Alumni stick around to try out a new restaurant concept.Perhaps rents are cheaper or restaurant groups know that they have a willing audience to test out the latest food craze. Either way, Tempe is no exception to the college food town phenomenon.
Coffee shops, breakfast, lunch and dinner provide great options for healthy (and not so healthy) options, whether you need to satisfy your carnivorous cravings, a gluten intolerance or have to stick to your vegan diet. Ice cream sandwich joints have popped up, and you may just have to taste them all to pick your favorite.
It's a burden we all have to bear. Are you up to the challenge?
Looking for a great happy hour activity? Check out the EDGE at the TCA, where you will find great drink prices, appetizers and outdoor live music everyone will enjoy.
Not sure where to go? Read our Tempe Restaurant guide now!
Go on a Beer Tour at these Tempe Breweries and Brewpubs
Pedal Haus Brewery
Four Peaks Brewing Company
Fate Brewing Company – Tempe
Huss Brewing Tempe Taproom
The Shop Beer Co.
Hundred Mile Brewing Company
Four Peaks Wilson
HELLUVA Brewing Company
Sip Your Way through these Tempe Distilleries
Wild Hare Distillery, LLC
Arizona Distilling Company
Adventurous Stills
CaskWerks Distilling Co.- closed
Sample the desserts of Tempe
TDOriginals and ODV Wines
Slickables Ice Cream Sandwich
Insomnia Cookies
Sparky's Old Town Creamery
Sweet Desert Cafe
Honeymoon Sweets Bakery
Sweet Republic
The Paleta Bar Tempe
Mochinut Tempe
Joe's Italian Ice
what's the scoop!?
Squarz Bakery & Cafe
Quick Guide to the Best Hotels in Tempe Arizona
Finding just the right hotel when you fly into Tempe, AZ can be a bit like Goldilocks trying to find the right bed at the three little bears' house. One may be perfect for kids, while the other is a great spot for a girls' getaway. While we do believe hotels can cater to multiple types of travelers, sometimes, one really does fit better than another.
We are breaking down some of the best hotels in Tempe based on your style, why you are traveling and who is traveling with you. Naturally, outdoor pools are all the rage, but we want to know who has a business center, fitness centers, shuttle service, and free WiFi to keep you connected your entire trip.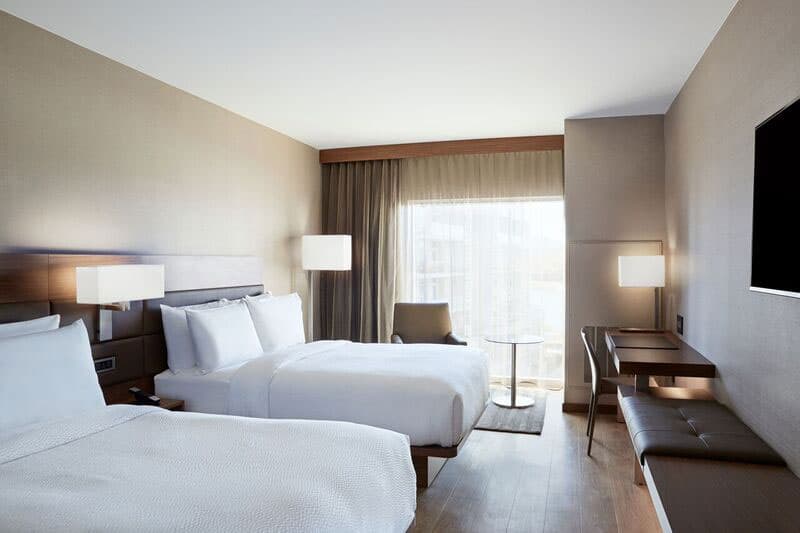 AC HOTEL BY MARRIOTT PHOENIX TEMPE DOWNTOWN: BUSINESS TRAVELER
Address: 100 E Rio Salado Pkwy, Tempe, AZ 85281
Located right on Tempe Town Lake, the Ace Hotel by Marriott is one of the newer properties in town. Excellent coffee is just steps outside of the door at Romancing the Bean, as well as a great jogging path along Tempe Town Lake for your morning run. You can also rent a kayak or paddle board if you prefer to get your exercise on the water.
The rooftop pool offers magnificent views over the city, where you can work on your tan in between meetings. The lobby restaurant is an excellent spot to meet up with clients for a drink, or strategize with colleagues over breakfast before a presentation in the morning.
Rooms with a king bed and pull-out sofa, two double beds, or a king suite with balcony are all available to book. Snag a room with a lake view for a gorgeous start to every morning. Because you are off the main drag, the rooms tend to be quieter than those right on South Mill Ave. However, the hotel is near the airplane path of flights landing at Phoenix Sky Harbor, so we do recommend a sound machine or earplugs if you are a light sleeper.
Amenities:
Smoke-free property
Complimentary water
Mini-fridge in room
Free WiFi
Bed frame power outlets
Heated rooftop pool (towels provided)
DINING OPTIONS:
Convenience Store selling limited goods on site
AC Lounge
AC Dining
Off-site dining within easy driving distance or walk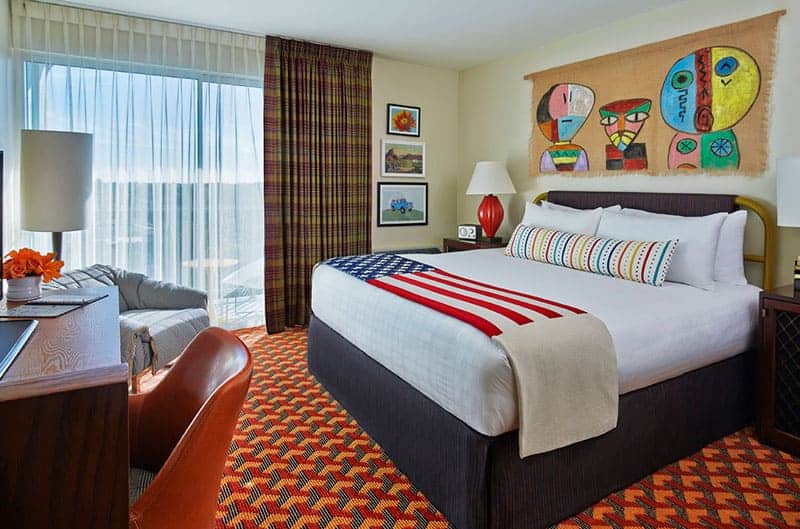 GRADUATE TEMPE: ARTS AND BROADWAY ENTHUSIASTS
Address: 225 E Apache Blvd, Tempe, AZ 85281
Anyone who has ever stayed near a major university knows about the Graduate hotel line. It's a funky boutique hotel that always likes to pay homage to the school nearby. While in Charlottesville, VA, we got a taste of this brand, their hotel room keycards that look like student I.D.s, funky Virginian, upper crust antiques and the library card catalog front desk.
Guests at the Graduate Tempe can expect an equal level of of fun with a nod to southwest style. The hotel is within walking distance of the ASU Gammage, where Arizonians flock to see Broadway shows, like Hamilton, Wicked and Come From Away. Think Phoenix gets all those big Broadway musicals? Think again. Tempe is the only spot to see these top shows in Arizona.
Not sure where to eat? Grab our Tempe Restaurant guide!
Rooms range from King, one queen to double queen beds with Garden or Campus views. The pool will cool you down in the desert heat, while "The Normal" restaurant will keep you fed from breakfast to dinner.
Amenities:
Complimentary bike rentals
Outdoor pool and hot tub
Pet Friendly
24-hour fitness center
Shuttle Service around town and to the airport (based on availability)
Loaner headphones (custom LSTN headphones to listen to your tunes!)
Dining:
The Normal Restaurant: offers breakfast through dinner and drinks, plus vegan and gluten-free options.
RESIDENCE INN TEMPE DOWNTOWN: TRAVELING WITH KIDS
Address: 510 S Forest Ave, Tempe, AZ 85281
Nestled just a 3-minute walk (or one minute drive) off of South Mill Avenue, the Residence Inn Tempe is perfect for families visiting Tempe. Parents with hungry, growing children will rejoice at the all-you-can-eat complimentary breakfast each morning. Kids will whoop with glee when they see the rooftop pool and hot tub. Don't worry mom, there are plenty of shady spots to hide out in if you need to protect your skin from the desert sun.
Guest rooms can be booked as Studios, One-Bedroom or Two-bedroom suites, including a kitchen with refrigerator and microwave. The living room includes a pull-out couch if the kids just can't share a bed any longer. All rooms come with a balcony option. Ask for a room facing "A" Mountain. Your kids will spend endless minutes making jokes while you make your morning coffee.
Amenities:
Smoke-free policy
Apartment style suites
Private balconies in select rooms
Free WiFi
Free grocery shopping service
24/7 Fitness Center
Rooftop heated pool (towels provided)
Rent car office on site
Dining:
Small convenience/sundry shop
Complimentary hot buffet breakfast each morning
The Residence Inn Mix (3 nights a week mingling and nibbles)
Walking distance to most of the city's top restaurants
TEMPE MISSION PALMS HOTEL: GIRLS GETAWAY
Address: 60 E 5th St, Tempe, AZ 85281
When the girls get together, you can't stay just anywhere. No. You need a hotel with a little extra something, and the Tempe Mission Palms Hotel is where it is at. Pull into the circular drive, leave your car with the valet, and get ready to step into a desert oasis.
Deluxe king rooms up to one-bedroom suites are available for you and the girls to kick off your shoes, binge watch Big Little Liars on HBONow and sleep off all of those margaritas you were sipping at the Cabana Bar & Grill by the pool. If you happened to bring your pup under 50lbs, he or she is welcome to snuggle up with you to for a nominal fee.
This Tempe hotel is just steps from South Mill Ave, which means you don't have to worry about driving to any of the top dining spots around town. Want to pop into Phoenix and Mesa? The Valley Metro light rail train is just feet from the hotel as well. So, park your car and enjoy just how convenient Tempe is as your home base when you come to catch up with friends.
Shopping is close at hand, but so is the natural beauty of Tempe, including Tempe Beach Park. Grab a kayak to enjoy the lake with your friends, or simply sip a Moscow Mule on the deck of Tempe Center for the Arts during on of their live music nights.
Amenities:
NEST Fragrances Scented Bath Products
Mini-Fridge in room
Airport transfers
Valet parking
Workout facility
Internet access
Garden courtyard
Rooftop heated pool plus two hot tubs
Rental car office on site
Dining:
Mission Grille restaurant
Cabana Bar & Grill
Harry's Place
Tempe Planning Checklist
Frequently Asked Questions about Tempe Arizona (FAQ)
How to pronounce Tempe Arizona?
tem-PEE
Where is Tempe, Arizona?
Tempe lies in central Arizona along the Salt River in the East Valley section of metropolitan Phoenix. Just east of Phoenix and south of Scottsdale, Tempe is the perfect spot to set up if you want to see a few spots in Arizona.
What county is Tempe Arizona?
Maricopa County
What is Tempe AZ known for?
Tempe, AZ is home to Arizona State University, which is by far the largest employer in Tempe and what draws most people to town. There are also several healthcare, tech and business companies that call the thriving city of Tempe home, including GoDaddy! and ADP.
What's the temperature in Tempe Arizona?
November through March Tempe averages in the mid-60s to high- 70 degrees, while April through October you will see temperatures climb, getting unto the 100s during the summer months.
What timezone is Tempe?
Tempe is in the Mountain Time Zone, and does not participate in Daylight Saving Time. As a whole, Arizona does not observe Daylight saving time; only the Navajo Nation participates in this yearly time change (spring forward and fall back).
How far is Tempe Arizona from Phoenix Arizona?
Tempe is about a 20 minute drive from Phoenix. You could walk for about three hours or bike between the cities in about an hour. Public transportation will take a minimum of one hour, although usually is closer to two hours between walking and changing trains, trams, etc.
Is Tempe Arizona safe?
Tempe is a small town, but does attract more crime, especially around the ASU campus. Use your common sense when wandering around town.
Is Tempe safe at night?
When traveling at night, be aware of your surroundings, walk with a friend and use your common sense (AKA stay out of dark alleyways).
This post may contain affiliate links. If you make a purchase after clicking one of those links I will receive a small commission; the price will not change for you.