A weekend in Palm Springs, CA might feel like a luxury (I mean, Frank Sinatra and other Hollywood stars did used to come here, and still do), but it is also super easy to plan an escape to this perfect place for a girls' getaway, couples weekend, short family escape or when you want to celebrate a special occasion. 
Over the winter, I met up with a friend to enjoy a little pampering before the holidays. We ate delicious food, sipped flavorful craft cocktails, shopped until we dropped, gazed at mountain views, and even snuck in a nap (yes parents– an actual nap!).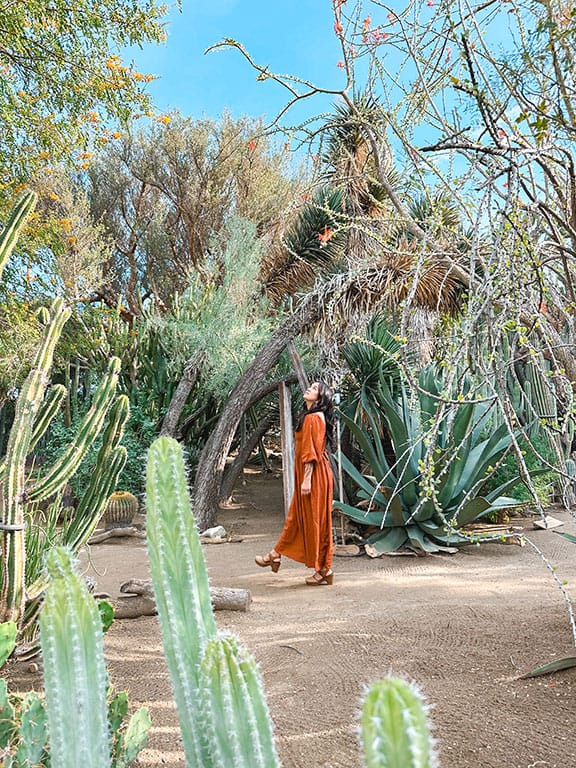 While we skipped the Palm Springs aerial tramway (we simply ran out of time), we did see a whole lot of the area in a short amount of time.
How to plan a weekend in Greater Palm Springs
When it comes to planning a 3-day trip to Palm Springs (located in Riverside county, California), we have you covered. Whether it's a long weekend or in the middle of the week, you can find plenty of things to do in the Palm Springs area, including Palm Desert, Palm Springs and Rancho Mirage.
Best of all, a lot of it takes place outside because it doesn't rain very much in this California desert.
How to get to Palm Springs
You can easily get to Palm Springs by car, train or plane from Los Angeles, with nonstop flights coming in from San Diego, San Francisco, Seattle and many other airports across the country, especially west of the Rockies.
Driving to Palm Springs
If you live in southern California, driving is probably your best option when you want to get to Palm Springs. There are plenty of gas stations along the way and a few electric vehicle charging stations (with more being installed).
Is Palm Springs close to LA or San Diego?
The easy answer is YES. They are both easy to get to from LA or San Diego. Los Angeles is a tad closer, so the drive will be shorter, but San Diego isn't far behind.
LA to Palm Springs
Depending on where you are coming from in Los Angeles to drive to Palm Springs, you can take the 60 East or the 91 East (connecting to the 60 East) out of LA, connect to the 10 East and then into Palm Springs on the 111 South. 
It's pretty straight forward, and you will get a lot of desert mountain views as you drive. Just make sure you are always above half a tank of gas in case you get low in a spot where there are no gas stations or EV charging stations. 
San Diego to Palm Springs
From San Diego to Palm Springs you can take the 15 North to the 74 East, which hooks up with the 111 in Palm Desert.
You can also take the 15 North to 215 North, connecting to 60 East, the 10 East and then 111 South. 
Again, make sure you are at a full tank before you head into the desert and across the mountains to make sure you don't get stuck.
Amtrak Train to Palm Springs
You can take the Amtrak train to Palm Springs from Los Angeles  (LAX-PSN), which will drop you just outside of downtown. Grab a ride share to your hotel or pick up a rental car if you plan on wandering to Joshua Tree National Park. The train takes about two and a half hours and coach class will cost you under $20 each way. 
There is a train from San Francisco to Palm Springs, but it will take you about 18 hours and three different transfers to get there. It would be cheaper and faster to fly or drive to Palm Springs. 
Flying to Palm Springs
Palm Springs DOES have an airport with a number of nonstop flights from other cities on the West Coast and plenty of connecting flights that can get you to Palm Springs to enjoy your vacation. 
Palm Springs International Airport (airport code PSP) is about ten minutes from downtown Palm Springs, and less than 20 minutes from Palm Desert, Rancho Mirage and Cathedral City.
It's a small enough airport that you can get from the curb to your gate, and even baggage claim to the onsite rental car desks, in mere minutes.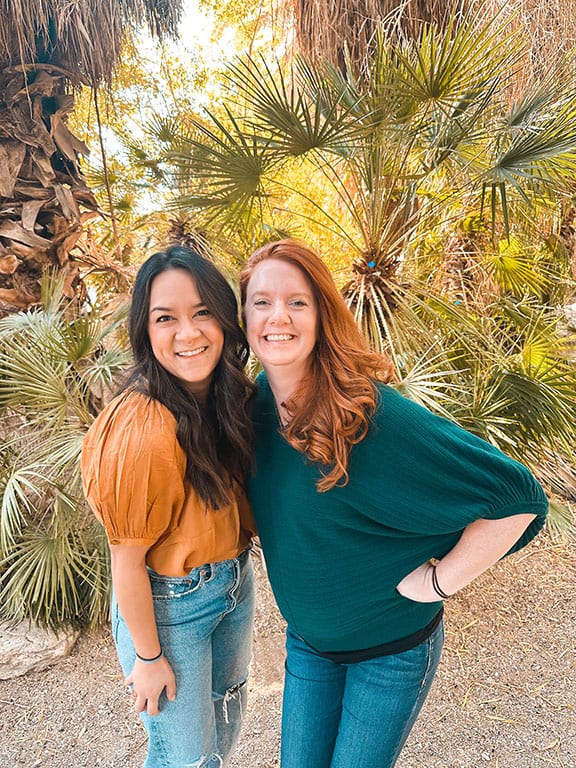 Weather in Palm Springs
Average temperature in Palm Springs
You can find the best weather in Palm Springs from about November through April, as temperatures tend to stay in the 70s, dipping down into the 40s at night in winter once the sunsets.
In March and April the weather starts to heat up into the 80s, and by May you are in the 90s and 100s until September. 
Does it rain in Palm Springs?
It doesn't really rain in Palm Springs, which is why so many people love the weather in Palm Springs, CA. Palm Springs gets an average of five inches of rain per year, most of which will happen in February, but even that is less than two inches.
March through November you probably won't see rain at all in Palm Springs. If you need to cool off though, you can head up to Joshua Tree where it tends to be cooler thanks to the elevation. Joshua Tree NPS is also the perfect add-on to any Palm Springs, California vacation.
What is the best time of year to go to Palm Springs?
While late spring hosts the Coachella Valley Music and Arts Festival, the best time to visit is November through March when it's cool enough during the day to go out on a hike without melting, but warm enough to be comfortable in a t-shirt and jeans. 
3 Days in Palm Springs
Day 1: Palm Springs + Rancho Mirage
Whether you fly in or drive, you can be in Palm Springs by lunch if you plan your travel right. From LA, you can leave after breakfast and pick up your friend from the airport by lunch, which is exactly what we did on our 3-day weekend in Greater Palm Springs.
Brunch at FARM
Address: 6 La Plaza, Palm Springs, CA 92262
FARM is one of our favorite restaurants in Palm Springs to kick off any girls' getaway to the area. The cocktails are gorgeous, and the food is always on point, using local ingredients, especially brunch.
If French toast is an option, order it. Even if you both get a protein entree and French toast to share in the middle, it is worth it.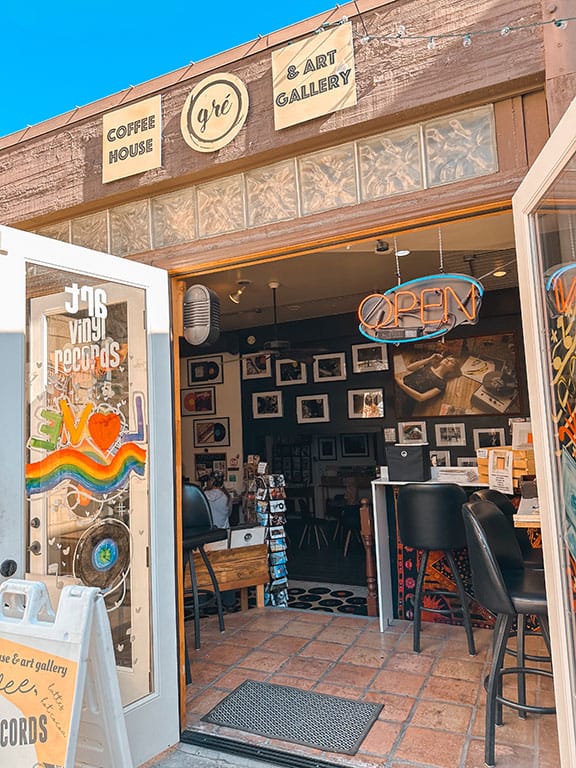 Things to do in Palm Springs California
Since it's your first day in town, you will want to get a lay of the land. Check into your hotel, check out the local coffee shops in Palm Springs, do a bit of shopping and stroll around the public art.
Gré Records & Coffee
Address: Henry Frank Arcade, 278 N Palm Canyon Dr C, Palm Springs, CA 92262
If you are in need of a further pick me up after brunch, hop over to Gré Records & Coffee (AKA Gré Coffeehouse & Art Gallery) to browse the record collection and grab a coffee to go. The staff is friendly, there is a restroom inside, plus plenty of seating to relax and catch up with friends while the vinyl spins. 
Shopping in Downtown Palm Springs
Shopping in Palm Springs includes lots of touristy items, but there are some true gems in the form of vintage shops that can be found as well. Plus, you will get the usual Anthropologie, Free People, Gap and more, which we never say no to when shopping without kids. 
Palm Springs Art Museum
Address: 101 N Museum Dr, Palm Springs, CA 92262
Hours: closed Monday-Wednesday
Opened in 1938 as the Palm Springs Desert Museum, and in 2005 being officially renamed, the Palm Springs Art Museum has long been the premiere desert museum in California.
Their main collections include Art in the West of the Americas, the Modern and Contemporary collection, and of course this being Palm Springs, which is known for their mid-century architecture, an Architecture and Design collection. 
The museum features multiple exhibitions each year, bringing in works of art from across the country and around the globe. Past shows have included collaborative projects featuring multiple artists like "The Modern Chair" and "Storm of Hope: Law and Disorder," as well as featuring individual artists in their own shows, like John Divola, Helen Frankenthaler and Gonzalo Lebrija.
Reserved tickets are highly recommended and can be bought online here. 
Outdoor Sculpture Walk in Palm Springs
Address: start at "Forever Marilyn," on the corner of Museum Way and Belardo Road, Palm Springs, CA 92262
One of my favorite things to do in Palm Springs is wander around the outdoor sculptures. Palm Springs doesn't do anything small either. Their public art tends to be HUGE and easy to spot.
Most of the art is located around the Palm Springs Art Museum. I highly recommend you check out the installations during the day AND at night, as they give you a different vibe depending on the light. 
Our favorites? Well, you can never go wrong with "Forever Marilyn" by Seward Johnson, a giant statue of Marilyn Monroe . You can walk around Marilyn as she strikes one of her most memorable poses from Billy Wilder's 1955 film "The Seven Year Itch," with her white dress flying up all around her.
And in case you are wondering, yes, Marilyn has underwear on.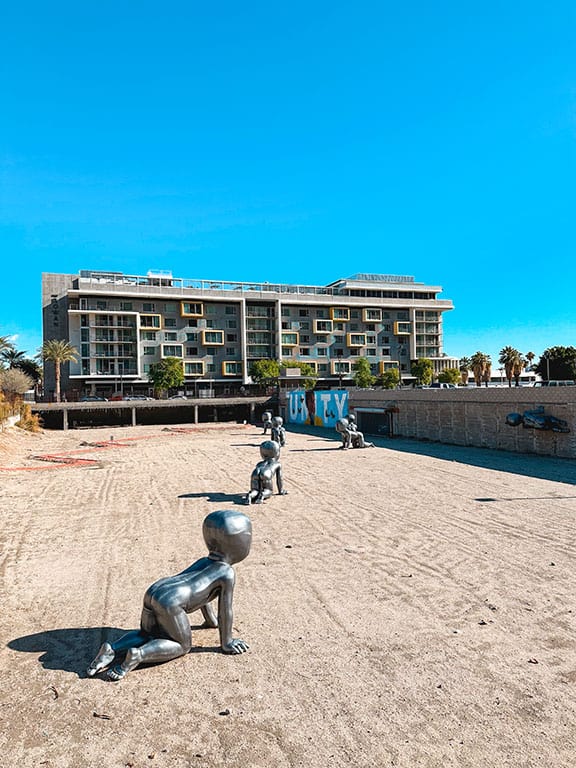 My other favorite was The Černý "Babies", Palm Springs Exhibit, which was on loan from a museum in Prague. There is nothing creepier than walking by a building and seeing giant metal babies with barcodes on their faces crawling around.
Sadly, this was not a permanent outdoor exhibit. Don't dispair though; the city gets loads of famous artists displaying their work throughout the year, so you are sure to see something else that inspires (or creeps) you out. 
Faye Sarkowsky Sculpture Garden
Address: 72-567 Highway 11, Palm Desert, CA 92260
If you loved the outdoor installation art pieces in downtown Palm Springs, don't forget to pop down to Faye Sarkowsky Sculpture Garden in Palm Desert where you will find more than 60 varieties of desert plants and 14 outdoor sculptures to explore.
The sculpture garden is open daily from sunrise to sunset.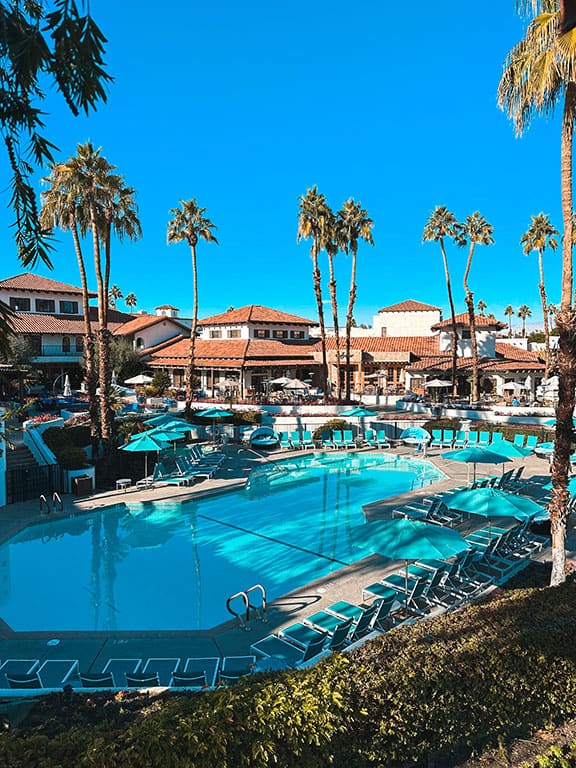 Check into the Omni Rancho Las Palmas Resort & Spa
Address: 41000 Bob Hope Dr, Rancho Mirage, CA 92270
If you are like me, and you love a resort atmosphere with spacious guest rooms, lush acres filled with outdoor swimming pools, tennis courts, a gift shop, resort restaurants onsite, and most importantly, a spa, you will want to book a stay at the Omni Rancho Las Palmas Resort & Spa in Rancho Mirage, CA, one of the best hotels and resorts in the Coachella Valley. 
As one of the premiere luxury Palm Springs hotels in the area, you will stay in one of several buildings throughout the property, all within easy walking distance of the lobby and main hub with the shop, restaurant, bar and cafe, plus the main pool and spa.
Our two-queen room was huge, and featured a tub/shower combo, walk-out balcony with views of the pond, palm trees and the golf courses. It also had a mini-fridge so we could chill a bottle of wine to enjoy on the balcony at night (or mimosas with our coffee in the morning!). 
The Omni Rancho Las Palmas is in the heart of Rancho Mirage, CA, and the perfect spot to set up when you want to explore not only Palm Springs, but all of the things to do in Palm Desert and Cathedral City as well.
When we wanted to grab dinner in downtown Palm Springs we were a quick 20 minute drive. Breakfast in Palm Desert (and shopping!) was just under 10 minutes away.
We could walk across the street to a shopping complex filled with stores, restaurants and bars too if we didn't want to wander far.  
Naptime!
Yes, you are allowed to nap when you are on vacation. Shocking, I know! But when we checked into the Omni Rancho Mirage and sat on those beds, we just had to collapse for an hour.
After driving 2 hours and an early morning flight to meet up, an hour of shuteye was well deserved. 
Cocktails at Dringk Eatery + Bar
Address: 71800 CA-111, Rancho Mirage, CA 92270
While not for everyone (there is a sign that reads "send nudes" behind the bar), Dringk is a great place to grab a cocktail before dinner. The weekday vibe is mellow with large couches perfect for groups and cozy seating areas for couples and friends. There is also a pool table if you are in the mood.
Weekends bring the DJ and an all out dance party for the 20-somethings of Greater Palm Springs. 
Dinner at Il Giardino
Address: 333 S Indian Canyon Dr, Palm Springs, CA 92262
Comfort food to me means Italian, and after an active day exploring Palm Springs, all we wanted was a nice glass of wine and a big bowl of pasta. Thankfully, Il Giardino could provide us with both.
Located just south of the main drag in Palm Springs, Il Giardino served up Italian and Sicilian cuisine, providing healthy portions of bolognese and homemade ragu over pasta, lasagna, burrata salad (along with several other salads), plus fish, filet mignon, shrimp and chicken entrees.
Don't forget to ask about the nightly specials before you settle on your meal, as they are always worth a bite. 
Day 2: Palm Desert CA
Rooftop Yoga at Power Yoga Palm Springs
Address: 333 N Palm Canyon Dr UNIT 214, Palm Springs, CA 92262
I'm a sucker for a good yoga class, despite not being a regular practitioner. I like to indulge in the fantasy that I am bendy when I'm traveling though.
Power Yoga Palm Springs has a rooftop yoga class that I can't wait to check out on our next visit. The outdoor class isn't always offered, so keep an eye on their website. 
Their studio is light and airy, giving you warm desert vibes throughout your class. Personally, there is no better way to start your day.
Coffee at Cartel Roasting Co.
Address: 1551 N Palm Canyon Dr, Palm Springs, CA 92262
If you love delicious coffee with a cheeky letter board, you need to pop into Cartel Roasting Co. for a cup of coffee, latte or a craft espresso drink.
Their specialty is filtered, pour over coffee, but they also offer fun concoctions like Honey Lavender Matcha, Sparkling Prickly Pear tonic, and cold brew in to-go cans. 
Brunch at Wilma & Frieda's Cafe
Address: 73575 El Paseo #2310, Palm Desert, CA 92260
Freshly made pop tarts- need I say more? Well, I could add in fluffy omelets, berry-filled French toast and a crazy grilled cheese for brunch, and it still wouldn't tell you all of the reasons we love Wilma & Frieda's in Palm Desert (there is also a location in Palm Springs). 
Best of all, Wilma & Frieda's is in the heart of the Palm Desert shopping scene. Park your car, fill up on brunch and then hit the shops.
Revive your Skin at The Body Deli
Address: 73910 CA-111 suite b, Palm Desert, CA 92260
If you are traveling with girlfriends, you don't want to skip a stop into The Body Deli in Palm Desert. This family-run skincare boutique has been making all-natural face cream, masks, body lotion, shampoo, conditioner and anti-aging serums for more than 20 years.
Co-founder and mother, Margaret Skarin Clark was a redhead who just couldn't find skincare that her body liked, often having adverse reactions to the products she picked up at the drugstore. With her partner David Anton Parker, she started a juice bar for your skin, extracting nutrients from the best ingredients to create a juice and smoothie bar for your body.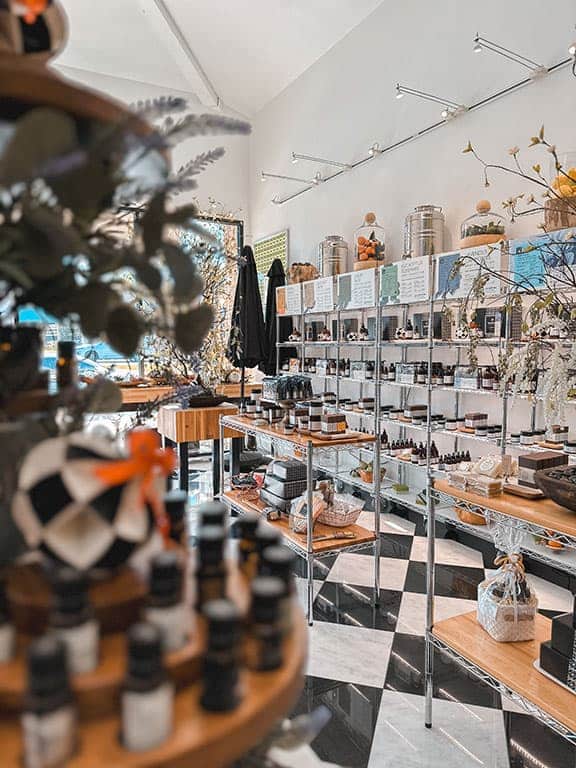 We had so much fun trying out several of the products, and were even given a few samples (customers get three samples max when they visit) to continue to test at home.
I couldn't help stocking up on a facial mask, which has to stay refrigerated to keep the ingredients as fresh as possible. The staff, which includes Clark's daughter, have small ice packs on hand for those traveling or not going home for a bit, so the product stays safe. 
Best of all, The Body Deli is online and ships across the country, so I can restock my Phoenix Lift Sculpting Eye Cream whenever I get low, without having to make the two-hour drive from Los Angeles to Palm Desert, CA. 
Lunch at Mi Cultura Peruvian Colombian Cuisine
Address: 44795 San Pablo Ave, Palm Desert, CA 92260
If you are still hungry after brunch, you can grab a bite at Mi Cultura Peruvian Colombian Cuisine. As the name suggests, this restaurant serves up traditional Colombian and Peruvian food.
Careful how much you order, as it's easy to let your eyes devour more than your stomach can take.
Dig into dishes like arroz chaufas, empanadas from both Colombia and Peru, ceviche, yuca frita, and multiple chef specials that pay homage to beef, chicken and seafood. 
Sunnylands Center and Gardens
Address: Sunnylands, 37977 Bob Hope Dr, Rancho Mirage, CA 92270
Hours: Open Wednesday through Sunday, 8:30 am to 4 pm. Free admission
If you have some time to kill before your next activity, head to Rancho Mirage to visit Sunnylands Center and Gardens, former home of Ambassadors Walter and Leonore Annenberg.
This historic estate, now run by the Annenberg Foundation Trust, sits on 200-acres and includes Annenbergs' historic winter home, a world-renowned 25,000 square-foot mid century modern structure.
The gardens alone are worth a visit, featuring desert plants that embrace biodiversity across nine acres.
More than 53,000 individual arid-landscape plants and 1.25 miles of walking paths can be found within the gardens for individuals, couples and families to enjoy. Just make sure you kids stay on the path and don't touch any cacti! 
While the center and gardens are free to explore, you do need a ticket to visit inside of the estate, which gives you a 90-minute tour of the historic home.
There are several other paid tours available, including birding, a historic walking tour, and a 45-minute shuttle tour that brings you around the 200-acre estate.  
Spa time at the Spa Las Palmas in Palm Springs
Address: Omni Rancho Las Palmas Resort & Spa, 41000 Bob Hope Dr, Rancho Mirage, CA 92270
My motto in life is "never pass on an opportunity to pamper yourself" (well, that and "never say no to a clean bathroom stop" on a road trip).
Spa Las Palmas in Palm Springs is your quintessential day spa. They recommend you arrive early to enjoy the sauna, steam room, hot tub, or simply relax by the spa's outdoor pool. 
Snacks and beverages are waiting for you in the lounge after your treatment, and there are full shower facilities if you would like to shower and refresh without having to go back to your room.
And if you didn't fall asleep during that massage or facial, you are allowed to go back to your room to take a siesta if needed. In fact, it's encouraged.
Dinner at Clandestino
Address: 175 N Palm Canyon Dr suite 160, Palm Springs, CA 92262
Quite possibly our favorite restaurant in Palm Springs, Clandestino did not disappoint on the food or cocktails, which make it a winner for friends and couples traveling to Palm Springs.
It's easy to order a bunch of different things and share, as many of the dishes are served tapas style. We dug into the Beer Tempura Avocado Bites, Fried Squash Blossoms, an assortment of street tacos, and of course had to finish with a Churro Ice Cream Sandwich.
The one time during our meal that I did wish our hotel was in walking distance was when I took the first sip of my cocktail. Perfectly balanced, and beautifully presented, any of the cocktails at Clandestino are worth ordering.
If you don't have to drive, indulge a little and order two. I had the 1941, which according to the menu included Bourbon, Date Infused Demerara, Lemon Juice, and Aquafaba.
The bartender calls it "An ode to my brother. A manly cocktail." Well, this gal loved it enough to want a second. 
Keep in mind that the restaurant seating is mostly outdoors. In the winter months, as the Sun sets, it does get chilly. The restaurant does offer outdoor heaters and blankets to make sure you stay comfortable throughout your stay though, which was more than enough for us in December. 
Day 3
Grab coffee and pastries at IW Coffee & Chai Bar
Address: Desert Springs Marketplace, 74868 Country Club Dr #101, Palm Desert, CA 92260
Start your morning with a coffee or chai, plus breakfast items like avocado toast, gluten-free muffins in a variety of flavors (gluten muffins too!), scones, cookies (including vegan cookies), croissants, oatmeal and breakfast sandwiches.
There is even gelato onsite if you need to bribe the kids, get a sugar rush or have an affogato (gelato with espresso).
Grab your order to go and head to the Living Desert Zoo and Gardens for a stroll.
The Living Desert Zoo and Gardens
Address: 47900 Portola Ave, Palm Desert, CA 92260
Formerly known as the Living Desert Museum, this Palm Springs zoo has more than 500 animals representing over 150 species. Even if you don't have the kids with you, you can enjoy feeding the giraffes lettuce (nominal fee), petting the goats, and walking the trails that pass through the large outdoor enclosures that give the animals plenty of space to roam.
Hiking in the Living Desert Zoo and Gardens
Address: Inside of the Living Desert, 47900 Portola Ave, Palm Desert, CA 92260
Along with your zoo admission, you can access three trail loops that bring you through the Colorado Desert. The Living Desert's nature preserve shows off the desert climate you walk through, with plenty of plants and wild critters (lizards, anyone?) to spot along the way.
Trails range from a quarter mile up to five miles. Make sure you bring plenty of water (at least 2 quarts) for your walk even if you are hiking in winter. It's the desert and you will dehydrate faster than you think.
The trail system is only open October 1 through May 30. Trails close in the summer months due to excessive heat. 
Looking for more hiking trails? Head over to the Coachella Valley Preserve and the Coachella Valley National Wildlife Refuge for more outdoor trails and desert adventures.
Moorten Botanical Garden
Address: 1701 S Palm Canyon Dr, Palm Springs, CA 92264
Moorten Botanical Garden is a working plant shop and nursery, as well as botanical garden for the public to enjoy. If you love plants, make sure you bring your credit card as you will want to stock up (I came home with about 15-20 baby cacti and succulents for my garden- the prices were that good).
The garden isn't large, but the trails are filled with cacti and succulents that grow beautifully in the Palm Springs desert climate. I found a few varieties I'd never seen before and was thrilled that they sold many of the same plants in their shop.
Moorten is a gorgeous backdrop for photos, but if you plan on doing more than take a selfie, you will need to get a photo permit from the front desk.
You can call ahead to let the staff know you will be coming for senior portraits, engagement photos, pregnancy portraits or headshots for your social media channels. It's not a pricey permit, unlike other gardens, and helps the staff maintain the grounds for everyone to enjoy… so get the permit. 
Local shopping on North Palm Canyon Drive
If you are looking for more local, boutique shops featuring local artisans, you'll find them right near Café La Jefa, in a building filled with locally owned shops. Further down and even across the street you will find art galleries, vintage shops and more locally-owned businesses to explore. 
Coffee at Café La Jefa
Address: 750 N Palm Canyon Dr, Palm Springs, CA 92262
Cafe La Jefa is a beautiful coffee shop with loads of outdoor seating and plenty of pastries to keep you fueled up for more wanderings. If you have seen the pink coffee cups on Instagram with a playful Airstream outside, this is where you will find it.
Mid-Century Modern Self Guided home tour
For anyone who loves mid-century modern architecture, Palm Springs is the best vacation for you. The city has a self-guided architectural tour (find it here) that you can easily follow.
Even if you just want to see a few cool houses and buildings before you head home, you can tackle this tour for as long or as short as you like. 
Tip: the Palm Springs Visitors Center is an ode to all that is wonderful about mid-century modern design. Psst… they also have an EV charging station if you need a top up.
Drive home/Flight home
Sadly, it's time to drive or fly home from Palm Springs, CA. We had an amazing trip and I can't wait to go back with friends and explore all of the things to do in Palm Springs with kids.
---
Palm Springs, CA Planning Guide
This post contains affiliate links.
Looking for Hotels in Palm Springs CA? Here's a few of our favorites!
Want more options or a Palm Springs Vacation Rental? Check out the map below:
Pre Book your Palm Springs Activities
Many thanks to Greater Palm Springs for hosting us for a girls' getaway. As always my opinions are my own; when they aren't you will be the first to know.