<<< Guest post by Astrid Vinje >>>
The city of Singapore has always held a special place in my heart. As a kid living in Southeast Asia, Singapore was like a shining city on the hill. Compared to the rest of the region, Singapore held possibilities. And there where always things to do in Singapore with kids.
It was modern, it was clean, and it was full of wonderful things to see and do. In the years since then, I have visited Singapore on many occasions, and each time, there was always something new and interesting to learn about the city.
Several years ago, I had the opportunity to go to Singapore with my kids, and I was beyond excited to show them the sights and sounds of this city that I love. Like any big city, Singapore may not seem like a typical family destination, but there are so many things about it that make it an easy choice for family travel. Here are ten things to do in Singapore with kids.
Visit Chinatown
Much of Singapore's history stems from British imperialism, but from a cultural perspective, Singapore has always been greatly influenced by the Chinese. One of the things we love to do in any city we visit is to go to a market, and in Singapore's Chinatown, there are plenty of shops and markets for us to get our cultural fill. Chinatown is centered around the area from Smith Street to Mosque Street, and has a diverse combination of shops, restaurants, and temples. To get a taste of Chinatown's history, visit the Chinatown Heritage Centre located on Pagoda Street.
Tour a temple in Little India
One of the reasons why I love the city so much is because of its diversity, which means that I can go from sampling a traditional Cantonese meal in one minute, to getting a henna tattoo the next minute. Once, while traveling solo in Singapore, I happened to stumble upon a Hindu temple in Little India, and it took my breath away with its colorful statues and lively music. Many of the Hindu temples in Singapore are open for visitors to tour, and for families traveling with kids, this is a great way to introduce your kids to a new culture and religion.
Sample the local food
Singapore is known world-wide for its street food. Although I love sampling street food when traveling on my own, I'm always a little leery about doing it with kids. Fortunately, Singapore's street food scene is so well-regulated, it's probably one of the safest places to eat street food in the world. Singapore's street food can be found primarily in the hawker centres located around the city. We love going to these hawker centres with our kids because not only is it a more economical option than a sit down restaurant, but it also gives them a chance to sample foods from different countries. Singapore's signature dish is the Chilli Crab, but if that's too spicy for your kids, you can also try another popular dish, Hainanese Chicken Rice.
Ride the MRT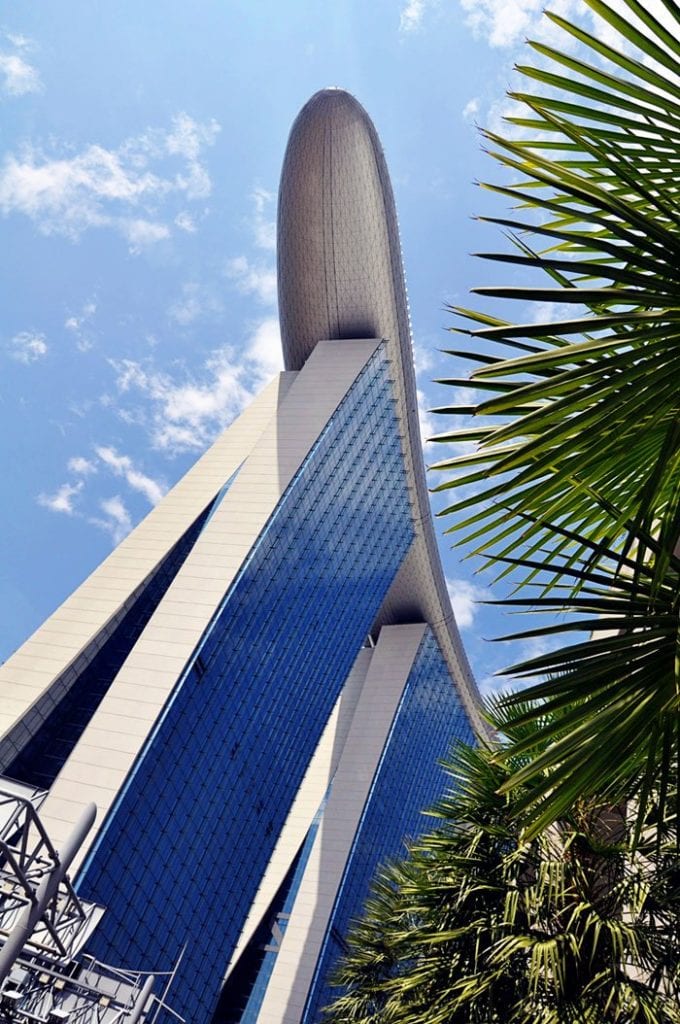 Singapore's public transportation system is a pretty efficient and easy way to get around the city. During our last visit to Singapore, we stayed at a hotel located above an MRT station, and it made traveling around the city fast and simple. We love taking public transportation when we travel with our kids because it gives them a chance to get a feel for what it's like to live like the locals. For older kids, it also gives them an opportunity to learn about time schedules and fares, which is an important skill for any traveler to have.
Visit the Marina Bay Sands
The Marina Bay Sands is a relatively new luxury hotel, located in the southern part of the city. Rooms start at around $500 a night, which can be quite pricey on a family travel budget. But you can get a taste of the hotel's luxury, and also a fantastic view of the city, by visiting their observation deck, known as the Skypark. Tickets prices to the Skypark range from SGD 17-23, which translates to roughly $12-17. We loved visiting the Skypark with our kids, and it gave them a chance to run around while we took some great aerial shots of the city.
Spend the day at Sentosa Island
When I was a kid visiting Singapore with my family, one of the places we visited was Sentosa Island, located just south of the city. Sentosa has just about every family-friendly attraction you can imagine, from animal parks to waterparks, and beaches to museums. If you're looking for the typical family excursion, then Sentosa's a solid bet. Some of the popular attractions on the island include Universal Studios, S.E.A. Aquarium, and the Singapore Cable Car.
Walk along Clarke Quay
For dining options with a view, the best place to head to is Clarke Quay, a historic riverside quay named after one of Singapore's former governors. Clarke Quay has a large selection of clubs and bars, and is liveliest at night, but there are plenty of restaurants open during the day to take the kids. You can taste cuisines from around the world, including American, Italian, Vietnamese, Japanese, and Indian, as well as local cuisine from Singapore. One of the things I like to do in Clarke Quay, however, is just to walk along the riverside, checking out the boats and the water.
Discover the Singapore Art Museum
As a family, we love visiting art museums. Besides giving us a chance to explore culture more, art museums provide a somewhat low key activity for kids to do. It's also a good indoor option on the rare times that it rains in Singapore. The Singapore Art Museum showcases contemporary art from around Southeast Asia. One of its permanent exhibits is the Learning Gallery, which aims to engage youth in developing creative and analytical thinking.
Go on the Singapore Zoo Night Safari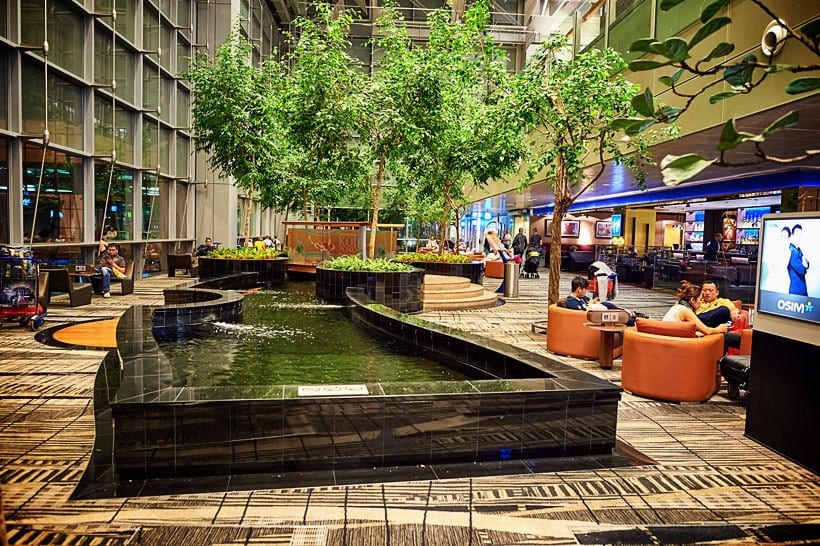 If your kids enjoy animals, then a visit to the night safari is a must. Unlike the typical zoo experience, the night safari, which focuses on nocturnal animals, gives you an opportunity to see animals when they are most active. Visitors can either take a tram ride to see the animals, or do a walking tour of the park. This activity is mostly suitable for older kids, since it won't interfere with their bedtimes as much, but even if your kids are on the younger side, there is still something awesome about seeing an animal walking around at night.
Play at the airport
Changi International Airport in Singapore is a destination in and of itself. With attractions like a movie theater, gardens, endless shopping, and even a swimming pool, it's actually one of my favorite places to spend a layover with my kids. One of the best family-friendly activities to do if you have at least 5 and a half hours to spare is the Singapore stopover tour. These are free for travelers who are in transit at Changi Airport. The two options offered for the stopover tour is a Heritage Tour of Singapore, which explores the historical architecture of Singapore, and the City Sights Tour, which showcases some of the more modern architectural marvels of the city.
Of all the cities I've traveled to, I love Singapore the most, and it's easy to see why. There is an abundance of things to do, from sampling the local food to checking out some of its world-class attractions. And the ease of getting to and from the city, as well as getting around the city, makes it a favorite destination for us to travel to with our kids. We love to discover Singapore as a family, and we think you should too as you can never run out of things to do in Singapore with kids.
Astrid Vinje is the writer and owner of The Wandering Daughter, a blog focusing on approachable family travel. Astrid has traveled to more than 25 countries, and now travels with her husband and kids. Her work can also be found on Pink Pangea, BootsnAll, Wanderlust and Lipstick, and LeafCanoe. 
Marina Bay Sands photos by Clint Bush. Singapore Night Safari, Singapore MRT, Singapore Art Museum, Clarke Quay, Singapore Airport, and Singapore Skyline photos via ShutterStock.com. All other photos in things to do in Singapore with kids are property of Keryn Means/Walking On Travels.