Snow is in the air. Santa is coming. It must be the holidays at Universal Orlando Resort.
Now, don't get confused by all that sunshine and the palm trees. Come mid-November, it really is the holiday season in Universal's City Walk, Islands of Adventure and Universal Studios Florida. Just walk through Seuss Landing and you will think a tinsel factory exploded.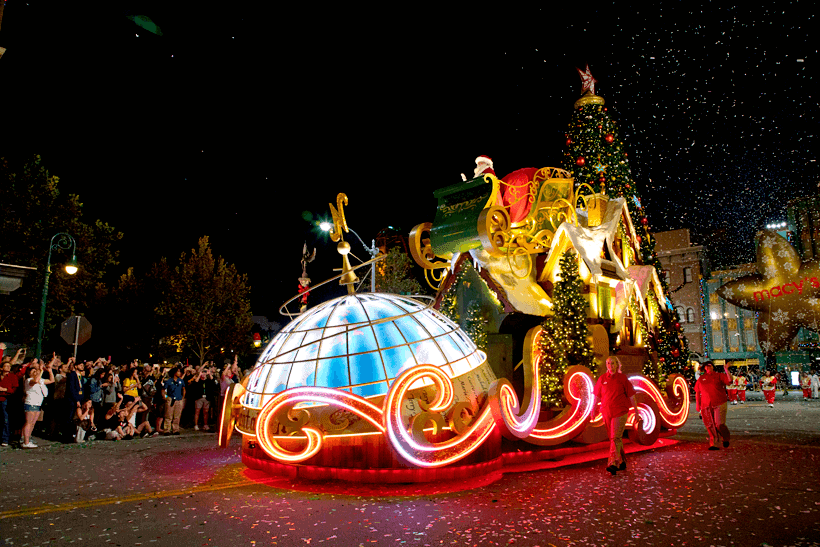 Annual passholders, and families both near and far come to see the magic that takes over this part of the country for eight weeks every year. We have your guide to seeing and doing it all, even if you just have a weekend to spare.
Holidays at Universal Orlando Resort
Want to go? CLICK HERE for discount Universal Orlando tickets.
Grab a park map, or open the Universal Orlando Resort app to find out about all of the holiday events. Start strategizing your day around these special events. You don't want to miss a thing. Carolers, parades, special holiday drinks (hot Butterbeer!), concerts and light shows are all part of the programming.
When to go to Holidays at Universal Orlando Resort

The quietest time to go to Universal Orlando Resort for the holidays is the week right after thanksgiving and before Christmas. The closer you get to Christmas, the busier it will be. The week after New Year's can be quieter too. Weekends will always be busier than weekdays.
Universal's Holiday Parade at Universal Studios Florida

Universal's Holiday Parade featuring Macy's is just one of those events you don't want to miss. If you have ever wanted to go to New York for the Macy's Thanksgiving Day parade, but couldn't stand the cold and crowds, this is the next best thing. Enjoy floats, dancers, singing, confetti, snow, and yes, Santa. Best of all, shows start right around 5:30pm each day, so you don't have to keep little ones up late to watch it.
Start planning your own holiday adventure.
CLICK HERE to grab your discount Universal tickets.
Warning—you will want to scout out your spot early. Crowds start to line the streets an hour ahead of time. The best spot to watch the parade is right in front of the Revenge of the Mummy roller coaster. You want to be looking at the big Christmas tree. The parade will be coming from your right.
Seuss Landing

If you thought Universal was doing the holidays pretty well, you obviously haven't been to Seuss Landing yet. This is where Christmas came to nest, hatch and spread its' wings. Garlands hang from every crevice. Red, green and silver pop out of every corner. Who-trees are bedecked in décor that I swear wasn't just there. Watch out for the Who's as they try to wrap up their holiday shopping too. They are running amuck through town with their Who-Mart bags.
Grinchmas Who-liday Spectacular

Grab a few cookies and the kids to sit for a live retelling of that classic we all know and love "How the Grinch Stole Christmas." The Whos of Who-ville help the Grinch find his heart again and a little holiday cheer to the sounds of Mannheim Steamroller. After the show, you can even get an autograph from the Grinch himself… if he is feeling generous that is.
Grinch and Friends Holiday Breakfast

photo credit: Universal Orlando Resort
Want to guarantee a meeting with the Grinch and all of his friends? Book a seat at the Grinch and Friends Holiday Breakfast in Seuss Landing at the Circus McGurkus Cafe Stoo-pendous. Park admission is required, as are reservations for this breakfast (additional fee). Oh, and watch out. The Grinch steals bacon off your plate.
Who-Meetings and Photo Opps


photo credit: Universal Orlando Resort
The Whos of Whoville are running around Seusslanding as if they own the place. Mr. Grinch is there too. If you have a baby, watch out. Those Whos love a cute baby and will pop in to say hello. They are happy to stop for a photo too. The Grinch needs his own special seat and time if you want his photo. He is a precious snowflake after all. Check the shops. He's using scouling in there.
Holidays at the Wizarding World of Harry Potter

While we love the Grinch and all his Whoville friends, what we really come to Universal Orlando Resort for is the Wizarding World of Harry Potter. Hogwarts, Hogsmeade and Diagon Alley make me burst into tears on a normal day. Dress it up for the holidays and I get all the Christmas feels.
Don't miss Harry Potter this holiday Season!
Grab your Orlando CityPASS tickets HERE.
Hogsmeade

Walk through Hogsmeade during the day to take in the snow covered buildings, garland bedecked doors and windows, and do a little holiday shopping. At night the lights come on and the "The Magic of Christmas at Hogwarts Castle" light projection show starts. The Yule Ball is featured in this seasonal light show, as well as other wintery classics from the books.
Parents will get a kick out of the Frog Choir holiday songs. Some of the lyrics go right over younger kids heads, but forgotten Yule Ball dates and naughty child tales are never missed by parents who have been there, done that.
VIDEO: Take a peek at the goofiness you can expect with the Hogwarts Choir.
Diagon Alley

Diagon Alley puts on her holiday dress for the season, with wreaths and garlands. Celestina Warbeck and the Banshees takes center stage, belting out holiday chorales you don't want to miss. Grab a hot Butterbeer, seasonal this time of year, and enjoy multiple shows happening throughout the day. In between the dragon breathing fire (every ten minutes on the 10s), do a little holiday shopping for everyone on your list.
Universal Orlando Resort Holiday Treats

It wouldn't be the holidays without a few holiday beverages. While we love our hot Butterbeer, sometimes we need a little adult beverage to get us in the festive mood. Here's what the parks are offering up this season.
photo credit: Universal Orlando Resort
Cranberry Margarita
Where to find: Finnegan's Bar & Grill (USF) and Mythos (IOA)
Ingredients: Tequila, orange liqueur, lime juice and cranberry juice shaken and served on the rocks. Garnish with a lime wedge, fresh cranberries and a sugar/salt rim.
Pumpkintini
Where to find: Mythos
Ingredients: Dark rum, orange liqueur, apple cider and pumpkin puree garnished with a cinnamon sugar rim.

photo credit: Universal Orlando Resort
Apple Cider Irish Mule
Where to find: Lombard's Seafood Restaurant
Ingredients: Irish whiskey stirred with apple cider, topped with ginger beer and a cinnamon stick and apple slices for garnish.
Harvest Margarita
Where to find: Confisco Grille
Ingredients: Tequila, Cointreau, Nectar Agave, Apple Cider, Pumpkin Puree, Lime Juice. Garnished with a cinnamon sugar rim.
Apple Pie on the Rocks
Where to find: Finnegan's
Ingredients: Vanilla vodka, apple juice and cinnamon
Jack Frost
Where to find: Lombard's Seafood Restaurant and Confisco Grille
Ingredients: Vodka, prosecco mixed with lemonade and a sugar rim at .

photo credit: Universal Orlando Resort
Non-alcoholic options
Candy Cane & Eggnog frozen beverages, hot cider or hot chocolate are served at the food and drink carts you'll see as you roam around the park. Holiday cheer is never too far away.
Orlando Destination Guide
Orlando Hotels
I am a Universal Orlando Resort brand ambassador. As always, my opinions are my own. When they aren't you will be the first to know. This post contains affiliate links. If you make a purchase after clicking one of those links I will receive a small commission.