Scottsdale sits within the Sonoran Desert and is a stunning area to hike and explore. With over 400 miles of trails, there is nothing short of fun when it comes to hiking in Scottsdale.
Scottsdale was even named one of the top 15 hiking destinations by National Geographic, and I can see why.
When we planned our trip Arizona, hiking was one of our top things to do in Scottsdale. If you've never been, the entire landscape is beautiful.
Now you might wonder how beautiful a desert is, but trust me– this is not a landscape you want to skip.
When you head out to Scottsdale, schedule a little extra time for a hike or two, you won't regret exploring these incredible trails during your visit to Arizona.
Read our full guide of nearby things to do in Tempe AZ
Parking at the Hiking Trails
My favorite thing about hiking in Scottsdale is the parking lots before the trails. It simplifies everything compared to the random parking I find on trails around California.
One thing to remember is to stay on the trails while hiking, because there are scorpions and rattlesnakes in the area.
Safety First
If you're like me, hiking in Arizona is slightly different than in California. One of the most significant differences– there aren't any trees to give you shade while you hike in the deserts.
You can do a few things to stay safe on a trail in Arizona.
Hydration
First, bring a hat and plenty of water. You want to protect yourself from the Arizona sun and heat as much as possible. The summertime especially can bring sweltering heat, and you must take every precaution.
Since you're in the desert, you can also add electrolytes to starve off dehydration. If you hit the halfway point of your water supply, turning around is a good idea so you don't run out.
Leave your dog at home
Many of these trails are dog friendly, but leave your pup at home if the temperature hits 85 degrees or higher. Your dog can quickly overheat in that temperature, and you don't want to put anyone at risk.
Need a bed for your dog? Grab one of our favorite travel beds for dogs!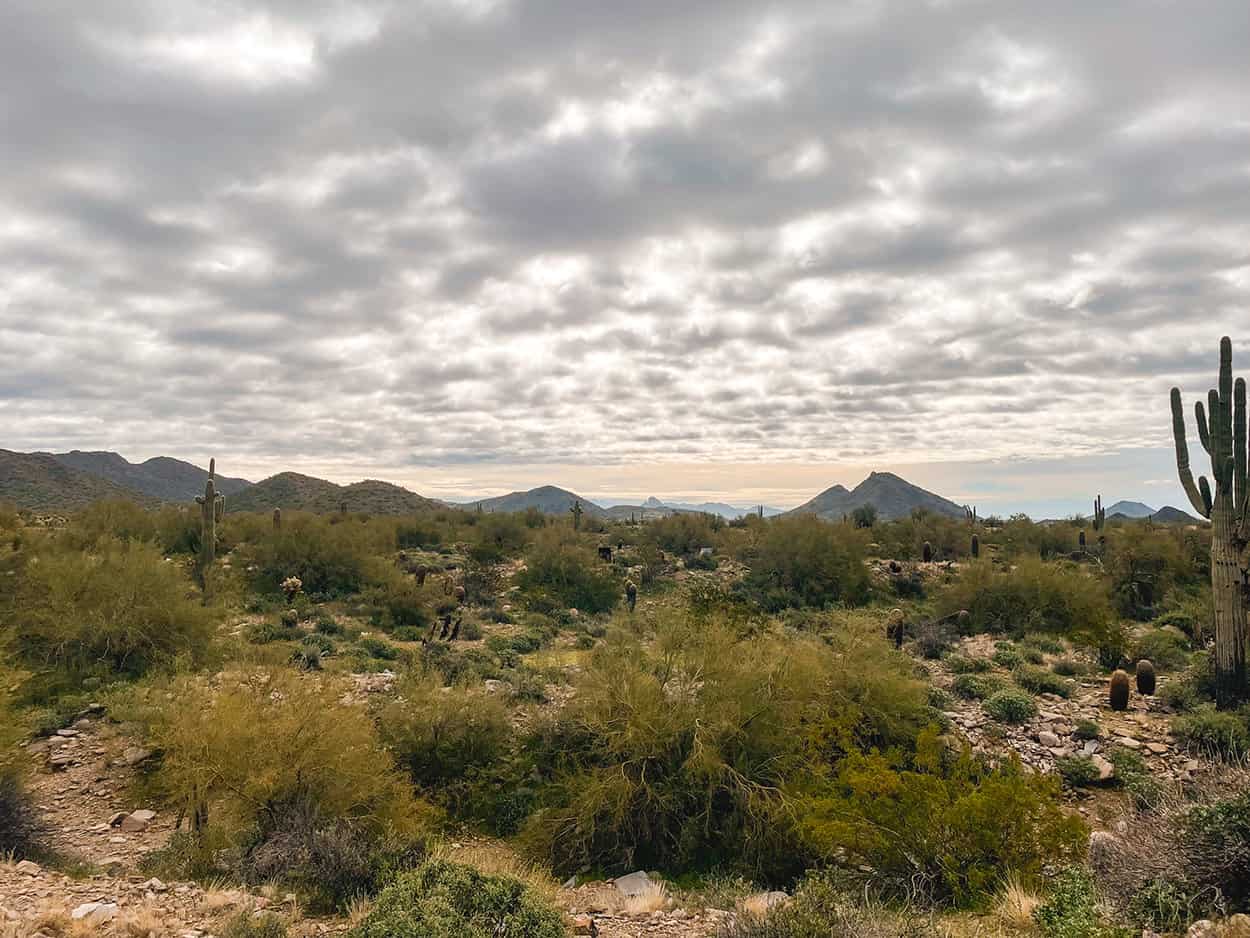 Stay on marked trails
Make sure you stay on the marked trail; not only do you want to protect the ecosystem you're walking in, but some animals can harm you.
The best bet is to stay on the trail, which snakes and other dangerous animals tend to avoid.
Don't forget to pack a first-aid kit for your hike!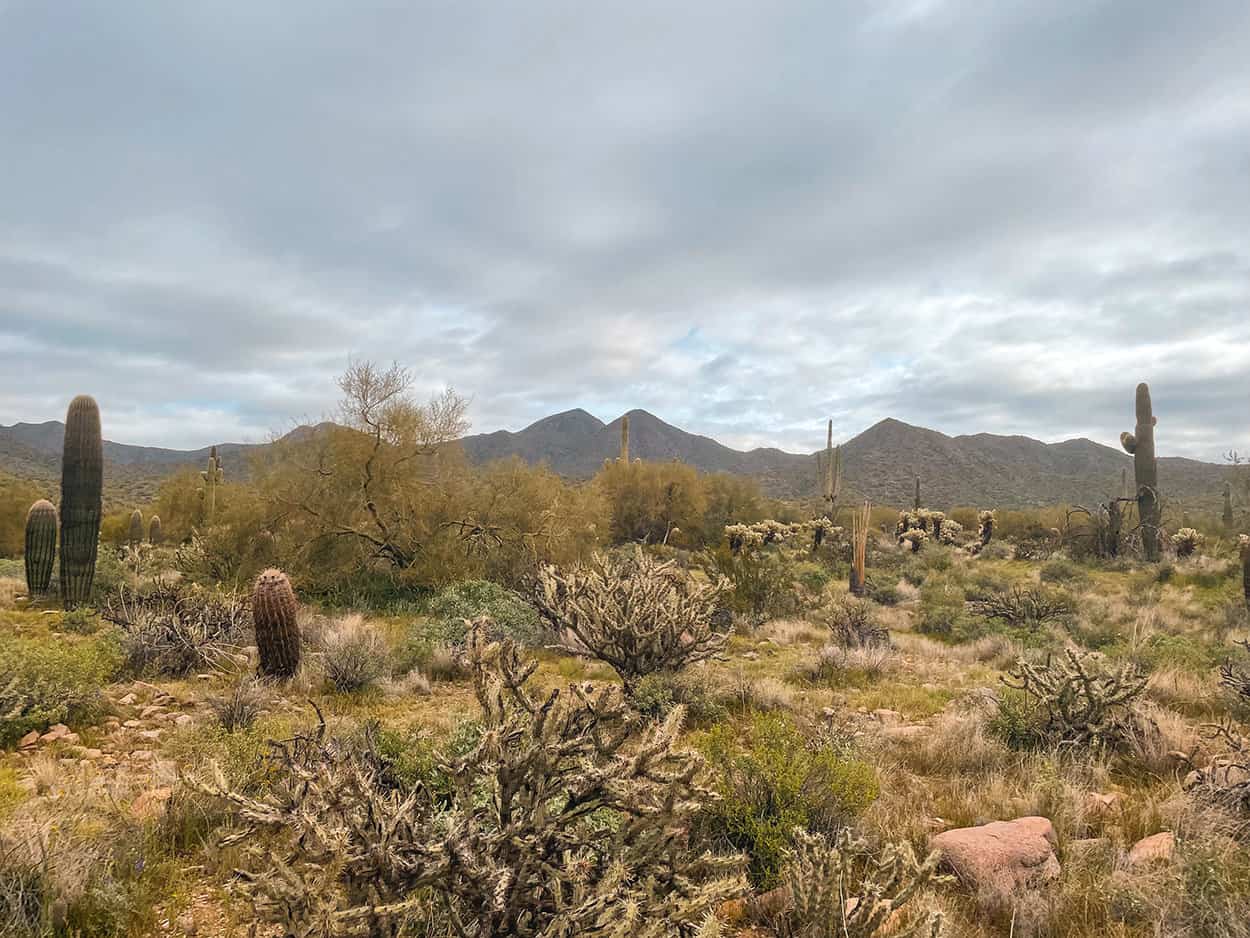 The Trails
Lost Dog Wash
Address: 12601 N 124th St, Scottsdale AZ
Difficulty: Easy
The Lost Dog Wash trail is perfect for the entire family. There isn't much elevation gain on the trail; it is well-maintained and marked.
When you arrive, volunteers help you and talk to you about the area. You'll also be greeted by a map showing the Lost Dog Wash trail and others throughout the McDowell Sonoran Preserve.
The trail is a bit rocky, so you must watch your step, but the surrounding views are breathtaking.
The out-and-back trail is slightly over 5 miles long, but you can turn around anywhere.
Tom's Thumb
Address: 23015 N 128th St, Scottsdale AZ
Difficulty: Challenging
The Tom's Thumb Trail is also located in the McDowell Sonoran Preserve, but a lot harder than the Lost Dog Wash trail. This steep hike is challenging and has you climbing over 1,200 feet within 2.3 miles.
You will do a lot of bouldering on the out-and-back trail, but it gives excellent views of Scottsdale.
The trail is very popular, and there are a lot of rock climbers in the area, so you won't be alone.
Scenic Trail
Address: 16300 McDowell Mountain Park Dr, Fort McDowell AZ
Difficulty: Easy
The Scenic Trail is located in the McDowell Mountains Regional Park, a perfect trail for the family to explore since there is an incredible amount of things to look at without climbing.
You'll see the Verde River and the Superstition Mountains as you hike, and during the spring, the wildflower blooms are a must-view.
The entire trail is 7 miles on an out-and-back route, but you can go as far as you wish and then head back to the car.
Bajada Nature Trail
Address: 18333 N Thompson Peak Pkwy, Scottsdale AZ
Difficulty: Easy
The Bajada Nature Trail is probably one of the easiest hikes you'll find in Scottsdale and is perfect for families with toddlers or little kids that want to walk by themselves. The trail is a ½ mile loop that gives excellent views of the McDowell Mountains with almost no elevation gain.
The trail is almost perfect for strollers or wheelchairs, making it accessible to anyone.
Throughout the hike, you'll also be greeted by signs showing plants, animals, geology, and topography.
Find the best all-terrain stroller for hiking with your baby and toddler
Go John Trail
Address: 37019 N Lava Ln, Cave Creek AZ
Difficulty: Moderate
The Go John Trail is a 6-mile loop trail that can be a little difficult to do. The trail has some hills you need to climb, but nothing like the Tom's Thumb trail.
While hiking, you might see a desert tortoise, which one of the most memorable moments on a hike in my experience.
Try to hike during spring to see the wildflowers blooming throughout the desert.
Pinnacle Peak Summit Trail
Address: 26802 N 102nd Way, Scottsdale AZ
Difficulty: Moderate
The Pinnacle Peak Summit Trail is great for getting that daily workout in. The trail is well-maintained and smooth, but you will gradually climb around 1,300 feet.
The hike is 3.5 miles round trip, but you'll get a great view of the valley, plus road runners, cactus wrens, quails, and jackrabbits.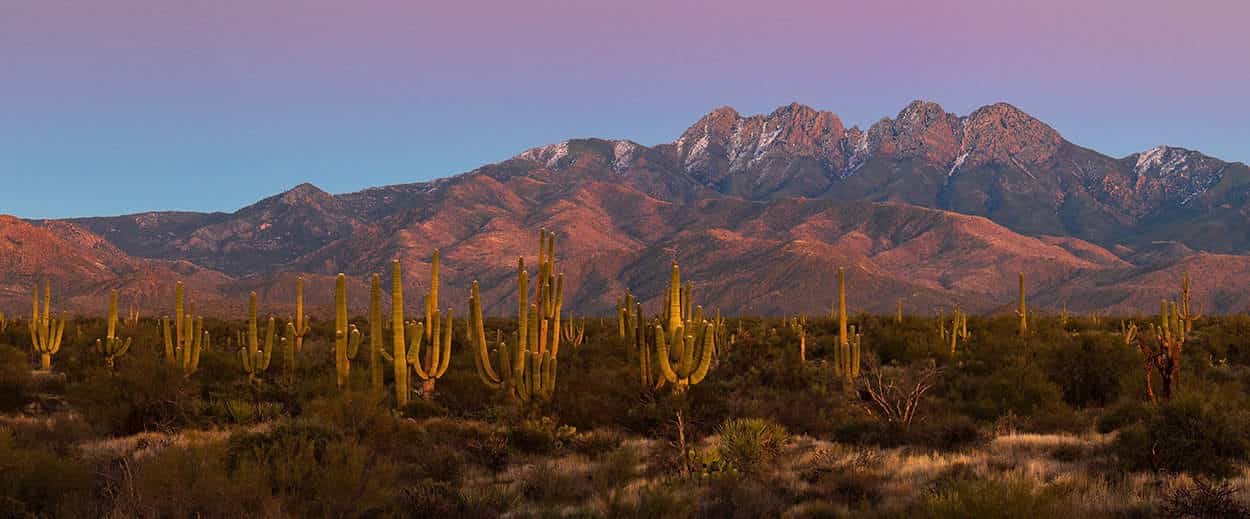 Granite Mountain Loop Trail
Address: 31402 N 136th St, Scottsdale AZ
Difficulty: Easy
Try out the Granite Mountain Loop Trail for those who want to drag their buddy along for a hike without hearing them complain. You'll be surrounded by cacti while hiking on this well-maintained trail around 5 miles long.
There is virtually no elevation gain, so no one needs to worry about climbing, but you'll get views of the Four Peaks, Weavers Needle, and White Tank Mountains.
It's a popular hike, so expect to see a lot of people.
Sunrise Peak Trail
Address: 12101 N. 145th Way, Scottsdale AZ
Difficulty: Challenging
Work up a sweat on the Sunrise Peak Trail that will give you beautiful views of Camelback Mountain, Piestewa Peak and South Mountains from the top of the peak. The trail is 3.6 miles long with an elevation gain of 1,100 feet.
There is a steady incline throughout the hike with a lot of switchbacks, but the first mile is relevantly calm before getting a lot harder.
If you're up for a challenge, it's a great hike.
These are just a few trails you can explore while hiking in Scottsdale. The area is filled with incredible hikes, welcoming all skill levels and perfect for an early morning adventure. Sunscreen up and have fun!
Need a hotel in Scottsdale? Check out a few of our favorites!
Need a rental car? Grab the best rates from the site we always use.
Pin it and Keep Wandering!