Wandering through the chalk-filled trenches of La Main de Massiges, I thought this was the last place I would spend a few weeks in the summer with my children. Who brings their kids to battlefield trenches, let alone those from World War I? But there we were, wandering around the labyrinth of passageways that had once been created by French and German soldiers and was now being carefully restored by local volunteers.
As my children ran ahead, ready to see what was behind the next turn, I realized that even my own misconceptions and hesitations about this specific trip we had embarked on with my four and seven year old were unfounded as we walked the path of WWI soldiers through eastern France. My boys had gotten to swim in a few hotel pools and I think we found a playground, but it was this history that they were getting to walk through and learn about that kept them enthralled and moving through our rapid itinerary. Yes, there were meltdowns, but fewer than I ever would have thought, which just goes to show you, you can do anything with kids.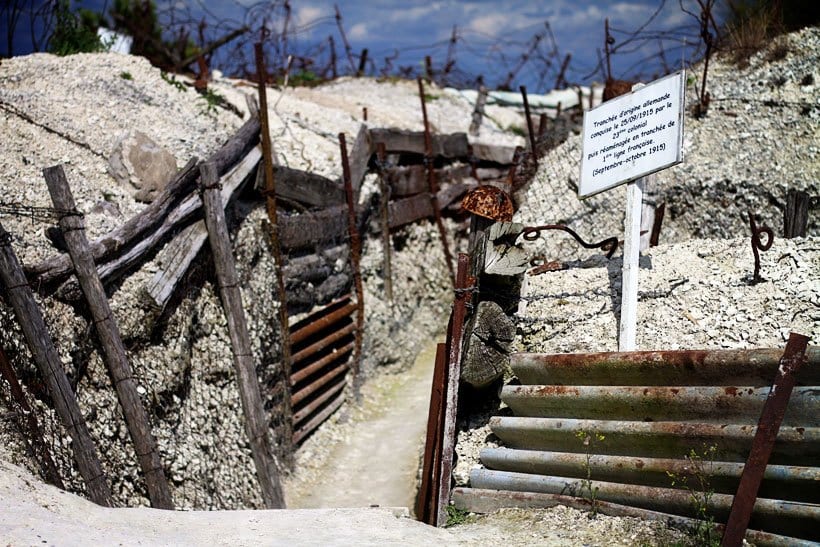 Located on the top of a large hill, the hand of Massiges (La Main de Massiges) is just east of where the Champagne Front joined the Argonne Front during WWI. It is shaped like a left hand pushing into the ground, each finger representing part of the dug out fortress. Although you can explore on your own for free, a guide is especially helpful if you are traveling with children and you want to take in more of the history and importance of this battle.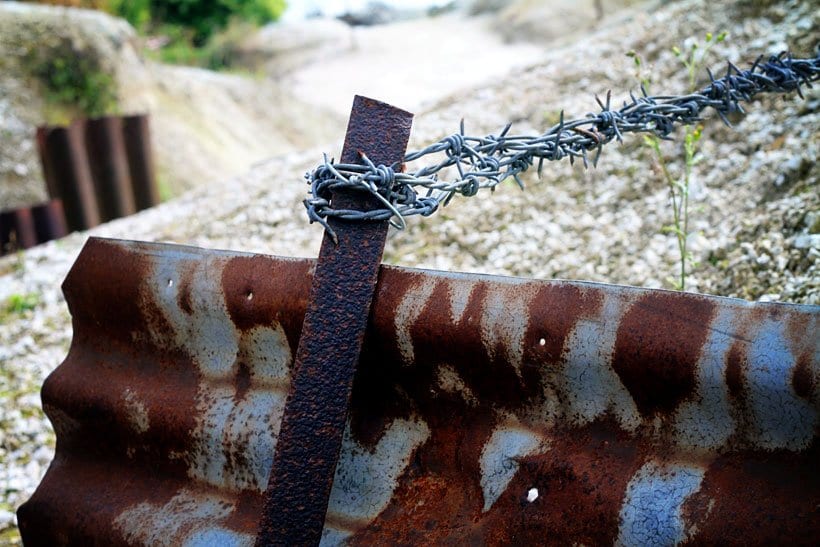 It's true that most of our trek across France to research WWI history would be better suited for families with upper grade school, middle school and high school age children. However, don't discount the little ones. My boys were enthralled by the idea that men actually lived in these trenches, sleeping, eating and dying there (OK, so we softened some of the dying talk for them). Like many boys their age, they can make anything into a gun, whether it's a stick, sword (yes, a sword can be used as a gun if you use some imagination), or even just their thumb and pointer fingers. I'm not much of a gun fan, but no matter how hard I try, my boys still like to pretend they are fighting with guns. Although my children might not get the full implications of war, children of any age will get something out of touring the La Main de Massiges trenches, especially if you have a great guide.
The trenches of La Main de Massiges were actually filled following the years after the war, but the new owners of the land found the dark lines of trenches throughout the property, including cork screw pipes and war artifacts left by the soldiers. As volunteers began to recreate the trenches in 2012, they found wine bottles, boots, scrap metal, and even human remains. The problem with the remains was that no one knew if these were the bodies of WWI soldiers. The local mayor and police had to come to confirm whether it was a soldier from WWI, or someone more recently deposited in the field. Several bodies have been found since digging started. Archeologists now bring the bones to Marseilles for analysis, and when it is found that it is a WWI soldier their remains are buried in a local WWI cemetery. So far nine German soldiers and five French soldiers have been found, but only one has been identified.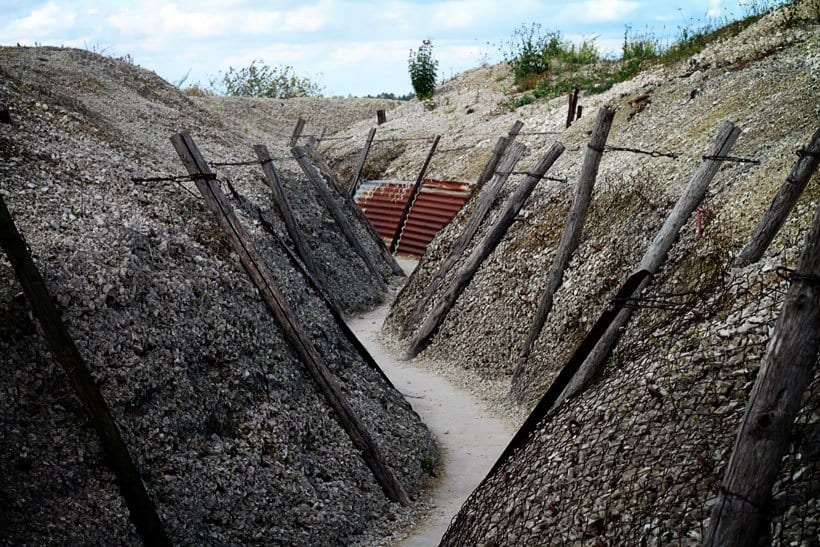 As we walked along the wavy lengths of trench, designed this way to avoid machine gun fire, my boys would ask our guide every question under the sun—what was the barbed wire for? Why are there so many wine bottles? What did they wear? Where are the beds (we found the beds in a small cave dug into the side of the hill as part of the trench system)? Wasn't it hot? Do you think they had any toys here?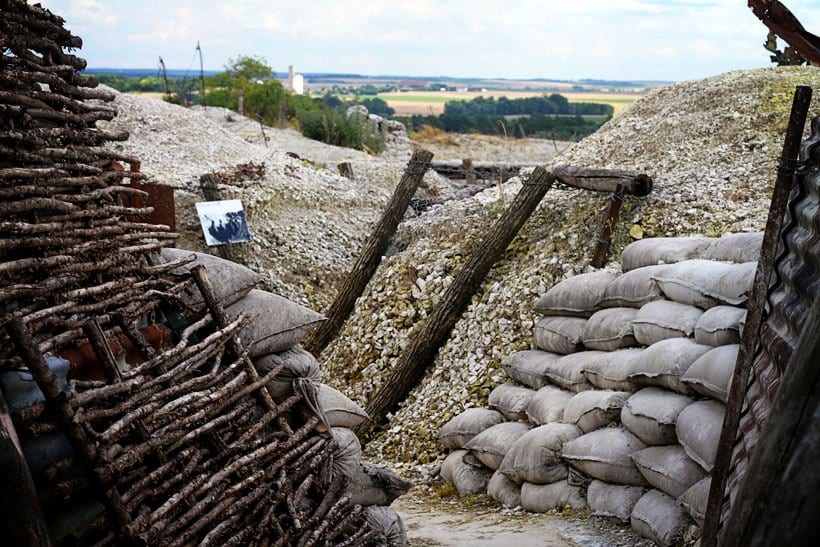 Our guide was patient for the most part, and answered all of our questions, giving detailed insight into the daily life of soldiers who fought during WWI and called this area home during their service to their country. One of the most interesting and poignant stories from this area was when heavy rains came and flooded the trenches. The French and German soldiers had been fighting heavily, but the rains stopped their efforts. Everyone climbed out and respected a cease-fire for three days while the trenches dried out. The soldiers chatted and once again saw each other as human beings who maybe weren't as bad as their commanders had led them to believe, yet after three days, fighting resumed, because soldiers had to do what they were told or they would be court marshaled and shot.
Towards the end of our tour we saw the backside of the hill where the field hospital was set up. A small train track ran to the entrance where it could bring supplies to the battlefront and take wounded soldiers who needed more help than the medics could give. Medics had about 15 seconds to decide if a soldier could survive the trip to the hospital or if it just wasn't worth it.
Walking through the lives of WWI soldiers is not the first thing many parents, even the most intrepid travelers, may think to do with their children, whether they are learning about European history or not. La Main de Massiges gave us an inside view of what my great grandparents must have read about in the papers, letters from soldiers and even written back home about themselves. Although sites like La Main de Massiges will have a more educational impact on children studying this point in history, don't discount what your little ones will learn without even realizing it. I know once my boys start studying WWI in school this trip will come back to them, giving them first hand knowledge their peers will never have, and an appreciation for the living conditions soldiers have had over the past century as countries continue to fight for their freedom.

TIPS FOR VISITING WITH KIDS
This is not a playground. Make sure your kids know what you are walking into. This is not a site where they can run wild. There is rusted metal, glass, and plenty of rocks on display. This is an outdoor site that is already open to Mother Nature's wrath; try not to let your kids destroy it too.
Hire a Guide. It is very easy to see this site without a guide, but if you want to get the most out of it, hire a guide to bring your family through the trenches.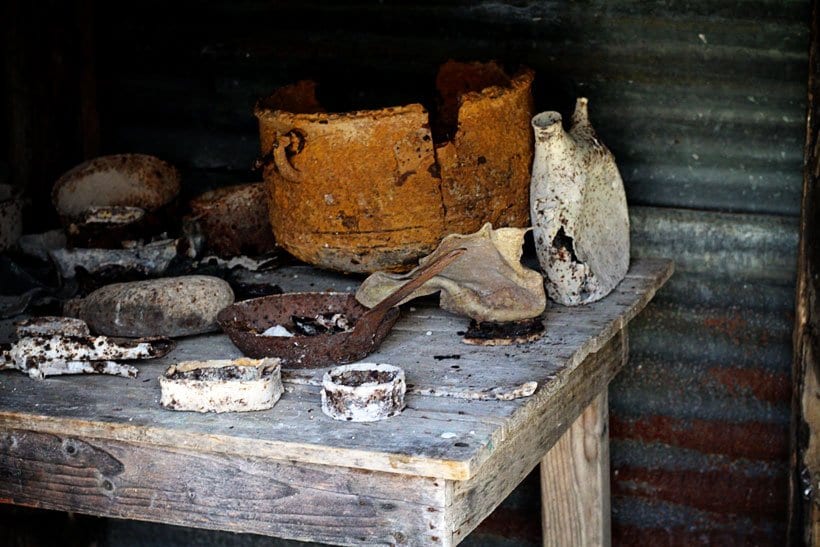 Know before you go
La Main de Massiges, 51800 Massiges, France.
Admission fee: Free with no guide. There may be a few volunteers on hand to answer questions, but most will only be able to speak French with you.
Where to stay near La Main de Massiges
Le Tulipier, Rue Saint Jacques, 51800 Vienne-le-Chateau. This hotel is an easy drive from La Main de Massiges and offers families a large, comfortable room that can fit two extra twin beds in it, as well as a onsite restaurant, indoor pool and plenty of outdoor space to play. Let your kids unwind and then enjoy one of the best meals in the region at the hotel restaurant. If duck is on the menu, order it. If your children love steak like mine, ask for a petit steak, which will not be on the children's menu but is available if you ask nicely. Check price and availability at Le Tulipier.
PIN IT FOR LATER!