A dozen years ago, I had cycled through the Tuscan countryside on a sweltering July day, discovering a hard truth: what looks like gentle rolling hills from the window of a train are actually thigh-busting mountains of horror when you're trying to move a heavy steel frame mountain bike up them.
A meandering 20km ride – uphill most of the way* – was rewarded with a fabulous pasta lunch in the lovely village of San Gimignano.
The magical combination of the trattoria, dim and cool after our blistering middday ride; the delightful company and memorable conversation; the refreshingly chilled wine; and not least the phenomenal rich complexity of such a simple sauce, the Tagliatelle al Ragu di Cinghale – Tagliatelle with Wild Boar Sauce – remained a highlight of my dining life for 12 years.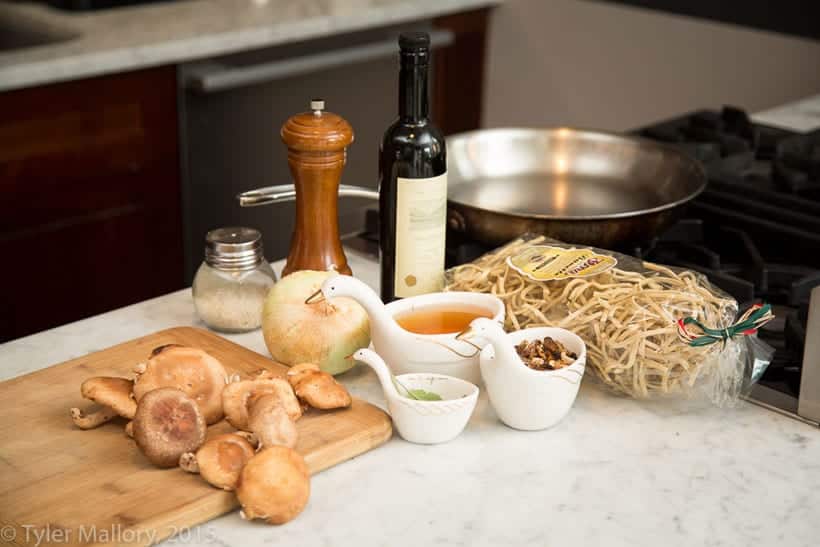 The cinghale, or wild boar, is both an emblem of Tuscany, and a delicacy of sorts; however, they can quickly become pests. When they forage the woods, these creatures are happy enough, but when a boar tears through vineyards and village gardens, they can create havoc within moments.
Boar hunting season is in the fall through early winter, leading to lovely rich wintertime sauces – though properly processed and stored, the meat is now used year round. Wild boar is much leaner than commercially raised pigs; the meat is dark and slightly gamey (though not overwhelmingly so), and it has a sweet, rich, almost nutty tone.
Accented with native Tuscan herbs including sage and rosemary, the complexity of the meat shines.

When we returned to Italy in May of 2015, I knew that I would be eating whatever boar options I could find – proper cacciatore cinghale, pasta with boar sauce, even wild boar steak, if I could get my hands on it. We found heaven itself at a small trattoria in Orvieto – technically in Umbria, but close enough, right?
Trattoria da Carlo, hidden on a quiet courtyard down a tiny alleyway off the Piazza del Popolo, offered a sumptuous, rich bowl of Nostra al Cinghale Bianco – white boar pasta.
White boar pasta! I was so accustomed to the traditional tomatoey sauce – immediately I was intrigued and ordered a portion. Perfection!
Made with a base of very slowly cooked onions, some porcini mushrooms, sage and rosemary, and then finished with white wine and just a spot of milk, a white sauce lets the rich flavors of the meat really shine through.
When paired with perfectly al dente tagliatelle and finished with a sharp pecorino, the sauce hugs the noodle, and the various flavors of herbs, boar, mushroom, pasta and cheese harmonize beautifully.
It was the first dish I made when I arrived back home – and has gone permanently on our "favorites" list. This is a sauce that takes time, so get ready to spend a wonderful hour and a half stirring, chatting, and enjoying some wine while your kitchen fills with the rich scents of Italy.
Some notes: the recipe below is adapted from trial and error and Le Passioni di Antonella.
This recipe is pretty slow and languorous until the end, when suddenly everything seems to happen all at once. Isn't that always the case? When I prep everything in advance, it helps make the process smooth.
In Chicago, where I am writing this, we are able to find ground wild boar at the local Mariano's grocery store; sometimes specialty butchers may carry it, and you can order it online. If you can't find wild boar, a heritage raised organic ground pork will come close in flavor, but there's really no substitute.
The final addition of oil and cooked pasta water back to the pot helps create a rich, flavor infused noodle – don't skip it!
If you can find pecorino di noce, or pecorino di fiano, try that: those are aged in walnut leaves and hay, respectively, and have a sharp bite not found in american pecorinos.
A well chilled gavi or verdicchio is a perfect crisp accompaniment to the rich flavors. Alternatively, a Tuscan red is also a beautiful marriage!
Ingredients:
16 oz fresh or dried tagliatelle, chitarra, bavette or similar wide, toothsome pasta (fresh made pasta is always the best, but we found the Flora Bavette Porcini Pasta to be a phenomenal alternative when time crunched!)
2 cloves garlic, crushed
1 sprig rosemary, finely chopped
1 teaspoon chopped thyme
8 sage leaves, finely chopped
¼ cup dry red wine
1lb ground wild boar
2 tablespoons Extra Virgin Olive Oil, + extra for pasta water
2 Tablespoons butter
1 med yellow onion, chopped very fine – approx ⅛" pieces
½ cup dried, torn porcini mushrooms
¼ lb fresh shitake mushrooms
½ cup hot water
1 cup vegetable or chicken stock
1 cup dry white wine
⅓ cup milk or cream
sea salt or kosher salt
fresh cracked pepper
¼ to 1/2lb pecorino cheese, grated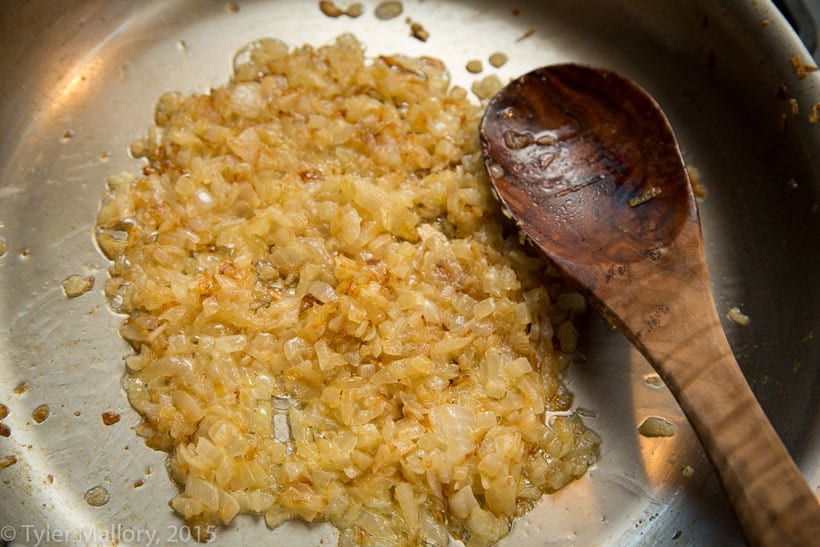 Method:
In a covered bowl, marinate wild boar for at least 2 hours, or overnight, with garlic, rosemary, thyme, half the sage, and red wine.
Heat a large saucepan on med-high heat; add the oil and butter; when melted, add the onions, and turn heat to low. Sweat the onions on a very low heat for about an hour, stirring every 5-10 minutes, allowing the juice to release, creating rich flavor. You can add a spoonful or 2 of broth if you feel it's getting too dry. Turn the heat up at the end for about 8 minutes to get a little caramelization.
While the onions are cooking, reconstitute the dried mushrooms with hot water; cover and let sit at least 15 minutes.
Remove onions from the pan. Turn the heat to med-high, add a drop of olive oil, and saute the fresh mushrooms, about 8 minutes. Return onions and any residual juice to the pan.
Use a fork to tear the meat into smaller pieces, and add to the pan, cooking on low heat, about 8 minutes, until cooked through but not browned.
Add remaining sage, reconstituted mushrooms, the mushroom water, white wine, and remaining broth to the pan. Add a pinch of salt and 3-4 cracks of pepper (or to taste). Raise heat to medium, and stir slowly as the liquid reduces. When the liquid is reduced by about ½ (approximately 8 minutes), add the milk and continue to stir; reduce heat if needed.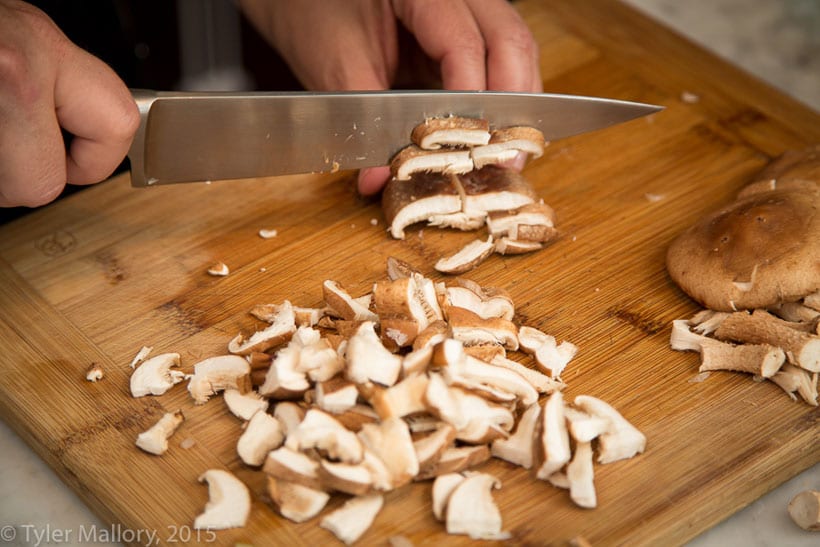 Prepare pasta water: in a large pot, bring to a boil about 1 quart fresh cold water, 1 teaspoon salt, and a splash of olive oil – a proper pasta water has the taste of the sea. Add more water if needed to properly cook your choice of pasta. Cook pasta according to packaging or experience: it should be al dente, with a hint of resistance when bit through; this is usually 5-8 minutes. When the pasta is ready, ladle about 1 ½ cups pasta water into a separate bowl before draining the pasta.
Return pasta back to the pot and return over medium heat. Add a splash of olive oil, ¼ cup pasta water, and stir rapidly. Add the ragu, stirring to coat the pasta thoroughly; add more pasta water, about ¼ at a time, if you would like a "wetter" sauce. Remove from heat.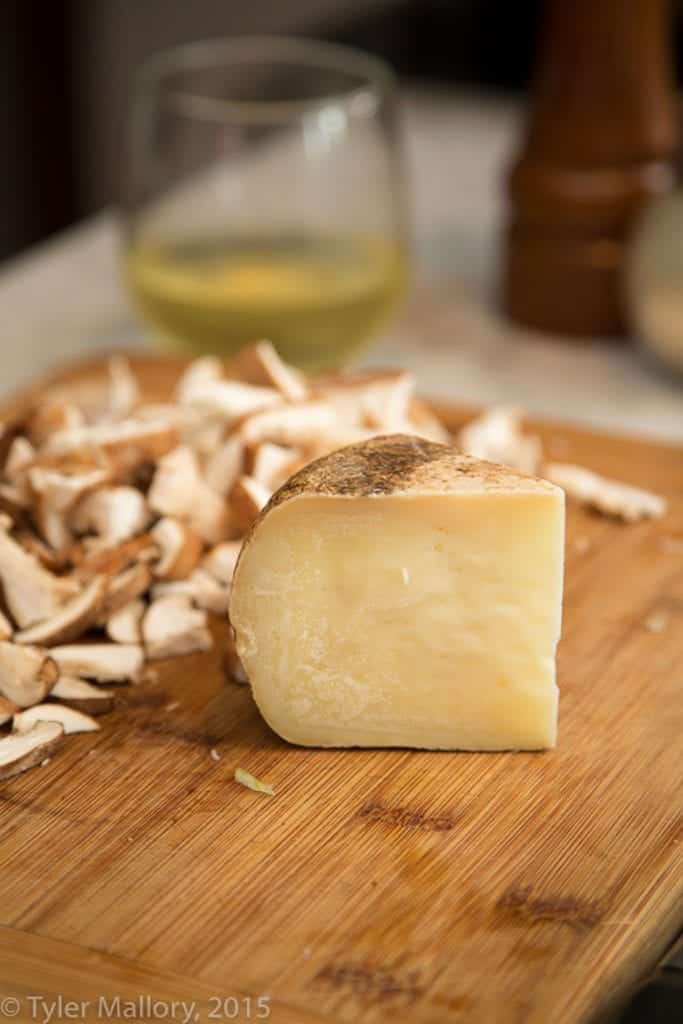 Plate with a sprinkle of shredded pecorino, a finish of sea salt, and a crack of pepper.
Buon appetito!
*Author's Note: yes, 20km is almost laughable for a bike ride – especially now that this same author has cycled 100 miles in Death Valley. However – back then, with the equipment we had and the heat wave we were in – it was tough! Trust me! Thankfully, the ride home was literally downhill most of the way!
All Photos by Tyler Mallory, 2015