Winter tends to make families hibernate. We bundle up on the couch, turn on a good movie and wait for spring to arrive. Spring is when we can go back outside to explore, right? Wrong.
Winter doesn't mean a twenty-foot snow wall, even in places like Utah, where the ski powder is epic in Park City.
Utah's national parks, and especially, St. George state parks with kids, are great spots to get out in the colder months when the crowds have gone inside and left Mother Nature alone for a few blissful months.
You know all of those photos you see with no on in them that you wish you could capture? Yes, those were taken during the off season. When is the off season? In winter!
Time to get off the couch, pack up the kids, go on a Utah road trip and discover the beauty of St. George state parks and national parks this season.
It's OK. We won't tell your friends that you left the couch. You can make fabulous memories they will be raving about while they hibernate a little longer.

ZION NATIONAL PARK
Zion National Park still stands out as one of our favorite stops on our cross-country road trip when we moved from Seattle to Maryland a few years ago.
We knew Utah was beautiful, but Zion sealed the deal. It made us long to go back, but sadly, only my husband has been back to experience Utah state parks since that trip.
No one believes us when we tell them that Zion National Park with kids was easy. We only had one day to explore, but we really packed it in. The Riverside Walk and Emerald Pool Trail were our favorites with kids under five years old.
If we'd had more time we would have hiked the Grotto Trail, Weeping Rock Trail and maybe even the Canyon Overlook.

HOTELS IN SPRINGDALE, UTAH NEAR ZION
If you are going to Zion National Park, set up in Springdale with kids. You will love the views no matter where you stay.
Those sandstone cliffs never really leave you.
We love the Cliffrose Lodge and Garden. Breakfast is included and there is a pool onsite. The Zion National Park visitor's center is also a short walk from the hotel. The two-bedroom suites are massive, and large enough for a family of four or more to spread out in.
Other Great Hotels Near Zion National Park
Desert Pearl Inn
Red Rock Inn Bed and Breakfast Cottages
The Holiday Inn Express Springdale Zion National Park
Hampton Inn & Suites Springdale Zion National Park
SpringHill Suites Springdale Zion National Park
St. George State Parks with Kids
While Utah is known for its epically awesome (yes, we are using major adjectives here people) national parks, no family should discount the St. George State Parks with kids.
If you think about it, when a state has that many amazing national parks, wouldn't it have equally insane national parks? Yes, yes it would..
St. George is just an hour west of Zion National Park. It is easy to squeeze into any road trip, so you have no excuse to miss this town with four state parks around it.
Snow Canyon State Park
Snow Canyon State Park is located inside of the Red Cliffs Desert Reserve, and a must for anyone trekking through Utah in search of the state's natural beauty.
The reserve was set up to protect the desert tortoise. It offers ample opportunities to learn about the other wildlife that calls this area home.
Snow Canyon has loads of family-friendly hikes (38 miles of hiking trails in fact). There is also a 3-mile paved trail, which makes it accessible for those with mobility issues and kids in strollers.
If you have ever wanted to ride a horse, you can hook up with a nearby equestrian center to take a stroll down one of the 15 miles of trails. Pets are allowed at campsites and a few trails in this state park as well.
What really has us excited about Snow Canyon State Park with kids, besides the tortoises, is red sandstone cliffs and volcanic cones.
Coming from the east coast, this isn't something we often see. The twisted rock layers show the dramatic geological history of our country and planet in a rugged way my boys love to scramble over and explore. It's more tangible than a rock behind glass in a museum.
Any chance to get my kids interested in being outside and interested in science is a true win.
Sand Hollow State Park
Sand Hollow is one of the two largest state parks in Utah and the state's most visited state park. It quiets down in the winter months, giving you access to the sand dunes, reservoir and natural beauty before the summer crowds flood back in.
You can easily fly into Las Vegas and explore.
The red rocks along the north shore are fun to hike along and scramble up and down. Go on a waterfall hunt with the kids to keep them moving.
The south shore is where you will find the red sand beaches. Don't forget your sand toys because your children will definitely want to build a red sand castle on this beach.
Tip: The Junior Desert Ranger Program is available at this state park.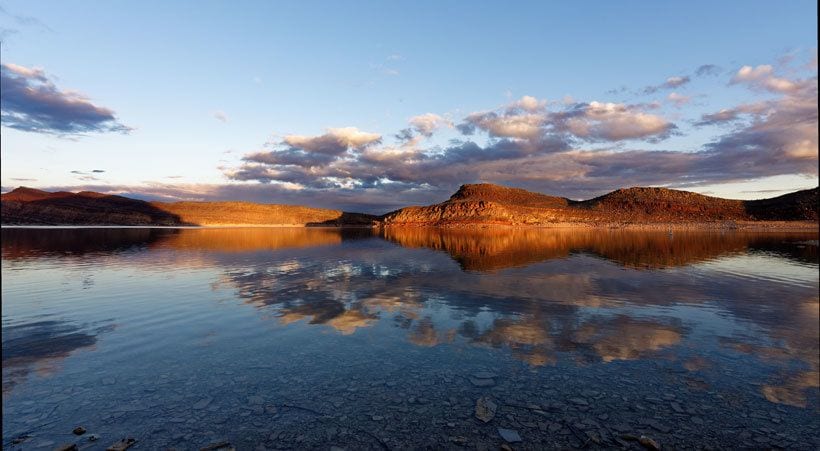 Quail Creek State Park
Water sport and fishing enthusiasts will want to seek out Quail Creek State Park. The water depth can reach 120 feet and is well stocked with rainbow trout, crappie, bullhead catfish, largemouth bass and bluegills.
If you have young kids who want to learn how to fish, now is their chance. For those looking to do some water skiing or wake boarding, this is your spot.
Gunlock State Park
At first glance, Gunlock State Park looks like another reservoir where you can go fishing and maybe do a little kayaking.
However, just north of the reservoir you will find The Vortex, a hiking trail that even your kids can do with you. This hike is also known as the Cowboy Pools. It is a great place to show your children lava rock formations and sandstone erosion.
Be prepared to scramble up rocks and don't forget your camera. The views are impressive according to our friends over at AllTrails.com.
Hotels in St. George, Utah
The Inn at Entrada
Inn on the Cliff
Hampton Inn St. George
Best Western Plus Abbey Inn
This post is part of a partnership with Travel Mindset. All opinions are my own. When they aren't you will be the first to know.