The siren song of Zion National Park, one of the many Utah national parks, has been calling nature lovers for generations. Hikers flock here year after year to climb sandstone peaks and splash through the Virgin River to enter The Narrows.
A trip to Zion is the highlight of many family's summer vacations, even when temperatures in this desert region reach scorching heights. Is it worth it? Why yes it is.
Why Zion National Park?
Zion National Park was one of the many parks we squeezed into our cross-country, family travel road trip when we first moved from Seattle to Maryland.
A simple trip to see the Redwoods and Yosemite quickly turned into a trip to see as many national parks with kids in the west as possible, even though we could only spend about a day in each. We would go on to see Bryce Canyon and the Grand Canyon after Zion before we booked it to the east coast.
Our boys, who were ages 2 and 5 at the time, were seeing parts of their country that they never knew existed. My husband and I were excited to explore as much as possible, and our boys were more than up for the adventure.
In fact, my oldest pushed us more in Zion than any of the other parks by insisting we complete the Emerald Pools hike (see below) before we left the park for the night. We only had one day to explore this family-friendly park, and he didn't want to miss a thing.
We didn't have time to do any ranger programs with the kids, but these are certainly worth the time.
If you are short on time, or have mobility issues but still want to see the park, the Zion Canyon scenic drive is a must.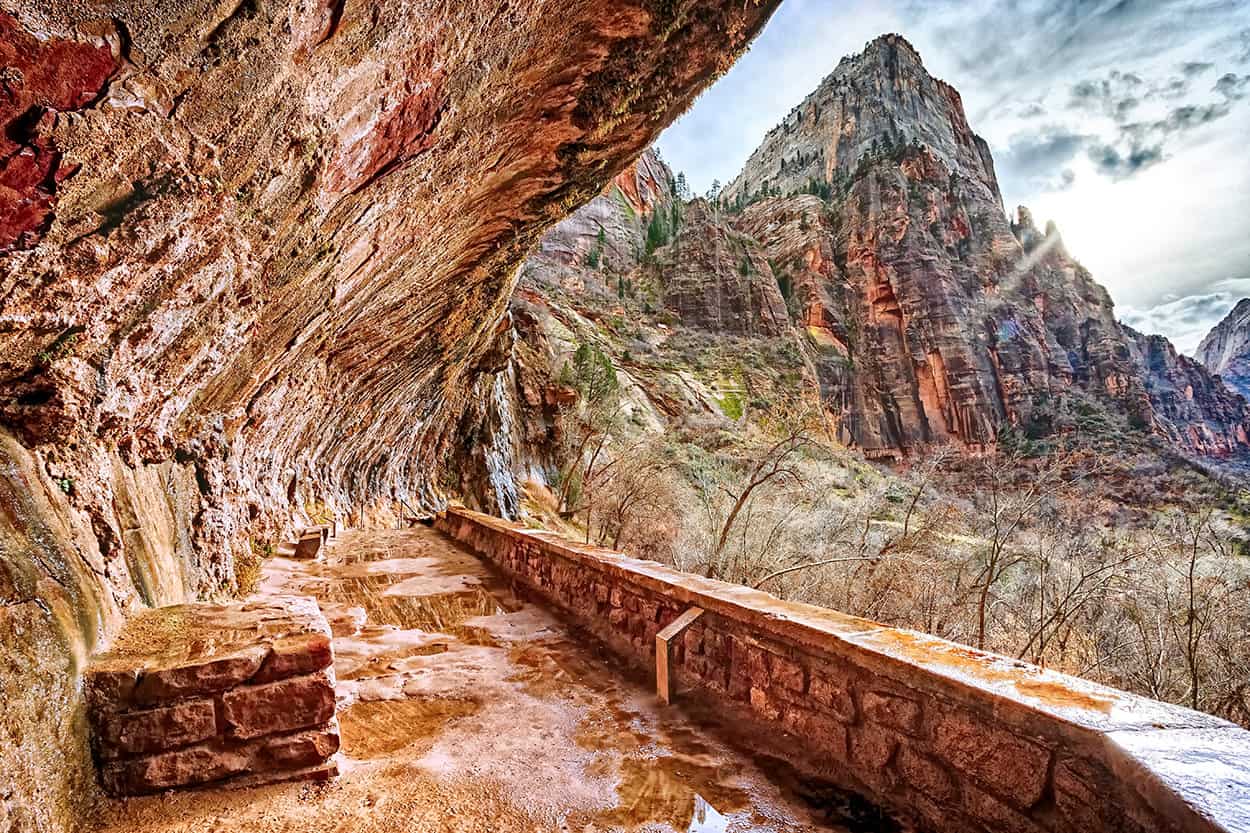 Planning a trip to Zion National Park
Organizing any kind of family trip can be stressful, and Zion National Park in Utah is no different. There are a few things to know before you head out to the park and hit the family-friendly trails.
If you are short on time, this is the perfect guide for you, but if you are planning to stay more than a day, you'll still enjoy this easy guide to exploring the park with kids.
How to get to Zion National Park
You can fly nonstop into Las Vegas from many USA airports and then drive about 2-3 hours to Zion National Park from Vegas.
St. George, UT also has an airport, but many times you will have to take a connecting flight from elsewhere to get there. Whether the connection and added expense are worth it are up to you, but if you can only spend a weekend in Zion, I would fly into St. George (SGU).
Where to stay
The drive into Springdale, UT towards Zion National Park, passing through St. George in southern Utah, is overflowing with lodging options that will be happy to have you and your children stay.
We loved the Cliffrose Lodge and Garden. It was an easy five-minute walk into the park, located along the Virgin River and a short distance from restaurants in town. The rooms were spacious and comfy and the staff went above and beyond to make our stay effortless and enjoyable. The included breakfast didn't hurt either.
Zion National Park Hotels
Zion National Park Vacation Rentals
Need a bit more space and amenities? Check out the vacation rentals near Zion National Park.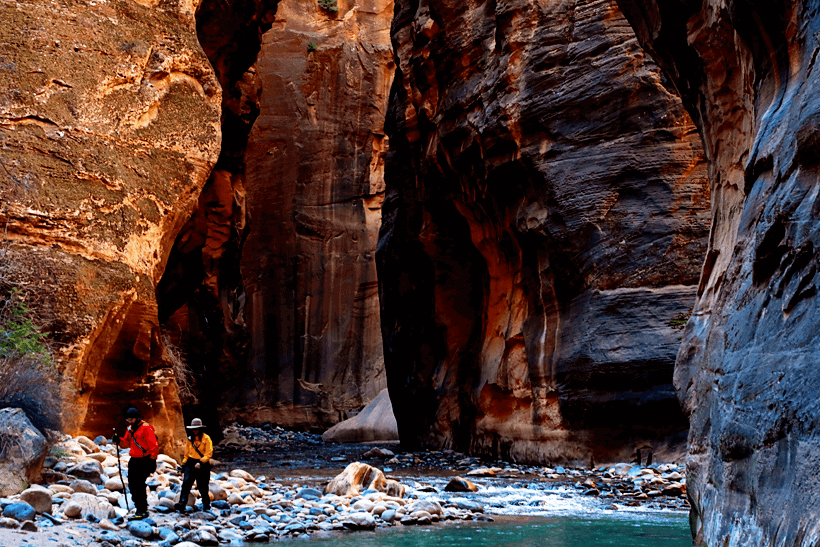 What to pack
Zion National Park FAQ
Are there any fees to enter Zion National Park?
Yes, there is an entrance fee to enter Zion National Park. The fee varies depending on the time of year and type of vehicle.
Does Zion National Park accept the National Park Passes?
Yes, Zion National Park accepts the America the Beautiful NPS passes, and you can also buy one while there. You can also use a Military Annual or Lifetime Pass, 4th Grade Pass, Senior Pass, Volunteer Pass or Access Pass.
Will my cell phone work in Zion National Park?
Cell phones do not work in the park. Stick to the trails.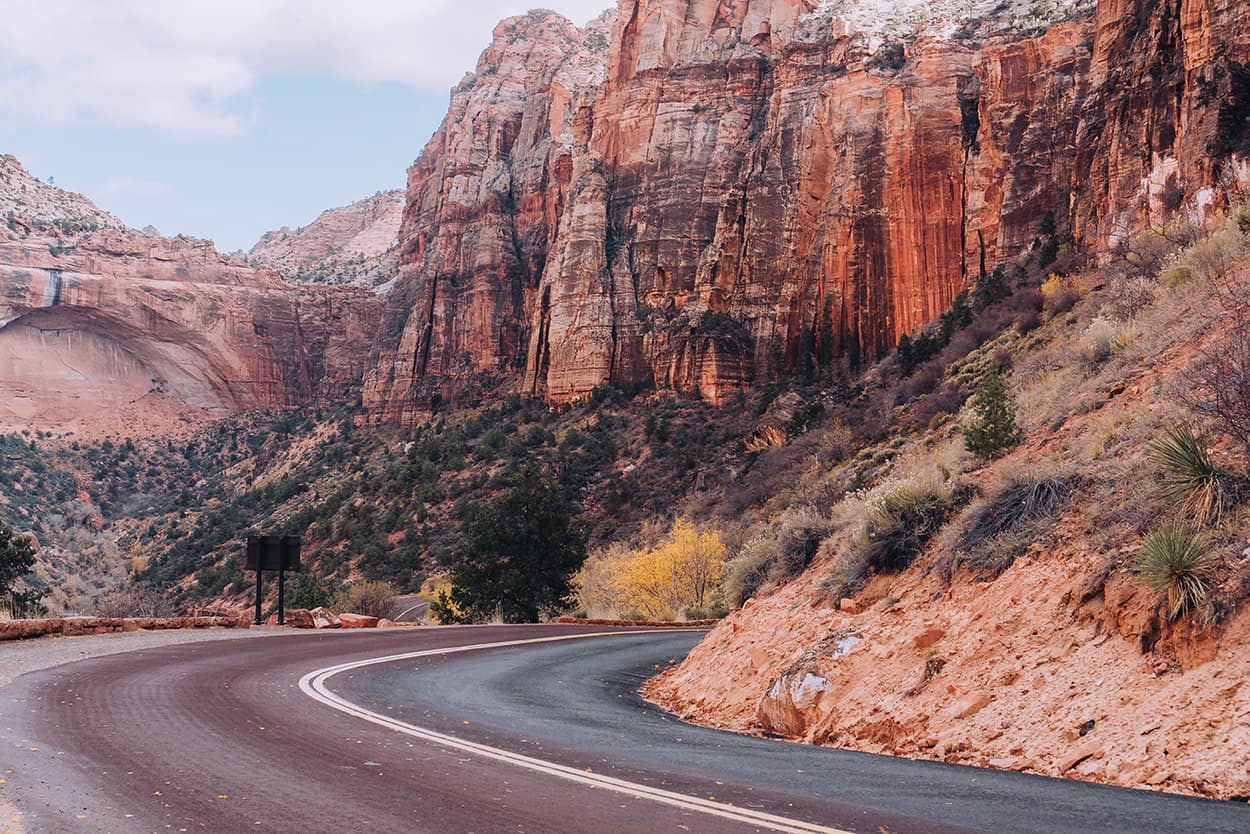 What happens if it rains while I'm hiking?
Check the weather before you start a hike. Distant storms can cause flash floods. Ask park rangers at the visitor's center if you aren't sure about weather or trail conditions.
How much water should I bring?
You will need more water than you think. Zion National Park has a desert climate and you will dehydrate more quickly while hiking around the park, especially if you are carrying a kid on your back.
As a rule, we always have a gallon of water in our car when we head into a park. This way we know we can refill quickly if needed. We also bring at least two 32 ounce reusable water bottles filled with H2O. As the boys got older, we started making them carry their own water too.
Where is Zion National Park located?
Zion National Park is located in southwestern Utah, in the United States.
What is the best time of year to visit Zion National Park?
The best time of year to visit Zion National Park is in the spring (March-May) or fall (September-November) when the weather is mild and crowds are smaller. Keep in mind that spring will offer more waterfalls and higher river waters than fall, which tends to be more dry.
Summer (June-August) is the busiest time of year and can be very hot, as well as crowded with little to no parking. Winter (December-February) can be cold and snowy, but offers up its own beauty you may want to explore, including a lot less crowds. You can even Hike the Narrows in winter.
What are some popular hikes in Zion National Park?
Some of the most popular hikes in Zion National Park include Angel's Landing, The Narrows, Observation Point, and Emerald Pools (Upper Pool and Lower Pool).
Can I drive through Zion National Park?
Yes. Sort of. There is a scenic drive through Zion National Park called the Zion Canyon Scenic Drive (see below for more information). However, during peak season, a shuttle system is in place to reduce congestion and protect the environment.
Are there camping facilities in Zion National Park?
Yes, there are several campgrounds in Zion National Park, including Watchman Campground, South Campground, and Lava Point Campground. Keep in mind that some of these are seasonal campgrounds and might not be offered in the winter or shoulder seasons.
Are there any guided tours of Zion National Park?
Yes, there are several companies that offer guided tours of Zion National Park, including Zion Adventure Company, Zion Jeep Tours, and Zion Guru.
How to get around Zion National Park
Parking in Zion National Park
The parking lots in Zion fill up by 10am most mornings and don't start to clear out until about 3pm.
Walk from your hotel in the town of Springdale to the park visitor center if that is an option or park in Springdale and take the free shuttle into the park to access the hiking trails.
The Zion Shuttle
One of the best parts of the park is the free Zion shuttle system that brings you to different spots throughout Zion Canyon. You can leave your car in the lot and dive right in.
Shuttles run regularly from the Zion Canyon Visitor Center to the Temple of Sinawava, and you will never wait for one for too long. You can hop off at nine different stops around the park, hike a bit and then hop back on.
This gives you more time to hike and less time between trailheads if you want to cover a lot of ground in one day or a weekend trip to Zion.
The first shuttle usually leaves at 7am, and the last shuttle arrives back at the Visitor Center by 7:15pm (this is subject to change depending on the seasons)
Zion Shuttle Stops
Zion Canyon Visitor Center
Zion Human History Museum
Canyon Junction
Court of the Patriarchs
Zion Lodge
The Grotto
Weeping Rock
Big Bend
Temple of Sinawava
Things to do in Zion National Park
Zion Canyon Visitor Center
The National Park Service visitor center is one of our favorites of all the United States National Parks. It gives you a taste of what is to come, with loads of history, geological information, and it is where you will pick up your Junior Ranger program workbook.
Zion Nature Center
One thing to note before you head to the Zion Nature Center is that you will need to walk from the Visitor Center or drive. There is a small parking lot you can park in that is right next to the South Campground.
Programming at the center ranges from dinosaurs to rocks and other animals and canyons in between. You can expect to see at least one of these ranger-led programs each day:
Rockin' Rocks – Marvel at the forces that shaped Zion's giant cliffs.
Canyon Connections – Hear the wild stories of living and non-living things.
Amazing Animals – Discover Zion's incredible animals and their adaptations.
Dino Discovery – Meet the fascinating creatures that roamed Zion long ago.
Note: triple check programming each day before you promise your kids anything. It will result in a lot less disappointments, whining and tears.
We particularly loved the Nature Center because it allows younger kids to use their imagination and really immerse themselves in the park. Kids can dress up as a park ranger, learn about dinosaur tracks, participate in interactive activities like games and painting, and even go on a scavenger hunt.
Instead of going on another "boring hike" with mom or dad, start at the Zion Nature Center so your kids can understand WHERE they are and why it is significant. After that, tackle an easy hike to get the kids warmed up on a popular trail… and then head to the Upper Emerald Pools for some truly amazing hiking (this is one of the more strenuous hikes, but if my 5 year old could do it, so can you).
Zion Human History Museum
If you have ever wondered why so many people love Zion, and the history of humans in this part of the country, you will want to make a stop in the Zion Human History Museum. You can explore the geology, plants, animals, and human communities who have wondered this section of Utah for thousands of years.
You can find the museum one half mile north of the park's south entrance on the main park road. If you are coming in from the east entrance, it's about 11 miles west o the entrance.
Before heading over, check with a park ranger to make sure the museum is open during your visit. It has odd hours and there isn't always enough staff to keep it open, especially on off-season in Zion.
Zion National Park Junior Ranger Program
Kids ages four and up are welcome to participate in the self-guided Junior Ranger Program at Zion National Park. You can pick up a booklet at the Zion Canyon Visitor Center and take part in a ranger-led program to earn a Junior Ranger badge.
Now adults, you are also allowed to get your Junior Ranger badge. In fact, I think I may have more than my own children. I get into all of the little factoids and spot things via the activities in the booklet. My first Junior Ranger badge came from Acadia National Park in Maine when I was a kid on a coastal Maine road trip, and I've been hooked ever since!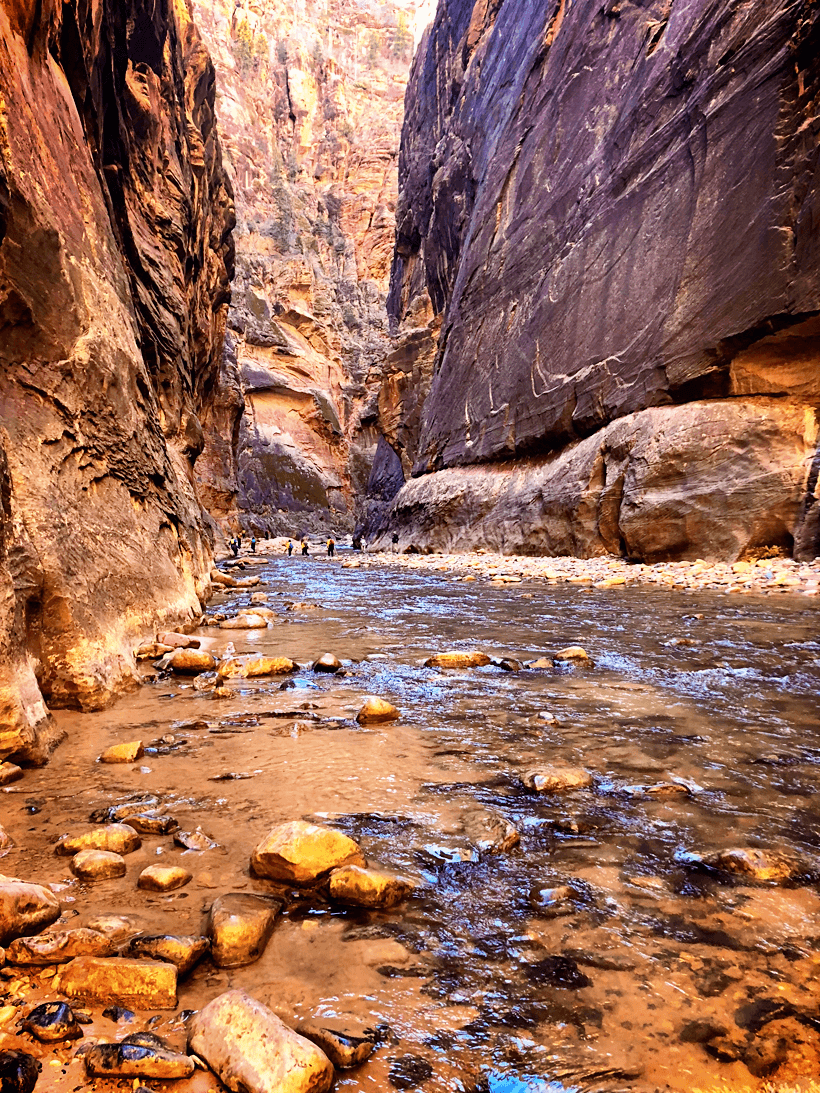 Zion National Park Kid Friendly Hikes
The Narrows
Everyone wants to explore The Narrows, Zion's legendary slot canyon, but when you are exploring Zion National Park with small children the closet you might get is to the end of the Riverside Walk. From here, you can still get a glimpse of the canyon walls, but you won't have to deal with as much uneven footing with a baby on your back.
Older kids can definitely hike the Narrows, and younger kids can tackle this trek through the river at least in the summer months when water levels are low.
Always listen out for flash flood warnings, most prevalent in winter and spring as snow begins to melt; these are no joke and you should always use caution and avoid hiking in canyons when flooding is predicted.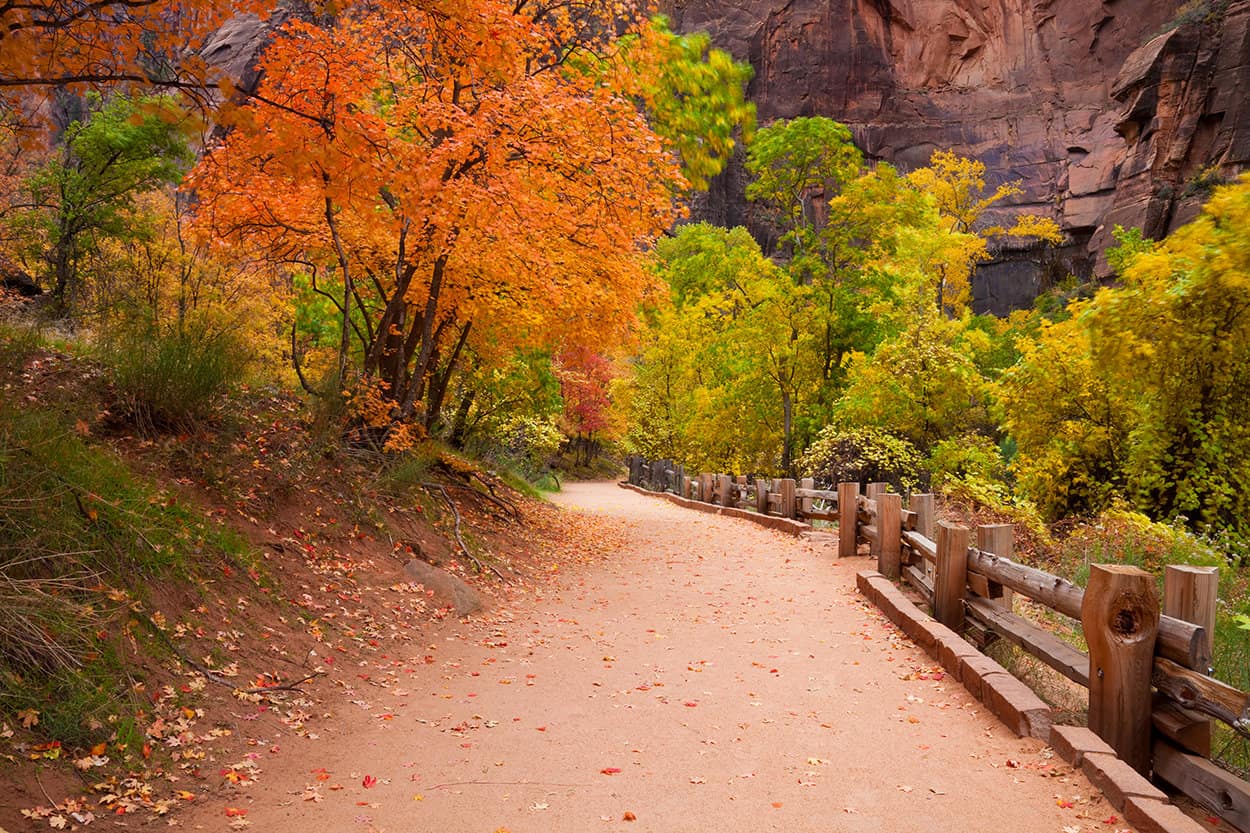 Riverside Walk (easy)
This peaceful and paved hike can be found at the last shuttle bus stop, and runs along the river that carves its way through the canyon. Just follow the crowds.
This is a great place to skip a few stones, look up at the mammoth rocks that make Zion the beauty she is and see a lot of people in water pants and water shoes who just came back from hiking the Narrows.
The hiking trail is worth it even if you can't venture into the Narrows. Take the shuttle to the end and just start walking. It's a great way to start your day in Zion, and one of the best hikes with babies and toddlers.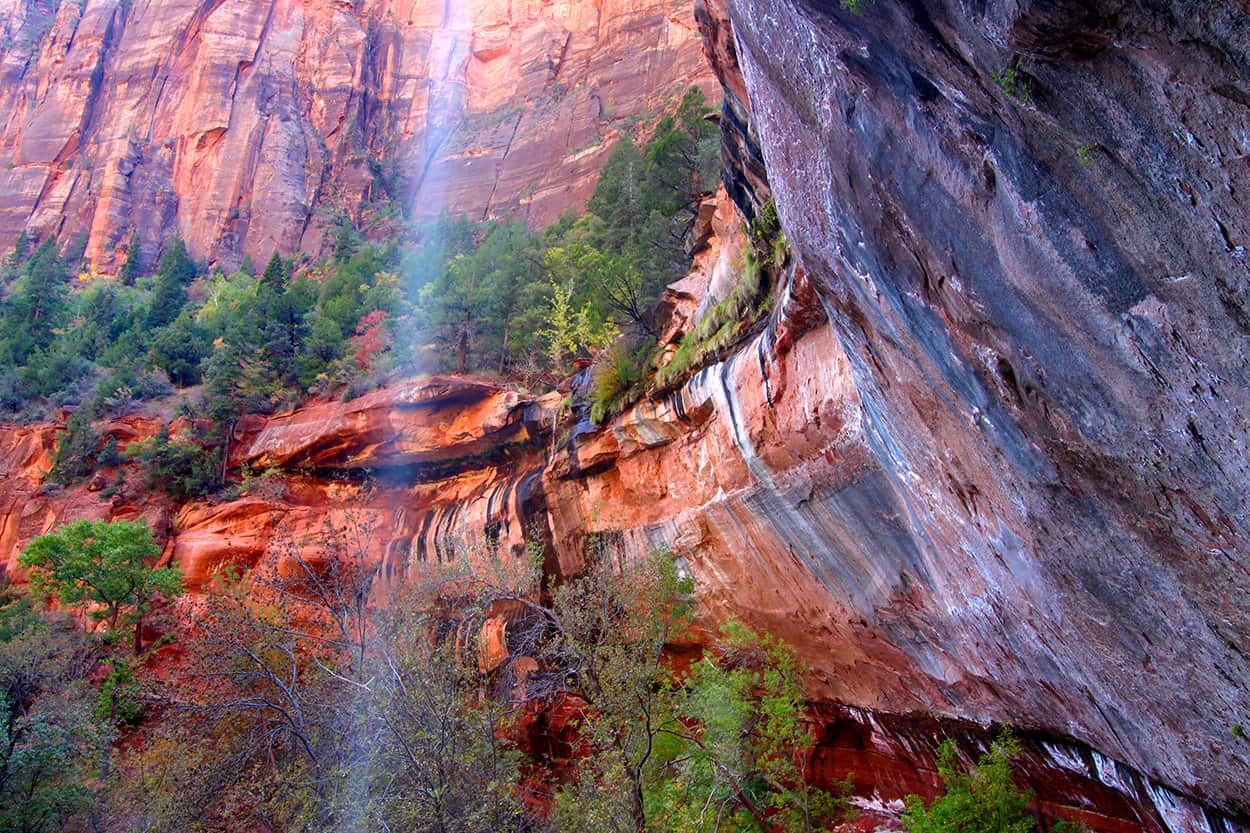 Emerald Pool Trail (easy to moderate)
The Emerald Pool Trail starts out easy as you wander your way through some woods on a paved trail. You will hear the pool before you see it depending on the time of year as water crashes over a cliff into the first pool. You can even walk under the waterfall. Just watch out—it can get slippery.
Water levels will be higher in spring and much lower in autumn. Either way, take note of the "hanging gardens" spilling over the canyon rock as you wander past.
The trail from the lower Emerald Pool to the Upper Emerald Pool does get a little trickier, and is considered a moderate hike.
The paved trail disappears and you will walk on a sand and rock trail, which can get slippery in spots. There are no guardrails, so make sure young children stay away from the edge.
The final leg of the upper pool does require climbing a few rocks, but it's nothing a mom or dad with sure footing and a baby in a hiking carrier on their back couldn't do with a little hand holding from their partner.
If our 5 year old can do the entire round trip hike along the Emerald Pool trails, so can you.
More kid-friendly Hiking Trails in Zion National Park
Archeology Trail (easy)
The Grotto Trail (easy)
Pa'rus Trail (easy)
Weeping Rock Trail (easy)
Canyon Overlook Trail (moderate, but steep drop-offs)
Angel's Landing (challenging)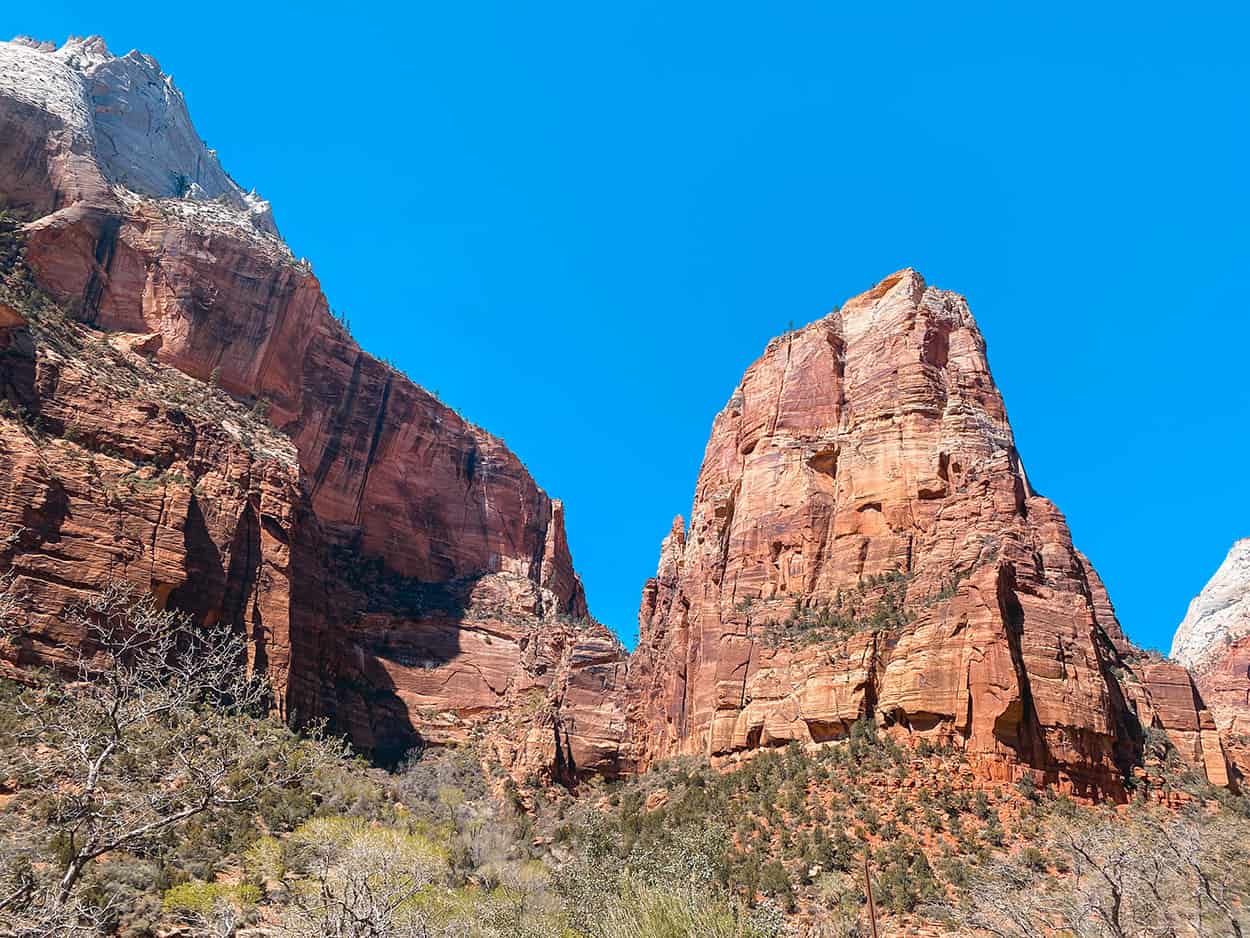 Wildlife in Zion National Park
In the canyon you might bump into a few creatures that you weren't expecting. Keep an eye out for scorpions, mountain lions and desert tortoises. This is their home, not yours, so be respectful and give them space.
We didn't meet any animals except a few elk in a field, but we were always on the lookout during our family vacation in the park. If you want to learn more, pop into the Zion Nature Center.
Zion Animals to See
There are 68 different kinds of mammals to be found in Zion National Park, and that doesn't even start to list the birds, amphibians, etc.
Here are just a few of the wild animals, including more than 78 species of mammals, 291 species of birds, 37 species of reptiles and amphibians and eight species of fish in Zion National Park, that you might spot.
Bats
Ringtail
Gray Fox
Coyote
Bobcat
Mountain Lion
Beaver
Porcupine
Rock squirrel
Chipmunk
Rock Gopher
Desert Bighorn Sheep
Mule Deer
Petit kangaroo rat
Steller's Jay
Peregrine falcon
Black-chinned hummingbird
Wild turkeys
California Condor
Tarantula
Canyon tree frog
Western rattlesnake
Red-spotted toad
Virgin River Spinedace (fish)
Flannelmouth Sucker (sucker)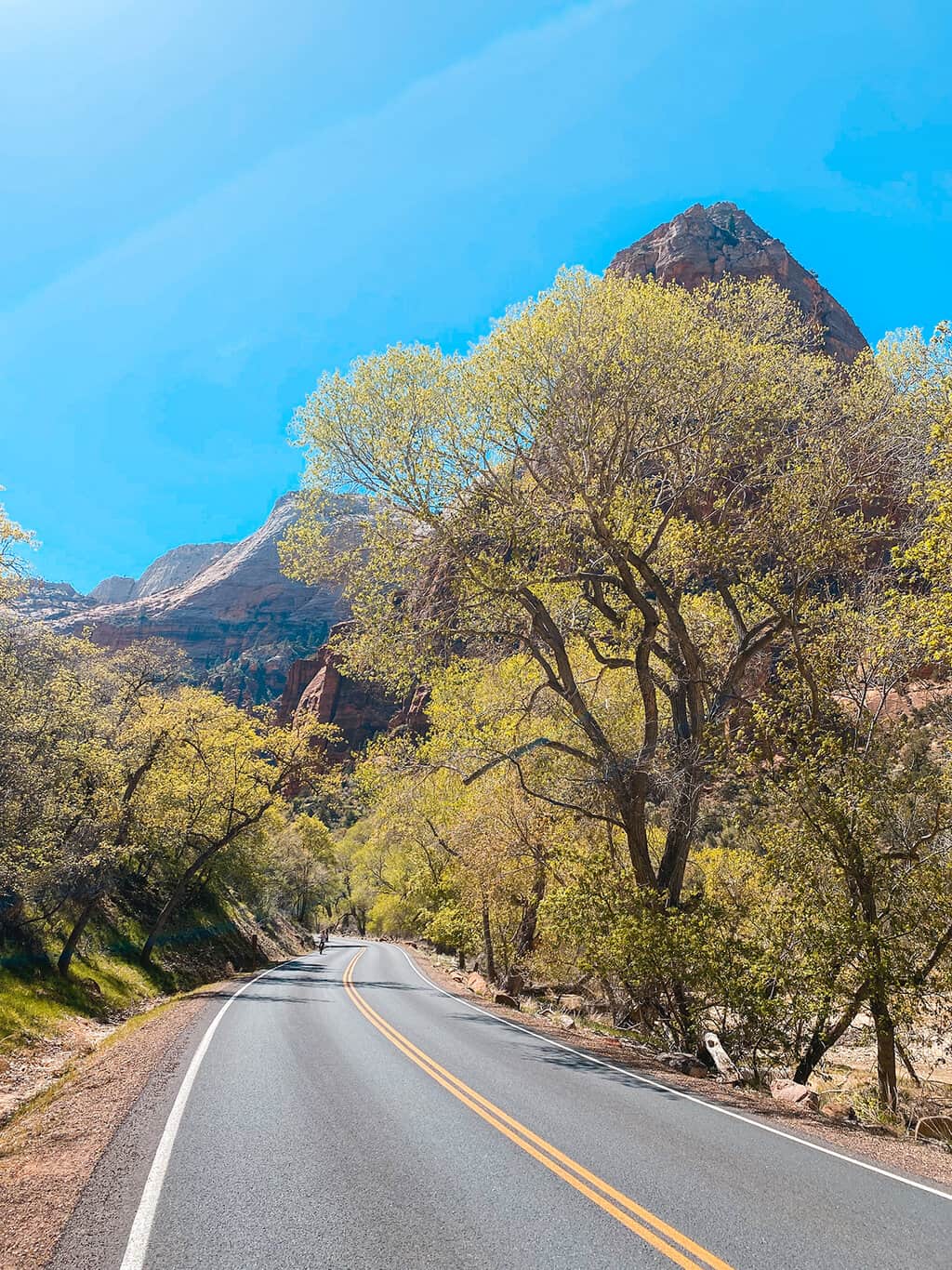 Zion Canyon Drives
You cannot actually drive into Zion Canyon. You can walk, enjoy biking or take one of the many shuttles that run a round-trip loop throughout the park. This has helped alleviate congestion and also make the canyon one of the more peaceful national parks in America, or at least I think so.
The shuttle is free to those visiting Zion National Park, and makes it very easy to get to trailheads and see multiple spots in the park in just one day.
You can also just sit back and enjoy all of the gorgeous sandstone cliffs looming overhead.
Zion-Mount Carmel Highway
There is one drive you can do that takes you east out of the park if you drive far enough—the Zion- Mount Carmel Highway (Rt. 9).
This drive is definitely worth it, as you will drive through rock arches, the very impressive Mt. Carmel tunnel that was dug out by hand, and pass stunning multicolored sandstone that was around well before man probably.
eBike in Zion National Park
One of my very favorite things to do in Zion National Park is ride eBikes. You can skip the tram and see so much more of the park at your own pace.
True- you will have to stay on the main road and can't take the bike on a trail, but if you are on the tram, you can make random stops to pull over and check out the view.
There are several eBike companies that offer bike rentals and guided tours.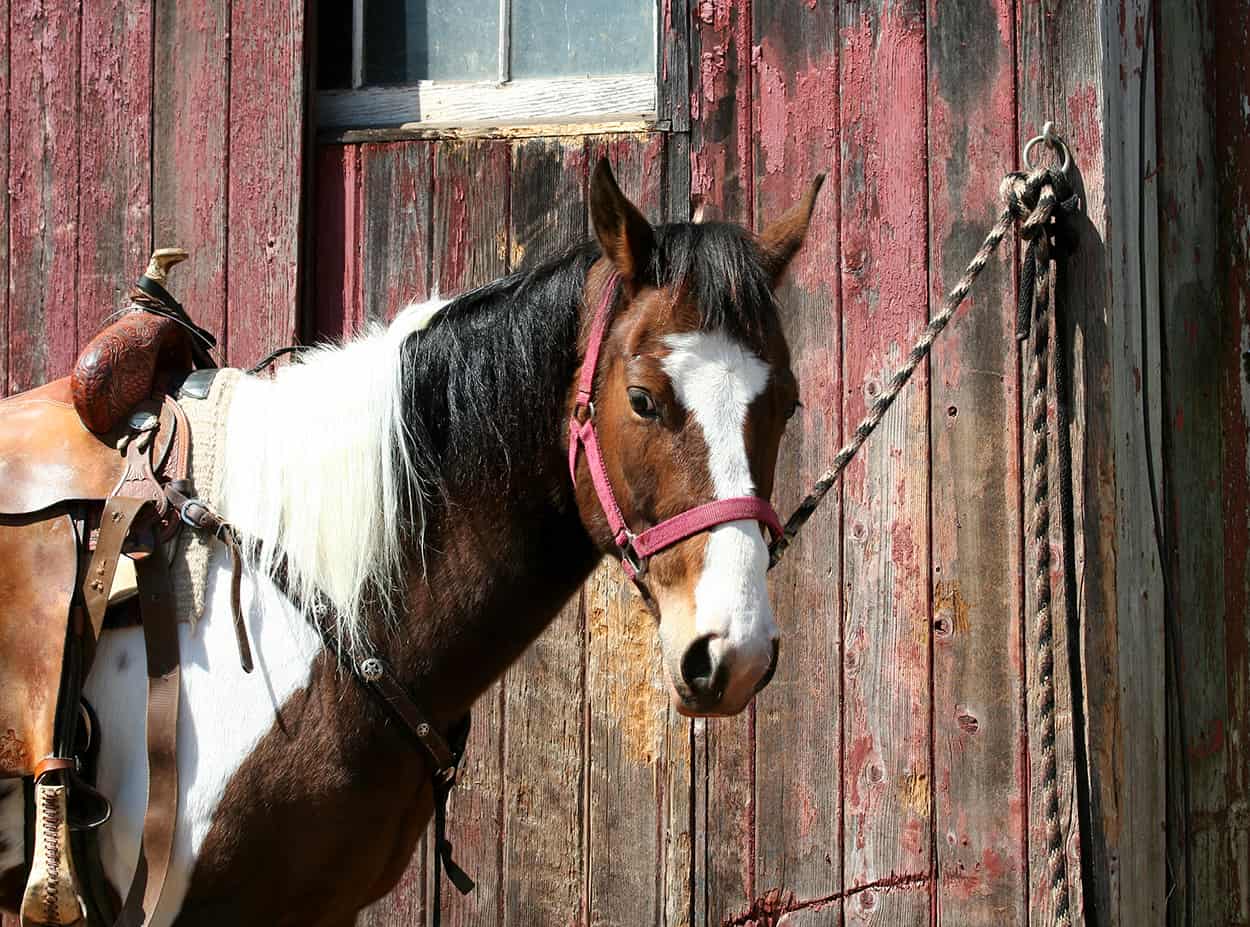 Horseback Riding in Zion
Nothing will wow your family more than a sunset horseback ride in Zion National Park. While many trail rides actually take place outside of the park, anywhere around Zion is gorgeous as the sun begins to set.
There are a few horse trail rides you can pick from including:
White Mountain Horseback Ride (through a slot canyon!)
Zion Sunset Horseback Ride
Pine Knoll Horseback Ride
Twin Knoll Horseback Ride
Pine Grove Horseback Ride
If you have nervous rides, you can take your kids on a 10 minute ride to get them used to horses, something we needed to do with my youngest more than once. He had to get off the horse before we even started to move on a trail ride in Medora, ND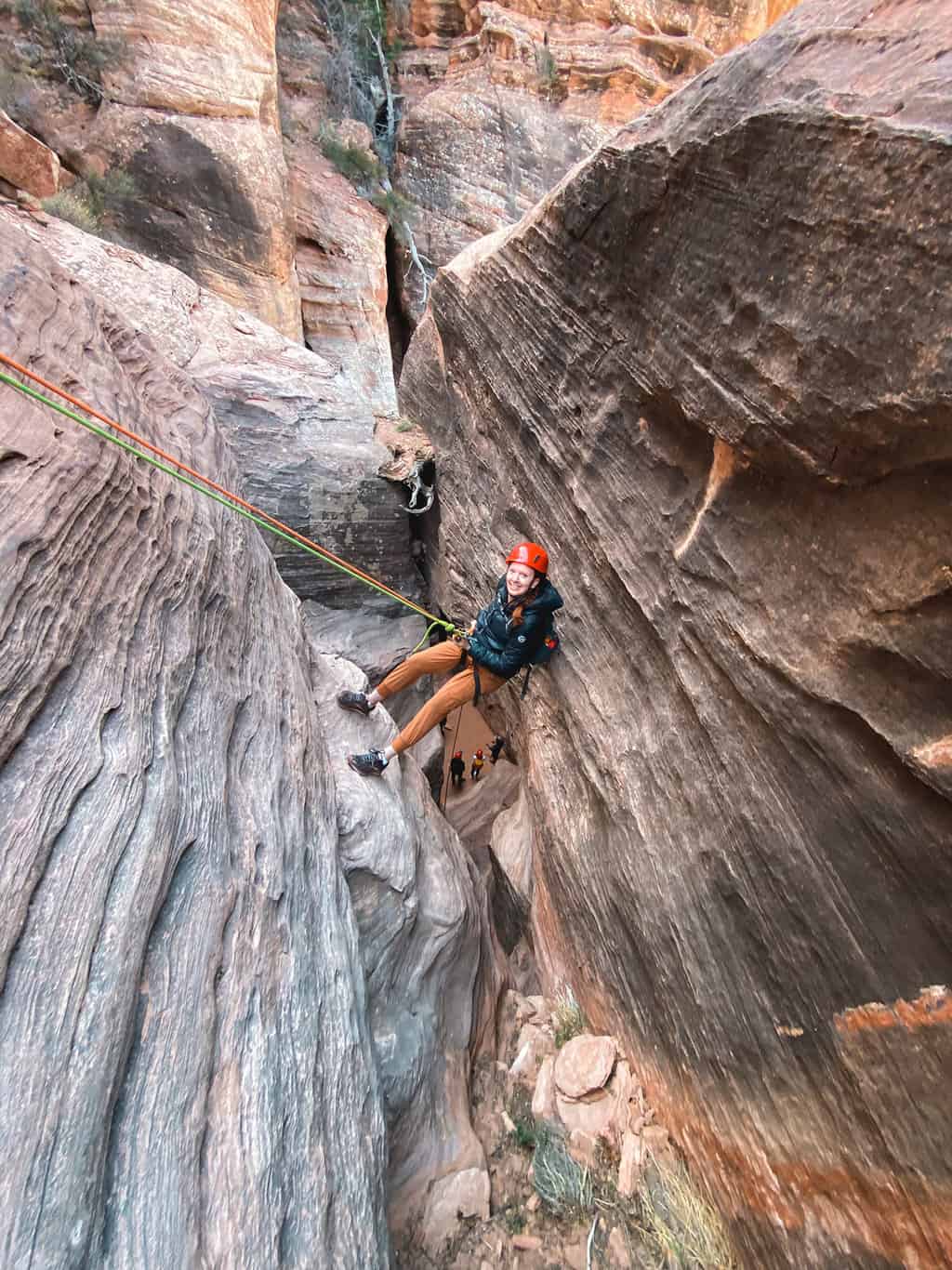 Rappelling in Zion
I never thought I'd go rappelling, but when work called and told me I had to do it, well, I did it. I'm just sorry my kids weren't there, because I saw tons of children just jumping down a mountain in ways I will never be brave enough to do.
Keep in mind that there are age limits and weight limits on who can canyoneer. For instance, Stone Hollow Canyon requires participants to be under 250lbs and more than 12 years old. This is for safety and what the guides are comfortable with as far as gear and the places they are bringing you through and down.
Zion Amazing Adventures offers a solid journey through the canyons around Zion at Lambs Knoll Climbing Site. Our guide Tyler was able to talk me down our last rappel when my nerves took over. Our guides were also awesome at getting photos from some of the weirdest angles and spots I've ever seen, making for some epic imagery to share. 
Above Zion Via Ferrata
If you are a daredevil, or have daredevil kids, you will want to tackle the Above Zion Via Ferrata with Utah Adventure Center. They claim it is safer than Angel's Landing, which is probably true. Unlike Angel's Landing, you are always strapped into a harness and you have to wear a hard hat.
The cliff walk is actually in Kolob Canyons near Zion National Park, but you get similar red rock formations and heights.
Kids as young as eight years old can join this climb. There are private and group tours available. Be prepared to drive out the site and then spend about four hours on the Via Ferrata.
Enjoy the view from the park Shuttle Service
Sometimes, you just want to sit and enjoy the view. The Zion Shuttle route brings you through the heart of Zion National Park, allowing you to look from side to side and even above as you traverse the terrain at your leisure.
Be warned- it can get hot in summer on the tram, but you can still enjoy the view. Still pack plenty of water to keep you hydrated, even in the winter months.
It's easy to hop off the tram to take a short hike if you are in the mood, or just enjoy the round trip journey, especially if you are on a one day itinerary in Zion.
One-Day in Zion National Park with kids itinerary
Enter the park as soon as it opens (usually 7a.m.)
Talk to the park rangers about hiking conditions in the visitor center
Pick up a Junior Ranger workbook
Take the shuttle to the end of the line (Temple of Sinawava)
Walk along the Riverside Walk (about 2 hours)
Take the shuttle back to Weeping Rock trail
Hike Weeping Rock trail (about 30 minutes)
Take the shuttle to Zion Lodge
Cross the street and climb the Emerald Pools Trail
Lunch at Zion Lodge
Take the shuttle to Zion Human History Museum
Explore the museum before hiking the Pa'rus Trail
Take the shuttle back to the Visitor Center shuttle stop, buy a few trinkets
Hop in the car and drive the Zion-Mount Carmel Highway
NOTE: if you are heading to Bryce Canyon National Park the next day skip the Zion-Mount Carmel drive. You can pass through Mount Carmel tunnel and see a ton along the way. If you are headed back to St. George, make sure you stop at Snow Canyon State Park. Continue on your journey to Grand Canyon National Park for even more fun in the desert.
Zion National Park with Kids FAQ
What should I pack for a trip to Zion National Park?
It's important to pack comfortable hiking shoes, appropriate clothing for the weather(layers are always best!), sunscreen, a hat, a refillable water bottle, and easy to carry snacks. Remember, anything you bring into a national park must be brought back out.
If you plan on hiking in the Narrows, you'll also need special equipment such as water shoes and a walking stick.
Learn more about hiking in the Narrows
Are there any age restrictions for hiking in Zion National Park?
There are no age restrictions for hiking in Zion National Park. Keep in mind that some trails may not be great for babies, toddlers and young children, or could require extra caution and gear, such as Angel's Landing and The Narrows.
Are there any family-friendly hikes in Zion National Park?
Yes, there are several family-friendly hikes in Zion National Park. We loved the Riverside Walk, Lower Emerald Pools Trail, and Weeping Rock Trail.
Can children participate in the Junior Ranger program at Zion National Park?
Yes, children ages 4-12 can participate in the Junior Ranger program at Zion National Park. The program includes activities and an educational booklet to help children learn about the park's natural and cultural resources.
Is it safe to hike in Zion National Park with kids?
Yes, it is safe to hike in Zion National Park with kids as long as you keep an eye on them and take precautions. Make sure to bring plenty of water and snacks, wear closed-toed sneakers or hiking shoes, and stay on designated trails. Never, ever leave a child unsupervised near cliffs or steep drop-offs.
Can you hike the Narrows in Zion with kids?
Well, yes, but it all depends on the comfort level of the parents, age of the children and time of the year you want to do the Narrows hike. 
Are there any ranger-led programs for kids in Zion National Park?
Yes, Zion National Park offers ranger-led programs for kids, such as evening programs, guided hikes, and educational activities that go along with their Junior Ranger badge activities.
Can I bring a stroller on hikes in Zion National Park?
Some hikes in Zion National Park are stroller-friendly, such as Riverside Walk and Pa'rus Trail. Most have uneven terrain and steep grades, which even an all-terrain stroller might not be able to handle, let alone your everyday travel stroller.
Are there any facilities in Zion National Park for families with babies and toddlers?
Yes, there are family-friendly facilities in Zion National Park, including picnic areas, restrooms, and a visitor center with exhibits and educational materials.
There are also changing tables available, but please make sure you dispose of diapers properly. If there is a trash can that says you can't put a diaper in it, please follow the rules.
Are there any special rules or regulations for hiking in Zion National Park with kids?
It's important to supervise children at all times while hiking in Zion National Park, and just like adults, kids need to stay on designated trails. Children should not climb on rocks or other natural features as this can harm the environment, making future generations unable to experience the same beauty. Everyone should be respectful of the park's natural resources, and never ever approach wildlife.
Pin it and start planning!