Quietly drifting down a mirror reflection of the sky, we waited. I held my breath. There it was again. The one true sight I had flown to the other side of the world to see. A phenomenon that had me whisking my eldest son at the age of almost nine years old to a new continent with me to witness. I had finally found the elusive pink river dolphins of the Brazilian Amazon while on a group tour with Our Whole Village and Katerre Expeditions.
Naturally, all of the kids on the boat started screaming and the dolphin swam away.
Such is life when you are traveling with kids. But isn't that the beauty of it all. I mean, we were on the Rio Negro to experience Planet Earth at its best (the BBC series and Mother Nature's version of it). Our guide Joshua was there to give it to us.
A fellow traveler, and dad on the trip, had claimed he had already seen the dolphins twice since we had boarded two days before. Personally, I thought he must be smoking something on the top deck of our boat, the Jacarè-Açu, because every time he yelled "Look! Dolphins!" no one saw a thing.
Yup. He was definitely having a personal party upstairs while the rest of us got kids slathered up in sunscreen and 98.1% DEET for our four-hour hike into the forest.

Is Brazil with Kids Actually a Good Idea?
I'd honestly never given much thought to Brazil as a destination. Like most people, I knew the country had great meat, rabid football (soccer) fans, great beaches and gorgeous women.
Thanks to the BBC Planet Earth series, I knew that there were many creatures to be found deep in the jungle. You know, those birds of paradise that built nests and jumped around for their lady friends to find a mate. So, cute, but hard to find, even for naturalists and professional wildlife photographers.
Oh, yes, and the anacondas, crocodiles, and tree frogs that could kill you if you just blinked wrong in their direction. Definitely, sounds like something I should run towards with my kids, right? Wrong!
I don't even like to go camping. Why in the world would I want to traipse through a forest filed with dangerous animals with kids? You know, those unpredictable little humans that I gave birth to so many years ago and still haven't quite figured out (sorry new moms, I still haven't found the parenting manual).
I like warm showers, clean hair, Internet access and the ability to send my kids away from me. Not spiders, tarantulas, snakes, parasites, water I can't see through to know what's coming to eat me, and beds without at least six pillows to build a fort around myself.
Geez. When did I become such a princess?

Our Whole Village Makes the Amazon Accessible
When my friend Patricia started her business, Our Whole Village, back in 2014, I knew she was onto something. She is a Brazilian native (yes, she is stunning and fabulous). Already she recognized that families wanted to give their children a deeper experience, but there were just some places that it was hard to dive into without a little help.
Europe is pretty easy for most people to visit on their own. If you have any sense of adventure, you really can figure out the basics, especially if you are going to stick to the cities.
However, if you want a truly unique experience, in a remote destination that you want to bring your kids along for, you call my friend Patricia. She started out by partnering with the brother of one of her best friends who owned Katerre Expeditions in the Brazilian Amazon.
Patricia built a package that takes you door to door from the airport in Brazil. Not worrying about where to stay, how you would travel to the hotel or to the starting point with Katerre, was a blessing. She tested it out first with her own girls when they were just three and five-years-old to ensure it really was child friendly at a young age.
More Details aBout Our Whole Village Trip to Brazil
I have to admit, as a mom I was always frustrated that I had an older child who was ready for more than his toddler brother, so we had to play it safe until they were both ready. Now you don't have to.

Let's Go to Brazil Mom!
Earlier this spring I woke up to an email from Patricia. She wanted to take a group of writers and their kids out on the boat with Katerre Expedition. We were going to test out her package, help her work out some kinks, and then spread the word. Seemed easy enough.
Except, you know, apparently, I was a diva in disguise. Oh, the things I learn when I travel!
My husband didn't have enough vacation time to join us. I just couldn't deal with bringing two kids into the Amazon by myself for the first time, especially my wild-card, six-year-old son who could meltdown or wander off at any moment. My almost nine-year-old son was the easy choice. He loved rice, beans, fish and meat. He could sleep anywhere, made friends easily, and was usually up for any sort of activity and adventure.
I booked our flights, paid our fee, and away we went.

Yellow Fever, Brazil Visas and Passports… Oh My!
Getting to Brazil was pretty straight forward. We had our valid U.S. passports. Getting our Brazil Visas was more of a pain because of the parental consent form.
When getting a Brazilian visa for minors, both parent signatures have to match their passport signatures, which isn't easy to do if you don't sign your full legal name regularly (I have four legal names and only sign two regularly for most things).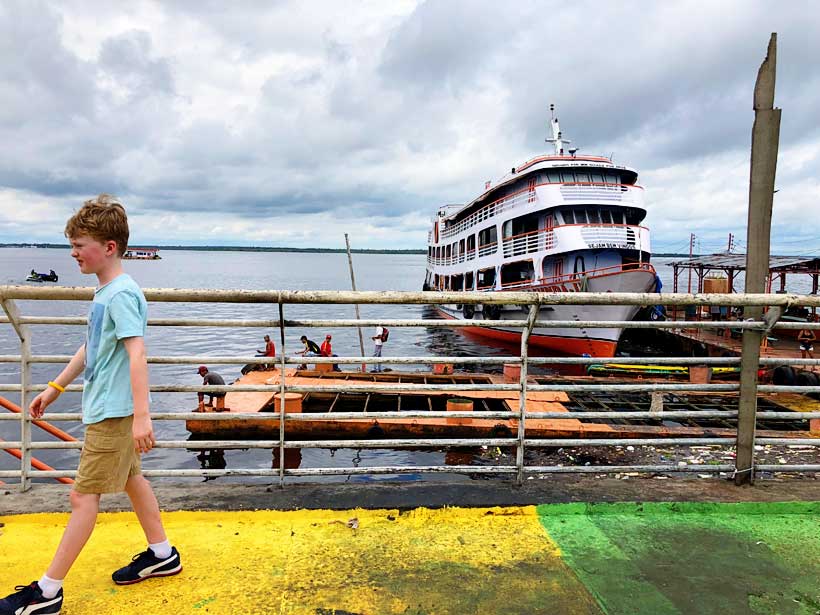 My son wanted to skip the trip the second he found out he had to get a yellow fever vaccine. A three second poke and one carne asada burrito later, he was back onboard with the plan.
While Malaria cases have been reported around Manaus and the Amazon, they aren't wide spread and it wasn't prevalent on the Rio Negro where we were traveling because of the acidity in the black waters. I decided to just use the strongest DEET products available. I did load up on Permethin to spray down our clothes and ExOfficio BugsAway Clothing just in case.

Manaus Brazil or Bust
Our arrival to Brazil was uneventful. From DC, it was an easy flight to Miami. A five-hour flight on American (or LATAM) got us down to Manaus.
We camped out at the Hotel Casa Teatre, a budget level hotel, which did challenge my need for multiple pillows, two beds (we shared a double) and privacy from my son while showering (a wall of glass was the only thing separating the shower from our bedroom). However, the location could not be beat, as it was just steps from the very pink national opera house.
Local taxis from Novo Airão, where our boat departed from, met us at our hotel. Why not big tour buses? Because Katerre and Our Whole Village are all about supporting the local economy of the communities they support.
Most of the main operation of Katerre is out of Novo Airão, where they employ locales to work at the restaurant, lodge and boat that goes up the Rio Negro. A large portion of your trip fee also goes back to the foundation that Katerre has partnered with locally, Almirinda Malaquias Foundation (FAM), started by a Swiss and Brazilian couple. The foundation provides free education on environmental awareness to more than 150 children between 6 and 16 years, as well as working stations for craftsman to design and create furniture and decorative objects such as plates, pots and boxes.

All Aboard the Jacarè-Açu
Our taxis brought us to Flor do Luar, a floating restaurant right on the Rio Negro that was named after the moonlight flowers that only open once per year that American cultural anthropologist Margaret Mead (1901-1978) came to Brazil to find and draw. This was our first true look at the river we would live on for the next five days. It was also our chance to jump in the water, cool off and allow the kids to finally let loose.
I on the other hand was looking at that water with trepidation.
What was in that water? Barracuda? Piranhas? Snakes? Zombies that would swim up with incredible speed to pull me to my watery grave?
Have I mentioned my incredible imagination yet, or the fact that I was happily letting my son jump in the water with his new friends while all of this was going through my mind, but my only concern was for my own safety? Mother of the year award right here people.

Swimming in the Rio Negro
Obviously, nothing happened to any of the kids. The most tears occurred after someone got splashed in the face who didn't want to be splashed. Patricia and Ruy, the owner of Katerre Expeditions who was traveling with us, knew where it was safe to swim and where it wasn't. Our boat captain Tito and our local guide Joshua, who were both born on this river, also knew intimately where to swim and when it was safe.
In fact, the captain's 11-year-old son was there to greet us when we arrived, brought out kayaks for the kids to play with, and showed off his flips off the dock. There may have been a language barrier with a few of the kids (Patricia's girls speak Portuguese fluently), but nothing bonds kids like a good flip and cannon ball competition.

Unplugged and No Rash Occurred. It's A Miracle.
Climbing aboard the Jacarè-Açu, I took a deep breathe. I'd been offline since we left the Hotel Casa Teatre that morning, but this was the river. There was no turning back. Friends on this journey who had brought Mi-Fi devices and HotSpots were about to lose all connectivity.
The only contact with the outside world would be an emergency satellite phone the captain had onboard. Even if we wanted to rack up some serious roaming charges we couldn't. There were no cell towers in this part of the Amazon.
It took my friend Karilyn about 48 hours to really relax. Mental "hives" had broken out on a few of us from not being able to check email, Facebook and Instagram.
Those first 24 hours there was a lot of talk about "how great it was to get so disconnect," and yet that is what we were talking about– being disconnected from our devices. Was that being truly disconnected? Not yet.

Sunrise and Sunset on the Rio Negro
The first signs of disconnection happened our first night though. Yes, we all had our cameras out, but it was the first rays of what was to come. The sunset was showing us oranges and yellows ahead, pinks behind. Oddest of all, there were bright green reflections in the water, something I have never seen during a sunset.
That night many of the kids slept at an observation point in hammocks. Patricia and her boyfriend Dean stayed up with the kids. Suddenly they were auntie and uncle to six kids' nervous giggles as their parents headed back down the hill to the boat. We would traipse back up at 5 o'clock in the morning to watch the sunrise, which on a clear day would be spectacular. Hopefully no tarantulas would fall on those intrepid overnighters while they were dreaming.
Sunrise came cloudy, but those adults and kids (only two sleepwalking sons were forced to stay on the boat with their moms, mine included) were on that hill just in case. No coffee was prepared. Just fresh air, the last of the bats flying around, and an odd, oily look on the water below.
It wasn't oil though. The Rio Negro is so black that it churns and glides, reflecting the sky's light as it moves with the current, or pulls over to shore. We were there at the end of the wet season, and the water was higher than many locals had seen it at that time of year.

Reconnecting in the Brazilian Amazon
Full signs of being unplugged came about two days into our journey. Talk of how disconnected we were had ceased. More chatter was around what we were seeing, what we were going to see, our future travels, what we thought about such and such, etc. Connections on that basic human level, not an electronic level, were occurring.
As many were my industry colleagues that I only got to chat with around the "Facebook water cooler," we talked business; who we were working with, what was and wasn't working for us us, and how we wanted to improve our businesses and grow in the coming year. Yes, our businesses were technology based, but this was something more. It was a base business discussion that rarely gets to happen when you are self-employed. Somehow, the Amazon Rainforest gave that to us.
That wasn't the only connection we made.


Mini Ambassadors in the Amazon with Kids
Part of the work Katerre does, and the reason Our Whole Village and Patricia partnered with them, is because of the connection Katerre Expeditions has with the local communities along the river. Through their partnership with FAM, they are able to help bring teachers and supplies to the more remote villages and communities. They build schools, teacher houses and toilet facilities. They also work with the local leaders to protect the indigenous turtle population that is being poached at an alarming rate similar to what has been seen in Costa Rica.
While adults may be able to sit in a classroom and hear about the work being done at the local school, kids really don't care. At least my kids and another seven-year-old boy on our trip didn't. It had been raining. The local kids were playing in the water and in the trees. A tiny river was being dug out. Obviously, things had to be done and my kid and his friend had to help.
Quite frankly, as a mom who gets very antsy and can't sit still ever, I didn't need much of an excuse to follow my kid. I watched from far enough away not to interfere, just to observe. I always love to see how my kids interact with locals when they can't speak the language. Play is the greatest barrier breaker in the world.
Goooooooooooooal!
This was later proved once again when all of the kids, and our crew from the Jacarè-Açu, including the captain, played a rousing game of football (soccer) in the rain and mud. You can't get that muddy without a follow-up swim in the river, or jumping off half submerged trees either.
Side note: I am the opposite of a soccer mom, despite the fact that both of my kids have played soccer since before they could walk, and I'm married to a huge soccer fan (go Arsenal!). However, being in Brazil during the World Cup, I did have to yell "Goooooooooal" for at least 45 seconds every time the ball made it into the goal. I'm forced to watch a lot of soccer on Univision back home folks. The Brazilians all thought I was nuts, but it seemed to be appreciated.
These unplanned moments are what I crave for my boys. The forced activities aren't what they remember. It's the spontaneity that they look back on and say, "remember that time we played in the rain with those kids. That was so cool how he did that backflip and then showed me how to climb that tree." International relations start at such a basic level. Adults should never forget that.

OK, but back to my unwashed hair
By now you are in awe of my amazing kid and all he has seen and done. You've forgotten how I said I'm a pampered princess. Phew! My plan worked. Well, I guess I need to rip those shiny glasses off now.
While my oldest son can sleep anywhere (there was much groaning when he couldn't sleep in a hammock), I cannot. I need a sound machine to pass out. I also haven't slept on a top bunk in at least 20 years.
So, you can imagine when we walked into our cabin that first day and found bunk beds. I was a bit confused when my son refused to sleep on the top bunk. There was no guard rail. He is a mover and shaker in his sleep. He was scared he would fall off.
As the ever-loving mother, I, along with the two other parents onboard in bunk bed cabins, gave up that safe lower level bunk so our kids could fall asleep securely in the bottom bunk.

Where is my trophy kid?!
Now, as most mothers will tell you, after giving birth, we tend to get up in the middle of the night to relieve ourselves. Yeah. After one night of figuring that out in the dark, I was done. I told my son to move over. We were having ultimate snuggle time in that bottom bunk. With his head at one end and mine at the other, two sheets, two pillows and one comforter, we were super cozy.
Coffee never looked so good.
For a boy who had been craving some alone time with his mom ever since his baby brother was born six years ago, he got his wish. He got loads of snuggles. I got a foot in the face every night. Would I do it again. Yes. I won't be able to fit in a twin bed with that kid much longer. And my foot was in his face just as much.
As for my hair, well, we swam in the river a bunch. Does that count? I washed it once on the boat, but since its all river water being pumped onto the boat, I wasn't that stressed over the difference.

Luxury at Last at Mirante do Gavião Amazon Lodge
At one point in our trip, I wanted to ask Patricia if she eased us into what we were to expect next on our journey. As we pulled up to Mirante do Gavião Amazon Lodge, I wish I had.
While our first hotel was budget basic in accommodation, albeit with a killer location, and the Jacarè-Açu was similar to camping on a boat with indoor plumbing, air conditioning and a phenomenal crew. The lodge was my little serene piece of heaven.
It was like a reward after surviving the black waters of the Rio Negro. I mean, I wasn't eaten by piranhas. We never got bitten by a snake. I walked out of the jungle with one mosquito bite and one fire ant bite.
Is that some sort of record? Trophy number two for mama!
We had seen the Mirante do Gavião Amazon Lodge from the river on our way out on our expedition. From far away it looked nice, but quite honestly, it could have been anything close up. Until I saw the rooms, and most importantly, the beds, I couldn't make a judgement call.

The Shower that Made My day
The shower was my undoing. Hot, luscious water beat down from the rain shower. Not unlike the actual rain showers we had experienced while on the boat, but this shower spurt out more than river temperature water. I was actually able to shave my legs after a week without getting major nicks.
Beds with two fluffy pillows, a balcony I could watch the sunset from and a mini fridge of water, soda and Pringles? Is this what heaven looked like for all of those wilderness backpackers I'd heard about but have never joined out on the road.
Goodness, I really have gotten soft in my old age. Patricia got to me at just the right time.
Sadly, we were only at Mirante do Gavião Amazon Lodge for one night. The food was scrumptious, having been prepared by Debora Shornik, the Sao Paulo born, female executive chef of the property, as well as the owner's other restaurant Caxiri in Manaus. Local fish, meat, fresh salads, fruit, vegetables, soups, and specially concocted cocktails finished off with dessert and espresso were all to be had at one meal. Breakfast involved eggs, freshly baked breads, coffee and fruit.

The Pink Dolphins of Anavilhanas National Park
Our last excursion of the trip was to a dolphin education center in the Anavilhanas National Park. We met Marilda Medeiros, who has single handedly been trying to educate and protect the pink dolphins of the Rio Negro in Novo Airão.
Our small group was able to spend 30 minutes learning about the dolphins. Each one of us got to gently pet a dolphin under its chin while it came by to grab a piece of fish from a feeder, but no more than that.
These animals are wild. Medeiros is on a mission to make sure they stay wild and protected, not turned into circus animals. Her goal is to educate locals and tourists so they spread a message of conservation, protection and respect for these fresh-water mammals. You can no longer swim with dolphins at her center, a practice once widely accepted throughout Brazil, but one that is slowly being phased out. There is still a lot of work to do though.
She has one more advocate in me. While I was a nonbeliever that we would see a pink dolphin at all on our journey, assuming Dean was on some sort of hallucinogenic up on the top deck, I now can soberly confirm that they do exists. And they are worth our protection, and our admiration.

Creature comforts may not be necessary
But now, back to my cozy bed and pillow at home, my Wi-Fi, blow outs, mani/pedi and two happy, healthy boys. Camping may not be on my agenda any time soon though. Of course, now that my oldest has seen me "rough it" he has ammo to get me out there. We'll see. Apparently, I can survive in the world without six pillows and hot water after all.
I will always have my sound machine with me though. I just found these nifty Sleepbuds!
NOTE: When reading this, I hope you discovered that my "voice" is generally dripping with sarcasm and has a note of hilarity in it. I am not a fluffy princess. I'm far from it. There are no precious snowflakes in my family. Do I enjoy my creature comforts? Of course! But, when it comes to unforgettable experiences, even crazy hair, I will suck it up every time to pet that damn pink dolphin again and climb a tree with my kid in the wilds of Brazil! The world is a beautiful, wild and messy place. I don't plan on missing a single millimeter of it.
Many thanks to Our Whole Village and Katerre Expeditions for hosting my portion of my trip while in Brazil. I did pay for our airfare, tips and my son's fee to join the expedition. As always, my opinions are my own. When they aren't, you will be the first to know. This post may contains affiliate links. If you make a purchase after clicking one of those links I will receive a small commission.