If there's one superpower that moms possess, it's the ability to multitask. We expect the same from our baby gear. If the product allows us to accomplish tasks around the house while keeping a baby happy, there's no limit to the amount of money we're willing to spend. The baby carrier is no exception.
Find the perfect baby carrier for your travel style
Gone are the days of bulky, fashion-clashing baby carriers. Today, mamas are looking stylish while carrying babies close with their hands free. If there's one thing we dread when traveling with babies, it's the process of getting the entire family and all of our gear through airport security and onto the plane.
Having your baby snuggled on your chest with your hands free is one way to make that transition from car to plane a breeze! Plus, what better way to protect your infants from a stranger's unwanted attention than by having them safely secured to your body.
We've listed a few of our favorite baby carriers that fashionable moms (and dads!) will want to enjoy. You can use a carrier to cuddle up while at home, run errands around town, or explore the world as a family. Even better, these baby carriers work for babies who want to be positioned front, for moms who didn't love the Moby wrap, but want something similar, and those who need to carry toddlers on a hip.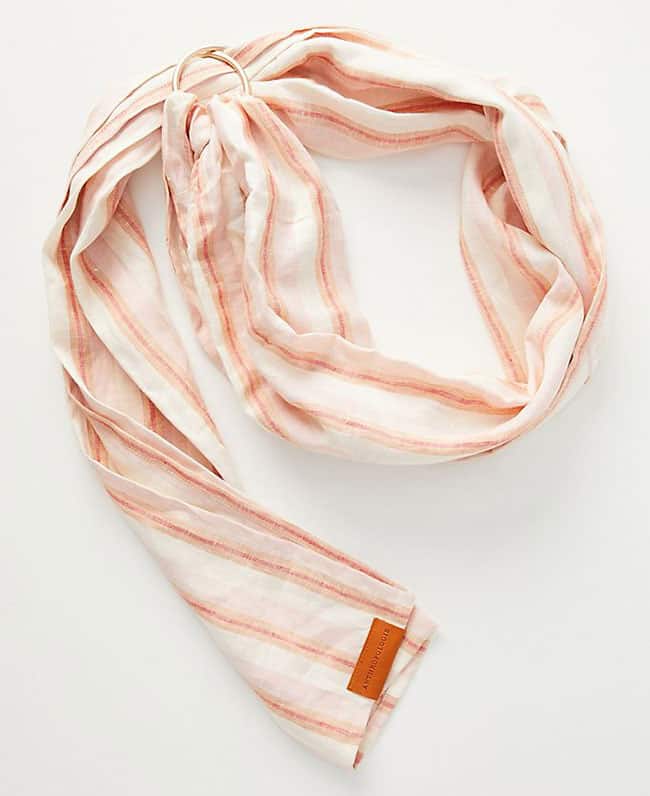 Wildbird Ring Sling
Why we like the Wild Bird Ring Sling: These baby slings are lightweight and supportive. Throw one in your purse and grab it whenever your little one needs to be held.
There's a small learning curve to threading the fabric, but after a few tries, you'll be able to thread your sling and have your kiddo up in mere seconds. Best of all, it comes in solids and print patterns and is machine washable. Wildbird ring slings also come in doubles so that you can hold you babies as they grow into rambunctious toddlers.
TIP: If you don't want to spend the money on a brand new sling, we've found that most mamas of newborns prefer secondhand slings that have already been softened and broken in. Bonus: secondhand slings are also more affordable!
Best uses: As far as soft structured carriers go, ring slings are our favorites to use around the house. We find that younger babies love the feeling of being wrapped in a soft blanket and close to mama. While great for travel, the metal rings of the sling will not be able to be worn through airport security. Most (if not all) airlines will require you to remove your baby from any carrier during takeoff and landing. That being said, ring slings are perfect to hold sleeping babies on long plane rides.
Solly Baby Wrap
Why we like it: These Solly Baby wraps are basically a swaddle for both mama and baby. Don't be alarmed by the sheer amount of fabric; it is similar to the Moby in that way. With a little practice, you'll be wrapping and wearing your infant or toddler in no time.
The Solly Baby wraps are made from modal material and are buttery soft. They are perfect for soaking up all of those newborn cuddles. We can't gush enough about the number of patterns they come in too! Snag one for yourself and have your partner choose a style they love. The more snuggles, the better!
Best uses: Since the Solly Baby wrap doesn't include metal hardware, it's the perfect carrier to get your tot through airport security. If you've mastered the wrapping technique, you'll have no issue re-securing your babe after takeoff and landing, although cramped airport quarters might provide a challenge.
Be patient with yourself as you learn how to wrap your baby. You may need to enlist another family member to help you at first, but the process will soon become muscle memory.
Sakura Bloom Onbuhimo
Why we like it: The Sakura Bloom Onbuhimo is modeled after a traditional Japanese baby carrier that is made for older babes (15-35lbs). According to Sakura Bloom, this weightless soft carrier gives you a wonderful feeling of freedom while letting your little one ride high enough in the carry position to see over your shoulder and be right where the action is.
The fashionable mix of linen with leather shoulder straps not only provides ample support but makes for one fashionable and functional baby-wearing accessory.
We suggest graduating to this carrier once your babe is old enough. You can start with Sakura Bloom's Scout for your smaller babies. The Scout offers the same level of support but with a smaller learning curve and a comfortable waist strap.
Best uses: An Onbuhimo is perfect for exploration! Your older babies will love being able to take in all the sites from the comfort of your back. While sturdy, the Onbuhimo can be easily rolled to fit into a diaper bag or carry-on.
Tula Free-to-Grow Carrier
Why we like it: As the name implies, the Tula Free-to-Grow carrier will support your baby from newborn to their toddler years (similar to the Ergobaby Omni 360). Built for children weighing 7 to 45 pounds, this is a worthy investment that will last for years (and can be used for future siblings)!
These carriers are easy to use, extremely comfortable, and can be taken through airport security. The waist belt adds extra security for babes of all sizes. We add bonus points for the wide variety of prints that give you the ability to match your own personal style.
Best uses: Compared to the other baby carriers we listed, the Free-to-Grow is on the bulkier side. That being said, it's the perfect carrier for nearly every occasion. It provides great lumbar support and you don't need to purchase a separate infant insert.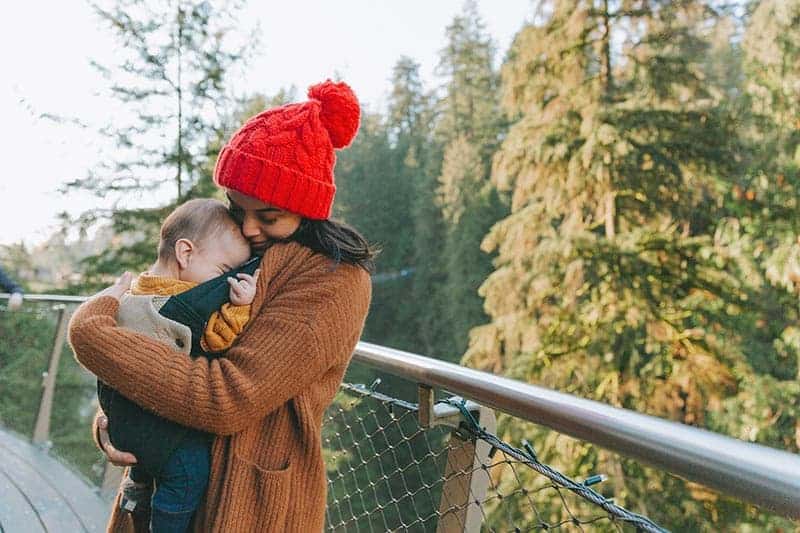 Find what works best for you and you baby
It's hard to know what baby carrier you and your babe will like best. We suggest trying a few out to see which you prefer. Borrow one from your fellow mama friends for a couple days before you take the plunge. And be sure to keep in mind that baby carriers that work for smaller babies might not work for toddlers.
Finding the best baby carrier to fit your lifestyle might take time but once you find the perfect fit, it'll be worth it!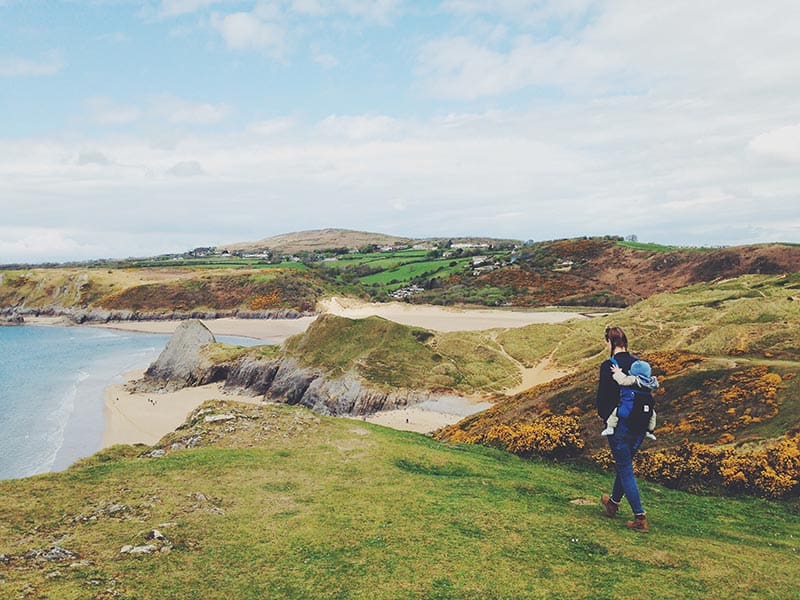 Safe Baby Wearing
While each baby carrier company offers their own set of guidelines for safe baby wearing, there are a few rules that they all have in common.
Keep your babies' heads close enough to kiss. You should be able to smooch your little one by simply tilting your chin forward. If you can't reach your baby, adjust the carrier so they're sitting higher.
Make sure that baby's weight rests on their bum, not their legs or ankles. Ideally, when their legs are out, you want to make an "M" shape with their legs, knees, and bum. This will keep their weight on you and not on their ankles and feet.
Be sure to keep your baby's airway clear. Ensure that there is always at least one finger width of space between baby's chin and chest.
You want baby's back to be supported. This might mean tightening your carrier so that baby isn't slouching and the fabric is smooth across their back.
Ring slings and more structured carriers are a great way to bond with your baby. Whether you're accomplishing work around the house or exploring a new city, baby wearing is perfect for toting your little one.
Let us know which baby carrier your prefer in the comment section below. We'd love to hear what works for your family.
Like it? Pin it for later!