As the holiday season gets under way, families are often looking for fun experiences that can become annual traditions. Going to see a ballet company perform The Nutcracker can be a great way to build enthusiasm for the holidays, while also introducing your children to the joys of a live show experience.
Taking little ones to see a ballet, however, can present challenges that other live experiences do not. Doing some work ahead of time will make the experience something that you and your children look forward to and enjoy, rather than just something to sit through.
Are you ready?
Attending a performance of The Nutcracker can really be enjoyed by children of any age, depending on their level of maturity, interest and ability to sit through a show that typically runs around ninety minutes with one fifteen minute intermission. Once you've made the decision that your child is ready for this experience, there are many things you can do to prepare.
The first major challenge in taking kids to the ballet is that the story is told entirely through dance – no talking, singing, etc. Many kids and adults find this aspect of the ballet daunting and difficult to appreciate.
Interest can wane quickly if we feel like we don't know what's going on in the story and, as we all know with kids, waning interest quickly leads to behaviors that other audience members might not appreciate.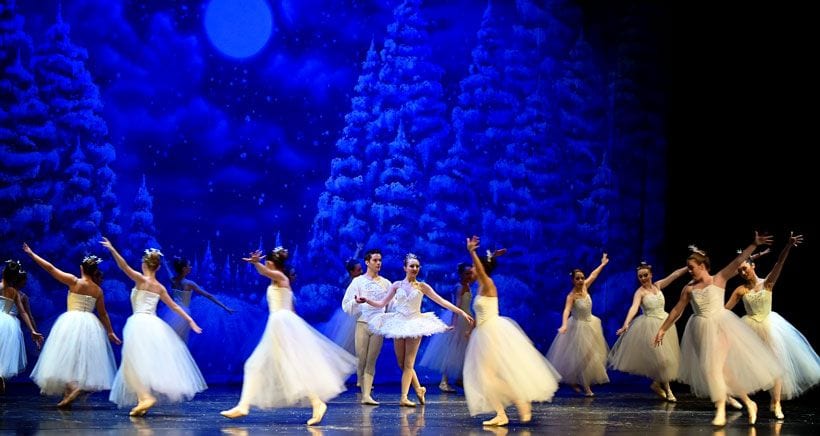 The Nutcracker Story
To that end, one of the easiest and most important things you can do in the weeks before the performance is to read the story together.
The Nutcracker ballet is based on the story by E.T.A. Hoffman, and there are a lot of picture books available that tell the story (we love this one). Head to your local library or bookstore and find a version you like. While ballet companies may each choose to interpret the story a little differently, the basic storyline will be the same.
Making The Nutcracker part of your bedtime story routine in the weeks leading up to the show will help you and your child become very familiar with the story, which will make you both all the more ready to see it interpreted through dance.

The Nutcracker Music
Another thing you can do before you go to the show is to familiarize your child with the musical score. The Nutcracker ballet music was written by Peter Ilyich Tchaikovsky, a composer renowned for his ballet scores (he also wrote the music for Swan Lake and Sleeping Beauty).
Download the soundtrack and play it often – in the car, while you clean, during imaginative playtime, etc. If you are at all familiar with the ballet yourself, talk about how the story fits with the music.
Having been in the Nutcracker many years myself, I would often "talk" my kids through the music as we listened – "Oh, the tree is growing!" or "Clara just fainted!"
Even if you don't know how the story will fit with the music, though, simply making sure your child recognizes the music when they are watching the performance will help keep them more excited and engaged.

Choosing a performance
In addition to these simple things you can do ahead of time, there are choices you can make regarding what performance to see that will help you and your child get the most out of the experience.
Choose a matinée show if at all possible, when there are more likely to be many other families and children attending. Audience members won't give you the evil eye if your son or daughter gets a little antsy or over-excited about what is happening on stage. Afternoon shows also eliminate the worry about stretching bedtimes or trying to keep overly tired kids interested in the performance.
Make sure you get there early so you can look through the program together, and always read the synopsis. This will let you know exactly how this particular ballet company will be interpreting and presenting the story.
Getting there early also allows you to enjoy the atmosphere of the venue. Make sure your child uses the restroom before the show begins to minimize the need to leave in the middle of the performance.
Watching the performance
Don't be afraid to whisper with your child about what they are experiencing while they watch. As long as it isn't constant or at a volume that would be distracting to those around you, it is fine to allow them to fill you in on how they are feeling or what they are thinking about what they are seeing. You can also whisper to them any explanations about what is happening on stage.

Intermission
Be sure to use the intermission wisely: give your child a chance to stretch his legs, use the restroom, and/or get a drink and snack in the lobby.
This is also a great time to talk about the first half of the performance. What did she like best so far? What does he think is going to happen next?
Reread the synopsis for the second half and remind her what is coming up. Make sure you are back in your seat, ready to go before the second half of the show starts. Theaters will flash the house lights as a signal to audience members to begin to make their way back to their seats.

Check out the extras
Many companies also now offer Sugar Plum teas (an event with snacks and photo opportunities with some of the dancers in costume), or other opportunities for kids to interact with the dancers before or after the performances.
These can be pricey, but can also create more of a connection with the characters that carries over to the performance, or add to the enjoyment of the experience for your child. If this is an attractive option for you, be sure to look into it ahead of time as they often sell out.

Creating a Holiday Tradition
Learning to view and interpret a story told through dance and music is a totally different experience and requires different skills than reading a book or watching the Nutcracker movie. Having the forethought to put in a little work ahead of time will build anticipation and ensure an enjoyable experience for you, your child and those around you.
It will make going to see a performance of The Nutcracker an investment with great returns – creating a holiday tradition that your whole family looks forward to each year, and one that your child can one day pass on to their own children.

Attending the Ballet with Kids Throughout the Year
These guidelines will work for most ballet performances. Companies offer a full season of performances throughout the year, which almost always includes at least one other performance of a classic story (Coppelia, Swan Lake, Sleeping Beauty, Giselle, Don Quixote, Cinderella, etc.).
Once you and your child have found ways to enjoy the unique experience of attending a ballet together, you can do it many times throughout the year, building a great family tradition while also supporting the arts in your community.
This post contains affiliate links. If you make a purchase after clicking one of those links I will receive a small commission.
Images via the author, Larry Lamsa (Nutcracker), Kryziz Bonny (ballet shoes), Larry Lamsa, Ewa Krasucka TW-ON, KCBalletMedia, Gabriel Saldana and Хомелка via Wikimedia Commons