Traveling with a baby can be stressful, but you are not alone. Even seasoned pros get nervous. Baby travel is one of those things that you need to enter into knowing things might go wrong, and it will all be OK.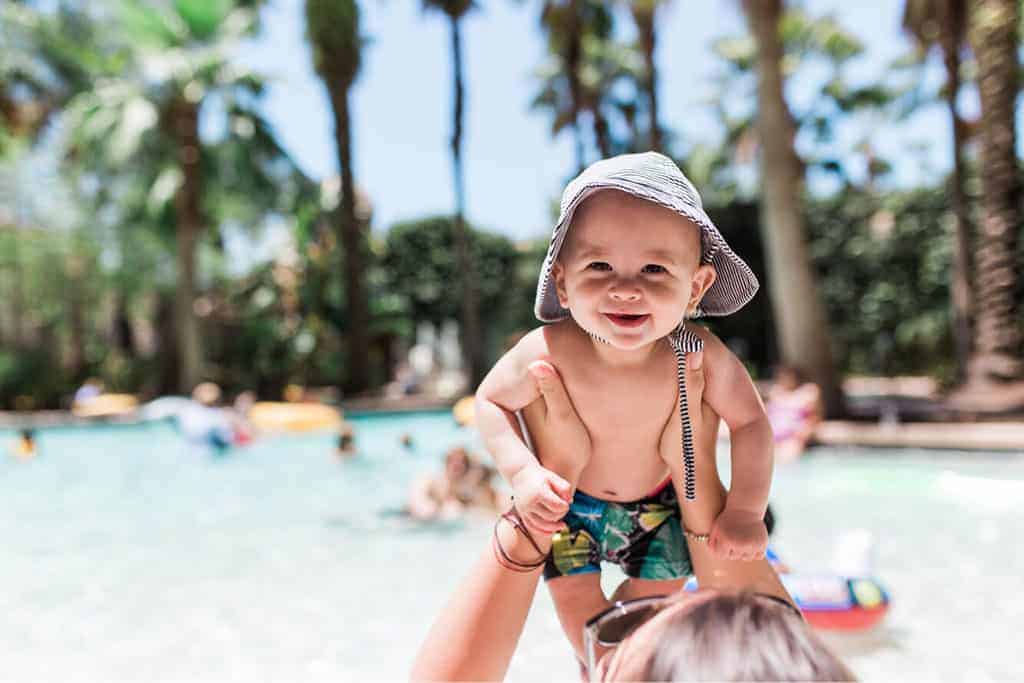 Easing into Baby Travel
My first flight with my oldest was when he was three months old. We boarded the plane early, got in our seats and I knew I should change his diaper before we took off. I popped into the airplane bathroom. I'd been a mom for all of three months. I totally had this (not!).
My son proceeded to pee all over me, his clothes and his clean diaper that I hadn't even gotten on him yet. I wiped him off and marched him out of that bathroom, handed him to his father, grabbed a new diaper and marched back into the bathroom with him. I'm sure the rest of the passengers thought I was insane. I didn't care.
I needed to get that baby dry, myself cleaned up and in our seats. Everything would be fine. No one was screaming (pretty sure my infant was laughing at me though).
We were back in our seats for takeoff and everyone around me had now seen my cute baby's bottom. Talk about making a first impression with those around you. I don't think anyone gave us the stink eye after that.
Travel with a baby will never be perfect
The problem with the internet and social media is that it shows us only the perfect side of travel. Perfect babies being held by put together moms in gorgeous outfits. Nothing could be farther from the truth when parents travel with kids.
I don't know about you, but I rarely feel put together, and I'm always out and about somewhere with my kids. My lack of perfection has never stopped me from traveling, and it shouldn't stop you either.
If you need more horror stories to compare yourself to as you hit the road, read about my screaming child on a plane. I guarantee you can't beat it, and if you can, well, we will be best friends very soon.
Now, let's jump right into how to make your travels just a bit easier with babies… and even when traveling with toddlers.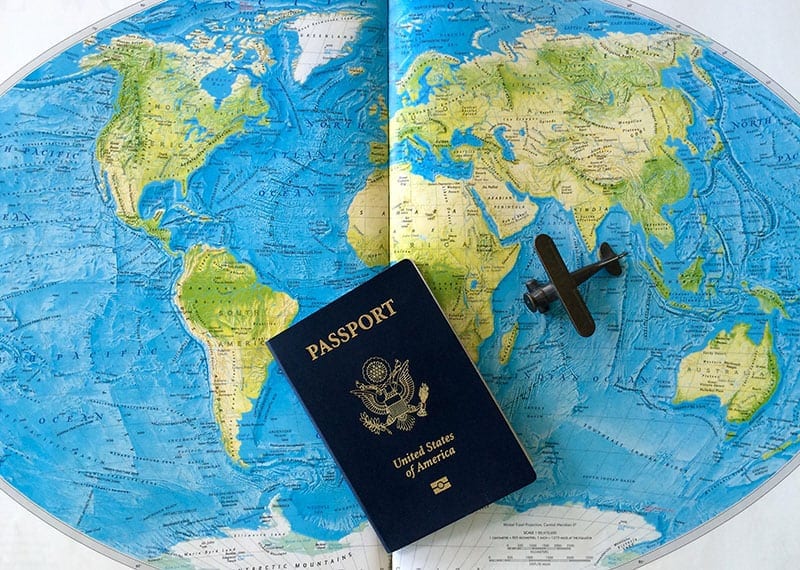 Babies need passports
If you are traveling overseas, or even hopping across the border to Mexico or Canada, your baby, no matter how young, does need a passport. Run over to your local post office or passport center and get that photo taken to their specifications and the paperwork signed.
Both parents will need to be present to sign the papers. If one parent cannot be there, a notarized consent form from the missing parent will have to be submitted. Even if you are divorced, you will need that parent's consent.
Babies can and will get sick when you travel
My boys like to touch and lick everything. And I do mean everything. I once turned around and saw my son licking the wall of the post office. Why? I don't even want to know. He was two.
On a flight to Hawaii, I noticed a bizarre rash starting to break out across my son's face. Was it hand foot and mouth? Nope. Just impetigo (looks similar). Had he gotten it from our travels? Nope, from the indoor playground at the mall.
Pack up your baby first aid kit and know that your child may get the sniffles, a rash, ear infection, or some other ailment during your trip. You cannot protect you or your kid from every germ in the world.
Just think of it as building up a healthy immune system. In case you are wondering, yes, both of my sons have pretty rock solid immune systems now (and yes, they have been vaccinated).
Baby First Aid Kit Basics
Infant Acetaminophen
Infant Ibuprofen
Band Aids
Antibiotic ointment (safe for ages 2+)
Tweezers
Thermometer
Saline nasal drops
Medicine Dropper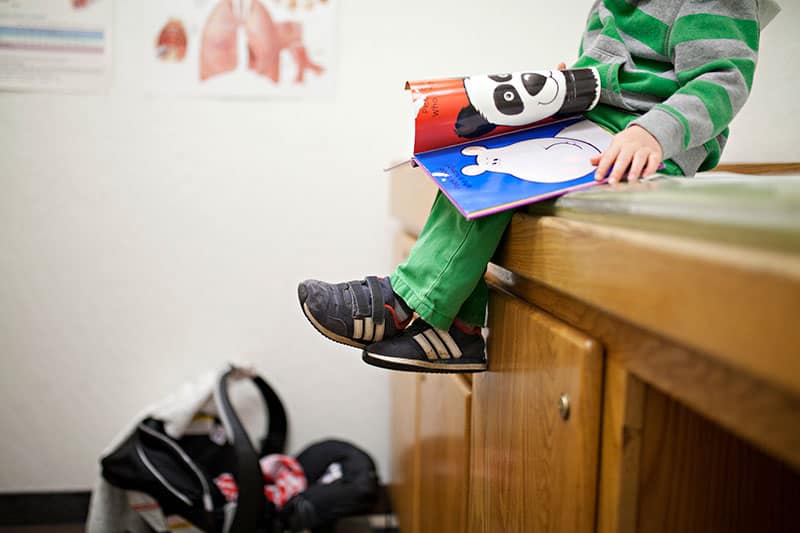 Babies need travel insurance too
Now, as much as we want to think only minor things will happen on a trip with a baby, you just can't predict the unknown. For over five years I've bought my family a multi-trip Allianz travel plan.
Before that, I was buying trip insurance for every vacation we booked. Since we take more than two trips per year, both domestic and international, it saves us more money to just get an annual plan.
Our travel insurance gives us access to local hospitals, doctors, as well as lost luggage and flight delay benefits. I travel with two very energetic kids who like to run, jump and climb anything they see. This started when they were babies, so knowing I have access to healthcare professionals and won't have to empty my bank account to see a doctor or get a cast put on an arm is the peace of mind I need when we travel.
Babies love to snuggle and sleep
If you have a baby who loves to sleep in a sling or baby carrier, bring it with you on the plane, train and in the car. Do not pack it. If you are on a plane, as soon as you take off, pop that baby in the carrier and start rocking. For those on a train, keep the baby in the sling so they never get out of that cocoon of comfort.
Road trips get a little trickier since you have to keep the baby in a car seat (planes too if you buy a plane seat and bring your car seat onboard, at least during take off and landing).
Take breaks when your baby is awake so you can give him or her a few extra snuggles. Allow your baby to stretch their legs and gets some face time with you. No one likes to be trapped inside a car, even a baby.
Stick to your schedule as much as possible
One of the hardest things to do when traveling with a baby is to stick to your schedule. However, do it whenever possible. Keep to naptimes at the hotel and when flying if you can.
If a nap happens while you are in the air, strap your baby into a baby carrier and start walking the aisles (when permitted) or bounce in your seat a little to lull your baby to sleep. Do what you need to do to get a little nap in when your baby expects it.
Bring pajamas with you for overnight flights so you can still do as much of your bedtime routine as possible. Pack up that bedtime story you read every night to read in your seat as well, even if there is noise all around you. plus, there is nothing quite like the white noise of a plane, train or car. Trust me, I fall asleep to white noise at my house every night and love to pass out on a plane.
Breastfeed on the plane or bottle feed your baby on a plane when it is time to eat. Bring bottles and food onboard so no meals are skipped.
When you are out and about on your travels, try to save your walking time for nap time so you can lull your baby to sleep in the carrier or stroller. Don't stop for a long meal just as nap time is about to hit.
You don't have to go back to the hotel. Just be mindful about what you are doing and how you can sneak in a nap while you do it.
Baby Jet Lag isn't as bad as you think
Jet lag with a baby is one of the top things that scare people when they contemplate baby travel overseas. If you have done any kind of sleep training, you will be even more hesitant to skip across time zones.
Have no fear. You can still make it work.
Babies change time zones faster than their parents. You just have to be ready for a rough first night (or two). Early mornings will be your norm, but just think of all of those sunrises you will get to see!
Try new things, but bring some old favorites
We loved giving our boys new foods to try when traveling, especially in Europe and Asia. Street food is pretty much the norm for us.
However, when our boys got tired, we knew they needed some old favorites to settle down. Having access to milk, and sometimes even bread and peanut butter in foreign lands was essential to our survival, especially with my youngest.
His picky eating habits meant I had to pack up a jar of peanut butter on some trips the older he got. In his baby years, we brought a lot of Goldfish snack crackers and Puffs to help him feel more at home.
In Europe, it was easier because he loves bread. A croissant or pizza crust to gnaw on would pretty much make his day starting at 6 months old.
Things to Carry while traveling with baby in Flight
There are definitely a few things you want to make sure you carry while traveling with a baby in flight. You don't have to pack the kitchen sink, but you do want to be prepared, brings things that are easy to clean, and stay organized.
Diapers (enough for 1-2 days depending on length of flight)
1-2 outfits (sleep sacks are a blessing for infants on overnight flights)
One change of clothes for mom and dad
Toys
Snacks
Bottles and Formula (if not nursing)
Blanket
Lovie
Wet wipes and hand sanitizer
Nursing cover
Baby headphones
Our FavoriteS: Best Baby travel products for flying
Structured Carriers: ErgoBaby Carrier, Sakura Bloom, Onbuhimos, Beco Convertible Carriers
Slings: Wildbird
Toys: Melissa and Doug Reusable stickers (clings- great for 18months+)
Water Bottles: Kleen Canteen Reusable Waterbottles (kids)
Toddler Backpacks: Fjallraven Kaankens kid backpacks
Diaper Bags: Nina & Co Diaper bag and Fawn Designs backpack
You are a parent whether you are in the air or not
One thing that will get the passengers around you, even fellow parents, upset on a plane when you are flying with a baby, is if you check out as soon as you board. Sadly, more than one time I've seen a mom or dad sleeping while her/his baby and toddler jump around, kick the back of a seat or cry nonstop.
You are still a mother/ father, no matter where you are in the world, especially on international flights. You still need to help your child. They are not functioning human beings yet, who know how to behave in a flying tin can.
For your safety, your child's safety and the safety of those around you, continue to take care of your kid.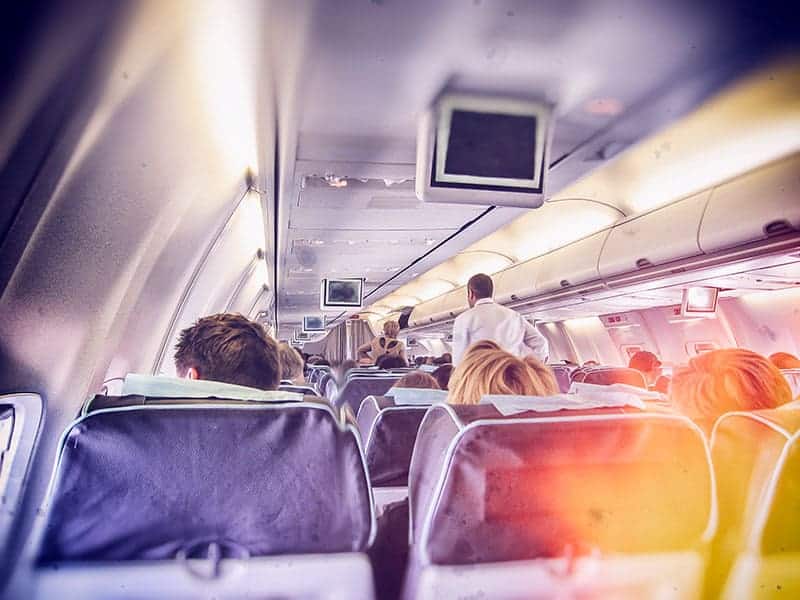 Remember- you will never see these people again
One thing I always tell new parents looking for travel tips before they fly is that they will never see the people on that flight ever again. Probably.
If you are doing all you can to help your baby, and yet they still fuss, giggle or need to walk the aisles, it will be OK. No one is going to throw daggers at you or come after you later on.
Baby Travel Gear on an Airplane
You cannot bring your baby stroller, car seat or travel crib onto the airplane. Travel cribs will need to be checked with your luggage at the ticket counter.
Car seats can go onto the plane only if you have bought a seat for your baby. Do make sure that your baby car seat is FAA approved to be in the cabin. If you do not have a seat for your child, you can gate check your car seat or check it with your luggage to meet you at your destination.
Baby strollers cannot be taken on the plane, unless you own a Babyzen Yoyo stroller or another very compact and lightweight stroller that can fit in the overhead compartment. Most airlines will happily check a stroller at the gate (also known as valet check).
Be kind to flight attendants
Now, we have all heard the tales about parents bribing fellow passengers to be kind to their babies flying with goodie bags and drink coupons. We say, forget the other passengers who are only in the air with you a short time. My friend Tawny and her husband bring little chocolates and treats to give to the flight attendants.
These are the people trying to keep everyone calm and who have to manage kids day in and day out. Say thank you with a little something from you and your kids to them.
Don't think of it as a bribe. Think of it as simply showing your appreciation for all they do. More often than not, babies are the least of their problems on a flight. Just acknowledging their hard work shows you get that what they do can be hard and demanding.
Plus, you never know, they might be nice right back to you with an extra cheese platter (on Alaska Airlines at least. Ha!).
Baby Travel Essentials you need and what can stay at home
You need a lot less than you think when you travel with a baby. Your baby essentials include diapers, wipes, disposable diaper bag to hold those dirty diapers (biodegradable please!), a change of clothes, food, and anything you need for nursing/bottle feeding. Outside of that, we are talking extras and entertainment.
Keep the travel baby highchair at home. You don't need it. Invest in baby travel essentials that pull double duty like a stroller and diaper bag.
Bags of toys can stay at home too, along with diapers for every day of your trip. Unless you are going to a very remote location, you can pick up local diapers after you land. You can also have diapers shipped to your destination. Remember- there are babies everywhere.
5 Best Baby Travel Products to invest in
Baby travel products you do want to invest in and bring on your trips include a travel crib, reliable stroller that you can carry with one hand, car seat, diaper bag and a baby carrier. These are worth spending extra money on.
Put these travel items on your baby registry, ask for them for Christmas, or buy them for yourself. Quality is important so they last through one or more kids.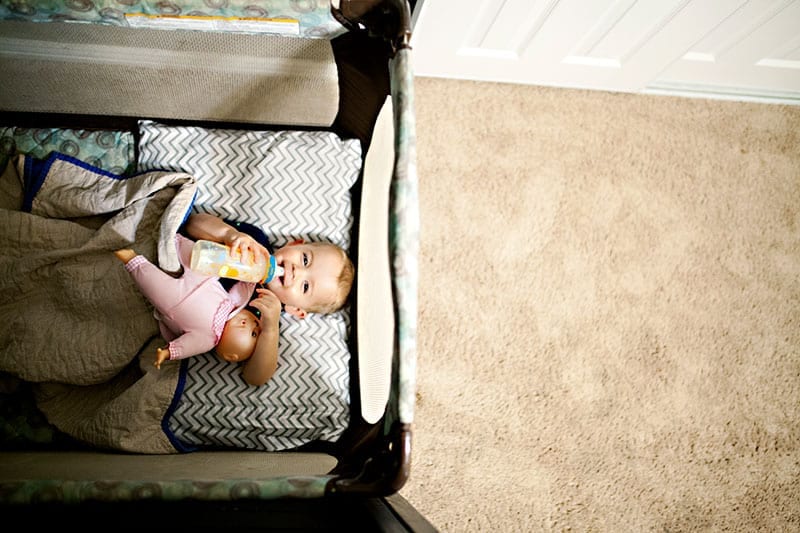 Travel Crib
A great travel crib is worth its weight in gold. You can keep it at your house for when friends come to visit, bring it to grandma's and take it with you on trips.
While hotels claim to have pack n play cribs available, it is on a first come first serve basis for these travel beds. If you don't reserve a crib, they run out or forget about you, you will be out of luck.
The Lotus travel crib is easy to pack, has backpack straps for carrying and is comfy for infants on up to toddlers. Best of all, once your kid grows out of it, you can sell it to the next mom who needs a crib.
Travel Stroller
Oh, the travel stroller; the Sherpa of parenthood. Even a cheap umbrella stroller can hold way more than you ever thought possible. When the Babyzen YOYO+ Stroller hit the market, I just about fell over. It fits in the overhead compartment of an airplane. It can fold and unfold with one hand.
Plus, it has storage space under the seat!
That's like a mega stroller plus an umbrella stroller in one. It may be pricey, but this is the one stroller you need, leaving the rest in the dust when it comes to a travel stroller and a stroller for home.
Car Seat
Car seats are a nonnegotiable piece of baby gear in our house. Ever since my best friend was in a horrific accident with her son, and his car seat is the only thing that saved his life, my boys have stayed in a five-point harness car seat and then an uber booster seat well beyond when their friends were out of one. Obsessive? Maybe, but they are still alive.
Car seats on a plane or even checking a car seat on a plane can be annoying. You need to make sure you purchase one that is FAA approved. Most car seats will have an FAA approval notice on the back label on the seat.
Graco is good about clearly marking which seats are airplane ready, including their Graco Extend2Fit Convertible Car Seat.
With over 5000 reviews on Amazon, many of which expand on the benefits of the seat when the parents were in an accident with their baby in the car, I figure this is the one to buy if you have a baby right now.
We had a convertible Graco when the boys were little, and finally had to retire it once the warrantee ran out (seven years plus the number of crumbs exceeded my son's height I'm pretty sure).
Baby Carrier
My baby carrier was like my third arm when my boys were babies (on up to at least two years old in fact). I have friends who hold one kid while they carry another around in their carrier. It's the only way to function if you are a mom of multiple children.
While I swore by my Ergo, there are so many different baby carriers out there now.
A friend who has four kids has put hers in a Baby Tula Explore Baby Carrier that she has owned for 10 years. If that doesn't say quality, I don't know what does! Plus, it comes in loads of different patterns.
Diaper Bag
I have never been a fan of the traditional diaper bag. You do need some sort of travel bag to carry all of your baby's stuff in though. Thankfully, savvy moms who also happen to be designers have saved the day for the rest of us.
There are gorgeous purses, backpacks and shoulder bags out there that look "normal," but have all the pockets we want and need. Best of all, these bags grow with your kids.
The Fawn Design Mini backpack is small, made from vegan faux leather, and comes in a variety of colors that look good with any outfit. Four exterior and five interior pockets keep everything organized too.
If you are looking for something a bit more tote bag looking, you can grab a Petunia Pickle Bottom tote or a Nina & Co Diaper Bag.
Babies will play with anything
Books, magazines, blocks, paper, arm rests, strangers' feet—babies find anything and everything fascinating. It's all new to them, and they must touch, chew and explore it all.
You don't need a ton of toys to keep babies entertained when you travel. We generally had a little bag or box of toys to keep our boys entertained when they were little.
Squishy books, finger puppets and a block or two to chew on, stack and knock over was all it took to keep them happy. As long as we had Froggie and Bunny (their lovies- always buy in sets in case one is lost!), they were happy little men as long as they were with us.
We were not in our hotel very often except to sleep, so there was always something new to see and do. Or… they just slept through parts of our trip because they were so tiny and had to nap. That does happen too and it is OK.
Babies and screen time
Infant travel is the easiest between zero to about six months. Infants don't have much use for screens, but the older your baby gets the more they will be drawn to flashing lights, games and animation.
Between the ages of one and three is the hardest time to keep a baby in their seat on a plane. Start downloading anything and everything to keep them entertained for take off and landing when they have to stay in that seat.
Here's a few of our favorites:
PBS Daniel Tigers Neighborhood (download them all)
Baby's Musical Hands
Busy Shapes 2
Balloon Pop
Trancit Lite
iPhone Baby
Baby Rattle
Download on iTunes and Google Play
Keep in mind that screen time is not nonstop for babies. I'm talking 30 seconds here, two minutes there. That is the attention span you are dealing with in a baby.
You also don't want a baby staring at the screen for too long at that age. If you need a quick distraction, having a few apps and videos on your phone can be a huge help.
White noise and babies are like peas in a pod
White noise has been my saving grace since my boys were born. I've slept with a white noise machine since I was 13. When the boys were born they had one in their room to block out the city sounds. This has helped them transition as we travel too.
Here's my favorite travel sound machine
We travel with a sound machine as well as apps on our phones that the boys are used to hearing, so it turns whatever rental home or hotel room we are in back into their own personal space. Suddenly the foreign becomes familiar and safe.
Spend more time in less places
As much as possible, spend more time in the same hotel or rental home when you are traveling with a baby. Booking.com has a lot of options when you need extra space, as does Homeaway.com if you want an apartment rental or full use of a house. This will give you and your baby more stability and time to settle in.
Many of these properties will come with a crib, so that is one less thing to pack too. Double and triple check that a crib is available. When in doubt, bring your own.
Staying in fewer places means your baby has one less bed to get use to and new space to explore. You won't have to baby proof as much either. Parent win!
This post is part of a paid partnership with Allianz Travel. As always, my opinions are my own. When they aren't, you will be the first to know.