Living in Washington State, you can't help but fall in love with blackberries. Wander around the Puget Sound and you'll find them growing over fences, along back roads, streams and the edges of forests. A Blackberry Bramble is easy to make as long as you have a little lemon and gin lying around.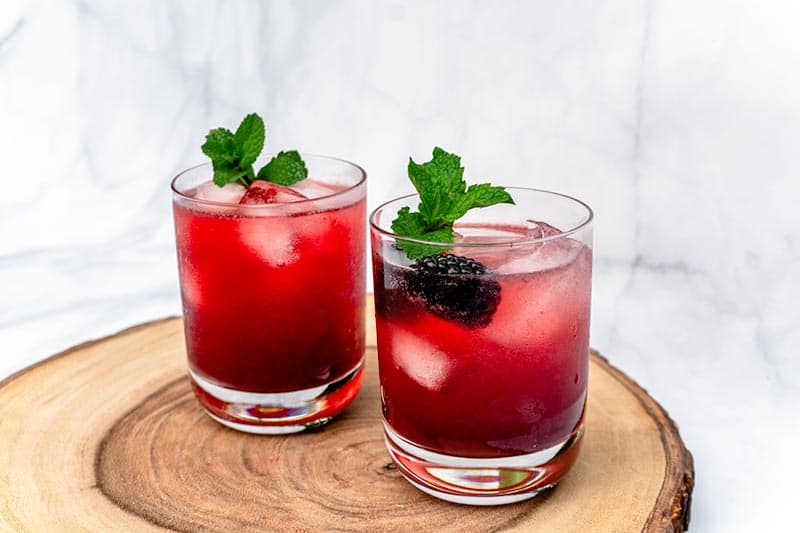 There are so many Himalayan blackberries in Washington that they are now considered an invasive species. They spread quickly, grow in thorny thickets, and are hard to control. While you shouldn't grow your own blackberries in Seattle, there is a lot you can do with the juicy berries you find in your neighborhood. Just remember: pick above dog height.
While we lived in Seattle for almost 10 years, we would regularly go out to pick berries. We visited our friends in Bellevue and attacked the bushes along their drive and down by the lake. We would bake with blackberries, throw them in cereal, and make cocktails too.
You don't have to live in Seattle to enjoy a Blackberry Bramble. You just need access to fresh blackberries. They are best when in season (July through August), but can be found year-round at the grocery store.
Blackberry Bramble
My favorite blackberry cocktail? The Blackberry Bramble. The mixture of sweet berries with tart lemon and herbaceous dry gin is perfect on a summer's evening. Add a few mint leaves to balance it all out into one of the best cocktails of the season. Sweeten it as much as you like with simple syrup, but remember, those blackberries will already be sweet.
The Original Bramble
The bramble was invited in 1984 by bartender Dick Bradsell at Fred's Club in London using crème de mûre, a French blackberry liqueur, plus gin and a squeeze of lemon juice. He was putting his own spin on the classic gin sour, adding a bit of color and balance to the drink that was served in rocks glasses.
Since then, many bartenders and home mixologists have added their own spin to the bramble cocktail. Not everyone has crème de mûre on hand, which is why fresh blackberries are a great alternative. It almost makes you think you are having a summer fruit salad instead of a cocktail.
Bramble Recipe
1½ oz dry gin
¾ oz fresh lemon juice
½ oz simple syrup
¾ oz crème de mure
Fill a highball glass with crushed ice.
Add gin, lemon juice and simple syrup.
Stir.
Swirl crème de mure on the top.
Garnish with blackberries and a lemon peel twist!
Mint Blackberry Bramble
We've taken a few liberties with our Blackberry Bramble cocktail recipe as well. Cutting the simple syrup, you get a bit more of the tart, yet sweet berry and lemon. Adding mint into the mix brings a herbaceous twist to this fruity concoction. Try it with and without the mint to see how you like your blackberry bramble.
Blackberry Bramble Cocktail Recipe
Stir up a single or make a pitcher of this sweet and tart cocktail recipe that brings out the best of summer ingredients, no matter where you live in the world.
Cocktail Tools
Blackberry Bramble Ingredients
½ cup of fresh blackberries (about 8 berries)
1.5- 2 oz Dry Gin
1/2 oz simple syrup
1 1/2 oz fresh lemon juice
3-4 fresh mint leaves
Club soda
Blackberry Bramble Instructions
Muddle mint, blackberries, lemon juice and simple syrup in a cocktail shaker until the blackberries break down.
Add gin to mint blackberry mixture.
Strain the mixture using a fine mesh strainer to remove pulp and seeds.
Fill a highball glass with ice (or one large ice cube).
Pour mixture over ice.
Top with club soda.
Garnish with a blackberry and mint leaves.
Virgin Blackberry Bramble
This makes a great summer refresher that even your kids will enjoy. Simply omit the gin and anyone can enjoy this mocktail all season long.
Love it? Save it for Later!