Breastfeeding mothers rejoice. You can do it on a plane! Solo business traveling males- have no fear, breastfeeding mothers are generally a discreet bunch when it comes to cramped modes of transportation (like air travel), at least I was when breastfeeding on a plane.
Now before the bottle feeders get up in arms, please know that I have experience bottle feeding a baby on a plane and successfully breastfeed on a plane as well. I have tips for bottle feeders too.
For various reasons I couldn't nurse my boys for very long, so bottle feedings were a regular fixture in my home and on flights.
Baby bottles are definitely easier, but nursing your baby on a plane can be just as convenient, if not more so.
Just think of all that gear you don't have to pack! After all, breastfeeding on a plane comes with built in equipment for nursing mothers.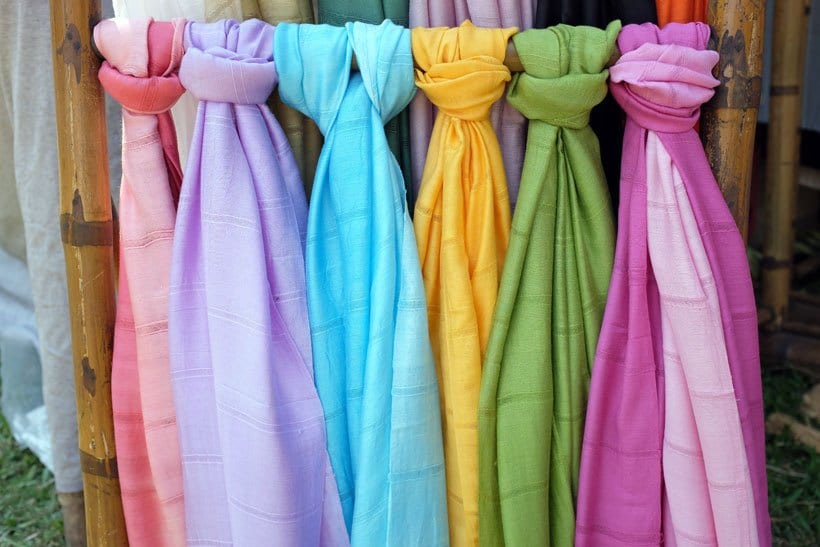 Style tips when breastfeeding on a plane
The scarf
Now is the time to pull out all of those fabulous scarves and pashminas you have in your closet. Although companies are finally making attractive breastfeeding scarves and nursing covers, my favorite breastfeeding cover up with my boys was a black, slightly see through, wide scarf I picked up at H&M years back.
I would wear my scarf around my neck as an accessory, and then cross it over my son while I was feeding him. This gave my baby some air to breath (kind of important), I could peek at him while nursing him without disturbing his snacking, and no one could see my breast.
Having a happy baby who I could easily feed meant I would build my entire travel outfit around this one scarf so I didn't have to pack an extra cover up.
Tops
Just like when you are out and about at home, you will need a good nursing top when you are on a plane. GAP used to make a nursing tank top that I love that was easy to wear under any shirt, but sadly they stopped making it.
Look for a breastfeeding top that pulls away quickly and easily. I preferred one that still covered up my tummy and only came apart at the top. I would drape my scarf over my shoulder to cover up the rest of me.
No matter what, make sure you know how to use your nursing top before you get on a plane. The last thing you need is a botched top with a starving, crying baby on a plane.
Packing
You won't need bottles, but you will need your cover up of choice, an extra shirt in case of leaks, and a decent burp cloth. No one likes baby spit up all over them for an entire flight.
If you plan to pump your breast milk, you will need to bring your breast pump, along with a small cooler bag.
If you need to keep breast milk cool, pack a bag of frozen grapes to put in your insulated bottle bag, and bring along a few extra Ziploc bags to fill with ice in the airport and on the plane.
It's easier than dealing with TSA and an ice pack when you need to store breast milk.
Packing List for breastfeeding moms
Burp cloth
Cover up
Ziploc bag filled with frozen grapes if you plan to pump or bring breast milk
Extra Ziploc bags to grab ice along the way or store messy clothes
Breastfeeding pillow alternative. If you like your Boppy pillow but don't want to haul it on board, use an airplane neck pillow instead. It gives your baby a squishy spot to stick their head and lifts them up a bit.
Location
Aisle seat
Your seat is the best location to breastfeed your baby on a plane.
I always preferred aisle seats so I could not only get up to bounce my boy, but also have the elbow room I found necessary to get everything maneuvered in order to breastfeed on the plane.
That extra space means you won't nudge your neighbor as much. You also won't feel as cramped while you try to breastfeed your baby in a tight space.
Then again, a window seat allows for more privacy. It's your call.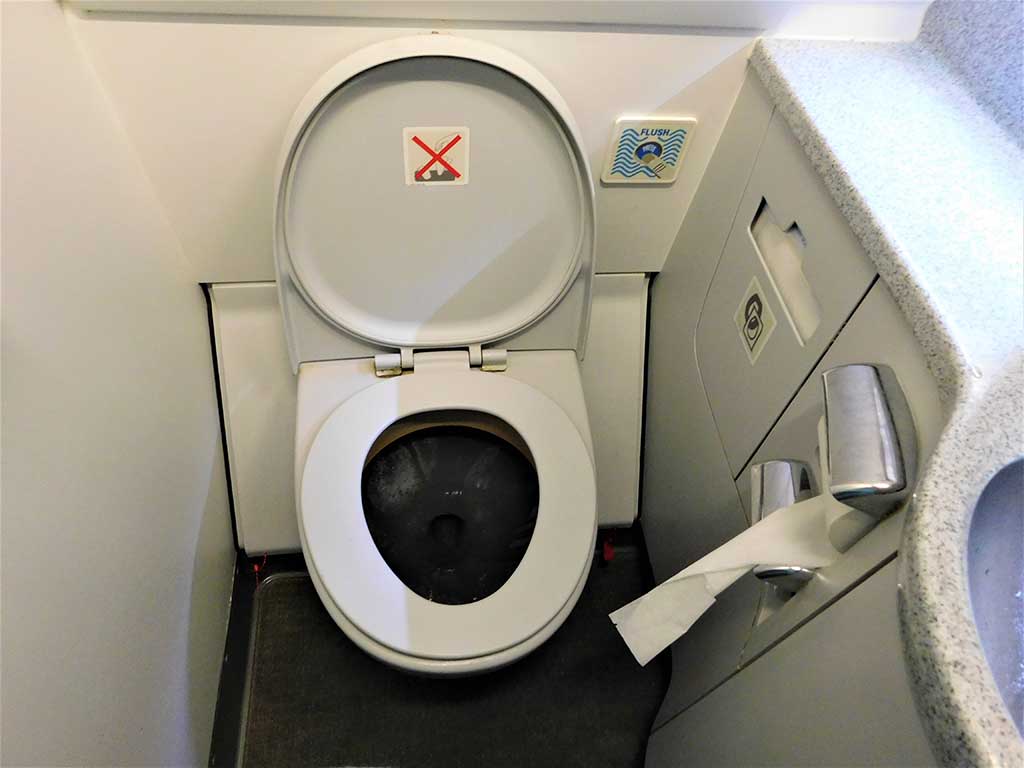 Bathroom
Locking yourself in the airplane bathroom to nurse a baby on a plane is not the best option considering it can take upwards of 20 minutes to feed a baby.
You will not win any points with your fellow passengers and the flight attendants may get suspicious that you are up to no good.
Don't do anything that will get you thrown off the plane! Always check with the flight crew before you breastfeed on a plane in the bathroom. Plus, really think about the amount of germs in that tiny bathroom.
The Galley
If you have a very nice flight crew, talk to one of the female flight attendants about your nursing concerns.
First time mothers can be nervous as this is all new, and they aren't very efficient at it yet (I know I wasn't, even with my second!).
Ask if you can at least get the baby started in the galley while they serve beverages. This way you can get yourself situated without worrying people will stare at you as you start to breastfeed your baby.
Head back to your seat so your arm doesn't get tired and you can relax a little while baby is occupied breastfeeding.
NOTE: Understand that post-9/11 flying may prohibit this. If the flight attendant says no, listen to her/him. They always have the final word. You can and will be kicked off the flight if you argue.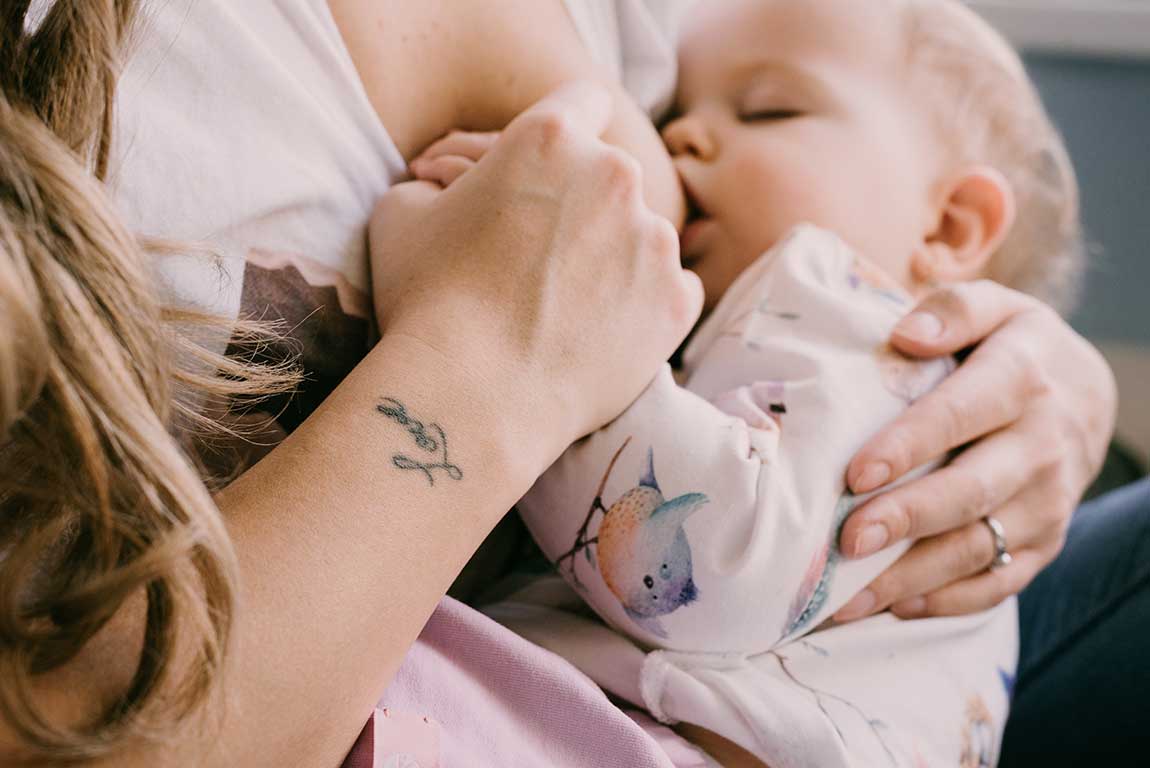 Your Rights
Above all else, please know that it is your right to breastfeed your child, and even breastfeed while flying, even if there is no clear policy to support this in the USA or from the airlines.
Most people on your flight won't even notice.
If you are worried, call the airline and ask what their breastfeeding on a plane policy is. Even better, email them and get it in writing. Most airlines will just ask that you cover up to make sure other passengers don't become uncomfortable.
You can let your seat mates know that you plan to breastfeed on the plane in case they would like to move to a different seat.
Don't be offended; you may get a row to yourself!
Don't be nervous either. Just breastfeed your baby as you do at home.
Be confident and you will do just fine. I have had nothing but positive experiences breastfeeding while flying with both of my boys. I wish the same for all of you.
Pin it and Start Planning!
Featured image of baby breastfeeding, vertical image of baby, Colorful pashminas and Interior of Airplane via Shutterstock.com