Most of us parents and caretakers have been there. At the airport check-in counter, sweating heavily as we balance a toddler on our hip or a screaming baby in our arms. Fumbling for our passports and frantically scrolling through our phones in search of our boarding passes. All while trying to haul our luggage onto the scale or fold our strollers.
The babies are crying, you're crying, the check-in attendant looks mortified. No? Just us?
In truth, we've been there time and time again but have found that baby and toddler carriers are at times, the best way to travel with kids.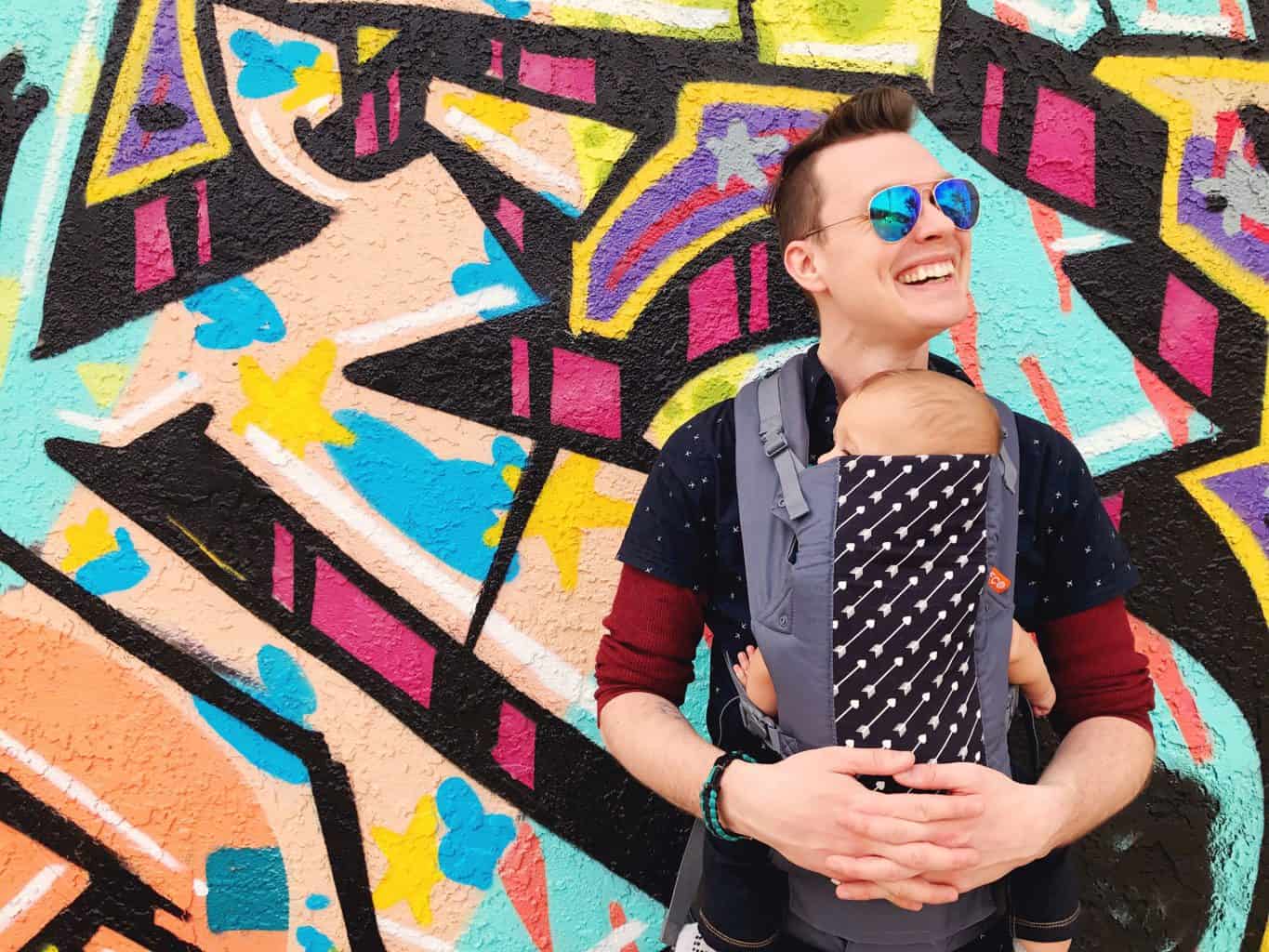 From ring slings to wrap-style carriers, there are so many different types of carriers to choose from. We've rounded up a few of our favorite options in order to help you find the best carrier and perfect fit for your lifestyle. Take a peek as some of the best travel baby carriers on the market today.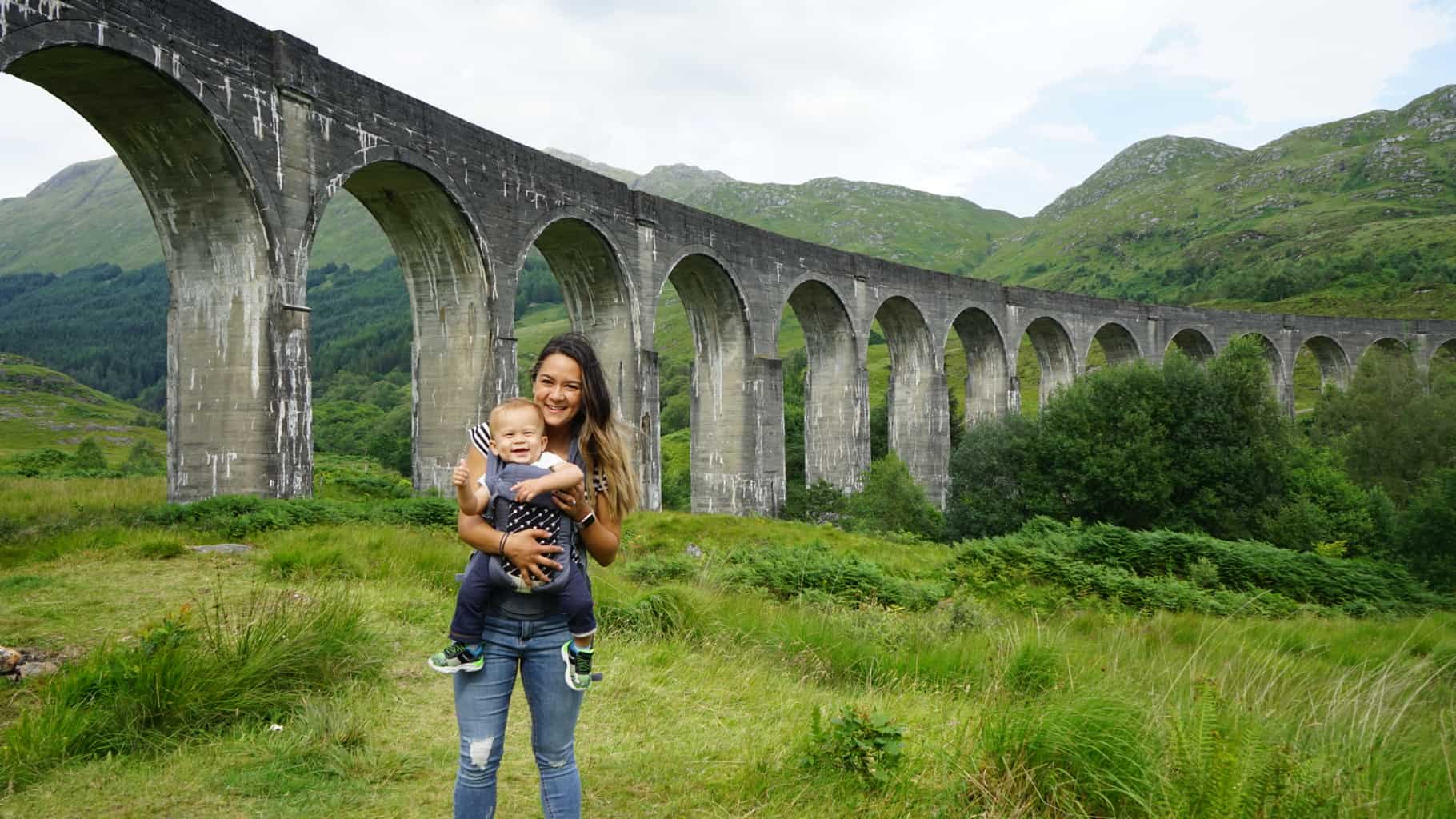 Best Baby and Toddler Carriers for Travel
Soft Structured Carriers
What is a "soft structured baby carrier", you may be asking. Great question. These are carriers that hold baby in an ergonomically and physiologically correct position that also is comfortable for the person wearing the baby. They're typically padded and for us, one of the easier baby carriers to use. Most SSC carriers allow you to wear your baby different ways: front or back facing, in front of the wearer or in a back carry, etc. SSC also typically allow you to wear your babies for longer. These are made for infants and toddlers alike. You'll get years of use out of one. A few of our favorite soft structured baby carriers are:
Ergobaby Omni 360
Ergobaby's all-around carrier boasts all the features you need. With an infant insert, this carrier will take you from newborn to toddler. All Omni carriers come with lumbar support, tuck-away baby hood, ergonomic design, crossable shoulder straps, are machine washable, and support breast feeding. This is a great baby carrier to add to your arsenal of must-have items. From the grocery store to long-distance adventures, this versatile baby carrier goes the extra mile.
Additional features of the Omni 360 include options on style. If you live in warmer climates, you might prefer Omni 360 Cool Air Mesh version. If you're looking for something with extreme comfort for you and baby, we recommend the Omni Dream.
Sakura Bloom Soft Structured Carrier
Sakura Bloom offers two SSC that we adore. These carriers come in a minimalist design that we simply adore. The first Sakura Bloom SSC we approve of is the Scout. This carrier is for babies 7-45 pounds and is designed to be worn on the front or the back. It's sleek, with an unpadded waist belt, and is great for all body types and shapes. We find the Scout to be a super comfortable baby carrier and a small learning curve.
Another good option is the Sakura Bloom Onbuhimo. This SSC is slightly different from the Scout in that there's no waist strap, making it perfect for pregnant women on those that don't want anything on their tummies or hips. The Onbuhimo is a Japanese style baby carrier that can support little ones that weigh 15-35 pounds. Older babies will love being able to peer over your shoulder and take in the world around them. Warning: the Onbuhimo can be a little trick to put on but once you get the hang of it, it'll become a staple for your outings. This is the perfect baby carrier for older babies that are inquisitive about their surroundings.
Tula Baby Carriers
Tula boasts one of the widest selection of baby carriers on the market. Their collections feature carriers for different needs: be it padded shoulder straps, different carry positions, breathable fabric, and more. We recommend browsing their extensive collection for the right carrier to fit your needs. We've found that Tula carriers offer great support, easy storage, is one of the top baby carriers for their functionality and ease. For the quality, these structured carriers come at a reasonable price and is perhaps the best choice for first time parents that need a crash course in baby wearing.
BECO Baby Carrier
Another front runner for a soft structure carrier is the BECO Gemini. This carry is lightweight, easy to use, and a personal favorite when it comes to travel. We've taken ours across the globe and it still looks brand new. The BECO Gemini typically rings up to around $180 but we're seeing numerous sales at more than 50% off. We recommend snagging one for your babe as well as everyone else you know with small children. Plus, the Gemini comes in a variety of patterns: from neutral to eye-catching.
Our Favorite Ring Slings for Travel
Rings slings are our absolute favorite carrier when it comes to air travel with a baby. These baby carriers are basically a long piece of woven fabric with two rings attached to the end. You form a fitted pouch for the baby and are left with your arms free and a baby snug on your chest.
Rings slings come with a little bit of a learning curve but are lightweight, comfortable, and take up very little room in a carryon. While they're not for everyone, we've rarely left our home without one. Take a look below to see some of our favorite ring slings on the market.
Wildbird Ring Slings
This brand was a staple in our household. My daughter practically lived in one for the first few months. She flat out refused any type of other carrier. Wildbird slings come in two lengths, standard and long, to fit an array of body types. I love the style and patterns that Wildbird offers. I gravitated towards soft modal slings when my daughter was younger, and then opted for chambray once she was a little older. You can also order a double sling for more support. The doubles are strong enough for toddlers.
Another selling point of ring slings is that they can be used as a hip carrier. My toddler preferred a hip seat once she got a little older. A hip carry in a ring sling was one of our favorite positions on travel days.
Nalakai Ring Slings
We love Nalakai ring slings for their sustainability. These slings are vegan and made from eco-friendly fabrics and dyes. They are machine washable and we find that the soft bamboo version does a great job of wicking away moisture, keeping you and baby cool and dry.
As with all ring slings, you can use the tail to cover you and baby while breastfeeding. In certain carries, you can even loosing the sling a little to let baby nurse while still inside.
Wrap Baby Carrier
Another popular type of baby carrier is the wrap. These are basically long pieces of cloth that you manipulate into a comfortable nest for your baby. If we're being honest, we struggled with our wraps, and we tried many different brands! I'm sure once you get the hang out it, draping, wrapping, and tucking your baby will become second nature. Some parents swear by wraps but we found it to be a hassle to travel with. But as always: do whatever works best for you and your baby.
Solly Baby Wraps
Like ring slings, solly baby wraps give baby a safe, comfortable, and supportive cloth carry position. Solly baby wraps can accommodate newborn babies and even toddlers up to 25 pounds. The wraps are made from high quality sustainable fabrics and are durable enough to withstand the washing machine. Solly baby wraps are also recognized by the International Hip Dysplasia Institute as a child carrier that encourages healthy hip development.
Moby Wrap
We've been told that Moby baby carriers are some of the most comfortable baby wraps on the market. Each wrap comes with a detailed guide for all types of holds: newborn hug, hug hold, and hip hold. For those that might need extra guidance, you can even consult with a Moby Expert via their website. At 16.5 feet of fabric, the wrap can seem a little daunting. Rest assured that there are many resources available to help you get the most wear out of your investment
Things to know when Traveling with Baby Carriers
Baby carriers can be an incredible addition when it comes to traveling with tots-in-tow. Most will allow you to be hands free while keeping your baby safe and close.
When it comes to air travel, most airport security will require you to remove the baby from the carrier to go through the scanner. However, we've been told that if your baby is in a wrap that has no metal (or rings), you may be allowed to go through with you little one.
Once on the plane, your flight attendants will most likely ask that you remove your baby from the carrier on take off and landing. This is merely a safety precaution to protect both of you. We've always complied and luckily never had trouble getting our little one snuggled safely back in the carrier.
Tips for Baby Wearing
While it's always best to consult the manufacturer when it comes to baby wearing, there are a few general rule that typically apply when baby wearing. One is that you want to make sure your baby's head is visable and kissable. You should be able to easily bend you neck to give your little one a smooch.
You want to make sure that baby's airway and nose is clear. And for most carrys, baby should be seated in a hammock position with fabric behind their knees to ensure that they are supported. Typically, you'll want baby's bum to be below their knees.
Whatever baby carrier you choose, rest assure that your little one will love getting to explore with you. Traveling with kids can be a challenge at times but it can also be a magical rewarding experience for both parents and little ones.
Pin it and Start Wandering!