I still have my snow glow from our recent winter adventure to Club Med Québec Charlevoix. This all-inclusive resort was the vacation of dreams. It was a family-friendly affair that ended with my children learning how to ski, and my husband and I relishing in a few hours of kid-free time to ourselves.
If you're pining for a winter getaway, you will definitely want to see why Club Med Resorts are so special.
Ski and snowboard at club med Québec Charlevoix
Club Med Québec Charlevoix is Club Med's first North American mountain resort. Located only 90 minutes from Québec City Jean Lesage International Airport, the resort is the perfect place to escape to the great outdoors yet still be in close proximity to the cultural epicenter of Québec City.
Depending on the month you visit, there's an abundance of hiking, mountain biking, kayaking, and even whale-watching. While Club Med Québec Charlevoix is a dream destination during all four seasons, it truly sparkles in the winter.
Le Massif Mountain
Club Med Québec Charlevoix is nestled at the base of Le Massif Mountain with stunning views of the St. Lawrence River. The area is a unique microclimate that yields more annual snowfall than most of the county (20+ feet!), making it a snow bunny's paradise.
Due to this microclimate, Le Massif has one of the longest ski seasons in the world, enticing skiers from across the globe.
Skiers and snowboarders can easily entertain themselves with 24 miles of alpine ski slopes, 53 runs, and 98 acres of off-piste skiing (aka backcountry skiing). Le Massif is claimed to have the most spectacular skiing east of the Rockies and after two days on the slopes, we couldn't agree more.
The Club Med Ski Experience
Now that I've sold you on the Charlevoix region in Québec, let me share why you'll want to choose Club Med Québec Charlevoix for your next getaway.
Have you ever planned a ski vacation for yourself and your family? It's no easy feat. Not only do you have to deal with finding accommodation in close proximity to a ski resort, but then you need to rent gear, purchase lift passes, and shell out an ungodly amount of money for food and celebratory après-ski beverages.
This doesn't include the cost of enrolling yourself or your children in group ski lessons.
And what's worse than the ever-increasing expenses? Lugging all of your gear–skis, poles, helmets, boots, snowboards, etc–from parking lot to resort to lift.
Even talking about it is exhausting.
All-Inclusive Skiing at Club Med
As with all Club Med properties, at Club Med Québec Charlevoix, you're in for a true all-inclusive resort experience. From food and drinks (hey there– we see you open bar!) to lift tickets and ski lessons, nearly everything is included in your stay.
That's right: ski and snowboard classes, guided hikes, snowshoeing and more are all part of your Club Med Québec Charlevoix experience.
Ski LOckers
We were utterly spoiled by the ski-in and ski-out resort. I can't tell you how nice it was to not have to lug around our gear.
We simply grabbed our gear from the onsite rental office and walked a few feet to our storage locker. The locker was ours for the duration of our stay so there was no need to move our gear after every session.
Whenever we wanted to hit the slopes, we headed to the locker, donned our skis and walked out the door to the slopes. What could have been an exhausting transition (especially with two small children) was actually quite enjoyable.
Ski-In/Ski-Out
When you're done for the day, the magic carpet even transports you from the base of the gondola to the door of the resort. Seamless, I tell you. The only thing that could top it would be if you could literally ski yourself into the resort's bar for après-ski.
Our lift passes were given to us at check-in and since we were guests in the Exclusive Collection Suites, we had a private locker area that had its own coffee and hot chocolate bar. It was perfect for when we returned from the slopes and needed a warm beverage.
If you don't bring your own equipment, you'll need to rent your gear onsite. That is one of the only extra costs you'll encounter.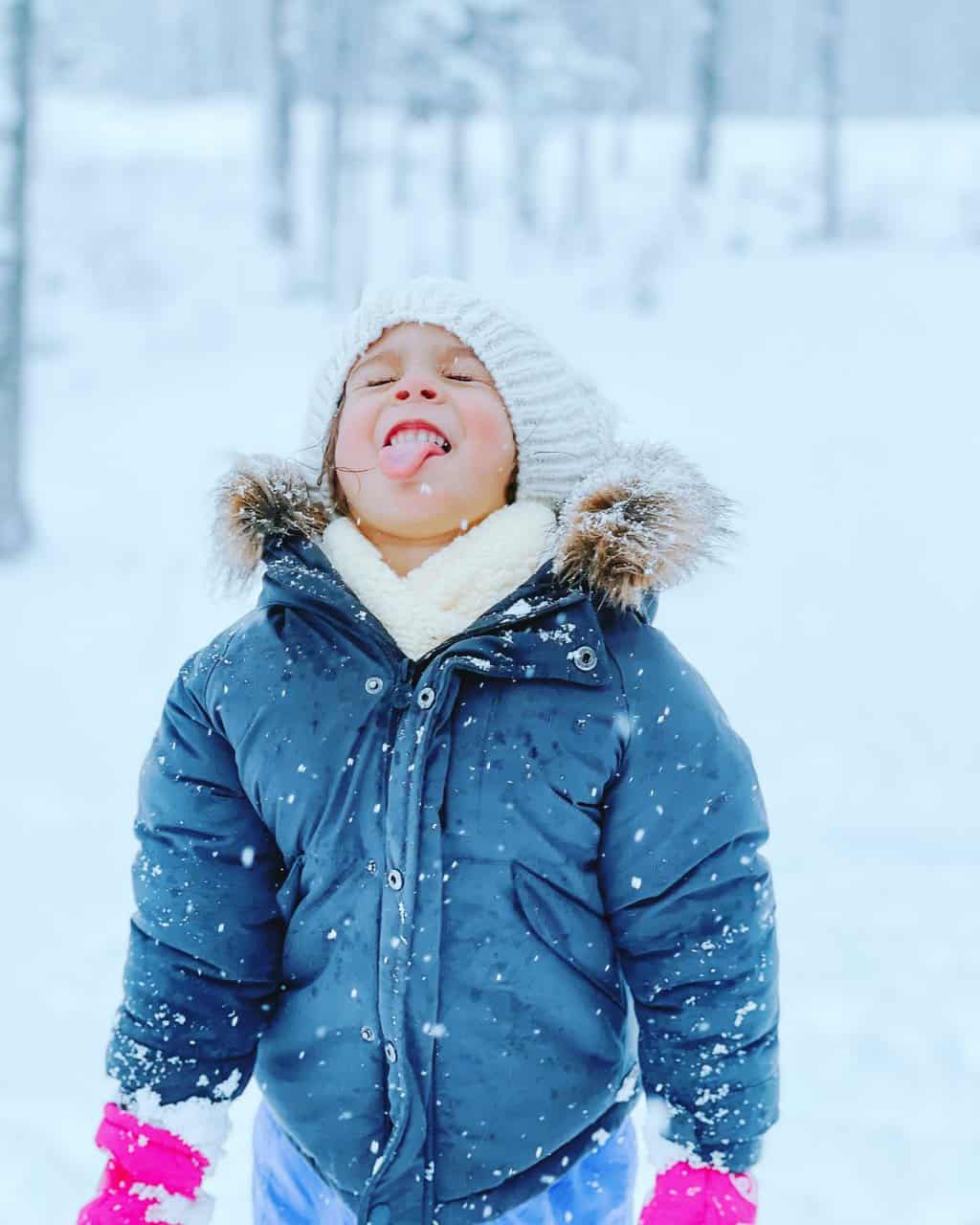 Club Med's celebrated Kid's Club
Parents will tell you that once you have kids, you tend to take trips instead of vacations. The difference being that when you travel with small children, your adventures can be quite stressful and exhausting.
Between adjusting to new time zones, overtired tantrums, food aversions, and sleep regressions, parents are hardly able to rest, much less relax.
Not at Club Med my friends. Let me tell you about a magical land called the Club Med's Kid's Club.
What Sets Club Med's Kid's Club Apart
Club Med is known for its supervised children's programs that allow parents to drop off their kiddos at various times throughout the day. This is a great invention for parents who yearn for a few kid-free moments while having the peace of mind that their babes are being cared for and entertained.
Club Med Québec Charlevoix takes it one step further by not simply supervising your children– they literally will teach your children how to ski.
Mini Club at Club Med
As our kiddos are four and six years old, we put them in Mini Club where they were surrounded by other kids their age and ski level (aka beginner).
And let me tell you, the G.O. (Club Med's name for their staff – "Gracious Organizers") are saints. Not only did they dress every child in their snow gear (no easy feat), but then they fit them in skis and patiently taught them the ropes of skiing.
I don't think I've seen anything more adorable than a gaggle of 4-6 year olds learning to ski for the first time.
I'll be honest that my husband and I were hesitant to throw our children into Mini Club, but hoped for the best. It's a big thing to put young kids in a new environment and also take on a new sport. Thankfully, all of the staff were incredibly empathetic to our anxiety and ensured us the kids would be safe and happy.
All of our fears were for nothing– our kids waltzed off with barely a glance back in our direction. The next time I saw them was on the bunny slope with their instructors and a dozen new friends, gleefully and fearlessly gliding down the snow.
It's a testament to the patience and compassion of the instructors that my children were so confident on their first runs.
Who Can Go To Club Med's Kid's Club?
Kids aged four to seventeen years old have access to kids clubs lessons and guided ski runs, all included in your stay. Classes are differentiated by age and ski/snowboard level and it was so fun to see the various groups on the slopes.
How to Register for Kid's club
For those interested in putting their children in Kid's Club, you'll want to register them as soon as you arrive at the resort. They'll be able to join lessons the day after registration. Once they're registered, drop off their ski gear at the Club so they'll have them ready and available.
We had the option to send our kids to morning, afternoon, or all day sessions. We ended up grabbing our kids for lunch and spent the afternoon exploring the other amenities at the resort. It was nice to have a morning with my husband and then spend the rest of the day as a family. It made for a fun, relaxing experience.
So parents, don't be afraid to try out the Club Med Kid's Club– it will elevate your getaway from a trip to a true vacation.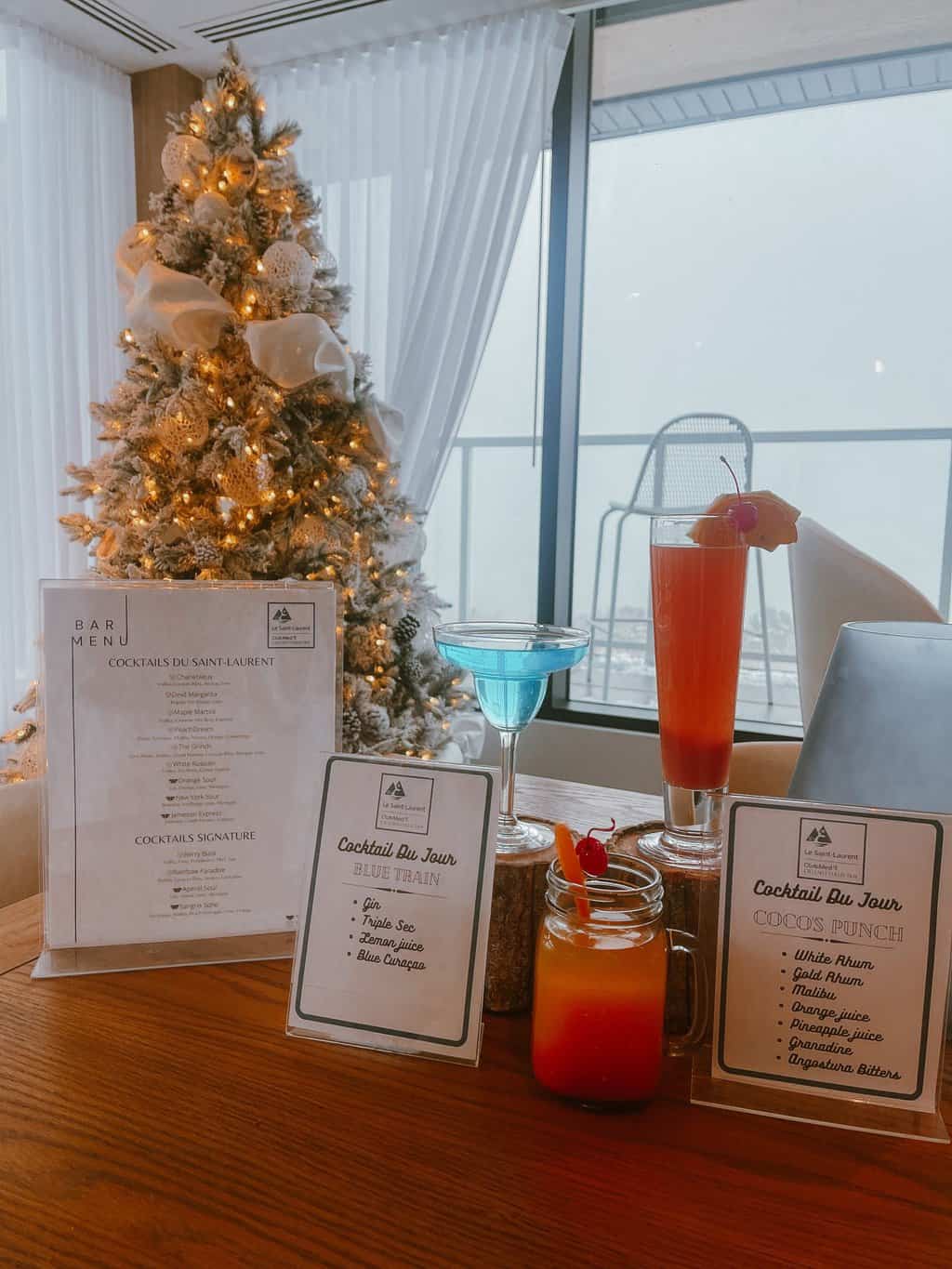 Après-ski Activities
Let's not forget one of my favorite parts of skiing: après-ski. At Club Med Québec Charlevoix, hot chocolates, coffee, and stronger libations are available as soon as you're off the slopes.
Exclusive Collection Lounge
The Exclusive Collection lounge also offers an assortment of small bites and themed cocktails throughout the day. The lounge terrace even has two hot tubs for guests to soak their bodies after a long day in the cold. Let me tell you, it was quite the luxury.
Le Marché
If you're feeling peckish, head to Le Marché. This gourmet buffet boasts a wide assortment of locally-inspired dishes, from slow-roasted pork to build-your-own poutine, there's a plate for every palate.
The highlights for my kids were the pasta bar and giant Nutella jar for our breakfast crepes. Adults will enjoy the table-side wine and beer on tap.
For those looking for something stronger, they can head to the onsite bar just a few steps away.
Club Med Spa by Sothys
After a long day of skiing, you might want to treat your body to a little R&R at the Club Med Spa by Sothys. Whether you opt for a facial or massage, you're invited to enjoy the spa's outdoor whirlpool bath, outdoor terrace and sauna.
Club Med Québec Charlevoix Winter Takeaways
It's true that Club Med Québec Charlevoix offers family-friendly vacations throughout the year. There's an abundance of hiking and outdoor adventures in the summer, stunning fall foliage, and even whale watching during the proper season.
That being said, winter offers such a rich experience for guests who are avid skiers or those that perhaps want to dip their toes into winter sports.
For parents searching for a truly stress-free vacation, Club Med is exactly what you're looking for. From the moment we left the airport in Québec, I felt a weight lifted off my shoulders. The hardest decision I had to make during our stay was which dessert to choose at meal times. Even then, I often had a little of each one.
My husband and I were able to spend uninterrupted time together while also feeling like we were spending quality time as a family. What more could you want on a vacation?
This post is part of a paid collaboration with Club Med resorts. As always, my opinions are my own.