Calgary Canada is so much more than what I see coming into the airport! I thought to myself. Probably not the first thing that comes to mind when most locals think of their city. For those who only fly in and out of Calgary International in Alberta to get to Banff National Park in the Canadian Rockies, this is a very true statement though.
I'd seen the inside of the airport, the rental car lot, and the highway that took me away from the city. I never saw the skyline, the Bow and Elbow Rivers, the public modern art, or cute neighborhoods with boozy mani/pedi shops. Why, oh why, had I been driving away from all of this so many times? No more! It was time to dive in.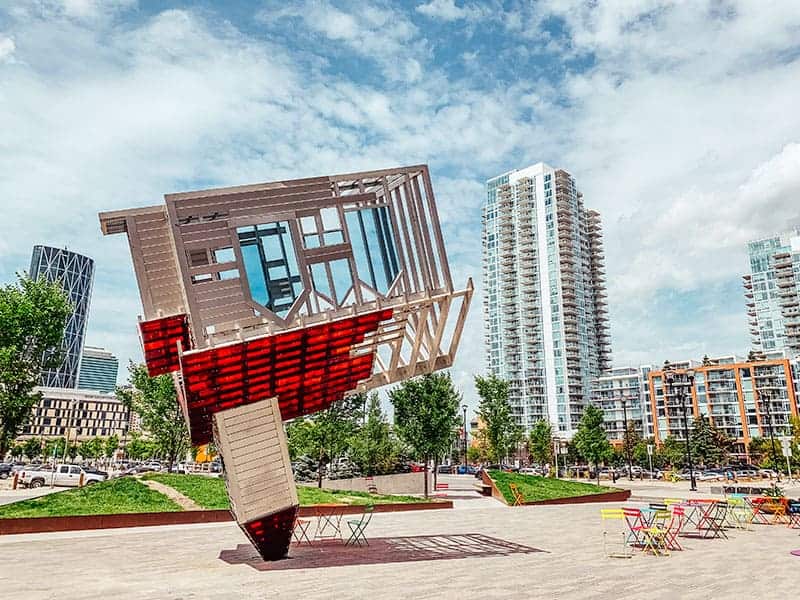 Where is Calgary Alberta?
Calgary is about an hour and a half outside of Banff National Park and Lake Louise, and home of the 1988 Winter Olympics. Being so close to the mountains, it is already at 3,428 feet above sea level. Edmonton, the capital of Alberta, is just three hours north.
Calgary is also the largest city in the province of Alberta with just about a million and a half people, including about 30,000 students attending the University of Calgary.
No, it is not part of the U.S., but it is close to the border of Montana, even closer is British Columbia.
Getting to Calgary Canada
There are several nonstop flights from the US to Calgary every day, main departures from Seattle, Chicago, New York, San Francisco and Los Angeles. Air Canada does offer several nonstop flights from across Canada as well. Most US travelers headed to Calgary will have to take a connecting flight though.
And yes, you will need a passport to go in and out of Canada, as well as Canadian dollars. You can exchange money at the airport or get money out of the ATM once you arrive. No need to panic.
Heading to Edmonton too? Read our Edmonton Alberta guide.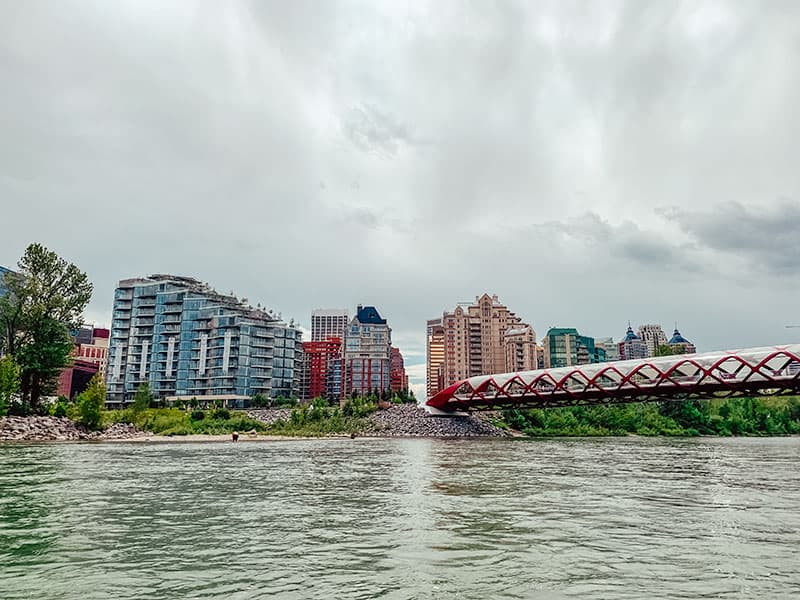 Calgary Weather
Well, the good news is that it is Canada, so you are guaranteed less humidity and cooler days when you are roasting in the summer down in the lower 48. Summers are gorgeous, with highs in the 80s. Nights can cool off into the high 40s and 50s. Every restaurant patio is packed until sunset after 10pm, and you will find people playing in Princess Island Park every weekend.
The flip side is that it also gets chilly in the winter, but not as cold as you may think. Calgary winters see temperatures dipping into the 20s during the day and into single digits at night. It's a drier cold though, so not as brutal as those wet winters elsewhere. You are also an easy drive to the SkiBig3 mountains to enjoy a few winter sports. Grab a snowboard or pair of skis to build up a sweat on day trips to Lake Louise and the Banff rocky mountain slopes if you get too cold. Winter also brings a profusion of festivals to the city, including the YYC Hot Chocolate Fest we can't wait to check out.
No matter the weather, there are always things to do in Calgary. Whether you like to shop, eat, hike, bike or stalk mural art, you are sure to have fun in this Alberta city in western Canada.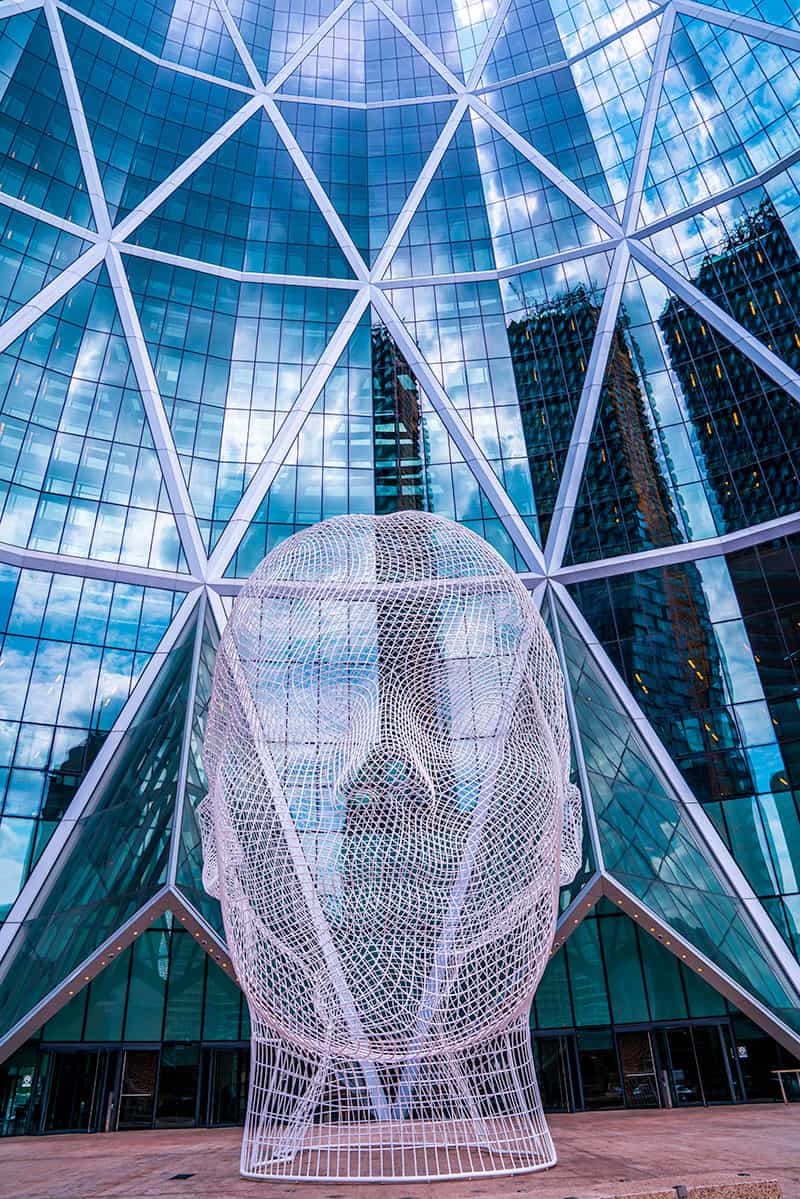 Calgary Neighborhoods
Calgary has at least 12 distinct neighborhoods, all unique and worth visiting. There is no way you will have time to see them all during your visit unless you plan a marathon, so we will break down a few of our favorites. If you do have extra time, make sure you head to Kensington, 4th Street and Beltline though.
Kensington
A small, but jam-packed neighborhood just across the Bow River. While we love all of the coffee shops and restaurants, it's how this neighborhood powers their cell phones that has us giddy. Dale the Origami Horse at the corner of 10th Street NW and Memorial Drive is ready for you to connect and recharge. Simply hop on and start peddling. Don't believe us? Go find him, and then search out all of the cool murals in this part of town.
4th Street
Once Calgary's French speaking neighborhood, it is now filled with boutique shops and restaurants. Pop in during June for the Lilac Festival, a great spot for families to welcome spring (yes, June is still considered spring in this Canadian city). It is also the best spot to discover new and emerging musicians on the six stages set up for the public to enjoy.
Beltline
Head to the more contemporary section of Calgary to taste the best cocktails, cruise art galleries and dig into a few tasty dishes. We loved learning how to smoke cocktails at Shelter. Definitely visit the Chinook Arc, an interactive piece of artwork you can control with your Smartphone.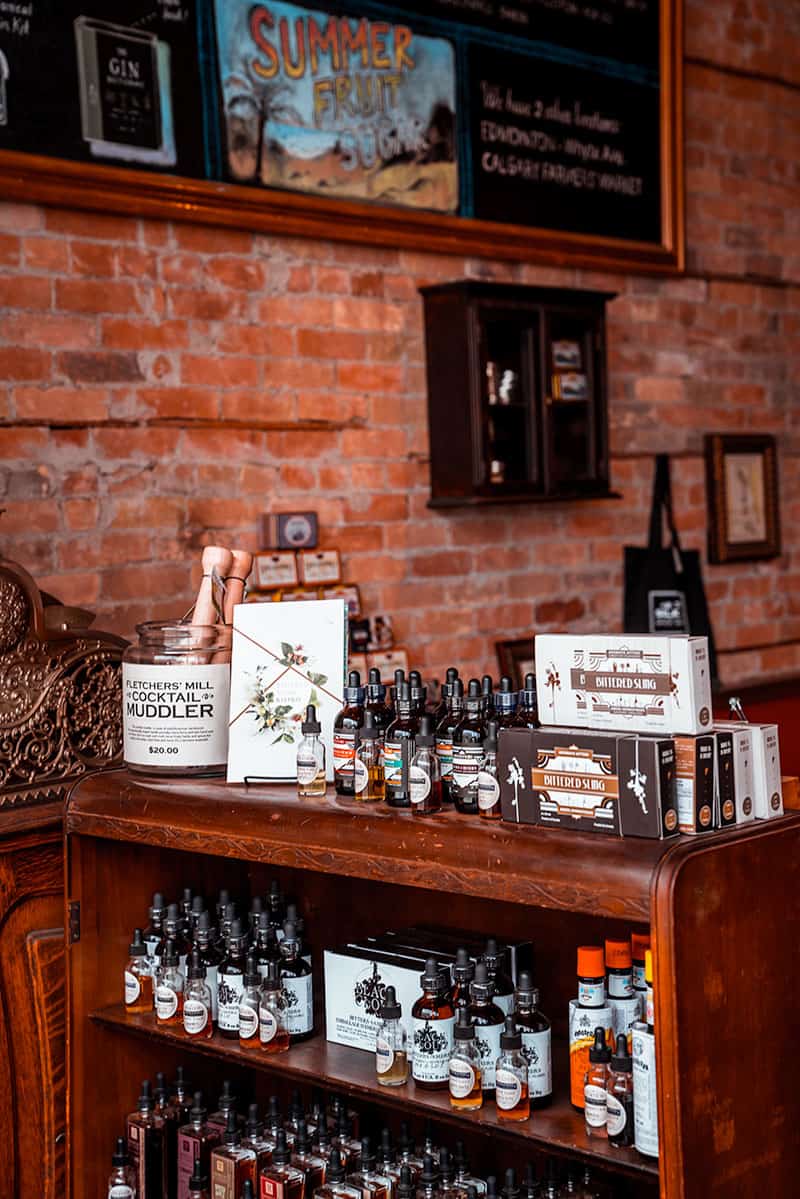 Historic Inglewood
When you want to really get to know Calgary, you go to the historic village neighborhood of Inglewood. This is where the city really began. Inglewood is Calgary's oldest neighborhood, established in 1875, and originally known as East Calgary. Today, it's filled with shops, restaurants, coffee shops where you can rub elbows with the locals, bike paths, nature preserves and one heck of a set of rapids for kayakers to tackle.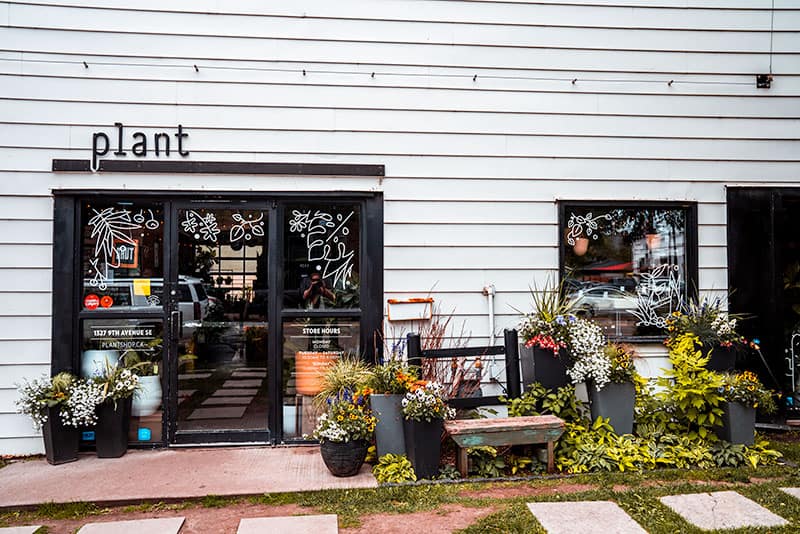 Smithbilt Hats calls Inglewood home, and have graced the heads of Queen Elizabeth II and the Dalai Lama. We loved loading up on spices and bitters at the at Silk Road Spice Market when we cruised through town. More than one knitting friend has told us to pop into Stash Needle Art Lounge too. For plants, well, you can't go wrong with PLANT. For all our modern cowboy wear, we head to Cody and Sioux, as well as The Livery Shop, before Calgary Stampede.
Note: many shops are closed on Mondays, so try to hit this historic neighborhood on the weekend or other times throughout the week.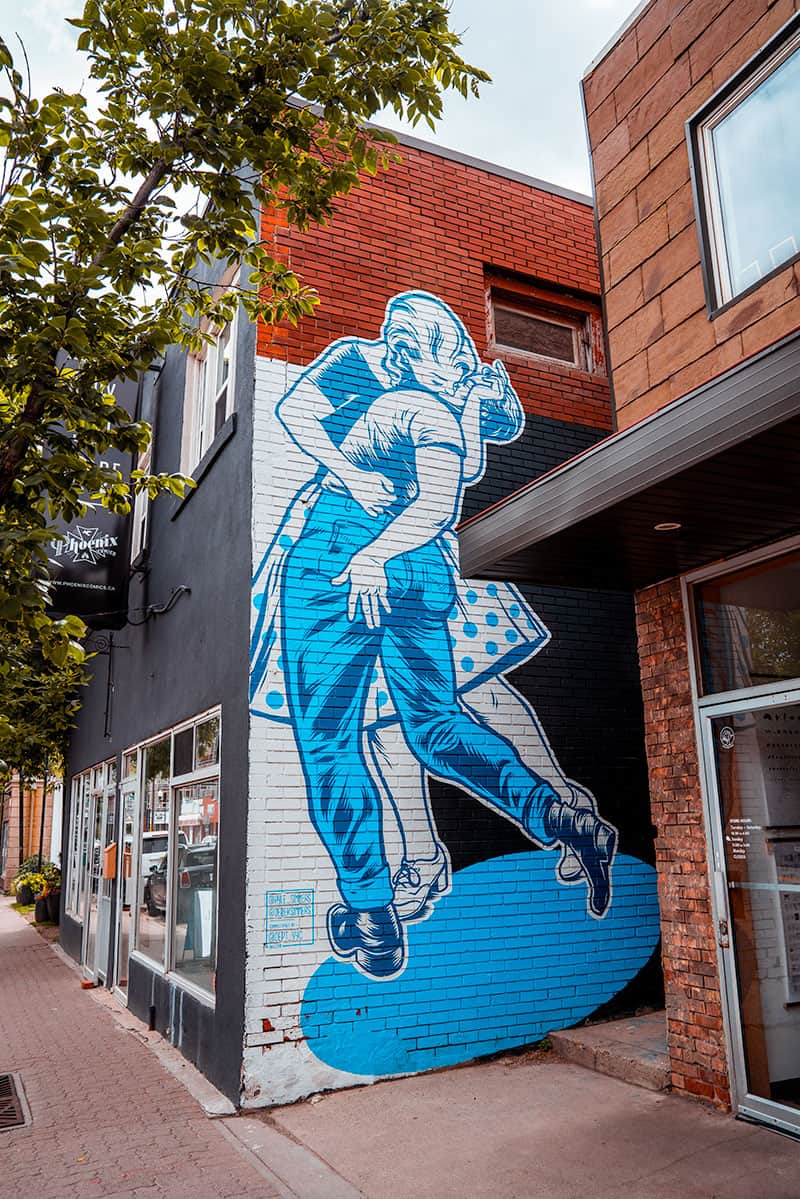 Explore 17th Ave
One of our favorite places to hang out in Calgary is 17th Avenue. Not only is Ollia Macarons and Tea located here (try to eat just one of these sweet confections!), but so is Analog Coffee.
If you love a well-balanced cappuccino, especially a nice decaf in the late afternoon, this is the coffee shop for you. The beans aren't bitter at all. Alternately, if you want to work and hang with the hipster crowd, you can mellow out at Philosafy just down the street. Both shops are great; we just prefer Analog.
Arguing over Pizza and Ice Cream
UNA Pizza is arguably the best pizza spot in town, and yes, the locals will argue about this with you. Naturally, you can't have pizza without ice cream, so pop over to Made By Marcus for a unicorn inspired sundae or one of their seasonal specialty flavors. We had the Lemon Curd Wild Blueberry in a waffle cone and were tempted to get back in that long line for seconds. Yes, the line at Made By Marcus can be long after dinner, but it moves quickly and is worth it.
WARNING: Made by Marcus is also know for bright confections that can and will initiate a sugar high. Instagram-worthy concoctions come with cotton candy and cones will make you think you are eating a unicorn. And no, not just children are ordering these sweet treats. We won't judge if you do too.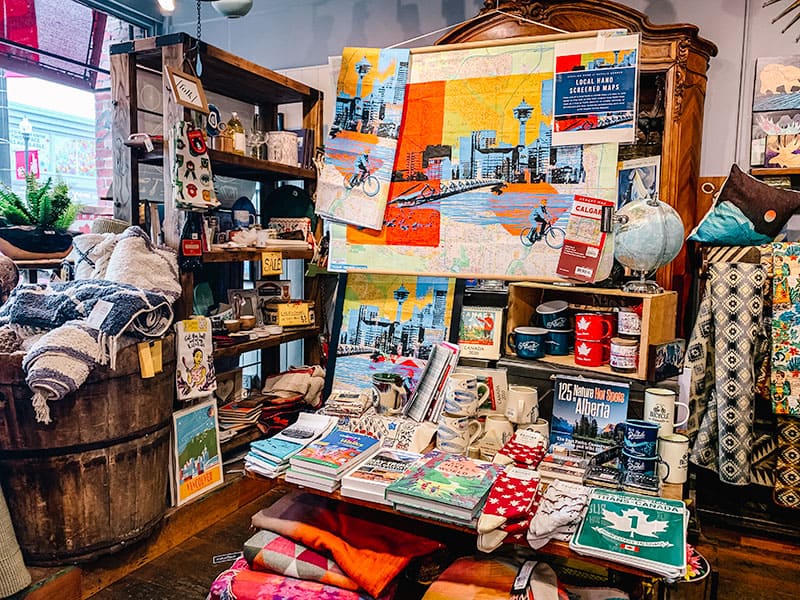 Shopping 17th Ave
Just like any cute neighborhood, the shops set the mood. Steeling Home is our go- to spot for kitschy gifts, the perfect welcome mat, and all things Alberta and Calgary inspired. Need to say "Sorry" as only a Canadian can? There's a mug for that, don't you know.
Purr has gorgeous seasonal wear priced on the higher end, but always great sales, so keep your eyes out for those signs ladies. You never know when you will score the perfect maxi dress for half price. For those who love to thrift and consign, check out Thrift Culture, Used House of Vintage and Velour Clothing Exchange.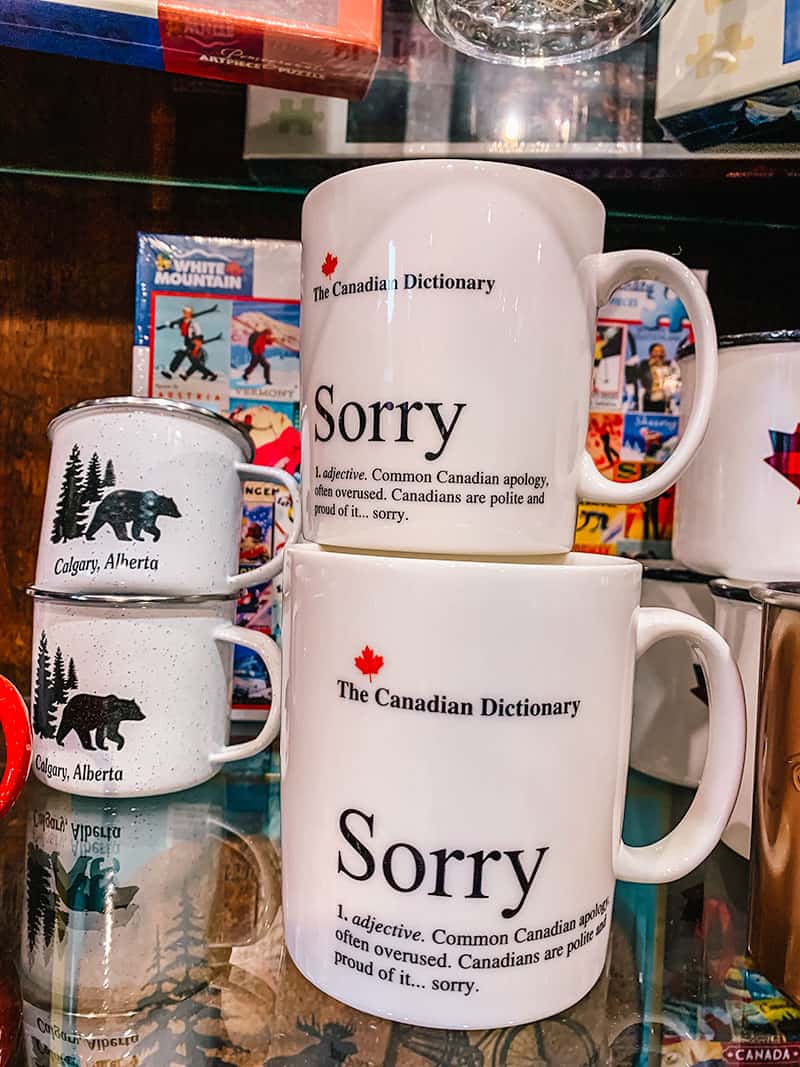 Art-filled East Village
Every morning should start at the Simmons Building with a latte from local roaster, Phil & Sebastian. With coffee in hand, saddle on over to Sidewalk Citizen to load up on the best strawberry cardamom scones we've ever tasted, as well as great egg dishes to fuel up your morning with protein.
Now you are ready to hit the streets for an art walk.
Thanks to the Calgary Public Art Policy, the streets and walls of the city are bursting with color and unexpected surprises in the parks, public restrooms and along the river. The river pathways were given a refresh in Fall 2016 with nine mixed media murals by Curtis Van Charles Sorensen, incorporating his well-known joyfully jumping animals.
Where to find art installations in East Village
In the square at Riverfront Ave Se and Confluence Way SE, you will find a little church turned on its head. Make your way towards the Calgary Central Library from there, to find a pop-up park with ping pong, hopscotch, basketball, chess and a mural ready to set the mood.
Even the East Village Dog Park has artistic elements built into the agility equipment. Instead of boring old logs, these colorful timbers will catch your eye and make you want to hang out with you pup a little longer. Crossroads Urban Park brings together public art, a community garden and playground, creating a public space that families won't want to miss when in the neighborhood.
If you really want to be impressed, head into downtown to the Bow Building to see Wonderland, a wire head designed by Barcelona-based artist Jaume Plensa. Visitors can walk into the head and around it, but please don't climb on it. Plensa is well known for his previous work the Crown Fountain in Chicago's Millennium Park, and you better believe we are stalking his work elsewhere.
Surprising Things to do in Calgary
As a major city, there are endless activities for families and visitors looking to dive into downtown Calgary and beyond. Calgary Stampede, the greatest outdoor show on earth, happens every July, bringing thousands of visitors to this rodeo/fair/food fest.
The Calgary Zoo is a conservation park parents can feel OK bringing their kids too. Pandas were recently introduced at the park and are part of the international breeding program to promote the health and numbers of pandas across the planet. Similar to the pandas at the National Zoo in Washington DC, these pandas will quickly become the most loved animals Calgary has ever known.
Glenbow Museum, Calgary's art musuem, and the National Music Centre, pull in the artists of Calgary, across Alberta, and beyond. Regular rotating exhibits highlight different aspects of the art and music scene. While the Music Centre is reminiscent of the MoPOP in Seattle, with hands on instruments, musical guests and Canadian music hall of fame, it dives deeper into the the behind the scenes of Studio Bell. You can even see the Rolling Stones Mobile Recording Studio. I know more than one rock and roll fan who won't want to miss that (ahem, my dad). True music lovers, and those interested in the arts will want to visit both though.
Calgary Central Public Library
Opened on November 1, 2018, the Calgary Central Library is one of the most futuristic libraries we have ever seen. If this is where reading spaces are headed, we are all in. Light-filled, airy spaces that bring the community together in a variety of ways is one thing we will always support.
Class rooms, reading rooms, computer stations, café and performance hall only compliment the 450,000 books on the shelves. A dedicated teen space that only teens are allowed to enter, which includes a recording studio, video game systems and editing suites, will have your kids running to the library with their friends. Moms and dads will flock to the huge children's library with books, LEGOs and sensory tables, even when they are vacation.
The real beauty (outside of all those delicious smelling books) is the Snøhetta DIALOG design though. The design team entwined timber slats with a crystalline exterior to create a natural cloud formation found in the region thanks to the dry winds blowing down the Rockies, called a Chinook. The new library connects downtown to East Village, marrying the business center with this art-centric urban hub.
Peace Bridge photo opp
Once a controversial piece of architecture in the city, the Peace Bridge is now a symbolic part of Calgary, Canada. Why was it controversial? Well, it was designed by Spanish architect, Santiago Calatrava. Locals wondered why Calgary artists weren't hired to design the bridge. Good question.
In the end, when the bridge was delivered, it was too short to span the bridge, so Calgary designers and engineers were brought in to develop the white pieces at the end to connect the bridge to shores of the Bow River. Now locals and visitors float under the bridge, skip across it and stroll down hand and hand, especially when it is lit up at night. It has become a piece of the Calgary landscape and one many celebrate, despite a bit of angst in the beginning.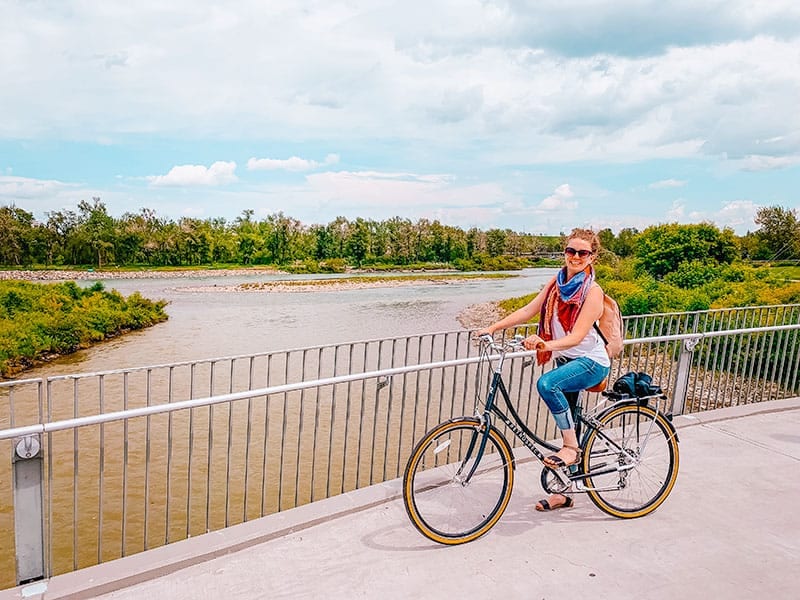 Bike along Bow River Pathway
Everyone should take a bike ride through Calgary, Alberta at least once during their visit. While you could just grab a city bike, we prefer to rent through Rath Bicycle, just to the right of the Simmons Building in East Village. They provide great cruiser style bikes and bike maps that can get you all over the city. The staff is also happy to suggest spots to stop along the way. If you have kids, they can help you plot out the safest routes, and have all the safety gear you need.
Throughout the year, you will see plenty of people using the pathway and bikeway system around the city. In fact, Calgary has the longest urban pathway system in North America. Runners, people walking their dogs, and bikers all take advantage of these car-free zones.
Naturally, the path along the Bow River is our favorite though. Why? It connects so many of our favorite neighborhoods together. A prime example: the ride from East Village to Inglewood. It is much easier and faster to do by bike than fighting traffic in your car.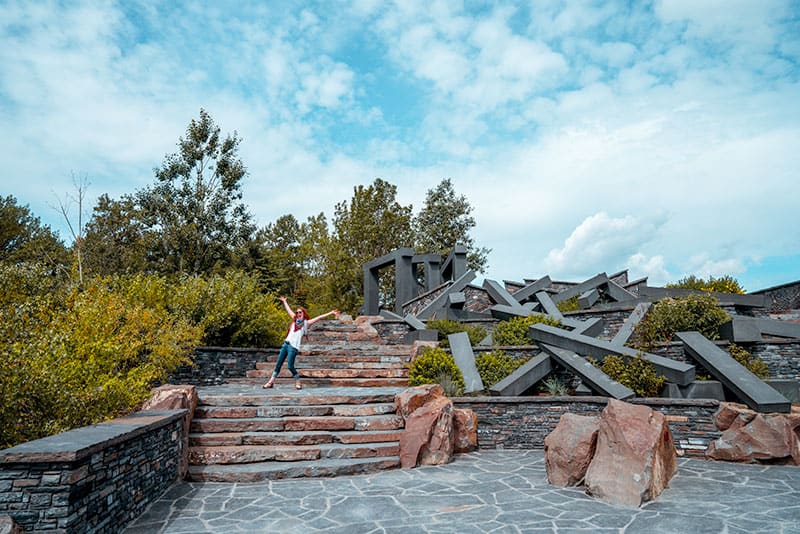 Bike to Inglewood Bird Sanctuary and Nature Centre
Ride your bike from East Village along the Bow River Pathway to Inglewood to get a true sense of this neighborhood. Cut in to head down 9th Ave, or less trafficked 8th Ave. to wander the main street, or continue down the Pathway towards Harvie Passage to see if the kayakers are out.
You can't miss the River Passage art installation by Lorna Jordan right next to Harvie Passage in Pearce Estate Park. It's pretty much a marker that tells you that you have arrived. Park your bike and take in the view with a picnic or a little snack before you continue on.
Head towards the Inglewood Bird Sanctuary and Nature Centre, a sanctuary for migrating birds for more than 80 years. You will need to park your bike before you enter the sanctuary and explore on foot though. Several paths are open to the public so you can get a peek at the 270 species of birds, 21 species of mammals and 347 species of plants that have been recorded across the sanctuary. Not a bad way to spend your morning, eh?
Shelter Cocktail Class
Drinking cocktails is great (oh, how we love a well-balanced sip), but learning how to properly make your own makes you appreciate your bartender all the more. Step inside this chic fall-out shelter, where gas masks take on an elegant, blinged-out vibe, and pre-prohibition cocktails are brought to new heights.
Similar to a speakeasy, but without the code word, Shelter welcomes you into the fold. A rotating cocktail menu highlights small batch booze and sought after distilleries, like the elusive Victoria Gin that not only tastes great, but changes colors as you add ingredients.
Public and private cocktail classes are offered at least once a month. On a recent trip, I got to sit in on a private class to learn how to make the perfect sour (using egg white), smoke lavender, properly muddle mint for my mojitos, and why a martini should always be stirred, not shaken.
What's included in a typical class?
Three cocktails
Complimentary bar snacks (on request)
Cocktail and spirit theory and history
Muddling, stirring, shaking, and smoking techniques
Glassware knowledge and education
A cocktail contest with prizes
Question and answer time
And you can't have a cocktail class without a few cocktails, right? We started off with the classic French 75, before moving into a smoked Old Fashion. We got fancy when we broke out the Victoria Gin to make a Northern Lights, which included sage and smoked lavender.
The class ended with a borderline sweet Blood in the Water, a pink concoction reminiscent of pink lemonade with a few dabs of olive oil on top. It sounds weird, but it was heaven, yet dangerous in a glass. A few of those and we would be sleeping on the deep purple velvet couches littering the floor under the 1000+ lightbulbs on the ceiling.
Other great Calgary cocktail bars to check out:
Proof
The Tea House
Milk Toger
Yard Arm
Betty's Little Library (legit speakeasy)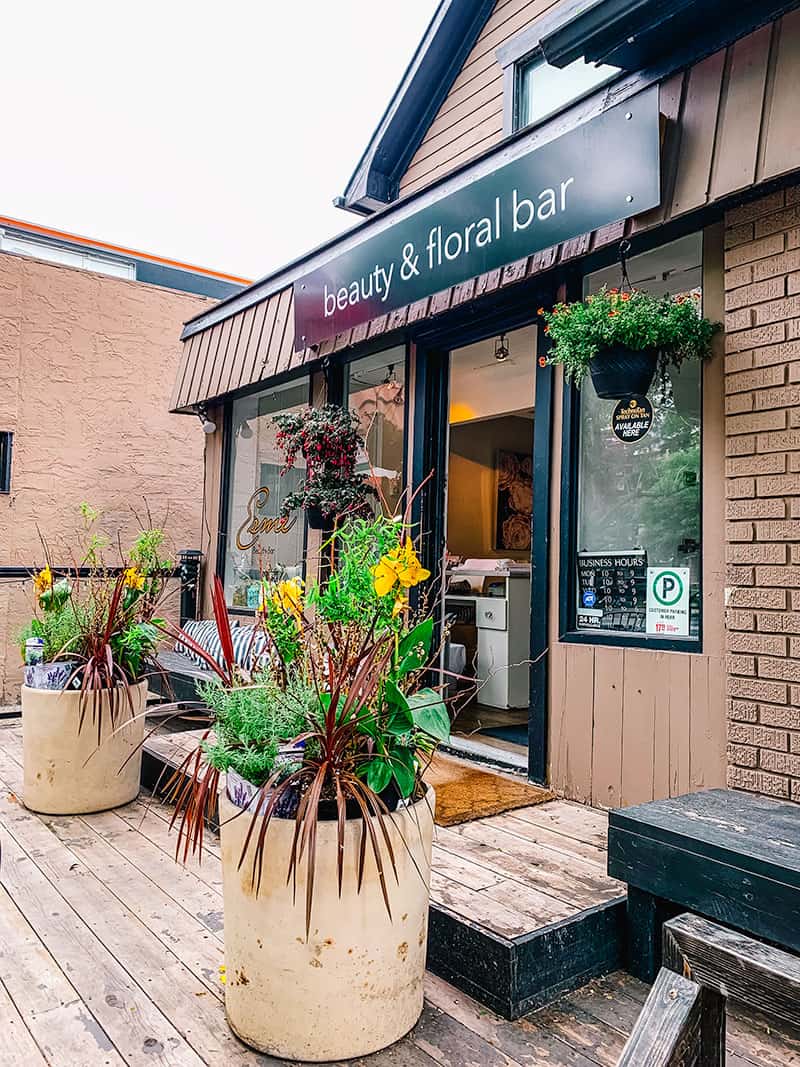 Treat Yourself to a Boozy Mani/Pedi
Sometimes you just have to take a break from city life. Calgary, Alberta is bursting with speciality nail salons that combine wine with mani/pedis, especially along 17th Avenue. Walk-ins are welcome, but reservations are strongly recommended. You know you need your piggies to get pampered right about now.
If it is summer, you have been wearing sandals and your polish needs an update. In winter, your feet are dry and could use a rub. These three spots are worth checking out when in town for some extra hand and feet love.
MetroPolish17 Nail Salon
Esme Beauty Bar
Elate Lounge Beauty Bar and Café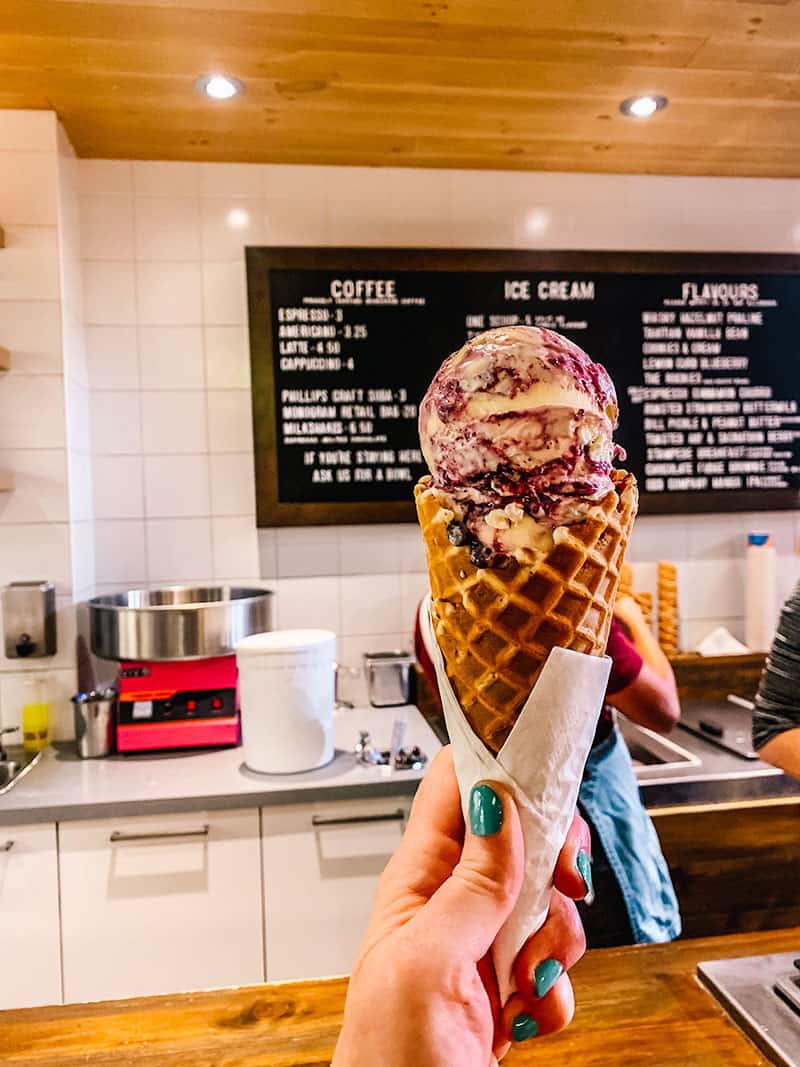 Get cool in Calgary this Summer
Just like Edmonton, the locals come out to play in force when it heats up in Calgary Canada. Restaurants fling open the windows, and residents hit the pavement and river to find some fun. There are endless festivals, but nothing like the Calgary Stampede that takes over the city for two weeks each July. While we are sure you could find loads to do this summer in Calgary, here are a few of our favorites.
Ride the rapids at Harvie Passage Calgary
Be warned: these rapids look small, but they are not for the faint of heart. More than one experienced kayaker has died at Harvie Passage. The city shut down the rapids for a number of years after a flood in 2013. It was rebuilt with more safety in mind for rapid lovers, but with all rivers, there is still risk involved.
Pop down to Pearce Park to watch kayakers and rafters hit the class 3 rapids on the left and class 2 rapids on the right of the river passage. Even when no one is passing through, this part of the river is still a beautiful spot to explore. If you are interested in tackling it on your own, call Paddle Station to rent kayaks or rafts, but check in with the guides first to make sure you are up for the challenge.
Float Down the River with Paddle Station
While you may want rapids, we prefer more of a float. When it is hot outside, the glacier fed waters of the Bow River are just cool enough to make your toes curl. Hop in a raft with the knowledgeable guides from Paddle Station. Get to know the river, maybe see a beaver, the river surfers at 10th Street Bridge, and enjoy the city as it comes into view. You will float under Peace Bridge and by Princess Island Park, taking about an hour and a half to make your way from the launch point. Because of the flow of water, you won't even have to paddle.
If you do want a challenge, you can book a raft on your own, and even a kayak. We know some people like a workout on the river. Just remember- tandem kayaks are divorce boats. No matter how much you love your partner, get your own kayak for the sake of your relationship. Just sayin'.
Eat all of the Fried Food at Calgary Stampede
Just when you didn't think you could eat any more fried food, another morsel is presented to you. This is what the food stalls at Calgary Stampede do to you. Every year they add knew confections and creations, and we just can't say no. Pickle dogs, pickle ice cream, pickle cotton candy (they have a thing for pickles up here), fried Twizzlers, Smokin' Butterbeer Ice cream, baby octopus on a stick, bacon-wrapped onion rings- the list is literally three pages long.
So, pull on your stretchy pants and leave the belt at home. It's time to start eating. The post-Calgary Stampede diet can start in August. You will walk a ton at this rodeo anyway. It's huge!
Prince's Island Park
When you really want to veg out on a summer afternoon, you go to Prince's Island Park. Enjoy a leisurely brunch or lunch at River Café. Mimosas are encouraged, as is the cheese board and season fruit platter. In true Alberta tradition, Canola oil crackers will be served with your cheese, so make sure you take a bite.
As you wander through the park, you may catch theatre:Calgary's A Midsummer Night's Dream or another Shakespeare production performed at the annual Shakespeare by the Bow. Pull up a patch of grass to enjoy free performances late June to mid-August, six days a week. Ticket prices are Pay By Donations, meaning you can pay what you can afford, or not at all. Proceeds go back into Shakespeare by the Bow to mentor and support emerging theater artists. Concessions are available at the top of the hill, along with restrooms.
If the kids are with you, pop over to the wading area for a little swim on a hot day. A small tributary of the Bow River curves around Princes's Island creating a perfect little calm spot for kids to play. You will also find families biking, running and tossing a frisbee around pretty much every weekend when the weather is nice.
Looking for a Hotel in Calgary Canada? Check out the following!
Looking for more? Search for a great deal on Booking.com.
This post is part of a paid partnership with Tourism Calgary and Travel Alberta. As always, my opinions are my own. When they aren't you will be the first to know. This post may contain affiliate links . This post contains affiliate links. If you make a purchase after clicking one of those links I will receive a small commission.