Swooshing down double blacks, tackling moguls and racing through trees at Banff's SkiBig3 isn't for everyone. Trust me. I'm a downhill cross-country skier at best (Yes, it's a thing. I'll be trademarking it shortly.)
This doesn't mean that you can't have fun with your crazy snow-loving friends on the Banff's best mountains though. There is a place for even the most timid skier on the Banff ski slopes.
While hanging out in Banff in January, I learned firsthand what you can do on all three of the SkiBig3 mountains. The SkiBig3 Pass gave a group of friends and I, beginners up to former pro snowboarders (sponsors and all), the chance to tackle the mountains in our very own way. Needless to say, I was the lazier of the bunch.
I like to start my mornings off slow, enjoy my coffee, and no be on the top of the mountain to catch the sunrise. If that's what you crave, by all means, set your alarm. Hope on the SkiBig3 shuttle and be the first on the double blacks.
I'm very happy on the green runs, which aren't too crowded throughout the day, unless instructors are out there with a class.

SkiBig3 for Everyone
The SkiBig3 mountains have plenty of trails catered to my skill level though, so I never had to worry about terrain for true beginners or hesitant skiers like me. I did have to worry about the crazy advanced skiers and snowboarders though.
Many of the green runs have drop ins to blues and blacks, so watch out. At the top of the green runs you will be hanging with the big leagues as they try to get to that cliff you are trying to avoid but they are racing towards (like only insane people do).
But enough about how to avoid those people who have lost their minds and love to go fast in the snow. Here's what you need to know to get on the Ski Big 3 trails in whatever way makes you happy.

Getting to SkiBig3
SkiBig3 isn't exactly a place, but if you are looking to ski the three big ski resorts around Banff, Alberta, Canada, you need to head to Banff National Park.
The easiest way to do this if you don't live in the province, is to fly into Calgary airport. Rent a car and drive one and a half hours into Banff National Park where you will set up camp for a few days. Make sure you rent an SUV or a car with all-wheel drive as conditions can get icy during the winter months.
Rental SUVs start at $90 if you rent off airport. If you need to stay on airport, you can grab one for about $300-$400. Word to the wise, get the car windshield coverage. You will save yourself a lot of paperwork. We got a massive rock crack in our windshield while driving from Banff to Lake Louise and I'm still dealing with the insurance paperwork for it.

Best Banff Hotel to Crash Into this Winter
Fairmont Banff Springs
When you need the best night sleep possible, you stay in a castle, just up the hill from downtown Banff. Pop into STOCK for breakfast, Grapes for Happy Hour and The Willow Stream Spa for a post-ski soak. The hotel offers shuttles downtown to enjoy all of the Banff restaurants this Canadian Rockies town has to offer. Get the best rates on Fairmont Banff Springs HERE.

SkiBig3 Pass
Anyone who is looking to get the most out of their visit to Banff, needs to pick up the SkiBig3 Pass. This ski pass gives you access to Banff Sunshine Village, Lake Louise Ski Resort and Mt Norquay. You will get more value for your money, as well as more trail option no matter your skill level. And did I mention… hot springs?
What's included:
Unlimited skiing at Banff Sunshine, Lake Louise and Mt Norquay
Night Skiing (Dec – Feb) at Mt. Norquay
Tubing at Mt Norquay
FREE ski shuttle from Banff & Lake Louise Hotels
Complimentary pass to the Banff Hot Springs (only with online advance purchase of 3+ multi-day lift ticket)
Free admission to the Whyte Museum with 3+ multi-day lift tickets
The SkiBig3 Trifecta Challenge (visit all three mountains to grab prizes and pints)
Click to buy your SkiBig3 Pass HERE

SkiBig3 Mountains
SkiBig3 isn't a mountain, it is a group of three mountains under one ski pass. The mountains are all within about 45 minutes of downtown Banff, making this mountain town the perfect spot to set up during your trip.
Mount Norquay is the closest, a mere 15 minutes up the "hill" from Banff. Sunshine is about 20 minutes down Highway 1 West/Trans Canadian Highway. Lake Louise Ski Resort is the farthest away at 45 minutes, but that's just a nice excuse to pop into the Fairmont Lake Louise for afternoon tea.

Mount Norquay
Mt. Norquay is generally known as the mountain for the more experience skier. It's where the locals go after work, kids go tubing, and night skiing is actually available. Most trails are designated blue or black, although you will find some harder greens in the mix.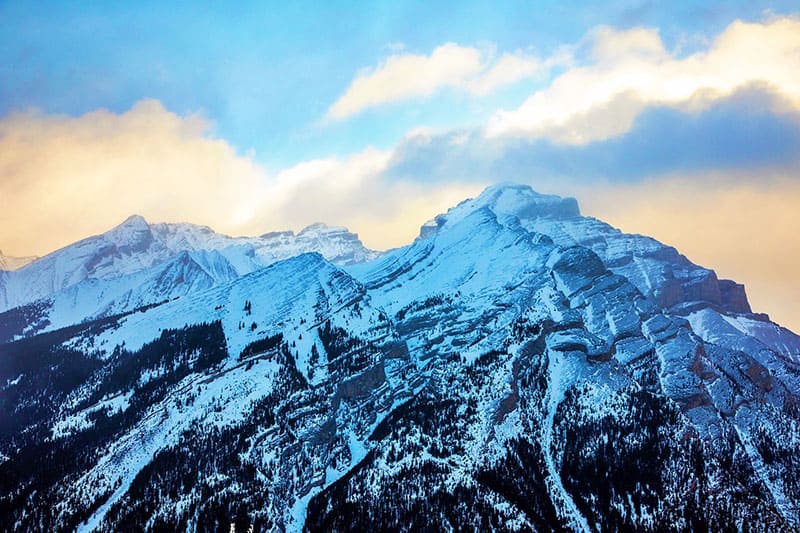 Take the North American sightseeing chairlift up to the Cliffhouse Bistro for hot chocolate or boozy libations with a view. If you aren't prepared to take some extreme runs back down, leave your skis at the base. You can ride this lift up and back down.
For those looking for lunch at the lodge, pop upstairs to the Lone Pine Pub for bao buns and other unconventional ski foods.

Banff Sunshine Village
Just 20 minutes north of downtown Banff, Sunshine Village isn't as compact as Norquay, but not quite as large as Lake Louise. If you love green runs, ask a mountain guide which runs you should start out on, especially if you haven't been in the powder for a while.
As any Canadian will tell you, not all greens are created equal.
Parking is at the base of the mountain with a rental and gear shop, plus lodge, but you will need to ride the gondola to actually get the lifts that will take you up to the runs. This is where you will find most of the restaurants, and the Sunshine Mountain Lodge.
It's a chilly ride up, so stop for a loaded hot chocolate with whipped cream and marshmallows at the Java Lift coffee shop before you head out on the slopes for a few hours. Above the coffee shop, in the Lodge, is the Chimney Corner. This is where you will want to grab a reservation to meet large groups of friends who crave salads, charcuterie and burgers.
Although, if you want the best fried pickles and wings on the mountain, you should just go to Mad Trapper's Smokehouse to meet up with the gang. It's the perfect après ski spot. Get there early if you plan on riding the gondola back down before it closes at 5:30pm (10:30pm Fridays). Those who miss the last gondola will have to ski back down to the base to grab a shuttle or hop in their car.

Lake Louise Ski Resort
Lake Louise Ski Resort is one of the largest ski resorts in the area, with trails for all skill levels. Those looking to take lessons can sign up at the ski school, while more advanced skiers will want to jump on the Grizzly Gondola right away to hit the mountain.
Be mindful that you can ski to different chair lifts to get to many different parts of the mountain, take the Gondola back to the ski lodge or ski yourself down. There are more options than you could imagine.
Advance skiers can also take advantage of Adventure Guides who can show them more of the terrain, without slowing them down through lessons. If you would like a few pointers, they are happy to help you out, but if you just want to enjoy some of the more challenging aspects of the Lake Louise terrain, they are happy to show you the way. Learn more about Adventure Guides HERE.
Once you are finished conquering the mountain, enjoy a piping hot bowl of ramen at Kuma Yama Sushi before you meet up with friend for a little après ski at Fairmont Lake Louise.

Get Your Gear at SkiBig3 Adventure Hub
Before you even hit the slopes, you can grab your SkiBig3 passes at the SkiBig3 Adventure Hub. You can also book lessons, try on ski and snowboard rentals, and pick up any other gear you forgot at home in the shop.
Best, and most convenient of all, SkiBig3 will deliver your rentals to your hotel and pick up your rentals after you wrap up your adventure. No more schlepping gear all over town!

SkiBig3 Shuttle
If you dread the thought of driving in the snow after a full day on the mountain, the SkiBig3 shuttle has you covered. This free shuttle service picks up at multiple hotels around town. Whether you are staying on property or not, you can hop on board.
As one friend on our trip proclaimed, she was not raised to understand snow. Leave the driving to the snow pros. No one wanted to see her trying to drive in snow for the first time.
Shuttles pick up from Banff and Lake Louise hotels to get you to all three Banff BigSki3 mountains on your ski pass. You can jump between mountains all day, just be mindful that it does take time to get to each one. Grab the schedule HERE.
This post is part of a paid partnership with Travel Mindset, SkiBig3, and Fairmont and Resorts. As always, my opinions are my own. When they aren't you will be the first to know. This post may contain affiliate links.