Are you or someone in your family a Star Wars fan? The ultimate themed land for all Star Wars fans is Disney's Hollywood Studios to visit Star Wars: Galaxy's Edge and other amazing spots in the park.
From piloting the millennium falcon to helping the Resistance you can live out your Star Wars dreams like never before.
Updated by Jenn Greene
When Disney decided to bring Star Wars to life in Walt Disney World they went big, as in 14-acres big. It's a fully immersive experience, from the food to the cast members in costumes, you have been entirely transported to a Galaxy Far, Far Away.
Batuu, a planet on the Outer Rim of the galaxy, completely transforms at night, and dare I say it's even better than during the day! You will want to see it during both times, as there are details everywhere and around every turn that shouldn't be missed when you visit Walt Disney World Resort.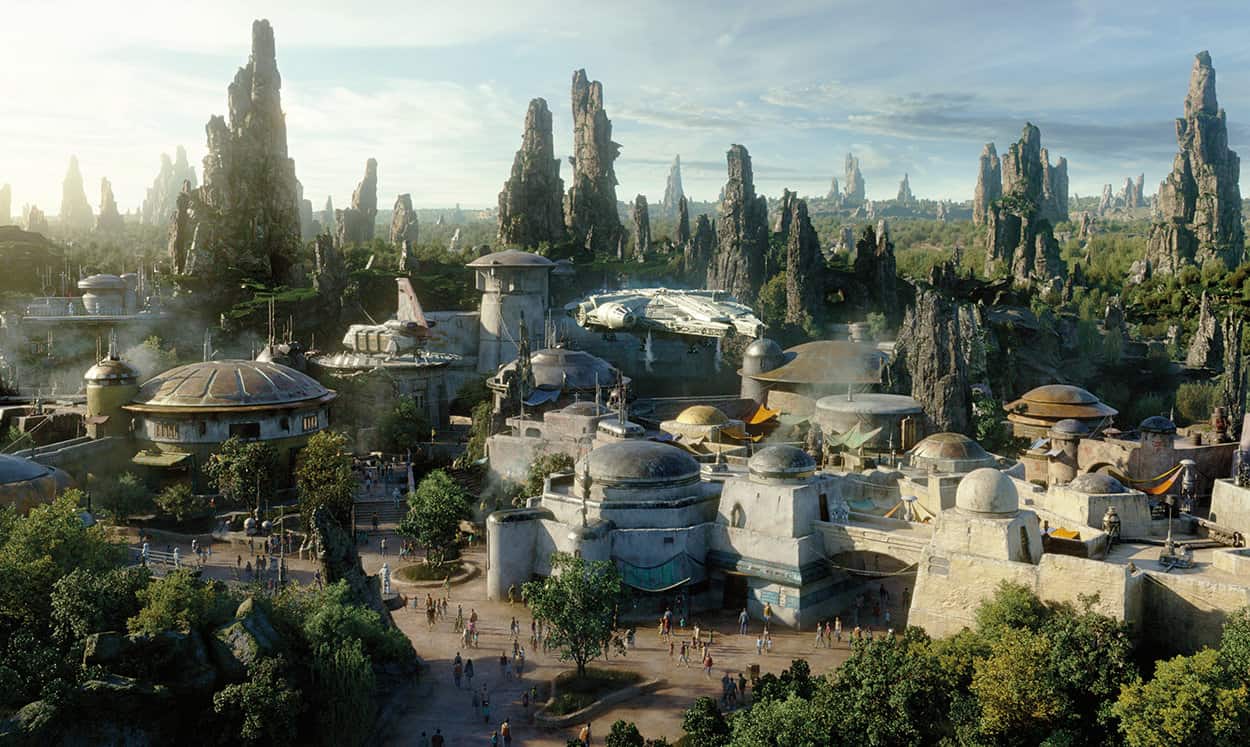 Where Is Galaxy's Edge set in the Star Wars Story?
A remote outpost, known as the planet of Batuu, is where the story is set. According to the story, planet Batuu was once a busy crossroads along the old sub-lightspeed trade routes, but its prominence was bypassed by the rise of hyperspace travel.
Visitors will find that Batuu is a thriving port for anybody that might want to avoid detection, like smugglers, rogue traders, or those that want to avoid the First Order.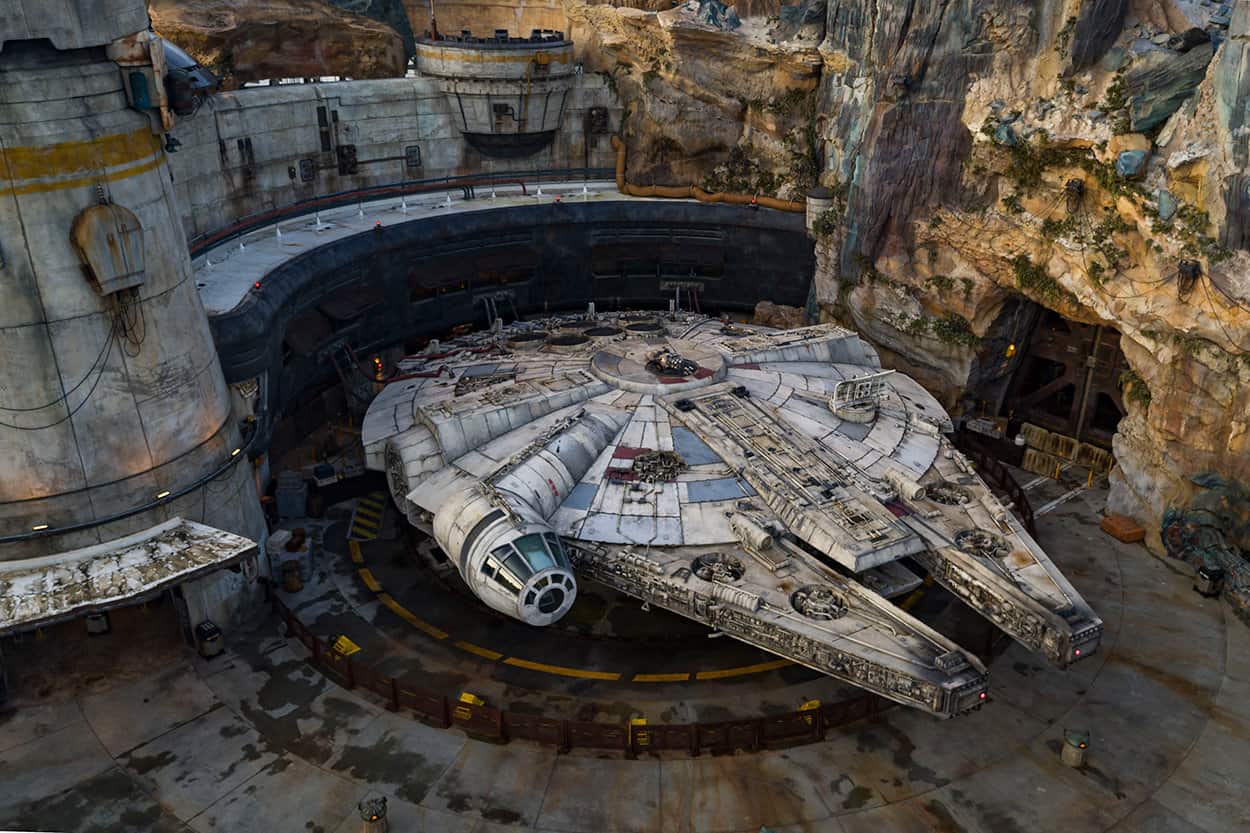 Attractions in Galaxy's Edge
Galaxy's Edge is home to two amazing major attractions. There definitely isn't one better than the other- as they are both equally amazing. Keep in mind that there may be long wait times, especially depending on the time of day you visit.
MILLENNIUM FALCON: SMUGGLERS RUN
Smuggler's Run puts guests in control of the most famous ship in the galaxy – The Millennium Falcon. The story behind the attraction is, Hondo is the man in charge of recruiting some new smugglers to help move weapons and supplies to The Resistance. It is your crew's job to get the goods to the people that need them.
You are assigned one of three unique roles– pilot, engineer, or gunner. While many want to Pilot the Falcon I love being the gunner and shooting down the enemy! The special effects are top notch, and the ride isn't too scary for younger children.
In addition to the ride, the queue provides guests with lots to look at, as it is a prologue to this fully immersive ride designed by Walt Disney Imagineering.
Height requirement: 38″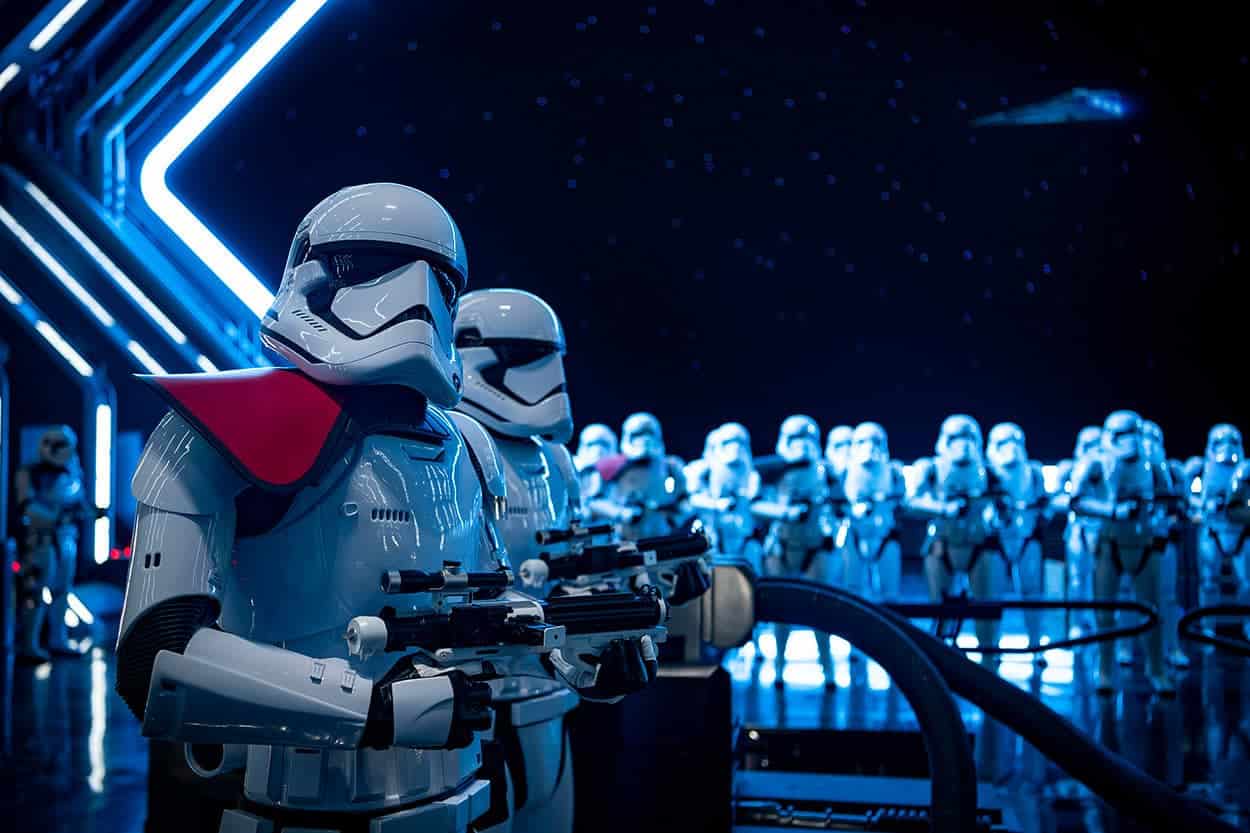 STAR WARS: RISE OF THE RESISTANCE
The Star Wars: Rise of the Resistance attraction puts you in the middle of an epic battle between the Resistance and the First Order, and it is an absolute jaw-dropping experience. Resistance aircraft and a First Order Star Destroyer make an appearance, along with First Order officers (Disney cast members), so Jedi training may need to be put on hold so you can go undetected.
This attraction also has an expansive queue filled with your favorite characters, storytelling, if you look down, you will see the tracks from R2-D2.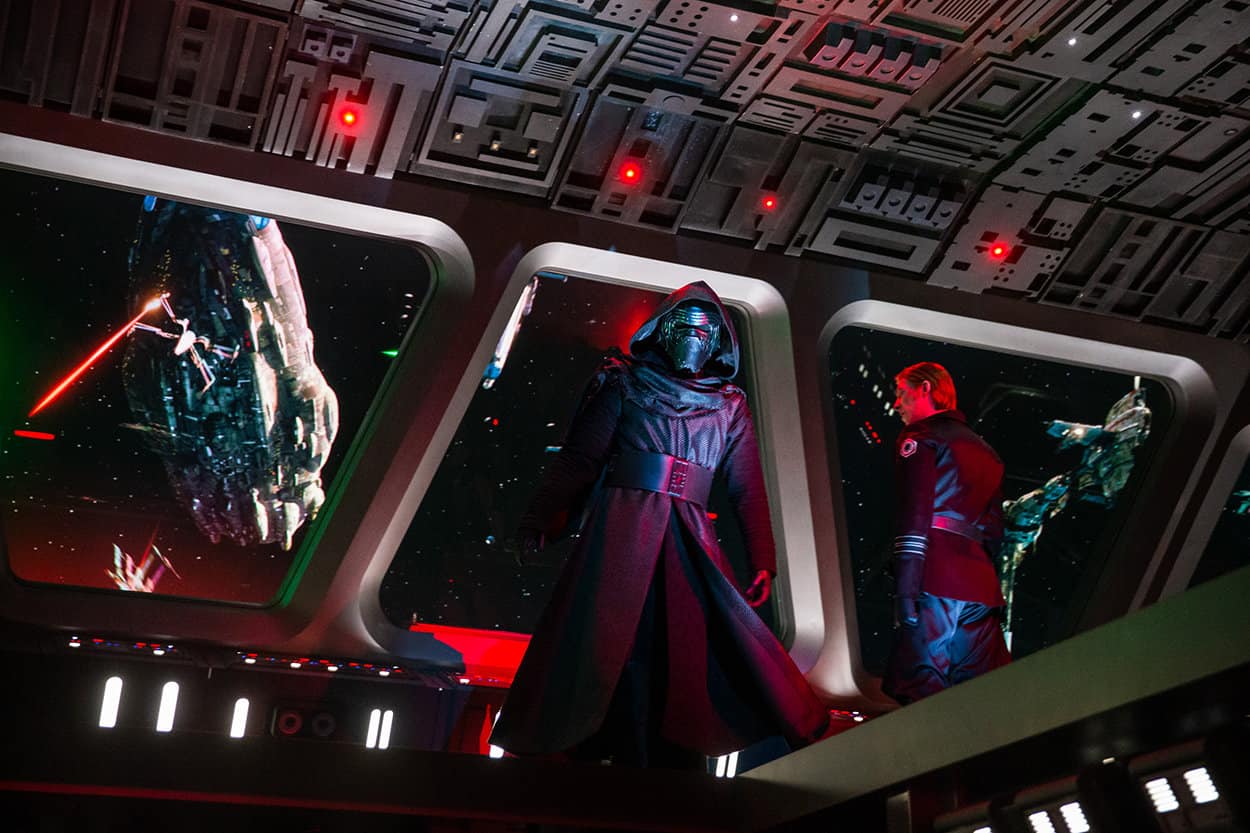 During your battle, you can expect to see X-wing fighters, Stormtroopers, TIE fighters, and even the giant AT-AT. If this is your first time on the ride, be aware that there is one drop; if your stomach can't handle drops, you might want to skip this one.
Height requirement: 40″
Dining on Batuu
There are a few places to grab a bite to eat while you explore Batuu, most are casual dining spots with savory treats throughout the Galaxy.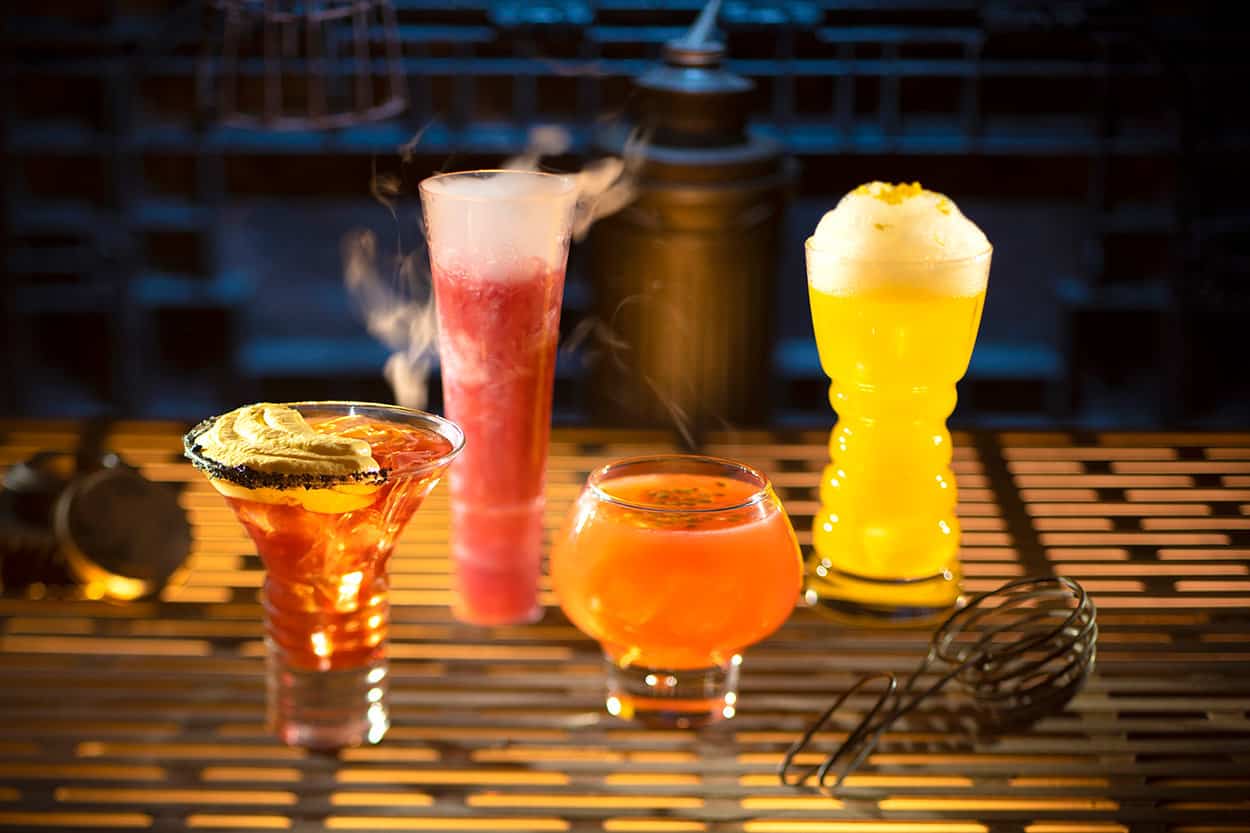 Oga's Cantina (Reservations Required)
Unique entertainment, provided by RX-24, and amazing concoctions "created with exotic ingredients using "otherworldly" methods" await visitors at this notorious watering hole.
Several Star Wars-themed alcoholic beverages are available including Bespin Fizz, Bloody Rancor, Dagobah Slug Slinger, Fuzzy Tauntaun, Jedi Mind Trick, Jet Juice, The Outer Rim, Spriran Caf, T-16 Skyhopper, and the Yub Nub.
And, exclusive to Walt Disney World, the Rodian Ration is a combination of vodka, sour apple liqueur, Sprite, and green apple popping pearls.
There is also a large selection of non-alcoholic beverages to choose from including Black Spire Brew, Blue Bantha, Carbon Freeze, Cliff Dweller, Hyperdrive Punch It!, Jabba Juice, Moogan Tea, and Tarine Tea.
There is a one-drink-per-person drink minimum and a two-drink-per-person maximum at Oga's Cantina. Guests will be limited to 45 minutes in the Cantina. Guests must be 21 years of age or over to consume alcohol; a valid photo ID is required.
Ronto Roasters
Serving primarily sandwiches and a few drinks, the menu here is small. Choices here include the Turkey Jerkey and the Ronto Wrap which is a wrap filled with grilled sausage and roasted pork.
But, despite the short menu, the theming (which looks as if the meat is being roasted on engines) makes this a fun place to grab a bite to eat.
Docking Bay 7
This multi-purpose shuttle dock provides guests with food and drink options, all, of course, with a Star Wars story behind them. At Docking Bay 7, Chef Strono "Cookie" Tuggs has converted his modified Sienar-Chall Utilipede-Transport into a popular mobile kitchen and restaurant."
This is a quick-service restaurant with a heavily-themed menu and a wide selection of items.
Entree's include:
Beef Pot Roast, featuring beef pot roast with cavatelli pasta, kale, and mushrooms
Fried Chicken, a decadent chicken dish with roasted vegetable mash and herb gravy
Smoked Pork Ribs, featuring smoked country sticky pork ribs with a blueberry corn muffin and cabbage slaw
Shrimp Noodle Salad, is a marinated noodle salad with chilled shrimp.
Dessert options include:
Oi-Oi Puff, a raspberry crème puff with passion fruit mousse
Batuu-bon, which is a chocolate cake with white chocolate mouse and coffee custard
The kids menu has 3 options:
Fried Chicken with macaroni and cheese
Shrimp Noodle Salad
Veggie Dippers, with a black bean hummus, served with vegetables and multigrain crisps
The seating here is primarily inside (in the air conditioning) with a few tables outside.
Milk Stand
What would a Star Wars land be without blue milk?
The Milk Stand offers 2 local favorites: Blue Milk and Green Milk ( the stuff Luke drinks in "The Last Jedi"). Don't worry it's not an actual milk product served in Florida heat!
If you like, you can even order your milk with alcohol (Blue Milk Cooler with rum or a Green Milk Cooler with tequila).
This is hit or miss with many people- some think it's absolutely gross while others enjoy the refreshment. My daughter loves the Blue Milk on a hot day, it's a smoothie for lack of a better term.
Kat Saka's Kettle
If you are looking for a fun snack, grab this colorful popcorn and a Coke!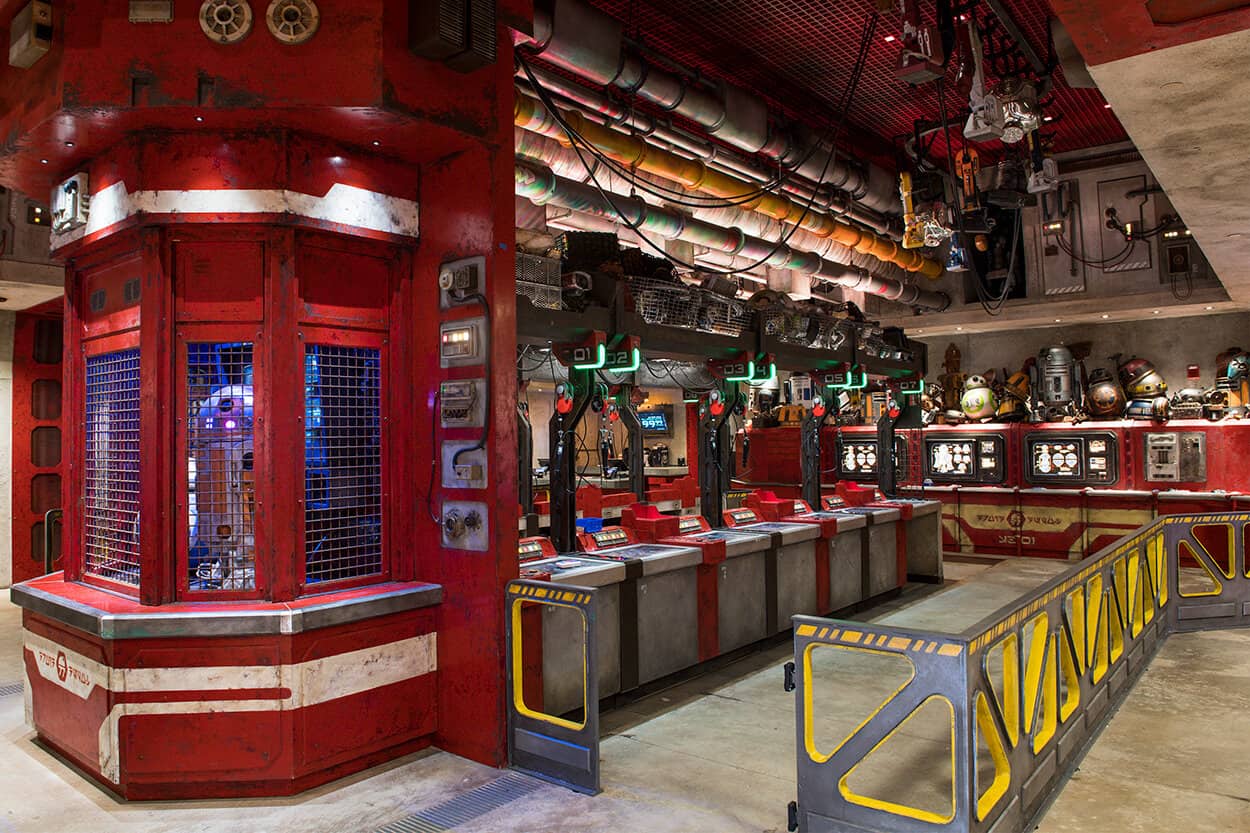 Merchandise in Batuu
Every Star Wars fan will leave with some of the most amazing souvenirs from their trip to Batuu!
Droid Depot
Have you ever wanted to make your own droid, like an R2 or BB Droid? Here you can customize and make your own personal droid to take home. You will need to make an advanced reservation in the My Disney Experience app before your visit, and they fill up quickly so don't forget!
Savi's Workshop
The ultimate take-home experience is making your own lightsaber powered by "Kyber crystals." Only at Savi's Workshop will you be able to build your own lightsaber from scratch with the assistance of Gatherers, which Disney describes as "a secretive group of people who have dedicated their lives to restoring balance in the galaxy by passing on their knowledge of Jedi lore and the Force."
You have 4 options to choose from: "Peace Justice (modeled after Jedi from the Republic era); Power Control (a nod to the Sith); Elemental Nature (harnessing air, earth, fire, and water); and Defense (shrouded in mystery)."
This is the most popular experience in Galaxy's Edge, so be sure to make a reservation in the My Disney Experience app as there are no walk-in spots available.
And if you are flying home- the good news is TSA has said that Lightsabers are safe to bring along as either carry-on OR in your checked luggage.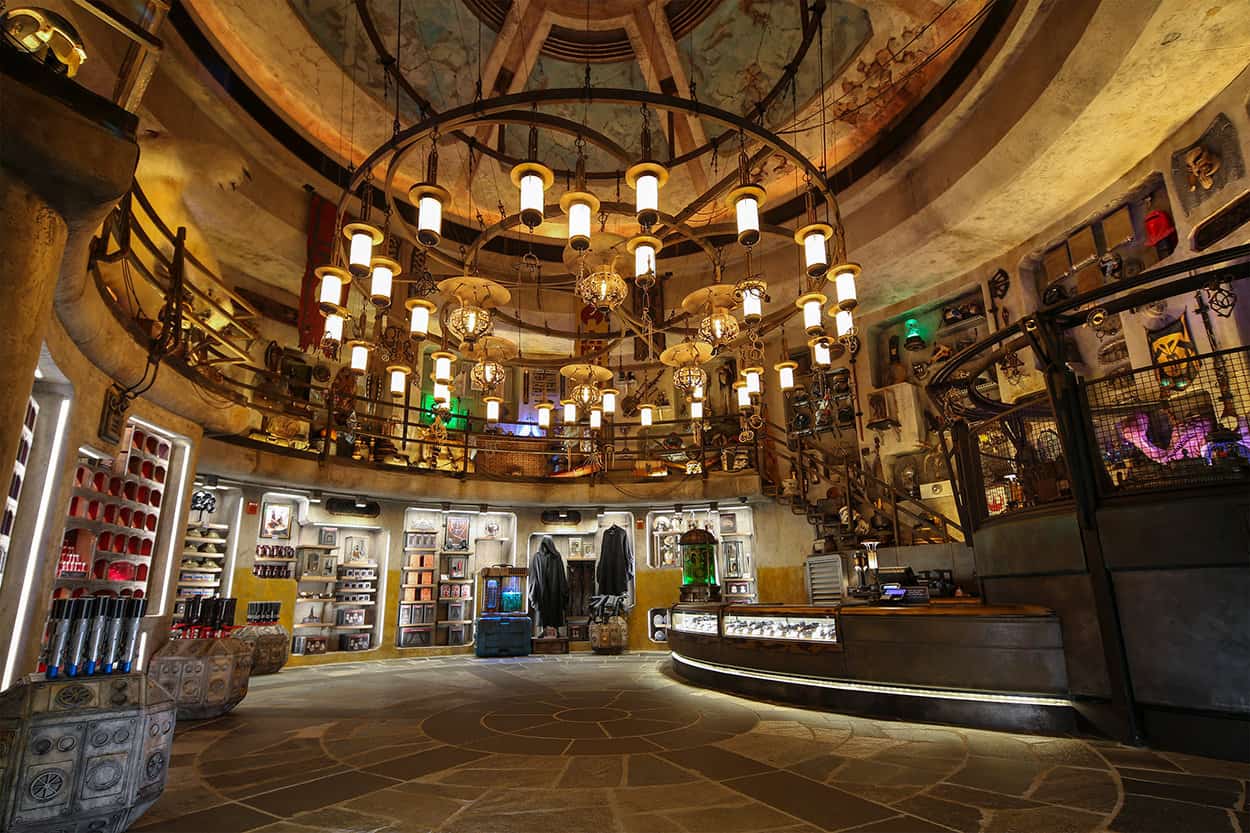 Dok-Ondar's Den of Antiquities
This is the go-to place for unique souvenirs and items representing the Star Wars galaxy throughout the years.
First Order Cargo
This shop provides visitors with the "chance to pledge their loyalty to the First Order by purchasing caps, gear, model ships, pins, and more."
Resistance Supply
Here you can find hats, pins, and other accessories to show your support of the cause.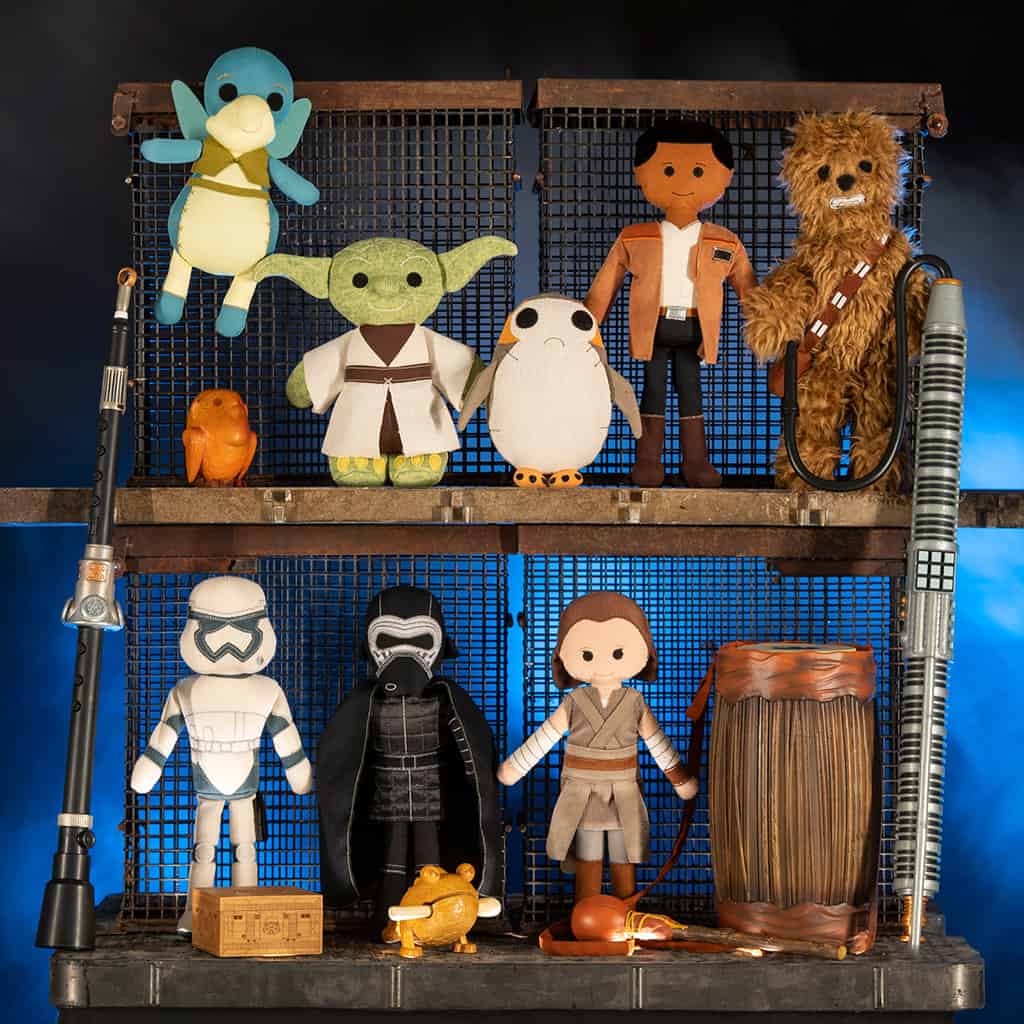 Market Stalls
Throughout this area, you will find different Batuu merchants selling their wares.
Toydarian Toymaker
Creature Stall
Black Spire Outfitters
The Jewels of Birth
No matter where you decide to shop in Batuu, I can assure you that you won't leave without something from out of this world.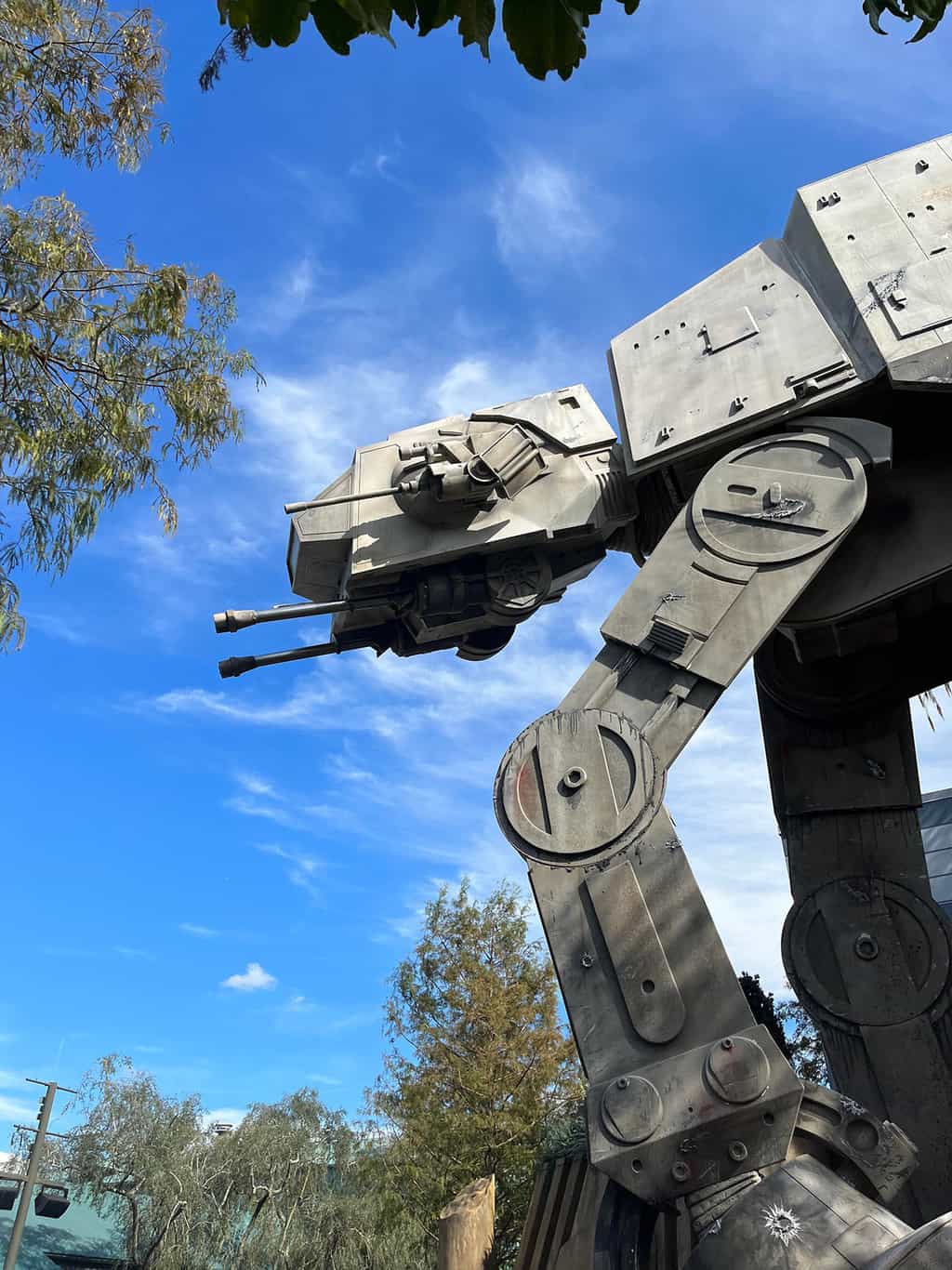 Characters in Batuu
The characters on Batuu are free-roaming, meaning, there isn't a queue for them like the other characters in Disney World.
They move around the entire land freely, interacting with each other and guests, which really adds a storytelling element to the land.
Here you will see Chewbacca, Stormtroopers, Kylo Ren, Vi Moradi, and Rey. Kylo Ren can also be seen at the Black Spire Outpost on Batuu where he "interrogates the locals, seeking to find any Resistance sympathizers."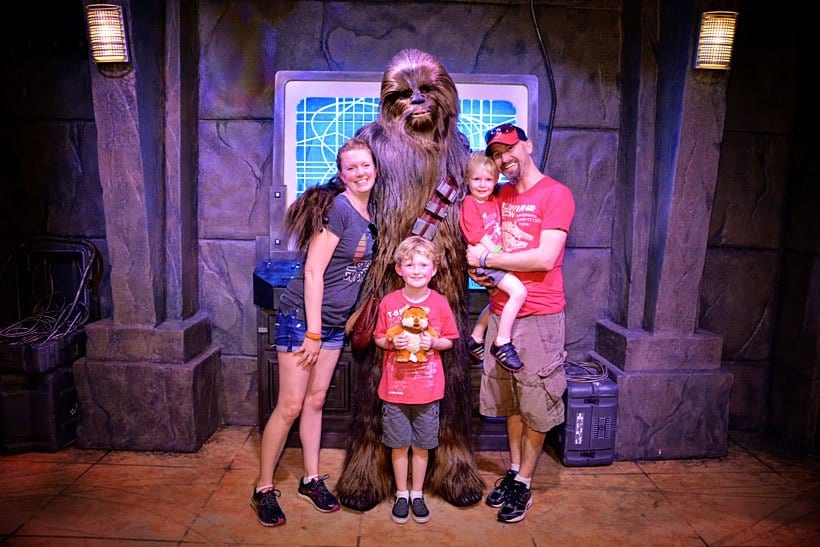 Photo Ops in Batuu
Photopass photographers are positioned around Batuu ready to capture your moments. My personal favorite photo is the one in front of the Millennium Falcon-it's truly a Star Wars fan's dream come true.
In the evening, Disney PhotoPass photographers in Star Wars: Galaxy's Edge can offer you a glowing lightsaber to include in your photos or use the one you built at Savi's Workshop!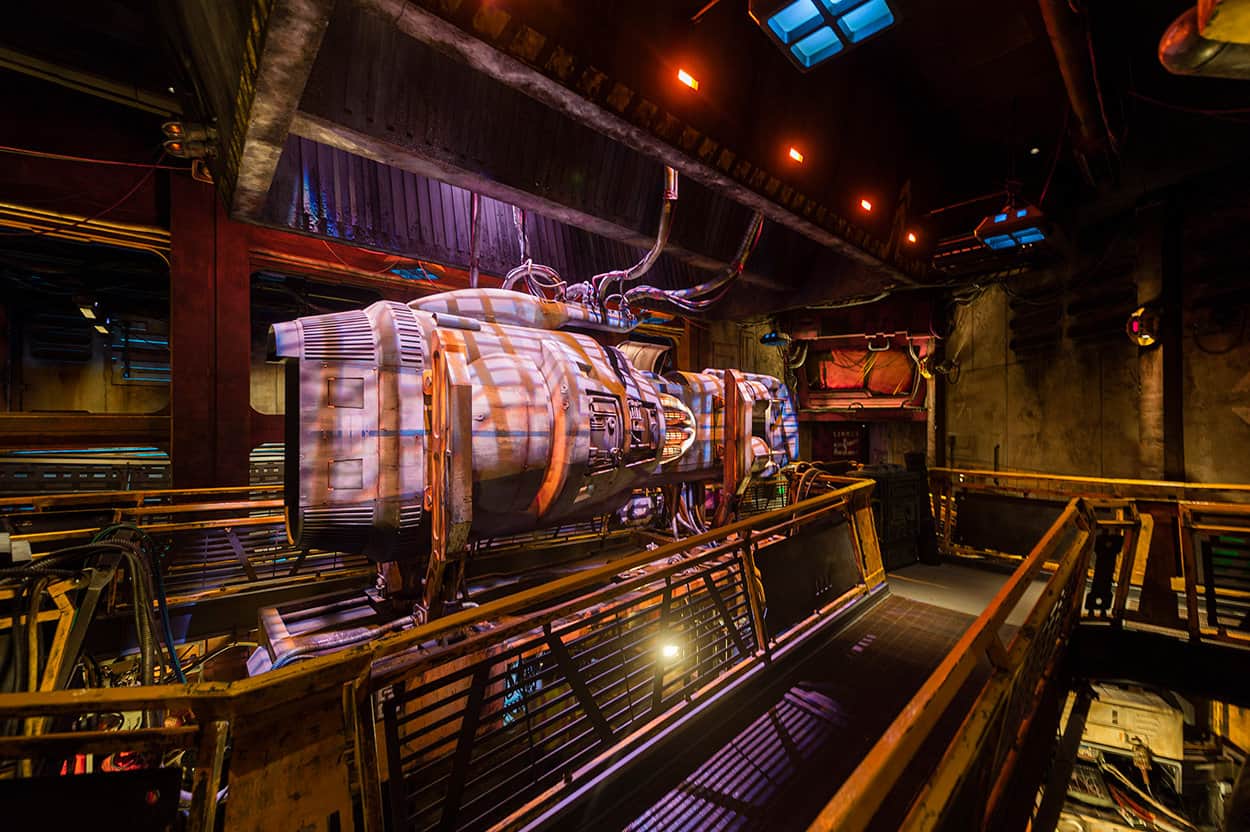 Play the new Batuu Bounty Hunters game
It's time to collect some bounty with Star Wars: Batuu Bounty Hunters! Using the new MagicBand+, you must track down a virtual bounty in Black Spire Outpost.
Your band will turn green if you get closer to your bounty or red if you're straying further away from your bounty.
When it turns purple, you've found it! You can then use the Play Disney Parks app to see what's behind the hidden doors at Black Spire Outpost with the augmented reality feature. The local guild master, Raga Bua, then rewards you with galactic credits.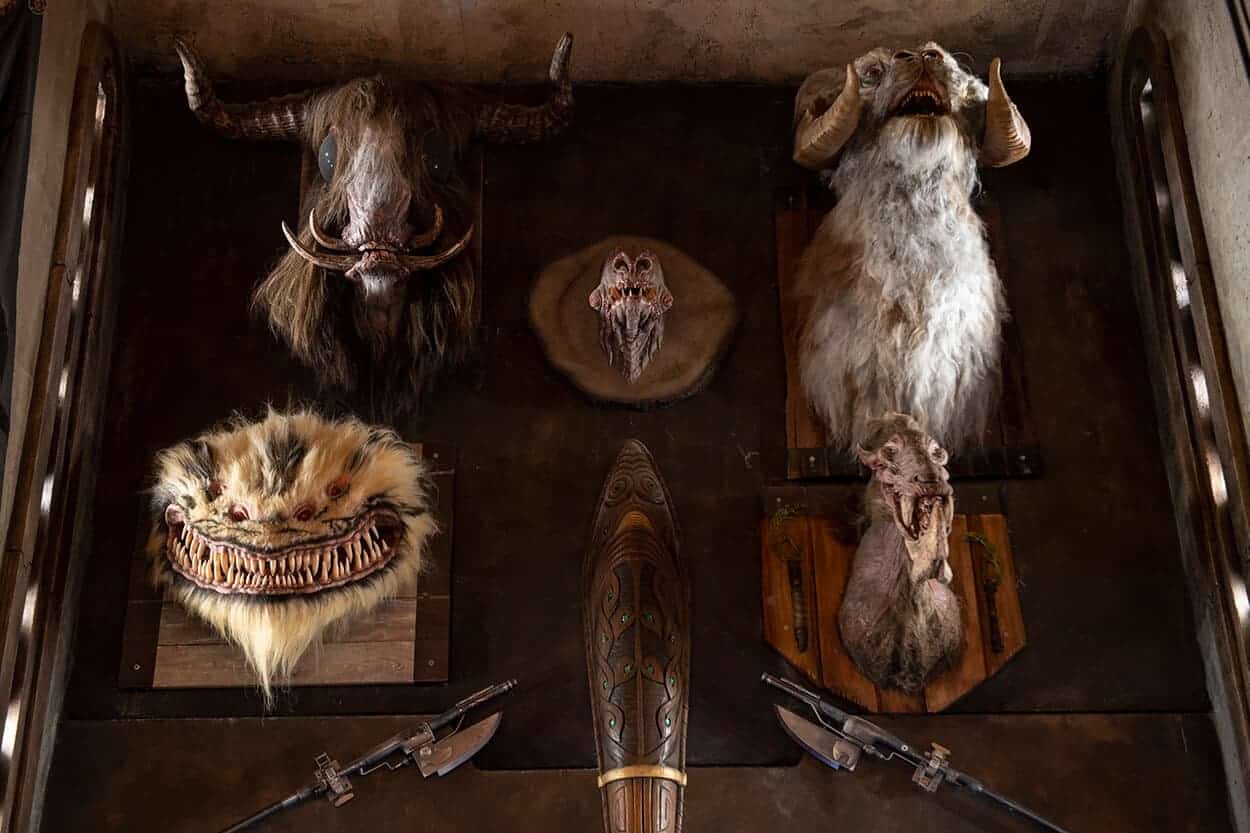 More Star Wars Rides and Experiences in the Parks
Outside of Star Wars: Galaxy's Edge you will find other Star Wars experiences as well in Disney's Hollywood Studios
Star Tours: The Adventures Continue
This classic attraction puts you inside a Star Tours Starspeeder 1000, driven by C-3P0. Prepare for an unforgettable launch, a spy hiding on board, and a bumpy landing or two across the galaxy. Guests can cruise through 25+ different storylines and Star Wars experiences, so there is no telling which planet, or experience you'll have when you ride.
Star Wars Launch Bay
Here you can explore immersive exhibits of costumes, models, concept artwork, and actual movie props—as well as authentic replicas created just for Star Wars Launch Bay.
Watch an exclusive short documentary on the creative team behind the ever-evolving story. Explore a Cantina and other settings inspired by the films.
You can also share a full embrace from everyone's favorite Wookie, stare down Darth Vadra, and meet everyone's favorite rolling droid– BB-8. Sorry gang- no Darth Vader in this immersive land.
For any Star Wars fan, this park is an absolute must-see! Be sure to plan in advance and make your park reservations, as well as reservations for must-do experiences that require them. When in doubt, as a Disney cast member what experience you shouldn't miss, and the best way to find Poe Dameron.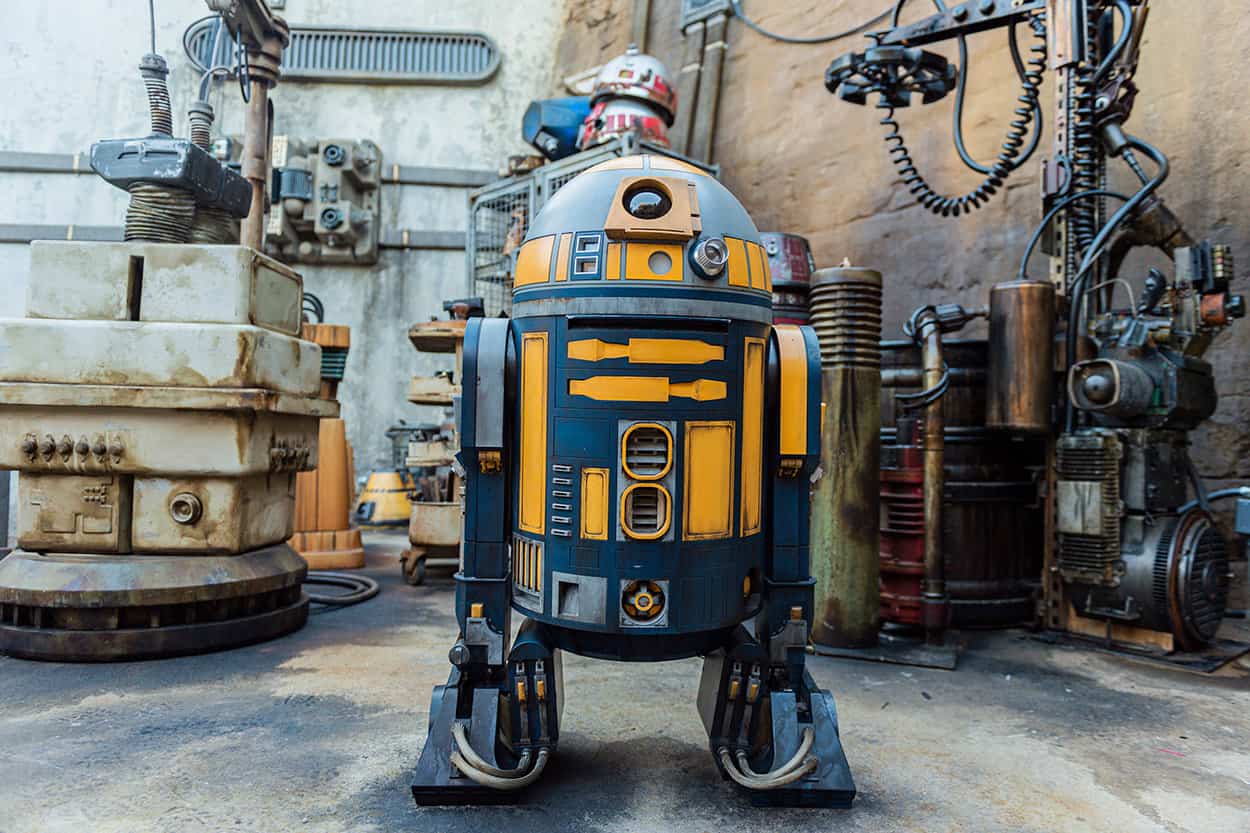 FAQ: Star Wars at Disney World
Does Disney Hollywood Studios have Star Wars?
Yes. It's called Star Wars: Galaxy's Edge.
Is Star Wars land open at Hollywood Studios?
Yes, Disney's Hollywood Studios opened Galaxy's Edge on August 29, 2019.
Do you have to pay extra for Star Wars at Hollywood Studios?
No. It's included with the price of admission.
How many Star Wars rides are at Hollywood Studios?
There are TWO rides:
Galaxy's Edge: Millennium Falcon: Smugglers Run
Star Wars: Rise of the Resistance
Are the rides at Disney Hollywood Studios worth waiting in the long lines?
That really depends on how huge of a Star Wars fan you are and how much you love rides. 
Does George Lucas still own the Star Wars franchise after it was taken over by Disney?
No, he gave up his rights to Star Wars when he sold it to Disney, but he did get a large number of Disney stocks when he sold, so he is still making money from his original work.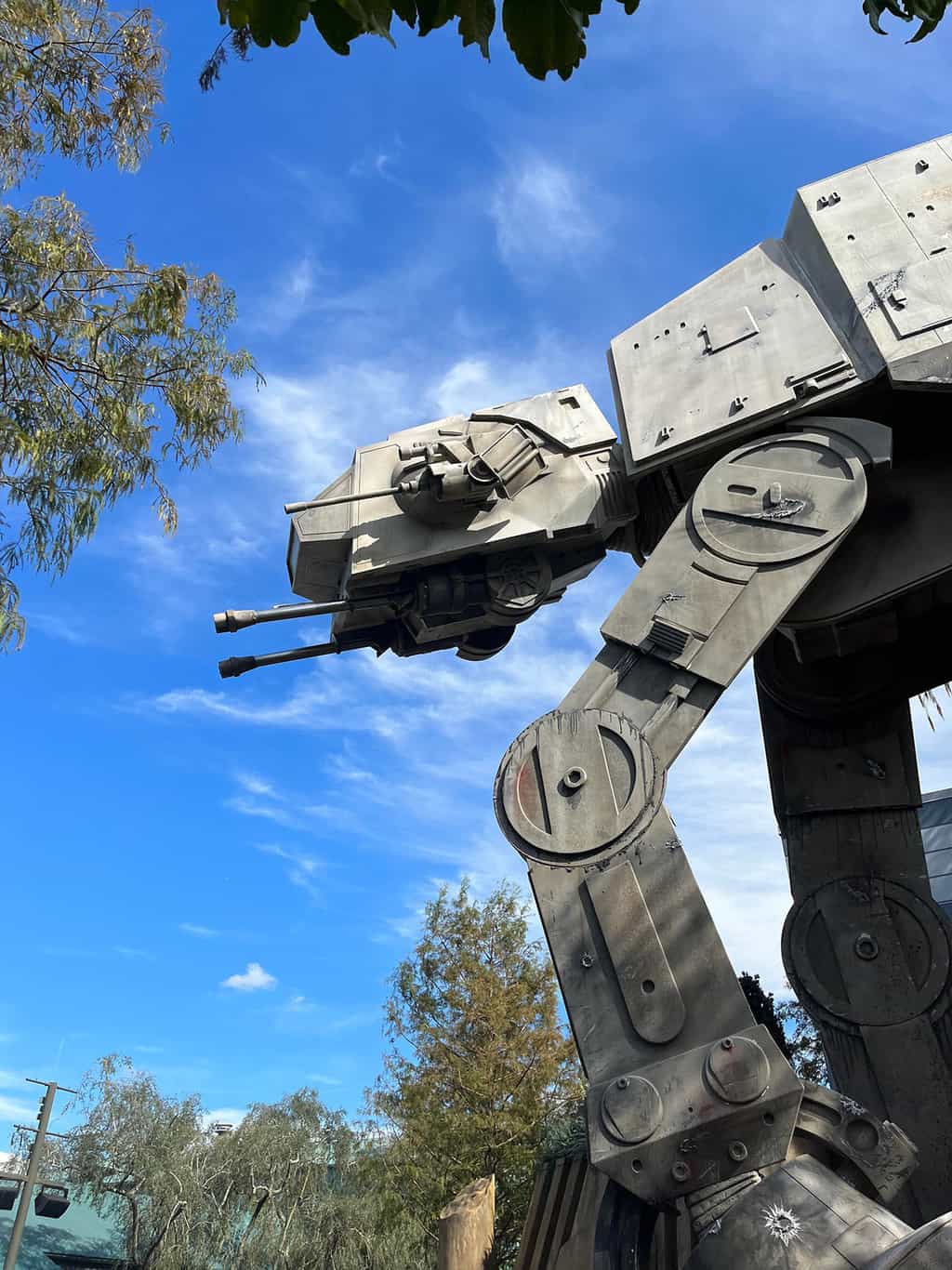 Is the Star Wars themed park at Disney World worth the hype?
We think so. It's one of the more immersive lands at Disney World.
Does Disney own Marvel and Star Wars?
Yes, Disney owns the rights to both Marvel and Star Wars. HOWEVER, because Marvel had already sold the rights to X-men to 20th Century Fox, Disney did not pick those characters up in the sale in 2009. Disney went on to buy 20th Century Fox in 2019, which now gives them the rights to X-men, Deadpool, Blade and the Fantastic Four.
Sony had also already bought the cinematic rights to Spiderman, but made a (very profitable) deal with Disney that Spiderman could appear in the Marvel Cinematic Universe.
What happened to all the designated smoking areas at Disney's Hollywood Studios?
In 2019, both Walt Disney World and Disneyland declared that their theme parks would be smoke-free. Designated smoking areas were moved to just outside of the main gates of the theme parks. This freed up space in the more congested areas of the park, like Star Wars: Galaxy's Edge.