Anyone who loves Star Wars has heard that Disney now owns the franchise and has a few Star Wars attractions at their parks, most notably, Walt Disney World down in Florida. This is just a taste of what is to come in the parks as a full Star Wars land is in the works. For now, Star Wars loving kids and their parents can get their fix at Disney's Hollywood Studios Star Wars attractions.
There are enough shows and rides at Disney's Hollywood Studios to keep a family entertained for about a day, especially if lines are long, but here is how you can zoom through all of the Star Wars offerings in one afternoon plus an evening of fireworks.
Best Disney's Hollywood Studios Star Wars Itinerary
4:30pm Watch the Star Wars: A Galaxy Far Far Away show
5:00pm Head into the Star Wars Launch Bay

Try to get captured by the Stormtroopers (see details below)
Meet Chewbacca and Keylo Ren
Watch the exclusive documentary
Trade with the Jawas
Play Disney Infinity one a room full of xBox consoles.

6:30pm Enjoy dinner at 50's Prime Time Cantina or Backlot Express (Vader Waffles!)
8:00pm Ride Star Tours (worth the FastPass if the line is long)

Make your own light saber at Tatooine Traders

9:00pm Grab a BB-8 collectible mug with soda and a soft pretzel before you grab your seats for the fireworks show
9:45pm Watch the Symphony in the Stars: A Galactic Spectacular, at Disney Hollywood Studios Star Wars fireworks show (check the schedule for dates and times)
Love Star Wars?
CLICK HERE for discount Disney World tickets.

Pack this Star Wars Gear
You can save a bundle of money if you buy a few key Star Wars related items before your trip. Here are a few of our favorite masks and costumes:
And just in case you need to load up on t-shirts before you go, we've got you covered:
Star Wars Fan Photo Opportunities
AT-AT walker located in front of Star Tours
Speeder Bike located across from Star Tours (Disney Photographers available)
Stormtroopers located outside of Launch Bay (you must run to get a selfie as they walk by. They will not stop to pose with you.)
Kylo Ren and Chewbacca in Star Wars Launch Bay
Mos Eisley's Cantina located in Star Wars Launch Bay
The Jawa located in the Cantina

Meet the Star Wars Characters
Chewbacca and Kylo Ren
Wait until 5 or 6pm to meet Chewbacca and Kylo Ren. According to cast members this is the slowest time. We tested it out and popped over after the 4:30pm Star Wars: A Galaxy Far Far Away show.
We were in and out with Chewie in 15 minutes, which included time for Chewie to say hi to my kids, hang out with my son's Ewok, give me a birthday hug and photograph our family (epic Christmas card coming your way this season!)
Want to meet Chewbacca?
Grab your discount Disney tickets HERE.
Trade with the Jawa
Remember the Jawa? They are those little meter-high, hooded dudes that stole C3PO and R2D2, and sold the droids to Luke Skywalker and Uncle Owen in Star Wars: A New Hope. As you walk out of Star Wars Launch Bay after meeting Chewbacca and Keylo Ren, you can trade with the Jawa.
Just make sure it is something really good. They don't accept just any old thing you pull out of your pocket.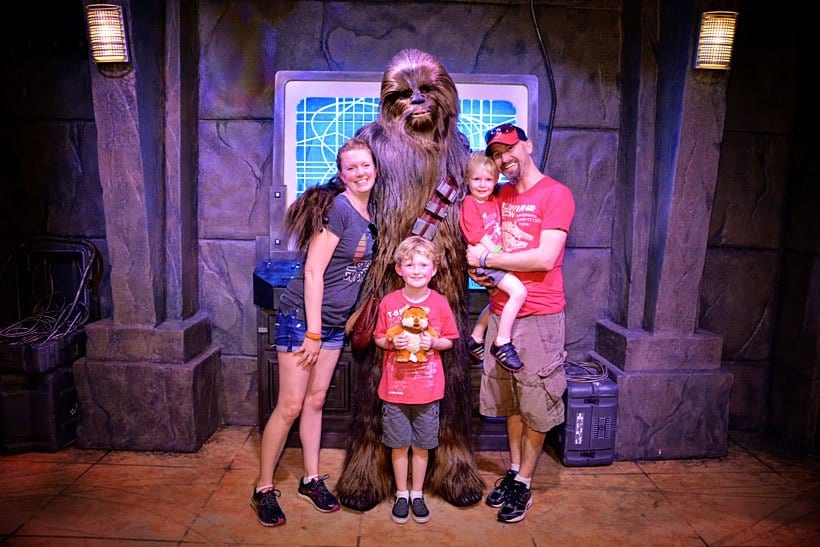 Stormtroopers on patrol
The Stormtroopers are always on patrol. They do not stop for photos, so if you want one you will have to do a very quick selfie. Rebels dressed in costume can look forward to being taken in for questioning and then released.
Don't worry mom. The stormtroopers walk slow so you can keep up.
Jedi Masters at Jedi Training
Meet the masters through Jedi Training, but be prepared to wait in a lot of lines and your kids to chicken out once it is their turn. This will get your children close to Darth Vader, the Seventh Sister Inquisitor (from Star Wars Rebels) and Keylo Ren though if they are set on meeting all three.
This is a show however, and the Empire and First Order don't stop for photos in the middle of training.

Star Wars Rides and Experiences
Star Wars Launch Bay
Launch Bay Theater is home to a short documentary film that looks at where the movies started and where they are headed as the next generation of filmmakers, actors and visionaries continue the epic story started by George Lucas in 1977.
Don't worry fans—they ignore those three prequels for the most part, as do the rest of the Disney Hollywood Studios Star Wars attractions.
After the film you can head to the other side of Launch Bay to meet Chewbacca and Kylo Ren. Each character has their own line and there are no FastPass lanes. Go between 5pm and 6pm to get through both lines faster than you can earlier in the day.
Star Tours—The Adventure Continues
Get in line to experience this 4D adventure. Please note that young children may shift around in the seat as the ride moves, which can hurt. Be prepared to brace your arm over the armrest to protect little ones under age 5 from slamming into the side.
This ride is worth one of your FastPasses so you can avoid long lines during the day.
After you finish seeing C3PO and the gang, head into Tatooine Traders to build your own light saber. Prices start at $24.99, which is a cheap souvenir for Star Wars lovers.
There are plenty of other Star Wars goodies to pick up, including a stuffed animal version of Wicket the Ewok.
Start your Star Wars adventure:
CLICK HERE for your Disney World tickets.
Jedi Training: Trails of the Temple
Jedi Training is just as fun to watch as it is to participate in. Unless your children are 100% sure they want to do Jedi Training and you are prepared to wait in a few lines to sign them up for it, you can probably skip it.
Yes, the children who are in the show get to wear robes and use their light sabers, but for the most part the kids stand around a lot. The characters are good about including the audience, even asking everyone to help use the Force to battle the bad guys.
Things to know before you sign your child up:
Child must be between ages 4 and 12. No adults.
Child must be with you when you register him or her.
Registration opens when Disney Hollywood Studios opens for the day. Sign ups are on a first come, first serve basis.
Register at the Indiana Jones Adventure Outpost located between the Indiana Jones Epic Stunt Spectacular! and the 50's Prime Time Café.

STAR WARS: A GALAXY FAR FAR AWAY SHOW
What better thrill for you and your Star Wars loving kids than to see C3PO, R2D2, BB-8, Chewbacca, Stormtroopers, Darth Vader, Kylo Ren and the gang on stage. Grab your spot in front about 10-15 minutes before the show starts.
The crowds surge as soon as the music starts (about 5 minutes before). Most adults are OK with smaller children sneaking up front so they can see.
There is no shade and no seating, so be prepared to get hot in the sun. The show lasts about 15 minutes, includes a few pyrotechnics, movies clips, and a whole lot of bad guys wandering around. Don't miss it!
Captain Phasma's First Order Stormtrooper March
If you want to get up close with Captain Phasma from The Force Awakens, this is your chance to do it. Captain Phasma and her Stormtroopers march from Star Wars Launch Bay to the stage in front of the Chinese Theater every hour on the hour (may shift if the Star Wars show is on).
This is not a meet-and-greet with cast members.
These troopers and their captain are on a mission, so take your phone out, snap some photos with your kids in the foreground and shoot a little video to watch while you wait in line for a ride.
Symphony in the Stars (AKA the Star Wars Firework Show)
Love fireworks and all the music from Star Wars? This is a match made in heaven for you then.
If you want the best view walk straight to the front and see if there is one spot in the line of people. You may have to stand single file but I bet you can get a front row seat by the Chinese Theater stage even when everyone else is sitting on the street behind you. Just put the kids in front of you so they can see too, or stand in the back with your kids on your shoulders.
CLICK HERE for discount Disney World tickets.
Either way you will get a great view of this show since all you have to do is look up. This fireworks show should not be missed, and highlights the best of John Williams' Star Wars score.
BONUS TIP: if you are staying at the Disney's Beach Club Resort and have a room looking towards the pool and the lake, you can see most of the fireworks show from your balcony. This is great for parents with smaller children who can't stay up until 9 or 10pm for fireworks.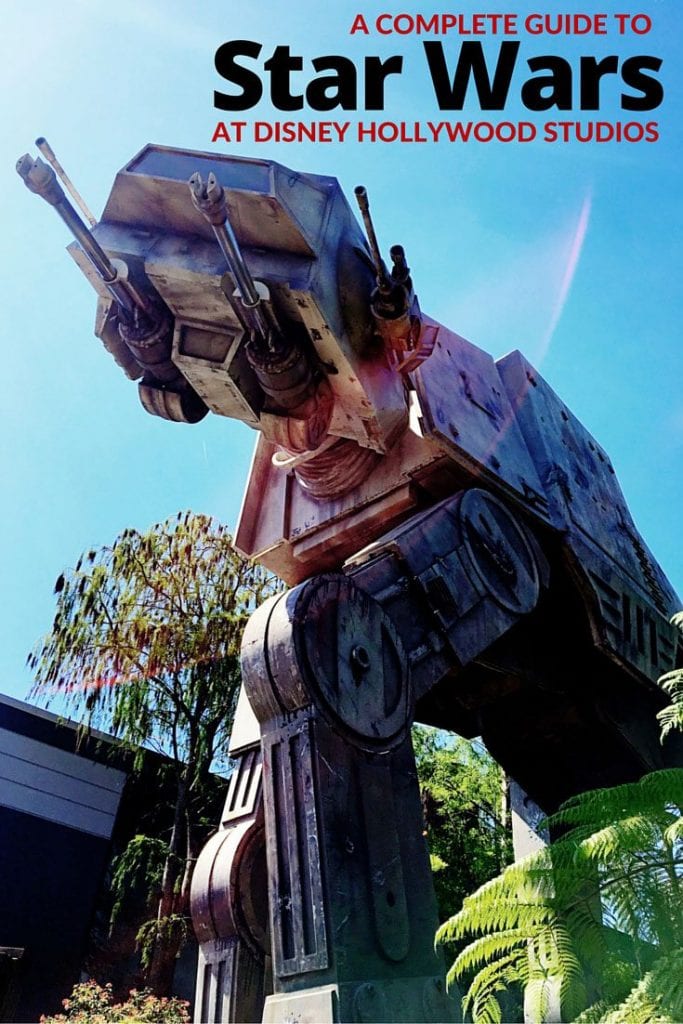 Many thanks to the Disney Social Media Moms Celebration for helping us experience all that Disney World has to offer. Disney covered a portion of our visit, but as always, my opinions are my own. When they aren't, you will be the first to know. And yes, we are Star Wars geeks.
This post contains affiliate links. If you make a purchase after clicking one of those links I will receive a small commission.
Orlando Destination Guide
Orlando Hotels
Looking for more? Search the best hotels in Orlando on Booking.com.
Orlando Airbnbs