You just dropped the kids off at Space Camp at the U.S. Space and Rocket Center in Huntsville. Now what? Well, you aren't going to fly home only to turn around and pick them up in Rocket City a few days later.
You're also not going to go hang out in your hotel room and twiddle your thumbs while the kids are off in the NASA simulators. There are tons of fun things to do in Huntsville AL, and it's the perfect place to get a little rest, explore the outdoors, wander around more than one historic site, go on a scavenger
Why Huntsville, Alabama?
You just might have to do a little wandering to figure out what is happening around Huntsville, Alabama.
Lucky for you, we already made a few visits to get to know the area and have a handy list to get you started. So, the only question left to ask is- what to do in Huntsville today?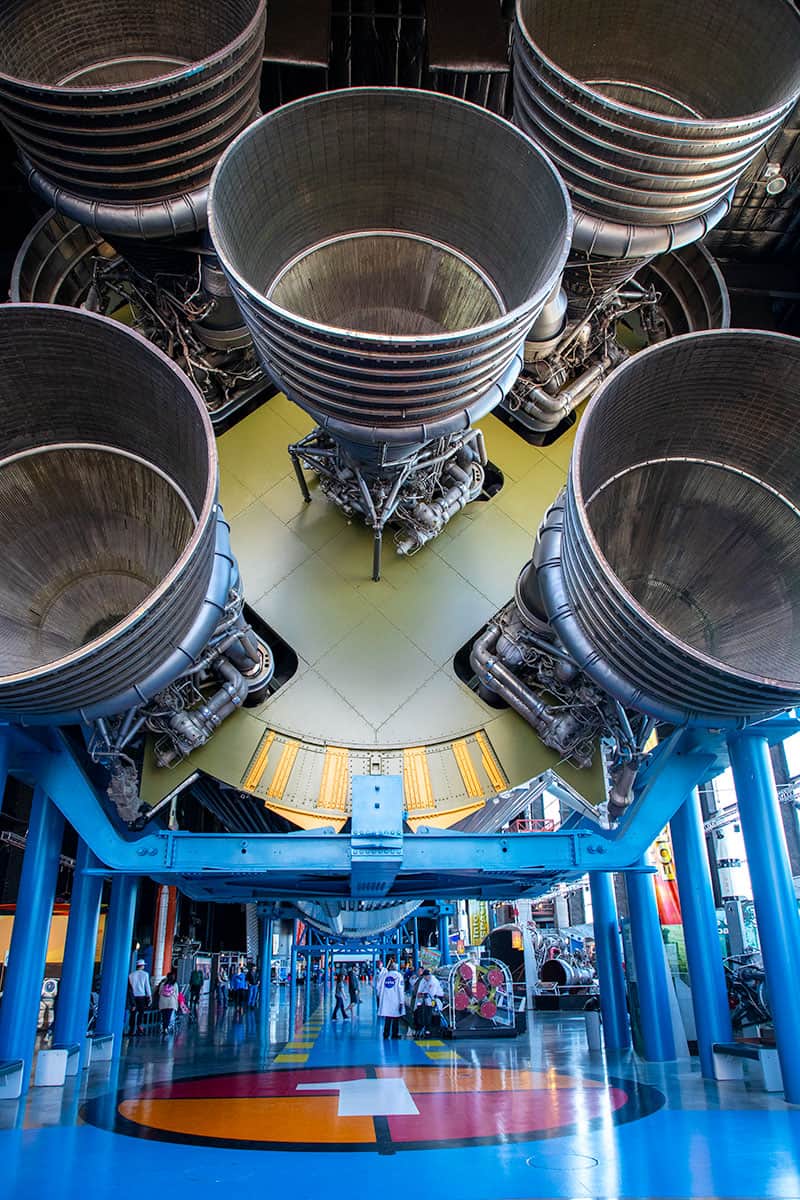 How to get to Huntsville, AL
Drive from Nashville to Huntsville, AL
It's pretty much a straight shot from Nashville down to Huntsville in Northern Alabama. You can pop into Franklin, TN or Leiper's Fork, TN for lunch along the way, which I highly recommend, or you can just make the approximately two-hour trip in one straight drive. Other major metropolitan areas within driving distance include Birmingham, Atlanta, GA, Chattanooga, TN and Memphis, TN.
Fly to Huntsville, AL
It's pretty easy to fly into the city of Huntsville, AL, especially if you live in Washington, D.C. There are nonstop flights from DC to Huntsville daily, making it easy for all of those politicians and scientists to get to the US Space and Rocket Center. It's about a 15 minute drive from the HSV airport to downtown Huntsville and many of the Huntsville attractions you are eager to explore.
Other cities with nonstop flights to Huntsville, AL:
Atlanta
Charleston
Charlotte
Chicago
Dallas
Denver
Detroit
Houston
Las Vegas
Miami (seasonal)
Orlando
Tampa
Washington, DC (IAD and DCA)
As of 2023, the following airlines were flying in and out of Huntsville:
American Airlines
Delta Airlines
Frontier Airlines
Silver Airways
United Airlines
Breeze Airways
More ways to travel to Huntsville
If you love outdoor activities, you ca always opt to bike or walk to Huntsville, AL from Nashville and other surrounding metro areas and towns. It will take you about 37 hours to walk from Nashville to Huntsville, but only about 12 hours to bike to Huntsville if you are so inclined.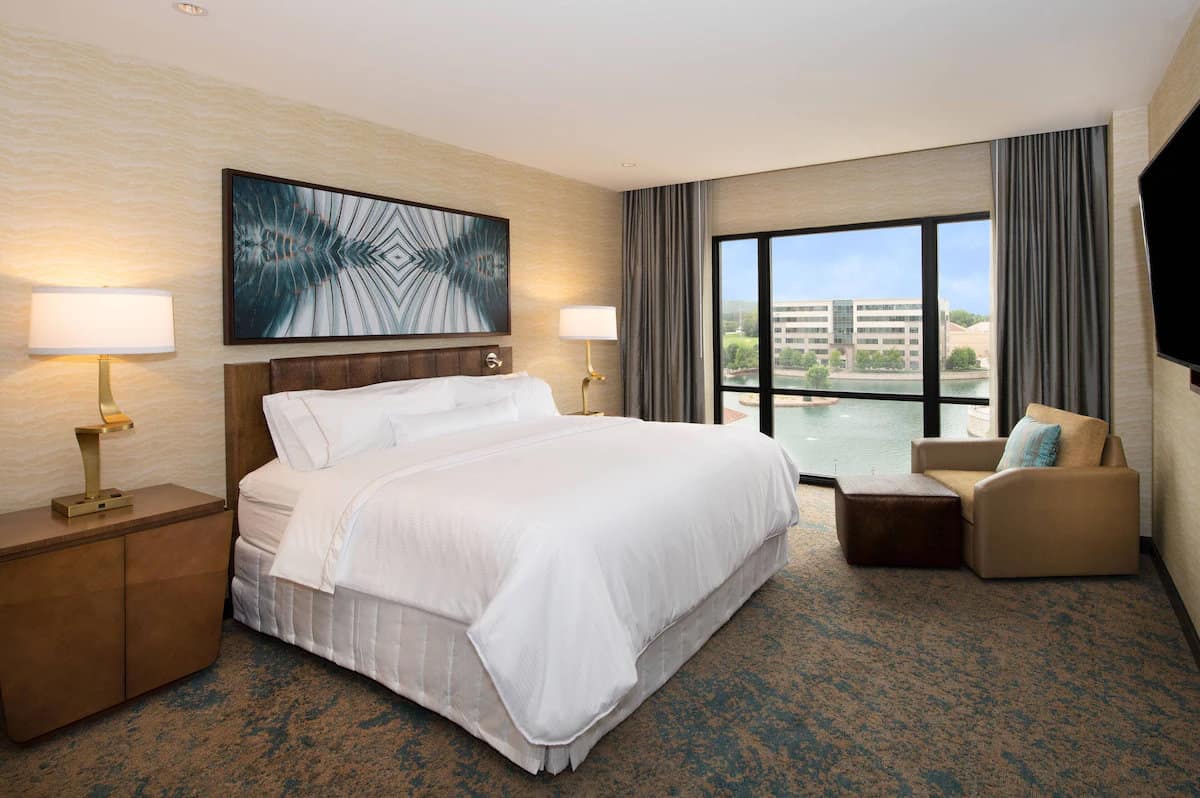 Start planning your trip and get the best flights to Huntsville and rentals cars!
Things to do in Huntsville AL
Whether you are into outer space, gardens, history, wine, bourbon, shopping or hiking, Huntsville has you covered. This town will keep you active, learning, hydrated, caffeinated and well fed while you wait for the kids to wrap up their week at space camp.
In fact, let's just call this "Huntsville Camp" shall we?
While the kids are off in outer space, you can find out why we like to play down here on the ground on Planet Earth.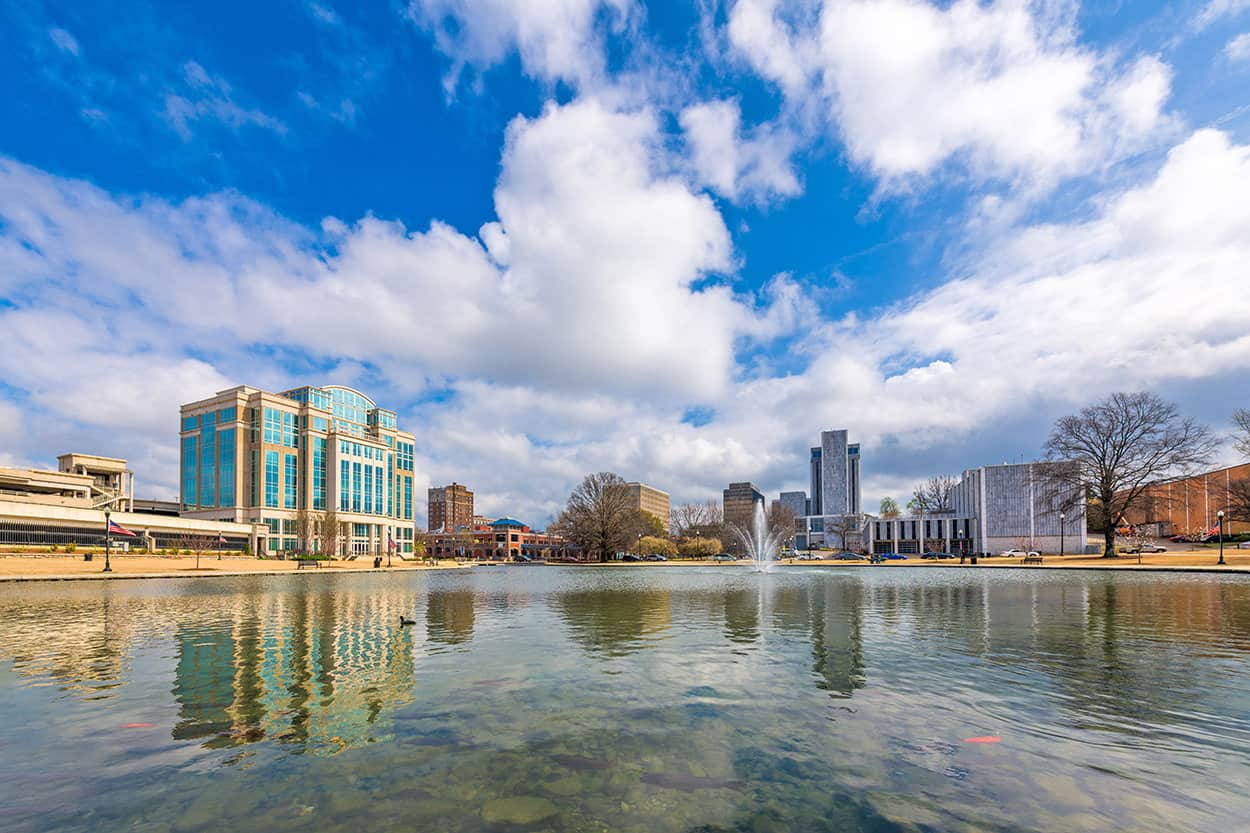 Big Spring International Park
Every travel guide and road trip itinerary knows to take you through Big Spring Park after you arrive in Huntsville, AL. On a hot summer day it's the perfect spot to meet up with friends.
This is one of many impressive Huntsville green spaces downtown that get you outdoors exploring, while also sneaking in a little exercise on the walking trail.
Personally, I like to cut through to see the cherry blossoms in bloom as I grab a morning coffee.
The park is within walking distance of most downtown area hotels, as well as home to the Huntsville Museum of Art. If it happens to be raining during your visit, pop into the art museum to dry off and enjoy the exquisite collection of paintings, sculpture and photographs on display.
Tip: Thursdays after 5pm admission is only $5 and the museum stays open until 8pm that night.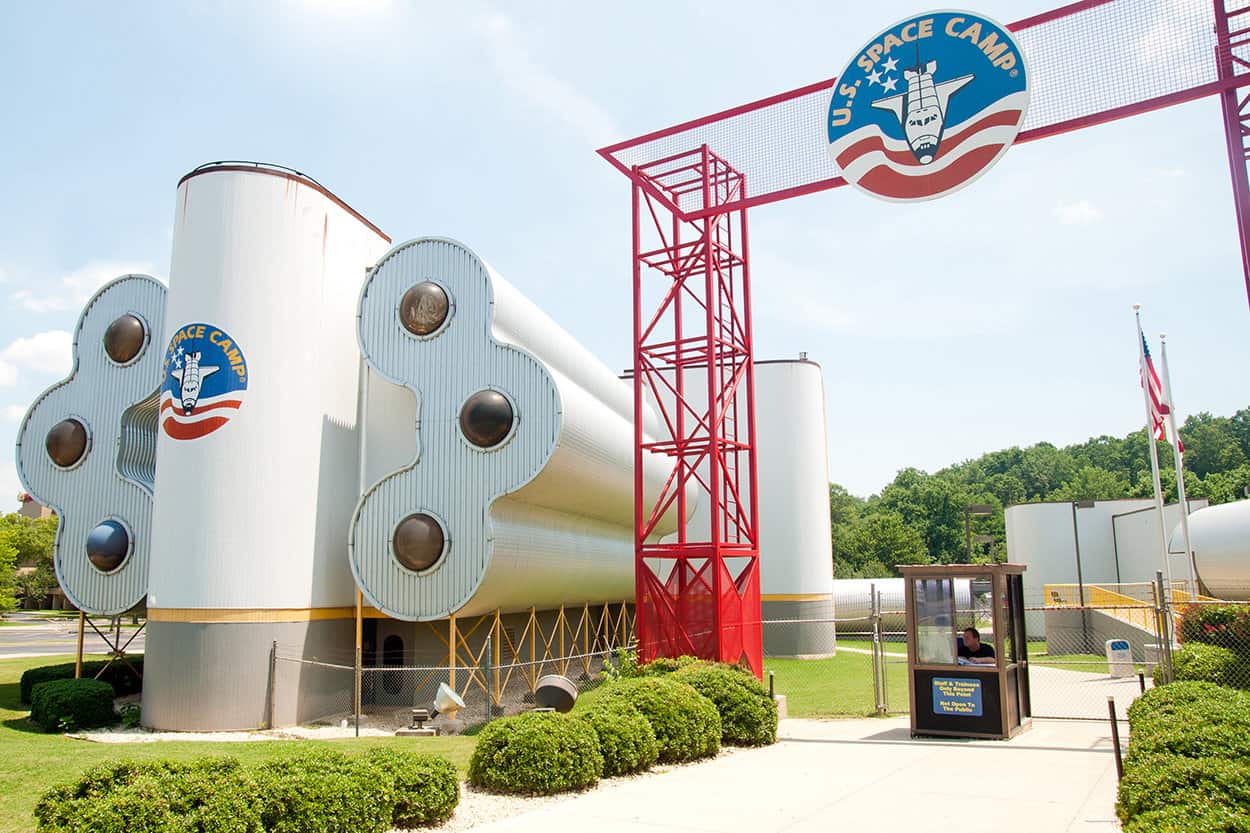 U.S. ROCKET AND SPACE CENTER
Just because you dropped the kids off at the U.S. Space and Rocket Center Space Camp doesn't mean you can't wander around and check out the complex.
Even if you aren't a space nut, you can still appreciate man's (and woman's) advancements in science through space exploration. There are four planetarium shows throughout the day you won't want to miss.
Our favorites include Destination Solar System and Galileo First Light.
How to explore the Space Center
Not sure where to get started when you tour the complex? Just follow the flow through the building starting at the visitor center.
There is usually a special exhibit towards the front that will lead to the permanent exhibits, Mars Climbing Wall and outside to the Space Shuttle Park.
Follow the path along to the right to see the Saturn V (a really big rocket, in a really big building). There is nothing quite like walking under that much metal and power. It is also a bit quieter in this part of the complex, especially in the afternoon.
Cocktails and Cosmos
Moms won't want to miss the Cocktails and Cosmos, a cocktail hour at the planetarium (check RocketCenter.com for dates and times).
Biergarten
Oh, and the Biergarten every Thursday from 4:30pm-7:30pm in the Saturn V Hall in the Davidson Center for Space Exploration.
Yes, Huntsville does know how to celebrate outer space in the best ways.
BURRITT ON THE MOUNTAIN
History, nature and homeopathic medicine all come together at the site of Dr. William Henry Burritt's 1938 mansion on Round Top Mountain.
Learn why this is one of the city's most unique and eccentric homes (it's built like an X and has no shower in the formal house), and the reason he had three wives. Hint: one wasn't too happy about that lack of shower.
The house sits on 126 acres that have been preserved as a historic park, and house six 19th century homes that showcase life in the Cumberland Plateau, as well as a blacksmith shop, and assorted outbuildings. You can find plenty of educational programs throughout the year at Burritt, but there is a play area for kids who need to run around a bit too.
There is also a playground, gift shop with incredible local artist jewelry for sale, and is home to one of the best examples of early school life in Alabama.
If you are into geocaching, you will want to hit the nature trails to track down the cache on property through this entertaining scavenger hunt.
It's a lovely spot to spend the morning exploring after you hike around the LandTrust of Madison County (also a land trust of North Alabama) and Monte Sano State Park (hike Monte Sano mountain!), which are connected to Burritt.
Picnic tables are available to enjoy your lunch or snack, but please make sure you clean up after yourself.
WEEDEN HOUSE Museum IN HUNTSVILLE AL
While many homes in the Twickenham Historic District are private residences that you can only view from the outside, Weeden House is open and available to tour four days a week.
Not only is it a prime example of pre-Civil War architecture, but it was also home to artist Maria Howard Weeden.
Weeden may be best known for her realistic portraits of African-Americans that showed hair, skin texture and even veins in a way not many artists were portraying in the late 19th century or early 20th century.
She put a face to the people she saw coming out of slavery in her hometown, and gave their stories voice through her writings and poetry that would later be published. Her work is on display in the house, as well as in the Huntsville Museum or Art.
Weeden House tours available on Wednesday-Saturday at 10:30am-11:30am and by request with advance notice. Call ahead of time or check the website as weddings and school groups often cause schedule changes.
TWICKENHAM DISTRICT IN HUNTSVILLE
Twickenham has the largest concentration of antebellum homes in the south (more than 65 in the area) and is one of the best things to do in Huntsville. Not sure where to find them?
How to find the historic homes in Huntsville AL
Drive past the Weeden House, down Greene Street SE and turn left on Williams Avenue SE into the neighborhood.
Now, follow the big houses. You can't miss them. Historic homes are marked with their names and the date they were built.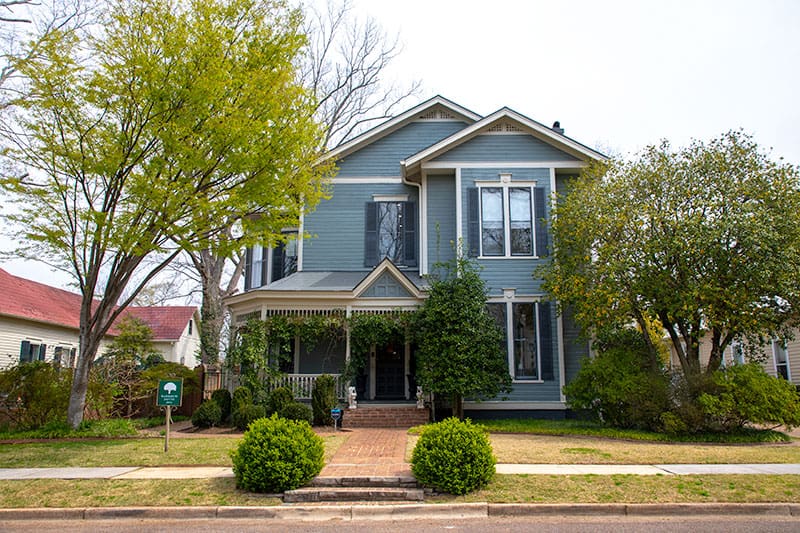 Why the name Twickenham?
Well, Twickenham was the first official name given to the town back in the early 1800s. Cotton trading flourished, and Twickenham became the center of trade in the Tennessee Valley by the mid-19th century.
Those with money (bankers, lawyers, traders, merchants, etc.) started building their homes, all trying to outdo one another of course, making this the fashionable area to live in.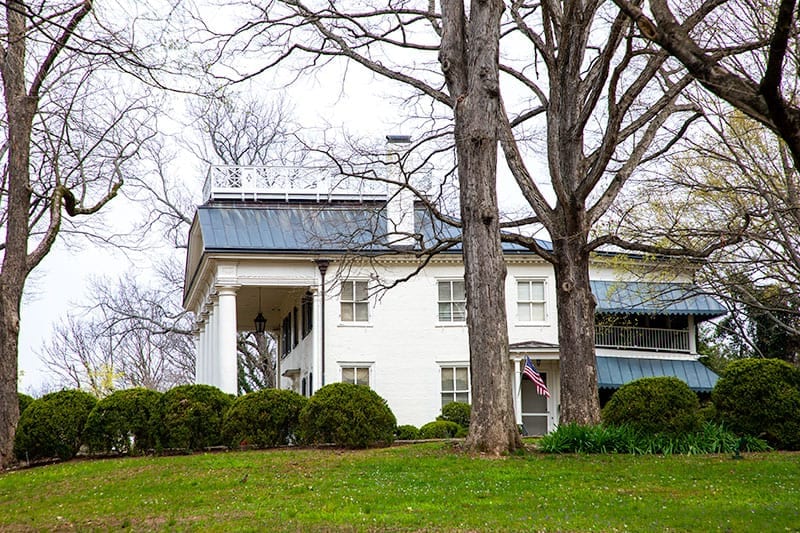 Now, the district is home to Federal, Greek Revival, Gothic Revival, Italianate, Queen Anne Bungalow and post-Civil War homes, making it an architect's wonderland.
Grad a coffee at Honest Coffee Roasters on Clinton Avenue East, and take a stroll through history. What better way to get your exercise in the morning, right?
Free walking tours of the district are offered in April and October. Check Huntsville.org for more details and dates.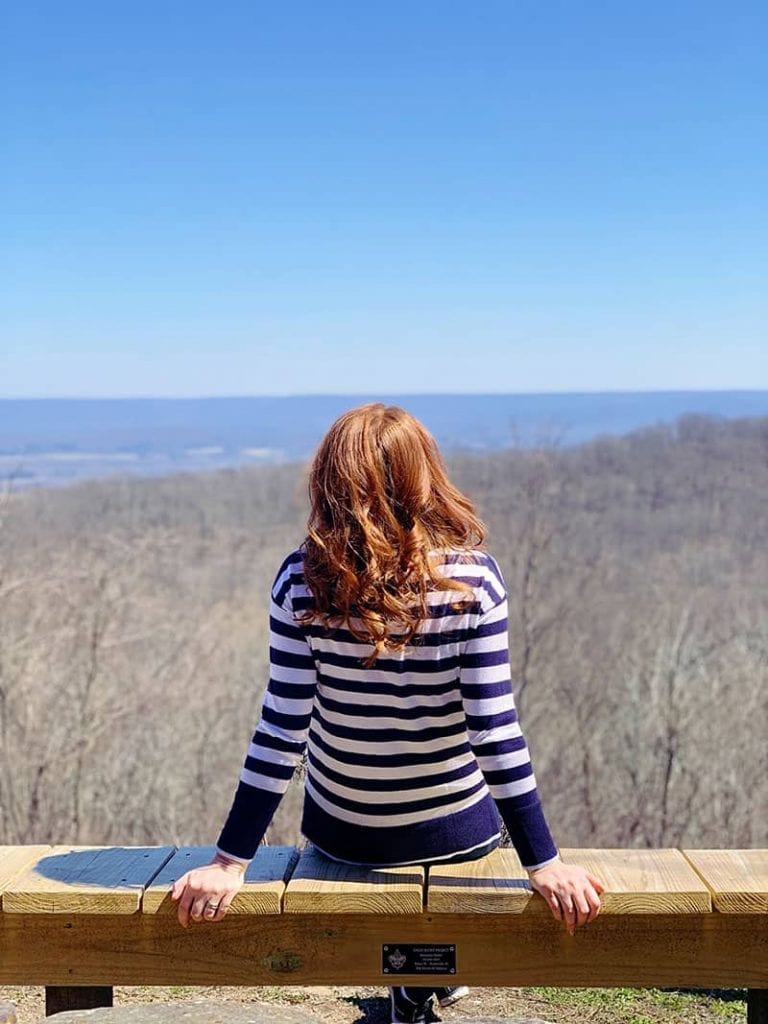 HIKE MONTE SANO STATE PARK IN HUNTSVILLE AL
According to AllTrails.com, most of the hikes in Monte Sano State Park are easy to moderate, but as we all know, it depends on what kind of shape you are in. Also, how much time you have to tackle miles of trails.
If you are short on time, I found that the North or South Plateau Loop were best for a morning stroll before lunch.
Pack a lunch or light snack to enjoy in one of the picnic areas, as you will be hungry once you are finished.
Stone Cuts Trail
If you have a bit more time, and you want to go where all the locals talk about, head to the Stone Cuts Trail. This is where everyone will point you to for the best hiking trails. It is also one of the most scenic hikes in the park.
You will find plenty of wildflowers throughout your hike, as well as waterfalls, depending on where you go, and the time of year you are hiking.
Birdwatching is big if you are into birds, and dogs are welcome as long as they are on a leash.
Runners love to hit the trails on the weekends, so stay to the right so they can pass you. Mountain bikers can also be found in the park on nice days biking.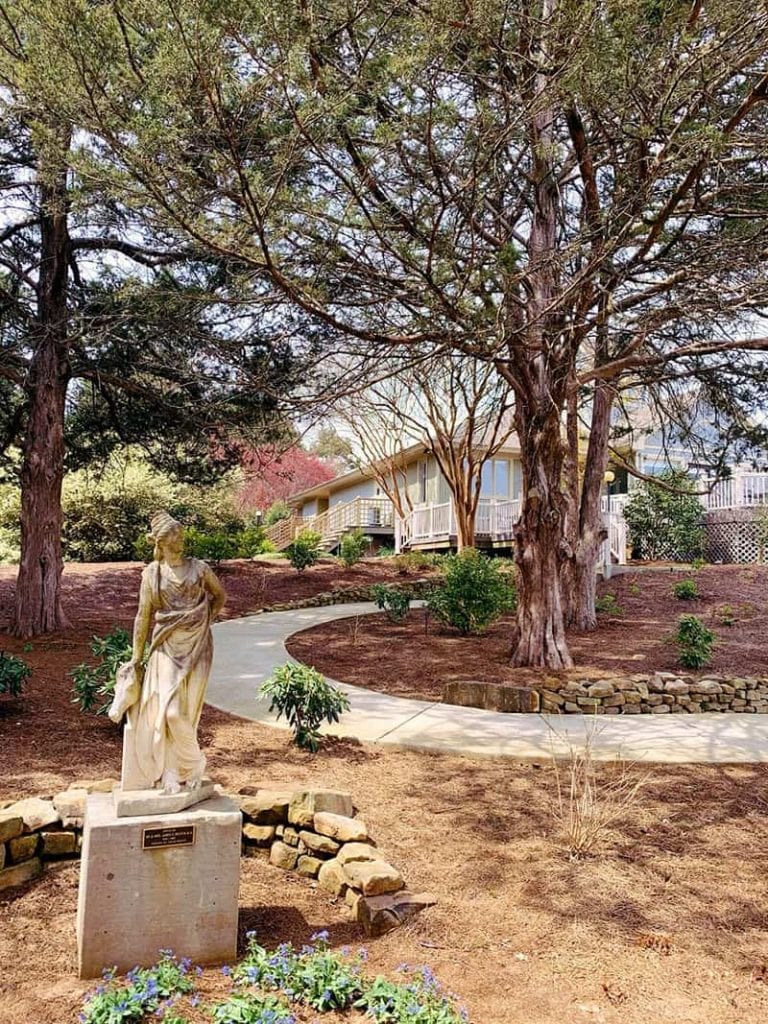 HUNTSVILLE BOTANICAL GARDEN
Grab a picnic lunch and head to the Huntsville Botanical Garden for a few hours. You will not want to rush through this garden and nature preserve.
Take the time to wander the trails to see what is in bloom.
Even in early spring you will find buds popping out of the ground. There are 19 sections of the garden- don't miss a single one.
Oh, and just because the kids aren't with you doesn't mean you can't stroll through the children's garden too.
Huntsville Botanical Garden Special Events
While I was visiting, there was a Chinese Lantern Festival happening at night. This was a special event only happening for a limited time along the walking trails, but the garden regularly brings in special events for patrons to enjoy.
Keep an eye on the HSVBG.org website to see what is coming next. It is worth planning your trip around. The lantern festival was like nothing I had ever seen before.
Purdy Butterfly House
May through September you can enjoy the Purdy Butterfly House. I don't know about you, but I love quietly sitting amongst the butterflies.
For some reason, my youngest is terrified of butterflies, so whenever my kids aren't with me, I take full advantage and pop in to see these winged critters.
You won't just see them in the pavilion either. Butterflies will be roaming the garden, looking for nectar in the wildflowers, along with birds, bees and other flower loving insects.
HUNTSVILLE MUSEUM OF ART
The Huntsville Museum of Art is small, yet mighty with a permanent collection that impresses, and traveling exhibits that bring in some of the top art from around the world to the many art galleries.
Free daily guided tours are available with a curator to help you dive deeper into the exhibits. Take advantage of the guided tour.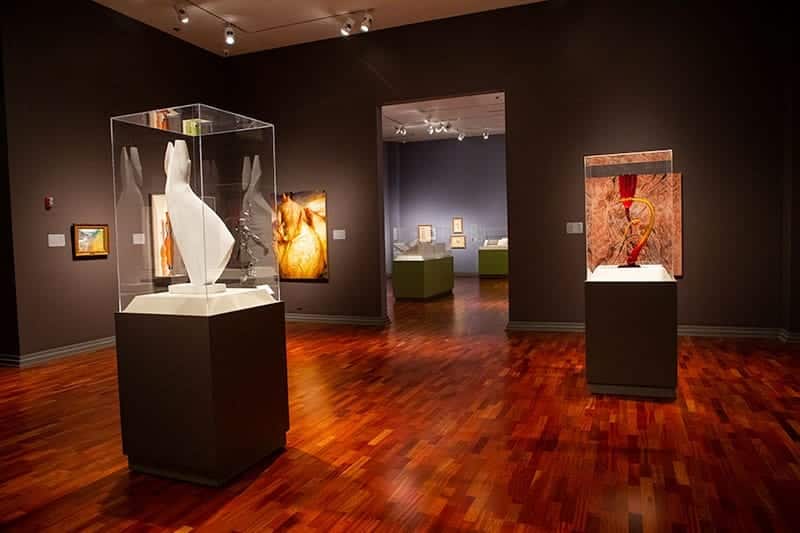 The museum features local artists you might not be familiar with and some you may know all too well, but not realize they have an Alabama connection.
Best of all, every Thursday the museum offers up $5 wine and $5 admissions after 5pm. What better way to meet the locals, enjoy a glass of vino and celebrate the local art scene?
WINE TASTING AND COCKTAIL SIPPING IN HUNTSVILLE AL
You really can't go to Huntsville and not enjoy a glass of wine at Domaine South or a cocktail at one of the many craft cocktail spots, micro breweries, and restaurants.
It's almost as if all of the bartenders are in competition with each other, and quite frankly, we are OK with that idea. Here are just a few of our favorites in Huntsville, Alabama.
Domaine South, 103 North Side Square, Huntsville, AL 35801
Cotton Row, 100 Southside Square, Huntsville, AL 35801
Purveyor Huntsville, 201 Jefferson St N, Huntsville, AL 35801
SIP Cocktail and Bar, 111 Greene St NE, Huntsville, AL 35801
Straight to Ale, 2610 Clinton Ave W, Huntsville, AL 35805
Yellow Hammer Brewery, 2600 Clinton Ave W, Huntsville, AL 35805
LOWE MILL ARTS & ENTERTAINMENT
Are you ready to get lost? Oh good. But first, you might want to load up on sweets at Pizzelle's Confections (get the homemade marshmallows!) and a strong black tea from Piper and Leaf Tea.
Now, make a note. These are both accessed via the exterior of the Lowe Mill complex. Park in the back, or hook up your bike if you are biking to the campus, and you will see them on the docks.
Once you have provisions, you can enter the labyrinth. Get ready to be inspired by sketches, pottery, illustrations, paintings and installations of all shapes and sizes.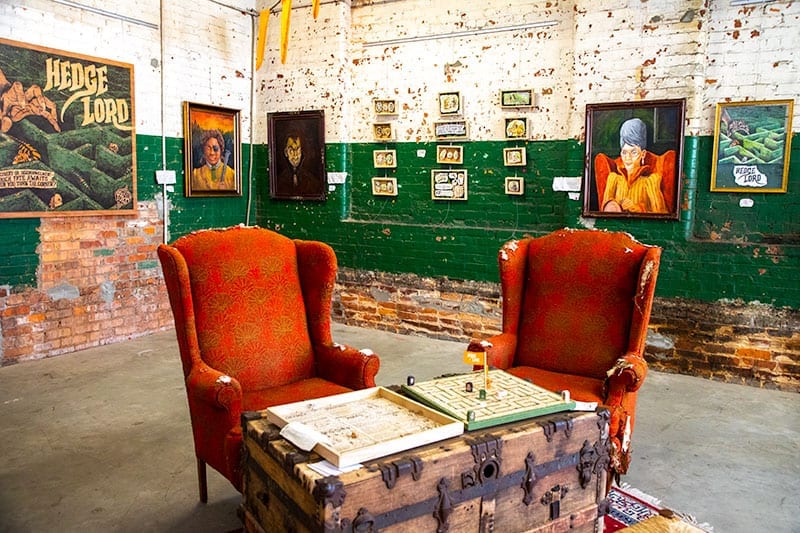 Lowe Mill ARTS & Entertainment was set up as a space for artists to work, but also educate the public on the creative process. Artists can rent studio space and sell their art out of their space.
Over 200 artists and makers are creating at Lowe Mill. There are also six galleries, a theater and performance venues. Public performances are regularly on the schedule, with Concerts on the Dock being a local favorite each week throughout the spring and fall.
Check LoweMill.net for workshops and classes being offered while you are in town, including pottery, print making, cloth mending and journal making.
Salt on the Rocks
Note: Salt on the Rocks is permanently closed
Everyone deserves a break from the daily grind. Even when you can't take time off to escape to the Caribbean, Salt on the Rocks can bring you a little of that beach and calm island life into your life.
Book time in the salt room, or better yet, a sinus massage or Raiki session to unwind and rejuvenate your soul a bit. The kids are at Space Camp. It's your time to take care of you, and what better way than with a little self-care.
The staff is lovely and always up for a chat, especially if you need restaurant recommendations. Take advantage of the natural remedy store in house.
The Elderberry syrup will help you get through flu season, as well as a number of other natural cures to help you and the kids stay healthy this season.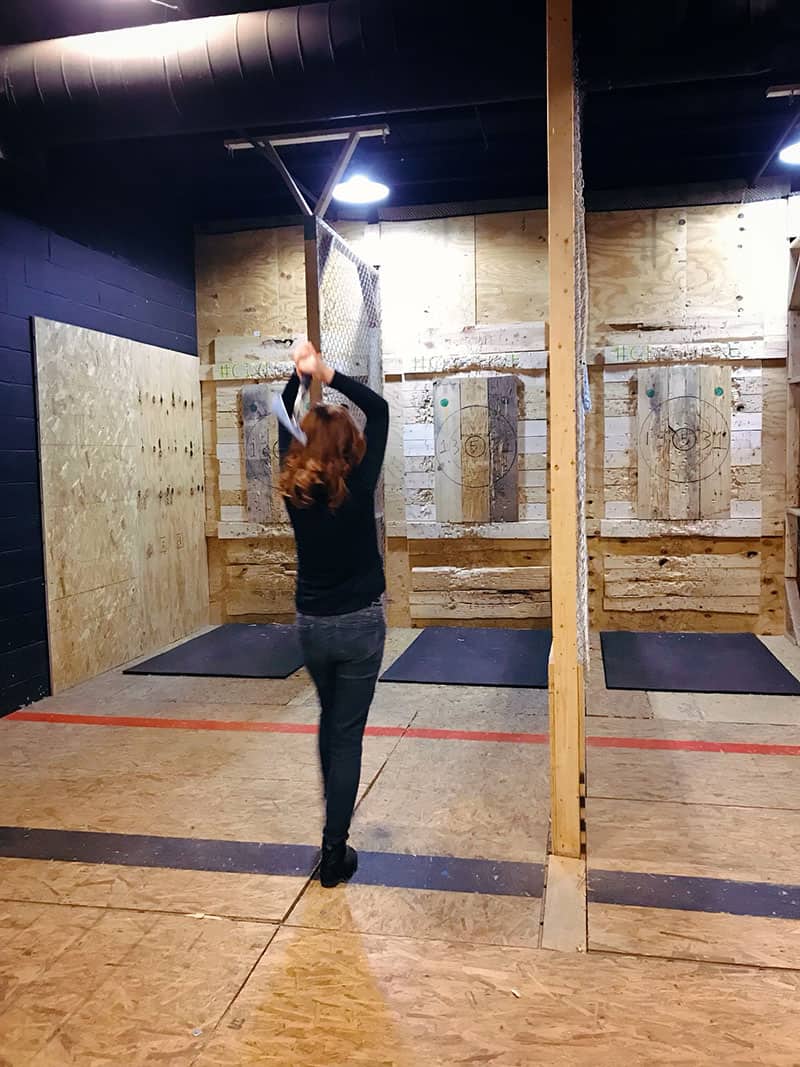 CIVIL AXE THROWING AT CAMPUS NO. 805
Now, the mother of all activities has got to be ax throwing at Civil Axe Throwing in Campus No. 805. Not only is it a great arm workout, but you can get some serious aggression out in under 30 minutes ladies. One session here had me looking for places closer to home to practice on a regular basis.
Kids whine one too many times on the car ride or flight to Huntsville? There is an ax for that (no, you will not harm your children. Just let it loose on some wood!)
Work driving you insane with deadlines and an incompetent boss? Yup. There is an ax for that too!
There are so many reasons to throw an ax, and the helpful instructors at Civil Axe will make sure you get that metal ax into the wood over and over again. They will even let you throw two at once if you ask nicely.
And yes, you will impress all of the men around you. No one shows aggression like a mom. No one.
While you can grab a beer from Straight to Ale or Yellow Hammer Brewery, you may want to try it sober first. Just saying.
But you could try an absinthe drink after you wrap up from Cafe Benelux. Just make sure you grab an Uber home, OK?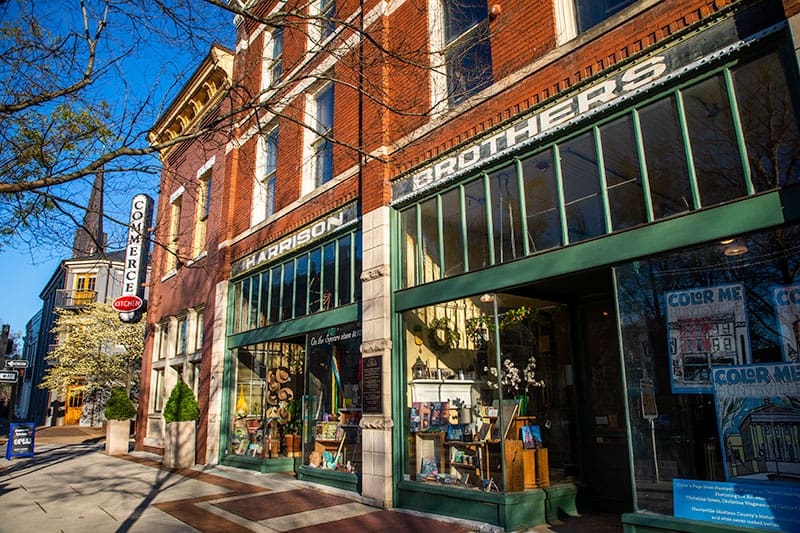 SHOPPING ON CLINTON ROW
Clinton Row is the main shopping street in downtown Huntsville, but there are plenty of spots throughout the city to find great clothing, accessories and a few treasures to take home.
Unclaimed Baggage is probably the biggest claim to fame when it comes to shopping in the area, but never discount the beauty of a well curated boutique.
Sales in Huntsville are magnificent when the seasons are changing over, and you can get beautiful high-end items at bargain prices. Elitaire on Clinton Avenue is one of our favorite boutiques to pop into for clothing, especially when sales are going on.
Grab a cute dress or bright top to show off tonight while you are out on the town.
Make sure you walk around the corner to Harrison Brothers Hardware to wander for a bit. It's a great spot for local art, gifts and, well, you just never know what you will find in there.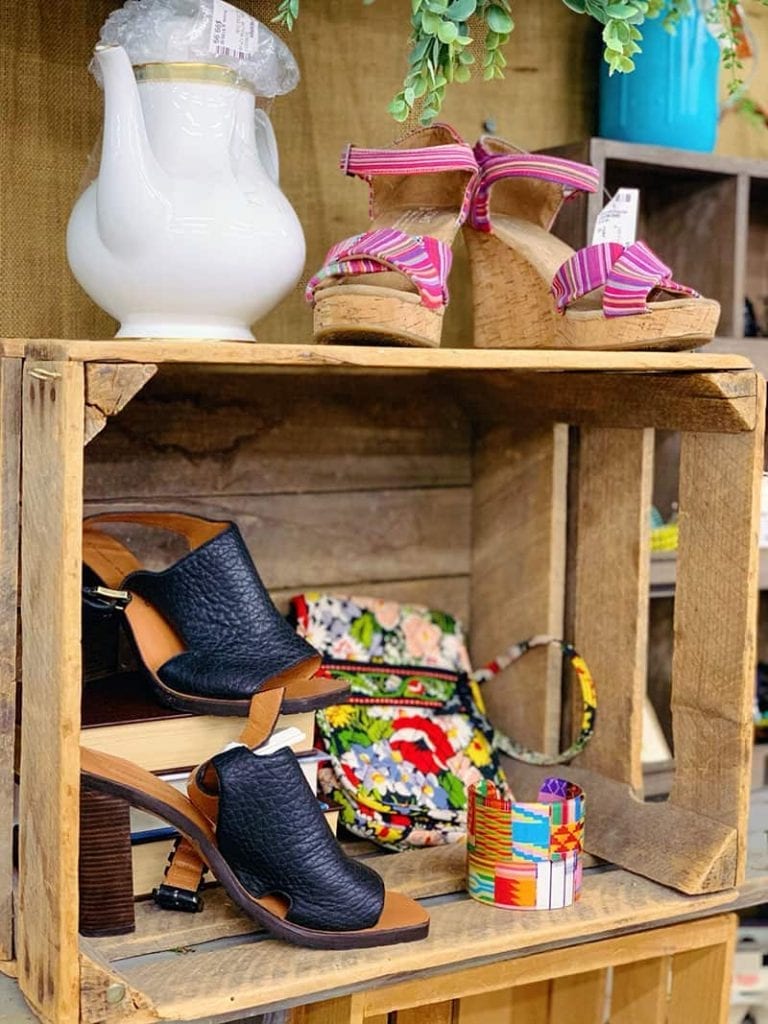 DAY TRIP TO UNCLAIMED BAGGAGE
Ladies, are you ready to shop until you drop? Unclaimed Baggage is like thrift shopping on steroids. Instead of browsing through the stuff people don't want anymore, you are now digging through the things people wanted but lost.
How does Unclaimed Baggage work? When a suitcase is lost on a flight, the airline has 90 days to reunite it with the owner. Most of the time the airline does just that.
However, when they can't, it gets sent to Unclaimed Baggage. The staff sorts through each suitcase, filtering out what is trash, donations and what should go on the floor to sell.
If you ever wondered why you should NOT pack your iPad, laptop or camera in your checked bag, Unclaimed Baggage is proof. You can get electronics for half their retail price.
Need a diamond engagement ring? Yup. You can pick one of those up for half their appraisal value too.
There is also unclaimed cargo, which means a company lost a ton of goods in shipping.
That gorgeous vegan leather handbag I just bought was marked way down because it was lost in transit. Oh well. All the better for me!
Alabama Constitution Hall Park
Constitution Hall Park is an open-air museum in Huntsville that brings the daily life of living in 1819 to the public. You can explore the law office, print shop, land surveyor's office, post office, cabinetmaker's shop, and even a home of a local. The interactive exhibits make it fun for not just kids but grown ups too.
Alabama Constitution Village
Take a 90-minute tour of this living history museum that shows off life when Alabama was becoming. a state and the constitutional convention of 1819 (part of the EarlyWorks family of museums).
If you do have the kids with you, plan time to visit the EarlyWorks Children's Museum too.
Lincoln Mill
Explore this neighborhood's rich history, which is listed on the National Register of Historic Places, and filled with tech start ups and NASA lore.
Harmony Park Safari
Pop into this nature preserve filled with free-ranging exotic and endangered animals. If you have the kids with you, this is the perfect kid-friendly activity to fill a morning.
Huntsville Depot Museum
Part of the Norfolk Southern Railway line and the oldest railroad depot in Alabama, and one of the oldest in the United States.
Redstone Arsenal
If you do your homework, you can access the Redstone Arsenal, the current center for the US Army's missile and rocket program. This is an active military base, so you will need to do a bit more than stroll through the gates.
Make your way to Gate 9 Visitors Center, do a background check. After you get your pass, you can enjoy Family and MWR activities on post.
U.S. Veterans Memorial Museum
Come learn about the art of war from the Revolutionary War to the present through exhibits featuring memorabilia, weapons and vehicles.
North Alabama Zoological Society
While this non-profit is still raising funds for a zoological park and aquarium, they are bringing wildlife education, conservation, and research activities to the community in Huntsville and Madison County.
So, while there aren't any zebras to hang out with you, you check out where to see a few critters during your visit.
North Alabama Railroad Museum
If you or someone you love is into trains (say… you have a toddler who is obsessed with trains), you need to pop into this volunteer-run train museum in Huntsville. If you have time, tack on a trip to the historic Huntsville Depot, another museum that features trains, plus local transportation and Civil War–era history exhibits in a former train depot.
Von Braun Center
Check out a live music show and other events taking place at the Huntsville civic center throughout the year. If you are really lucky, your kids space flight with NASA will coincide with Panoply, a spectacular art festival in Huntsville.
Bridge Street Town Centre
If you love to shop, Bridge Street is the place for you. Load up on the latest fashions at your favorite chain stores, grab a few sale items and grab a bite to eat. You can even see a movie while you are there.
EarlyWorks Children's Museum
If you have little ones traveling with you, you will want to pop into the EarlyWorks Children's Museum. Like most children's museums, there are loads of hands-on activities, including a pretend grocery store. But what you really want to check out is the talking tree they have on site.
Madison County Nature Trail
If you are traveling to Huntsville with a dog, you can bring him or her to Madison County Nature trail to tackle the 1.5-mile walking trails, south of downtown Huntsville, and a short drive from the Tennessee River.
If you need more dog-friendly outdoor spaces, you can also go to the J.D. & Annie S. Hays Nature Preserve. You will find 10-miles of trails in the preserve, as well as plenty of spots to go mountain biking in Alabama.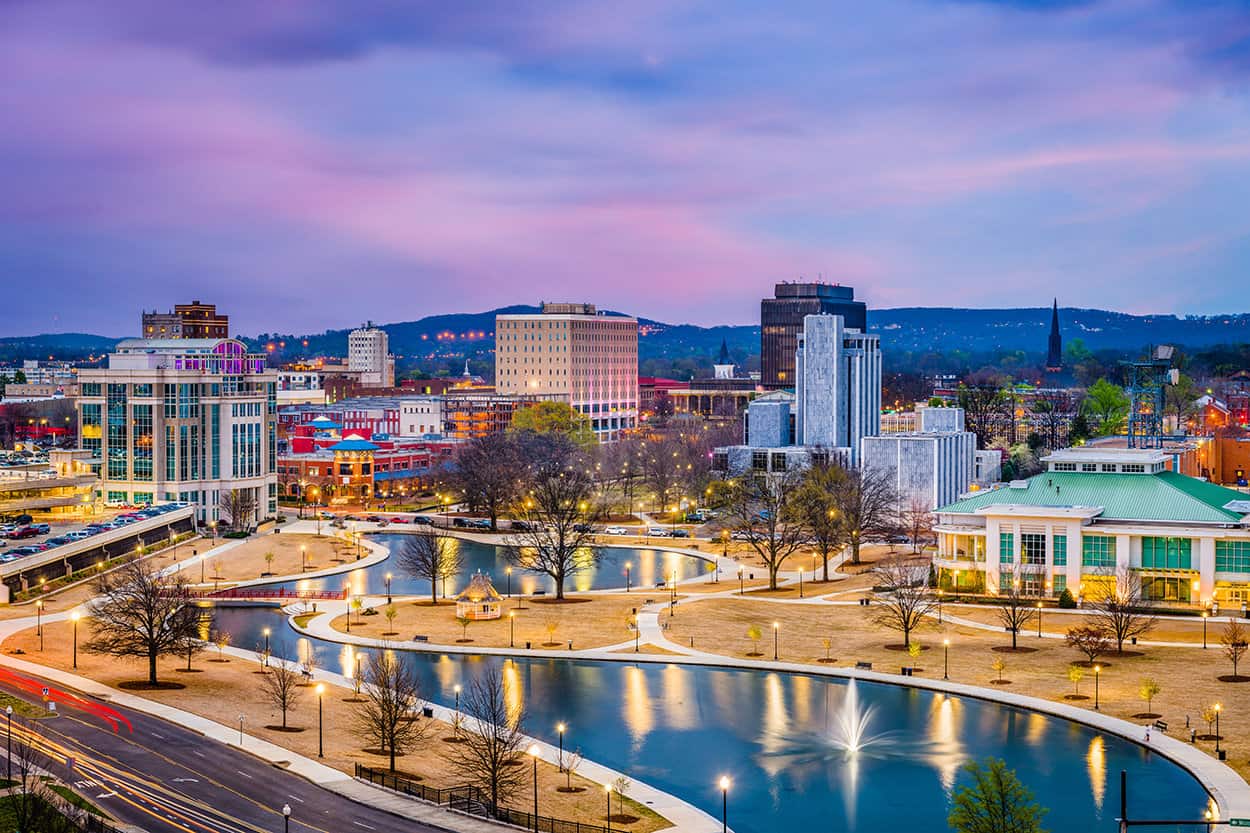 Huntsville Alabama FAQ
is huntsville alabama worth visiting?
Yes. There is great food, shopping, entertainment, educational experiences, art, music and so much more.
What is the closest airport to Huntsville?
The closest airport to Huntsville is the Huntsville International Airport (HSV), which is located about 9 miles southwest of the city center.
What is Huntsville known for?
Huntsville is known for being the "Rocket City" due to its long history with the U.S. space program. It is home to NASA's Marshall Space Flight Center, the U.S. Space & Rocket Center, and Redstone Arsenal.
weird things to do in huntsville al
Wander around an old cotton miller turned art space at Lowe Mill ARTS & Entertainment
Stand under a massive rocket (the Saturn 5) at the U.S. Space and Rocket Center.
Hang out in a playground in a cemetery (aka Dead Kids Playground)
Visit the grave of "Miss Baker," the first monkey (a squirrel monkey to be exact) to be launched into space and return alive (1959). Guests like to leave a banana for her to enjoy in the afterlife.
What are some popular tourist attractions in Huntsville?
Some popular tourist attractions in Huntsville include the U.S. Space & Rocket Center, the Burritt on the Mountain historic site, the Huntsville Botanical Garden, the Monte Sano State Park, the Von Braun Center, and the Alabama Constitution Village.
what is there to do in huntsville al for free?
Take a walk around Big Spring Park
Wander around the neighborhood of Twickenham
See the cherry blossoms and other seasonal flowers in bloom throughout the year
Stand outside of the U.S. Space and Rocket Center
Explore the Madison County Nature Trail-Green Mountain
Meet artists at Lowe Mill Arts & Entertainment
Look for treasures in the Railroad Station Antique Mall
Hike nearly 80 miles of trails in Land Trust of North Alabama
Walk the dogs in Hays Nature Preserve
Pay your respects at the Huntsville Madison County Veterans Memorial
Let the kids play at Kids Space, a massive playground in Huntsville
Get a bird's eye view at Blevins Gap Preserve
What is the weather like in Huntsville?
The weather in Huntsville is usually hot and humid in the summer months with temperatures often in the 90s°F (32°C), but it does get cold during the winter months with temperatures often dropping below freezing at night (40s and 50s during the day).
Spring and Fall are the perfect times to explore the area with temperatures in the 60s ad 70s most days.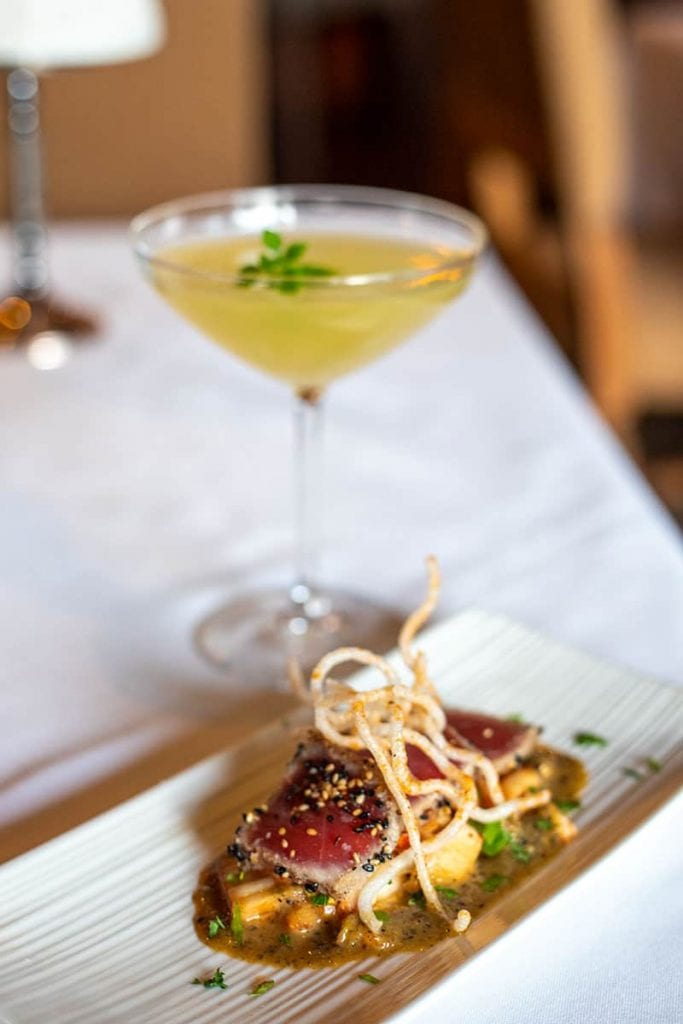 What are some top-rated restaurants in Huntsville?
You will want to book a reservation at these top-rated Huntsville restaurants:
Cotton Row Restaurant
The Bottle
Pane e Vino Pizzeria
The Eaves
1892 East Restaurant & Tavern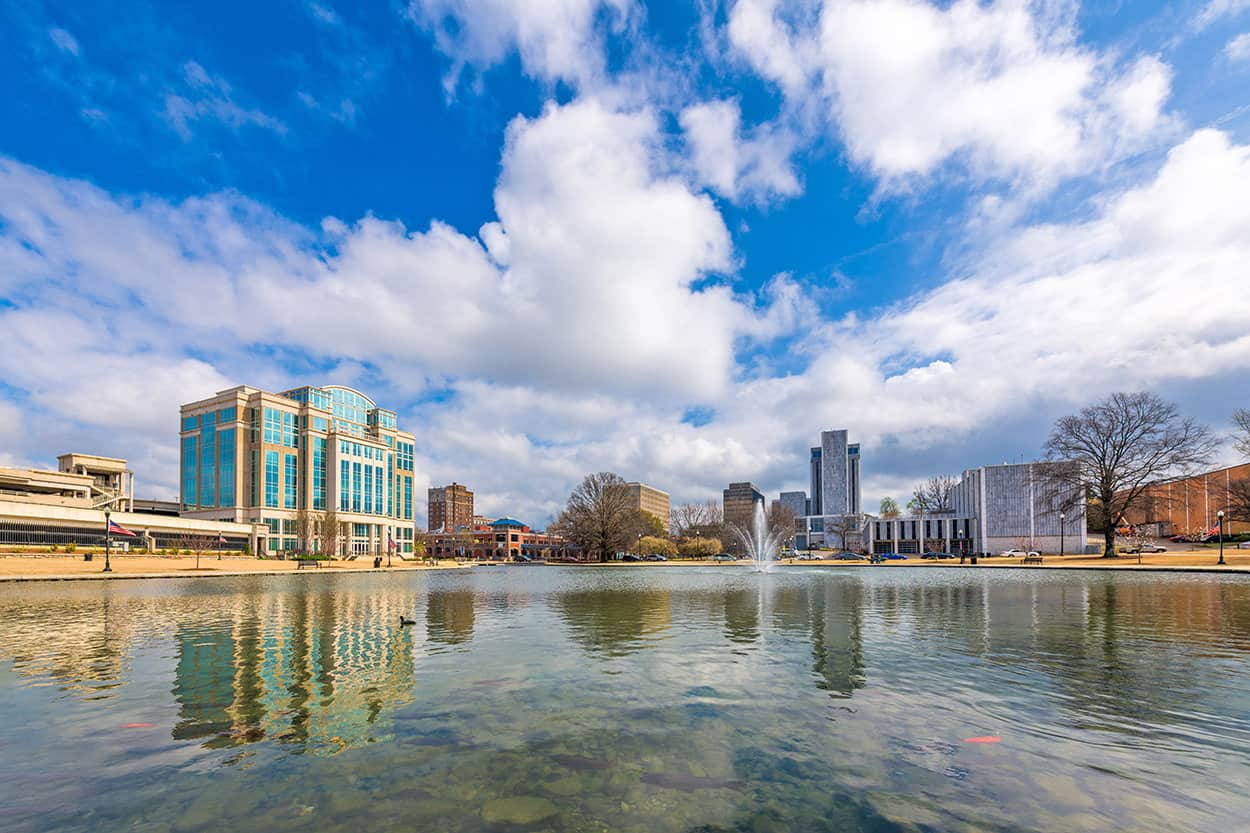 What is the population of Huntsville, AL?
According to the latest census data (2020), the population of Huntsville, AL is around 200,000.
What is the cost of living in Huntsville?
The cost of living in Huntsville is generally lower than the national average. The median house costs is about $250,000, which is lower than may other parts of the country.
What is Huntsville, AL known for?
Huntsville, AL is known for its high-tech industry, particularly in aerospace and defense. It is home to the U.S. Space & Rocket Center, and the Redstone Arsenal military installation, with major employers like NASA's Marshall Space Flight Center, the U.S. Army's Redstone Arsenal, Boeing, ADTRAN, Dynetics, and HudsonAlpha Institute for Biotechnology setting up their offices in Huntsville.
Is Huntsville, AL a good place to live?
Huntsville, AL has been ranked as one of the best places to live in the U.S. due to its strong job market, affordable cost of living, and quality of life amenities such as parks and cultural attractions.
What schools are located in Huntsville, AL?
Huntsville, AL is home to a number of public and private schools, as well as several colleges and universities. Some notable institutions include the University of Alabama in Huntsville, Alabama A&M University, and the Huntsville City Schools district.
This post contains affiliate links. If you make a purchase after clicking one of those links I will receive a small commission.