Everyone thinks a Disney World vacation is going to be expensive. I won't lie, a Walt Disney World trip is not cheap by any means.  However, I have learned after many (many) trips to the theme parks that there is plenty to enjoy that is either completely free or very inexpensive.
Let's take a look at all of the fun, inexpensive and FREE things to do in Disney World.
Walt Disney World Resort Activities
Walt Disney Resorts are a sight to be seen in and of themselves, and it costs you nothing to explore the properties (to a certain degree) if you want to do a little resort hopping. There are great photo opportunities in and around all of the resorts.
Christmas at the Walt Disney World Resorts
You should commit to exploring the resorts during your vacation, especially if you are visiting during the holidays when the resorts and hotels are home to a little extra Disney magic.
Every resort has a different theme from a Polynesian escape, to a New England seaside, and even one with the monorail going right down the center of it!
Free Movies
Free dive-in Disney movie nights are offered at many of the resort pools or on the beach in the evenings (check out a few favs at the Disney Beach Club and Disney Yacht Club Resort). You can get the movie schedule from the front desk at any Walt Disney World Resort Hotel you visit.
Pool Parties
Free daily pool parties and games all day allow you to take a break from the parks and just stay at the resort, while the kids are still entertained and having fun.
Fireworks Viewing outside of the park
Watch the Magic Kingdom fireworks from the Grand Floridian boat dock or Polynesian Beach.
Disney Christmas Decorations
One of the best places to see Christmas decor during the holidays is at the Walt Disney World resorts. The lobbies alone are worth the visit, as the cast members sprinkle pixie dust throughout each property, offering a great place to celebrate the holiday season, even if it's not on Christmas day at a Walt Disney World resort hotel.
Free Balloons
When you check into your Walt Disney World hotel, ask if they have any balloons or other Disney swag for guests. You never know what extra magic you will be treated to if you just ask.
Free tours of the Walt Disney World Resort
Even if you aren't staying at the resort, you may be able to hop on a tour of the property. Call ahead or ask at the front desk if there are any tours happening or spaces available on the day you want to visit.
Scavenger Hunts
There are free scavenger hunts in many of the resort. Just ask a cast member at the front desk. It's a great way to explore the property while on your Disney vacation.
Electrical Water Pageant
Watch the Electrical Water Pageant, a floating parade that is visible nightly, starting around 9:00pm, from Disney's Magic Kingdom-area resort hotel docks and beaches.
The pageant takes about an hour to move slowly around the lake starting with Disney's Polynesian Village Resort, Disney's Grand Floridian Resort, Disney's Wilderness Lodge, Disney's Fort Wilderness Resort, and Disney's Contemporary Resort.
DON'T MISS THIS, I have been watching this since I was a kid, and it's just as fun now, as it was then.
Disney's Wilderness Lodge
See a Geyser
At Disney's Wilderness Lodge, a geyser (kind of a mini version of Old Faithful) spouts on the hour from 7:00 am to 10:00 pm. The geyser is located at the back of the property, past the pool.
Free Boat Ride
Take the boat from Wilderness Lodge to Disney's Magic Kingdom, or one of two resorts: Contemporary Resort or Disney's Fort Wilderness Resort & Campground.
Hidden Mickey Scavenger Hunt
There are at least two scavenger hunts you can do while at Disney's Wilderness Lodge. Make sure you ask a cast member or at the front desk so you can get started as soon as you check in.
Disney Pin Trading
If you own pins, Wilderness Lodge is a great place to do some pin trading. You can do this for free… but you do need to have pins to trade.
Disney's Fort Wilderness Resort and Campground
Visit the horses
Visit Tri-Circle D Ranch at Fort Wilderness Resort and see the horses used on Main Street U.S.A.
Go fishing
This is strictly "catch and release" fishing at Disney. There are two places to rent cane poles (worms also provided): Port Orleans Riverside (near Ol' Man Island) or Fort Wilderness (at the Bike Barn). It's under $10 per person!
Nature Trails
There is a 2.5-mile fitness trail that joins with multiple side trails to give you loads of spots to wander at this Disney resort hotel, along with Disney's Wilderness Lodge.
Disney's Animal Kingdom Lodge
View the live animals
At the Animal Kingdom Lodge, you can walk out to the viewing areas and see the exotic African animals roaming free. Dusk is the best time to see the animals, as that is when they are most active.
Contemporary Resort
Sit with the Butterflies
If you head towards the pool at the Contemporary Resort, you can check out the butterfly garden, filled with flowers and plants that attract these winged creatures.
Bonus: check out the talented concept artists Mary Blair's mural in the Contemporary Resort. You'll get a taste of "It's a Small World," which she helped to design.
Disney's Polynesian Village Resort
Fireworks at the Polynesian Resort
Head to the beach at the Polynesian Resort to see the Magic Kingdom fireworks show.
Art of Animation Resort
Free Art Classes
Sign up for a free art class at the Art of Animation Resort. Keep in mind that these classes are only offered to paying resort guests.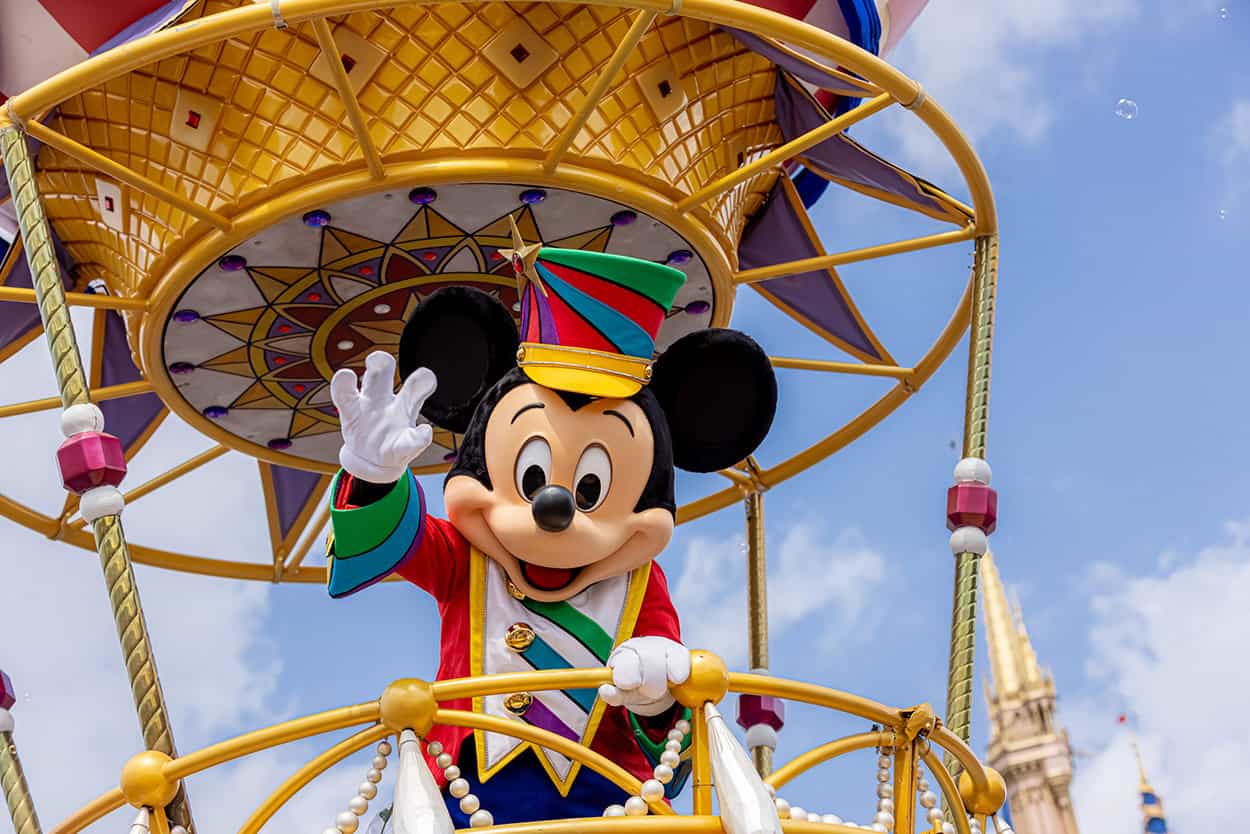 Walt Disney World Theme Parks Freebies
Disney Stickers!
Just like at Trader Joe's, Disney cast members wander around the parks handing out stickers to little ones. But have no fear grown ups- you can ask for a sticker too and they will happily share the sticker magic with you.
Disney Celebration Buttons
Grab your celebration pin at your resort check-in or at the guest services center in the Walt Disney Resort parks.
Whether you are visiting for the first time, celebrating a graduation, birthday, honeymoon or anniversary, you can grab a button to tell the world what you are celebrating.
BIRTHDAYS: if you are celebrating your birthday, make sure you shout it far and wide. You can get free desserts from various shops and restaurants around the resorts and park.
Ride the Monorail
Take the inner Monorail loop that circles the three Monorail resorts (Contemporary, Polynesian and Grand Floridian). You can get off and explore each resort, or just enjoy the ride and the view.
Great trick with babies: put them in the stroller and they will pass out, the monorails have air conditioning and are large enough that you don't have to collapse strollers. I would ride while my little ones napped even if for 20 minutes.
Search for Hidden Mickey
Hidden Mickey's are everywhere in Walt Disney World, start a Hidden Mickey challenge for your family and reward the winner of the most Hidden Mickey's found an inexpensive treat.
Disney Skyliner
Ride the Skyliner for a birds eye view of the parks and resorts.
Scavenger Hunts
Several of the parks offer free scavenger hunts throughout the Disney properties, whether you are looking for hidden mickeys or characters, etc.
Free Activities at Disney Springs
Free Parking
You can park for FREE at Disney Springs. It's true! Best of all, you can park at Disney Springs, hop over to the resorts to see all of their free activities, and even spend a little time in the park if you time it right.
Keep in mind that if there are special events, parking will reach max capacity, so the earlier you can arrive before your event the better.
Interactive Fountains
Let the kids play in the interactive fountains! Make sure to bring a change of clothes, as this splash pad will keep them busy for quite awhile, and they will be exhausted after running around.
Playground at Disney Springs
Let the kids run off some steam before, after or in place of visiting a Disney theme park when you visit Disney Springs.
Street Performers
One of the fun things to do in Disney Springs is check out the latest street performers showing off their talents. This free entertainment is one of our favorite things on a Disney property.
Free Concerts and Performances
In the evenings the stage in front of the World of Disney hosts FREE performances, magicians and DJ's. You never know who will be out there to play for you.
Lego Imagination Center
The Lego Imagination Center has a FREE 3,000-square-foot play area filled with thousands of LEGO blocks, let the kids use their imaginations and play.
Live Music
For adults House of Blues, Raglan Road and Jock Lindsay's offer FREE live music, it will only cost you a drink.
Free Boat Rides
Take a FREE boat ride to one of the resorts along the Sassgalouga River and explore Port Orleans Riverside, Port Orleans French Quarter or Old Key West Resort, then just grab a boat back when you want to return to Disney Springs.
Christmas at Disney Springs
Even if you aren't visiting one of the Disney parks, you can go to Disney Springs to see the Christmas trees, holiday lights and decorations on all of the shops and restaurants. It saves you a lot of money, but you still get that festive experience.
Sample Coca-Colas from Around the Globe
Sample Coca-Cola from around the world with a Coke Flight! The whole family can have fun seeing what their favorite is and it's under $20.
Scrub up at Basin
Sample bath and body items at Basin! You can try before you buy- their scrubs and lotions are fantastic. Be sure to pick up a Minnie Mouse bath bomb for only $5.
Sprinkles ATM
While not free, you can definitely sugar up for cheap. Grab a cupcake from the Sprinkles Cupcake ATM for only $5.
Taste Honey from Georgia
Sample Honey from around the world at Savannah Bee Company! You can add on a meade sampling for $10.
PS- their honey coffee is amazing!
Murals in Disney Springs
Explore the Disney Springs Art Walk: A Canvas of Expression in Town Center to see murals by acclaimed artists, including Stacey Aoyama, Chad Mize, Eduardo Kobra, Nani Chacon, Don Rimx, David Anthony Geary, Everett Spruill, Dom Corona, Eric Tan, Leo Gomez and Leah Abucayan.
This is one of our favorite things to do in Disney Springs, and you can even find Mickey Mouse there.
Free things to do at Disney's Boardwalk
Friendship Boats
Take a free boat ride from Disney's Hollywood Studios to EPCOT (and back) to give your legs a break, while still enjoying a great view of the resort hotels along the way.
Walk from the Boardwalk to the theme parks
If you get motion sick on a boat, you can also stroll to two of the Walt Disney World property parks, EPCOT and Disney's Hollywood Studios.
Street Artists at Disney Boardwalk
Catch performances by local street artists at Disney Boardwalk as you stroll along looking for your favorite act.
BONUS: you can see the Epcot Center fireworks from the Boardwalk as well.
Wyland Galleries
Discover this shop filled with artwork as if you are visiting a museum. No need to buy to enjoy these works of art!
Atlantic Dance Hall
Atlantic Dance Hall is an Art Deco night club in this Disney entertainment district featuring music from the 80s and 90s, as well as more contemporary tunes. Certain nights do have a cover charge, but other nights have free admission; you do still have to pay for drinks though.
Free parking
Just like Disney Springs, you get free self-parking at Disney's Boardwalk. Take advantage of this freebie, but keep in mind that when special events happen at Disney, parking will fill up.
Did we miss any of your favorite frugal activities at Walt Disney World? Let us know! 
---
---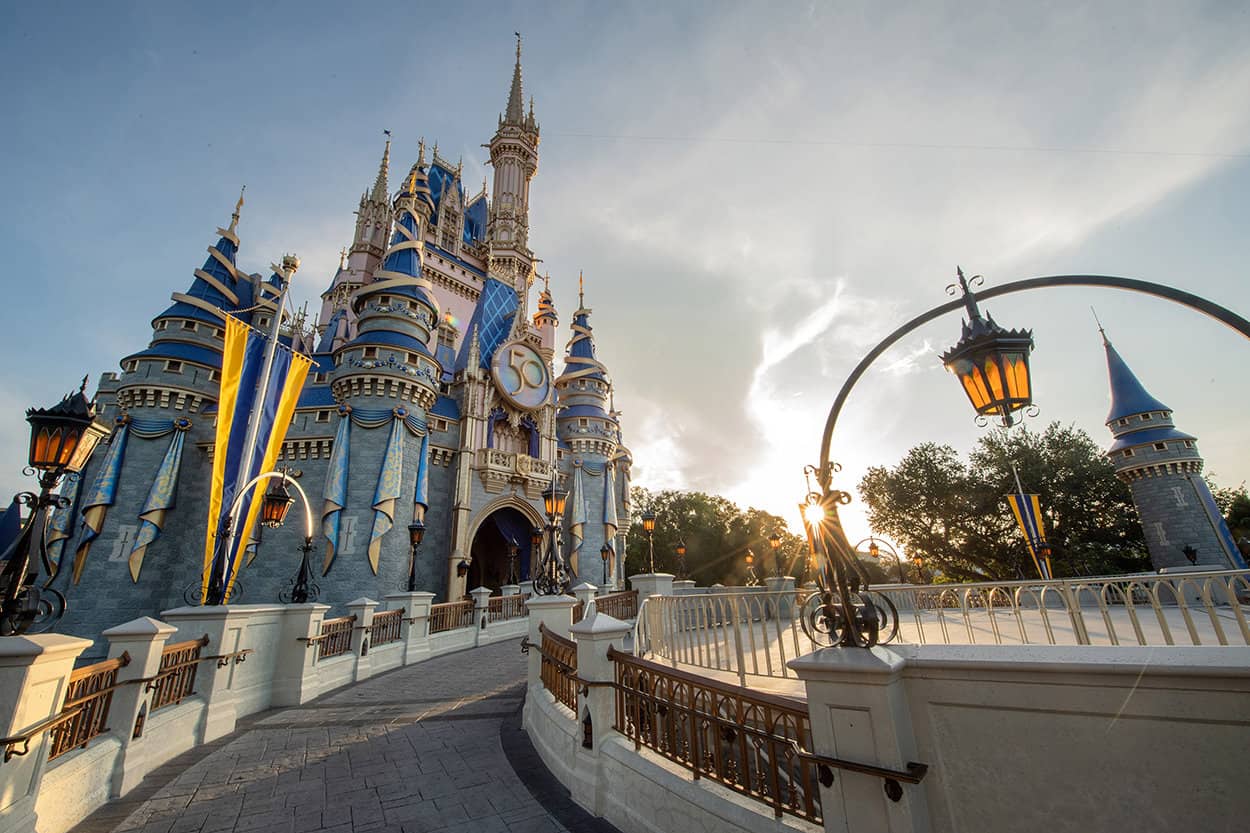 FAQ: What's Free in Disney World?
Is there a free part of Disney?
Yes, you can wander around Disney Springs and the Disney's Boardwalk for free.
Best free things to do in Disney Springs
Let's the kids play in the fountains or explore the original murals in Town Center.
Can you walk around Disney World for free?
Well, if you have an entry ticket, then yes. You are free to walk around. But without a ticket, you won't get through the gates.
Can you get Disney for free?
No. Not unless you are under 3 years old, you win tickets, use points to buy tickets, or someone gives you tickets.
Are rides free at Disney World?
Yes, of course. They are included in your admission price. HOWEVER, for the most popular rides, you may have to pay an extra fee to get into the Genie+ line.
How to go to Disney World for free
You can be under 3 years old, enter sweepstakes or use as many miles, hotels and Disney points as you can find.
Does Disney World have Frozen attractions?
Of course! EPCOT has "Frozen Forever After" and our favorite, the "For the First Time in Forever: A Frozen Sing-Along Celebration" is at Disney's Hollywood Studios. Trust us, it's perfect when you just need to cool off and sit for a bit on a hot summer's day.
Does Disney World have a water park?
Yes, there are two– Disney's Blizzard Beach Water Park and Disney's Typhoon Lagoon Water Park. Many of the Disney resorts also have water slides and water features.
How to get a free trip to Disney World?
Use airline mileage points, hotel points, etc. Or you can enter a sweepstakes.
What can you bring into Disney World
Any ticketed guest
Cameras (no drones!)
Non-glass water bottles
Snacks (no large coolers)
And more
What can you not bring into Disney World?
Weapons or anything that looks like a weapon (even toys)
Pepper spray, mace, etc.
Marijuana and illegal drugs
Fireworks
Alcoholic beverages
Glass containers (small baby food jars are OK)
Horns, whistles, large megaphones or artificial noise makers.
Drones, remote-control toys, skateboards, scooters and roller skates
Strollers that are greater than 31″
Wagons
Any trailer-like object that is pushed, pulled or towed
Mobility devices with less than 3 wheels
Suitcases, bags, coolers or backpacks, with or without wheels, larger than 24″
Folding chairs
Selfie sticks, hand-held extension poles for cameras or mobile devices, flags and banners
Tripods or monopod stands that cannot fit inside a standard backpack.
Plastic straws and balloons are not permitted at Animal Kingdom (and the lodge) or the water parks
Non-Coast Guard approved flotation devices or swim noodles at any water park.
Who is free at Disney World?
Children under 3 years old can enter the park for free with a paying adult. No theme park ticket is needed.
Is Downtown Disney free to enter?
Downtown Disney in Anaheim is free to explore, just like Disney Springs in Florida is free to enter. Both have loads of shopping and dining options.
What adult activities are there at Disney World?
EPCOT is the best place to visit for adult fun. You can get wine and cocktails in the EPCOT World Showcase.
Do you have to pay for rides at Walt Disney World or is it just the entrance fee?
No, there is just an entrance fee.
What are the things you have to do when you arrive at Walt Disney World?
You must go through security. If you have a bag, it will need to be searched. After that you will  show your theme park entry ticket to enter the parks. You are then free to enjoy the parks!
What is the best order of parks to go to in Disney World?
We love to go to the Magic Kingdom first, followed by Disney's Hollywood Studios and then EPCOT or Disney's Animal Kingdom.
How long does it take to visit Walt Disney World and see it all?
You will want a minimum of 3 days to see all of the Walt Disney World parks, but that will be FAST. Five days or more is recommended, so you have at least one day in each park. 
What are the 4 lands in Disney World?
Magic Kingdom Park
EPCOT
Disney's Hollywood Studios
Disney's Animal Kingdom Theme Park
Why do Florida residents get such a great discount on Disney World tickets?
The thought is that since they live so close by, Florida residents will make repeat visits… and spend more money each visit on food, merchandise, parking, etc. than a one-time visitor, so the ticket prices are discounted.
Similar to California residents and Disneyland passes, there are discounts on annual passes, 2-day and 4-day theme park tickets.
What are some of the best Walt Disney World hacks?
Read more of our Disney articles to find out!