I recently had the opportunity to explore the beautiful, historic, Nordic city of Stockholm, Sweden. During my week-long stay, I was fortunate to have experienced the unique culture, cuisine, and history that makes Stockholm so charming.
The city's rich history pours out onto the winding cobblestone streets throughout each neighborhood. The locals beam with pride, welcoming visitors with their native "Hej Hej" upon entering shops and cafes.
I also became quickly obsessed with the daily Swedish ritual known as fika, a mid-afternoon coffee break (usually accompanied by sweet treats) that is a staple of the local atmosphere. One of my favorite stops was a day trip to Drottningholm Palace though.
Each day brought on new adventures and sites to explore in Stockholm. This included a visit to The Royal Palace, Arms and Armory, Royal treasury, the Vasa museum, Storkyrkan, the Eurovision village, and changing of the guards.
One of my favorite sites was the day excursion to Drottningholm Palace, a World Heritage Site and the private residence of the royal family. I was hesitant to take a day trip outside of the city as my trip was short. I still had so much to see within the city. But this day trip was absolutely worth it.
After doing some research, traveling by boat seemed to be the most appealing mode of transportation for me. Public transportation, driving, and biking are also viable options. Since Stockholm is surrounded by waterways, the boat cruise is a unique sightseeing opportunity on a direct route away from the main city center.

GETTING TO DROTTNINGHOLM PALACE SWEDEN
If you choose to travel by boat, I recommend booking a ticket in advance online. This will save you a few dollars and lets you select the time slot you'd like to depart and/or return. Cruises leave every hour in both directions.
A round trip ticket will cost you 210 SEK ($24 USD); a one-way ticket will cost you 160 SEK ($17 USD). If you're not sure how long you'll spend at the palace and prefer not to be bound to certain return time slot, book a one-way. Purchasing a return ticket can be easily done on the dock outside of the palace.
Children 0-5 years are free of charge; children 6-15 years are half price.
Boat cruises depart from Stadshuskajen, the city hall quay. This is centrally located, very walkable and easy to find.
A boat cruise is roughly one hour so plan each departure time accordingly.
Boat service is available March through October.


DROTTNINGHOLM PALACE TRAVEL TIPS
Plan to arrive at the dock roughly 15 minutes before your scheduled cruise time. This will allow time to find your boat and place in line.
Splurge for the lunch cruise one way. I booked a lunch cruise on my way to the Drottningholm Palace. This is a full service meal on the lower deck of the boat. I splurged for a glass of Rose and Swedish meatballs while enjoying the scenery down the river. This meal tied me over during my visit to the palace, avoiding convenience store snacks. Plus, when on vacation, #treatyourself!
Grab a spot on the upper deck of the boat in one direction. This open air deck offers amazing views and ideal photo opportunities (weather permitting).


INSIDER TIPS TO DROTTNINGHOLM PALACE
Once at the palace, make sure to grab a map. There is a lot to see and the grounds are breathtaking. If you are fortunate enough to visit on a day when the weather is cooperating, like I was, take advantage of walking around the vast property. The boat drops you right at the main Drottningholm Palace entrance.
Traveler tip: Most of the other passengers from the boat will likely beeline right for the main palace upon arrival. Choose your own course. To avoid crowding in the Drottningholm Palace, I chose to explore the grounds first.
When I arrived to tour Drottningholm Palace, it was basically empty, giving me plenty of time to spend extended time in each room. Whether you choose a self- or audio-guided visit, be sure to spend time in each open room at the palace. It is carefully curated with additional reading information throughout the tour. Drottningholm Palace is rich in history and expands more on the Swedish monarch.
After you've spent time getting lost in the rich history inside the palace walls, be sure to budget some time to explore the Drottningholm Palace gardens. Reminiscent of Versailles, these perfectly manicured gardens expand miles behind the palace.
Reminder: Drottningholm is a current private residence of the royal family. You will see guards throughout and part of the ground will be off limits. Enjoy the serenity of the land and be sure to take advantage of the ideal photo opportunities. Pop into the Chinese pavilion, a royal gift dating back to 1753. It houses unique history, culture, and design within the walls.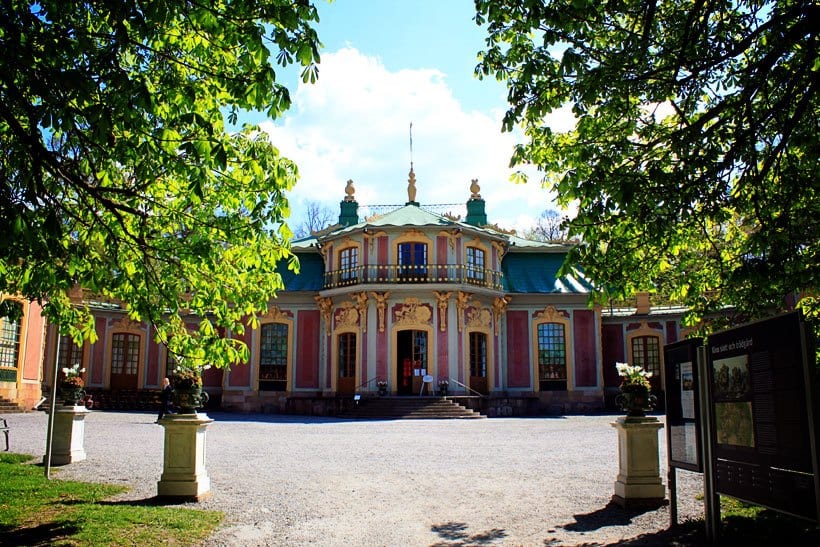 Traveler tip: there is an additional admission fee to the Chinese pavilion, separate from your admission to Drottningholm Palace. Also check out the palace church and theater, both of which are still in operation today. The theater even welcomes the Royal Swedish Opera on occasion. These sites are close to the main palace; you'll pass both on your way to the gardens.
After my visit, I bought a return boat ticket home right on the dock. I chose to cruise on the open-air, top deck enjoying the scenery for the roughly one-hour ride back to Stockholm City Hall.
There are miles of history and culture to absorb on the grounds of Drottningholm Palace. No matter how you travel there, Drottningholm Palace is an incredible view of Swedish history and culture.
PIN IT FOR LATER!
Swedish Royal Family Home via ShutterStock.com.
This post contains affiliate links. If you make a purchase after clicking one of those links I will receive a small commission.